Organization apps are there to make your work life easy.
The best organization app is the one that allows you to set goals, create an agenda, track team & project progress, streamline communication, collaborate with the team, and keep things in order.
The ultimate goal of the organization is business success. You just need the right organizational tools and practices in place.
Did you know 79% of employees suffer from mild, moderate, or severe burnout due to poor organization?
Once your organization is in line, you can elevate your business from the challenges it is facing due to lack of organization mainly including poor productivity, unnecessary stress, workplace conflicts, broken workflow & communication, and nonalignment in operational processes.
In this post, I have listed the best 11 organization apps for a more productive workplace in 2024. Whether you need help with self-organization, managing a team, or just keeping your files in order, you will find the right solution for you.
I have tried a fair share of productivity tools over the past decade. I prepared this list based on thorough research and a detailed review. I have taken various factors into account such as value for money, ease of use, and special features while creating this list. Hope, it will help you make an informed and unbiased decision.
11 Best organization apps for a productive workplace
Organization apps are designed to solve the organization challenges faced by managers in organizing teams, tasks, clients, and themselves. I have listed the top 11 best organization apps that can help you address those challenges and make your life easy.
1. ProofHub – best for project management and team collaboration

ProofHub is the best organization app that offers project management and team collaboration together in one place. It provides you ultimate control to stay on top of your work — from organizing your own agenda of the day to managing teamwork, keeping track of projects, and channelizing team collaboration — it puts everything in one place.
ProofHub is often referred to as an ultimate productivity tool because you have a centralized platform to manage everything — from tasks to teams to clients. You don't feel any need to go to different places to find files, messages, projects, reports, client requirements, and so on.
Key features
1. Organize yourself with a user-friendly dashboard: No more mess. With "Agenda", you get a clear view of the Overdue tasks, Today, and Upcoming. It is far more competent than a basic to-do list.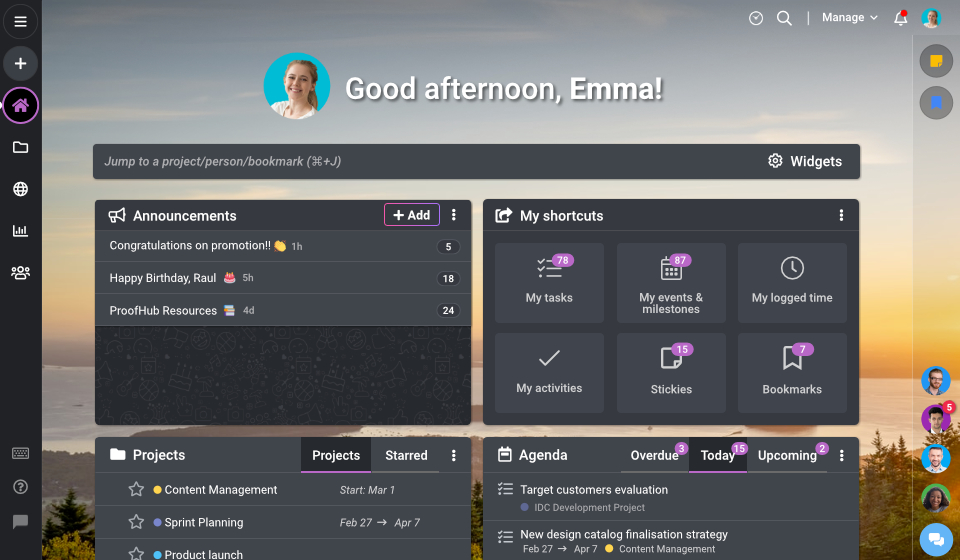 "Projects" in the dashboard contains all the details of projects. You can access and plan your calendar with My Events & Milestones from your dashboard.
ProofHub dashboard gives you complete control of your workflow: teams, projects, and communication.
2. Save time on assigning and scheduling tasks from a single place: No need to switch tabs. With ProofHub, you can simply create and assign tasks. You can set due dates, add task descriptions, set priorities, add customized workflows, and create subtasks, and custom roles.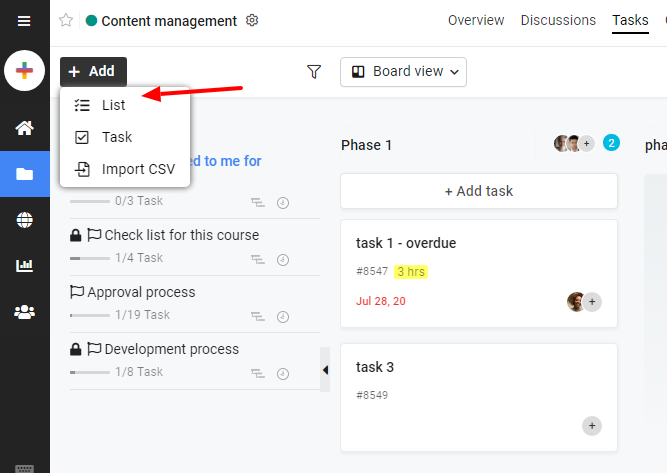 You can use labels – "low", "medium", "high", or "urgent" – to set priorities. Helps you ensure that you meet the deadlines.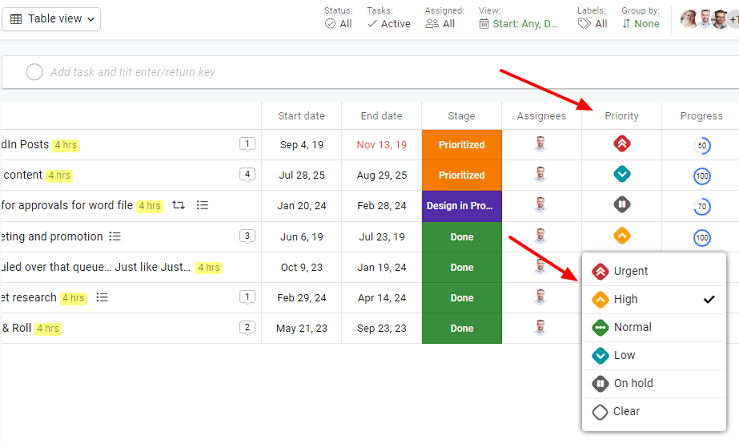 You have a recurring task feature that allows you to automate repeated tasks. You can set the frequency of scheduled tasks. Helps you save time.
3. Get all the information in one place: Nothing is scattered. You can view all of your tasks and information in one place — who the task is assigned to, what stage it is in, how it will affect the workflow, and more — in four different views: Kanban Board, Table, Calendar, and Gantt Chart.

4. Avoid confusion by sharing files online: No need to use multiple tools. With ProofHub, you can set up a dedicated channel for file sharing and a location for storage. Everyone knows where to look for the information. ProofHub comes with Google Drive, DropBox, and other cloud platforms integration.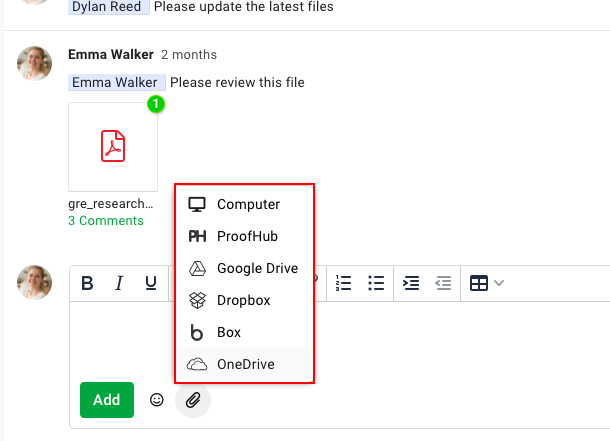 You can also share files from computers in multiple file formats, including JPEG, PNG, PDF, and more. Editors can collaborate and share actionable feedback on the attached files.

5. Streamline communication and collaboration: No more accountability conflicts. You can instantly message your teammates one-on-one or in-group with real-time built-in chat.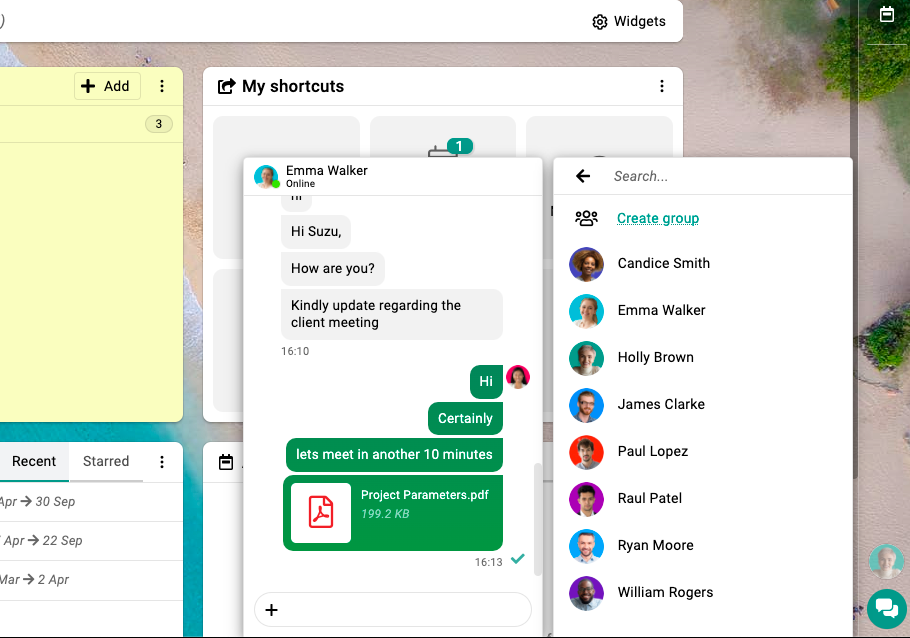 Tag colleagues on projects or tasks using @mention task comments and avoid accountability issues. The tagged user will get an immediate notification.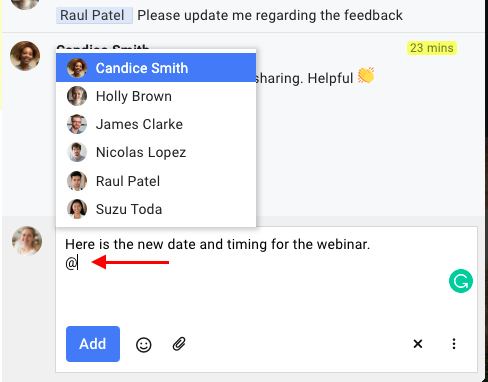 Use Project discussions to keep everyone's team, clients, and all stakeholders on the same page.

You can use Notes to jot down the important details and share them with teammates.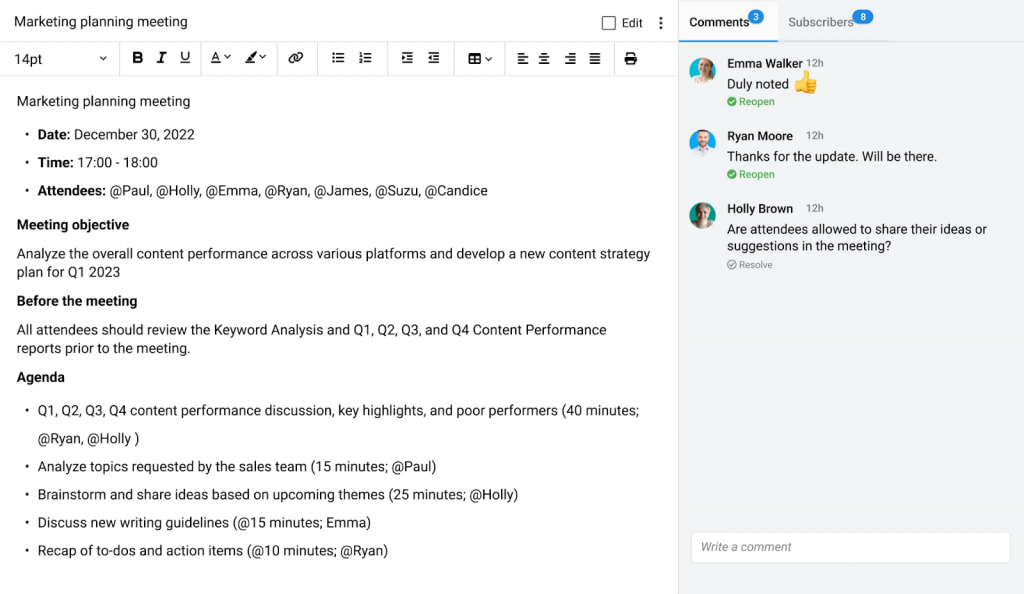 6. Master time management with time tracking: Clearly know where your time is spent. With ProofHub time tracking, you can manually add the time spent and automatically track the time spent on the project. You can also add estimated time for projects. This helps you in time analysis.       


7. Get a detailed overview of the project's progress with project reporting: No more guessing work on how you performed. Project reports offer you a detailed overview of project progress and offer you actionable insights. This helps in improving project planning and productivity analysis.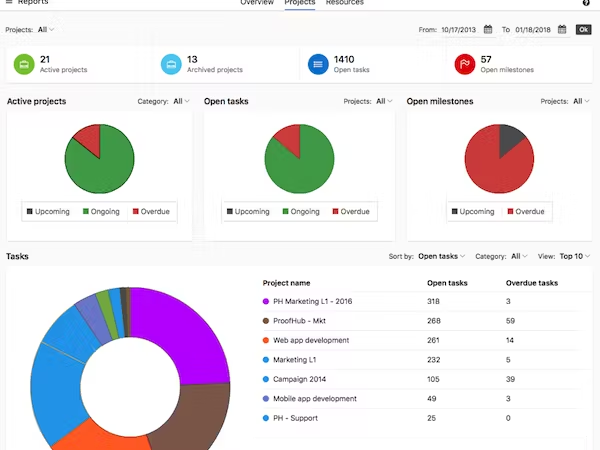 Pros
All-in-one platform that eliminates the need to invest in multiple tools.
Provides you with ultimate control over tasks, teams, and clients.
Online proofing to collaborate on creative assets with your team and share actionable feedback instantly.
Announcements for celebrating and engaging with remote teams
Manage projects directly from your email inbox.
User-friendly interface. You and your team can get used to the tool quickly.
Minimum learning curve that makes it easy to adopt by everyone.
Unlimited users and unlimited projects for a flat fee. Cost-effective for small to mid to large teams.
Cons
Not ideal for individuals or solo freelancers
Sometimes notifications can get overwhelming
Pricing
ProofHub offers two plans: ESSENTIAL and ULTIMATE CONTROL with flat pricing.
ESSENTIAL plan is available at $45/month when billed annually. Ideal for a small team. Unlimited users: you can add as many team members as you need without any additional costs.
ULTIMATE CONTROL plan is available at $89/month when billed annually. Ideal for large teams. Unlimited users, Unlimited projects, and Advanced features — you can add as many team members and projects as you need without any additional costs.
ProofHub offers you a 14-day free trial. It is your chance to see the tool in action and check every feature. You get access to all the features in a free trial. You can even schedule a free demo to learn from the support team how this tool works.
2. Evernote – best for organizing notes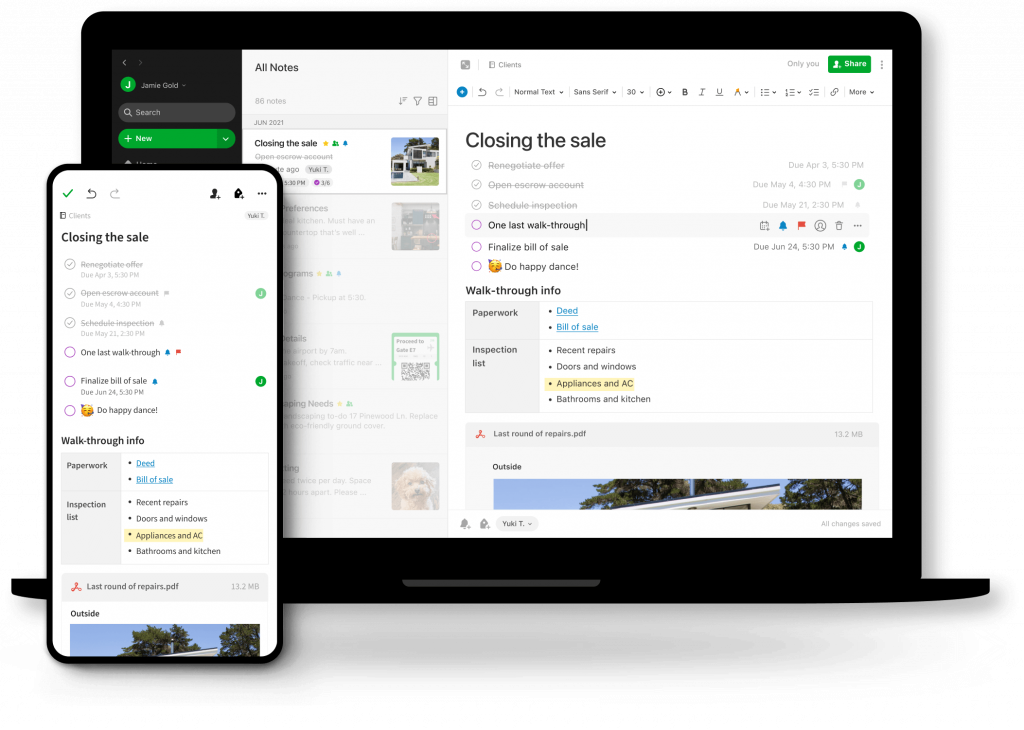 As per my review, Evernote is the best app in the market for note-taking. It can help you with the organization also by converting notes or to-dos into tasks. It seems like a simple note-taking app, but it is more than that. You can create tasks from your notes, delegate tasks, and view all the tasks in one place.
It is good for notes and task organization but comes with limited project management capabilities.
Key features
Sync and organize notes across devices
Create and assign tasks from your notes or to-dos
Connect notes with the calendar for scheduling and planning
View all the tasks in one place in different categories
Scan documents and convert them into digital files with a document scanner
Pros
You can add text, images, audio, scans, PDFs, and documents to notes ( I really like this feature)
Powerful search capabilities to find notes using titles, dates, content types, etc
Get templates to create notes faster and better
Cons
Limited project views
Monthly storage and upload limit
Bare bones free plan
Pricing
Evernote has three plans: free, personal, and professional.
Free plan is for everyone. You can upgrade to the Personal plan for $14.99/month, and the Professional plan for $17.99. A personal plan is great for self-organization.
3. Todoist  – best for organizing tasks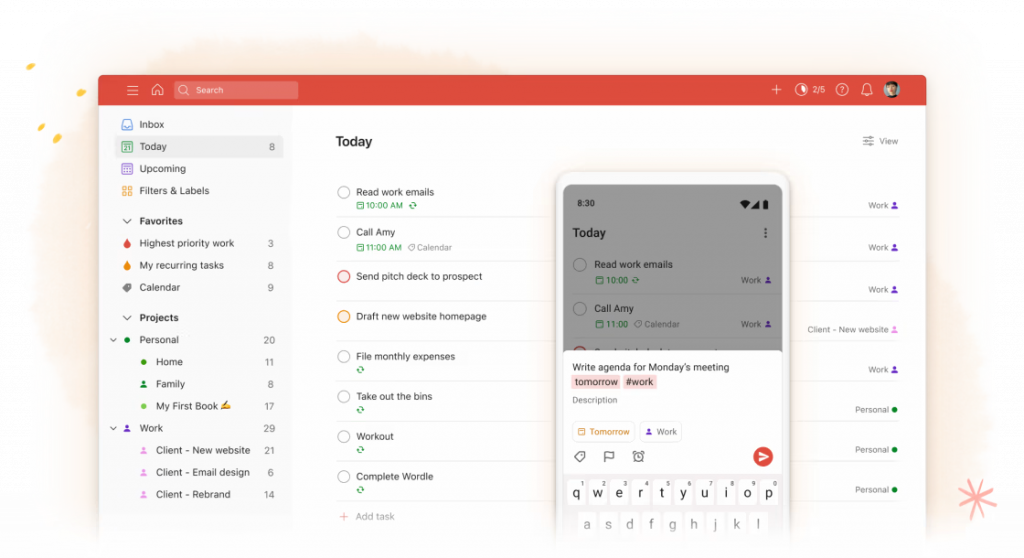 Todoist is one of the best simple-to-use organization apps that allows you to organize your tasks from a single window. It comes with a neat and clean interface that brings clarity to your mind with easy organization. You can create tasks, track progress, delegate tasks, create shared folders, and much more for complete task organization and management.
However, what I observed is it has limited project management capabilities for complex project management.
Key features
Easily create tasks with a quick add button and add task details. Set priorities, and reminders, and create subtasks.
Automatically sorted tasks into categories: Today and Upcoming.
View all the tasks in one place with the Todoist board and Kanban board
Delegate tasks with shared folders and share files
Take the quiz to create personal productivity reports
Pros
User-friendly interface and easy to use
Collaborate with a wide range of software
Free templates to quickly start working on projects
Cons
Not ideal for complex project management
Limited project management features
Required integrations with multiple apps
Charges fee per user
Pricing
Todoist has three plans: Free, Pro, and Business. The free plan is for everyone. The pro plan is $4 per user per month. Business plan is $6 per user per month. Unfortunately, there is no free trial for the Pro plan.
4. Notion – best for knowledge management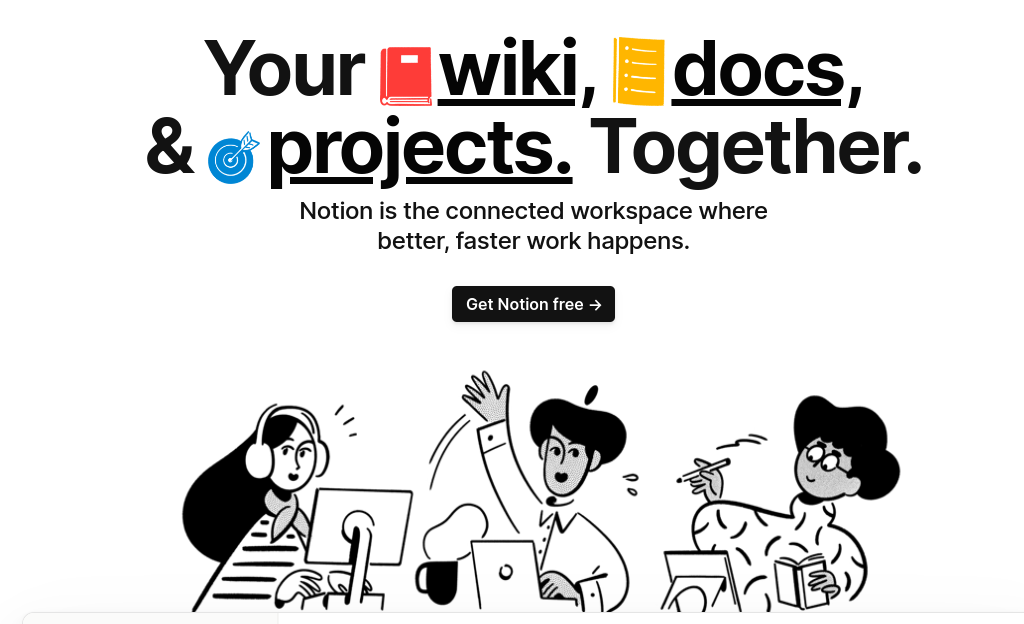 Notion is a great tool for organizing intellectual property and knowledge management of your organization. It will make it easy for you to sort, store, create, and find information. You can create notes, documents, and projects in a central place. Thus, you do not need a separate platform for knowledge assets management.
Anyone in the team with permission can access, create, and collaborate on the knowledge assets.
I find this tool a great option for those who need help with project documentation. However limited project tracking, management, and reporting features may want you to look for other tools.
Key features
Engineering Wiki allows you to centralize all your knowledge
Meeting notes allow you to create notes using advanced features
Bring all your projects to one place
Pros
Create advanced notes using features like code snippets, images, videos, and more
Search through projects using filters and labels
User-friendly interface
Cons
Lack of advanced project management features
Limited options in the free plan
Pricing
Notion has four plans: Free, Plus, Business, and Enterprise.
Free plan is for everyone but you cannot manage a team with it. You have to upgrade to the Plus plan which costs you $8 per user per month. To manage a large team, you need to subscribe to a Business plan ($15 per user per month) or Enterprise plan.
5. Calendly – best for schedule management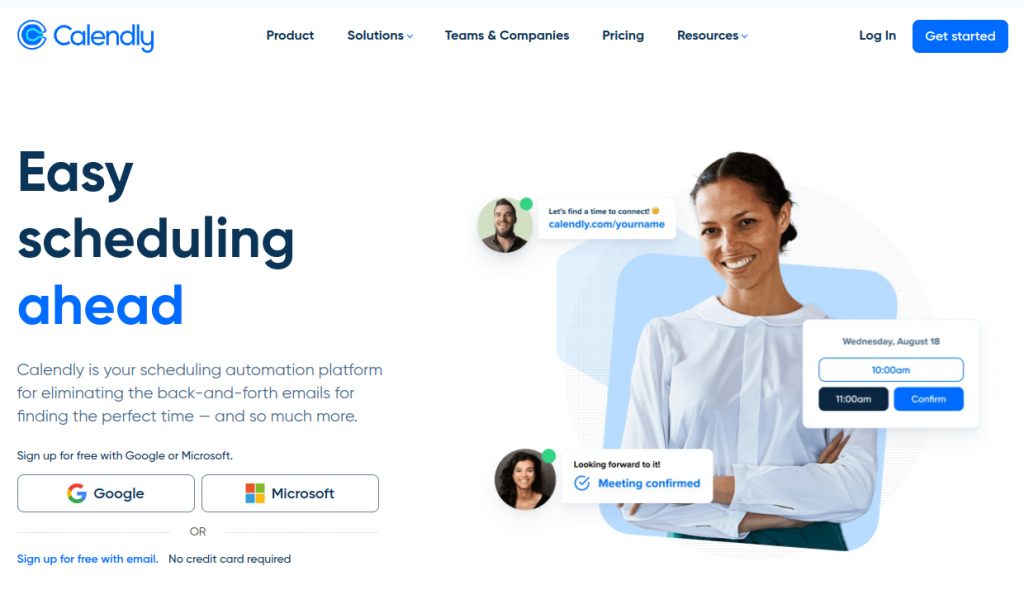 Calendly is a great tool for schedule management. It offers you advanced calendar scheduling capabilities that help you in the organization, time management, and improving productivity. With its scheduling automation, you can eliminate the need for back-and-forth emails to find the perfect time for scheduling an appointment.
Key features
Share your Calendly availability with everyone
Schedule appointments as a team and see their availability
Sync with other calendars in real time
Send email reminders for the appointment
Integrate with most of the popular apps such as Zoom, Salesforce, and Paypal
Pros
Sync with other calendars in real time
Request an automated follow-up meeting
Routing forms for meeting attendees to request information
Cons
Does not integrate flawlessly with all email platforms
Expensive monthly plans
Pricing
Calendly offers five plans: Basic (free), Essentials ($8 per seat per month), Professional ($12 per seat per month), Teams ($16 per seat per month), and Enterprise (custom pricing).
6. RescueTime – best for organizing time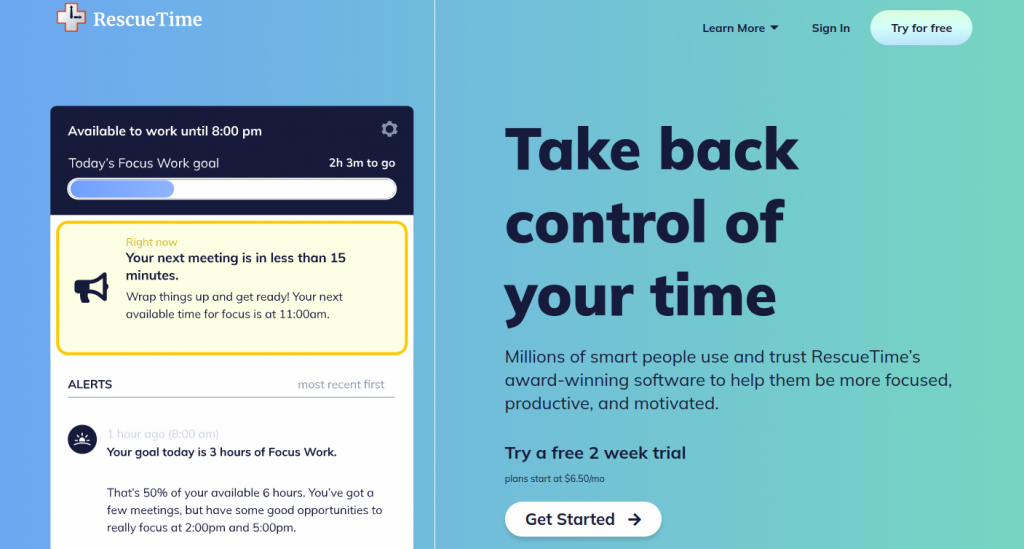 RescueTime is one of the best tools for organizing time. It helps you analyze where you spent time with insightful time tracking and take control of your time. You can set daily personalized goals, block focus sessions, and much more.
Not just that this tool also analyzes your focus and shares tips to improve your time management. It works as a time management coach for you.
Key features
Automated time tracking
Block distractions when 'focus time' triggers
Analyze focus and share suggestions to help you stay on track
Time tracking reports to analyze where you spend time
Provide end-of-day summaries of how your day went
Pros
Track the time you spend on apps and sites
In-depth reporting on how you spent time
Alerts to remind you of daily or weekly goals
Cons
Lack of integration with other software
Pricing
RescueTime Lite is free but it comes with limited features. Rescue Time costs you $12 per month, but it offers you premium features.
7. Zoom: best for organizing video conferencing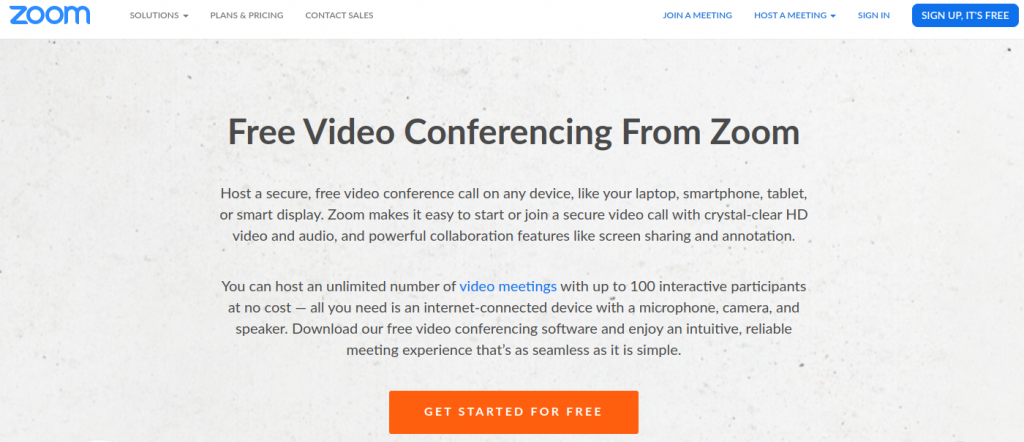 Zoom is a great video conferencing app that allows you to connect with your remote team via audio and video calls. It also allows you to collaborate with your team by screen sharing, adding annotations, and recording meetings. You can organize all your remote team meetings with Zoom.
Key features
Zoom Chat to send messages to team members in meetings
Integrate flawlessly with other software
Translated captions for easy understanding
Share screen during meetings
Pros
Zoom Chat to send messages to team members in meetings
Integrate flawlessly with other software
Translated captions for easy understanding
Share screen during meetings
Easy to use
Quality audio and video conferencing
Meeting filters and backgrounds
Cons
Meeting time and members are limited in the free plan
Complex plan pricing structure
Pricing
Zoom basic plan is free for everyone. But you can upgrade to Pro, Business, Business Plus, and other plans to get access to premium features.
8. Dropbox – best for cloud storage and file sharing   

DropBox is one of the best apps to bring all your files together. It allows you to store, share, and transfer your files, documents, videos, pictures, and more in a central place. Anyone with permission can access the files from cloud storage. Thus making it easy for your team to collaborate and keep everything organized.
DropBox also allows you to share files of large size.
Key features
Cloud storage allows one to store and access files from anywhere
Transfer large files up to 100 GB
Integration with other software
Backup files so that you do not lose them
Pros
Fast upload speed
Advanced level of security
Cons
Complex user interface
Limited storage space in basic plans
Pricing
DropBox's plan Plus costs you $9.99/month for one user when billed annually and the Family plan costs you $16.99/month for 6 users.
9. ActiveInbox – best for email management


ActiveInbox is one of the best tools to organize your email inbox. It turns your Gmail into a task manager. With ActiveInbox, you can create tasks from Gmail, sort emails, and clean unwanted emails. It helps you stay organized with a range of email organization features. But, at the same time, it could enhance your email usage obsession.
Key features
Turn emails into tasks for email project management 
Send gentle reminders to keep on track
Automated follow-up if you do not reply to emails
Sort your project into folders
Pros
Easily integrate with Chrome
Enhanced email control.
Affordable pricing
Cons
Change email interface
Does not offer advanced organizational capabilities
Pricing
ActiveInbox's Professional plan costs you $5.37 per account/month when billed annually. If you want to manage your individual inbox, Professional plan is the right option.
10. Zapier – best for workflow automation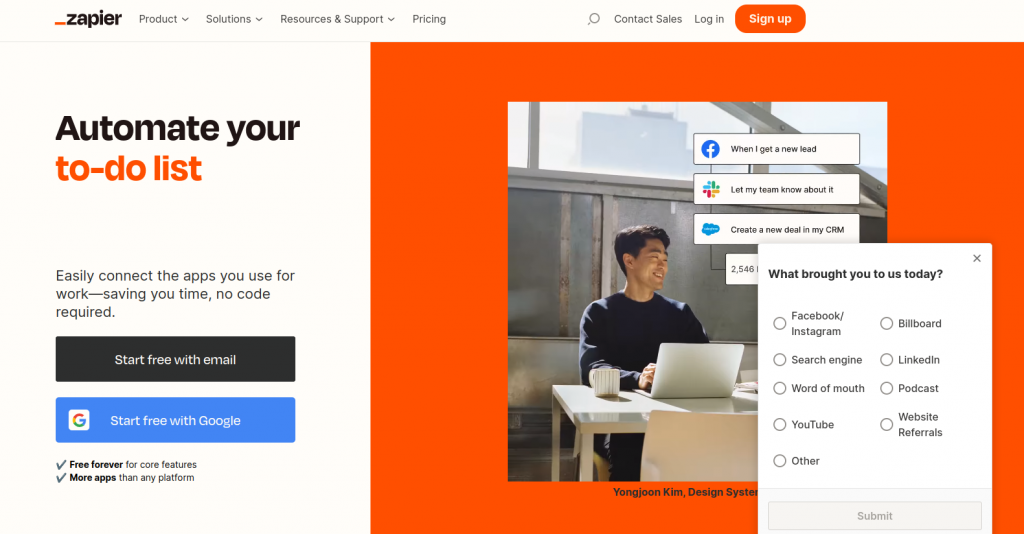 Zapier is an amazing platform to automate your workflow. It integrates with thousands of business apps to automate their workflow. It is a very useful productivity app to save time. It works based on the conditions.
For example, save email attachments on Google Drive. If you receive an email with an attachment, it will be saved in Google Drive with automation.
Key features
Workflow automation to automate your daily tasks
Integrate with thousands of business apps for enhanced functionality
Its filters let you control when a Zap runs based on specific conditions
Offers a wide range of customization options
Pros
User-friendly interface
Affordable for businesses
Advanced security features
Cons
Limited feature in the free plan
Requires a learning curve to get started
Pricing
Zapier offers five plans: Free, Starter ($19.99), Professional ($49), Team ($399), and Company ($799).
Free plan is for everyone. Starter and Professional plans designed for individuals. For the team and the entire organization, you can choose a Team and Company plan.
11. Habitica – best for goal tracking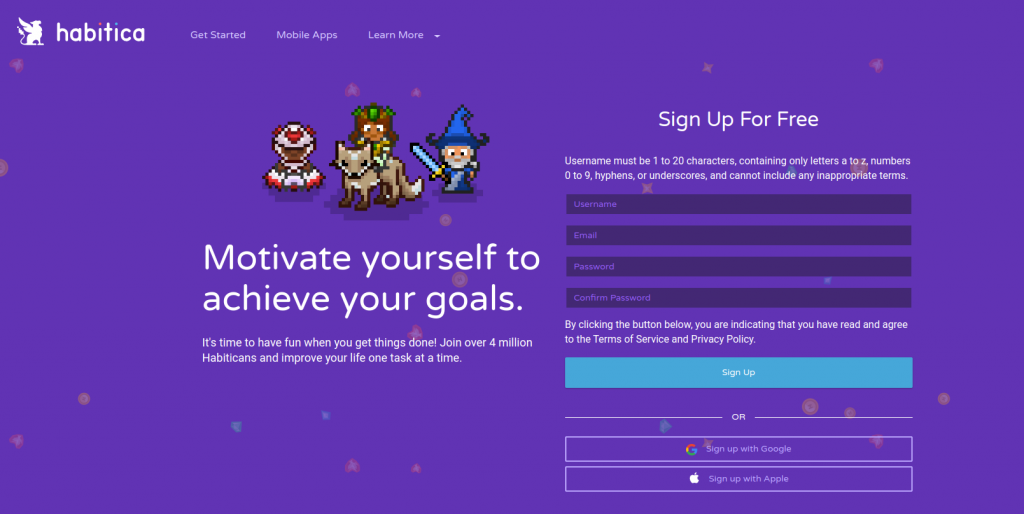 Habitica is a cool goal-tracking app to keep you on track and achieve your goals. It uses the element of gaming for goal tracking and task management. You can set rewards when you achieve the goals and punishment when you don't.
Key features
Create, delegate, and track tasks with a task list
Track Your Habits and Goals
Earn Rewards for Your Goals
Create a strong social network to inspire you
Chat area to connect with your team
Pros
Interactive user interface
Mobile-friendliness
Community of users
Cons
Lack of updates and new features
Lack of integrations with other software
Pricing
Habitica has primarily two plans: personal and group plans.
Personal plans are free to use. The group plan costs you $9 per month + $3 per member. It is ideal for managing a small team.
How to choose the best organization app?
Organization apps are of great assistance to managers. It takes away stress, saves time, and improves productivity by keeping everything organized – from your tasks to files, documents, communication, schedule, and everything related to work. The first step is to choose the right organization app that best serves you. However, it can be overwhelming, considering the number of options available in the market.
Tips for choosing the best organization app
Identify your needs: Organization apps are available in different categories: tasks, files, meetings, communication, projects, etc. Define what you need help with.
Find the right app: Check out the features of the app and look for the features based on your needs. A complete organization app allows you to manage your tasks, files, communication, teams, and projects all from one place. However, if you want help with a specific area, you can go for a feature-specific app for an affordable option.      
Ease of use and compatibility: Look for an app with a neat and clean user interface and easy to navigate. Make sure it is compatible with the software you are currently using such as Gmail, Calendar, and Google Drive.
Security and privacy: Take into account the security features of the app. There are five layers of security: Physical security, Network & system security, Application security, Privacy, and Compliance. Make sure your service provider complies with security measures.
Reviews and free trial: Go through the unbiased reviews of the app on popular platforms such as G2, Capterra, and Software Advice. This will give you a clear idea about the pros and cons of the app. Last, but not least, take a free trial of the organization app to make a final decision.
How to organize work tasks better?
An organization app can help you with organization features, but it cannot teach you about the organization. You still need to follow the right practices to organize your work tasks better.
Quick tips for better task organization
Create a task list: Create daily, weekly, and monthly to-do lists of important tasks. Refer to the lists to stay organized.
Set priorities: Decide what is important so that you can organize tasks accordingly and meet the deadline.
Use calendar: Use the calendar to plan your monthly tasks, meetings, interviews, and training. Review the calendar from time to time to make adjustments and avoid clashes.
Delegate tasks: Delegate tasks to manage workload. Set the right expectations and clear deadlines. It helps you distribute work and achieve project goals.
Mark completed tasks: Mark the tasks that are completed. It will help you reduce clutter.
Use tools to stay organized: Use an organization app to create a dedicated channel to organize your tasks, files, communication, and more. It keeps everything organized.
Reduce the burden: Respond to emails and phone calls. Do not let them pile up. Block a time for replying to the work emails.
Reasons why organization apps are important
Enhanced organization: Organization apps centralized your earlier decentralized workflows. This brings everyone on the same page and makes it effective to collaborate.
Improve productivity: When everything is in its place and well organized, you have mental clarity which makes you waste less time finding things. You can efficiently work on your tasks.
Reduce waste hours: Streamlined workflow for every aspect makes you more effective. You spend less time looking for more information and more on work. 
Reduce stress: Organization brings peace of mind. You do not have to ask everyone for the task status, files, documents, and so on, which can be overwhelming.
Take control: Organization apps allow you to take control of your projects and teams all in one place. You can track project progress and make decisions to ensure you meet the deadlines.
Get organized & super productive today with ProofHub
The birth of the organization apps is the result of the desire to counter the organization challenges faced by managers in project and team management — scattered projects, decentralized workflow, and file sharing, inconsistent communication channels, and lack of tracking —
So that the workplace can be more productive, efficient, and organized, there is no chaos, and you stay organized with peace of mind.
The only thing is you have to choose the right tool. Some tools are good for organizing files, some are good for organizing communication, some are good for organizing time, and so on. But the best tool is the one that addresses all the aspects.
With ProofHub, you will find the right organization in every area of your project and team management — whether it is tasks and projects, files and documents, or team communication. You have complete control!
Frequently asked questions
What are organization tools?
Organization tools are the apps or software used to organize tasks, files, communication, documents, and more at a centralized platform to manage work more efficiently.
Why are organization apps important?
Organization apps help you improve productivity, increase work efficiency stay organized, reduce stress, improve collaboration, and track project progress.
Which is the best tool for organizing the workplace?
It is hard to pick the best tool for organizing in the workplace but here is a list of some top organization apps: ProofHub, Todoist, and Notion.