Project management tools are software applications designed to assist managers or teams in planning, collaborating, organizing, tracking, and delivering projects effectively.
To ensure that your work progress seamlessly, it is essential to choose a project management tool that streamlines every aspect of your work, ranging from task assignment and progress tracking to collaboration and automation of redundant tasks.
As a manager, you're responsible for organizing resources, planning tasks, and monitoring progress – all while keeping your team on the same page. It's a lot to handle, I know.
As the CMO of ProofHub, I've experienced project management challenges firsthand, and I know the value of using the right tool. In this article, I've compiled a comprehensive list of top project management software tools to help you efficiently manage your team and projects.
Don't let project management chaos take over! Sign up for ProofHub for Free to stay on top of your project deadlines and milestones. No credit card required. Cancel anytime!!
Best project management tools in 2023
There are many different project management tools available, each with its own strengths and weaknesses. So, let's take a look at the 54 best pm tool solutions to your daily project management problems!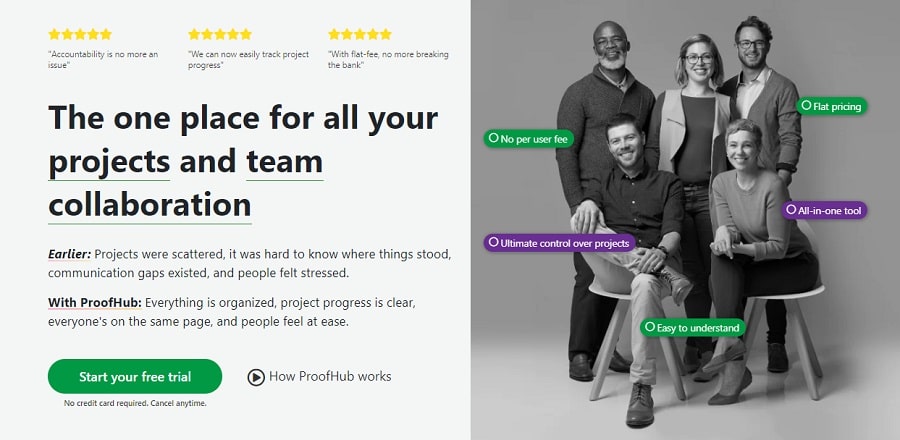 ProofHub is a robust project management tool designed to simplify and optimize project management processes for maximizing productivity. It serves as a centralized platform that effectively facilitates all aspects of managing a project, from planning, prioritizing, and assigning tasks to tracking and collaborating on them in a user-friendly, intuitive manner.
Its comprehensive suite of tools helps teams stay organized, productive, and ahead of deadlines, ultimately yielding better results, happier employees, and remarkable organizational growth.
Features:
All-in-one platform: ProofHub provides an all-in-one platform to centralize every aspect of management for your projects and eliminate the need to juggle through multiple apps to get things done. Plus, with everything conveniently organized at one place, you can quickly retrieve any relevant information, enhancing productivity and efficiency.
Task assignment and prioritization: To effectively distribute the workload among your team members, ProofHub allows you to create tasks and subsequent subtasks and assign them correspondingly to one or multiple team members. Additionally, you can set daily agendas and priority levels to stay ahead of deadlines.
Multiple task views: ProofHub allows you to track and optimize project progress with the flexibility of four different views: Table, Board, Gantt Chart, and Calendar. Switching between these views allows you to focus on specific tasks while maintaining a comprehensive overview of all tasks and deadlines.
Internal communication: With ProofHub's robust in-built chat feature, you can collaborate with your team members in real-time without having to shuffle through long email threads. Also, it saves you from the cost and compliance risks associated with relying on third-party integrations. Additionally, features like discussions and notes allow you to document every piece of information during the planning and brainstorming.
Proofing and file sharing: ProofHub's proofing feature comes with several markup tools to highlight and communicate the desired changes you want on your creative assets. This allows you to avoid mistakes while saving the hassle of physically being present with your designers. Additionally, you can easily share, store, and access files related to your project on ProofHub through drag and drop.
User-friendly interface: ProofHub comes with an intuitive and customizable interface that allows you to manage your project the way you see fit. You can set the dashboard with details that are relevant to specific work or jump directly to the location you want with the jump tube. Additionally, with the search option, you can find any file or resource with a single click. These options also allow for the seamless onboarding of new team members and getting them on the same page, no matter how big your projects are.
Access control: With the custom roles feature of ProofHub, you can maintain control over sensitive information by setting custom access permissions for different sections of ProofHub.
Tired of juggling multiple project management tools that don't quite meet your needs? Try ProofHub for Free Now!
Pricing:
Flat pricing & unlimited users: ProofHub's flat pricing structure with no per-user fee allows you to scale your organization without worrying about breaking the bank. Without any hidden add-ons behind complicated paywalls, ProofHub offers two straightforward plans:
Essential: Priced at $45/month (billed annually), this plan provides access to all the core project management features to manage up to 40 projects.
Ultimate Control: For a discounted price of $ 89/month (billed annually), this plan offers complete access to all the features of ProofHub to manage unlimited projects.
Note: The discounted price on the Ultimate control plan is only available for three months from the date of purchase.
Don't just take our word for it — give ProofHub a try for yourself today. It's free to get started, check out our 14-day free trial to see how efficient it can be in facilitating project management and team collaboration at your organization. [no credit card required, no commitment].
2. Basecamp

Basecamp needs no introduction. It is a comprehensive project management tool that is ideal for teams working remotely. The built-in collaboration tools, such as group chat, message boards, and team schedules, make communication and coordination much easier.
However, the price tag is a bit steep compared to other project management software. It's important to note that some essential features, like multiple project views and task priorities, are missing from Basecamp. Despite its limitations, it's still a useful project management solution for remote teams, especially if they prioritize seamless collaboration and communication.
Features:
Message boards, schedules, to-do lists

Document and file storage

Easy-to-use and simple interface

Tag team members easily
Pricing:
The Business plan comes at $99 per month.
Read on: Top 21 Basecamp Alternatives for Project Management
3. Monday.com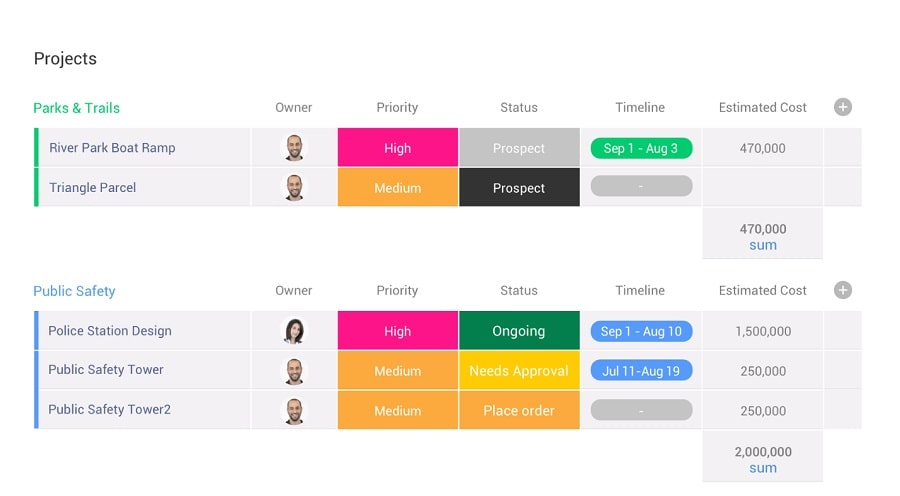 Monday.com is one of the popular project management tools with flexible dashboards, CRM capabilities, product management and a guest view feature for real-time collaboration. It allows users to sign up by industry, tailoring the experience to specific fields.
However, it has limitations such as limited task dependencies based on dates and essential features like Gantt charts, calendar views, automation, time tracking, and integrations being available only on higher-priced plans, which may not be suitable for smaller businesses or tight budgets.
Features:
Centralized communication and document management

Visual project management and tracking

Analytics and reporting are well-executed

Smartly integrated with Dropbox, Zapier, Google Drive, and similar sharing and management tools

CRM tools that can expand as your small business grows.
Pricing:
Monday.com's Basic plan is priced at $25 per month billed annually.
4. Wrike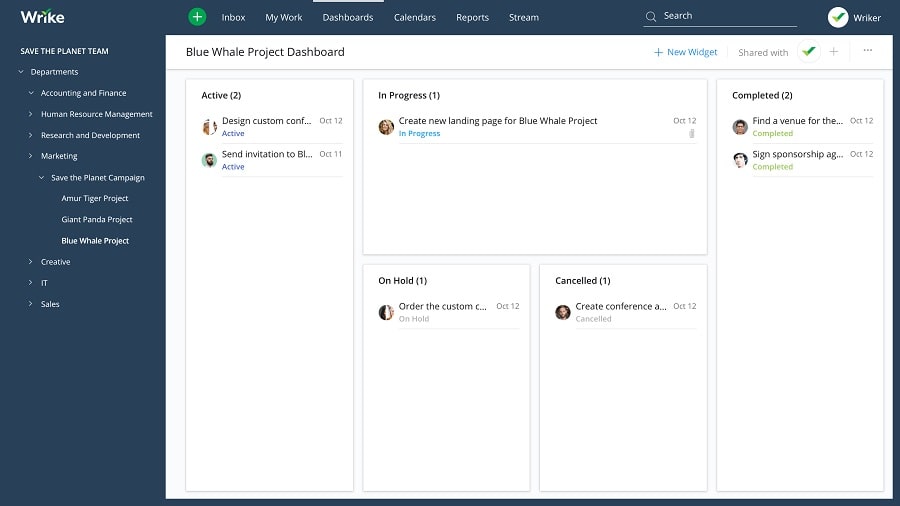 Wrike is a robust and versatile tool that helps teams, agencies, and professional service providers collaborate better and communicate with greater transparency. Wrike has plenty of best-in-class collaboration, communication, and document management tools. The tool allows you to set priorities and align your team to work faster and smarter. However, you will find that unlocking everything you need comes with a high price tag.
Features:
Tasks and milestones can be synchronized to Google, iCalendar, and Outlook calendars

Gantt charts help create visual timelines

Helps you to turn strategy into an actionable plan

Provide accurate and up-to-date info to clients
Pricing:
Professional package – $9.80/user/month (billed annually)
5. Asana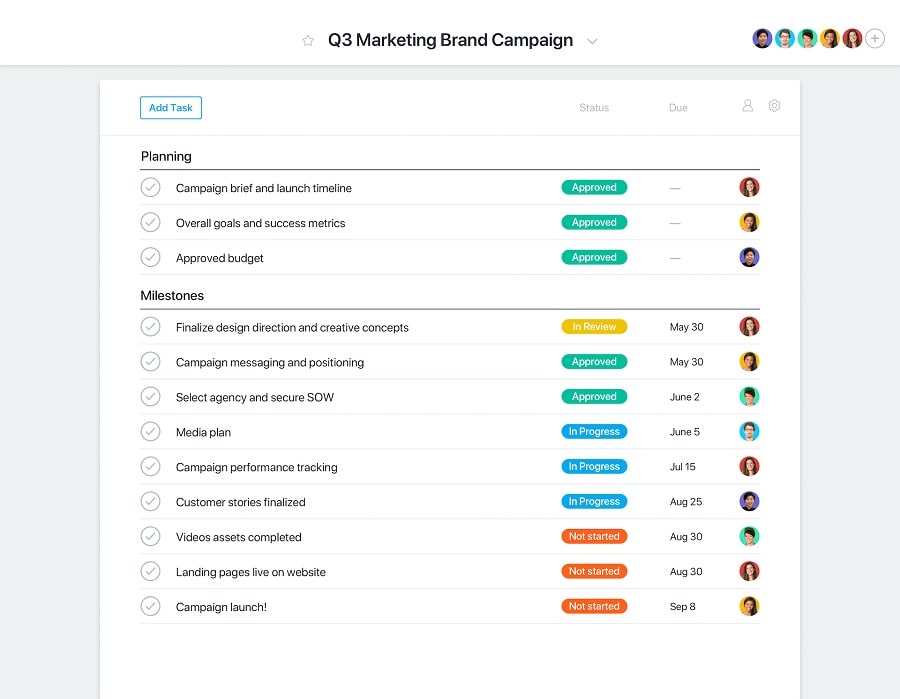 Asana is a feature-rich task management tool that comes with multiple project views, process management automation, collaboration tools, Agile support, versatility, powerful integrations, and smart design, making it a top contender in the project management software market.
However, Asana does have a few limitations worth noting. The mobile app, while available on iOS and Android, is not as user-friendly and efficient as the desktop version. Assigning tasks to multiple users is not possible. Time-tracking features are only available in the Business and Enterprise tiers, and the lower-tier plans lack a strong emphasis on security.
Features:
The free tool offers a basic dashboard and search

Group tasks into sections or columns in a list or board project

Notify employees using a personalized inbox

A Gantt-style view of how projects fit together

Schedule and prioritize tasks on a special Asana calendar

Generate detailed Progress reports
Pricing:
Asana offers three tiers of pricing: Free, Premium, and Enterprise. The premium plan starts at $9.99 per member/month.
If Asana doesn't come out to be your cup of the team, you can pick any best Asana alternative.
6. Notion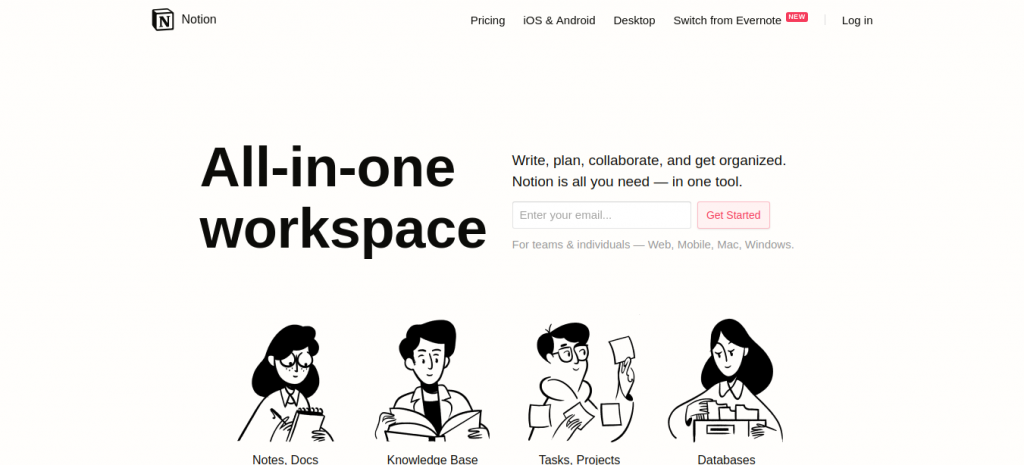 Notion is a fantastic project management tool that content creators, solopreneurs, and small teams juggling multiple projects would find beneficial. It offers various project views like timeline, board, and calendar, allowing you to plan your projects efficiently. I really liked how you can start in the board view and easily add a timeline view to visualize task relationships.
However, it's important to note that Notion may lack some advanced project management features, and managing multiple projects can become tedious (especially for large teams). Additionally, its security features could be improved.
Features:
Outline ideas and rearrange them in any way

Syncs across various devices and collaborators in real-time

Works in the browser and runs offline with the Mac, Windows, and mobile apps

Offer powerful tables that are customizable
Pricing:
Starts at $4 a month
7. ClickUp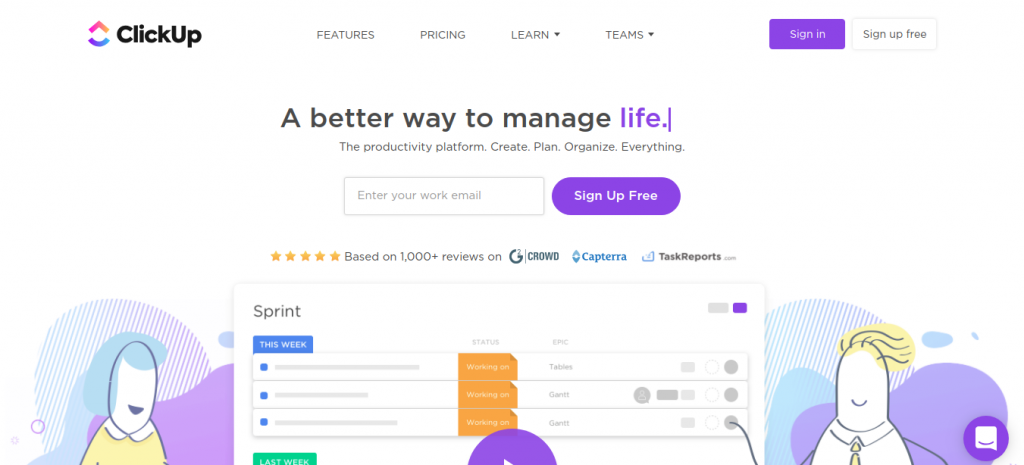 ClickUp is a highly-rated productivity solution that helps you manage your tasks, notes, projects, and time more efficiently. It brings everything together in one place, allowing you to easily see who's responsible for each task.
ClickUp stands out for its focus on customizable views, statuses, features, and processes, ensuring a better user experience. If your organization follows Agile development or requires extensive customization, ClickUp could be a suitable choice.
However, be prepared for a steeper learning curve, as users often find that it requires some training to become comfortable with the platform.
Features:
Customize workflow with stages to keep people on the same page

Create spaces to organize work with customized features, workflows, tags

Add time estimates for automatic scheduling

Control what others can see and what they can do

Make goals and track their success
Pricing:
ClickUp offers a plan at no cost, which is ideal for personal use and beginners who are new to project management. However, the plan has a limited file storage capacity of only 100MB.
Paid plan starts from $4.99 per user per month.
Read more: Best ClickUp Alternatives & Competitors For Project Teams
8. Teamwork Projects

If you're looking for a project management software that truly prioritizes team management, Teamwork might be worth checking out. The bulk editing tool makes it easy to assign details and documents to multiple tasks. The platform includes built-in apps and third-party tools to enhance functionality.
Just a heads up, though. Before you can start incorporating team members into tasks, you'll need to invite them to the platform separately. Also, be prepared to invest a little extra time in learning some of the processes on the platform, as they might not be as intuitive as you'd expect.
Features:
Set start dates and end dates for your projects

Get a snapshot view of what your team is up to with the project activity overview

'Gantt' style view of your projects

Gain valuable insights into your team's performance

Assign low, medium, or high priorities to tasks
Pricing:
Teamwork's Starter plan is priced at $8.99 per user per month (monthly). It can be a good option for people looking for basic project management. But, then again it lacks some very crucial team management features such as client users, project budget expenses, workload balancing, resource scheduling, and reporting capabilities.
9. Evernote

Evernote is the best app in the market for note-taking, as per my review. It helps you create interactive notes by adding text, images, audio, scans, PDFs, and documents. You can also turn your to-dos or notes into tasks.
This app helps you with project organization by allowing you to view all your notes, tasks, and to-dos in one place. You can set reminders so that you don't miss the deadlines.
But I don't recommend this app for complex project management and team collaboration. It does not have advanced project management capabilities.
Key features:
Take notes in a useful and interactive way

Set reminders, track deadlines, and gather feedback

Stay on schedule with checklists and reminders

Quickly find notes with advanced search options

Sync your app with the calendar for effective planning
Pricing:
The free plan is for everyone but you can sync notes up to 2 devices. If you want to work from anywhere and get access to premium, you need to upgrade to the Personal plan or Professional plan.
10. Smartsheet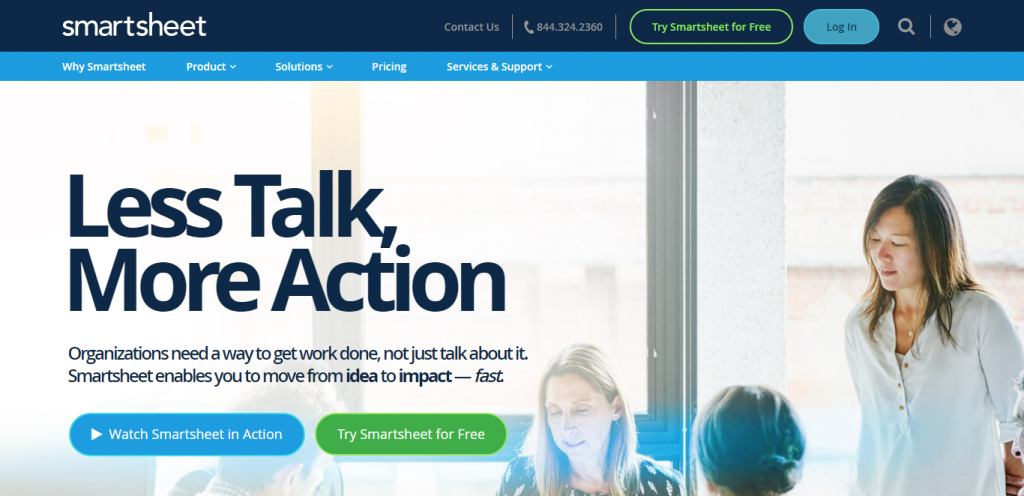 Smartsheet is a flexible spreadsheet-centric cloud-based project management tool that allows teams to work on tasks and projects in real-time. With its customizable features, it can be used as a project management app, budget tracker, campaign tracker, and more.
However, if you're not comfortable with the spreadsheet-like interface, Smartsheet may not be the right fit for you. Additionally, it has a steep learning curve and requires add-ons for time tracking and resource management.
Features
:
Leverage team collaboration

Automatic update requests

File attachments from Google Drive, Onedrive, Dropbox, and more

Gain visibility into who's busy and who's not

Secure permission control
Pricing
:
Smartsheet Pro starts at $7/user/month, Business at $25/user/month, and custom pricing for Enterprise. Remember, there's a minimum of three users on any plan, and starting prices for Pro and Business are $21/month and $75/month, respectively.
Read more: Best Smartsheet Alternatives & Competitors for Work Management
11. Hive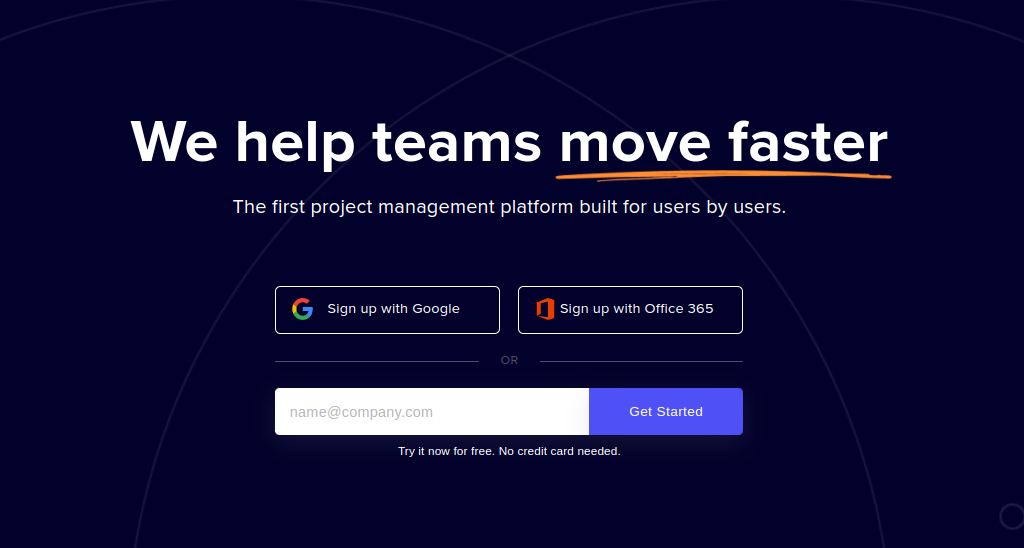 Hive is a project management tool that combines the power of AI with features like automated task management, custom workflows, templates, messaging, and collaboration. Hive also integrates with over a dozen native third-party tools, including Microsoft Teams, Google Workspace, JIRA, and Salesforce. Just a heads up, Hive has a steep learning curve. And, you will get highly confused with its pricing model ( analytics costs extra).
Features:
Provides a central platform for everything

Plan and repeat tasks using action templates

Move seamlessly between projects, messages, and files

Access anywhere from a desktop or mobile apps

1000+ integrations
Pricing:
While Hive's price point may seem low at first glance, there's a catch. The professional plan starts at $12/month/user, but you'll need to purchase "workspace add-ons" for essential features like timesheets, analytics, and resource management. Adding these extras can bring the price up to at least $25/user/month, making it less attractive.
12. TeamGantt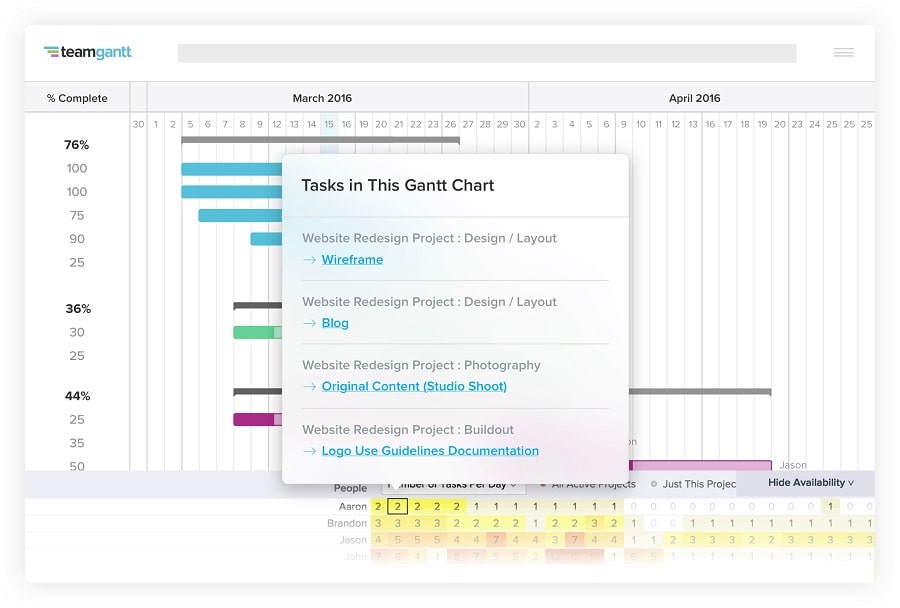 Don't let the name fool you, it's more than just Gantt timeline charts. With this tool, you get access to all the common task management functions in one place, like shared team calendars, team collaboration, reports, and time sheets.
In my research, TeamGantt is perfect for small to mid-sized teams who want to hit the ground running with a dependable project management app. However, it's worth noting that the app doesn't come with invoicing and billing tools, nor rich reports.
Features:
Fast drag-and-drop scheduling

Intuitive and easy-to-use

Real-time progress updates
Pricing:
TeamGantt's new sliding scale pricing model is an improvement on the old one, offering better deals as you add more team members. The Standard plan costs $24.95/month for one person and $34.90/month for two people ($17.45/person). Annual plans offer a 20% discount, but savings decrease for larger teams.
13. HubSpot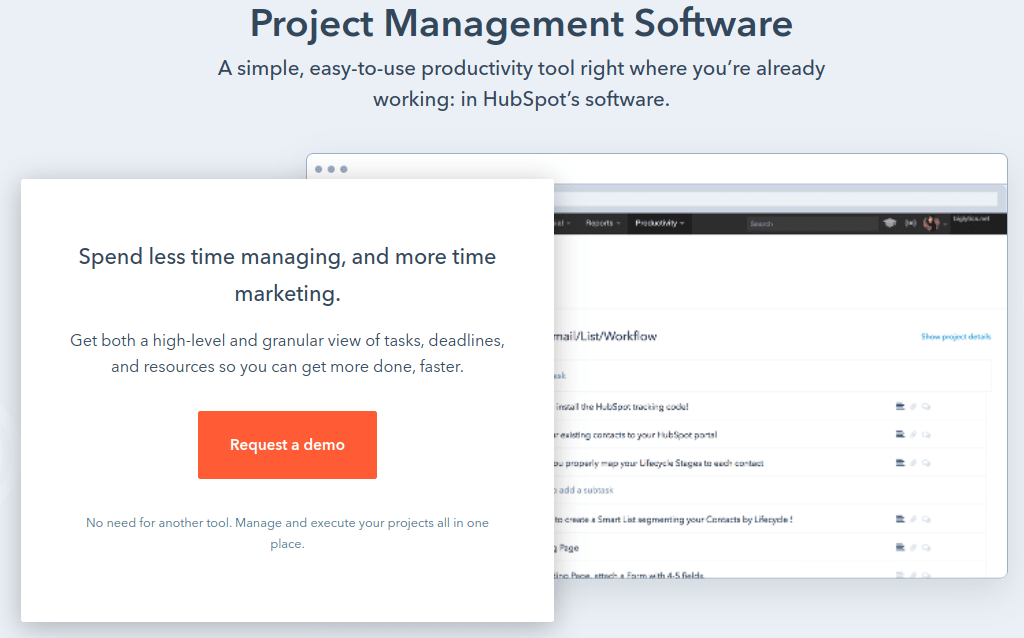 HubSpot is an all-in-one CRM tool that combines the power of your marketing, sales, support, and project management teams together. HubSpot's free Marketing Hub provides you with Projects, a singular place for all your tasks, files, and communications to live in one place. Under the Marketing Hub, you can manage all of your projects within the same software and get real-time feedback, notifications, and results.
With built-in templates, you can start managing your projects instantly. For every project, break down different tasks, assign owners, set due deadlines, and provide any needed attachments or assets in Projects. Since it's a part of HubSpot's CRM, you'll have all your customer data connected alongside your marketing, sales, and support teams.
Features:
Collaboration boards

Pre-built project templates

Customer database and data sync

Task assignment ticketing systems

In-depth dashboard analytics
Pricing:
Hubspot offers range of options for businesses of all sizes and needs. Their free CRM is a great start, while the Marketing, Sales, and Service Hubs have different plans with various features and add-ons. Plans range from Free to Enterprise, with the Starter plan at $20/month and no annual commitment. However, higher tier plans can be costly, with extra user fees and some duplicated features.
14. Zoho Projects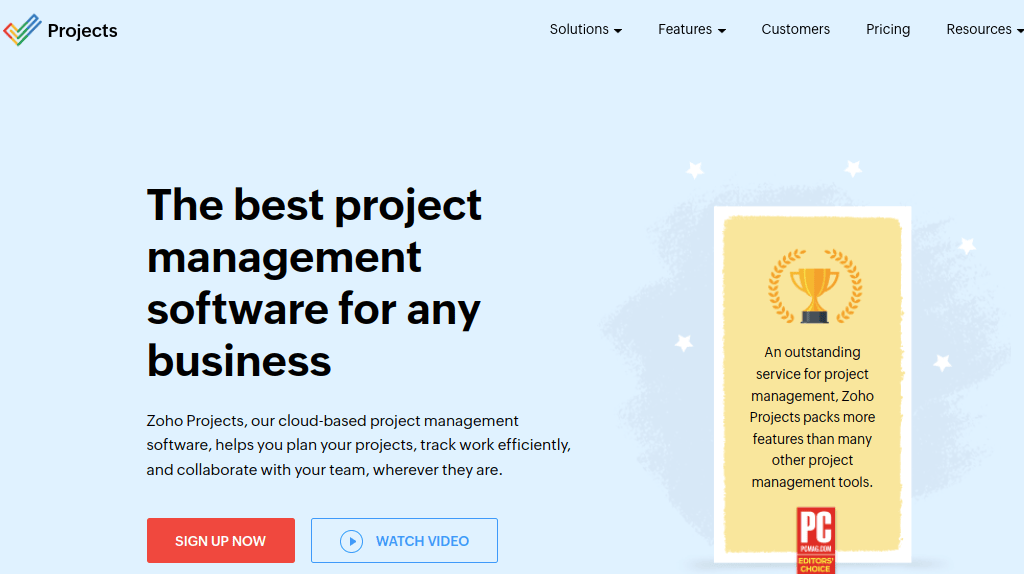 Without a doubt, Zoho Projects stands out as one of the best simple project management software that can help you streamline your upcoming work and tasks with a click. It offers all the core tools needed for managing projects, including Gantt charts, basic resource management tools, and timesheets, all at a reasonable price.
Getting started with Zoho Projects is relatively straightforward, although it may take some time to master all its features. Despite this, we found Zoho Projects to be well-suited for small teams operating on a tight budget.
Features:
Gantt charts to oversee project progress

One tool for teams to create, collaborate and communicate

Can be integrated with ZOHO CRM and other tools to manage every aspect of a growing agency
Pricing:
Zohoprojects offers three pricing plans. Free plan for up to 3 users. Premium plan, most popular at $4/user/month, with advanced features. Enterprise plan costs $9/user/month, with more features for larger teams.
Read on: Zoho Alternatives – 13 Tools Your Team Will Love
15. Scoro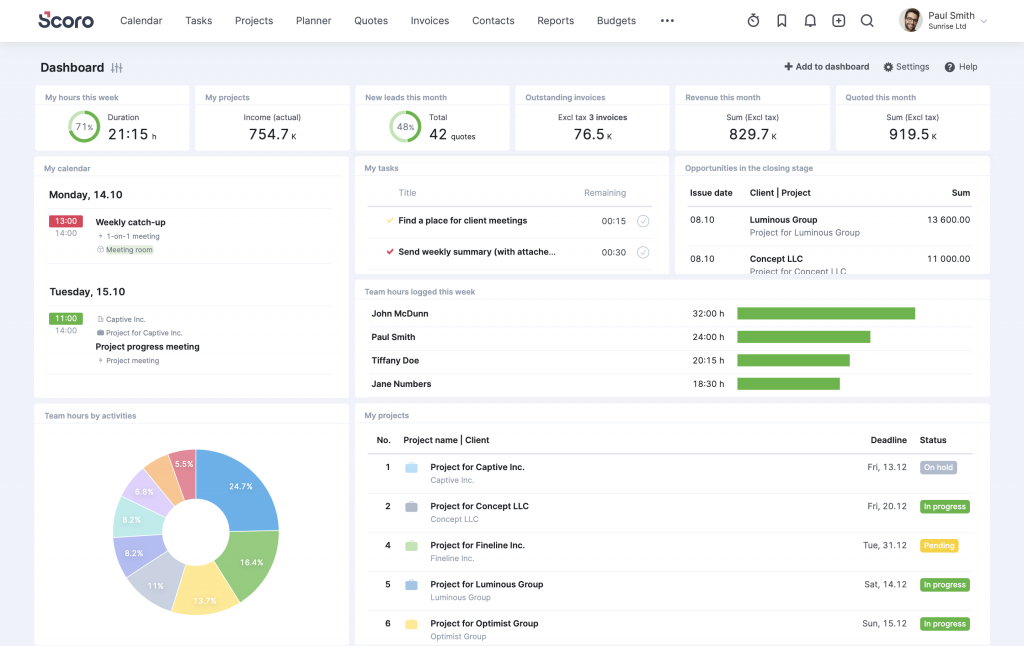 Scoro is known as one of the most comprehensive business management software for professional and creative services. One of the features that stood out to me was the ability to create and send sales quotes and bills right from within the app. It's a huge time-saver and keeps everything organized.
Plus, the reporting functionalities provide a clear overview of project status, unscheduled time, and projects by accounts. For those who wish to bring structure to your work, Scoro is the right pm tool for you.
Features:
A single place for projects, clients, and teams

Be organized in every aspect of your business with a seamless workflow

Get a real-time overview and automated reports

Can be integrated with tools like DropBox, Mailchimp, Outlook, and more
Pricing:
From my research, Scoro looks like a great option for small to medium businesses. Their Essential plan costs $26 per user per month and has a decent set of features. But, if you want advanced stuff like CRM and reporting, you'll need to shell out $37 or $49 per user per month.
16. GanttPRO

GanttPRO is one of the best pm software, that helps teams and project managers plan, schedule, and track their projects using Gantt charts. The solution offers ready-made Gantt chart templates for an easy start.
Features:
Pricing:
GanttPRO is an ideal budget-friendly project management tool for small to medium-sized businesses. Plans start at $7.99/user/month. The basic plan has essential features, while the Pro plan has a few advanced ones.
17. LiquidPlanner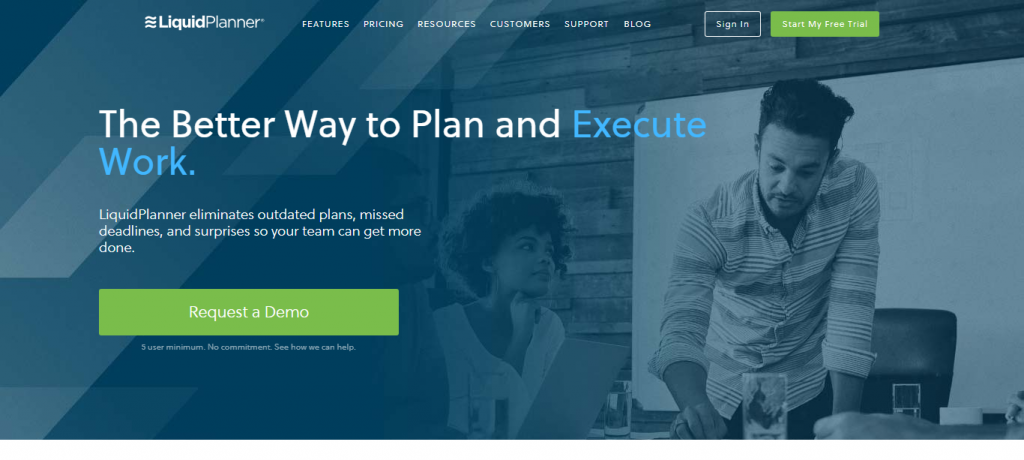 LiquidPlanner offers automated scheduling, insightful management tools, and good time-tracking capabilities, making it a valuable project management tool. However, it does have a learning curve and can be time-consuming to set up initially.
Some functions may be difficult to find, and the lack of an interactive Gantt chart, milestones, and non-image attachments are limitations to consider. Overall, it's a solid choice for those who prioritize intelligent scheduling and resource management in their project workflows.
Features:
A realistic range of time to complete tasks

Integrated time and budget tracking

Task-specific collaboration boards

Adding notes to projects

Cross-project visibility
Pricing:
You can start with the essentials plan at just $15 per user per month (billed annually)
18. Podio

Podio is a platform that gives you the freedom to customize your business operations to suit your needs. However, the interface can be confusing, requiring a lot of clicking and leaving you feeling lost.
It lacks a strong focus on any specific task. Creating your own environment can be a chore, especially without user-friendly tutorials. After using Podio, you will feel to explore more streamlined project management solutions that offer a better user experience.
Features:
Break down large projects into simple to-do lists with assigned tasks

File uploads, progress statuses, updates, and comments are done in real-time

Real-time comments and deadlines are all laid out on one dashboard

Integrates with file-sharing services, customer support, and help desk tools

Visualized reports to mark the team's progress
Pricing:
Podio offers varying pricing tiers, which are priced per employee per month. Premium plan available at $24.
19. Todoist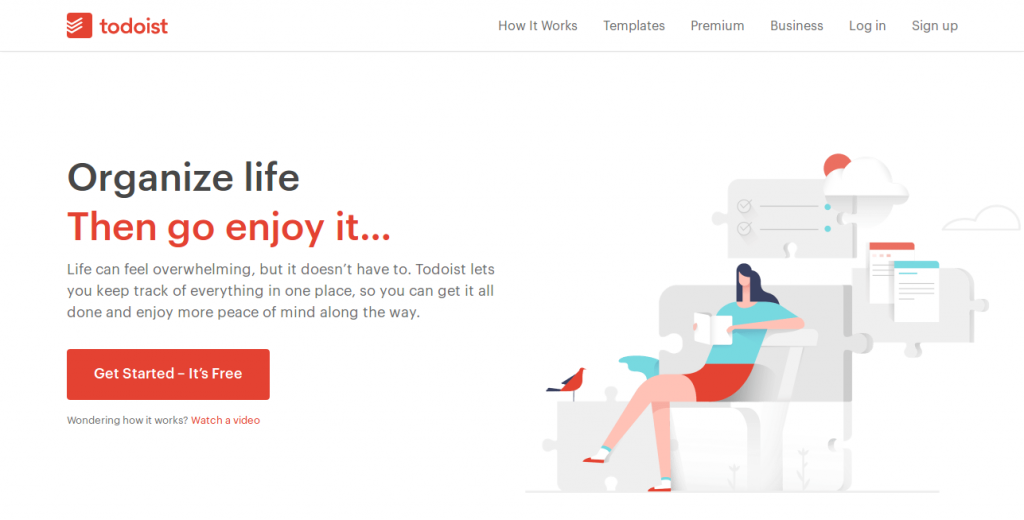 Todoist is a great organization app to convert your to-do lists into tasks. It provides you with a user-friendly interface to manage your projects and tasks. This tool helps you stay organized, improve productivity, and bring clarity to the mind.
I really appreciate this tool for basic task management and organization. But it is not ideal for complex project management. You do not have advanced project management features like project reporting, time tracking, and custom permissions.
Key features
:
Create and delegate tasks with a Quick Add button

View all your to-dos in one place

Customize your to-do list with filters, labels, priorities, and more.

Sync across all your devices and integrated with other apps

Use project templates to quickly create projects
Pricing:
Todoist is free for starters but does not provide you access to premium features. Paid plans start from $4 per month per user. To access all the premium features, you need to switch to a Business plan.
20. Workzone

Workzone is built by a highly dedicated team to help individuals and organizations gain better control and visibility in work management. It gives them a central place to manage and share work, so everyone stays on the same page.
I particularly appreciate the "To-Do Lists," which are personalized for each user and sent via email, ensuring that everyone is on the same page.
Features:
Get top-level reports so everyone knows what's next on the list

Makes way for faster communication

Features like creating tasks, to-do lists, and sharing files easily improve collaboration

Set permission for different users including clients
Pricing:
Workzone offers a tiered pricing model starting at $24/user/month for the Team package and going up to $44/user/month for the Premier package. It may not be the best fit for small teams or solo users due to the minimum number of users required for each plan.
21. Filestage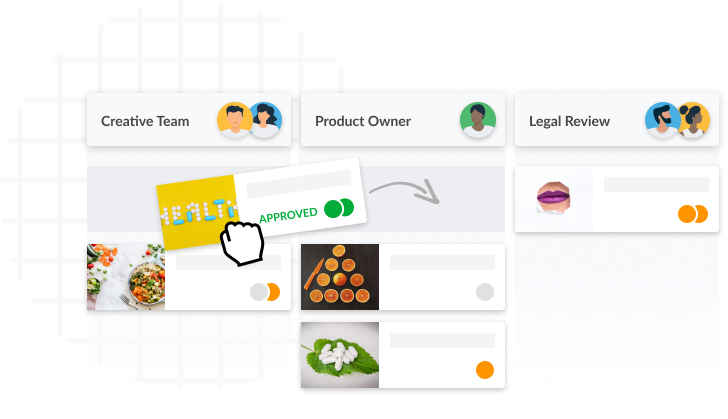 Filestage is an enterprise-ready marketing project management software that helps teams to get their project deliverables reviewed and approved faster. What really stood out to me when reviewing the tool was its ability to streamline feedback and collaboration, reducing errors and ensuring compliance with industry standards.
It enables colleagues and clients to view and annotate project deliverables (such as documents, images, or videos) in real-time for marketing projects, video production, website design, product catalogs, or anything else – and to approve files when they are complete.
Features:
Build consistent review and approval processes

Comment on videos, documents, images, and audio files in real-time

Clear deliverable version management

Project dashboard to keep an overview of all deliverables
Pricing:
With its free plan, you get unlimited team members and reviewers, although there are limitations on active projects and storage. If you need more features, the Basic plan is just $49 a month (annually). For larger teams, the most popular Professional plan is $249 per month (annually).
22. Workbooks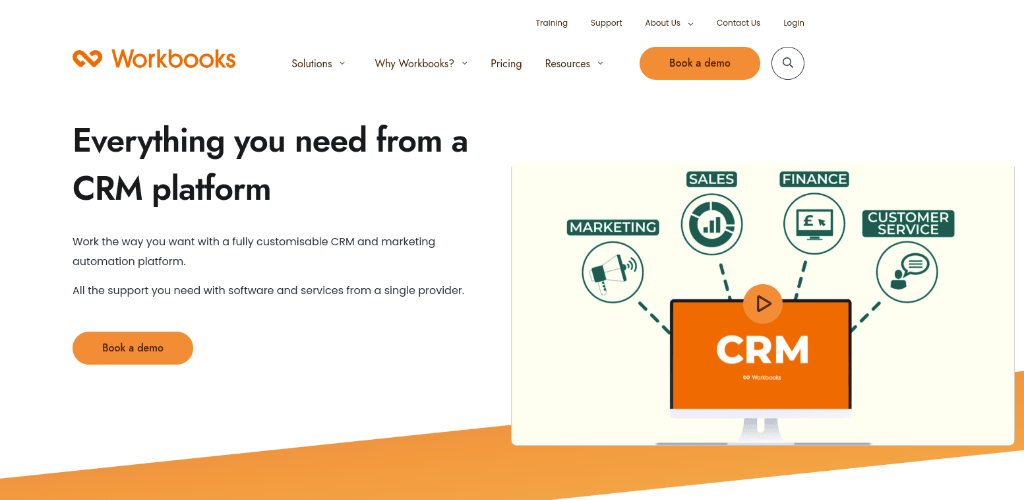 Workbooks is a tool that can help businesses manage projects more easily. It has features like project planning, resource management, and time tracking that help team members work efficiently and meet deadlines. You can also use the tool to track progress and see where you can improve. However, it may be a bit complicated for new users who aren't familiar with project management software. If you're looking for a tool to help your business stay organized and focused, Workbooks is a good option to consider.
Features:
Create projects and tasks easily

Easily customizable

Supports a client portal
Pricing:
The tool offers flexible pricing options to cater to different user needs. The free edition is priced at $39/user/month and is suitable for small businesses. The CRM Pro and Business plan to provide more features at $54 and $78/user/month, respectively. The most expensive option is the Business Pro plan at $95/user/month. Also, the per-user pricing model may not be ideal for larger companies.
23. nTask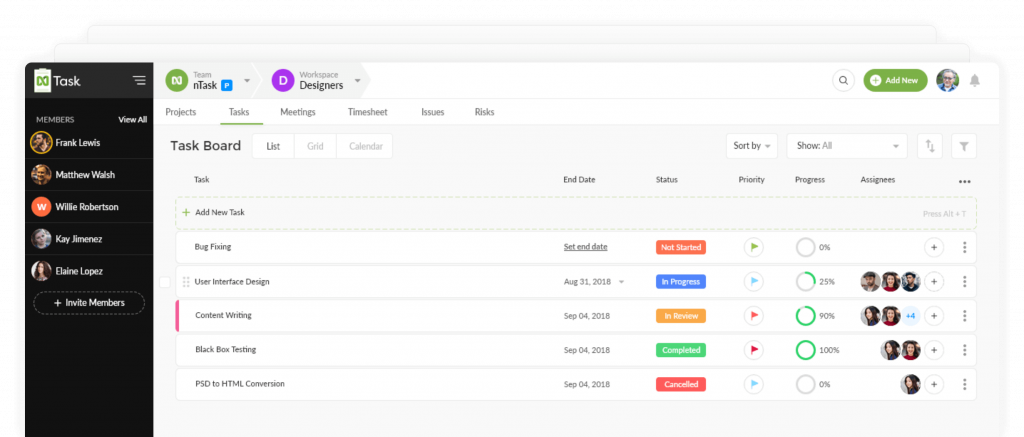 Having reviewed nTask, I found that it's a user-friendly project management tool with impressive organizational capabilities. Its time-tracking feature for multiple projects is also commendable. And, in case of any issues, nTask's support team is always there to assist you. However, if you are looking for customization options, nTask may not be the best fit for you as it doesn't offer much flexibility in workflows and dashboard layouts.
Features
Simple task & project creation

Intuitive and user-friendly services

Customizable issue severity

Beautifully designed weekly timesheets

Manage resource allocation, project budget, and currency
Pricing
Free plan- Unlimited workspaces, 100MB storage.

Pro Plan – $2.99, Unlimited everything.
The Basic Plan is free for up to 5 users. However, the Premium and Business Plans may be too pricey for some at $3 and $8 per user per month. The Enterprise plan has custom pricing, but it's unclear what features are included.
24. Chanty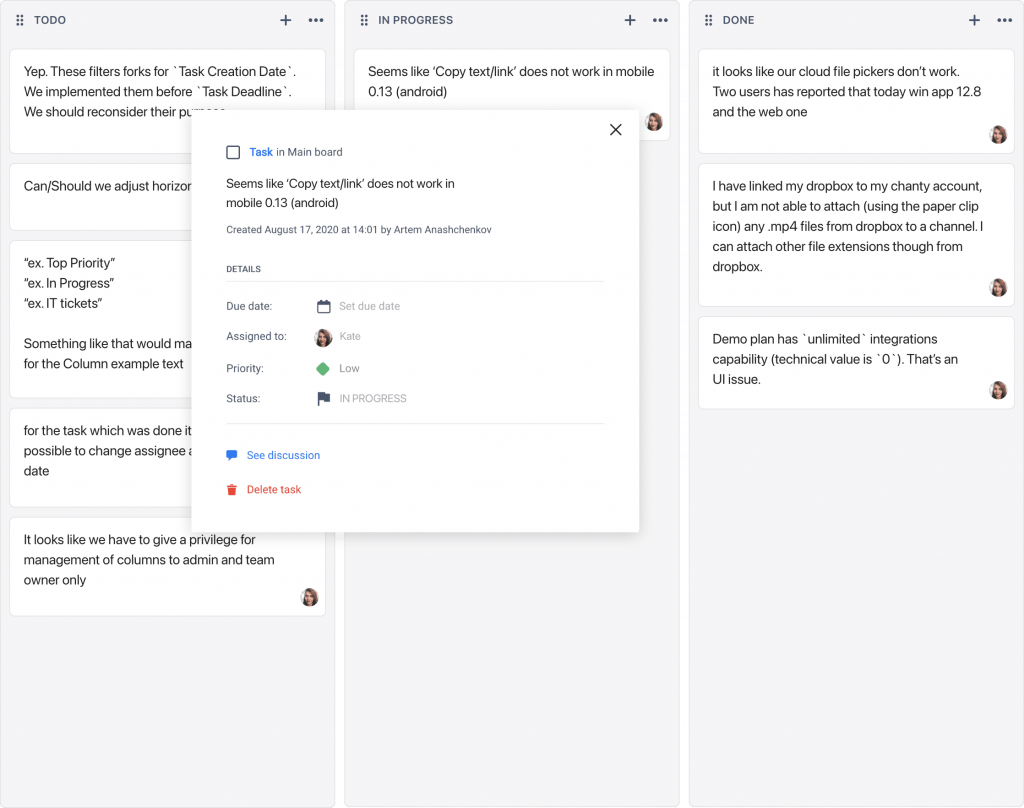 Chanty is one of those hybrid project management tools that function as a team collaboration platform as well as a task management system. You can create a task from a message, assign it to a team member, and set a due date and task priority. Task discussion takes you to a task-related conversation. Chanty has also in-built audio and video calls. You can integrate Chanty with third-party apps including Trello, Asana, Zapier, Google Drive, Dropbox, Onedrive, Github, Gitlab, Bitbucket, Mailchimp, Giphy, and others.
Though, Chanty lacks scheduling capabilities and do not allow you to register without booking a demo.
Features:
Kanban board

Due dates

Task priority

Task discussion

Audio/video calls

Third-party integrations
Pricing:
The tool's free version is for startups with <10 members but lacks group call and video features. The Business plan is $3/user annually or $4/user monthly. You will have to upgrade after 10 members.
25. Redbooth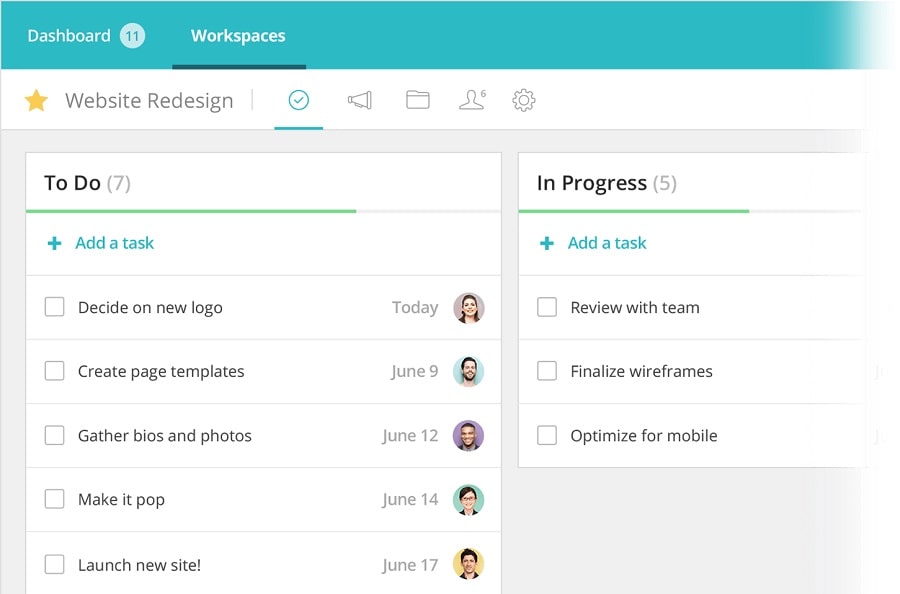 Redbooth is a project management platform that offers a single workspace for organizing work, communicating in real time, and keeping projects on track. The program is well thought-out, allowing you to turn conversations into tasks immediately.
One potential downside is the lack of flexibility in the template system, which can be frustrating when trying to add a template task to an established list.
Features:
Intuitive task and project management

Easily delegate and assign tasks

Mobile apps for iOS and Android
Pricing:
Redbooth's free plan is a good starting point, but may not be enough for larger teams. The Pro Plan at $9/user/month billed annually is great for unlimited users and workspaces. The Business Plan at $15/user/month billed annually is suitable for large organizations but may be costly for smaller teams.
26. Celoxis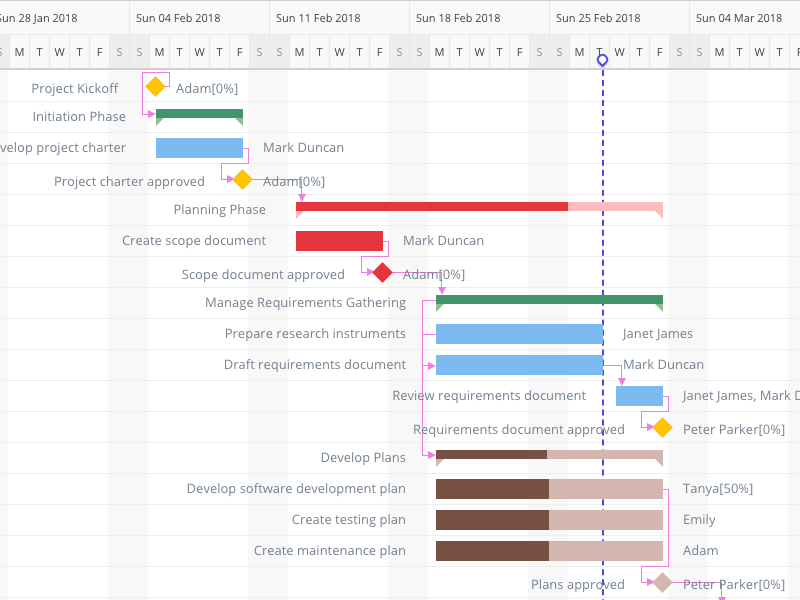 After evaluating Celoxis, it's clear that this is a project management platform that offers a lot of value for its price. Celoxis is an award-winning all-in-one pm tool. It's a strong contender among other online project management tools, particularly for medium and large organizations that require not just team collaboration, but also insights into how the business is running and when to take on new projects. One thing to note about Celoxis is that it runs directly in the web browser, without any desktop or mobile apps. While you can access it from a mobile browser, this may not be as convenient as having a dedicated mobile app.
If you are comfortable with the Microsoft Project scheduling paradigm, Celoxis is one of the best alternatives to Microsoft Project.
Features:
Easy collaboration, share files, discuss and exchange comments not just with your colleagues but with your clients

360-degree real-time insights with our super powerful reports and dashboards

Has a

highly customizable dashboard

and intuitive

Easily allocate resources to tasks based on availability, demand, and skills.
Pricing:
I have mixed feelings about Celoxis' pricing model. The Cloud plan is pricey at $25/person/month, but great for remote teams. The limited storage of 2GB/person and the $10/month charge for 10GB more storage may not suit small businesses. The On-Premise plan costs $450/person (one-time fee), suitable for larger businesses with security requirements.
27. 10,000FT Plans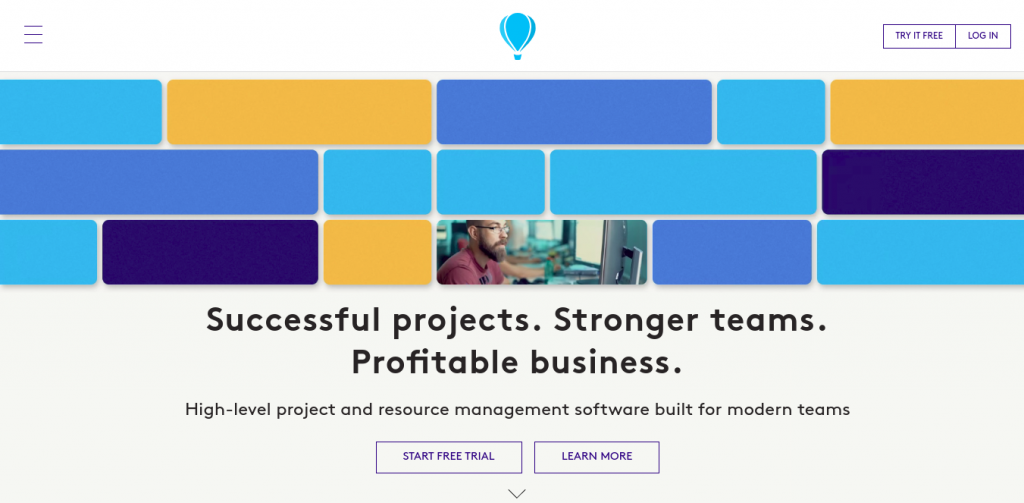 Rebranded by Smartsheet 10000ft, I found that it is an excellent tool for capacity planning and resource management, but it could perform better with more modern UI and more integrations. The operational forecast feature is especially helpful, providing a visual representation of the forecast, and making it useful for all departments of an organization. It is perfect for operations departments and can be used by other departments such as sales, HR, and finance for forecasting future availability, people's needs, and sales and expenses.
Features:
An effective visual resource planning software

Detailed project tracking

Flexible planning interface
Pricing:
Basic plan starts from $10/month
Switch to a reliable project management software to deliver projects successfully. Try ProofHub
28. Proworkflow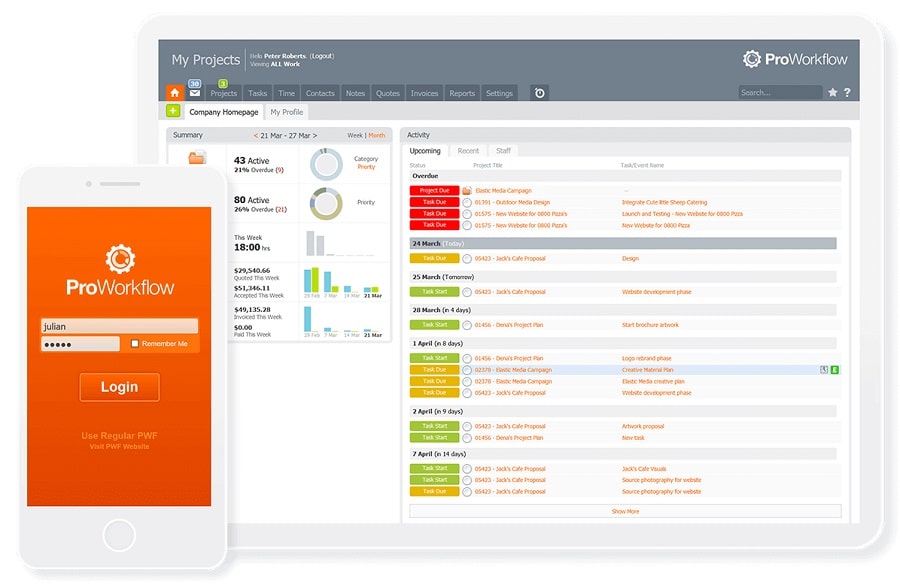 ProWorkflow may not be as well known as some other project management tools, but I would recommend considering it if it fits your organization's needs. One area where ProWorkflow falls short is its limited project board options.
This can be disappointing, especially for those who rely on Gantt charts, which are a standard display option in many project management tools. Unfortunately, ProWorkflow does not offer this feature, which directly affects its versatility.
Features:
Makes it a breeze to assign staff, track time, or reschedule projects

Quoting and invoicing have never been simpler.

Reliable support and consultation
Pricing:
ProWorkflow's Professional tier starts at $18/user/month, ideal for single users. Unfortunately, the Solo tier is no longer available, which can be challenging for those on a tight budget. Despite this, it IS a worthwhile option for freelancers or small business owners managing multiple projects.
29. Mavenlink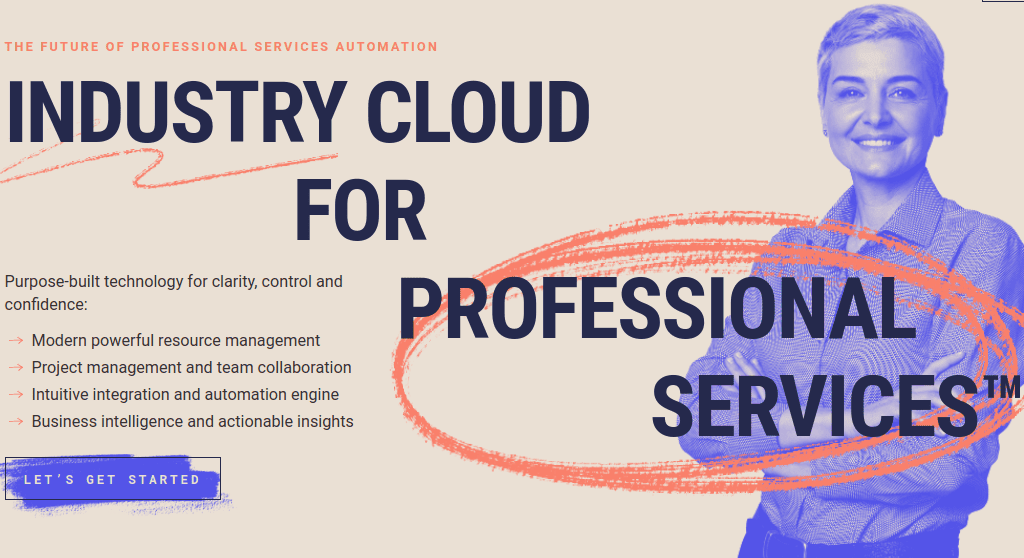 In my experience, Mavenlink is an exceptional all-in-one tool that seamlessly combines resource and project management with financials, planning, and forecasting features but comes with a high price tag.
I particularly liked how easy it is to assign tasks to team members, create project plans, timelines, and Gantt charts, and track completion rates and resource utilization. With additional features like issue tracking, file storage, invoicing, and time tracking tools, it truly is a full-service tool that can manage teams in one place.
However, its lack of transparency with pricing is a significant concern, and the sign-up process is not user-friendly. The access application process requires approval, which can be a time-consuming process. Also, there is no communication feature.
Features:
Manage multiple projects with ease

Handle project schedules in an intuitive interface

Gain visibility of all your projects in your portfolio

Provides smart snips markup feature
Pricing:
Mavenlink's pricing is unclear, making it difficult to obtain a quote. The Professional package starts at $39/user/month for teams of 1-14 employees, with the cost increasing for larger teams. Consider pricing before signing up, despite the software's excellent features.
Read more: Mavenlink Alternatives and Competitors: Top 7 Tools You Should Try
30. Insightly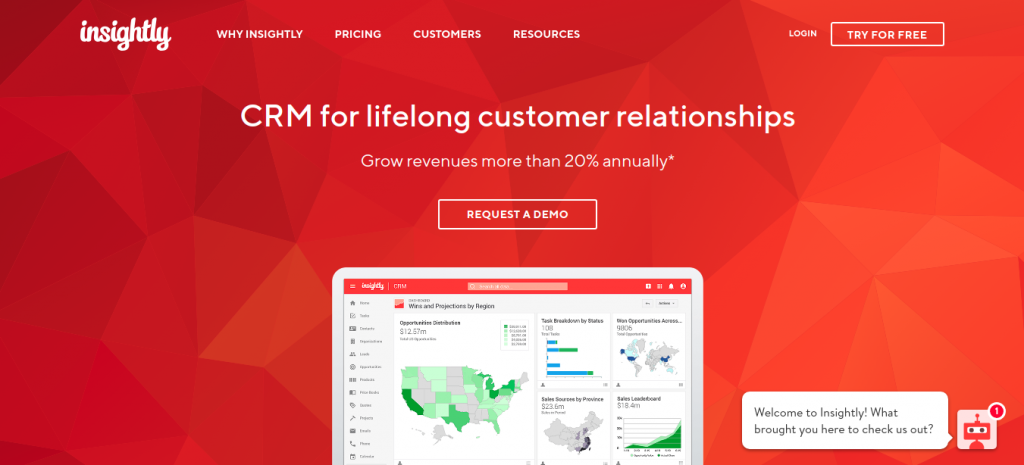 The reason I believe Insightly deserves a spot on the list of the best project management tools, is its customizable reports and dashboards, report scheduling, and its ability to integrate with other Insightly products and third-party apps.
The pipeline view of projects is particularly helpful because it allows you to collaborate with colleagues from different departments and move projects through to completion in a well-organized way. However, I must tell you that Insightly lacks advanced features like custom workflows, which could be a dealbreaker for some businesses.
Features:
Effortless tracking of project activity

Accelerate sales and manage leads

Helps you build meaningful relationships
Pricing:
The Plus plan costs $29/user/month (billed annually) with limited feature access. The Professional plan is $49/user/month with limited dashboards and app integration. The Enterprise plan at $99/user/month offers full feature access but may be expensive.
31. Clarizen

Aftering checking out Planview AdaptiveWork (formerly known as Clarizen), I can tell you that it's a pretty robust project management tool. It's perfect for companies handling multiple complex projects and it's got some great features that include project tracking to risk management features.
But, there are a few downsides to keep in mind. For starters, it's got a steep learning curve, so it might not be the easiest tool to get up and running. Also, the integration library is somewhat limited compared to other software, and it does require a hefty upfront investment.
Features:
Automated processes and workflows

Budget tracking and expense management

Flexible UI

Reliable compliance and security standards, solid mobile functionality, multiple work types
Pricing:
Planview AdaptiveWork doesn't have a set pricing structure and offers custom plans tailored to the needs of each organization, which may not be suitable for those looking to compare pricing quickly, and some users have found it to be pricier than other project management tools.
32. Comindware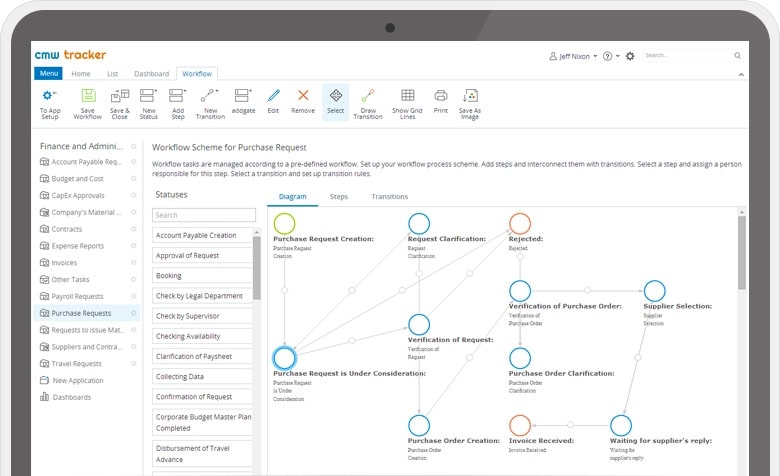 Comindware (CMW) Tracker is a comprehensive project management tool that offers a single digital environment connecting employees, processes, and knowledge. It includes intelligent task routing, notifications, and searchable group discussions for better project management.
I found CMW Tracker's tracking and reporting tools to be comprehensive and user-friendly. Though, Comindware Tracker does not offer on-premises versions that support all operating systems.
Features:
Focuses on process optimization

Customer order management and CRM capabilities

Full process automation, activity monitoring, business analytics as well as enterprise system integration.

Supports mobile platforms and integrates with MS Outlook, ERP solution
Pricing:
Comindware Tracker's pricing starts at $29 per user per month for the cloud version.
Pricing can be expensive for bigger teams and plans may be limited for some businesses.
33. Easy Project

Easy Project is a solid choice for larger organizations juggling multiple projects, with special features exclusive to Enterprise customers. Despite its not-so-pretty interface, it boasts a plethora of features for efficient project management, including task management with integrated time tracking and billing.
However, we were let down by the unresponsive customer support, despite their sales team contacting us multiple times.
Features:
Visual project maps and plans

Compatible with modules for Resources, Finances, Help Desk, and CRM

Integrated with Outlook, Project, Excel, Redmine
Pricing:
This software has three pricing plans: Lite, Team, and Enterprise. Lite starts at $13.50/user and is good for small businesses. The team starts at $20.50/user and has extra features for larger organizations. The lack of pricing transparency for the Enterprise plan requires contacting the sales team.
34. Quire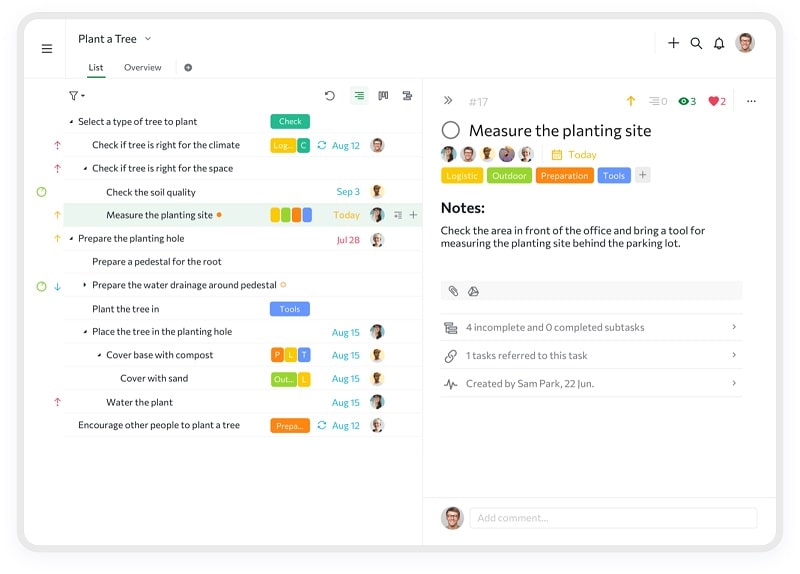 Quire is a web-based task management and collaboration tool that aims to enhance productivity in various projects, such as app development or film production. However, you might find it inconvenient if you prefer working outside a browser since it lacks a dedicated Windows or Mac app.
The priority levels offered by Quire (High, Medium, Low) can be very basic. Moreover, the absence of built-in reminders can result in cluttered task lists and missed deadlines, requiring you to rely on external tools or your own memory. Keep in mind that while Quire is suitable for small and medium-sized teams, it may not meet the needs of larger organizations.
Features:
Intuitive UI for effortless task creation and organization.

Ultimate workflow control for streamlined processes

Tailored solution for small teams

Swift idea capture through text, camera, and Siri integration.

Easy-to-use software with powerful task management features.
Pricing:
Start from $10.95 per user per month.
35. Height

Height is a comprehensive project management tool designed to streamline team collaboration and accelerate product development for startups. It is new in the market so you might have not heard about it.
With Height, teams can create task lists to ensure everyone is synchronized, while the integrated chat feature keeps work-related conversations organized in a single location.
The reason we positioned it in the Project Management category, Height is specifically tailored to meet the needs of startups aiming to build products more efficiently. Though, it lacks automation functionality.
Features:
Offers lightning-fast navigation with convenient shortcuts like Cmd-K and jump-to functionality.

Seamless integrations enable automatic task updates

Customized workflow with drag-and-drop functionality

Recently added time-tracking feature
Pricing:
Its Team plan starts at $6.99 per user per month billed yearly.
36. Teamdeck

If you manage resources, whether regular, part-time, direct-hire, freelancers, or remote workers, Teamdeck is the tool you need. With resource scheduling, time tracking, and leave management all integrated into one software, it's perfect for businesses that work on a time-billing basis.
Whether you're a web or software development company or need to book and schedule human resources, equipment, and assets, Teamdeck has got you covered.
Features:
Resource scheduling

Timesheets and time tracking

Leave management

Measure billable time
Pricing:
Free startup plan limited to 6 team members. The business plan starts from $3.99 / team member/month, $1 / basic resource/month
37. Freedcamp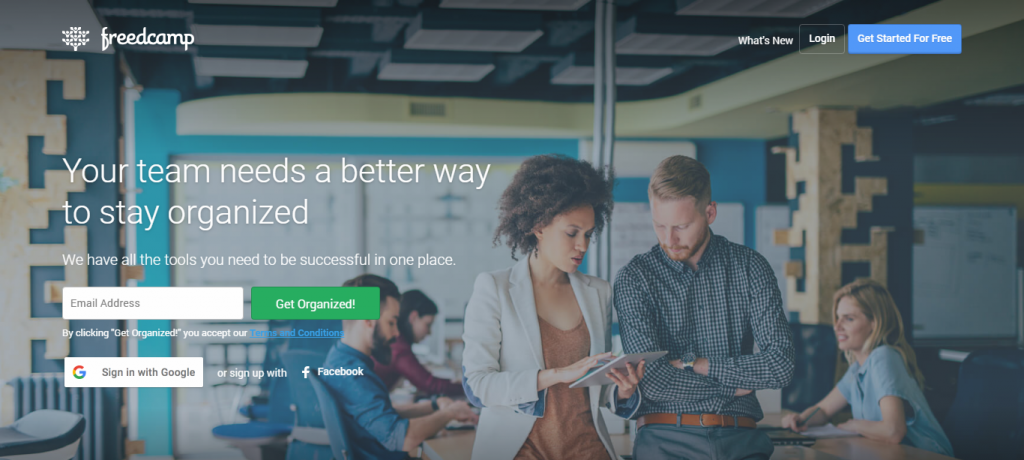 We found it to be an extremely simple and intuitive tool for large organizations including architecture, interior design, IT services, retail, telecommunication, and many more. Freedcamp offers functionality to unlimited users making organizing details and tasks quick and super easy.
Features
:
Gantt chart to keep a bird's eye view of tasks

Split large tasks into smaller subtasks

3rd party integrations

Password manager

Shared file management
Pricing
:
Available at $3.99 for the owner and $0.99 for each additional user per month ( billed yearly)
38. Freshdesk

Freshdesk is ideal for teams dealing with a large customer base and a high volume of support tickets. It keeps all conversations organized in one place, while the automation feature streamlines repetitive tasks to save valuable time.
You will specifically like its collaboration aspect as it helps you easily assign tickets, work together, and find solutions faster. Just keep in mind that Freshdesk shines in managing customer support tickets, but it may not be the best fit for complex project management tasks that require extensive planning and resource allocation.
Features:
Integrated Live Chat, Phone Support, and Game Mechanics

High customizability

Multi-channel, multi-product, and multi-lingual support

Great email messaging and self-service portals

Keep track of conversations

Resolve issues together through collaboration
Pricing:
Freshdesk offers a range of pricing plans, and the Blossom Plan starting at $15/agent/month is a great starting point. However, one challenge with Freshdesk's pricing is that many advanced features are only available in the higher pricing tiers.
39. Flock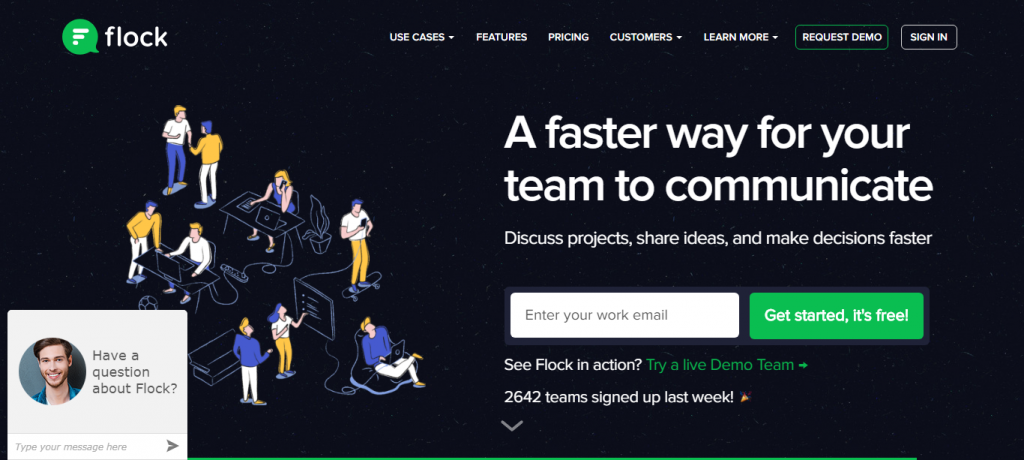 Overall, Flock is a decent messaging and communication tool that gets the job done. It will offer all the essential collaboration features you'd expect. However, it could use a bit more polish. The interface feels cluttered at times, and it would be great to have more customization options beyond just notifications.
While it lacks a certain panache, Flock has the potential to be even better with some improvements. It would benefit from additional communication options and a faster pace of updates to better compete with other business messaging apps.
Features:
Collaboration in real-time

Jump into video calls with just a click

Share all types of files and find them easily

Invite guests to work with you

Create notes and collaborate with teams on the go

Share code snippets on the go

Access your entire Google Drive from within Flock

Manage your GitHub Repos without switching tabs
Pricing:
Flock offers monthly and yearly billing. The pro plan starts at ₹ 149 per licensed user, per month billed annually (₹199 billed monthly).
40. CoSchedule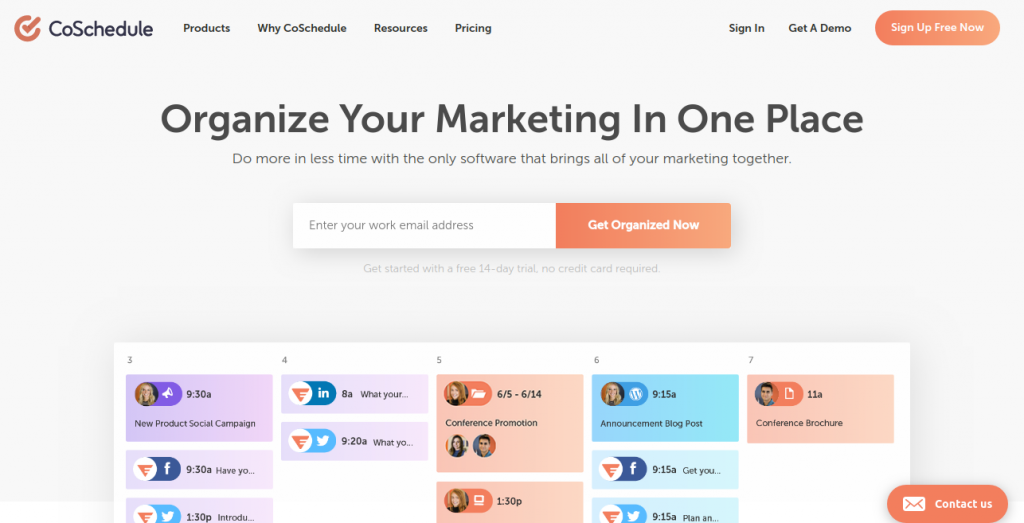 After thoroughly reviewing CoSchedule, I found that it excels as a project management tool with more focus on scheduling and publishing content for social media platforms.
With its multi-functional marketing calendar, you can easily view, manage, and schedule all your social media posts while collaborating with team members for efficient group project management and team communication.
However, the user interface and user experience of the CoSchedule platform are not up to the mark, which can lead to confusion and frustration while navigating the platform. Users have also reported occasional disconnections of LinkedIn and Facebook profiles, leading to multiple reauthentication that can be time-consuming.
Features:
Complete more work by streamlining marketing workflows.
View, manage, and approve all projects and tasks in one place with Marketing Campaigns and Marketing Projects.
Visualize project progress from start to finish more easily with Kanban Project Dashboard.
Pricing:
CoSchedule's Pro version start at $29 USD per user per month, billed annually. However, it lacks a trial period, making it challenging for businesses to assess the platform's suitability before subscribing.
Why waste money on individual features when you can save BIG with ProofHub? Start with FREE Trial!
41. MoneyPenny.me

MoneyPenny is primarily designed to help freelancers and small businesses with its straightforward and intuitive time-tracking and invoicing system. Its user-friendly interface eliminates the need for Word templates and Excel spreadsheets, providing a seamless time-tracking and invoicing system. However, note that MoneyPenny's functionalities may be limited for larger organizations with complex project structures, and its live tracking features might not match some dedicated project management software options in the market.
Features:
Auto timesheet creation, management, and approval on the cloud, from any device

Full data integration live synced online with invoicing, project tracking, and team timers

Project progress live notifications and instant messaging team communication allow

you easily convert the estimates to invoices with just a click.
Pricing:
After the 30-day free trial, from $15/month/1 per user (Starter plan) up to $55/month for 30 users (Enterprise plan).
42. Project Insight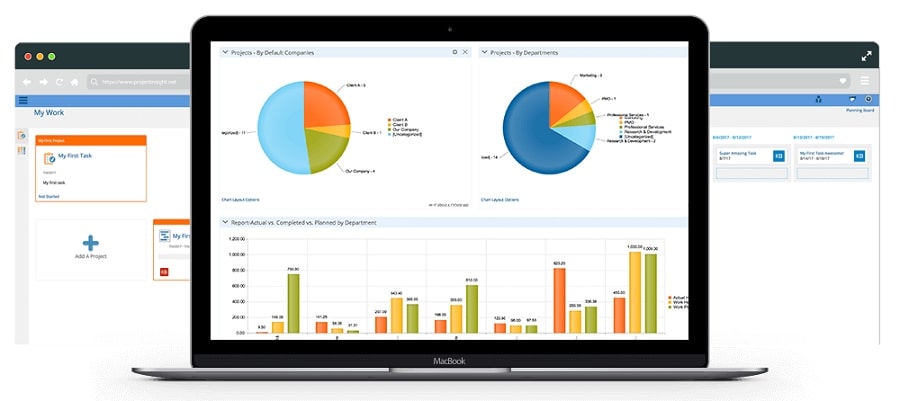 Podio is a platform that gives you the freedom to customize your business operations to suit your needs. It offers notable integrations with Box, Microsoft Office, Microsoft Outlook, and Quickbooks.
However, the interface can be confusing, requiring a lot of clicking and leaving you feeling lost. Creating your own environment can be a chore, especially without user-friendly tutorials. After using Podio, you will feel to explore more streamlined project management solutions that offer a better user experience.
Features:
Real-time reports and manages projects from a single location

Time and expense tracking, resource management, and more

Real-time access to their tasks and project schedules

Balance resource work across all projects
Pricing:
The business plan starts at $45 per user per month.
43. ProjectManager.com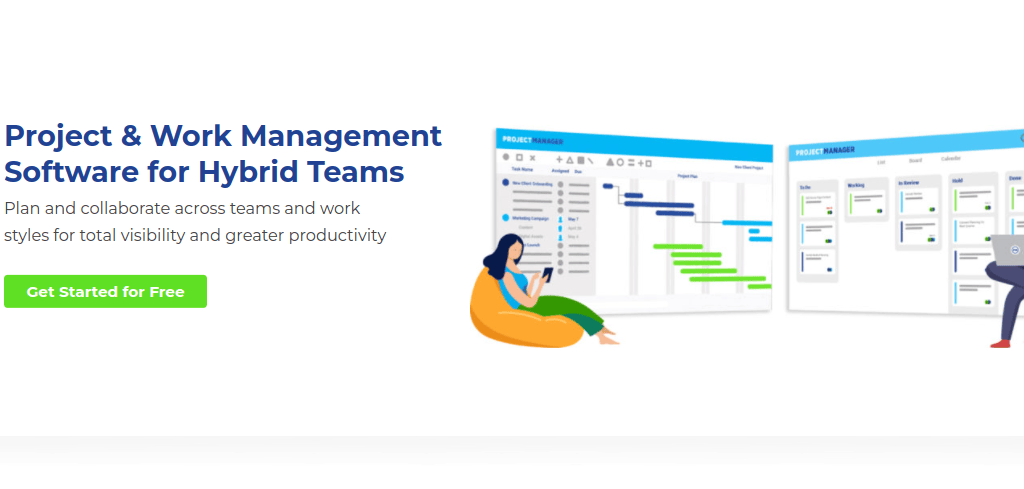 If you're in need of a collaborative project management app that's quick to set up, you might want to consider giving ProjectManager.com a try. While it may not be the most powerful service available, it does offer a decent range of functionality, particularly suitable for mid-sized organizations.
It provides good customization and filtering options for views, includes budgeting and resource management tools, and seamlessly integrates with various popular tools to streamline your workflow. However, note that lower tiers come with restrictions, and you may need to upgrade to access more advanced features.
Features:
Attach files and comments to collaborate on tasks

Seamless importing and round-tripping of MS Project plans, Excel files & CSV files

Real-time dashboards show your status at-a-glance

One-click reporting functionality, allowing you to quickly generate comprehensive reports
Pricing:
ProjectManager.com provides a free 30-day trial for all plans (Personal, Team, Business) except Enterprise, requiring a credit card for signup. The Business plans start at $25 per person per month, with a minimum requirement of 15 people, resulting in a starting price of $375 per month.
44. EventCollab

EventCollab is a web-based application that focuses on event project management and logistics tracking. Whether it is about contacts, data, tasks, schedules, calendars – you can securely manage everything in EventCollab. The interface is easy to navigate which makes managing complex tasks easier than ever. EventCollab uses a variety of technologies to create effective solutions for project and event management.
Features:
Access projects in real-time

Keeps track of the details and connects team members

Restricted permissions, role settings, and data encryption

Available in the cloud at any time from any location
Pricing:
Starts from $20 per month
Tasks + Calendar + Gantt Charts + 5 more Apps that smart Project Manager can't live without! Check it yourself in this free trial!
45. MeisterTask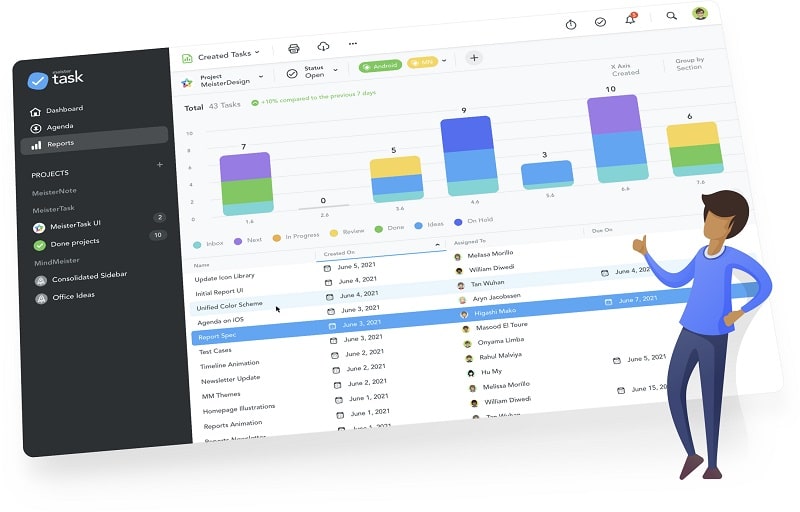 MeisterTask is a visually appealing project management tool designed to assist users in planning, organizing, and executing straightforward projects. It offers intuitive Kanban boards and Gantt charts that are both easy to grasp and enjoyable to use. However, MeisterTask's pricing is relatively high compared to other platforms that provide more comprehensive features and functionalities at a lower cost.
Features:
Offers a modern, intuitive user interface

Customizable automation

Seamless multi-platform synchronization,

Unlimited projects and team members in its freemium version
Pricing:
The Business plan of MeisterTask is priced at $26.49 per user per month for annual billing or $31.99 for monthly billing.
46. Redmine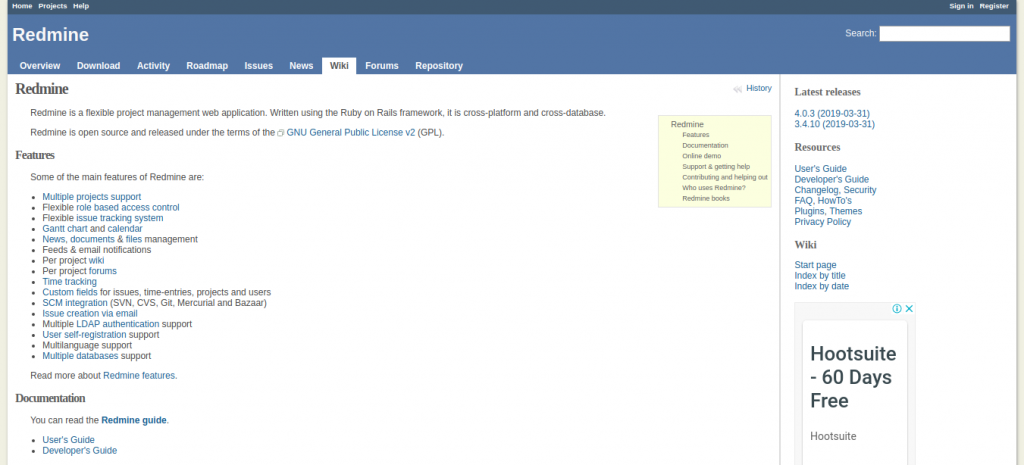 Redmine is a popular free and open-source project management app known for its focus on issue and bug tracking. It's highly customizable, making it a great choice for development teams who can handle installation and maintenance. With features like time estimates, task dependencies, Gantt charts, and project wikis, Redmine offers useful functionalities.
However, it's important to note that self-installation and maintenance are required, and support is limited to the online community. It's primarily suitable for software developers, so consider your specific needs before choosing Redmine.
Features:
Multiple project support

Role-based access control

Custom fields for issues, time entries, projects

Gantt chart, calendar, issue-tracking system
Pricing:
There is no set-up fee. Starts from $25.00.
47. Nutcache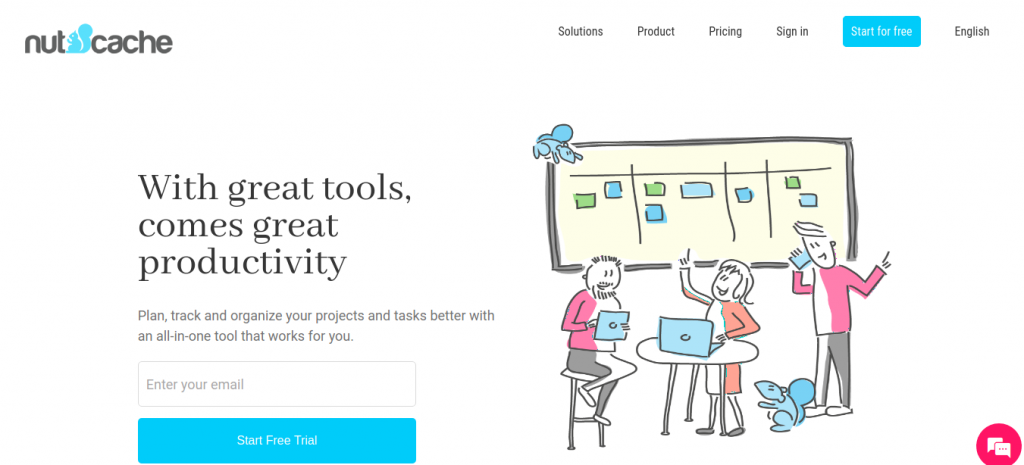 With NutCache, you can keep your projects organized using collaborative boards. Each task can be assigned to individuals with due dates, allowing for efficient prioritization. What's cool is that you can invite anyone, be it clients, teammates, bosses, or investors, to join in and collaborate.
The flexible interface supports various project management methods-Scrum, Agile, or Kanban, and communication among team members is seamless. However, some users find NutCache pricey for their needs, suggest free alternatives for time tracking, and mention the interface could use more visual appeal.
Features:
Assign cards to manage priorities

Set milestones and alerts to never miss a deadline

Bill time and expenses accurately

Customizable workflows and well-organized tasks

Multi-currency support available
Pricing:
Starts from $12/user/month billed annually with a minimum of 5 users.
48. Paymo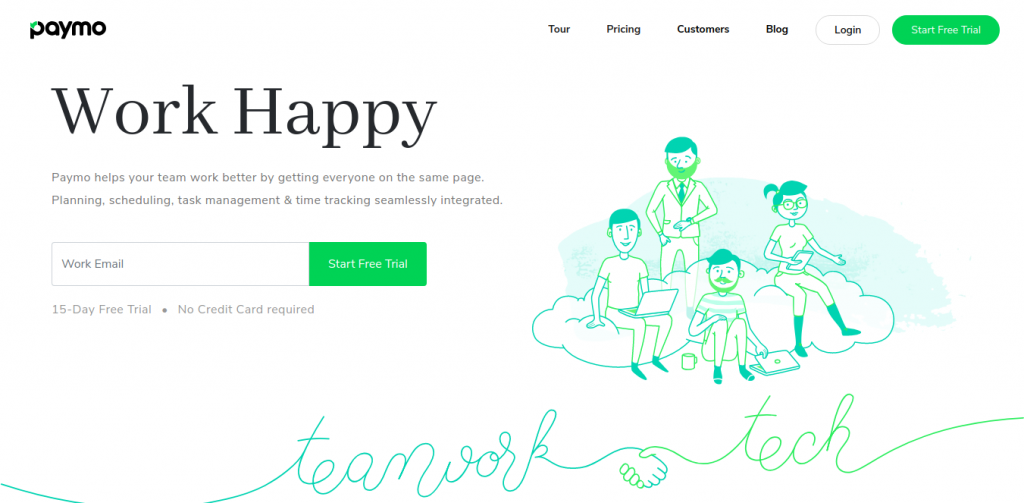 Paymo is a project management app that offers great time-tracking functionality along with solid invoicing, expenses, and billing features. But that's it, as we reviewed it further we found its user interface to be non-intuitive and complicated, which may take some time to get used to.
The mobile app is also slow and doesn't offer features as extensive as the desktop version. Moreover, if you're doing business outside of the US, you may encounter issues with Paymo's online payment system as it doesn't integrate with international payment platforms.
Features:
Advanced task management tools, Gantt charts, and Kanban boards for accurate planning and scheduling

Discussions and comments for real-time seamless collaboration

Compare initial time estimates against actual work

Customizable time and work reports
Pricing:
The pricing of Paymo can be a bit high, starting at US$4.95 per user per month for the Starter plan, considering it only offers basic features. The Business plan starts at $20.79 per user per month.
49. Cage

Cage is a media collaboration software best suited for designers, creative agencies, and in-house teams. It lets you collaborate with your team directly on the work enabling you to deliver work on time.
With its advanced toolkit, you get to gather, discuss, and act on feedback faster. You can also manage projects, teams, and communicate in a single place. It's also quite effective to get a clear picture of ongoing projects and how your team is performing.
You will find Cage inefficient for its inability to customize privacy settings enough.
Features:
Pricing:
Professional plan for $14 per user per month
50. Avaza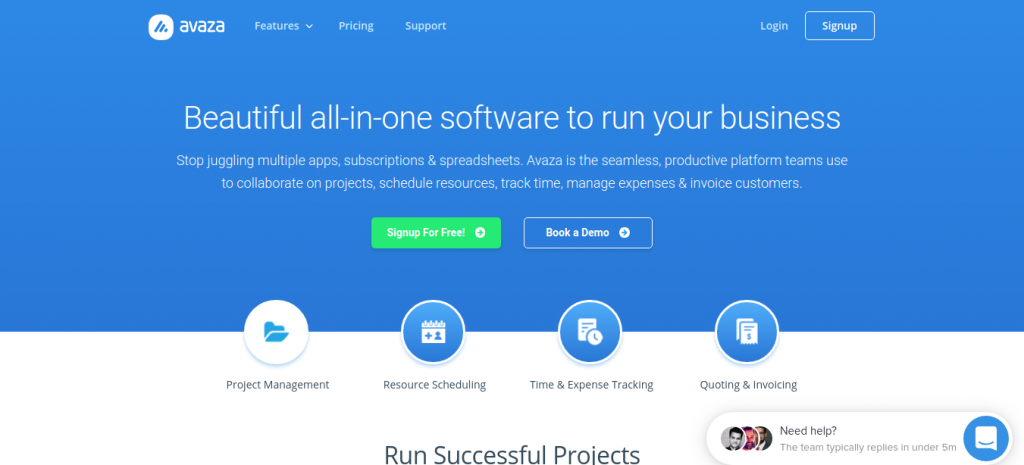 Avaza is a productive solution that helps you to collaborate on projects, schedule resources, track time, manage expenses, and more to make your business efficient. It helps you get more done faster with quick file-sharing, activity feeds, and more. You get to see a bird's eye view of who's working on what and manage work assignments and make smarter scheduling decisions.
It is a competent tool but requires a decent learning curve to get a knack of all the features. Your team will require some time to get used to it.
Features:
Visualize, filter, and group tasks within and across projects

Flexible project budgeting and billing options

Easily manage resources allocated to each project

One-click time tracking from every screen
Pricing:
Avaza's free plan is for everyone. To access advanced features, you need to upgrade to a Startup plan that starts from $11.95 per month.
51. Dropbox Paper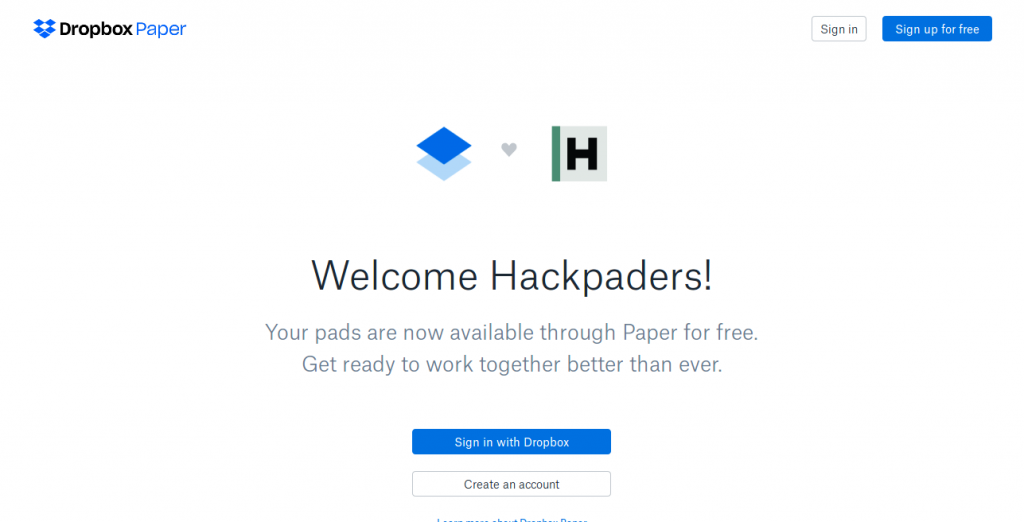 Dropbox Paper is a cloud-based collaboration tool that makes it easy for your team to collaborate on creative assets. It helps you organize teamwork. Your team can collaborate on docs in real-time with Dropbox Paper and work from anywhere. It runs on a shared Dropbox space to collect ideas, create and edit documents, share feedback, and keep everything together in one place.
Based on my research, it is a good tool for document collaboration but needs improvement for large teams.
Features:
Keeps everyone on the same page with real-time collaboration

Use annotations to add comments to a specific part of an image

Link your Google Calendar or Microsoft Office 365 account

Visual representation of whatever is happening
Pricing:
DropBox Paper is a free product from Dropbox. It is integrated with Dropbox. However, if you want to access all the features of Dropbox, you have to switch to the paid plans starting from US$9.99/month per user.
Read more: 17 Best Alternatives To Dropbox You Need To About In 2023!
One login window for all your team members and projects. Get your custom login URL for free here!
52. TimeCamp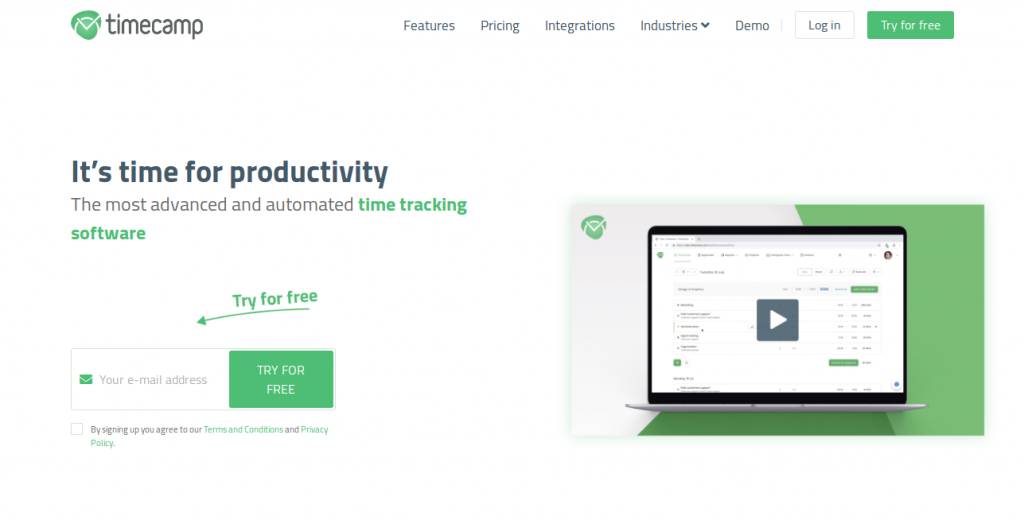 TimeCamp is one of the best time-tracking tools in the market. It helps you increase team productivity, track time effortlessly, and bill clients more accurately. This tool provides you with actionable insights in the form of project reports and time sheets.
This is a great tool to take control of your team's productivity. But as per my evaluation, it is an ideal solution only for organizations that need extensive time tracking or client billing.
Key features:
Track your employees working time

Track time spent on projects and employees on tasks

Plan project budget with budgeting

Bill your clients accurately

Check timesheets and control attendance in one place
Pricing:
You can try this tool with a Free plan, but it does not include features like Team productivity tracking, XLS reports, and Billable time & budgeting. You need to upgrade to a Basic plan that costs you $6.99 per user per month.
53. Confluence

Confluence by Atlassian is a great tool to get everyone on the same page. It helps you bring knowledge management, project collaboration, and company-wide collaboration into one place. You can create a collaborative and remote-friendly team workspace with the help of this tool.
As per my review, it is among the best tools in the market for knowledge management, but some of its project management features and designs are slightly behind the times.
Features:
A centralized place for knowledge sharing Collaborate across teams with comments, mentions, and notifications

Manage and coordinate projects with remote teams easily

Delegate, monitor and track tasks changes

Flawless Integrations with other tech stacks such as Jira, HipChat, and Google Apps
Pricing:
Confluence pricing structure is a bit tricky. Each plan is designed for minimum of 10 users. The free plan is for everyone but offers limited features. The standard plan starts from $57.50 per month for 10 users.
With every level upgrade, you start getting more features, but you have to pay almost twice for the upgrades. Thus, it is a pricey tool for small businesses.
54. Functionfox

FunctionFox offers a unique approach compared to other tools we've explored, as it prioritizes time tracking over project or task management. You can track your projects accurately from conceptualization to completion, reduce admin time, and increase productivity and profits.
If you're seeking a platform that organizes clients, personnel, and projects while also monitoring time and costs, FunctionFox is a solid choice. However, if you require more advanced project management features and detailed task control, you might want to explore other project management tools.
Features:
Simple project creation and management

Interactive real-time reporting

Compare budget estimates with actual figures
Pricing:
When it comes to pricing, FunctionFox charges a higher fee for the first user ($35/month for the 1st user) and a smaller fee ($5 per user/month) for additional team members, which might be a drawback for small teams but reflects fair scaling of costs.
Why should we use project management tools?
You might be living under a rock if you're really not aware of the benefits that come along with project management tools. I've outlined some common benefits below:
✅ Faster collaboration
No more hunting down emails or digging through chat history. These tools create a centralized hub where team members can collaborate in real-time. Everyone can work together efficiently, making progress at a faster pace.
✅ Easier delegation
With project management tools, assigning tasks and responsibilities is a breeze. You can easily allocate tasks to team members, set deadlines, and track progress, ensuring everyone knows what they need to do and when.
✅ Accurate project tracking
Say goodbye to manual tracking and spreadsheets! These tools provide automated tracking and reporting features that give you real-time updates on project progress. You can easily monitor milestones, deadlines, and overall project success.
✅ Central data storage
Forget scattered files and folders. Project management tools offer centralized data storage where you can store and access all project-related documents, files, and assets. It keeps everything organized and easily accessible for the entire team.
✅ Seamless communication
Communication becomes easier with built-in messaging and commenting features. Team members can discuss tasks, share ideas, and collaborate without the need for separate communication platforms or endless email chains.
✅ Instant file-sharing
Need to share a document or file? Project management tools provide a streamlined file-sharing system. You can upload and share files within the tool, ensuring everyone has access to the latest versions and reducing the risk of miscommunication.
✅ Accurate time tracking
Keep track of how much time is spent on each task with integrated time-tracking features. It helps monitor productivity, identify bottlenecks, and make more accurate estimations for future projects.
✅ Automated invoicing
Some project management tools offer integrated invoicing capabilities, simplifying the billing process. You can track billable hours, generate invoices, and send them directly to clients, saving time and ensuring accurate billing.
✅ Quick reporting
With project management tools, generating reports is a piece of cake. They offer customizable reporting features that allow you to generate comprehensive reports on project status, progress, resource utilization, and more, providing valuable insights for decision-making.
In a nutshell, project management tools bring efficiency, organization, and collaboration to your projects. Now that you know the advantages offered by online project management tools, let's learn how to choose the right one.
How to select the best online project management tool?
When evaluating online project management tools for your organization, I suggest you make sure to consider the following key features:
Core Feature-Set:

Ensure that the tool offers a comprehensive set of features that align with your project management needs. Look for features like task management, collaboration, reporting, and scheduling.

Intuitive User Interface:

Opt for a tool with a user-friendly interface that is easy to navigate and understand. This will help you and your team quickly adapt to the tool and maximize productivity.

Cloud-Based Access:

Choose a tool that provides cloud-based access, allowing you and your team to access project information and collaborate from anywhere, at any time. This flexibility is crucial for remote teams or when working on the go.

Customizability:

Look for a tool that offers customization options, allowing you to tailor the interface, workflows, and settings to match your specific project requirements and preferences.

Security:

Ensure that the tool prioritizes data security and offers robust measures to protect your sensitive project information. Look for features like user permissions, data encryption, and regular backups.

Integrations:

Check if the tool integrates with other applications and software that you commonly use. Seamless integration with tools like file-sharing platforms, or budgeting can enhance your project management workflow.

Cost-Effective:

Consider the pricing plans and determine if the tool offers good value for the features and benefits it provides. Look for plans that suit your budget and align with your project management needs.
By considering these factors, you can select the online project management tool that best suits your requirements and helps you effectively manage your projects.
Don't let project management challenges hold you back. Signup for a free trial today and experience the power of ProofHub firsthand!
Conclusion
In conclusion, if you're looking for a comprehensive set of project management tools, then the top 54 project management tools listed in this article are definitely worth considering. From scheduling and task management to collaboration and reporting, these tools offer a wide range of features to help you streamline your projects and improve your team's productivity.
However, if you're looking for the best all-in-one project management tool, then we highly recommend ProofHub. With its intuitive interface, robust feature set, and affordable pricing, ProofHub is a top choice for businesses of all sizes.
Schedule your personalized demo today with ProofHub and revolutionize your team's productivity and collaboration.
FAQs
What is a project management tool?
Project management tools are software applications that help project managers and teams to plan, track, and manage their projects. They can be used to improve efficiency, effectiveness, communication, collaboration, decision-making, risk management, visibility, and transparency.
What are the top features in project management tools?
Task Management: With the task management features, you can efficiently distribute work by creating tasks and subtasks, automating recurring tasks, and setting priorities and due dates. You can also delegate work and monitor the progress of tasks.
Project Scheduling: Project scheduling allows you to determine the order in which tasks should be completed. You can prioritize tasks, set deadlines, and establish dependencies between tasks.
File Sharing & Approvals: This feature enables seamless file sharing and collaboration by facilitating feedback and approvals for creative assets.
Time Tracking: Time tracking allows you to monitor the time spent on each task, providing insights for effective time management.
Collaboration: Collaboration ensures that all team members are aligned towards a common goal. You can use a dedicated communication platform to have project-specific conversations and discussions. Features like @mentions, one-to-one chat, group chat, threaded discussions, and organized conversations improve collaboration.
Reporting: The reporting feature offers a detailed overview of project status, allowing easy filtering based on status, categories, etc. You can track the progress of individual projects or multiple projects within a category and analyze the workload completed by your team to identify the most effective workflows.
What are the best project management tools for managers?
It's important to note that the best tool for project managers depends on their specific requirements, team size, project complexity, and budget. Different tools offer various features, pricing models, and user interfaces.
However, some popular project management tools that are widely used by managers include:
1. ProofHub: ProofHub is a popular project management tool that is easy to use and has a wide range of features. It is a good choice for teams of all sizes.
2. Trello: Trello is a visual project management tool that uses Kanban boards to help teams track their progress. It is a good choice for teams that need a simple and easy-to-use tool.
3. Jira: Jira is a popular tool for software development teams. It offers a wide range of features, including issue tracking, task management, and agile planning.
How much does a project management tool cost?
Different project management tools have a different plan for everybody but one like ProofHub has a plan that is available for unlimited users when you pay once.
What are the best tools for managing multiple projects?
When it comes to managing multiple projects, there are several project management tools that can help you stay organized and effectively handle multiple project workflows. Here're some of the most popular and well-regarded options include:
ProofHub: ProofHub is a great tool for managing multiple projects. It offers a variety of features that can help you keep track of your projects, stay organized, collaborate with your team, and track the progress of all your projects & teams in one place. ProofHub offers flat pricing with unlimited projects and Unlimited users.
Basecamp: Basecamp is known for its simplicity and user-friendly interface, making it suitable for managing multiple projects. It offers project organization, task management, and communication tools to keep projects on track.
ClickUp: ClickUp is a powerful project management tool that offers a wide range of features, including task management, file sharing, and communication tools. It's free for up to five users, and there are paid plans for larger teams.
Wrike: Wrike is a powerful project management tool that offers a wide range of features, including Gantt charts, task dependencies, and time tracking. It's free for up to five users, and there are paid plans for larger teams.
Is Excel a project management tool?
Excel is a spreadsheet program that can be used for project management, but it is not a dedicated project management tool. Excel offers functionalities like creating tables, organizing data, and performing calculations.
However, Excel lacks some advanced project management features found in dedicated project management tools, such as collaboration capabilities, real-time updates, automated notifications, and integrated communication channels.
If you are looking for a simple and affordable way to track tasks, budgets, and schedules, Excel can be a good option. However, if you need a more robust project management tool with features such as Gantt charts, resource management, and collaboration tools, you should consider using dedicated project management software.
For a more in-depth understanding, you can refer to our post titled "Why it's time to ditch Excel for project management?."
This article was originally published in March 2018. The most recent update was in June 2023.