Notion project management has become the buzzword of late. For those of you who have little or no idea of what Notion is all about, it labels itself as an "all-in-one" workspace for teams to make notes, plan, and organize tasks and projects with ease.
Four years since its arrival into the project management world, Notion is already counted as one of the most reliable project management software in the industry today.
But how come a note-making app is suitable for project management, you must be thinking. The answer to this common query lies in Notion's list of collaborative features, which help project managers and teams to simplify project management.
What is Notion?

Notion is a feature-rich note-taking software and team collaboration tool that helps users organize and manage their tasks efficiently.
Primarily, a note-taking app, Notion has some features that help to make project management a much simpler job. These features will be talked about later in this article.
This article will explain in detail how Notion is used for project management, its powerful features, pros and cons, pricing, reviews, and the best alternative to this software available in the market today.
Let's get started!
How does it work/what it is used for?
As mentioned above, Notion is a powerful note-taking app (similar to Evernote) that can also be used as an internal knowledge base and collaboration system. Notion is widely used by project managers and their teams primarily for:
Assign and track tasks

Create calendars

Create Kanban boards

Roadmap projects across disciplines and organization sizes
One of Notion's USPs is its versatility. Unlike Google's G-Suite or Microsoft Office 365, Notion is not an amalgamation of various tools. Rather, Notion is a single application that eliminates the need to use multiple tools we are used to using and integrating.
You do not have to be a project manager for using it; anyone who wants to organize their life can use Notion to their advantage. You can use Notion to jot down your personal goals, daily to-do lists, thoughts and ideas, and a whole lot of other things.
"Streamline your workflow and maximize productivity by eliminating unnecessary work-related tasks to improve your business process. Switch to ProofHub NOW!
List of Notion's main features
While the Notion application seems more of a note-taking application with some planning and organizing tools, it does have a few powerful features in its kitty.
Mentioned below are the best features this project management app has to offer to users.
Notion wikis
This feature is probably the icing on the Notion's cake. You can create wikis or document directories that contain all the useful information your team members need to know about your company or project you're working on.
With Notion Wiki, Document office policies, company goals, employee contact info, engineering practices — any important info — in one central location. Each document supports rich-text formatting, code snippets, lists, images, embeds, etc.
You can nest pages infinitely to avoid losing one-off documents, and put everything in its place. Notion's built-in collaboration tools ensure your data is always up-to-date. Large teams help your wiki scale to any size.
Tasks and projects
You can use Notion to assign tasks and projects to your team members in a single location. Each task assigned is stored on a Kanban Board, which can be moved around as per their status i.e. pending, in-progress, completed, etc.
You can customize workflow according to your work process. Categorize your notes by creating different folders and enable task notifications to stay updated on new project developments.
Notes and docs
Notion gives you the flexibility to create content- from docs, notes, to a full employee handbook, and rearrange them as required to let you do your best work. Notion's editor is designed for focus and helps you structure your content.
Add images, bookmarks, videos, code, and more without touching your mouse. Use databases to keep track of all your data and notes Tag them with custom keywords, add teammates, set due dates, and more.
Control with whom you want to share notes by making them accessible to some or all team members. Collaborative editing and inline comments help you accomplish more. Share any page with the world in one click as Notion also works as a drag-and-drop builder. Sign up
Multiple views
Notion's database offers multiple views of your project tasks. From a drag-and-drop Kanban board interface to a to-do list view, Notion allows you to have a clear idea of what tasks you need to complete first.
You can view your project tasks in multiple views- task list, calendar view, gallery view, or table view.
Pros and cons

As with anything else, Notion has its pros and cons. While Notion is a quite useful note-making tool with project management capabilities, it's not without its drawbacks.
To begin with, we'll have a look at its strong points before discussing drawbacks.
Advantages of Notion for project management
Notion is user-friendly. Although the learning curve could be a bit rough at first, new users can quickly get a hang of things and navigate the software easily. Technical support is top-notch and instructions are easy to comprehend.

Notion is one-for-all software. It brands itself as "

the all-in-one workspace

" and quite rightly so.

Users don't have to open multiple tabs and switch windows every time. Everything is placed under one roof which saves a lot of time.

Notion facilitates real-time collaboration. You can add comments anywhere within a project page or database. A team member is notified the moment you mention@ his/her name in the comment.

Notion offers you a wide range of project templates so you don't have to do the hard work yourself. You can have a meeting note document, a new hire onboarding template, a task management template, and much more.

Every Notion feature can be accessed on any platform. There is an iOS app, an Android app, a desktop app (Mac and Windows), and also a Chrome extension.

A clean and uncluttered User Interface is a breeze to use. Additionally, its Spreadsheets and Databases help to make organizing files seamless.
Disadvantages of Notion for project management
Notion is not an outright project management tool; it presents itself as an alternate PM tool. Notion lacks some essential features, which are must-have for any PM software- time management, project scheduling, Gantt charts, online proofing, reporting, etc.

Takes time to set up and the mobile app is not as intuitive as the desktop version.

Notion's customizability is its selling point. You can customize your docs, but this flexibility can also pose a problem for users. Most novice users find it overwhelming, which further makes onboarding difficult.

Notion is mainly built for small teams. It's not a potent PM and collaborative solution for larger teams. They'd better off using a dedicated

PM software like ProofHub

that has all the right features under one roof.

Unreliable notifications of Notion are another drawback that can lead to confusion,or even chaos within teams managing projects. There's an option of turning off email notifications, which obstructs notifications from being received.

There's a free version of Notion. The Personal Pro plan is priced at $4 per month for individual users. The Team plan is priced at $8 per user/month. The Enterprise plan is available on quote.
Personal Pro Plan – $4 month/user
Team Plan – $8 month/user
Available Features:

Unlimited File Uploads

Unlimited guests

Version history

Available Features:

All features of Pro Plan

Unlimited Team members

Collaborative workspace

Admin tools

Advanced workspace
Notion offers a limited set of features to its users in all pricing plans offered to customers. Project managers and their teams usually need more features to collaborate efficiently on projects. So, Notion users will have to invest in additional tools, which makes it an expensive software, especially for startups.
Given below is the additional cost that Notion users will have to pay for if they want to use additional features.
Group Chat (Slack)- $US2.67 per user/month

File Management (document360)- $49 per project/month

Time Tracking (TimeCamp)- $5.25 per user/month

Online Proofing (GoVisually)- $20 per user/month

Scheduling Calendar (Gsuite)- $6.00 per user/month

Reporting Software (Zoho)- $12.85 for 2 users/month ($6.92 per user)

Gantt Charts (TeamGantt)- $24.95 per month

Kanban Boards (Trello)- $2.99 per user/month
If you are managing projects and want to use all aforementioned features to simplify complex management, you'd have to shell out $ 116 (approx)per user/month. That's not exactly what you call a fair deal, right?
For example, if your project team consists of 10 users, using all these features will cost you $1160 per month(Notion's cost excluded). Larger the team, the bigger your investment. This can blow up the budget of small and medium-sized teams with limited budget at their disposal.
Now imagine if you get all of these features in a single tool for $89 per month (billed annually) without any restrictions on the number of users!
Yes! ProofHub offers you all these features and some more at unbelievably affordable fixed-price rates minus per-user fee.
You bet that's too good a package to miss out on!
Notion project management: Reviews
"Complex solution for structurize and managing startup project"– Capterra
"One Place for All Your Ideas, Notes, Thoughts, Plans and Everything Else!"– G2
"Notion: The Best FREE Note-taking software to date!"- Software Advice
"Fabulous system for capturing institutional knowledge"- Get App
What is the most powerful Notion alternative available today?

Undoubtedly, Notion does more than what a (primarily) good note-taking application can do. It has some handy collaboration and organization features for project management that can get the job done for small teams (to some extent).
That said, Notion's limited features make it ineffective for project managers and teams who manage large, complex projects. Notion is not a dedicated project management tool, and there's no denying that.
We have read about the glaring shortcomings of Notion, which makes it clear that you need a feature-packed PM and team collaboration tool to have ultimate control over projects and teams.
This is where a dedicated, top-rated project management and team collaboration software like ProofHub can be the perfect choice for you to get more done in less time.
So, what makes ProofHub one of the best project management software in the industry today?
Read on to know more about it.
"Worried about time-consuming tasks taking more than expected time? Subscribe to ProofHub TODAY for adding timesheets and tracking time accurately."
What is ProofHub?
ProofHub is an all-in-one team collaboration and project management software loaded with thirty powerful features in one centralized location. ProofHub has all the right tools your team needs to efficiently collaborate and work on tasks faster together.
ProofHub is preferred and used by more than 85,000 teams worldwide, from small teams to global giants like Netflix, Google, NASA, to name a few. Minimal learning curve and user-friendly interface make it a straightforward tool for even novices.
Powerful features of ProofHub
ProofHub is packed with thirty powerful features in a single, centralized location. Using these features, project managers and team members can be on the same page to collaborate on tasks and perform them efficiently.
Let's read about the best features ProofHub has to offer, categorized according to different phases of the project life cycle.
Planning tools
ProofHub offers planning features to enable project managers to plan and organize tasks and projects in a way that suits their working style. Let's take a look at these intelligent planning features that ensure your project is progressing exactly as planned.

ProofHub offers multiple views for viewing project and task activities. The table view is the most familiar to most people who have managed projects in spreadsheets.
The table view allows you to plan and organize projects in a way that's best suited to your team. It is easily customizable so you can format the data for swift decision making. Keep essential details front and center, assign and filter tasks, and view data based on priority.
The table view is most useful when you're working with numbers or updating a lot of information. It is also convenient when you have to update comments, resources, progress, or statuses of multiple tasks within the project.
2. Kanban boards

Kanban Boards offer a flexible approach to project management. Kanban emphasizes managing projects based on your team's capabilities and capacity to do the assigned work.
Teams can self-manage their tasks as they move them from one stage to the next, and visualize workflows in Kanban boards. Tasks are viewed in columns, such as:
Ideas

Topics Approved

Production

Completed

Review
You can customize columns according to your workflow and organizational requirements.

Gantt charts are a staple in project management. They make it easy to visualize projects and all of their parts in a timeline view. You can see the flow of tasks as well as which tasks are dependent on each other.
You can adjust plans as deadlines shift. The Gantt chart view is useful for making presentations to customers and stakeholders to update them about project progress, what tasks are completed, what is pending, and how moving tasks will impact other work.
"An easy-to-understand project management tool with minimal learning curve. Sign up with ProofHub IMMEDIATELY!"
4. Task management
Create personal or group tasks in one place, break tasks into smaller and manageable tasks, and ensure a clear distribution of responsibilities to fix accountability. Use custom labels to differentiate, prioritize, and organize tasks, and filter a list of all tasks under one label.
You can also control access and security by making lists available only to the assigned people. You can restrict certain IP addresses to avoid unauthorized access to keep your data secure.
Collaboration tools
It takes efficient collaboration amongst teams, comprising different personalities, to deliver projects successfully. Without collaboration, your organization will stagnate. ProofHub offers collaboration tools to enable team members to share ideas and work to achieve both project and organizational goals.
1. Online Proofing

Teamwork involves a lot of sharing and collaborating on files and documents. You might need to edit your work based on suggestions made by other team members. Online Proofing tool in ProofHub allows you to deliver your best work.
Review files, use markup tools to annotate them, collaborate on them, and approve them right where you are. Collaborate on designs and documents in real-time, and review and add comments to share feedback in one place.
Once you're done resolving all suggested changes and feedback, collaborators can approve files with a single clock.
ProofHub's online proofing tool can help your clients ensure that they get the design they want. Project managers, web and graphic designers, video engineers, and other professionals can use online proofing applications to share their creative work with others and get timely feedback.
2. Group chat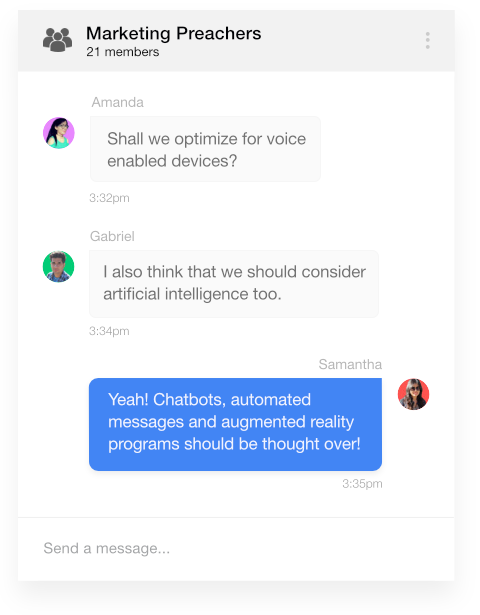 Send direct messages instantly to one or more of your team members and get swift replies to make sure there are no communication lags. The Group Chat feature in ProofHub allows you to share ideas, stay in sync, and work together.
Use ProofHub emojis to say more with less, express comfortably whenever short of words, or even give feedback that's to the point. You can also share files, documents, and images, and mention people in comments to specifically refer to someone.
3. Discussions

This tool is different from the Group Chat feature in the sense that you can bring all your team and client discussions in one place. You can create discussion topics on a particular matter, and share ideas, files, and documents in one place without having to go back and forth in lengthy email threads.
Subscribe people to discussion topics and select with whom you want to discuss a particular topic. You can archive discussion topics from the Discussion section and use them later whenever required.
4. Announcements

Announcements can prove to be an effective way to motivate teams. Make announcements to convey information that may not be project-specific and subscribe people to them. Appreciate a job well done to celebrate achievements or even give birthday greetings at one place.
Subscribe people to announcements and choose whom you want to show it and allow to collaborate on it. Attach supporting images, files, documents, and more to your announcements. Encourage team motivation using announcements boards in ProofHub.
Organization
Organization is another critical component of project management. It refers to storing and organizing crucial files and documents in an easily accessible single location. ProofHub offers some organizational tools to help project managers and their teams to keep things organized.
1. Scheduling calendar

Stay on top of your schedule with ProofHub's scheduling calendar. Schedule your events, tasks, and milestones at one place, and see all calendar data across all projects at one place using one project calendar.
You can also add recurring tasks and events if it needs to be done regularly, without having to create it manually yet again. You can have multiple views (daily, weekly, and monthly) of your calendar, and schedule work suitably. A Bird's eye view for all calendars enables you to see all activities across all projects without having to jump through projects.
2. Files and documents

ProofHub's file management software lets you collaborate and share feedback on files in real time. You can upload, store, and organize files at one place so you can quickly locate them whenever you need for collaboration.
Preview files, review, proof, and share feedback at one place without having to switch between multiple tabs. File versioning allows you to store multiple versions of the same file, access version history, compare with the older versions available, and restore if needed.
3. Project templates
The project template feature within ProofHub allows you to save time and efforts that might otherwise be lost in creating repetitive tasks. Create project templates, save, and keep them organized to add similar projects without having to fill in details from scratch.
You can use project templates to record most of the repeatable processes, information, and settings associated with the projects in your organization. This feature is helpful when reporting on projects sharing the same template.
4. Notes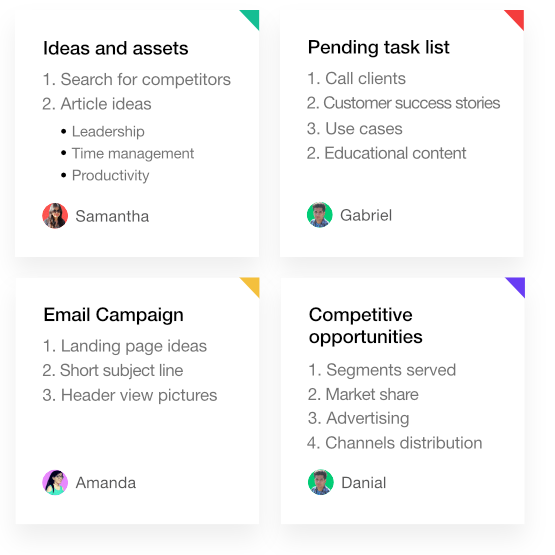 A note-taking software within ProofHub helps you create notes, organize them, collaborate on them, and work smarter. Create notes to save project information, minutes of meeting, and even jot down thoughts and ideas to remember.
You can make your notes colorful by choosing colors and setting color codes so it's easy for you to differentiate them from one another easily. Subscribe people to notes, and choose with whom you want to share and collaborate on them.
Delivery
Project delivery simply means executing projects in a planned manner, so that they are completed and delivered as per the client's requirements, within set deadlines and allocated resources.
With ProofHub, project managers ensure that all processes and components are streamlined for successful project delivery.
1. Timesheets and time tracking

A time tracking software to bring all your time data at one place. Add multiple timesheets to record time data, use them for payroll, client billing, estimation, tracking, and even time management.
Set time estimates, and see all time data of people across all projects, billable or non-billable, project progress, and status in bird's eye view without the need to jump through projects. Track time manually or use timers to record the time it takes to get work done.
2. Project and resource reports

An online reporting tool with detailed individual, custom, and project reports that help you analyze project progress and adjust plans accordingly. Get detailed reports in just a single click, and visualize every aspect of your project, and the overall project progress at one place.
Get a visual roadmap timeline of the complete and incomplete milestones in a project and manage projects accordingly. Download project reports of the projects of your choice and use them in meetings or however, you want to plan and schedule projects.
3. Workload report
Visualize team capacity and assign work according to the team workload. See metrics by the person across all their assigned work.
4. Project progress report
Get details of how many tasks and milestones are completed in a project and how far the project has come with daily, monthly, and weekly project progress reports.
With so many powerful features in a single location, it's natural for most readers to assume ProofHub to be an expensive tool. Surprisingly, ProofHub is more powerful as well as pocket-friendly than your average PM tools with per-user fee and way lesser features.
ProofHub's simple pricing plans make it affordable for all team sizes. For information on our pricing plans, kindly visit our pricing page.
The final thought
Notion does more things than is expected of a good note-taking app. It has some features that allow small teams to collaborate easily on tasks. However, it cannot match the comprehensiveness of dedicated project management software like ProofHub.
ProofHub offers all the tools your team needs at such an affordable price that you'd find it difficult to consider another option. Teams of all sizes, from small-scale businesses to global brands, ProofHub continues to serve the never-ending needs of PM teams with unmatched ease and efficiency.
FAQs
Is Notion ideal for project management?
To some extent, yes. Notion is most commonly used for knowledge management and streamline project management. It is ideal for smaller teams who need limited features to manage projects.
What is Notion primarily used for?
Notion is an application that provides components such as databases, kanban boards, wikis, calendars and reminders. Users can connect these components to create their own systems for knowledge management, note taking, data management, project management, among others.