Gmail, Yahoo, and Outlook were supposed to be formal communication tools but the corporate fraternity started using them for email project management.
Thus, email project management has become quite common for managing projects. So, I decided to decode email project management so that it can help you master the art of email project management.
(Though project management is originally reserved for project management software.)
Let's face the reality…
Email project management is not possible solely using email because email platforms are not designed for project management. You need an email project management software or project management tool that integrates with your email to help you directly manage projects from your inbox.
You may know from your experience also why emails alone are not enough for project management.
Managing projects directly from your inbox without using any management tool leads to chaos:
writing long emails to create tasks
sending out emails to assign tasks
communicating information about various tasks via email
navigating through long threads to track details
reminding team members of deadlines
checking emails regularly to know the project status
searching for hours through the inbox to find the email you want
All of this is a productivity killer and makes you pull your hair.
Email project management makes life simple and easy for you. It helps you save time and effort, keep things organized, and control your project management.
In this article, we will learn about email project management and its benefits, the features of a good email project management tool, the best email project management tool, and more.   
What is email project management?
Email project management is the process of managing projects directly through your email inbox. It includes activities like creating and assigning tasks, tracking tasks and project progress, managing project deadlines, team communication and collaboration, and project reporting and analysis. However, you need to use email project management software for effective management of tasks directly from your inbox.
It is important to understand there is a difference between email project management and project management using project management software. Email project management focuses on managing projects directly from the email inbox, whereas the project management software manages projects from its own platform.
However, the beauty of project management tools is that they can integrate with your email inbox to offer email project management and let you enjoy almost all the benefits of project management software.
Read more: The importance of project management software to improve team productivity
What are the benefits of using email project management?
Email project management offers a wide range of benefits when managing your projects from the inbox. It helps you stay on top of your project management, keep things organized, streamline communication and collaboration, and make your life easy.
Stay organized: You can sort your projects into categories based on the name, priorities, or type to keep everything organized. It helps you in effective project management, delegation, and capacity planning.
Complete control: You can take complete control of the projects when you have all the projects in one place. There is no need to switch platforms to track projects. You can plan, organize, track, and manage projects all in one window. It ensures you and your team meet the deadlines.
Bring all communication to one place: Email project management brings all communication to one place. Everyone knows about the channels where they need to send information and share files. It eliminates the risk of missing important information.
Ease of use: Most people are familiar with email. There is no big learning curve to shifting to email project management. You can easily learn new features and manage projects.
Looking to improve your email task management? Learn why it's crucial and discover practical tips for implementing it in your work processes.
Factors to evaluate when choosing an email project management tool
Email project management tools are responsible for all the magic of email project management from your inbox. But, we all know that all email project management tools in the market are not equal. Some empower you, and some cripples you. So, it is very important to choose the right one.
I have been to this place many times. I have personally used a range of tools over 13 years of my career. So, based on my personal experience, research and reviews of various tools, I have listed five factors you need to consider when choosing an email project management tool.
1. Email integration
There is no email project management tool without email integration.
Otherwise, what is the point of email project management?
The tool must provide integration with commonly used email platforms like Gmail, Outlook, or Yahoo.
The way a tool provides integration varies from tool to tool. For example, some tools allow you to create tasks directly from the email. While others create tasks on their own platform, but send all the details and notifications in real time to your inbox.
It is up to you to choose what level of integration you require. But make sure your tool integrates with your email platform in real-time.
2. Task management creation, planning, and organization
The purpose of investing in an email project management tool is to manage tasks and projects. A tool should allow you to create, view, organize, and manage tasks from your inbox.
In task creation, you should be able to add the due date, task description, people, and other task details required to complete a project.
When it comes to planning, tracking, and organizing, a project management tool should provide you with all the information about projects in one place. It can be a Kanban Board, Table View, Gantt Chart, or some other view.
In email and project organization, the management tool should allow you to sort emails and projects into categories based on various filters or rules.
3. Team collaboration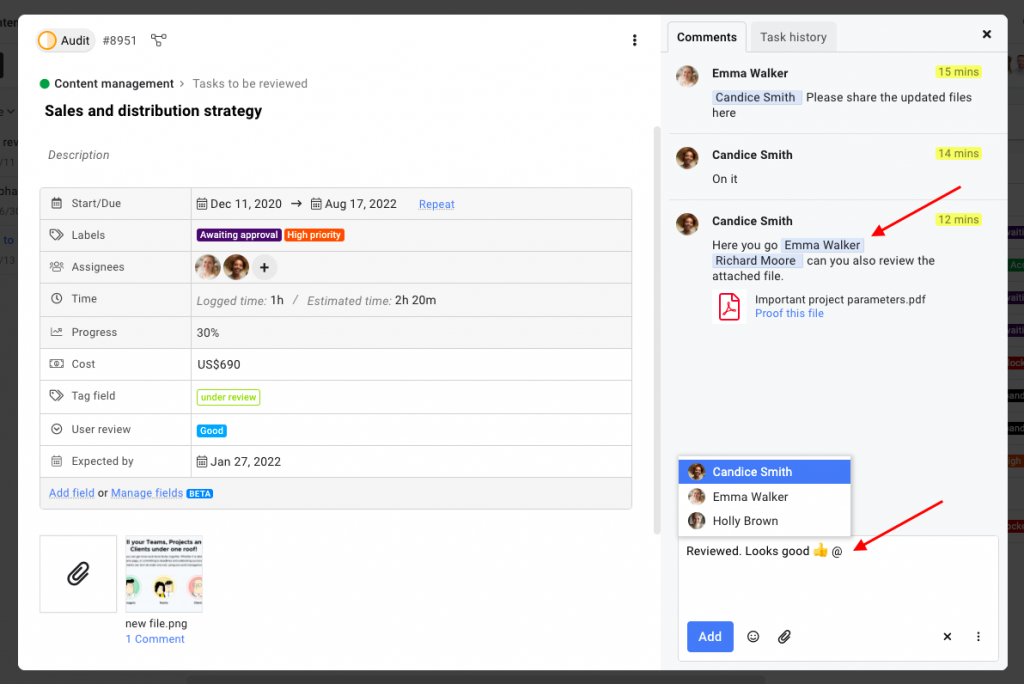 You should be able to facilitate task-specific communication from your inbox. It will help keep everyone on the same page. Most of the tools in the market allow you to add task comments or tag colleagues using the popular feature @mentions. Other features you should look at are real-time instant chat, file sharing, and online proofing because collaboration is not just about communication. 
4. Tech Integrations
No email project management tool can offer you all the features. Thus, integration with other tech stacks is pivotal. For example, you need a calendar scheduling app to integrate with your inbox or you want to integrate your CRM software into your email project management. You need a tool that provides you with the flexibility to integrate with other tech stacks.
5. Ease of use
It is very important that you are comfortable with the user interface of your tool, and that it does not have a huge learning curve. Because the main reason people need email project management tools is they are so used to emails they need an option that provides functionality in a familiar way.
6. Onboarding and tech support
If you are new to the landscape of email project management tool, you require some initial assistance in onboarding a new tool. Make sure your SAAS service provider has dedicated onboarding support team to help you get used to the tool and tech support to help you with any issues related to your tool & make the most of your tool.
7. Cost and reviews
The cost plays a decent role when investing in a SAAS product. The best approach is to find a tool that offers the best value for money. Compare the pricing and features of the tools. It is always a good idea to go through the reviews of the tool on popular platforms like G2, Capterra, and Software Advice to get an unbiased view of the tool. Take a free trial of the tool and make your final decision.
I hope you have some idea of email project management, its benefits, and what makes a good email project management tool. Now, let's look at the best tool for email project management.
The Best Tool for Email Project Management – ProofHub
ProofHub is a competent management software that not just only helps you with email project management from your inbox through integration, but it's an all-in-one platform that offers advanced features for effortless project management.
It is the best email project management software with two-way integration.  From project management to email integration to team collaboration, it brings everything together in one place. It helps you save time, improve productivity, offer ultimate control over your projects, streamline communication with remote and office teams, make file sharing easy, and help you meet deadlines.  
Why use ProofHub for email project management?
ProofHub is a project management and team collaboration software that offers a centralized platform to manage all your projects, teams, and tasks in one place. One of the key features of ProofHub is its ability to manage email communication within the platform. By using ProofHub for email project management, you can avoid the clutter and confusion of managing project-related emails.
Let's find out how ProofHub can help you with email project management.
1. Send emails directly from tasks
Have you wondered how much time you can save every day if you are able to create emails automatically?
By the end of the month, you can save hours on creating emails for tasks by directly sending emails from ProofHub tasks.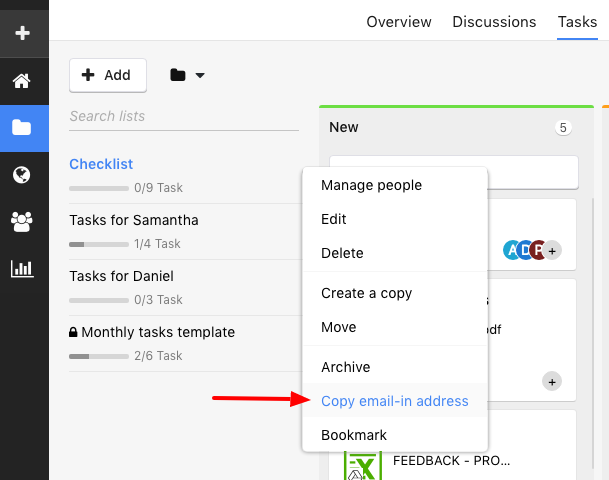 It automatically sends details of the tasks to the email inbox of assignees. You do not have to separately create an email and copy-paste every detail of your task.
2. Directly create and assign tasks from your emails
Do you want to create tasks from your email?
ProofHub syncs with your inbox and offers you the freedom to do so. As we discussed earlier, the way a tool offers integration varies from software to software, you need to follow a certain template with most software to assign a task from email.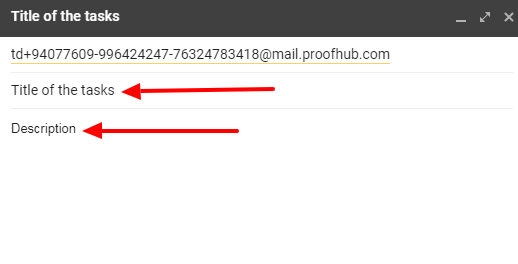 Here's how you can create tasks in a tasklist with ProofHub:
Copy an email address associated with a task list
Paste the address into your email inbox
Start assigning tasks from your email inbox
You can learn more about how to create tasks here.
Want to attach files to a project or mention someone to a task to share an update?
You can do that with ProofHub task comments and share files directly from your inbox.

To add comments, simply click on the reply button and a comment will be added to the task discussions. The files attached from your inbox will appear under the chosen project.
4. Track progress with real-time task updates
You get email notifications of every task, every update, and every change made to the task. This ensures you do not miss any task information and it also offers you better control with real-time tracking of task status.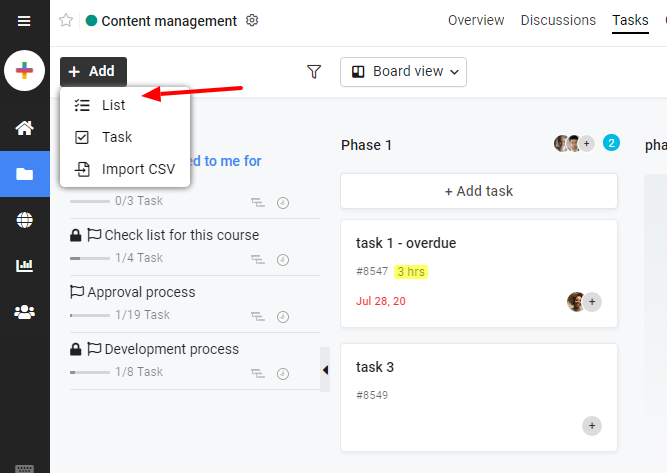 Details of the update are mentioned in the task so you do not have to switch tabs to find out what is happening. This helps you work efficiently.
5. Reduce email workload
You can keep all the projects organized and reduce the burden of managing everything from emails with the ProofHub project management system. It allows you to view, track and manage all the tasks in one place. This gives a great boost to your productivity and project management.
You can view all the projects in the ProofHub task dashboard from your email inbox by clicking on the project notifications you received in the inbox.
All the projects and tasks are organized in the task dashboard according to the set workflow. This allows you to use email effectively for important conversations and sharing confidential information.
Here are the key project management features of ProofHub:
Get a clear picture of projects with four task views including Kanban Board, Table, Calendar, and Gantt Chart
Set task due dates, add multiple assignees, prioritize tasks with labels, automate recurring tasks, and track time
Use built-in and customized workflow and templates for project planning
6. Communicate with your remote and office team with instant chat
You do not have to wait for hours just to get acknowledgment on the email for a simple query that can just be addressed within a second. With ProofHub's Chat, you can get the immediate attention of your team members. You can create groups to chat with the team at once.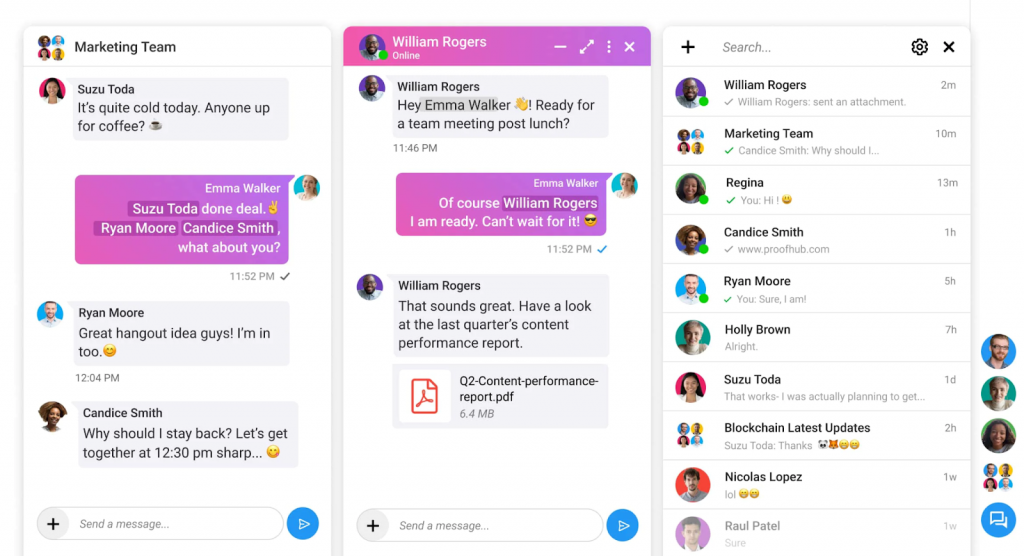 This is especially great if you have a remote team. You can avoid long threaded conversations on email and have space for both formal and informal queries. This is a huge boost to you and your team's productivity.
Your team can also have light-hearted discussions with team members that help in enhancing engagement in remote teams.
7. Get all the reports delivered via emails
At the end of the week or completion of a project/task, every manager would love to see how things proceeded. You can receive the daily, weekly, or monthly project reports in emails. It will help you in productivity analysis, project planning, and defining areas that need improvement.
You can also set the frequency of when you want to receive reports. Not just that, ProofHub also allows you to set the frequency of task notifications you receive. This will help you get more control over the emails you receive in your inbox.
When not to use email project management?
We have discussed in the very beginning if you remember, 'Project management is originally reserved for project management software.'
So, there are times when you should not use email project management and consider more competent project management tools. One must know the limitations of email project management so that one can make the right decision when to use email project management.       
Limitations of email project management
Not ideal for big projects or large teams
If a large team is collaborating on a project or the project runs for a long time, it will soon create a pile of emails that become difficult to navigate. There is the communication from the team, updates from clients, and you have some requests. All this crowd your inbox in no time. You need project management software that provides you with dedicated space for project and task management. 
Lack of centralization
Email project management lacks centralization. There is no central place for all team members to plan and collaborate. For example, some are using Google Drive for attaching files while others are using DropBox. There is no centralized standard workflow. Everyone is adhering to their own workflow which makes it difficult to achieve efficiency and creates unnecessary confusion.   
Integration challenges
Even the most powerful project management tool cannot work at its full potential when it tries to manage everything from inbox through integration. Project management software has its own dashboard which provides everything you need from start to end for project management. A competent project management tool can help you with advanced functions like time tracking, budgeting, accounting, CRM, collaboration, and much more.
No more messy emails! Check out our top 12 email alternatives and streamline your processes now!
The Bottom Line
There is no problem in managing projects in an old-fashioned way using emails, but it has consequences: you will not be productive, your projects will not meet the deadlines, and your team's progress will be hampered.
Email project management is there to make life easy for managers who want to manage projects directly from their inboxes. A powerful tool helps you take control of the project management, streamline workflow, manage team communication, facilitate team collaboration, and track project progress.    
You just need to find competent email project management software that can help you with email project management and beyond with advanced project management capabilities.
FAQs
How is the email used in project management?
Primarily, emails are used in project management for delegating tasks, sharing project updates, tracking progress, team communication, file sharing, and collaborating with team members, stakeholders, and clients.
What are project management email templates?
Project management email templates are pre-designed frameworks that can be used to manage projects, communicate with team members, and prepare project reports.
Is email a project management tool?
Email can be used for assigning tasks, document sharing, tracking project progress, team communication, and team collaboration, but it is not a project management tool.