Airtable is a valuable relational database management tool in today's data-driven world. It's like a digital organizer that makes the collaboration on data easy and efficient.
But here's the issue: Your work gets big over time, and Airtable might add complexity instead of simplifying tasks.
Maybe it lacks certain features you need, or it feels a bit pricey for what it offers.
Looking for Airtable alternatives is naturally the next step.
Rest assured as I'm here to solve this issue for you.
To effectively market our own product, it's part of my job as a marketing manager to understand the benefits and pain points associated with our competitive products.
If you're currently unsure about Airtable's suitability for your needs, or just testing the waters, I've compiled a list of excellent alternatives that can potentially enhance your productivity and help you achieve your goals more effectively.
But before we dive in, let's address the shortcomings of Airtable.
Try ProofHub Today! 
Grab your limited-time 40% discount on the Ultimate Control plan before it's gone. 
What are the limitations of Airtable?
After trying Airtable and reviewing several customer experiences, I found Airtable to be inefficient with increasing project data.
Eventually, this leads users to seek simpler, more scalable tools to reduce manual work and streamline processes.
Common areas where Airtable falls short include:
1. Limited project management features
Airtable is pretty cool for organizing stuff, but when it comes to managing full-blown projects, it's a bit like bringing a knife to a gunfight.
It lacks crucial project management features like project planning, time tracking, or critical path analysis. You'd need a team of database geniuses to make that happen with Airtable.
2. Collaboration is not smooth sailing
Collaboration in Airtable is kind of like a puzzle. You can collaborate in real-time, which is nice, but each database (or base, as they call it) has its own collaboration and comment limits.
3. Paid extensions
Airtable offers various work views, but if you're on a budget, you might feel a bit limited. Gantt view and timeline view? You'll need to cough up for the higher-priced plans.
And what about the "extensions" aka cool extras?
The basic plan only offers three per base, which isn't ideal for note-taking, content creation, or detailed project reporting enthusiasts.
4. Reviewing features
If your work includes reviewing loads of images, texts, or other creative assets, Airtable might not be your best choice.
It struggles with handling visual and interactive content, which can be a real headache for design teams and others in the creatives-heavy game.
5. Expensive for big teams
Airtable is great for solo users with its free package, but if you're running a business with a team, be ready to open your wallet wide.
Starting at $20 per user per month, the cost can add up really fast if you are planning to expand in the future.
Now, I am not denying that Airtable can't be repurposed to do more. But the price and effort associated with what it offers is way too much in comparison to what below mentioned tools have to offer.
14 best Airtable alternatives to consider in 2023
To make your hunt for Airtable alternatives a bit easier, I've rounded up the top 14 alternatives and platforms for you. These options cover a wide range of needs, from simple data tracking to handling complex project management tasks.
When I was making the list, I considered how easy the tool is to use, how well it scales, what features it offers, and of course, the budget.
Disclaimer: The pricing comparison mentioned below in every tool reflects the plan that offers all project management features for a team of 10 members. It is advised to go through other plans to find the most suitable option for your team.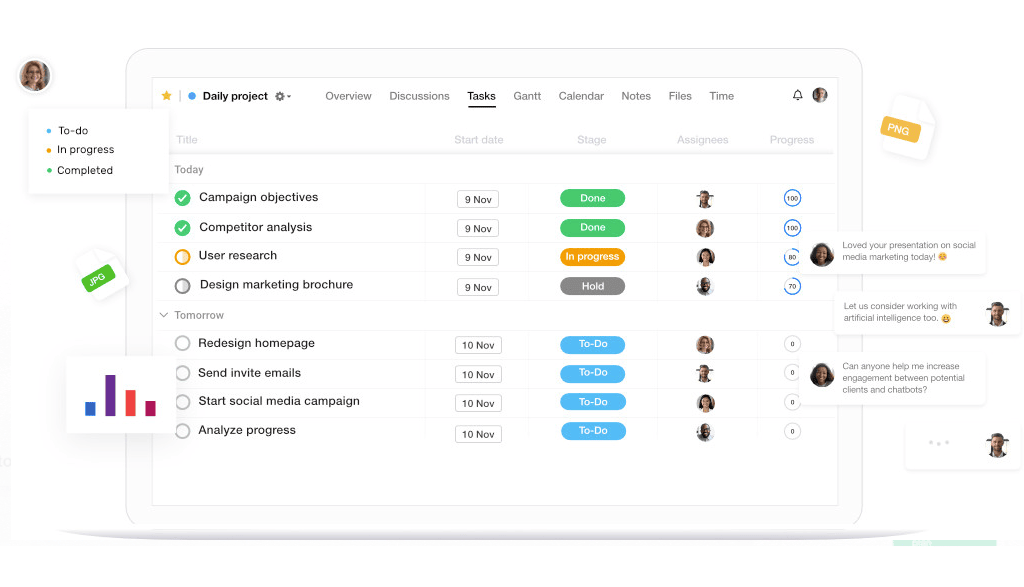 If you're on the lookout for a reliable and scalable alternative to Airtable for your business, ProofHub is the most promising tool.
ProofHub is an all-in-one cloud-based project management and team collaboration tool designed with agility and flexibility in mind. It offers a customizable interface that can streamline almost any process within an organization.
ProofHub is like a toolbox filled with features you need to efficiently manage your projects, whether you run a small startup or a large corporation. You can create and track tasks, visualize project timelines with Gantt charts, share files, keep tabs on time spent, and communicate with your team, and much more, all from one place.
In comparison to Airtable, it offers an intuitive interface for project management so that even users with non-technical backgrounds can use it to maximize productivity.
But that's not it.
ProofHub sets itself apart from several other tools by providing a robust infrastructure under a flat pricing structure. Unlike other tools, there is no per user fee, which makes it a scalable solution with significant cost savings in the long run.
ProofHub feature highlights
All-in-one project management and team collaboration solution.
Customizable interface with multiple views to accommodate diverse task management workflows.

Productivity enhancement features like time tracking, milestones, daily agenda, etc.
Granular organizational control over information access with custom roles and permissions.
Pros
Flat pricing with no per-user fee.
Organization-wide centralized flow of information.
Intuitive interface to get started quickly.
No juggling through multiple apps for managing different aspects of your projects.
Seamless cross-departmental collaboration.


Cons
Notifications can be overwhelming sometimes.
Pricing
Unlike Airtable's freemium pricing, ProofHub offers a flat-rate pricing model.
Essential plan: $45/month (billed annually)
Ultimate Control plan: $89/month for (billed annually)
Here's a breakdown comparing the costs and features of Airtable and ProofHub to assist you in making an informed purchasing decision:
ProofHub
Airtable
$89/month (billed annually) for unlimited users

✅Board view
✅Gantt chart
✅In-built chat
✅Time-tracking
✅Custom forms
✅Proofing and approval
✅Reports
✅Discussion
✅Project timeline
✅Files management
$200/month(billed annually) for 10 users

✅Board view
✅Gantt chart
❌In-built chat
❌Time-tracking
✅Custom forms
❌Proofing and approval
❌Reports
❌Discussion
✅Project timeline
❌Files management
2. Smartsheet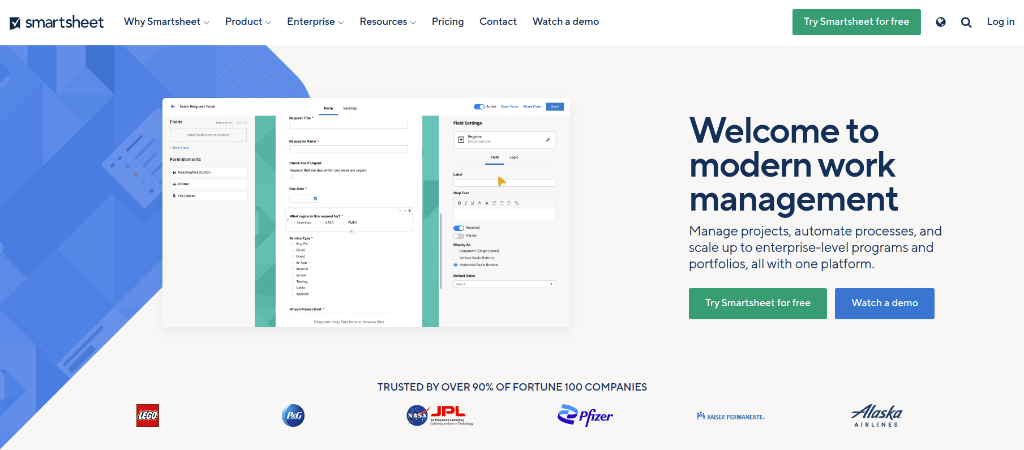 If you're seeking a spreadsheet software similar to Airtable but with better project management functionality, Smartsheet can be a suitable solution for you.
It is a cloud-based software designed for businesses and teams to efficiently handle various forms of data, including tasks, customer data, sales pipelines, event schedules, and more. However, the relational database functionality of smartsheet is not as flexible and customizable as Airtable.
In comparison to Airtable, Smartsheet is easy to learn for someone with prior experience in Excel or any spreadsheet software. The platform is clean and customizable, though some users might find it somewhat plain.
One notable drawback is the absence of native time-tracking features, for which third-party solutions are available. The good news is that ProofHub offers these features in one place under better pricing.
Smartsheet feature highlight
Multiple views to visualize project information.
Collaboration tools to review and comment right within the sheet.
Solution center offers several spreadsheet templates for individual processes.
Dashboards with guest user access to give stakeholders the project overview.
Pros
In-built templates are already there for users help
Direct integration with Microsoft Power BI.
Effective resource management
Cons
Steep learning curve for advanced features.
Limited cross-sheet relations
No time tracking without third-party integration
Pricing
Smartsheet offers a four-tier freemium pricing model: a free plan, $7/user/month (billed annually) for a Pro plan, $25/user/month (billed annually)for a Business plan, and an Enterprise plan
| | |
| --- | --- |
| Smartsheet | $250/month for 10 users. |
| Airtable | $450/month for 10 users. |
3. Fusioo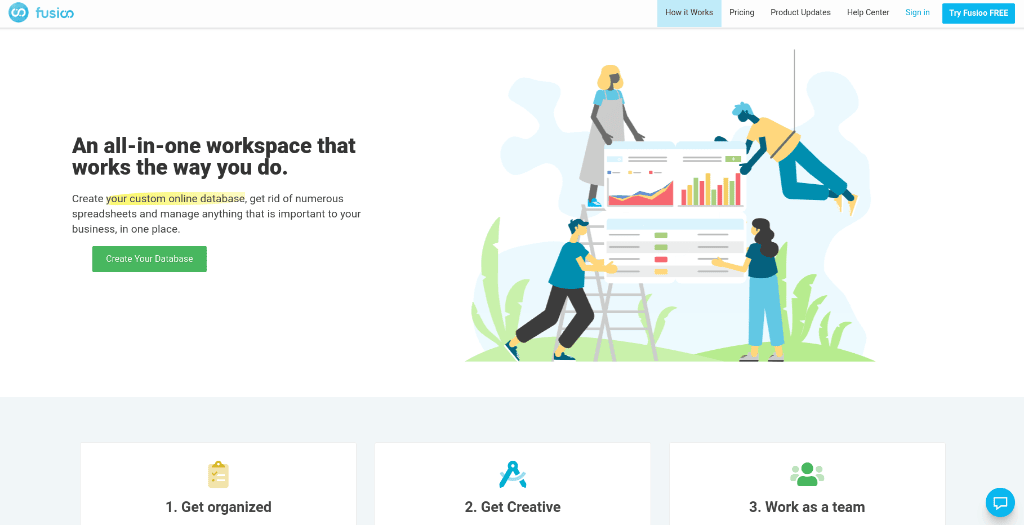 Fusioo is another Airtable alternative that is an online app for building and managing a custom online database.
The app is designed to make it easier for teams to manage their projects, events, ideas, clients, etc. Additionally, you can store relevant data, create custom dashboards, plan projects, track deadlines, and more.
While Airtable does offer some automation features, Fusioo takes it a step further with its visual workflow builder. This allows users to design and automate complex business processes without needing advanced coding skills.
One of the best things about Fusioo is that it can be easily tailored to meet the specific requirements of a team or an entire organization.
Fusioo feature highlight
Kanban boards for task management.
App relationships to avoid duplication.
Role-based permissions to limit information access.
Discussions to collaborate with team members and clients.
Pros
Easy-to-use interface.
More automation than Airtable.
Highly customizable user interface.
Cons
No Gantt charts for progress tracking.
Software can be slow at times.
Pricing
Fusioo offers a four-tier freemium pricing model: a free plan, €9/user/month (billed annually) for the Basic plan, €19/user/month (billed annually)for the Standard plan, and an Enterprise plan
| | |
| --- | --- |
| Fusioo | €190/month for 10 users. |
| Airtable | $450/month for 10 users. |
4. Notion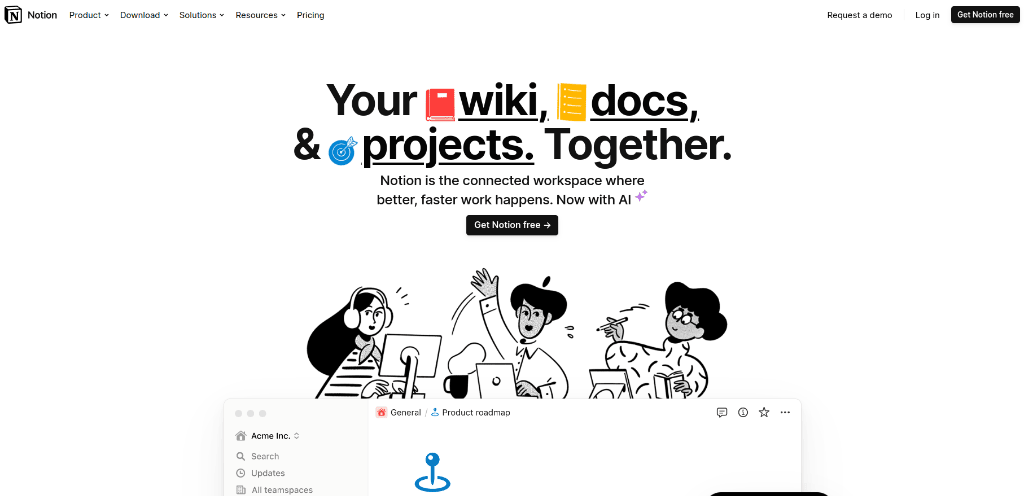 Notion initially started as a note-taking productivity app in 2013 and has recently gained significant ground in project management too. It offers a database management framework similar to Airtable, allowing for data storage and retrieval within linked tables.
Notion provides flexibility for teams and businesses in managing projects. Users can create blocks to input various data types, including text, images, tables, and entire pages. Moreover, Notion offers several user-generated and pre-designed templates for a wide array of use cases. This includes things from fitness tracking to content management and project planning.
However, there are certain scenarios where Notion may not completely replace Airtable. Notion excels in collaboration, customization, and personal productivity, while Airtable shines in complex large-scale data management.
Notion feature highlight
Multiple views to visualize project information.
To-do lists to create tasks and subtasks.
Custom labels and tags to categorize data
Customizable filtering and sorting.
Pros
Customizable UI to create blocks anywhere on a page.
Huge repository of templates to get started.
Extensive learning resources
Cons
Overwhelming to set up as per preferences.
No built-in reporting, analytics, and communication tools.
Pricing
Notion offers a four-tier freemium pricing structure, including a free plan, a plus plan at $8/user/month (annually billed), a Business plan at $15/user/month (annually billed), and an Enterprise plan
| | |
| --- | --- |
| Notion | $150/month for 10 users. |
| Airtable | $450/month for 10 users. |
5. Quip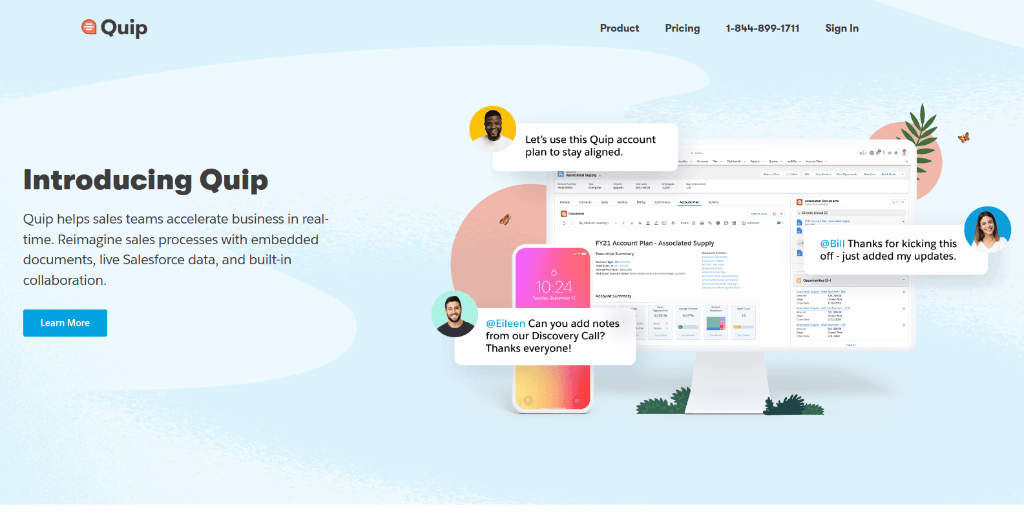 Quip is another spreadsheet-based alternative to Airtable. It is simpler, more straightforward, and focused more on the collaboration part of project management.
Quip provides the ability to leave comments on specific cells using "@ mentions", and comprehensive version history to track the changes. Additionally, it offers task management features for easy team progress tracking.
The choice between Quip and Airtable hinges on your specific needs. Quip excels in facilitating collaboration, while Airtable stands out for database customization and modeling.
If your business primarily requires word processing and presentation capabilities, Quip is a suitable choice. However, if your business demands a more powerful data management and automation tool, Airtable may still hold the advantage.
Quip feature highlight
Chat rooms for internal collaboration
Integration with Salesforce.
Search functionality to directly jump on the documents.
Cross-device availability.
Pros
Easy to navigate
Comprehensive version control
Access permissions
Cons
Lacks essential project management features like progress tracking, resource management, etc.
Not good for reviewing and approvals.
Pricing

Within Quip's pricing options, there are three tiers: a Quip starter plan at $10/user/month (annual billing), a Quip plus plan at $25/user/month (annual billing), and a Quip Advanced plan at $100/user/month.
| Quip | $250/month for 10 users. |
| --- | --- |
| Airtable | $450/month for 10 users. |
6. Zenkit Projects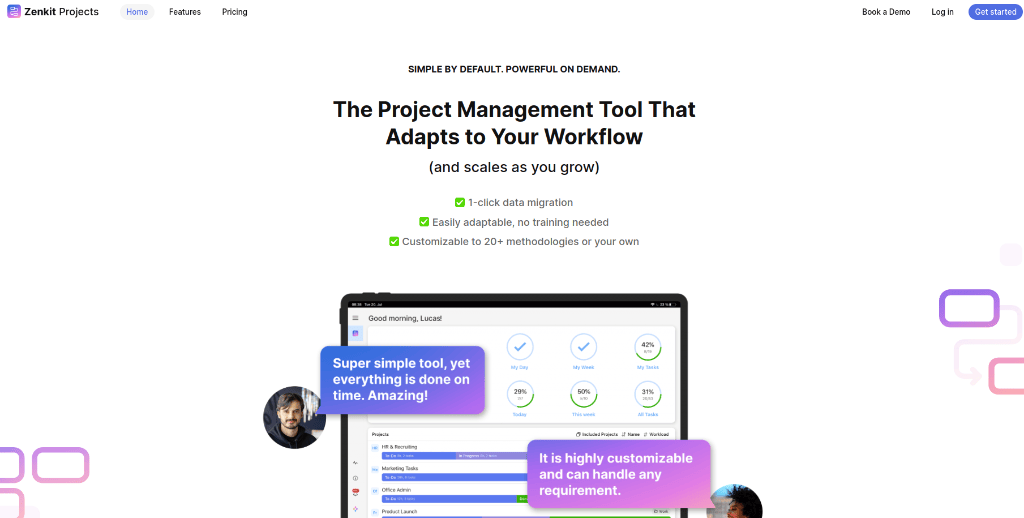 Zenkit offers a suite of software to manage different processes. Zenkit Projects is the Airtable alternative that offers you a project management tool with a simple, user-friendly, and clutter-free design.
The app is designed to help project managers better handle various aspects of projects.
Whether it's task management, scheduling, resource allocation, budgeting, and reporting—Zenkit streamlines everything so that your projects are delivered to the exact specifications while enhancing both individual and collective productivity.
Zenkit is suitable for small to medium-sized teams and individuals looking for a straightforward and user-friendly project management and collaboration tool.
In comparison to Airtable, though, it may not be able to provide linked databases or advanced filtering options.
Additionally, some essential project management features like time tracking and custom roles are missing from both tools.
Zenkit feature highlight
Rich text editing with markdown support.
Multi-level subtasks for effective workload distribution.
Activity tracking for employee accountability.
Global Kanban board to manage cross-functional teams.
Pros
Flexibility to adapt to different project management frameworks.
Visually rich interface with a lot of customization options.
Cons
Heavy customization can make the interface cluttered over time.
Initial learning curve.
Pricing
Zenkit Projects offers different pricing options. The most basic one is called "Plus," and it costs $9.00 per user per month. If you need more features, there's a "Business" plan available for $25.00 per user per month.
| Zenkit | $250/month for 10 users. |
| --- | --- |
| Airtable | $450/month for 10 users. |
7. ClickUp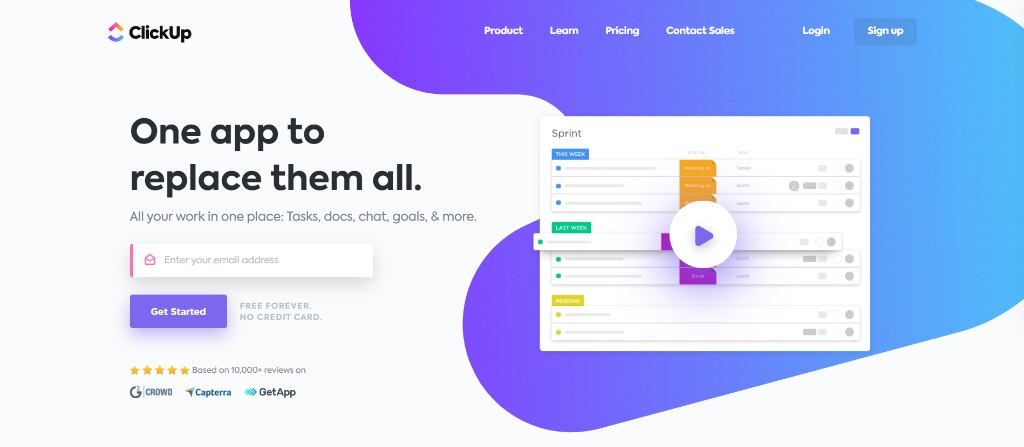 ClickUp is a robust project management and productivity tool that serves as a compelling alternative to Airtable, particularly if you're looking for a more comprehensive solution to manage your tasks, projects, and workflows.
While Airtable excels at organizing data and creating customizable databases, ClickUp takes things a step further by offering a broader spectrum of features.
One of the key strengths of ClickUp is its views. You can either get the holistic birds-eye view or get into the nitty-gritty details of your projects using Kanban boards, Gantt chart views, etc.
Another significant advantage is ClickUp's team collaboration features, allowing you to avoid miscommunication and stay ahead of deadlines.
ClickUp feature highlight
More than 15 customizable views to visualize project information.
Pre-built templates to avoid starting from scratch.
Milestones to set targets and avoid bottlenecks.
Mind maps for planning the project.
Team chat for internal communication.
Pros
Wide variety of features to handle various kinds of projects
Frequent product updates
Industry specific templates
Cons
Steep learning curve
Overwhelming user-interface
Pricing
ClickUp offers a free plan with limitations on advanced features like Gantt chart, time tracking, and dashboards.
The Unlimited plan, priced at $7 per member per month (annually billed), offers more storage and guest access.
The Business plan, at $12 per member per month (annually billed), provides enhanced security and advanced views. Plus, it offers an Enterprise plan for more personalized features like white labeling and advanced security.
| Clickup | $120/month for 10 users. |
| --- | --- |
| Airtable | $450/month for 10 users. |
9 Powerful ClickUp Alternatives Worth Your Consideration if ClickUp doesn't meet your business desires.
8. Evernote

Evernote is primarily a note-taking and organization tool. It excels at capturing and storing various types of information, from text notes and web clippings to images and PDFs.
Evernote is fantastic for managing unstructured information, such as meeting notes, research snippets, brainstorming sessions, and personal journaling.
However, if you're dealing with structured data like spreadsheets, project management, or databases, Airtable might still be a better choice.
Evernote feature highlight
Web clipping support
Store notes, web clips, files, and images
Edit rich text and sketches
Sketch on a page and sync notes to any device
Give feedback and share ideas
Pros
User friendly interface to easily get started
Real time collaboration
Cons
Not a scalable solution
Features limited to top-tier plans only.
Pricing
Evernote provides users with three pricing options: a free Basic plan, a Personal plan available for $10.83 per month (billed annually), and a Professional plan priced at $14.17 per user per month (billed annually).
| Evernote | $250/month for 10 users. |
| --- | --- |
| Airtable | $450/month for 10 users. |
9. Basecamp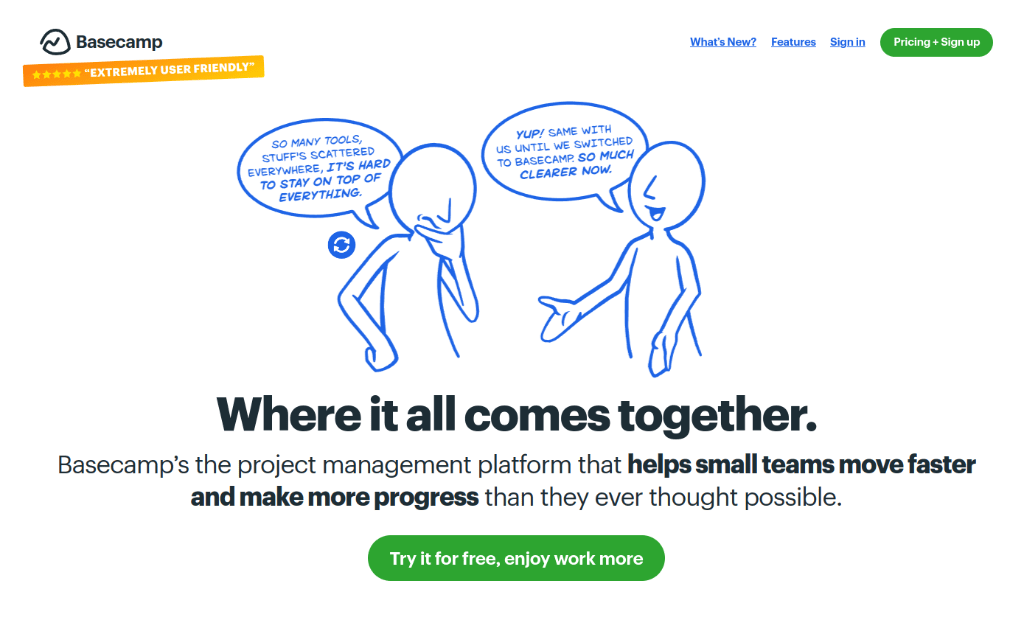 Basecamp is a great project management and team collaboration platform. It provides a central hub for teams to communicate, collaborate on tasks, share files, and manage projects effectively.
Basecamp's strength lies in simplicity, making it easy for teams to get organized and work together without getting overwhelmed by complex features.
If your primary goal is to streamline teamwork, track project progress, and facilitate effective communication, Basecamp is a good alternative to Airtable.
However, Airtable's strength in its adaptability for data management is missing in Basecamp. I would advise you to consider the nature of your projects while choosing Basecamp.
You can also check how Basecamp stands against other tools in this article.
💡Read Here: Top 42 Basecamp Alternatives for Project Management
Basecamp feature highlight
To-do lists to assign tasks to team members.
Hillcharts to visually represent project progress.
Campfire chat for discussion and communication.
Centralized document management.
Focus mode to mute specific notifications.
Pros
Simple straightforward user interface suitable for individual users and small businesses.
Seamless task management and collaboration
Cons
Not suitable for complex processes and big organizations.
Lack of advanced features and customization options
Pricing
Basecamp offers two different plans: The first one ideal for smaller teams costs $15/user/month, while the second one suitable for growing businesses is priced at $299/month for unlimited users.
| Basecamp | $299/month for unlimited users |
| --- | --- |
| Airtable | $450/month for 10 users. |
10. Stackby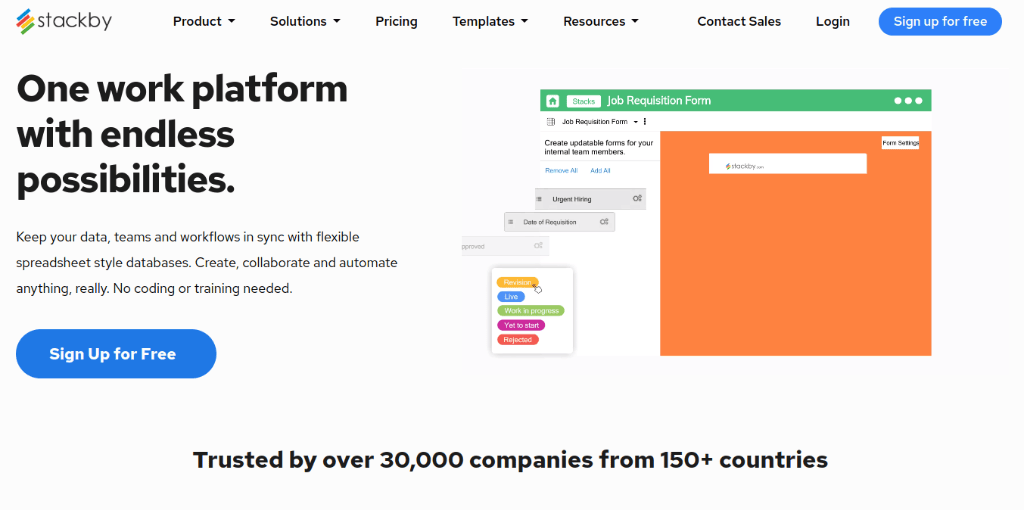 Stackby is another no-code database management software similar to Airtable. It allows you to link rows, and share specific views instead of only an entire workspace, stack, or table.
While Airtable offers collaboration features, Stackby takes it a step further by allowing a real-time collaboration-rich environment under relatively affordable pricing.
Another notable advantage of Stackby is its extensive library of pre-built templates and customizable spreadsheet-style databases.
This makes it easy for users, regardless of their technical expertise, to create databases tailored to their specific needs. Airtable does offer templates as well, but Stackby's collection is known for being more extensive and user-friendly.
Stackby Key features
25+ unique column types for data customization
Drag-and-drop Kanban Boards for project tracking
Versatile field types: attachments, links, checkboxes, dropdowns, and more
Advanced database features: data linking and grouping
Custom API integrations with YouTube, Google Analytics, and more
Pros
Versatile solutions for different types of processes
Seamless collaboration with real-time editing and commenting.
Frequent feature updates.
Cons
Some advanced features may have a steep learning curve, especially for less tech-savvy users.
Pricing
Stackby offers a four-tiered pricing structure: A free plan, the Personal plan, priced at $5 per member per month (annually billed), offers more storage and guest access.
The Economy plan, priced at $9 per member per month (annually billed), provides enhanced features such as shared stacks, permissions, and activity logs.
Plus, the Business plan costing $18/seat/month offers more advanced features like enterprise-grade security and compliance.
| Stackby | $180/seat/month |
| --- | --- |
| Airtable | $450/month for 10 users. |
11. Workfront

Workfront is a robust work management tool designed to help teams plan, track, and execute projects efficiently. One significant edge it has over Airtable is its scalability and enterprise-level features.
It offers several project management features like project planning, resource management, time tracking, and reporting.
When choosing between Workfront and Airtable, consider the size and complexity of your projects, the number of users, and the level of customization and automation you require.
If you're part of a larger organization with complex projects, Workfront's scalability and advanced features could be a better fit than Airtable, even though it may come at a higher price point.
Workfront feature highlight
Task prioritization for efficient resource management.
To-Do lists for daily task clarity and tracking.
Recurring tasks automation.
Calendar view for deadline management and scheduling.
Dashboards offer insights for better project monitoring and decisions.
Pros
Robust set of tools with deep and customizable reporting
Flexibility to work with different workflows
Helpful resources for easy onboarding
Cons
Clunky user interface
Steep learning curve
Pricing
Workfront does not offer any fixed pricing. Users can request custom pricing based on their requirements.
| Workfront | Custom pricing only. |
| --- | --- |
| Airtable | $450/month for 10 users. |
Have you used Workfront and found it not that efficient? Then check out these 10 Workfront Alternatives for Efficient Project Management
12. Planview AgilePlace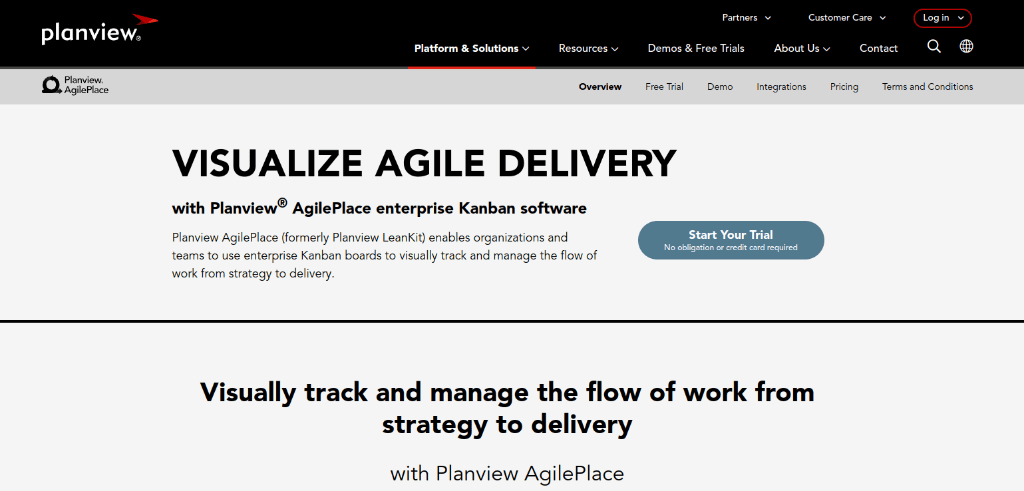 Planview acquired Leankit in 2017 and renamed it Planview AgilePlace. It is a well-known tool for its project and portfolio management capabilities. Its extensive set of features helps with several crucial aspects of project management, including effective resource allocation, risk management, financial planning, etc.
While planview is not as intuitive as Airtable in navigation, it is a worthy investment for software development teams looking to effectively scale their business.
Planview's efficiency in handling the expanding complexities and changing scope could be one of the many reasons you would want to choose it over Airtable.
However, it is important to understand your unique requirements and align it with the best airtable replacement.
Planview feature highlight
Kanban boards
Real-time work tracking with updates
Process mapping
Powerful analytics functionalities
Integration with other Planview tools
Pros
Easy to learn and use, reducing onboarding time and increasing productivity.
Summary page provides full visibility, helping prioritize tasks efficiently.
Colored labels enhance task comprehension at a glance.
Cons
Tedious task input, needing manual entry even for recurring activities.
Excessive data entry for service details and lines each week.
Challenges in coordinating remote blogging teams, relying heavily on email.
Pricing
Planview offers an all-inclusive pricing with all its features available. Though, the exact pricing is only available on request.
| Planview | No standalone pricing plan available. |
| --- | --- |
| Airtable | $450/month for 10 users. |
13. Asana

Asana is a versatile project management and work collaboration tool that excels in helping teams organize and execute their tasks and projects efficiently.
While Airtable is primarily a database and spreadsheet tool, Asana offers a broader set of features designed specifically for project and task management.
It provides a centralized software where teams can create, assign, and track tasks, set priorities, and establish deadlines. This makes it an ideal choice for teams looking to manage complex projects and coordinate efforts seamlessly.
Unlike Airtable, which is more data-centric, Asana offers a visually appealing and user-friendly interface that focuses on task relationships and dependencies.
Although Asana holds a great edge over Airtable in the context of project management, it is worth mentioning that some of the essential features are hidden behind the high-end pricing plans.
Asana feature highlight
Seamless task management and collaboration.
Advanced workflow automation.
Comprehensive time tracking and reporting tools.
Intuitive user interface.
Workload management feature.
Pros
Easy-to-use interface
Free plan with basic task management functionality for up to 15 users.
A bigger community of users
Cons
Essential features are available in top-tiered plans only.
Can't assign a single task to multiple assignees.
Pricing

Asana offers three pricing tiers: "Basic" is free and includes basic features with user limit of up to 15 teammates. "Premium," at $10.99/user/month (billed annually), adds features like timelines, and advanced search. "Business," priced at $24.99/user/month (billed annually), includes everything in Premium and adds portfolio management, goal tracking, advanced reporting, and deeper integrations.
| Asana | $/month for 10 users. |
| --- | --- |
| Airtable | $450/month for 10 users. |
💡 If Asana doesn't stand out on your expectations, then read 18 Powerful Asana Alternatives for Project Management in 2023
14. To-Doist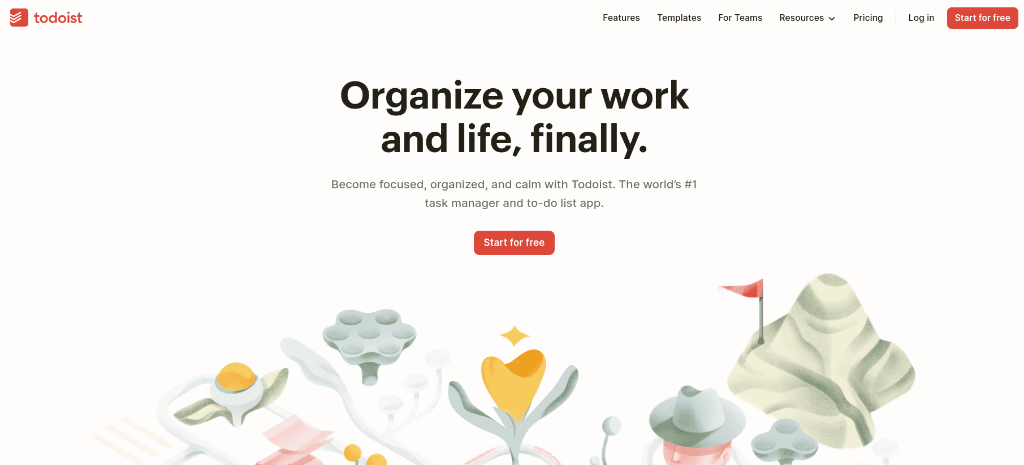 To-doist is an excellent task management alternative to Airtable. It started as a digital version of physical to-do lists in 2007 and has now evolved into a full-fledged task management app containing several features.
Projects in todoist serve as organized containers for tasks, and they can even house sub-projects to form hierarchies. Meanwhile, tasks can also have their own sub-tasks, allowing for granular detail when necessary.
The filtering options in Airtable are designed to handle various types of data, making it more complex and less tailored to the specific needs of task filtering.
To-doist, on the other hand, provides a simple yet effective filtering option based on tags and labels associated with the tasks.
Todoist feature highlight
Interactive To-do list excels for task management
Robust scheduling features and deadline management.
Top-rated mobile apps to ensure on-the-go task management.
Todoist seamlessly connects with other productivity tools for enhanced versatility.
Pros
User-friendly interface.
Cross-platform compatibility.
Task prioritization.
Integration capabilities.
Cons
Limited reporting and analytics.
Not ideal for large teams.
Security concerns with sensitive data.
Pricing
Todoist only offers two plans for you to choose from: You can start for free with the beginner plan, which includes 5 active projects, 5 MB file uploads, 3 filter views, and a one-week activity history.
For US$4 per month (billed annually), you can upgrade to the Pro Plan. This plan provides more advanced features like 300 active projects, 100 MB file uploads, etc.

| Todoist | $40/month for 10 users. |
| --- | --- |
| Airtable | $450/month for 10 users. |
How I picked these 14 airtable alternatives
When I was picking these 14 Airtable alternatives, I had a checklist of things that matter most for managing diverse projects.
The criteria were designed to ensure that the alternative tools overcome the shortcomings of Airtable.
Here's a quick rundown of my checklist:
Project management: I looked for tools with robust task and project features like task assignments, progress tracking, and risk management.
Collaboration: I ensured the tool provides easy team communication without hidden costs or compliance risks.
Ease of Use: I prioritized user-friendly tools for quick navigation and access.
Customization: I checked for options to tailor fields, templates, and views to suit unique workflows.
Security: I evaluated each tool's security measures to protect sensitive project data.
Reporting: I sought tools offering detailed reporting for data-driven decisions.
Price & scalability: I considered pricing and scalability to meet the growth needs.
While keeping the criteria mentioned above in mind, I also made sure to consider the transitioning effort tools may cost.
It's not just about finding a tool that ticks all the boxes on your checklist; it's also about how smoothly you can make the switch.
What works for me might not be a perfect fit for everyone.
Features to consider when choosing airtable alternative
What works for me might not be a perfect fit for everyone.
It's essential for you to consider your own project management needs and preferences when making your choice.
However, there are some specific features that an Airtable alternative must offer.
1. Time Tracking
The tool must provide time tracking. Having detailed reports at your fingertips will help you with better time management and employee accountability.
2. Resource management
Though effective resource management is a skill learned with experience, the tool must be able to provide you with a clear big picture.
It should allow you to balance workloads, plan resources effectively, and allocate tasks with precision. This ensures your team's efficiency and optimal resource utilization.
3. Workflow management
Look for a solution that simplifies managing intricate workflows, automatically identifies critical tasks, and keeps you updated with timely alerts. You'll stay on top of complex projects without missing a beat.
4. Reviewing and approval
The tool must provide seamless collaboration on creative assets. Users should be able to share feedback and reviews in real-time, enhancing creativity and productivity.
5. Process-specific customization
Investing in a tool that provides customization to tailor the features as per requirement can help you manage all your business processes from one convenient location.
A software tool that provides these features can help teams or organizations with diverse needs.
However, it's essential to evaluate individual products or solutions to ensure they meet your specific requirements and provide the necessary level of functionality and usability for your team or industry.
Conclusion
Airtable is without a doubt a top-notch database cum spreadsheet software, but it's still far from the perfect project management tool. It lacks built-in tools for work management and team communication.
Simply said, you cannot perform various tasks with different tools. You'll waste a lot of money and time doing it.
With ProofHub, you can perform multiple tasks in one centralized location and you do not have to juggle between different apps.
If not—you have a long list of Airtable alternatives to evaluate before settling on the best suitable option.
Tired of Airtable's limitations?
Explore why ProofHub is the best solution for all your project related needs.
Airtable alternatives FAQs:
Who is a competitor for Airtable?
There are several competitors and alternatives to Airtable. However, the top best are:
Smartsheet
ProofHub
Stackby
Asana
Quip.
Each of these alternatives offers unique values to streamline project management and team collaboration.
Which is better, Airtable or Asana?
The choice between Airtable and Asana depends on your specific needs. Airtable excels in organizing data within databases.
Asana, on the other hand, is primarily a task and project management tool with robust features for workflow automation and task tracking. If you need extensive project management capabilities, Asana might be the better choice.
However, if you require a versatile database tool with project management elements, Airtable could be the preferred option.
Is Airtable better than Excel?
Airtable and Excel serve different purposes and can be better than each other in some contexts. Excel is a spreadsheet program ideal for numerical calculations, data analysis, and financial modeling.
Airtable, while capable of handling numerical data, is more focused on organizing and managing data with a visual database interface. If your needs involve complex calculations, Excel is likely the better choice. For collaborative data organization and project management, Airtable may be more suitable due to its user-friendly interface.
What are the main differences between Airtable and Google Drive?
Airtable and Google Drive are both cloud-based storage and collaboration tools, but they serve different functions. Google Drive is excellent for storing documents, spreadsheets, and other files and sharing them with collaborators.
Airtable, on the other hand, is designed for organizing and structuring data with customizable databases. While you can store files in Airtable, it's not its primary function. Airtable is more geared toward data organization, collaboration, and project management.