The project management plan is essential to project success. Without a plan, you can't expect your project to be completed on time and delivered successfully. Worse still, unplanned and failed projects cost organizations big in terms of wasted time, wasted money, and wasted resources.
It's no secret that preparing a detailed project management plan is important before your project takes off from the ground.
Before we delve deeper into this topic and discuss all its aspects, let's start with the basics first.
What is a project management plan?
Google can give you so many definitions of the project management plan, but I have chosen to define this subject in simple terms. A PMP is a formal document prepared by the project manager.
This document outlines an elaborate baseline of what are the project goals, what are the processes to be executed, and how they will be monitored and controlled to accomplish these goals. The project management plan outlines the scope, budget, goals, timeline, and project deliverables.
The project management plan should be used as a reference throughout the project to confirm that project management is carried out regularly and in sync with the policies and procedures.
The performance of the project is calculated against the performance measurement baseline (the scope baseline, the schedule baseline, and the cost baseline) included in the project management plan.
The project management plan provides essential project information and can be used to introduce project members to the project.
"Create custom project roles and choose who does, sees, and manages what, Easier and smarter way. Start using ProofHub Now!"
What are the parts of a project management plan?

Professional project management calls for the preparation of a plan that describes how it will be managed. The PMP includes all the items that define the management of the project, but some standard items provide the core irrespective of industry or type of project.
The main components of a project management plan are:
1. Scope statement:
Planning and developing a clear scope statement is the first step in making a project management plan. The scope statement is used as a written confirmation of expected results out of a project and the constraints under which you'll work. Scope statements should be SMART i.e. Smart, Measurable, Achievable, Relevant, and Time-Bound.
2. Executive summary:
An executive summary provides a brief overview of the PPM and includes the key elements of the project that are detailed across the project plan. It summarizes a report so that the project stakeholders don't have to go through the whole report to understand its purpose.
3. Project schedule:
The schedule is an important piece of the project plan. Generally, external stakeholders determine the deadline dates. Developing a project schedule with the help of a top-rated project management software like ProofHub makes it easier for managers to communicate the project milestones and deadlines to the applicable stakeholders.
4. Project budget:
In this section, project managers estimate the total cost of the project. A project budget includes an estimate of the combined costs of all activities, tasks, and milestones that a project must fulfill. It should be approved by all the stakeholders involved.
5. Resource planning
Resource planning is the continued strategy that includes the determination of resources (people, equipment, materials, etc.) required to execute the project activities. Resource planning helps project managers allocate tasks to human and non-human resources, and accurately track resource capacity.
6. Stakeholder list:
Stakeholder lists can grow throughout the project, and it's not an exception. You can easily forget a few small stakeholders and those will likely have a disproportionately major influence on the project outcome. That's why the stakeholder list should be created and stored within the project management plan and discussed regularly.
7. Communication management:
Every project depends on a swift and timely communication strategy that should be well-defined within the project management plan. Communication needs of a project include things like project updates, progress reports, investor circulars, etc. The communication strategy should define different modes to be used, frequency, and the recipient(s).
8. Risk register:
Any type of risk could affect your project's timeline, performance, or budget. Potential risks are classified as "issues" when they become realities. The right way of risk management is by creating a risk register, which lists the most important risks to the successful completion and delivery of the project.
9. Procurement plan:
Procurement planning is the process of identifying outside products and services required, how they'll be procured, and how their quality and progress will be measured. A good procurement plan involves the following steps:
List the needs or requirements

Decide the quantities and estimated costs

Decide the requirements

Identifying the inter-relationships between and among the requirements

Consolidate similar requirements

Identify appropriate procurement methods and processes

Schedule lead times for each process

Prepare an implementation table
How do you create a project plan?

One of the vital factors for delivering projects successfully is having a well-developed project plan.
According to Forbes, 25% of technology projects fail, which is a terrible figure for project leaders. However, you don't have to be a project management maestro to create a successful project plan.
Given below is a 10-step approach to creating a project plan that will give you and your team a clear direction to work towards.
Step 1. Describe the project plan to key stakeholders
The first step in any project entails describing the project plan and goals to key stakeholders who have the authority to determine its success, and their objectives must be satisfied. This initial conversation must be used to discuss needs, expectations, and set up a baseline for project scope, timeline, and budget. You can also consider using a project plan template to create a project plan easily.
Step 2. Define roles, responsibilities, and resources
Poorly defined roles and responsibilities can spell doomsday for projects. It's a fact that not all stakeholders will review all documents. Hence, it becomes necessary to determine roles and responsibilities from the onset to avoid vagueness over roles. Some of the key players in project management are:
Project sponsor

Designated business experts

Project manager

Project team

End users

Stakeholders and the wider business
Step 3. Create a project scope
The scope statement is probably the most vital document in the project plan, which is like a strong base for the rest of the project. The scope statement lays out the series of tasks that must be completed to achieve each deliverable. The scope statement should include the following:
Justification

Scope description

Business needs and business problem

Project deliverables

Project exclusions

Project constraints

Assumptions
Step 4. Craft an extensive project schedule
With project goals and milestones outlined, the next step should be to create a comprehensive project schedule. Gantt charts can be a useful tool that helps you visualize the project timeline, work scope, and task interdependencies easily. You can organize all your events, tasks, and milestones into one place.
Step 5. Create baseline management plans
After establishing the scope, schedule, and cost baselines, you can create an action plan that your team will implement to manage variances to these plans. These usually include a review and approval process for altering the baselines. Different approval levels are needed for different changes. Not all new requests will result in a variation to the scope, schedule, or budget. However, a process is required to assess all new requests to finalize their impact on the project.
Step 6. Define the staffing plan
The staffing plan is a graphical representation that shows the time periods (month, quarter, year) that each resource will come in and exit the project. It is similar to other project charts but does not show tasks, estimates, start and due dates, or the critical path.
Step 7. Plan for when things don't go as planned
You might be an expert in project planning, but you cannot ignore twists and turns that occur in a project, and that's what makes them both challenging and interesting. Before you kick off your project, take some time to identify potential problems, like team members going on leaves, resigning, or changes in sponsorship. Be upfront about the risks with the whole team so it can be prepared to tackle them.
Step 8. Analyze project quality
Analyzing project quality entails the elimination of errors, rather than checking the product at the end of the project and rectifying errors that might have crept in. Creating a quality plan involves establishing the standards, acceptance criteria, and metrics that will be used during the course of the project. The quality plan then becomes the basis for quality reviews and inspections during the project.
Step 9. Communication plan
This plan formally defines who should be provided specific information, at what time, and which communication channels will be used to deliver that information. A good communication management plan takes into account what information will need to be communicated to specific audience segments. The plan should establish who has the command to communicate confidential information, and how it will be disseminated.
Also checkout – Best project management templates in Google Sheets
Project management plan templates
A detailed project management plan has various plans and documents that are essential for the success of a project. Project plan documents may contain the key elements of your project, like project scope, work breakdown structure (WBS), milestone list, and more.
The project management plan template provides a structure, so you can include all planning details in one document or link these to separate planning documents. Let's take a look at some common project management plan templates.
Project presentation & tracking templates

Project researching and preparing templates

Cost estimate and projected budget template

Risk assessment templates

Project implementation and management plan templates
Why do you need a project plan?

The Project Management Institute estimates that as of 2017, organizations were squandering an average of $97 million for every $1 billion invested, due to dismal project performance.
Project planning is vital to prevent or minimize risk occurrences and failure rates. Project planning helps to guide sponsors, teams, stakeholders, and the project manager navigates through tricky phases of the project.
Project planning includes fragmenting a larger project into tasks and sub-tasks, assembling a project team, and finalizing a schedule over which the work is to be completed.
During the project planning phase, you fix smaller goals within the larger project to ensure each is achievable within the time frame.
Here are some crucial reasons as to why project planning is vital:
1. Project planning identifies and reduces potential risks
In any project, the risk is always lurking in the background. What may appear like a small risk to a task could potentially become a bigger threat later during project execution. Good project planning allows teams to formulate a strategy to mitigate risks and that smaller tasks roll-up into milestones that sync with the larger goals of the project.
2. Minimizing project failure rates
Planning is the second phase of project management where the project scope is laid out, and the costs, timeline, deliverables, and details are ironed out. Without planning, it's likely that certain issues and things will be ignored, which can further result in the form of missing crucial details, set deadlines, and eventually deliverables.
3. Improved communication
Project planning helps to keep all project stakeholders on the same page through swift communication plans. Communication protocols define how and when your project team, stakeholders, and decision-makers will communicate with each other, using various modes of communication.
4. Improve project control
Project planning gives you and your teams better control over projects. When stakeholders consent to a project plan, it is less likely that they will try to change the course of a project once it has started. If they would want to do alterations to the project, you can refer to the plan and show how these will affect the schedule and costs.
5. Improves resource allocation
Since a project plan contains a schedule, you have a clear idea of what tasks team members are working on, by when they are required to complete them, and when they would need tools and supplies to do their work. For example, renting machinery a week before your team needs it.
6. Keeps project on course
High-performing organizations successfully complete 89% of their projects, while low performers complete only 36%. Projects can and do get off the track. People can get sick, go on leaves, resign or finish tasks earlier than anticipated. With project planning, it's easier to make adjustments as you go along to ensure the project doesn't veer off track.
"Onboard new members without paying extra with simple pricing plans. Switch to ProofHub IMMEDIATELY!"
How ProofHub helps with your project plans
Organizations that use proven PM practices waste 28x less money than their counterparts.
Project planning is not an easy task. However, project managers and their teams can keep everything organized by using a feature-rich, all-in-one project management software like ProofHub.
ProofHub is an award-winning team collaboration and project management software that is loaded with thirty powerful features in one centralized location.
Used by 85,000+ teams in companies ranging from startups to giants like NASA, Google, and Nike, this incredibly functional project management platform has everything you and your team needs for managing projects and boosting productivity.
Be it time management, task management, online collaboration, proofing, file management, or scheduling, ProofHub is probably the best tool for teams of all sizes across various industries.
Let us take a look at how ProofHub helps you with project planning in a way that no other PM tool does.
Multiple views
ProofHub gives you multiple views (Kanban view, Table View, Gantt view, Calendar view )to adapt to all work preferences. Plan and organize projects in a way that's best suitable for your team. Assign tasks, filter and view data based on priority, and keep essential details front and centre.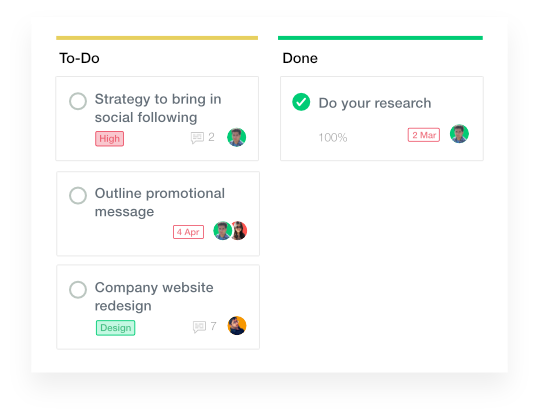 The Board view is ideal for those who prefer to implement for fans of the Kanban approach. The drag and drop interface allows you to quickly move individual or group tasks around. See work moving through multiple stages in Kanban board.


Plan and organize projects in a way that's best suitable for your team. Assign tasks, filter and view data based on priority, and keep essential details front and centre.

Add task lists and tasks to the Gantt chart. Plan and schedule the order in which you want to complete tasks.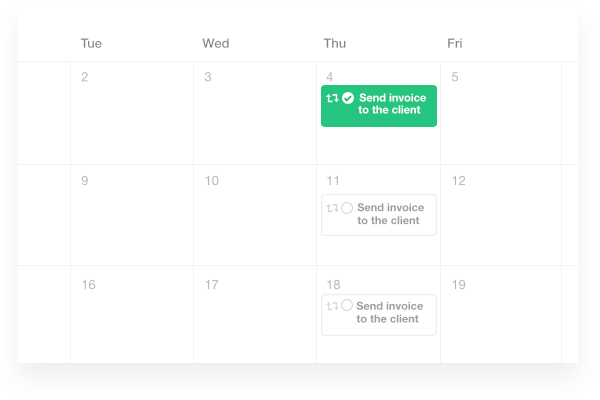 Calendar view helps you organize your events, tasks, and milestones all in one place. Add recurring tasks, set automatic reminders, and select from multiple views to schedule work suitably.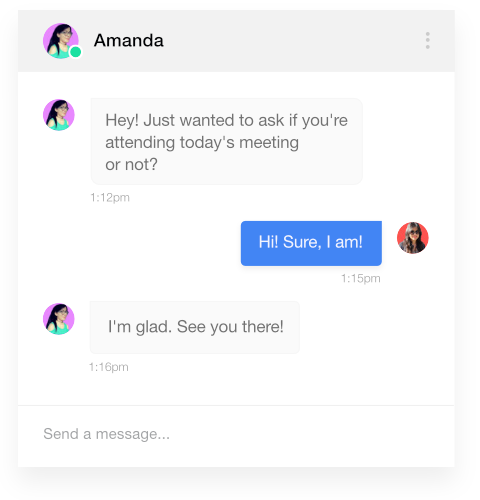 ProofHub's group chat feature allows users to send and receive direct messages instantly and turn conversations faster and smarter. You can send text messages, emojis, images, and files/documents to one or more team members or clients to exchange crucial information.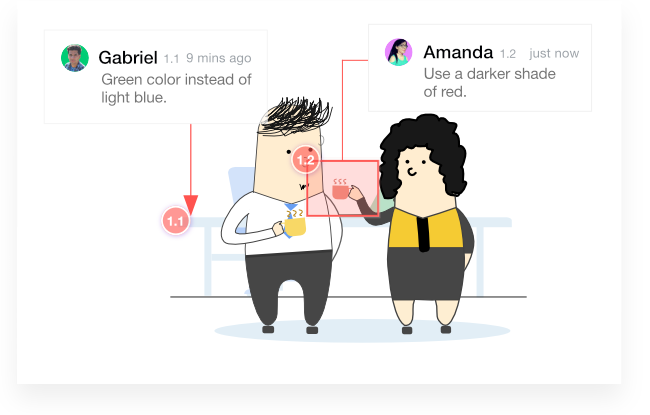 Deliver your best work with ProofHub's online proofing tool. Use markup tools to annotate, review, and proof files easier, faster, and smarter. Collaborate on designs and documents, and approve them from where you are. Add comments to share feedback in one place. Mark suggestions or feedback as resolved once the changes are made. Reopen them in case the changes are not made yet.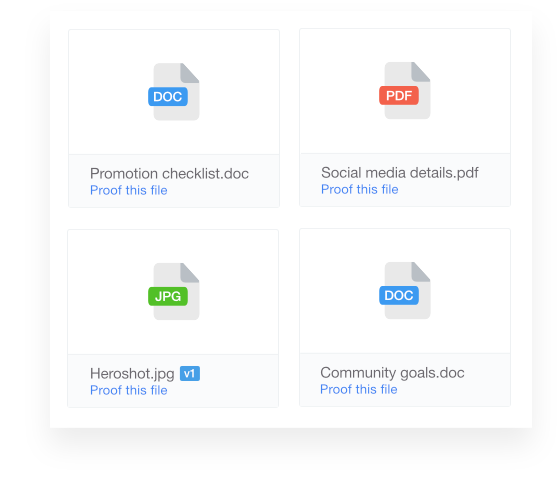 Imagine the time and energy spent on locating files and documents that are disorganized and stored at random locations! With ProofHub's file management tool, you can bring files to a central place, store them, and collaborate on them. You can upload files and attach them to tasks, discussions, chats, and notes whenever needed.
Gantt charts to monitor project timeline
Gantt charts are perfect for tracking and visualizing your project's progress. A quick glance at your Gantt chart, and you'll figure out quickly how your project is moving ahead. You can plan and schedule the order in which you want to complete tasks.
Here's how ProofHub's Gantt Charts are a great tool for project management planning.
Task visualization

Assign tasks

Set task dependencies

Drag and drop tasks

Track progress

Private lists

Export Gantt charts

Import tasks

Email-in tasks

Bird's eye view of all Gantt chart data
Custom roles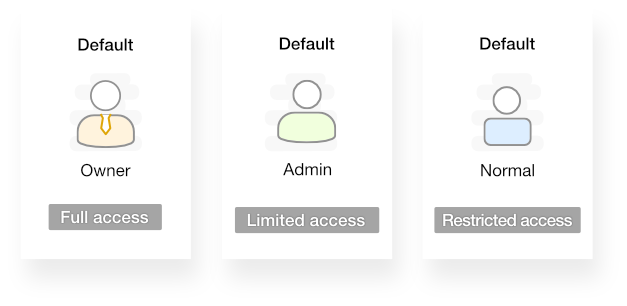 Get ultimate control with custom roles in ProofHub. Create custom project roles and choose who does, sees, and manages what. Assign custom roles as an administrator to team members or clients allowing them to perform things as per their work and responsibilities. Add custom roles and decide the access level or permission for each section just the way it suits your organizational workflow.
Task management
Manage tasks easier and smarter with ProofHub's task management software. Create personal tasks or assign tasks to multiple people at one place, and break tasks into smaller and manageable subtasks. Ensure a clear division of responsibilities in one place. Set dates, set estimates, and track time in a centralized location.
Here's how task management software helps with project management planning.
Assign tasks

Create subtasks

Add labels

Create recurring tasks

Attach and Proof files

Set start and due dates

Set time estimates

Track time
Timesheets and time tracking

Bring all your time data at one place using ProofHub's time tracking software. Add timesheets, set time estimates, track time manually or using timers, export timesheets, archive them, create time reports and bring all your time data at one central place using one time management software.
Create custom time reports of people and projects. Get to see logged hours pulled right from your timesheets, all in a one-time tracking tool.
Note making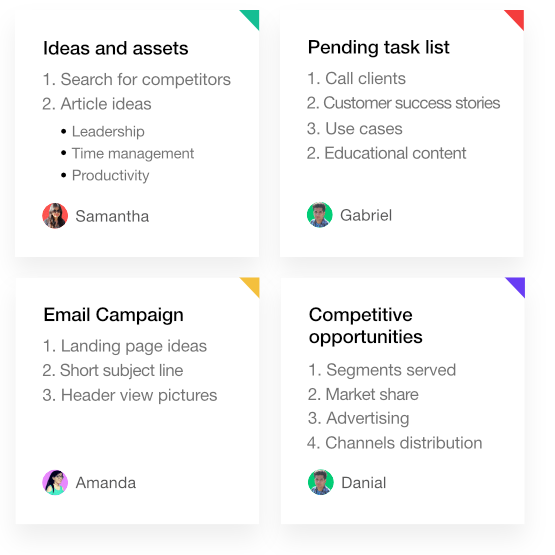 Keep notes the smarter way with ProofHub. Create notes, select colors for them, subscribe people to them, keep them private, attach files, collaborate on them smarter, and store them in notebooks at one place, using the best note-taking software. Add comments, attach files, and organize at one central location for easy access whenever you or team members need.
Scheduling calendar
Schedule your events, tasks, and milestones at one place with ProofHub's project scheduling calendar. Stay on top of your schedule with automatic reminders for events and milestones, recurring events and tasks. See all calendar data across all projects at one place using one project calendar. Select your calendar view from day, week, 2 weeks or even a month and schedule work suitably.
Reporting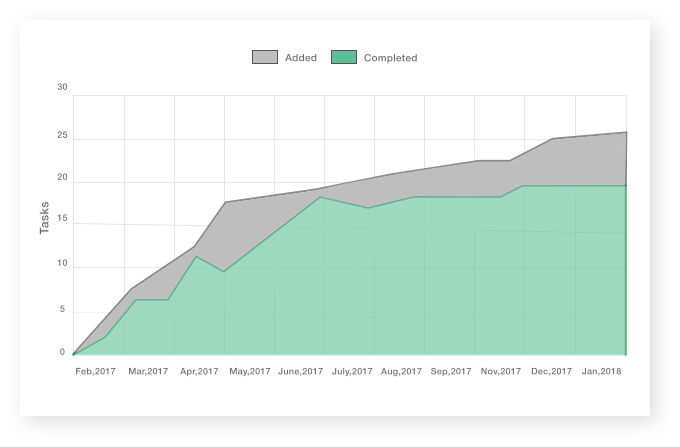 Online reporting tool with the detailed individual, custom, and project reports that help you analyze project progress and adjust plans accordingly. Get a visual roadmap timeline of the complete and incomplete milestones in a project and manage projects accordingly. Get a detailed list of open and overdue tasks in a project. See who is behind on what by how many days and plan tasks ahead. See detailed workflow task reports of tasks for each workflow in a project. Get a clear idea of the number of tasks in each stage and how work is progressing.
Discussions

Bring your team and client discussions in one place. Create discussion topics focusing on a particular matter and share ideas, files, and documents at one place without having to go back and forth in lengthy email threads. Add comments, mention people, proof designs, and bring all your team and client discussions at one place, using one team collaboration tool.
The final word
The project management plan is the first step to ensure your projects are delivered on time, as per organizational and clients' requirements.
ProofHub is a cloud-based project management software with an ultimate collection of project planning tools that organize your projects, simplify project management, improve team collaboration, and boost productivity quickly.
Even though there are many PM tools available in the market, ProofHub clearly stands heads and shoulders above them with its powerful features, ease of use, no learning curve, and simple pricing plans.
Give it a try and see how it works for you.
All the best!