Do you find it challenging to manage your team's workload and meet project deadlines?
Or
Are you struggling to motivate yourself and your team to work efficiently and meet deadlines?
Deadlines are the thin wires that hold teams, businesses, and clients together. Slight variations in deadlines will have a major impact on all stakeholders. Throughout my professional experience, I have held roles that required me to meet strict deadlines. It takes grit and critical strategies to successfully overcome the deadline jinx. 
The main reason behind deadline phobia is that failure to meet the deadline can have results similar to an avalanche. And just like the snow rolling down causes severe and unrelenting damage, missing deadlines causes multiple challenges to the next task in the chain.
"Respect your deadline like it's a field marshal." – Neeraj Agnihotri
From my experience, I feel it is essential to inculcate the habit of timely completion into your team.
If you ask me, how to ensure that your team meets deadlines (most of the time), I will say, foster a culture of accountability. I have found that, when team members feel responsible for their tasks and understand the importance of meeting deadlines, they are more likely to prioritize their work and work efficiently to ensure timely completion.
With that thought, allow me to share some strategies that have proven effective for me when implementing them with my own team. From the definition of deadlines to strategies and even tools for simplifying the process, read on till the end to master your 'meeting deadlines skills'.
What are deadlines?
Deadline, [noun], the time before which something must be completed. Generally, deadlines are allotted at the onset when a new task starts. This defines when a task should be completed. The next task in line is always dependent on the deadline of the previous task. That is why delays are not expected in deadlines.
Over the years I have been managing teams with people having different mindsets. The importance of the approach toward a deadline may vary from one person to another, however, it is essential to note, that all deadlines must be reached.
In the workplace, different projects and tasks have different deadlines. The time duration depends on the importance of the task and its priority. As a manager, you need to assess the conditions and assign tasks to your team members as per their capacity. The overall completion of the project on time depends on you, and you need to take responsibility for any shortcomings.
Deadlines can often evoke negative connotations as the word 'dead' implies finality and pressure. As a result, both team members and managers may experience anxiety or fear when faced with tight deadlines. However, with a well-planned strategy and collaborative effort from the team, meeting deadlines can be achieved successfully, which we will see in the next section.
Top 11 strategies for meeting deadlines
Once your team is aware of deadlines, it is essential for you to devise a strategy that will help them to work according to the task requirement. This is where the role of the managers and the people in leadership roles come into play. An effective strategy will ensure that the workflow is smooth and meets deadlines.
1. Plan ahead
This is the power of planning. You need to set clear objectives and goals for the project, break it down into smaller tasks, and set deadlines for each task. This way you will be able to ensure that your team stays on track for the timely completion of the project.
"Give me six hours to chop down a tree and I will spend the first four sharpening the axe." – Abraham Lincoln
2. Prioritize tasks
Before working on any project, identify the critical tasks that need to be completed first. This will provide you with a frame/outline for the tasks and help you to understand how to prioritize work and meet deadlines.
Transparency in a team serves as a backbone for prioritizing tasks. They will be aware of the task progressions. Teams will be able to identify bottlenecks early and rectify them before they cause major issues.
3. Communicate effectively
Time to time communication is necessary for ensuring steady progress. You need to keep your team informed about the project's progress, discuss any potential roadblocks, and ensure that everyone is on the same page. Regular communication will come in handy when you have a tight deadline to meet.
If you are using ProofHub, you can even chat with your team in case you are stuck in the middle of your work!!
Say goodbye to inefficient communication and hello to increased productivity with these top 17 team communication tools!
4. Delegate tasks evenly
Before assigning tasks to your team members identify if they have the necessary skills and experience for the timely completion of the tasks. Also, ensure that they understand their responsibilities and deadlines. This is a very important step when your team is working on multiple projects.
Project management tools like ProofHub help you in scheduling and distributing tasks evenly in your team. It offers different task views and assist you in planning task distribution.
5. Monitor progress
How many times in a day do you check out on your employees?
Do not get tagged as a 'micromanager'. Keep track of the team's progress through project management tools, like ProofHub. Such tools help you to identify any potential issues early on so that you can take corrective action.
6. Be flexible
When planning or scheduling tasks provide leverage for unforeseen happenings. Certain things are beyond your control. Always be prepared to adjust your plans and timelines as needed, based on changing circumstances or unforeseen obstacles.
7. Manage expectations
Expectations can become overwhelming sometimes. Practical thinking is essential as a manager. Be realistic about what can be achieved within a given timeframe. Communicate any changes or delays to stakeholders as soon as possible.
8. Use technology
Just like I mentioned previously, take advantage of project management tools and software to streamline workflows, automate tasks, and improve communication. Different tools have different functionalities that can suit the individual needs of your team.
One such tool is ProofHub – an all-in-one project management and team collaboration tool. You can use this tool for managing projects, collaborating on tasks, having meaningful discussions, sharing files, and even for recognizing your team's achievements.
Experience the power of the best project management software on the market today!
9. Encourage collaboration
You want your entire team to work together in tandem. Foster a collaborative culture within the team, encourage open communication, and promote teamwork. This will help in building up a positive workplace that helps your team to complete tasks and adhere to deadlines.
10. Avoid multitasking
Multitasking can lead to mistakes and decrease productivity. Encourage your team to focus on one task at a time to improve efficiency and meet deadlines.
"Successful people know they need to get many things done-and done effectively. Therefore, they concentrate their time and energy on doing one thing at a time-and on doing first things first." — Peter Drucker
Do not follow the rat race of having multitasking teams. Mistakes are bound to happen when you try to focus on multiple projects at the same time. Take up one task at a time. This will also lower the burden on your team and help them to complete the tasks without making mistakes.
11. Reward the team
An important aspect that most managers miss out on is rewarding their team. Recognize and reward your team for meeting tight deadlines. This will boost the employee morale and encourage your team to continue to meet deadlines effectively.
ProofHub again helps in simplifying this process for you. Use Announcements to make them instantly visible to every staff in your office regarding any achievement. Notice the difference in the intent of your team members after this!! Invariably they will try to perform even better on the next task.
How can you help your team meet deadlines?
As a manager, you need to understand that your team consists of workers with different deadlines-related perspectives. You cannot expect everyone to function at a similar pace.
Over the years I have observed that my team generally has a mix of Marathoners and Sprinters. There have been surveys and research on this topic as well. However, from my personal experience, I would say that it is essential for you to understand your employee's individuality.
There is a huge difference between how these two people function. Just as the name suggests, Marathoners start early on every task and make continuous and steady progress toward their target. Sprinters, however, do not start early. They feel they will lose momentum en route, therefore they wait for the 'kick' of the deadline to start.
Sprinters feel they can work best and have high efficiency only when they have a lot of tasks to complete and a short duration.
In a workplace, this can create problems for you, especially when you are a manager or a team lead. The Sprinters would feel the marathoners are wasting time and the marathoners would complain that the sprinters are not working at all.
And when you are trying to come to terms with these two categories, there is another group 'Procrastinators'. – The people always complaining and blaming themselves. The workers here are always full of self-regret.
You cannot expect to have a team with like-minded people. There will always be a mix. In such a situation, you need to understand how your team members function. This will help you assign tasks to each member accordingly.
Further, understanding the individuality of your team members will also create a deep and special bond. There are lower chances of misunderstandings. As a manager, you need to be the centralized point around which the entire team revolves.
PRO Tip- Lead by example: Set a positive example for your team by being organized, proactive, and committed to meeting deadlines. Displaying a positive work attitude will influence your team to also depict positivity.
As a manager, you need to set benchmarks for your members to follow. Apart from being an example, you also need to ensure that your team members are able to interact freely with you. Break down the task into small chunks. Create milestones, which will keep your team focused during the entire stretch of work.
READ MORE: What is a Milestone in Project Management (And How To Use it in Your Project)
How ProofHub can help meet deadlines?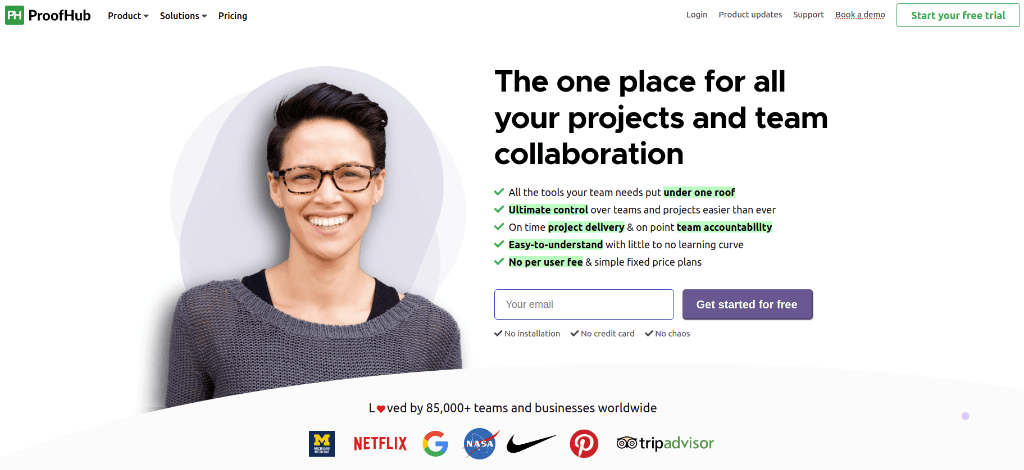 ProofHub has been designed and brought up in a way that caters to the very need of the managing people so that they can work efficiently with their team. Managers and even team members who have used ProofHub bear true witness to the improvement in their team.
Being a manager is easy as long as your team has the ability to meet deadlines. But if your team is struggling to work with deadlines, then your best bet is to incorporate ProofHub into your process.
ProofHub is an all-in-one project management and collaboration tool. This tool serves as a one-stop platform for managing, organizing, and collaborating on all your projects. You are in complete control of the overall flow of the project or tasks. A few advantages of using this tool in your day-to-day work life include:
1. Your team is aware of what is expected from them 
Creating and assigning tasks to team members becomes easy with ProofHub. In fact, you can see the workload on that particular worker before assigning a task. Such as how much time they will take to finish their previous tasks so that you can assign the new ones. It also helps make clear to your team about the deadlines, their tasks, and what you expect from them. It will not only help in an effective understanding of work but also help in deadline management.
2. Stay in the loop with how tasks are coming along
Monitor the progress of the project and ensure that everything is on track. The habit of meeting deadlines in the workplace improves as teams have a better understanding of their work progress. ProofHub provides a transparent multiple views including Boards, Gantt chat, Calender, and Table view, which helps in identifying bottlenecks early, giving adequate time for managers and teams to rectify them.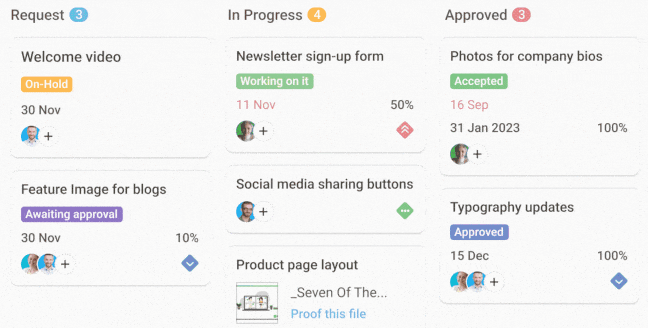 3. Identify potential delays or bottlenecks 
Delays can be grouped broadly into two categories – when team members do not have the required resources and situations where your team members are incapable or wasting time. With the powerful progress tracking feature of ProofHub, you will be able to identify the real reason behind such delays.
Use the calendar view during scheduling tasks. This view will provide details about the existing tasks of your team members. Gantt Charts provide you with knowledge about task dependencies. Team members are also aware of this which helps in working on tasks as per their priority.
Read More – How to Effectively Utilize a Project Management Calendar to Stay on Schedule
4. Ensure your team is on the same page
When your team is on the same page, you can expect better coordination resulting in the successful delivery of projects on time.
Communicate seamlessly with team members using built-in chat and discussion features. These feature saves time and helps in making quick progress in work. The ability to discuss, share, and organize files, and online proofing helps in improving the overall efficiency of the team.
5. Reducing the risk of missed deadlines
Task automation is a powerful feature in ProofHub that can help teams meet deadlines by minimizing the risk of missed tasks and saving time. By setting up automated recurring tasks, teams can ensure that necessary tasks are completed on schedule without requiring manual effort.
For example, suppose a team needs to send weekly status reports to stakeholders every Friday. In that case, they can set up an automated recurring task in ProofHub to generate the report and send it to stakeholders on time every week. This ensures that the task is completed on schedule, without requiring team members to manually perform the same task repeatedly.
This frees up time for more critical tasks, allowing teams to focus on what's most important. Furthermore, automation reduces the risk of human error, which can lead to missed deadlines or mistakes that could impact project outcomes.
On the whole, ProofHub helps you in executing projects and completing them on time. Avoid unnecessary delays in projects and focus on the prime factors that are responsible for creating bottlenecks leading to delays.
Importance of meeting deadlines at work
It is vital for you to understand how your employees are working on their tasks. That will provide you with the answers to why they are missing deadlines. You need to make your team aware of the pros and cons of deadlines. If they are missing a deadline, they need to know the real impact of that. Let's see both sides of the coin and analyze them.
Significance of deadlines in the workplace
Meeting deadlines plays a significant role in the overall growth of the business. Fulfilling client requirements is the primary factor that gives deadlines high significance. The growth of the business is completely dependent on work progression. Positive impacts of deadlines include:
Deadlines are like informal contracts. You are expected to finish your project before the deadline. You build up trust by completing tasks on time. Failing to do so may result not only in loss of trust but also in loss of future business.
Keep the entire project flow in sync
You need to understand that everyone is busy. People are working on multiple projects. So any delays from you may affect the overall planning and schedule of the next task in the project.
Track progress in the task
Deadlines serve as identifiers to understand task progression. You will be able to predict if you will be able to meet the deadline or not.
Deadlines serve as ice-breakers
Communication gets the team going. But in order to start a conversation between two people, a deadline acts as the common platform for the discussion. This helps in building team bonding and bringing out innovative ideas.
Consequences of missed deadlines
Missing deadlines results in unwanted delays.
It builds up an insecure work environment. Piling up tasks causes fatigue to the employees. Because the projects are not completed on time, there are chances for the business to face multiple losses.
Missing deadlines triggers an avalanche effect. It starts with a small issue, that rolls over to a big bewildering issue. It generally starts with –
An obstacle in your progress in moving forward.
This will give you stress and problems.
You will not be able to reach your goal.
You start taking in added responsibilities because of your failure.
In case any other team is dependent on your task, their performance is also impacted.
By now the overall functioning of the business is adversely affected.
Therefore, as a manager, you need to ensure that your team does not miss any deadlines. The success of a manager solely depends on the successful functioning of the team.
Conclusion
The ability to meet deadlines is significantly influenced by the team members. However, as managers, we are responsible for ensuring timely progress. With the latest technologies at our disposal, this process is simplified.
Meeting the deadline is the primary goal for the timely completion of the project. Successful managers master the art of working with deadlines. They understand their team members individually, thereby assigning tasks in such a manner that the team is not overburdened. 
So it is necessary for you to rise above 'I can't meet deadlines at work' and build strategies to break up tasks into small chunks and complete them on time.
Don't let tight deadlines hold you back. Check out our list of the best project management tools for 2023 and stay ahead of your game.
FAQs
Why is it important to meet work deadlines?
Deadlines play an important role in the smooth functioning of the projects. The task progression depends on timely completion. Any delays can cause disruption in the workflow process.
What are the two types of deadlines?
The two types of deadlines are – Hard deadlines and soft deadlines. Hard deadlines cannot be modified while soft deadlines have the ability for slight modifications.
Which skill is important for meeting deadlines?
Time management is a crucial skill for meeting deadlines, allowing you to prioritize tasks, set realistic goals, and stay focused on completing them in a timely manner.
Do deadlines increase productivity?
Deadlines can increase productivity by providing a sense of urgency and focus, which can help individuals prioritize tasks and complete them more efficiently.
Is meeting deadlines a hard or soft skill?
Meeting deadlines is a soft skill that demonstrates reliability and accountability and can be developed through effective time management and prioritization techniques.