You've probably spent days sifting through countless options, analyzing features, and deciphering complex pricing plans, all in the hopes of Monday.com being the game changer for your organization's productivity, only to find it falling short of all those expectations.
Sure, Monday.com has its merits, but when you're dealing with unforeseen changes and tight deadlines, you need more than just a network of linked spreadsheets.
And I can't help but wonder, why name a company after the most dreaded day of the week?
Whether you are frustrated with either the outrageously slow automation or the unjustified pricing for that, I've carefully curated a list of 27 Monday alternatives to help you choose the best fit for your organization.
These alternatives offer a wide range of features, and flexible pricing plans, and come with some unique values to offer. Also, I have mentioned detailed selection criteria for choosing these tools.
Note: The order of the list does not reflect the relative merits of the tools.
Before diving into the alternatives to Monday, let's go through some common reasons why businesses like yours are looking for Monday.com alternatives.
Why do you need a Monday.com alternative?
First off, with so many essential features hidden behind an intricate paywall, Monday.com makes it hard for businesses to scale without breaking the bank. Additionally, Monday.com only allows you to set task dependencies based on the starting and due date.
There is no option to determine the relationship between two tasks on the basis of duration or resource constraints. Finally, it's important to note that while project management tools are designed to simplify your work, some users have reported that Monday.com may experience delays or slowness when you have a large number of projects added over time.
Top 27 Monday.com Alternatives

ProofHub is one of the most efficient and robust alternatives to Monday.com as it offers a heavy-duty project management architecture with all the essential functionality in a more intuitive manner, and under far more suitable pricing, than Monday and many of its alternatives.
With an easy-to-navigate interface,ProofHubfacilitates every aspect of project management, ranging from planning and prioritization to collaboration and risk management, under one virtual roof.
Features that make ProofHub a preferable choice over Monday.com
Pros:
An all-in-one solution for project management and team collaboration, so no juggling between multiple apps.
Flat Pricing structure with no-per-user fee, for scaling your organization on the go.
Easy to set up and use for a user-friendly onboarding experience and well-organized project management, as testified by a non-tech savvy small business owner in her G2 review.
With a suite of powerful features at your fingertips, you can seamlessly manage and prioritize your daily tasks.
ProofHub helps you stay focused on what truly matters by priortizing your tasks through labels. By making sure you tackle the most important tasks first, you avoid wasting time on low-value activities.
Cons:
Though ProofHub caters to almost every project management need, some users have shown their dissatisfaction with the lack of invoicing features.
ProofHub offers two plans. The Essential plan, starting at a Flat $45/month, allows unlimited users for managing up to forty projects, whereas the Ultimate Control plan, priced at a Flat $89/month, allows unlimited users for managing unlimited projects.


If you're looking for a less complicated and visually pleasing alternative to Monday.com, Trello is a suitable choice. With Trello, you organize tasks on colorful Kanban boards, thereby making it easier and more intuitive for team members to adapt. However, it is important to note that Trello does not offer the advanced functionality of Monday.com. So, I would advise you to thoroughly compare it with your specific needs.
Key Features:
Kanban board system for visual task tracking.
Collaboration for multiple users to work together on the same board.
Customization options to fit your specific needs.
Integrations with various tools like Google Drive and Slack.
Free plan with essential features for small teams and individuals.
Pros:
Easy to use, making it a beginner friendly choice among individual users. (Source: G2)
Ability to invite clients or external participants to collaborate on specific project boards. (Source: G2)
Shareable task lists and convenient drag-and-drop 'cards' to track task progress. (Source: Capterra)
Cons:
While it's great for task management, its project management functionalities are limited. (Source: G2) [learn about Trello alternatives]
Task linking and dependency tracking are not possible. (Source: G2)
It lacks the robust project oversight and reporting features found in more powerful tools. (Source: Capterra)
Pricing:
Standard: $5 per user, per month (billed annually),
Premium: $10 per user, per month (billed annually),
Enterprise: $17.50 per user, per month (billed annually).
3. GanttPro

If your projects include frequent updates, dependencies, and changing deadlines, GanttPro can be a suitable alternative to Monday.com for you. As the name suggests, some familiarity with Gantt charts is a plus for anyone transitioning to Ganttpro. Nonetheless, it offers helpful guides and video tutorials to assist you every step of the way.
Features:
GanttPRO provides user-friendly timeline visualizations for effective workload management, timelines, and dependencies.
It offers time tracking to monitor team members' task progress.
The budget tracking feature helps in specifying costs and tracking expenses.
Virtual resources allow collaboration with third-party contributors.
Workload calculation can be done in a fixed duration, fixed estimation, or fixed duration mode.
Pros:
Easy to use, intuitive interface, powerful range of features, great support, and affordable transparent pricing. (Source: G2)
Cons:
Pricing can be improved (Source: G2 )
Pricing:
Gantt PRO offers various plans to suit different team sizes and needs.
The basic plan costs $7.99 per user per month, suitable for small teams with basic project management needs.
The pro plan costs $12.99 per user per month, offering advanced customization and automation features.
The business plan costs $19.99 per user per month, ideal for managing multiple project portfolios with time tracking and JIRA cloud integration.
The enterprise plan comes with variable pricing for teams seeking enhanced security features.
🧐 Read More: 17 Gantt Chart Tools for Teams: Finding The Right Fit 2023
4. Freedcamp

Freedcamp is a suitable Monday alternative if you are looking for a more straightforward and basic project management tool without any fancy features. It's a great choice if you are a small to medium business owner and new to the technical side of project management, though I would advise you to diligently go through the free version and find if it can handle your projects.
Key Features:
Free plan with unlimited users and projects for basic project management
Kanban and Gantt chart views
Time tracking and reporting
Collaboration tools (task comments, discussions, file sharing)
Customization options for specific workflow preferences
Pros:
The majority of Freedcamp's project management features are available to all users free of charge. If you're a nonprofit, teacher, or student, you also get the advanced features at no charge (other users have to pay for these.)
Cons:
Freedcamp doesn't support more advanced features like task dependencies. Plus, some users find it isn't very intuitive, so it may take your team a while to learn how to use it. (Source: Capterra)
Pricing:
Apart from the free version, freedcamp offers three other pricing plans with additional features.
Minimalist: $1.49/user per month.
Business: $7.49/user per month
Enterprise: $16.99/user per month
5. Paymo

Paymo is another budget-friendly alternative to Monday.com Offering almost similar project management features, it's ideal for freelancers and small businesses handling multiple projects. Keep in mind, as the project count rises, you might experience some latency compared to Monday.com. Rest assured, Paymo provides an effective way to monitor and complete projects within your desired timeframe.
Key Features:
Time tracking for better time management.
Invoicing for billing your clients.
Efficiently create, manage, and track projects, tasks, and milestones.
Seamlessly collaborate with your team by sharing files, tasks, and projects.
Highly customizable interface, allowing you to change the app's look and feel.
Pros:
It's very easy to assign tasks with due dates – the comment flow makes it easy to provide feedback or request changes. Tasks assigned to me are easy to find, and I can track how much time you spend on each client.
Cons:
There is a learning curve to get things going, but in the end, it is worth it. The attention to detail required will ensure nothing is missed, even if the process is counterproductive in parts and not nearly as streamlined as the features when they are ready.
Pricing:
Paymo offers a basic productivity version of itself for personal use at zero cost. If you want to upgrade it for professional use you can choose from the following plans:
Starter: $4.95/user/month. Suitable for individual freelancers.
Small office: $9.95/user/month. Suitable for small teams and departments.
Business: $20.79/user/month, for businesses that require advanced employee scheduling features.

Teamwork is a great alternative to Monday.com if your projects rely mostly on collaboration with external resources. It's an agency-friendly project management tool that offers remote teams the features and functionalities to create task lists, track time, upload files, and exchange updates on a project. While the interface is easy enough to use, some users have reported latency issues when the amount of projects increases over time.
Features:
Advanced Time Tracking for accurate project monitoring.
Project Templates for time-saving project kickstart.
Invoicing Capabilities for streamlined invoicing process.
Customizable Workflows to fit the team's unique needs.
Robust Integrations with various tools for seamless collaboration.
Pros:
Users praise collaboration capabilities and burn-down reporting features. Along with its project management software, Teamwork offers a full suite of productivity tools. (Source: Capterra)
Cons:
Teamwork lacks advanced features for managing projects. Also, Users mention the app's overwhelming interface and limited customization options. (Source: G2)
Pricing:
Free Forever plan for up to five members with limited features.
Starter plan: $5.99/user/month (annually) or $8.99/user/month (monthly) with some limitations.
Deliver plan: $9.99/user/month (annually) or $13.99/user/month (monthly) with additional features.
Grow plan: $19.99/user/month (annually) or $25.99/user/month (monthly) for fast-growing teams.
Scale plan: Custom pricing for large enterprises, contact sales team for quotes.

While both Asana and Monday.com are almost on par with their project management functionalities, the former can be a good alternative to teams that are small, tech-savvy, and require their project management tool to integrate with several other tools in their tech stack. Another thing where Asana takes a slight edge over Monday.com is the intuitive interface. You don't need to heavily customize it to meet your specific requirements.
Key Features:
Task Management: Create, assign, and prioritize tasks effortlessly.
Seamless Collaboration: Foster teamwork by sharing project updates, files, and comments in real time.
Customizable Workflows: Define and adapt workflows to match your team's unique processes.
Visual Progress Tracking: Intuitive dashboard for project status, milestones, and deadline identification.
Pros:
Depending on the price level, teams can add more traditional project management features to their projects as they grow. Additionally, Asana offers many integration options and multiple ways to manage projects. (Source: G2)
Cons:
Asana's main drawback is the fact that it has to rely on plugins and modules in order to scale. Furthermore, it comes with little onboarding assistance and provides limited reporting. (Source: G2)
Pricing:
Basic: Suitable for individuals or small teams with collaboration for up to 15 members, unlimited tasks, and 100 MB file storage limit.
Premium: Priced at $10.99 per user per month (annual billing) with Workflow Builder, advanced searches, unlimited dashboards, and unlimited guests.
Business: Costs $24.99 per user per month (annual billing) for teams managing work across multiple initiatives, offering enhanced customizations and integrations.
Enterprise: Tailored pricing based on individual requirements.
8. Nifty

Nifty project management tools can be a preferable choice over Monday.com for teams seeking a simpler project management tool with better collaboration features. While the interface of Nifty is easy to navigate and use, there is limited customization available for users. This can be a drawback for teams or individuals who have specific needs or preferences when it comes to organizing their tasks and projects.
Key features:
Easily adjust plans as needed for flexible team workflows.
Collaborate with team members using discussion threads, file sharing, and real-time updates.
Tailor Nifty to suit your team's unique requirements.
A cost-effective project management solution ideal for small and medium-sized businesses
Pros:
Import from Asana, Basecamp, ClickUp, Jira, Trello and Wrike – or import your .CSV and Excel sheets. Custom automations so you can save time and focus on the things that really matter. You can also embed thousands of third party apps and websites across projects, tasks and docs in Nifty.
Cons:
Time tracking is not as efficient as other tools. -G2
Pricing:
The Starter plan begins at $39 per month for up to 10 members.

Todoist is a traditional to-do list software with some interesting features like advanced tagging. It can be an ideal choice for teams seeking a more straightforward GTD approach to project management. Todoist helps you schedule your tasks in a more organized manner. It keeps your teams in sync by providing a shared to-do list for managing tasks.
Key features:
Easily add tasks on the go by typing a description and hitting enter.
Set up tasks to repeat regularly (weekly, monthly, or yearly).
Break tasks into smaller, manageable pieces for better organization.
Assign different priorities to tasks to focus on the most important ones first.
View time usage patterns to identify areas for productivity improvement.
Pros:
It has a variety of features like checklists, sub-tasks, due dates and reminders that make it easy for you to keep track of everything that needs doing throughout the day. You can share your tasks with others using email or social media so they know what needs doing too!
Cons:
The app does not display notifications when there are new tasks added by other users in the team or if someone comments on your tasks or files within Todoist itself.
Pricing:
The Pro version of Todoist costs $5 per month if you're a single user, and $8/user/month if you're a business.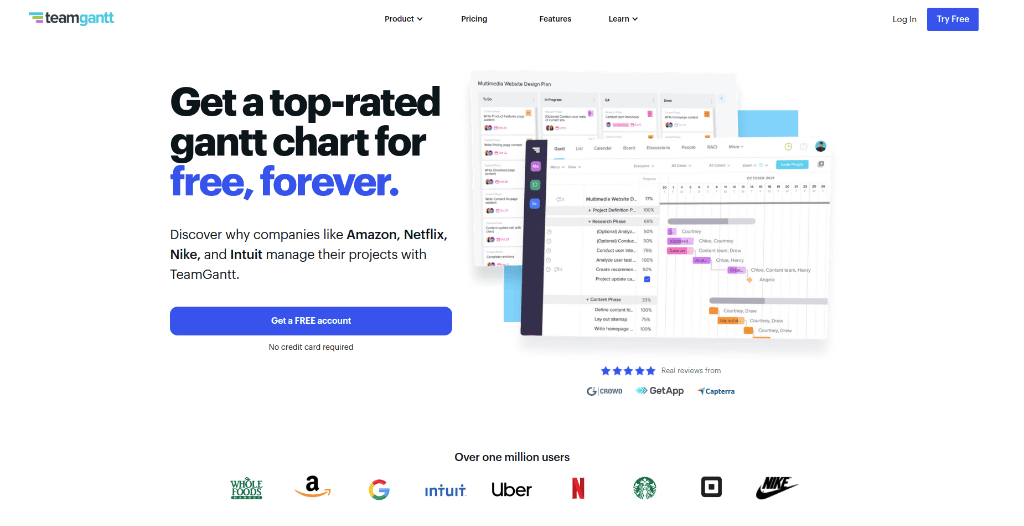 Team Gantt is another Gantt chart based project management software that allows you to efficiently set relationships across your tasks and project. Though it lacks some advanced functionalities of Monday.com, it is quite easy to use and can be a good choice for users new to project management.
Key features
Task dependencies: Track task relationships for proper completion order.
Resource management: Assign and monitor resources for efficient work allocation.
Accurately estimate project costs and identify time wastage.
Easily communicate and collaborate with your team through comments and chat.
TeamGantt offers a variety of reports that can help you track the progress.
Pros:
The tool's interface is designed around focusing on who is assigned which tasks on a certain timeline. Its Gantt charts are flexible and dynamic, which makes them an easy way to manage projects.
Cons:
While Gantt charts are great, most mid-size project management tools offer Gantt chart capabilities within their tools. You also can't upload projects from Excel or Microsoft Project — only manual entry. So, if you're switching from another system, transferring the data will likely be a nightmare.
Pricing:
Lite plan: $19/month/manager
Pro plan: $49/month/manager
Enterprise: $99/month/manager

MeisterTask is a Kanban-style project management tool that provides a visually delightful platform for task management and collaboration. This tool is focused on tracking tasks, time, and assignees. This is a good basis for tracking project progress and can be even adapted to track risks, issues, changes, and other types of activities, which follow some workflow.
Key Features:
Kanban boards for task visualization
Task assignment and progress tracking
Team collaboration and communication
Time tracking and reporting
Integration with popular productivity apps
Pros:
It's easy to use and has all the features you need without having to worry about any extra bells and whistles.
Cons:
Users find it expensive for what it offers. (Source: G2)
Pricing:
Basic Plan – Free
Pro Plan – $8.25/user/month
Business Plan – $20.75/user/month
Enterprise Plan – Custom pricing

ClickUp is a feature-rich project management software that offers task management, file sharing, and communication tools. It is vividly known for its multiple views, customization, and reporting capabilities. While ClickUp offers robust functionality for project management, It's worth noting that the user interface of ClickUp might initially appear overwhelming or confusing, requiring a learning curve to fully master all its features.

Key features:
ClickUp offers a comprehensive platform for managing projects
It allows assigning tasks to multiple people,
It provides round-the-clock live support from agents and consultants to assist users with any questions or concerns.
ClickUp's user-friendly mobile app enables users to manage their projects on the go, offering all the features available on the desktop version.
Extra resources: ClickUp offers a variety of resources, including on-demand demos, live and recorded webinars, support documentation, and ClickUp University.
Pro:
"Complex but detailed project management tool and so much more"- Source: Capterra
Con:
"ClickUp is cluttered and lacks web proofing and integration with Adobe Creative Cloud, serving little purpose for Design or Creative Teams." Source: Capterra
Pricing:
Unlimited: $5/user/month
Business: $12/user /month
Business Plus: $19/user/month
Enterprise: Contact Sales

Microsoft Project can be a good alternative to Monday.com for teams that rely heavily on other Microsoft softwares for their projects. It is designed to help project managers and teams complete complex projects in just a few simple steps. It is important to note that the complex nature of Microsoft Projects can be overwhelming for users new to project management.
Key Features:
Easily track important events in your project, such as task completions or product deliveries with milestones.
Visualize project data and monitor progress using a variety of charts and graphs.
Integration with Microsoft Office
Monitor resource availability, including people, equipment, and materials.
Create custom reports tailored to your specific needs.
Pros:
Using MS Project, you can plan at an incredibly detailed level, and it integrates MS Planning into the software to provide even more project management options. Manage several projects at the same time on the same screen is also a major plus.
Cons:
It isn't always possible for managers to create formats that are compatible with other applications when it comes to storing files in Microsoft Project. In turn, productivity is negatively affected.
Pricing:
Project plan 1: $10/user/month
Project plan 3: $30/user/month
Project plan 5: $55/user/month

Smartsheet comes as a worthy competitor to Monday.com with its efficient and highly customizable interface. This tool can be used for time management, collaboration, communication, and much more.
With interactive features, it's perfect for those seeking more functional spreadsheets. Users transitioning from other tools will find smooth onboarding due to its adaptability.
Features:
Dynamic project management with Gantt charts.
Real-time collaboration, file attachments, automated notifications Automated workflows for data updates and report generation.
Resource management for task allocation and optimal utilization.
Customizable dashboards with charts and metrics.
Pro:
Smartsheet is a very advanced spreadsheet tool, although it's far from the easiest software to use if all you want is project management.
Con:
"One drawback of Smartsheet is that it can be overwhelming to navigate for first-time users" – Source: Capterra
Pricing:
Free: Up to 2 sheets, 100+ automation.
Pro: $7/user/month, basic features for up to 10 members.
Business: $25/user/month (billed annually), unlimited users, advanced project management.
Enterprise: Custom pricing, enhanced security, multiple integrations.
15. Workfront

Workfront is more of a workload management software designed to cater to the needs of different departments on an enterprise level. It's a cloud-based work management tool that helps manage tasks, track the progress of projects, balance resources, watch budgets, and even review and approve work. While it is a powerful tool for project management, Workfront is quite similar to Monday.com in terms of complexity.
Key features:
All work-related tasks can be planned, tracked, and managed in one place.
Workfront supports different work methodologies like Agile, Kanban, and Waterfall.
With a variety of reports and analytics, Workfront enables teams to monitor progress.
Workfront ensures good security and compliance, meeting the needs of even the most demanding organizations.
Workfront seamlessly integrates with various other applications.
Pros:
Workfront is a great software for medium to large companies or corporations. It is filled with features that are a bit more complex but offered at a great price.
Cons:
As a Monday alternative, Workfront has a steeper learning curve and requires more training in order to be able to use the software effectively.
Pricing:
Available on the quote
16. Planview Clarizen

Clarizen is a project management and collaboration tool that is primarily known for its capacity planning and workflow automation capabilities. With Clarizen, you can customize your dashboard with the information you need, in the format of your choice. Additionally, it provides users the real-time visibility to make accurate, data-driven decisions that keep projects and portfolios aligned with company strategy.
Key features:
Planview Clarizen is easy to get on board and use, making it suitable for organizations of all sizes.
Manage all projects, regardless of size or complexity, on a single platform.
Save time by automating project management tasks, leading to improved efficiency, accuracy, and reduced risk of errors.
A variety of tools for tracking progress, identifying areas for improvement, and making informed decisions.
A flexible and scalable solution for project management
Pros:
The main advantage of Clarizen is that it allows you to customize your board and manage different teams with their own boards. This makes it easier for employees to find what they need when they need it, instead of having one central location where everything is located.
Cons:
Clarizen's user interface is not as intuitive and easy to use as Monday's. This can be an issue if you're not familiar with the platform or if you're new to web design.
Pricing:
Enterprise plan: $45 per user/month.
Unlimited Edition: $60 per user/month.

Jira is a Monday alternative for teams seeking a reliable project management tool in the software development sector. It's a project management tool that allows teams to collaborate on projects, assign tasks, track progress, and create workflows for each project. Jira also has features like tracking milestones, setting up user permissions, and more.
Features:
Customizable workflows for specific team needs.
Agile project management for sprints, backlogs, and releases.
Robust issue tracking to manage bugs and tasks.
Integrates with various tools for easy collaboration.
Robust reporting and analytics for data-driven decisions.
Pros:
Powerful dashboards and analytics, versatile for agile management. Plus, JIRA has issue tracking and prioritization abilities.
Cons:
If you're not a tech person and don't work on software development projects, JIRA is probably not the best choice. Challenging setup for workflows, steep learning curve for non-tech users. Plus, the tool has a language all its own that can be difficult to learn. (Source: Capterra)
Pricing:
Free plan available for up to 10 users with 2GB storage.
Standard plan: $7.75/user or $77.50/month
Premium plan: $15.25/user or $152.50/month
Enterprise plan: Custom pricing based on user count, extensive features, and support.

If you're looking for a more intuitive and collaborative Monday alternative, Basecamp might be the one for you. It's a project management tool that helps you organize and track tasks and projects, so you don't have to keep track of them yourself. You can also use Basecamp to upload files, make notes, and communicate with your team members.
Features:
To-Do Lists for task tracking and assignment.
Automatic Check-Ins for regular team updates and communication.
Message Boards for centralized communication and file sharing.
Document Sharing for easy collaboration and access to shared files.
Pros:
"Basecamp helps in simplifying Project Management and Effective Team Collaboration" – Source G2
"Basecamp, the Management Champ"- Source Capterra
Cons:
"With a large number of projects, you can get a bit lost off the tracks" – Source Capterra
Pricing:
Basecamp: $15 per user/month.
Basecamp Pro-Unlimited: $299/month (billed annually) for unlimited users.
19. Kantata

Kantata is a task management tool that helps you stay organized and on top of your work with just a few clicks. With a rich workload management architecture, this tool allows businesses to effectively manage resources and distribute work in the best way possible. Also, its reporting capabilities allow businesses to predict any resource constraints ahead of time to make informed decisions regarding risk management.
Key features:
Built-in business intelligence for data-driven insights, enabling custom reports and dashboards for project tracking and decision-making.
Resource management to track team availability and skills, facilitating accurate schedules and budgets.
Financial management with project costing, billing, and invoicing for tracking project profitability.
Integrations with various software applications, simplifying data sharing and workflow.
Real-time collaboration, fostering effective communication and teamwork for project success.
Pros:
You can set up alerts for all your tasks so that you are notified whenever there is any activity created on them or completed by an employee or team member on internal communication channels like Slack, Gitter etc., as well as external communication channels like email/text etc.
Cons:
The tool is complex and not very user-friendly, requiring a steep learning curve if you're not handling high-security projects. You must invite every user to a project, and there is no way to add an admin user who can be a central manager of the tool.
Pricing:
Available on contact with sales team.

Podio is a project management tool that offers a drag-and-drop interface for creating and managing projects. It is a good choice for small to medium scale businesses that do not need the heavy customization of Monday.com. It is designed to be user-friendly, even for non-technical users. The interface is clean and intuitive, and the learning curve is relatively shallow.
Key features:
Podio allows you to tailor the app to your team's needs by adding fields, layouts, and workflows for a perfect fit.
Team members can collaborate effortlessly with comments, discussion threads, and @mentions.
Podio's mobile app allows you to manage tasks, view progress, and collaborate with your team on-the-go.
You can integrate Podio with other apps to centralize project management data and streamline workflows.
Businesses can gain valuable insights for informed decision-making with Podio's robust reporting features.
Pros:
Podio has a social element built right in, which makes it unique for project management tools. It's also a flexible and customizable tool designed for mobile use and tends to work well when used as an app.
Cons:
There is no built-in project structure in Podio. If you don't maintain an internal project management system, you could end up with a mess. Also, some key features of PM tools are missing, such as an all-project dashboard and portfolio view.
Pricing:
The basic plan starts at $7.20 per user/month.
21. ProjectLibre

ProjectLibre is a free and open source project management software. It's based on issue tracking, task management, outlining and more. The software has an elegant user interface that makes it extremely easy to use. It has been used by many people around the world for their personal productivity tasks and businesses.
Key features:
A free and open source project management software for budget-conscious small businesses and individuals.
Detailed activity logs to monitor project and task progress.
Set and track project budgets efficiently.
Generate insightful reports for project progress and improvements.
Enhance productivity by tracking task and project durations.
Pros:
The Gantt chart features of ProjectLibre are among the best on the market. Small and large businesses use it alike because of its versatility and user-friendliness. In addition to supporting Microsoft Project, Windows, Linux, and Mac OS, the tool also works with other software.
Cons:
The ProjectLibre interface is awkward, and it doesn't have great UX, so your team may struggle with it. Plus, there are none of the extras that most paid solutions have, and while a cloud version is in the works, currently you're limited to the desktop version.
Pricing:
Available on quote
22. Project Manager

ProjectManager is a free project management app for team collaboration and time tracking. In comparison to Monday.com. It has a simpler interface, with a great amount of features for managing projects and tasks, including time tracking, task management, project planning, collaboration and more. While ProjectManager does provide some budgeting features, they are not as thorough as other tools available in the market.
Key features:
ProjectManager offers a user-friendly interface, designed for intuitive and efficient use.
Real-time collaboration with team members through chat.
Reporting features to track project progress, identify improvements, and generate comprehensive reports.
Keep track of time spent on tasks and projects to ensure accurate billing and reporting.
Pros:
If you have an IT team that loves the Kanban method of project management, this tool could be an excellent option. Many users find this software user-friendly and effective in helping keep various projects and teams organized. It also helps you manage and report progress, track time, and collaborate.
Cons:
ProjectManager lacks subtasks with limited filtering. There is also a lack of customization, especially for alerts and reports. While Kanban is a popular project method, it's not great for managing long or complex projects.
Pricing:
The team plan starts at $11.50 per user/month, when billed annually.
23. ntask

nTask is a user-friendly project management tool that offers impressive organizational capabilities. It allows for simple task and project creation, making it a reasonable Monday.com alternative.
The tool also offers a time-tracking feature that allows you to track time spent on multiple projects, which can be helpful for monitoring productivity and managing resources effectively However, it may not be suitable for users who require extensive customization options. The pricing options include a free plan and a Pro plan with unlimited access to features
Features:
nTask allows easy task and project creation for effective organization.
It offers time-tracking for monitoring productivity and resource management.
Advanced collaboration features enable seamless team communication and quick feedback.
The tool provides visually-friendly reporting for confident decision-making.
The smart timeline helps in mapping out project deadlines and monitoring progress.
Users can log billable hours for better project cost management.
Pros:
"Task feature is the most fantastic part of this software.It gets even better with Board feature." – G2
Cons:
"Ntask can be slightly difficult to use at times because some things require so many steps and clicks. I would've liked better privacy setting options as well and better privacy all around."- Capterra
Pricing:
nTask offers a free plan with unlimited workspaces and up to 5 team members per workspace.
The Pro plan costs $2.99/user/month and includes unlimited workspaces, team members, and storage.
The Business plan costs $7.99/user/month, providing additional features like 10 GB storage, custom roles and permissions, advanced reporting, and integration capabilities.
The Enterprise plan offers custom pricing, tailored to individual needs, with added benefits such as custom onboarding and a dedicated account manager.

Wrike is a collaborative task management tool and a promising alternative to Monday.com. The software offers a variety of features that can be used to manage projects on a large scale. Though Wrike is fairly easy to use for someone who is familiar with using project management software, the user interface may overwhelm new users, as its rigidity in agile project management may not suit every team's needs.
Features:
Flexibility with various views (Kanban, Gantt, task lists).
Real-time collaboration and approvals.
Project visibility for tracking progress and bottlenecks.
Better learning phase compared to Asana.
Intuitive user interface with real-time reports.
Pros:
"High-quality project management software" – Capterra.
"Powerful, intuitive, and suitable for all business functions" – G2.
Cons:
"Learning curve for new users" – Capterra.
"Fantastic product but poor customer service" – G2.
Pricing:
Free Plan: Basic task management, 2GB storage limit.
Team Plan: $9.80/user/month, for small teams (2-25 members).
Business Plan: $24.80/user/month, for large teams (26-200 users).
Enterprise Plan: Custom pricing, advanced security and administration.
Pinnacle Plan: Custom pricing, advanced reporting and work management capabilities.
25. Zenkit projects

Zenkit is more of a lightweight alternative to Monday.com both in terms of flexibility and pricing structure. While both tools are designed on the database architecture, Zenkit takes the edge by providing more functional and intuitive relational databases than Monday.com. Additionally, Zenkit also provides offline accessibility if you are working in a remote location with internet issues.
Key features:
Detailed activity tracking for real-time project progress monitoring.
Global Kanban boards for a comprehensive bird's-eye view of all project tasks.
Time estimation and reporting tools for efficient resource management.
Zenkit's user-friendly rich text editor elevates your work with beautiful text.
Pros:
Zenkit is an excellent tool if you work in software development and want to visualize projects. You can input time estimates for tasks and sprints, as well as create member-level swimlanes for your Kanban board.
Cons:
One major disadvantage of all-in-one solutions is that they are not outstanding in any one area because they try to do too many things at the same time. These solutions aren't suitable for advanced functions. You won't find Zenkit useful if you don't work with Agile project management methodology.
Pricing:
The plus plan starts at $9 per user/month, when billed annually.
26. Scoro

Scoro is another tool that surpasses the usability and functionality of Monday.com with its wide range of features and customization options. It is a solution to work management that is both instinctive and compatible with all your needs.
Some of its features like creating task bundles and viewing the agenda in the calendar view help you deliver your assignments, and hence, projects in time, which makes it such a good alternative to Monday.com.
Key features:
Project planning and scheduling
Team collaboration
Time tracking
Reporting
Project budgeting
Pros:
Scoro's quote system is central to how the company operates, and it combines all aspects of the job on a single screen, including proposals, costings, invoices, purchase orders, projects and tasks. As a result, we can offer our clients one-stop shopping for their job, with each component having configurable fields and workflows to suit the specific needs of each section.
Cons:
You may have to open some of the dashboards to see which jobs they relate to, so you may not be able to see how they relate to each other.
Pricing:
The standard plan will cost you about $37 per user month/ month annually.
27. Proprofs

ProProfs Project is a project management tool that stands out for its exceptional knowledge management features. Its centralized platform for sharing files, communicating with team members, and tracking project progress, makes it a preferable choice over Monday.com. However, it should be noted that ProProfs Project may not be as proficient in handling complex project management tasks like generating Gantt charts or tracking dependencies.
Key features:
Intuitive user interface with dashboards for managing projects.
Custom branding options to reinforce team identity.
Seamless integration with Google Drive, Dropbox, and Trello.
Dedicated support with live chat and email assistance.
Reporting and analytics for tracking project progress.
Pros:
ProProfs Project allows you to track your ongoing projects from multiple perspectives. For example, you can track basic details with the Calendar view, or see task dependencies using Gantt Charts. As an added bonus, you can also use their Kanban Board.
Cons:
It can become cumbersome if you're not clear on what you want to accomplish. You'll have to make sure that all the equipment is connected. Before using it, you must undergo training if you don't already know how to use it. For initiates, it can become complex but only for a short period of time.
How I picked 27 Monday.com alternatives?
I understand that project management systems can be quite diverse in terms of what they offer, how much they cost, and who they're best suited for. While preparing this list of alternatives to monday.com, me and my team considered the following factors:
Pricing: We carefully examined the cost of each alternative and selected ones that offer similar or better affordability than monday.com, depending on the team and project scalability.
Features: We made sure to evaluate the features that each alternative provides and how they compare to monday.com in terms of functionality.
Ease of Use: We noticed that many user reviews about monday.com had complaints about getting used to the software. Therefore, we paid close attention to how user-friendly each alternative was and whether it had a steep learning curve.
Customer Support: Having reliable customer support was another crucial factor in our assessment. We wanted to ensure that help would be available whenever we encountered any issues or needed assistance.
Reviews and User Feedback: Our team has diligently gone through hundreds of testimonials from other users to gain insights into their experiences with the alternatives.
Features to consider when choosing Monday alternatives
With so many project management tools and an abundance of intricate features available in today's market, finding the best fit for your teams has become increasingly difficult.
While deciding on the best project management software for your team primarily depends on their unique needs and business strategy, there are a few essential features to consider when searching for alternatives to Monday.com for project management:
Task and project management capabilities: The primary purpose of any project management tool is to manage tasks and projects efficiently. It is essential to ensure that the alternative offers features like task assignment, progress tracking, deadline management, and dependencies, without creating a clutter.
Collaboration features: Collaboration is a cornerstone of success in any project. It is important to look for platforms that facilitate smooth communication among team members without any compliance risk or hidden costs.
Ease of Use: Today's dynamic environments do not allow the luxury of going through steep learning curves to make the best use of a software. It is, therefore, important to invest the time in ensuring that the alternative aligns with your project management framework.
Customization: Every project is unique, so the platform should allow customization to adapt to your team's workflow. Check if the alternative offers customizable fields, templates, and project views.
Security: It is important to verify that the platform provides the necessary security measures to protect your sensitive project data.
Reporting features: Effective project management requires insights into progress and performance. Look for alternatives that offer detailed reporting and analytics features to help you make data-driven decisions.
Price and Scalability: To ensure that your organization's growth does not face any challenges in future, thoroughly compare pricing plans and consider how the cost scales with your team's size and needs.
Bottomline
As a Chief Marketing Officer handling diverse teams for years, it is my understanding that project management is a skill mastered with experience. And with right leadership, there is nothing teams can't manage to adapt to.
However, it is also the responsibility of a leader to make the right choice for their teams. And hence, I would suggest you thoroughly go through the free trial before investing in one particular Monday alternative.
FAQs about Monday alternatives
What is the difference between Monday.com and Excel?
Monday and Excel are both types of software used for organizing information in tables, but they have some differences when it comes to managing projects. Monday is a cloud-based software, which means you can access it from anywhere in the world, while Excel is only available on your computer. Additionally, doing certain things in Excel, like organizing and filtering project data, requires more hands-on work compared to Monday.
What are the limitations of Monday?
Monday.com is a popular tool for project management. However, it comes with certain limitations:
An expensive pricing structure makes it difficult for businesses to scale.
Complex interface with a steep learning curve.
Task relationships are limited to dates only.
Latency issues when the number of projects increases.
Limited integrations with other applications.
Who is better than Monday.com?
Depending on the specific requirements, there are many project management tools better than Monday.com. Top three of those are as follows
ProofHub: ProofHub is one of the best alternatives to Monday.com as it offers better functionality under an affordable pricing structure in comparison to Monday.com. Also, with a wide variety of features available for project management and team collaboration, ProofHub eliminates the need to rely on multiple tools for your project management requirements.
Asana: Asana is a project management tool known for its ease of use and collaboration features. It offers a wide range of features, including Kanban boards, Gantt charts, and task dependencies.
Wrike: Wrike is another project management tool that offers a wide range of features. It is known for its powerful reporting and automation capabilities. Wrike is a good option for teams that need to track project progress in detail.
What is similar to Monday?
The project management tool that is most similar to Monday.com is Asana. Both tools have a tiered pricing structure and a lot of similar features, like portfolio management, reporting, integration, etc. The main difference between Monday.com and Asana is how they show information to users. Monday.com has a more visual style with lots of graphics and visuals, while Asana has a more traditional approach with a list-based format where tasks are presented in an organized list.
Does Google have an app like Monday.com?
No, Google does not have a native app that is similar to Monday.com. However, there are a number of third-party project management apps that can be integrated with Google Workspace.
Is Monday the same as Asana?
While both Monday and Asana offer almost the same functionality for project management and team collaboration, they differ on certain aspects, such as features accessible in low tier plans and number of integrations.
Is ClickUp a good alternative to Monday.com?
While it's a particularly subjective choice, the customization rich platform of ClickUp can be a good alternative to Monday.com, especially for teams where individuals prefer their own style to display the information.