For years project management software has been helping people plan, prioritize, organize, and track tasks – both personal and professional. With a plethora of tools and project management app comparisons on the web, it's overwhelming to select the right tool for your business.
To make it easier for you, we bring you an in-depth project management app comparison, review, and checklist in one place. This post will highlight the basics of project management, key features, pricing, and customer reviews.
Without much ado, let's first start with the definition of project management.
Definition of project management
According to Management Study Guide, "Project Management is the art of managing all the aspects of a project from inception to closure using a scientific and structured methodology.
An endeavor that involves planning, tasks and resources with a beginning and end in mind can be termed a project – whether it is a product, service, or something else.
Project management software and types
According to Financesonline.com, "Project management application is a suite of tools that help improve production teams' efficiency. They usually come as cloud-based, multi-user platforms that host features such as project planning and scheduling, collaboration, advanced reporting, and project budgeting, among many others. They are meant to ensure that all project stakeholders are constantly in the know and that every project is delivered on time."
Want to keep your team in-sync? See how ProofHub can make it happen!
Types of project management software
Project management tools are classified into the following categories:
On-premise software: The project management application is installed in your company's office or servers and you pay a one-time proprietary license every year to use the software.
Cloud-hosted systems

: These project management tool are web-based tools installed in the vendor's server. You usually pay a monthly subscription fee to use the software.

Collaborative systems

: Such software are designed so that multiple users can simultaneously work and collaborate on a project(s). 

High-end systems

: These are systems created as central project management systems for large companies and organizations to deal with complex projects.
Key features of project management app
It's the right time to talk about the most important thing while choosing a project management software for your business – features. Without going too much in detail, below down are some are some important features to keep in mind:
Real-time collaboration:

These days teams are large in size and projects are more complex in nature. It becomes the need of the hour to have a project management app that lets team members come together on a single platform and discuss tasks in real-time.

File management and document sharing:

Look for a tool that acts as an effective

file-sharing system

and works as a central place to store, organize, and share all your important files so that you can easily collaborate over them.

Time-tracking:

Compare project management app and choose that lets you make the most of your time. Also, it should enable you to set time estimates, track time spent on tasks and maintain a record of every minute you spend at work.

Reporting:

A project reporting software to get a clear idea of how things are progressing and the resources are being utilized so that you can get rid of risks and inefficiencies in a project.

Workflows and boards:

Having

workflows and Kanban boards

mean to have a streamlined task management process where every project task goes through stages and provides better visibility across tasks. It also brings more flexibility to your work.

Third-party integrations:

Make sure your project management tool easily integrates with other popular tools. These days every quality project management tool comes with multiple third-party integrations such as Google Drive, Pocket, Box, Evernote, and many more.
22 Project Management Software – Features, Comparison, Pricing
Below is the list of 21 incredible project management app with features, pricing, and customer reviews. Let's take a look at them:

ProofHub is one of the rare one-solution-fits-all project management software. It makes project handling easier, faster, and better. The best part is that it comes packed with powerful features to eliminate the need of having too many different tools to run your business.
Top features:
Online proofing and annotation tools

Task management and file storage

Dynamic reports and time-tracking

Gantt charts and workflows
What customers say about ProofHub: Matt Cooper from InsideOnline says, "ProofHub has unified all our communications, brought our internal teams together and made everyone accountable for their time in order to work smarter."
Pricing: Essential plan for $45/month billed annually
2. Wrike

Wrike is known to provide an extensive set of features to its users that simplifies project planning, streamlines workflow, and enables collaboration. Unlike other work management tools, Wrike is much easier to use and implement that completely justifies its 2nd raking in the list. Popular names like that of Google, Jaguar, Mars, and others use Wrike to manage work.
Top features:
Create goals and set priorities

Interactive Gantt charts, Resource allocation, and Templates

Customizable workflows and fields
What customers say about Wrike: Courtney Hatch from Verizon said, "Wrike is the solution that I found to be the best fit for how we work. It's customizable enough for each person on the team to easily see the bigger picture and get things done."
Pricing: Marketer's plan for $34.60 per user per month
Read on: Wrike alternatives for Project Management
3. ClickUp

ClickUp is an all-in-one project management and collaboration tool that lets teams of all sizes plan, manage, and track their projects—all in one place. With hundreds of customizable features, teams of all sizes across industries can customize the platform to support their project needs and workflow preferences. Teams can also integrate ClickUp with over 1,000 other work tools, bringing all their work into one centralized location.
Top features:
15+ customizable work views, including Gantt chart, Board, and Chat view
Custom workflow automation and statuses
Custom Dashboards with real-time reporting
Mobile app
What customers say about ClickUp: Connor Nash from Stanley Security says, "We're able to customize and automate ClickUp to suit each specific initiative, which has increased our team's capacity exponentially."
Pricing: Free Forever Plan and paid plans start at $5/per member/month
4. Basecamp

Basecamp is a project management and team communication software that puts everything you need to get work done in one place. Interestingly, it is one of the first few project management app that made a name for itself much earlier than others. All in all, it is a great place to discuss ideas, plan marketing plans, share pet pics.
Top features:
Projects to manage multiple user's work

Separate dashboards

In-context collaboration
What customers say about Basecamp: Tina Lannin from 121 Captions said, "We can see exactly what needs to be done and when. We were missing tasks and deadlines before we found Basecamp. We're much more efficient now."
Pricing: $99/month for unlimited users
If project management doesn't seem to be in perfect order with Basecamp, you can pick any Basecamp alternatives.
5. FunctionFox

FunctionFox is cleverly designed to track timesheets, simplify project management, and stay on top of estimates, invoices, and every detail in between. In terms of usability, it is simple to set up, easy to use, and trusted by creative professionals around the world.
Top features:
Customize dashboards with features you use the most

Compare estimated budgets with actual figures

Utilize interactive charts with real-time data

Track projects from concept to completion
What customers say about FunctionFox: Joann Wood from WDG communications said, "FunctionFox has changed my life! At the click of the mouse, I can get information that previously had taken hours to generate on our manual system. I so regret not having initiated it sooner."
Pricing: In-House plan starts at $15 per month per user.
6. LiquidPlanner

If you're looking for software that gives you a better way to plan and execute work, try LiquidPlanner. It treats projects as living and ever-changing constructs, so it implements a responsive approach to project management.   
Top features:
Prioritized-based plans

Smart project schedules

Real-time project data and status updates
What customers say about LiquidPlanner: David Cantu from Redapt said, "We were new to project management and LiquidPlanner was extremely easy to implement and easy to adopt. It was really built on a next-generation platform."
Pricing: The enterprise plan starts at $69/month per user
7. Clarizen

Clarizen's cloud-based project management tool has a single goal – to move your business forward. You can centralize and share resources, develop strategies and align communications at one place. You can also create automated and repeatable processes, alerts, and workflows. Make accurate data-based decisions and share immediate project data.
Top features:
Configurable workflows

In-context collaboration

Automated business processes

Flexible UI

Dynamic reports and dashboards
What customers say about Clarizen: Debbie Collins, a PMO Manager said, "We've cut through layers of complexity, and the immense gain has been an increase in productivity."
Pricing: Can be requested on the website
8. Smartsheet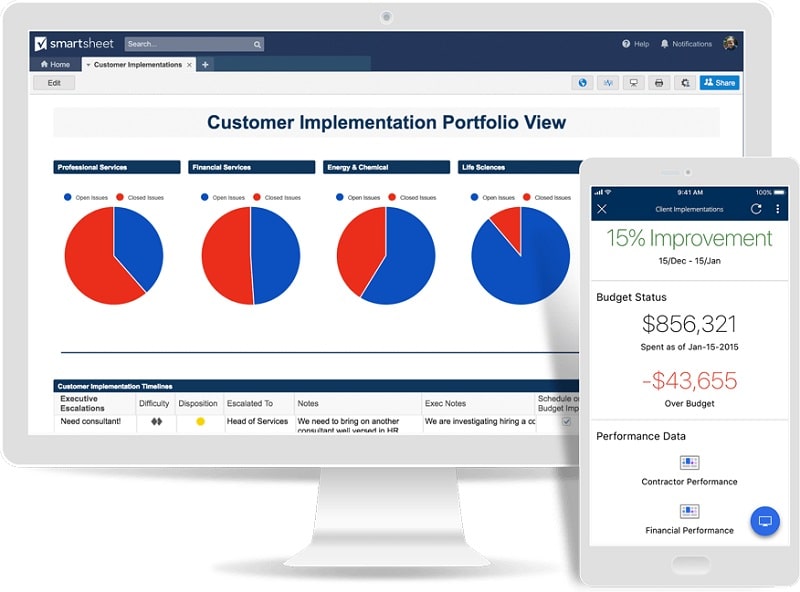 It is a leading work execution platform you need to move from idea to impact. The powerful work platform offers immense speed to the business value which results in more customers and revenue. From projects to grids to calendars to tracking, Smartsheet has got you covered with essential tools for project management.
Top features:
Visualize tasks in Gantt, card, grid, and calendar views

Attach files from Google Drive, OneDrive, Box and more

Control access with secure permission controls  
What customers say about Smartsheet: Marzio Locatelli from Trafag sensors says, "With Smartsheet everybody knows at any time where the project is, and everybody is on the boat in case something goes wrong"
Pricing: Can be requested on their website
Read on: Smartsheet Alternatives: List of 9 Work Management Software for Ultra-Productive Teams
9. Quire

If you are someone who works best with to-do lists and goals, Quire is the right tool for you. It lets you map your thoughts in a dynamic way by encouraging you to tackle big goals with small steps. Quire lets you drive your inspirations forward without losing the big picture.
Top features:
Create critical tasks to kickstart a goal

Visualize and complete tasks in the Kanban board

Clear progress statistics
What customers say about Quire: Massimo Zefferino from ZFACTOR said, "I've tried about 100 different project management tools… I LOVE the simplicity of this!"
Pricing: Can be requested on their website.
10. Zoho Projects
Zoho Projects is an online project management app that lets you create and manage your projects efficiently. You can plan your project activities, assign work, manage resources, and collaborate with your team better to get things done on time.
Top features:
Milestones, task lists, and tasks help you organize complex projects

Gantt charts provide a detailed visual of the schedule and progress

Log billable and non-billable hours using timesheets

Log issues and track them
What customers say about Zoho Projects: Paulina Mora said, "Zoho Projects has made running several projects in parallel really simple."
Pricing: Enterprise plan starts at $125/month billed annually
Read on: Zoho Alternatives – 13 Tools Your Team Will Love
11. ProjectManager

Its award-winning project management system combines powerful project planning and scheduling features with collaboration tools for both remote and in-house teams. It works well with any project management methodology. So, plan in sprints or plan waterfall projects on its interactive Gantt charts.
Top features:
What customers say about One of its users said, "Project Manager.com immediately improves the visibility of our projects. Our sales people can find out the status of our projects before speaking to customers, and we're setting it up so that our managers can log in online to see where projects are at, in real-time."
Pricing: Business plan starts at $25 per user/month
12. Scoro

Scoro is designed as an end-to-end business management software solution for professional and creative services that help to streamline work and eliminate routine tasks. From the first 'HELLO' to the final invoice, it is a single place for everything you need to know and do. Be more organized, get more work done, and be in ultimate control with Scoro.
Top features:
Plan and track work with unlimited excuses

Manage quotes, contacts, and invoices seamlessly

Track time and bill for completed work
What customers say about: Roman Zahharov said, "The greatest benefit of Scoro is the visualized dashboard. It takes only a few clicks to see exactly what you need in detail."
Pricing: Ultimate plan starts at $55 user/month
13. Asana

Every project management app review list is incomplete without Asana. It is a popular work management software teams use to stay focused on goals, projects, and daily tasks that grow business. It helps teams to get organized, stay on track, and hit deadlines all in one place. The best thing about Asana is that you can plan and structure work in a way that's best suited for you. 
Top features:
Assign tasks and share details

Set priorities and deadlines

Create visual project plans to see how every step maps out
What customers say about Asana: Ryan Bonicci from Hubspot said, "We use Asana to increase our team's efficiencies and track our projects in each stage of the marketing funnel. It's been invaluable to track all of our work and conversations in one place."
Pricing: The business plan starts at $19.99 per user per month
Read on: 11 Powerful Asana Alternatives for Project Management in 2019
14. Mavenlink

Every project management software checklist has a tool that unites project management, time tracking, resource planning, and more into one place. If you have one like that in your list as well, choose Mavenlink. It connects your people, projects, and profits on the modern software platform designed for service professionals.  
Top features:
Gain minute-by-minute control over projects

Allocate resources to projects at the speed of change

Advanced analytics and a powerful business intelligence engine

Contextualized @message feeds
What customers say about Mavenlink: Tim Pullen, a CEO of CloudTech Solutions said, "It's just a great product that stands out above all the rest. The other project management systems just don't understand me and my business like Mavenlink does."
Pricing: Professional plan starts at $39 per month per user
15. ActiveCollab

ActiveCollab isn't just another organizational tool instead it is a state-of-the-art project management tool. It is your next logical step toward better project workflow. It comes with plenty of neat add-ons making it a one-stop solution for all your business needs. It takes care of everything – task management, team collaboration, time tracking, and invoicing.
Top features:
Project info, project filters, starred projects, project templates

Task lists, subtasks, custom sorting

Time tracking, expense tracking, time estimate

Reminders, comments, mentions
What customers say about ActiveCollab: Mark Gjaltema, a digital creative said, "The extras that come with ActiveCollab give it so much power. For example, we used to pay $50 a month on top of Basecamp for Harvest to track time, but not anymore. We're happy with the switch."
Pricing: Infinite member plan starts at $299/month
16. Trello

One of the biggest considerations for choosing a project management app is being able to see the big picture to the minute details. Trello keeps track of everything and lets you work more collaboratively and get more done. Trello boards, lists, and cards enable you to organize and prioritize projects in a fun, flexible, and rewarding way.
Top features:
Collaborate on Trello cards

Add comments and attachments to Trello cards

Integrate apps directly into your workflow
What customers say about Trello: Andreas Slogar said, "Trello is simple and intuitive and fits in perfectly with our agile way of working."
Pricing: Enterprise plan starts at $20.83 per use/month
Read on: Top 17 Trello Alternatives: List of Project Management & Kanban Software
17. Avaza

The next tool on our project management app comparison list is Avaza. It is a beautiful software to run your business. As a project management app, it provides a platform that deals with effective task handling, timesheet, and expense management, quoting and invoicing, and resource scheduling.  
Top features:
Visualize, filter & group tasks both within & across projects

Schedule and edit assignments with simple drag & drop

Track time directly on tasks

Gain real-time insight into business performance
What customers say about Avaza: One of its users said, ""Avaza is the only tool I've found which allows me to manage my finances and my clients all in one tool. I love the fact that there's an app – which I can use, and my clients can use too."
Pricing: Business plan starts at $39.95 per month
18. Teamwork

Teamwork is known as online project management, help desk & team messaging software designed to maximize your team's productivity, communication, and overall customer experience. It comes as a suite of three world-class individual products that can work together to streamline your business. It is already loved by 40,000 creative teams, agencies, and enterprise businesses.
Top features:
Real-time visibility into project status and progress

Robust levels of security, training, and support

Track every detail effortlessly
What customers say about Teamwork: One of Teamwork's users Ashley says, "Finally, a project management/ task tool that can function across various departments and run my own. Teamwork is life!"
Pricing: Premium plan starts at $15/month
Read on: Teamwork alternatives for project management
19. Workzone

Looking for a project management app that is less complicated and more robust? If yes, you must try Workzone as it is the perfect project management solution in this category. It offers seamless visibility across an organization so that you know which projects are on track and what's falling behind. It is loved and trusted by big brands such as Sephora, DKNY, Reuters, Wells Fargo and more.
Top features:
Easy and secure file sharing

Mark up images, manage file versions, and secure approvals

Personal to-do lists and automatic reminders
What customers say about Workzone: Tamara from DKNY said, "If nothing else convinces you, the outstanding customer service will."
Pricing: You can request a demo and pricing on its website.
20. Paymo

Paymo is a full-featured online project management app with features such as time tracking, resource planning, Gantt charts, reports, kanban boards to make work less stressful. Whether you are a creative professional, web designer, marketer, business consultant, it is used by people from different departments all over the world.
Top features:
Advanced task management tools. Gantt charts, Kanban boards

See who's overbooked and who's available

Generate customizable time and work reports
What customers say about Paymo: Maia Mannequin, an administrative officer said, "Paymo helps us keep track of the hours put on the different projects. We use it on a daily basis to calculate our production costs and to manage the invoicing process."
Pricing: Business plan starts at $15.16/user/month
21. Brightpod

Brightpod is the last web-based software on our project management app comparison list. It makes planning and collaboration a breeze being a unified system for all your projects, campaigns, content, and website projects. It is simple, clean, intuitive, and easy-to-use. Thanks to Brightpod that your business can now have its own marketing, communication, content planning, and project tracking system.
Top features:
See everyone's tasks, content publish dates, and events on the shared calendar

Track deadlines and recurring tasks

World-class hosting, zero downtime network

Integrated with Harvest Time Tracking, Google Drive, Dropbox & Box
What customers say about BrightPod: Stowe Boyd, a researcher said, "Brightpod is a simple application that delivers minimum functionality with maximum simplicity, clean & intuitive design."
Pricing: Agency Plus plan starts at $199 per month
22. Monday.com

Formerly known as Dapulse, Monday.com is an organized way to manage tasks, content, people, and projects. It helps you plan, organize, and track in a collaborative place. Talking about the organizations using this collaborative tool, companies like Discovery, Carlsberg, McDonald's, and Fiverr are using Monday.com.
Top features:
Customizable workflows and templates

Keeps files, conversations, and checklists in one place

Visual and transparent
What customers say about Monday.com: Roee Adler from WeWork said, "Monday.com eliminates so many human errors from the process of planning and significantly speeds up our throughput as a department."
Pricing: Enterprise plan starts at $118/month (billed annually)
Got to finish projects on time? Plan, collaborate, deliver with ProofHub.
Conclusion
The aforementioned tips can be used to create project management app selection criteria for your business. If you're working solo or as an entrepreneur, it can also be used as a beginner's guide to select a project management software.
If you think we left out on important considerations for choosing a PM software, let us know about it in the comments section.