Choosing the right project scheduling software can be a daunting task with so many options available. To help you make an informed decision, I have reviewed and compiled a list of the 11 best project scheduling software in 2024 and beyond.
List of best project scheduling software
ProofHub – Best overall project management and team collaboration tool
Parallax – Best for predictive resource analysis and risk management
Resource Guru – Best for distributing workload evenly
Zoho Projects – Plan and manage multiple projects with ease
Toggl Plan – Best for time-tracking and monitoring task progress
Celoxis – Schedule complex projects with ease
Team Gantt – Visualize projects through simple charts
Smartsheet – Customizable solutions for individual project requirements.
Runn – Manage workload and plan resources in real-time.
Wrike – Manage complex projects and efficient team collaboration
Paymo – Best scheduling software for individuals, and small teams
A survey revealed that about 60% of Small Businesses experience faster, easier, and more accurate scheduling using scheduling software.
If you've ever experienced project setbacks or failures, you're likely familiar with the challenges that arise from unclear objectives, unrealistic schedules, and a lack of teamwork.
In the world of project management, these pain points can hinder progress, lead to missed deadlines, and ultimately impact the success of your projects. That's why finding the right project scheduling software becomes crucial for overcoming these obstacles and ensuring smooth project execution.
If you're currently exploring your options and comparing different project scheduling software, this article is tailor-made for you. I've done the research and compiled a list of the 11 best project scheduling software options to choose from.
What is project scheduling?
Project scheduling is the process of effectively managing workflows to ensure a steady and smooth flow of projects. Project scheduling involves planning, and effectively delegating workload among your team members.
As per a survey by Project Management Institute, globally, only 52% of projects finish at their scheduled time.
This clearly points out the importance of having scheduling software in your arsenal.
My top 11 picks for the best project scheduling software
Choosing any project scheduling software, however, will not make you successful, the right software that fulfills the individual requirements of your team will bring you the desired results.
After a thorough evaluation, I've handpicked the following software solutions for project scheduling. These tools have proven their worth in effective project planning, task management, reporting features, management capabilities, progress tracking, and real-time monitoring.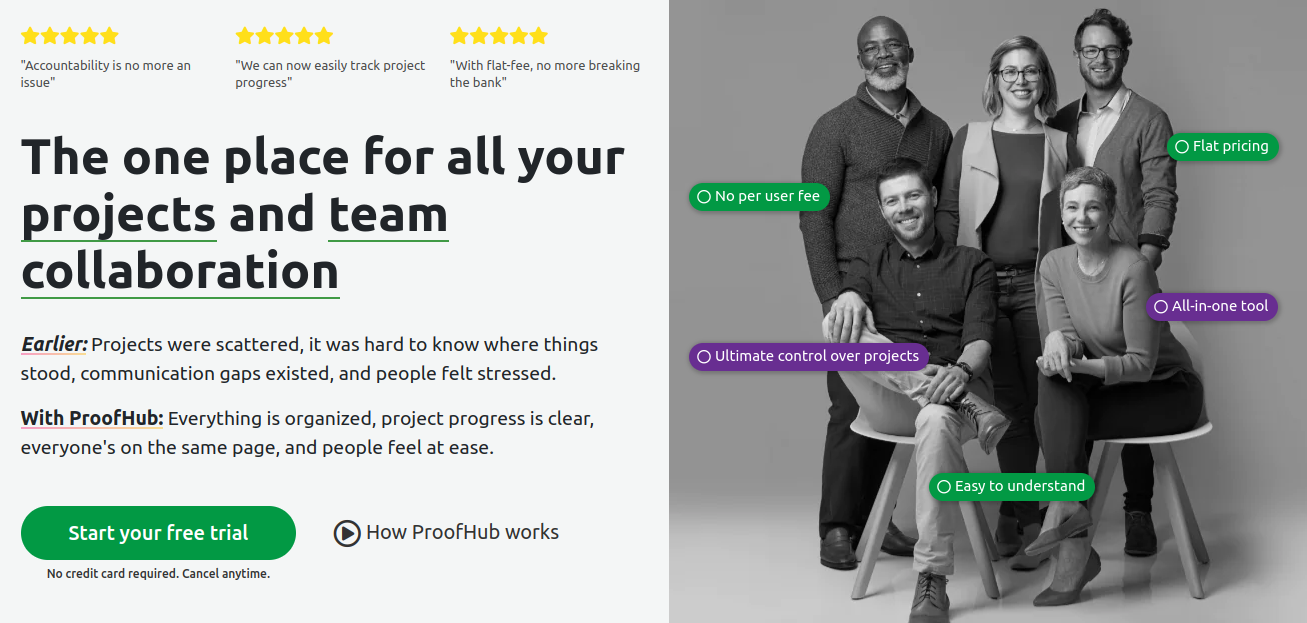 Effectively schedule tasks and ensure a smooth workflow for everyone involved in order to ensure smooth progression in the project.
With ProofHub, you can bid farewell to confusing email threads, missed deadlines, and scattered information. This all-in-one platform keeps everything you need in one place, from task scheduling to file sharing and team collaboration.
ProofHub tops the list mainly because it is not only an effective project scheduling tool but also a complete project management tool with built-in collaboration features.
The tool adapts itself as per the teams' requirements. This enables you to not only schedule your projects but also work on the same platform.
Check what our users say about scheduling about ProofHub –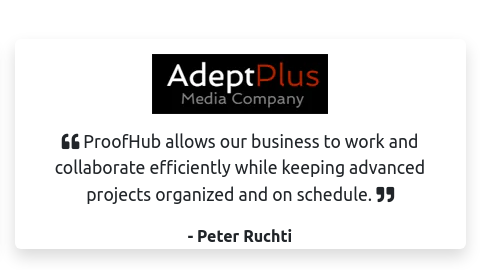 Key Features
👉 Schedule tasks with ease
Laying out a proper road map is essential for smooth task progression. Avoid uneven workload distribution and eliminate stress on your team by effective task scheduling.
You can create new tasks, re-schedule existing tasks, and set deadlines. With a transparent platform, your team can easily identify bottlenecks and rectify them with ease. The intuitive interface allows modifications to be done using the drag-and-drop feature which makes the procedure very simple.

👉 Ensure your team is always on the same page
For the effective completion of projects before deadlines, interaction and transparency among team members are essential.
Proofhub offers a shared calendar view. This means your entire team can coordinate effectively. Built-in communications and collaboration features help your team work towards their common goal. Quick and real-time communication helps in speedy and effective decision-making, timely updates, help in effectively managing deadlines. Online proofing eliminates the need to switch between multiple tools.
You can even assign tasks to multiple team members. For tasks that require repetition, you can set up recurring tasks. This will lower the workload on your team, and help them spend their time on other important tasks.
You can effectively use @mention for directly notifying the person you want to convey the information. This comes in handy during group chats, discussions, and other comments.

👉 Easily manage and adjust project schedules
When you schedule the tasks in a project effectively, you can be assured that there will be no delays. You can proactively identify scheduling conflicts and make the necessary adjustments quickly. Further transparency and simple task views allow your team to identify bottlenecks and take corrective actions quickly. Gantt Charts in PtoofHub help you identify the workload of your team members. Task dependencies, milestones, notifications, and reminders help your team manage deadlines effectively and achieve high productivity.


👉 Set priorities right from the start
Setting task priorities is necessary for managing deadlines and making the team aware of their responsibilities.
With ProofHub, you can assign task labels for various tasks to enable your team to quickly identify the importance of each task. This will provide an indication to your team members about which tasks they need to complete first. You can even create specific labels for a particular project.
For effective management of available resources, you can create tasks with custom fields. Custom workflows help you plan tasks effectively and quickly as per the individual requirements of different projects.

Read more: Best resource scheduling software for project managers 
👉 Efficient time management and reporting
Effective analysis of time spent on tasks and feedback are necessary for the continuous improvement of your team.
For this reason, ProofHub provides you with custom reports for a comprehensive idea of the use of resources, the performance of team members, and areas where improvement is possible. Such automated reports are also useful for submitting detailed reports of projects to clients. ProofHub provides teams with a system for managing tasks and projects that helps them stay on track and avoid surprises.
➡️ Pros
An all-in-one platform effectively helps your team members work efficiently.
Assign tasks to multiple team members.
Time tracking is built-in with the option for both manual entries as well as a timer.
The learning curve is very simple.
Flat pricing allows you to add as many users as you want without any additional charges.
Proofing on the centralized platform eliminates the need for switching between multiple apps, and multiple downloads.
Announcements feature can be used for employee recognition.
Complete control over tasks and teams.
Intuitive and user-friendly interface.
➡️ Cons
Not suitable for small businesses or individual users.
Notifications are sometimes overwhelming.
➡️ Pricing
ProofHub offers flat pricing for both plans. This simply means you add as many users as you want without additional cost. This facility is not available in a number of different tools, so you end up paying huge charges if you have a big team.
The essential plan starts at $45 per month (billed annually).
The ultimate control plan starts at $89 per month (billed annually).
Stay organized, meet deadlines, and collaborate effortlessly. Start your free trial now. No credit card required. No hidden costs!
2. Parallax

I consider Parallax a great project scheduling software because of its ability to eliminate a lot of manual work and lower the risks you actually take in the scheduling process. Automation helps in optimizing and boosting the efficiency of your team. This helps in the predictive leverage of cost estimates and helps organizations stay productive.
Although the tool has a steep learning curve, the ability to integrate your existing tools comes in as a slight relief.
Key Features
The task lists available in different views help in the quick interpretation of the work schedule.
The powerful search helps in quickly analyzing data and provides you with reports without the need to spend time manually.
Transparency among different teams helps in an effective workflow.
➡️ Pros
Ability to quickly see the impact of scheduling on project margin.
Generate different types of reports with ease.
Regular updates for improving UI.
➡️ Cons
The terminology used in the dashboard will be confusing and tough for first-time users.
Exporting and sharing data is quite complex.
The learning curve is steep and may take a long time for your team members to get accustomed to it.
➡️ Pricing
For pricing details, you need to fill up a form and wait for a long time. There is no immediate response and no transparency in the pricing details.
3. Resource Guru


When scheduling projects, the major concern is the effective distribution of workload. Resource Guru provides you with a quick and simple analytical tool that indicates the workload on your team members. You get complete visibility of where your team members are working, and thereby, manage their workload effectively.
However, Resource Guru is just limited to scheduling. There is not much this tool does when it comes to monitoring the progress of various projects.
Key Features
Effective planning and scheduling of projects accurately to minimize delays and failures.
A single window task view that effectively displays the entire schedule of the project.
Reschedule, change plans, and modify work plans as per the requirements.
➡️ Pros
Drag and drop feature for effectively scheduling projects with ease.
Scroll task views in any direction to get a detailed view of the project schedule.
Effectively differentiate between billable and non-billable time spent by your team.
➡️ Cons
Apart from scheduling, the tool does not support other features of project management.
Improper permission level makes it difficult for team members to correct any mistakes.
Improvement is needed in the export function also.
➡️ Pricing
Plans start from $4 per user per month, however, $2 additional per resource.
The master plan costs $10 per user per month, and $5 additional per resource.
These variations in pricing increase the prices significantly when it comes to a big team.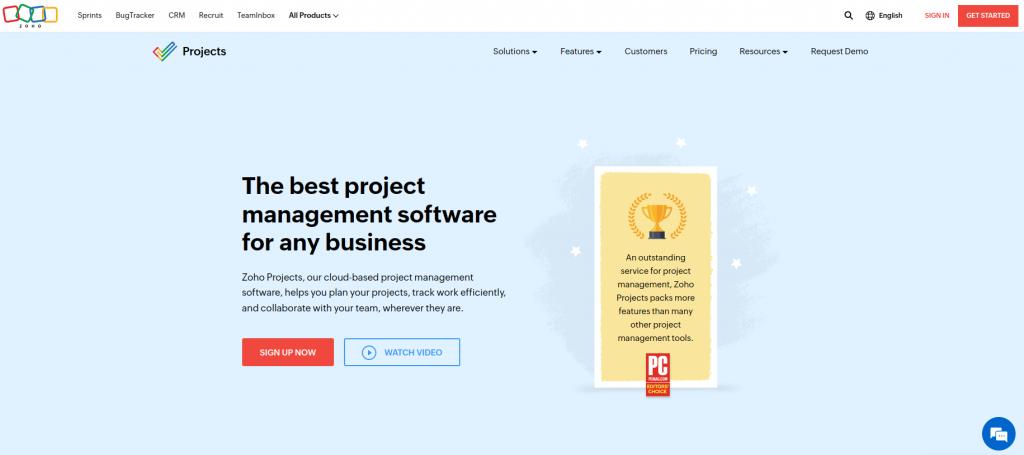 Zoho projects come in handy when you are managing multiple projects. Gantt Charts and Kanban boards help you to visualize the schedule of the project in detail. This software finds wide application in IT project companies that have multiple handoffs. Further, you can easily access the entire Zoho environment such as the Zoho financial suite, CRM, books, etc.
However, Zoho Projects are best suited for small to medium-sized organizations only.
Key Features
Calendar view shows you all the upcoming schedules quickly and effectively so that nothing falls into the crack.
Setting up task dependencies will ensure that your team members know the exact progression of tasks.
Setting up milestones, notifications, and reminders will help team members to understand task progression and deadline management.
➡️ Pros
Repetitive projects can be automated to save time for your team members.
Drag and drop feature in Kanban boards makes assigning tasks simple.
Schedule tasks with precision and not just predictions.
➡️ Cons
The User Interface is not friendly.
Poor automation and need for manually repeating tasks.
Customization options are very limited.
➡️ Pricing
Zoho offers multiple plans. However, all plans have per-user pricing, so scaling up can be an issue. The basic plan starts from $20 per user per month, while the ultimate plan costs $65 per user per month.


Toggl plan is the most visually pleasing tool in our list of the top project scheduling tools. With simple visualization, it becomes a delight for the project managers to quickly schedule as well as monitor workload. You can easily track the time your team spends on various tasks for effective deadline management.
However, if you want to export reports outside the platform, it might become difficult to do so. Further, some users have also complained about issues with daily report generation.
Key Features
Effective time tracking for your team members enabling them in managing deadlines and also for quick client invoicing.
Quickly view the workload of your team, and adjust any conflicts arising in the scheduling process using simple drag and drop.
Color code your milestones to effectively allow your team to view priorities and manage important tasks with ease.
➡️ Pros
Rescheduling or modifying tasks is simple.
Suitable for medium-sized teams that are growing at a fast pace.
In-app notifications for effectively conveying changes to your team.
➡️ Cons
No recycle bin! – Accidental deletion of data leads to permanent loss.
Recurring tasks not available.
Setting task deadlines on the basis of hours and minutes is clumsy.
➡️ Pricing
The basic plan starts from $8 per user per month, while the premium plan starts from $13.
6. Celoxis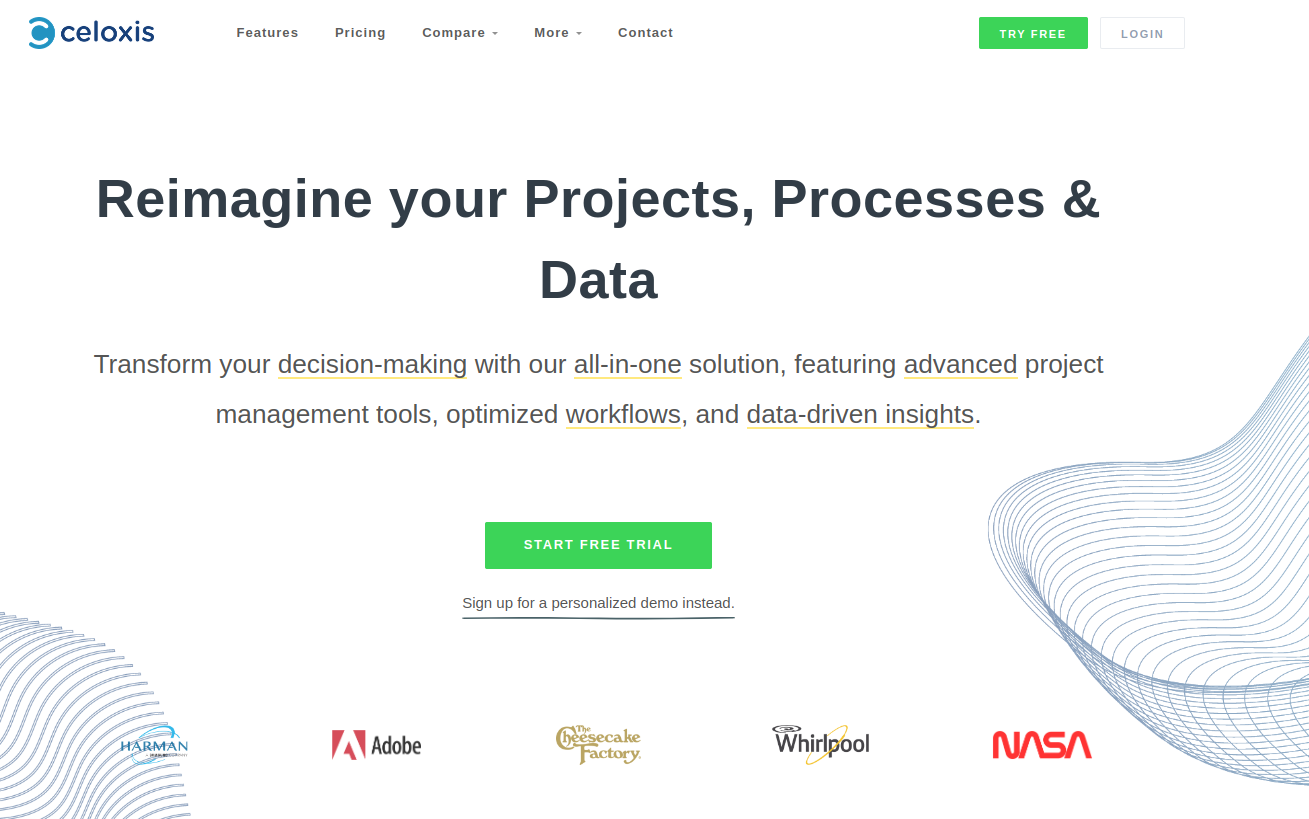 I found Celoxis as a power-packed scheduling tool with effective solutions such as critical path analysis and project health indicators. Further, the tool is great for a small company with quick onboarding and a minimum learning curve. You can effectively manage complex projects by breaking them down into small tasks and sub-tasks.
However, one thing that affects the overall performance is that the tool is limited to working with only team members who have access to resources to use this tool. This effectively renders the tool useless to additional members, meaning you can face issues when working with a big team or clients.
Key Features
Receive and organize requests for tasks and projects from multiple sources in order to match the KPI of the business.
The scheduling automatically adjusts itself as per the geographical location of different users in order to match their time zones.
Customize various fields on the basis of currency, time, and even formulas for quick and effective working.
➡️ Pros
Automation for quickly managing tasks as per changes in real-world conditions
View the entire workload of your team in a single screen
Timesheets for effective and quick billing and invoicing.
➡️ Cons
No option for limiting the resources that you do not want to use.
There is no 'undo' feature, sometimes resulting in a permanent loss due to accidents.
Reports are inflexible and do not have custom fields.
➡️ Pricing
The cloud working model starts from $22 per user per month, which is a bit pricy for this tool.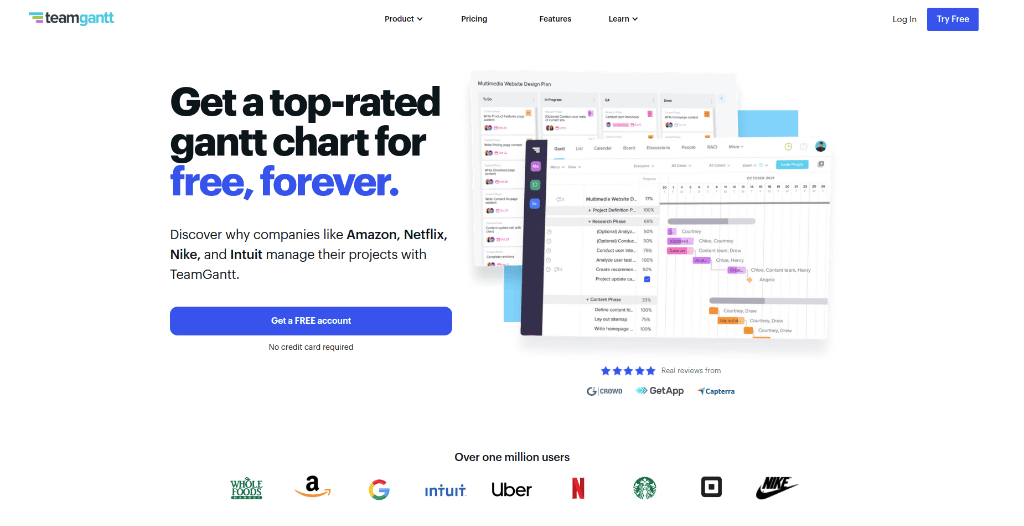 Team Gantt is widely acknowledged for the simple and effective Gantt chart. You can easily create new tasks with ease and get a wide picture of the project for managing and scheduling effectively.
However, the costs are a little over budget for individual users. The unlimited project plan for enterprise starts at a whopping $99 per month per manager. In case you are a small business with a single project manager taking care of more than 5 projects, then this tool would not be budget-friendly.
Key Features
Simple, quick, and effective drag-and-drop feature for effectively scheduling tasks.
Identify bottlenecks quickly and eliminate conflicts by viewing multiple projects on the same chart.
Effective workload management for your team enables a steady and smooth progression of your project.
➡️ Pros
Inviting people outside the business to view the project details is possible.
Share project updates with external people without the need to log in.
The calendar sync feature works very well.
➡️ Cons
Resizing the chart is a hassle and the task column does not have the option of resizing at all.
Navigating between multiple projects is difficult.
Individual views of team members and their workload capacity are not available.
➡️ Pricing
The basic plan starts from $19 per manager per month. This plan is limited to a maximum of 5 projects. The enterprise plan offers unlimited projects with a pricing of $99 per month per manager. This makes the tool very costly for small and medium-sized businesses.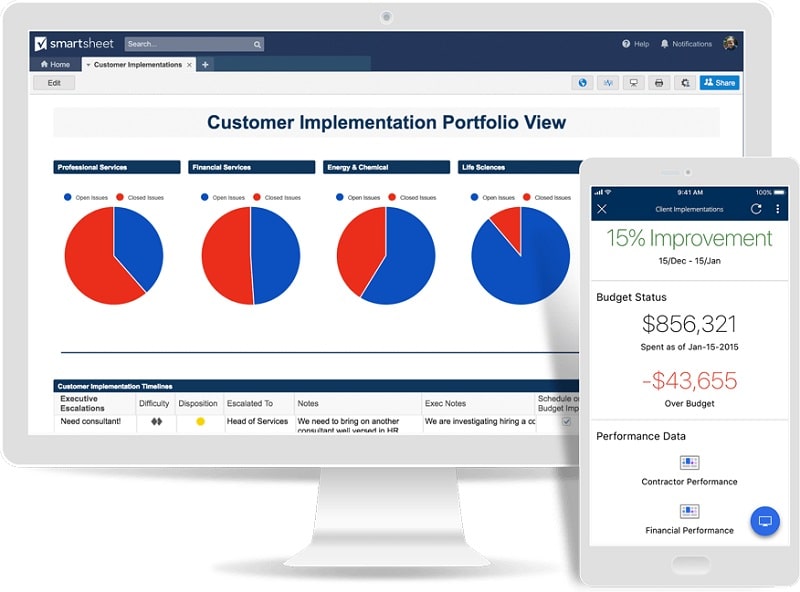 I found this tool suitable for individuals or small teams just scaling up their businesses.  You can manage multiple projects and plan effectively using the dynamic reporting feature and even customize the platform as per the requirements of your team.
However, there is quite a steep learning curve, and can be overwhelming for first-time users. Given that this tool is best suited for small businesses, the user interface must be simplified.
Key Features
Smarsheets quickly adapt as per the client's requirement making this tool capable of real-time collaboration and generating reports with custom fields.
Timesheets for effective tracking of time spent by your team on various tasks, and improving areas of low performance.
Automating repetitive tasks for effective management of time spent by your team on manually repeating tasks.
➡️ Pros
Track, manage budgets, and forecast requirements on a single page.
Teams with remote members can work efficiently because of the shared sheet.
Team members understand their accountability to deadlines, minimizing delays.
➡️ Cons
The overall design is not user-friendly.
The mobile version does not work properly.
Assigning tasks automatically is not available.
➡️ Pricing
The pro plan cost $7 per user per month. However, this plan is limited to a maximum of 10 users, but there is no restriction on the number of viewers.
9. Runn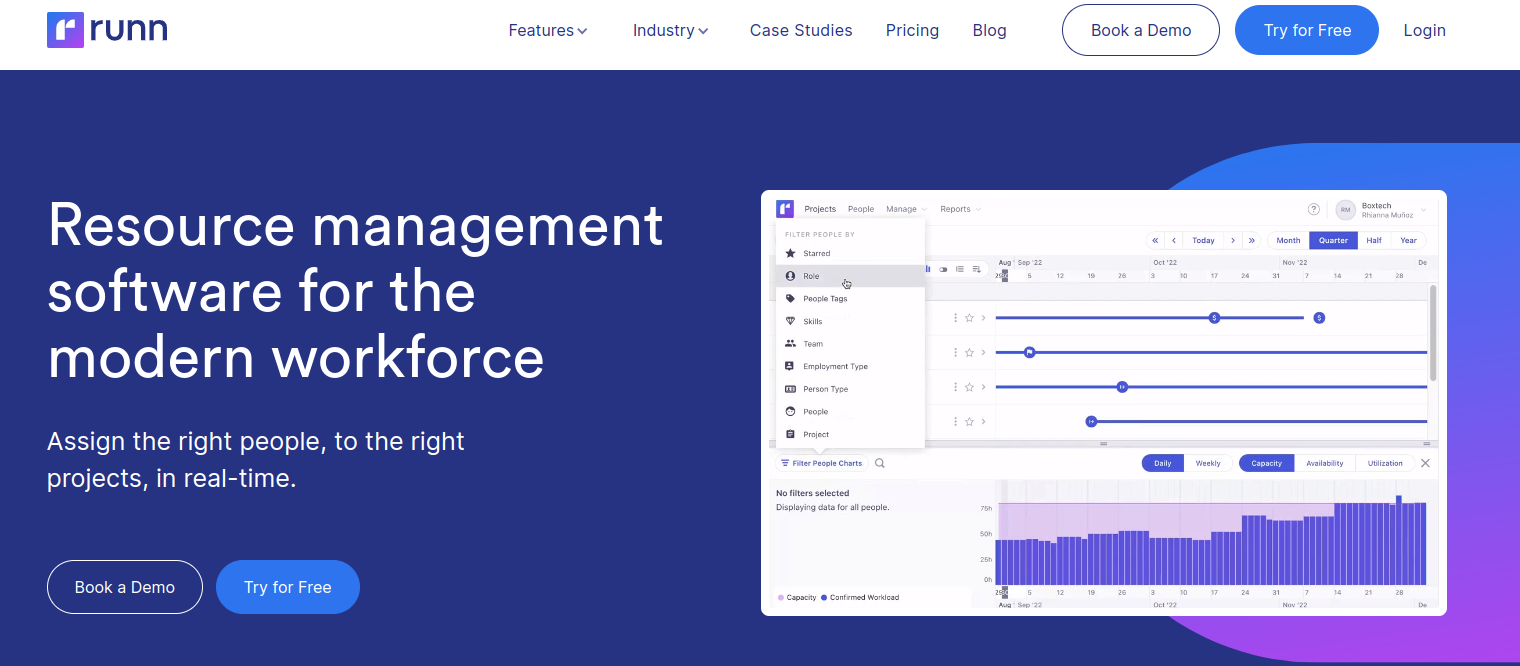 Runn offers the best workload management when it comes to project scheduling software. So when you are scheduling tasks, you need not worry about overburdening your team. With a simple interface, you can easily see the workload of your team members.
However, an online review by a user states that permission levels are a big issue. This creates hassles and lowers the productivity of your team members.
Key Features
Filter the best member for any task by using the powerful search option available to ensure enhanced productivity.
Precisely schedule tasks without overburdening your team with an overall view of the task distribution in your team.
Get quick and real-time insights into the task progression and notifications about any changes or modifications in the schedule.
➡️ Pros
Real-time billing projects that are essential for effectively managing businesses.
Simple interface, easy-to-use for team members with little experience using scheduling software previously.
Plan long-term tasks for your business with ease.
➡️ Cons
Built-in time tracking is not available.
The customization option is limited.
Setting up national holidays and other holidays is sometimes complicated.
➡️ Pricing
Pricing starts from $8 per user per month. However, there is a limitation to the maximum number of users you can add.

Wrike helps you in the planning of complex project activities. This lets you easily align your team to achieve all business goals. Further, Wrike is tailor-made for medium to large enterprises that run multiple projects simultaneously. Wrike provides you with advanced reports for effectively understanding the capacity of various team members.
However, there are multiple online reviews about poor customer service and lack of training.
Key Features
Serves as a unified platform for the entire team to work together, and delegate tasks effectively.
Prioritizing tasks on the basis of importance helps in completing tasks that are nearing the deadline.
Transparency helps team members have complete visibility over the task progression and rectify bottlenecks early.
➡️ Pros
Custom dashboards help in managing multiple projects with ease.
Time tracking helps in precisely recording the time taken by the team on various tasks.
Report generation is simple and easy to understand.
➡️ Cons
There are not many customization options in forms.
Large teams suffer from problems related to permissions and governance.
Reporting feature is poor with not many functionalities.
➡️ Pricing
The basic plan starts from $9 per user per month, while the business plan costs $24 per user per month.
Looking for better options other than Wrike, read – Wrike Alternatives to Try for Successful Project Management
11. Paymo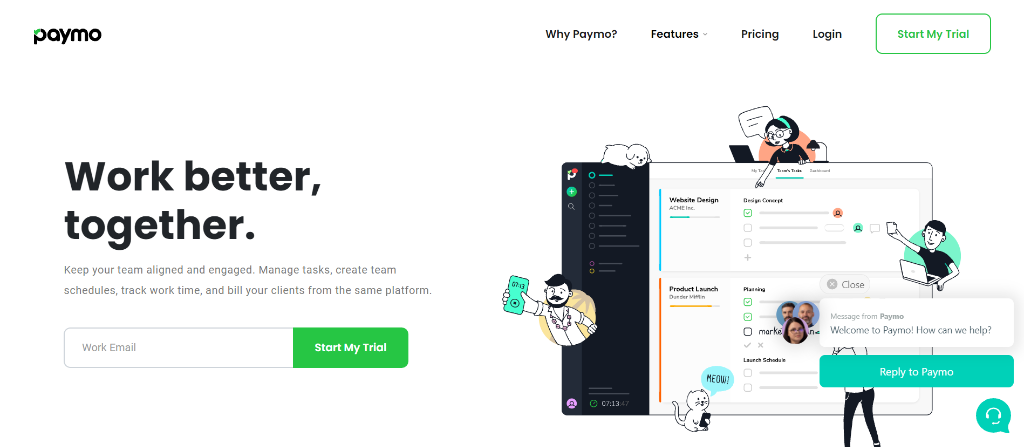 Paymo is mostly suited for small to medium-sized businesses. The free and basic plan would be best suited for individuals who want to schedule their daily tasks efficiently. The time analysis on the basis of the budget by this software helps you to predict how much you should charge for your future projects.
However, exporting reports is a hassle in Paymo. You can export only in pdf format, as stated by a disappointed user.
Key Features
The platform ensures your team members can work on multiple projects at the same time, without missing deadlines on any of their tasks.
A dedicated dashboard for generating reports with custom fields as per the requirement of the client.
Have your entire team on the same page through quick discussions on the platform.
➡️ Pros
Minimum learning curve and your team can start using the tool effectively with ease.
Built-in time tracking system for efficient and precise management of time-based activities and invoicing.
User-friendly interface, and allows users to effectively manage multiple projects.
➡️ Cons
There is no option to invite guests or collaborators. You need to add them as an additional user.
Customization options are very limited.
Mobile users face multiple issues.
➡️ Pricing
The basic plan starts from $5 per user per month. However, this plan is limited to 100 tasks and time entries are limited to 500.
How to pick the best scheduling software?
Let me walk you through how I picked the perfect project scheduling software. First, I checked out user ratings and satisfaction reviews to find highly recommended options. With my project management experience, I created a list of crucial features that any good software should have.
Using this checklist, I compared different tools and narrowed down my choices to the top contenders. It was all about finding the right fit for smooth task management and collaboration.
✔️ User Interface
The software that you choose must be simple to use with a clean work interface that makes the users work on all the features with ease. The more complex the interface, the more difficult it becomes for your team members.
✔️ Value for money
The features you receive for the money you are paying. Tools that offer flat pricing are always better than the ones charging on the basis of users. Also, watch out for small features that may make a big impact when it comes to overall project management.
✔️ Customer support
There will be times when you will need professional help. So it is better to choose a tool that offers a quick and effective solution to your queries. This will further prevent any unwanted waste of time.
✔️ Applicability of the tool
Before selecting a tool, be sure to consider all the features of the tool. Choosing a tool that not only specializes in scheduling but also in overall project management will improve your ROI.
✔️ Minimum learning curve
Try to ensure that the tool has a minimum learning curve. This will help your team in quick onboarding. You do not want your team to spend a lot of time learning how to use the software.
What is the importance of project scheduling software?
"A plan is what, a schedule is when. It takes both a plan and a schedule to get things done." – Peter Turla
With a focus on effective deadline management and the ability to handle multiple projects, project scheduling software is quickly becoming the project manager's most trusted companion.
In fact, I never start any project without effective planning and strategically organizing my resources. One thing I learned and observed over the years is the important role planning and scheduling play in the success of any project.
Of course, the primary importance is holding the project together and ensuring steady progress, other importance includes –
Streamlined Planning: Project scheduling software helps you effectively plan your projects by providing a centralized platform to define project goals, objectives, and milestones. You can break down tasks, set dependencies, and allocate resources, ensuring a clear roadmap for project execution.
Efficient Resource Management: With project scheduling software, you can optimize resource allocation and avoid overbooking or underutilization. You can easily view resource availability, assign tasks to team members, and balance workloads, ensuring that everyone is working at their full potential.
Clear Task Prioritization: Project scheduling software allows you to prioritize tasks based on their importance and urgency. You can set deadlines, establish task dependencies, and track progress in real-time. This helps you stay focused, meet deadlines, and ensure that critical tasks are completed on time.
Enhanced Collaboration: Collaboration is a breeze with project scheduling software. You can create shared project calendars, facilitate communication, and provide a platform for team members to collaborate on tasks. This fosters teamwork, improves coordination, and promotes efficient information sharing.
Real-Time Progress Tracking: Stay on top of your projects with real-time progress tracking offered by the project scheduling software. You can monitor task status, track milestones, and identify potential bottlenecks early on. This visibility allows you to make informed decisions and take corrective actions as needed.
Improved Time Management: Project scheduling software helps you manage your time effectively by providing a clear overview of project timelines and deadlines. You can identify critical paths, allocate time accordingly, and adjust schedules when necessary. This ensures that tasks are completed on time and project milestones are achieved.
Accurate Forecasting: With project scheduling software, you can generate accurate forecasts based on historical data, task progress, and resource utilization. This helps you make data-driven decisions, estimate project timelines more accurately, and manage expectations with stakeholders.
Schedule projects with ease using ProofHub
With powerful scheduling and effective strategy, you can start achieving your project goals without burning through resources unwantedly. Effective deadline management ensures that your team does not go through stress and burnout.
With ProofHub you can leverage the right resources that can streamline your project progress and minimize delays. This cutting-edge tool offers powerful scheduling features, enabling you to create well-structured project timelines and allocate tasks with ease.
End your search for project scheduling software with ProofHub. Sign-up today! (14-day free trial, no credit card needed)
Frequently Asked Questions
What is project scheduling in software project management?
Project scheduling in software project management refers to the process of determining the timeline, sequence, and allocation of tasks and resources to ensure the timely completion of project activities.
Which software is used for project scheduling?
Popular software for project scheduling includes ProofHub, Smartsheet, Team Gantt, Toggl Plan, etc. These tools help plan and manage project timelines, resources, and tasks efficiently.
What key features can I look for when selecting scheduling software?
Ease of use, customizable scheduling options, calendar integration, automatic reminders, multi-platform accessibility, team collaboration features, reporting and analytics, mobile app support, and scalability for future business growth.
What is task scheduling software?
Task scheduling software is a tool that helps manage and organize tasks, appointments, and deadlines, allowing users to efficiently plan, track, and prioritize their work and activities.
Is Gantt chart a scheduling tool?
Yes, a Gantt chart is a scheduling tool commonly used in project management to visually represent project tasks, their durations, and the dependencies between them.
Why do we need scheduling software?
Scheduling software helps streamline and automate the process of managing appointments, tasks, and resources, resulting in improved efficiency, organization, and time management for businesses and individuals.
What are some common project scheduling techniques?
Some common project scheduling techniques include Critical Path Method (CPM), Gantt charts, Agile methodologies, and Kanban boards.