Toggl is a popular time-tracking app but if you want a more powerful tool for time tracking, you'll have to shop around a bit. In this post, we'll see the alternatives to Toggle, despite its beautiful and responsive UI, it may not be the best tool for you. Toggl time tracking offers a simple and friendly solution for tracking your time. It's web-based but does have apps for desktop, iOS, and Android that will sync together in real time.
Toggl is there for you, but its free version lacks many features which are extremely required in project management, for example, automatic timesheet management, receiving reports straight to your e-mail, and more. So, which is the right time tracking tool for you and your business? Look no further. We've put together a list of tools that will be a better fit than Toggl for your business.
"Add more hours to your day with time management apps. Try ProofHub for free!"
Alternatives to Toggl
Toggl competitors might seem pretty similar, each comes with its own benefits and drawbacks. Let's have a look:

ProofHub comes across as the complete project management tool! It lets teams know how they are are utilizing their time and for managers to get timesheets ready. You can record every minute your team members are spending at work so that they can manage time efficiently. Also, bill clients accurately using the time data.
Special features:
Set time estimates

Track time spent on tasks using a timer

Use timesheets to record time data

Export timesheets for invoicing

Time reports for minute-by-minute details

Mark timesheets as private
Pricing: For information on our pricing plans, kindly visit our pricing page. Sign up now for FREE trial!
2. Hubstaff
Monitor employee activities during work hours to create an invoice and bill your clients on the basis of hours spent. Hubstaff is a time tracking software to track time through simple desktop, web, and mobile apps, then manage invoicing, reporting and more through one dashboard. Available for Mac, Windows, Linux, and iOS.
Special features:
Idle time indicator

Allows tracking users via screenshots

Multiple Integrations

Record employee hours

GPS tracking

Accurate timesheets
Pricing: Hubstaff time tracking software is FREE for 14 days with full features. The premium plan is available at a monthly rate of $10 per user, and $8.25 if paid annually!
3. Rescuetime

Rescue Time is a similar concept to Toggl but offers more advanced features. To monitor how productive your team is performing, RescueTime is an excellent choice. It easy to get distracted while working, so you can set goals on this app so you can focus and be more productive. In addition, you can enable FocusTime, wherein you won't be able to visit any "distracting" websites. It gives you insight where the hours and minutes of your day are spent.
Special features:
Set alerts to know your time spent on tasks

Log highlights about what you've accomplished each day

Block distracting websites

Complete control of time measurement
Pricing: RescueTime offers two tiers of service: Lite (free) and Premium ($9 per month or $72 per year).
4. ManicTime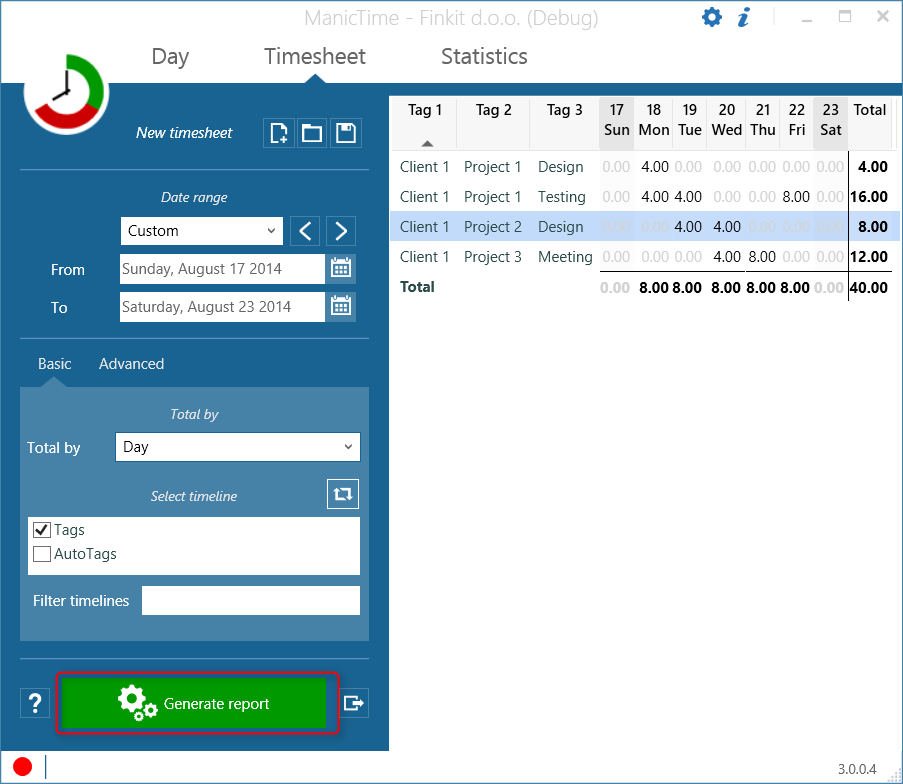 ManicTime is a great way to keep track of your work while you are on the go. You will easily know who is working too little and too much. With ManicTime, figure out how much time you spend on projects to bill your clients accurately. It will also remember which websites you've visited and you've worked on which documents.  
Special features:
Automatically record your computer usage

Stopwatch to manually track your time

Auto-tagging to create work activities

Collect all data and generate company-wide reports

Easily integrate with other systems

Automatic categorization
Pricing: ManicTime gives a free trial. For pricing information visit their website
5. Mavenlink

Mavenlink is a service (SaaS) project-delivery system that automates business best practices for service providers. The cloud application provides a single workspace for executives, project managers, team collaborators, and contract resources. Mavenlink clients reside in more than 100 countries.
Special features:
Integrations with third-party applications, including Google, Microsoft, Salesforce, JIRA, and Zendesk

Track real-time project fees, costs, and expenses

Interactive and expert built reports

Task management with multi-level WBS

Role-based resource planning
Pricing: Mavenlink offers several plans to meet your needs. Project Management with Financials $39/month per user (annual contract) and Collaborative Task Management
$19/month for five users. Try any plan for free today!
6. Timedoctor

Time Doctor is time management software for employees that track time and activities. It is a valuable tool for distributed or remote teams. With smart features to keep users focused on important tasks, Timedoctor is used by many businesses.
Special features:
In-depth reporting

Employee monitoring

Live support and set up

Automated screenshots help track activity

Chat monitoring

Track time to clients and projects

Detailed reports, timesheets, and more
Pricing: A $9.99-per-user-per-month custom plan that gives access to the whole Time Doctor suite.
7. Timeneye
Easily start and stop your timers on the go. In just a few clicks you can increase your personal and group productivity, save time, and manage your projects. With time tracking features in Timeneye, you can easily see where time is being wasted to reallocate your time more effectively.
Special features:
Billable time entries

Team status monitoring

Project status monitoring

Integrations

Automatic time capture

Overtime calculation

Manual and automatic time tracking
Pricing: Pricing plans are designed to suit every need. Pro plan at $6/user /month paid yearly. Sign up today and start a free trial!
8. Harvest

Harvest operates more like a stopwatch. It is a powerful time tracking tool that includes invoicing. This system is trusted by 50,000+ business.  Harvest has apps for iOS and Android devices, Macs, as well as a web app that comes with extensions for Chrome and Safari.
Special features:
Keep projects under budget

Invoices based on billable hours

Start and stop timers

Integrate with apps you already use

Review and approve timesheets for your team weekly
Pricing: Harvest offers subscription pricing and is available in three pricing plans – Free, Solo, and Team, at $12/person per month.
9. Qbserve

Qbserve gives you a picture of your time spending patterns. It provides instant feedback on your performance by watching the sites and apps you use.
Special features:
Easy time analysis

Generate PDFs with invoices

Project time automatically based on web pages

Dynamic icons

Real-time performance feedback and notifications

Data is stored locally

Scheduled data export

Fully automatic
Pricing: One-time charge of $40 for Qbserve.Try it free for 10 days.
10. Everhour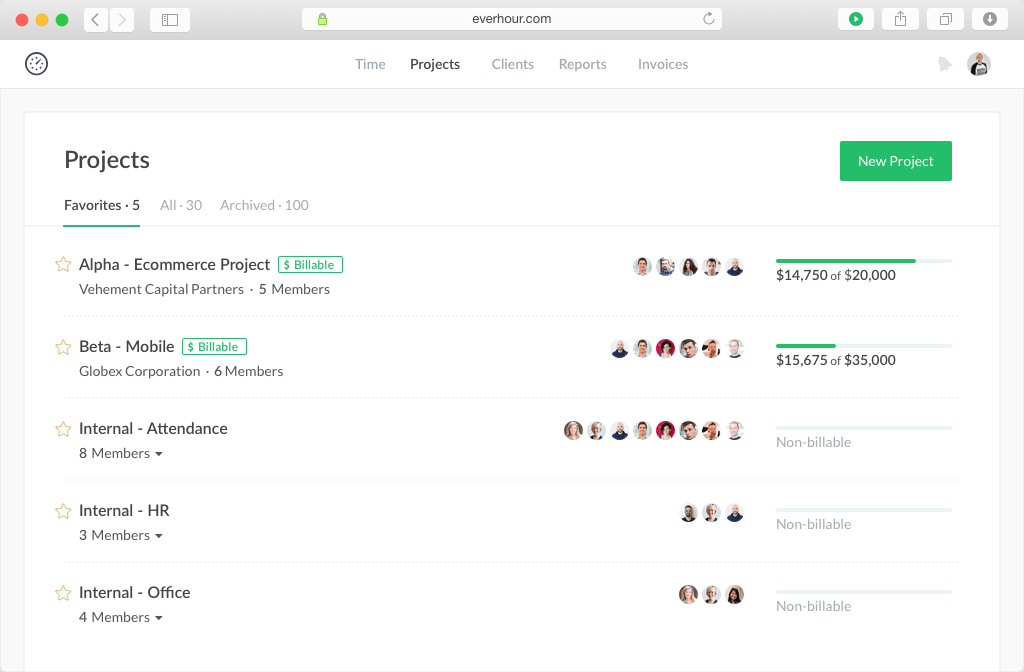 Trusted by over 2,000 businesses in more than 70 countries, Everhour has a better UI compared to Toggl. Bring time tracking in your work environment to see who is working more, build reports, and track time right away.
Special features:
Integrates with a number of project management tools

Projects budgeting

Resources planning

Expenses tracking

Detailed reports and client invoices
Price: $8/month for a single user or $5 per user/month for teams.
11. Tick

This application tracks your time against your budgets. Tick is pretty similar to RescueTime; but it's primarily meant for companies who employ on-site, hourly workers. It turns time management software into a streamlined communication tool.
Special features:
Convenient time tracking within Chrome

Get instant budget feedback in the timecard

Project budget tracking

Set recurring projects

Export reports to Freshbooks, QuickBooks, or as CSV

Powerful reporting
Price: No contracts. Free for 1 project or $149 for unlimited projects.
"See if ProofHub is right for your business with a free, fully functional trial. Try Now!"
12. Clockify 


Clockify is a free toggl alternative to Toggl that offers a lot more than the popular time tracking app. You can track time using the automatic timer or enter time data manually. All your time is beautifully displayed in time reports that can come handy in managing your productivity. 
Special features:
Flexible time tracking options

Customizable time reports

Available as Desktop, Web, and Mobile App

Free for unlimited users 
13 TimeCamp

As an automatic time tracking software, somewhat like Harvest, TimeCamp comes across as a great alternative to Toggl. One of the best things about TimeCamp is its long list of app integrations, which includes names like Asana, ClickUp, Evernote, GitHub, Salesforce. The tool also gives you an easy option to migrate all your data from Toggl, without any trouble.
Special features:
Automated time tracking

Website and app usage monitoring

Idle time tracking

Screenshot tracking

Keyword-based tracking 
14. DeskTime

DeskTime is another alternative to Trello that is completely secure, and easy to use. One of the unique features of DeskTime is its title-specific time tracking. You can track team activities in specific programs, like Excel, Word, Photoshop, etc.
Special features:
Offline time tracking

Screenshots

Cost calculation and billing 

Pomodoro timer

Custom reports

Over to you
What do you consider while choosing the right software for your business? Make a list of your requirements and start using the right software.
Subscribe to ProofHub
Get the latest posts delivered right to your inbox.