Zoho is a popular project management and CRM software that needs no introduction. Be it multi-channel communication, taking care of multiple tasks, CRM insights – Zoho offers a host of features that can easily cater to the needs of large as well as small enterprises.
Oftentimes, people look for different things such as flexibility, usability, and third-party integrations while looking for a wholesome tool for their business. If you think that Zoho isn't meeting your expectations, here are some Zoho alternatives that are worth considering.
List of Zoho Alternatives: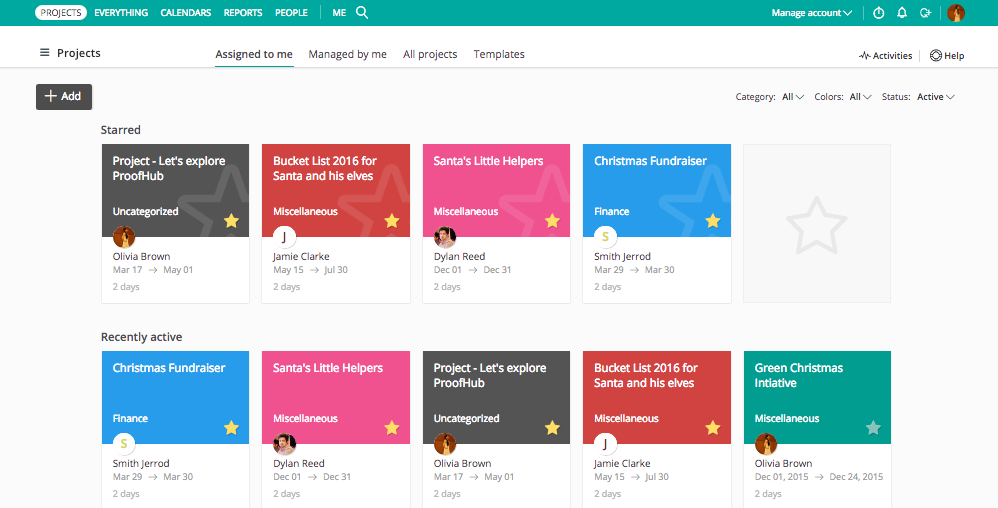 Similar to Zoho, ProofHub is an all-in-one project management and collaboration tool making it one of the best alternatives to Zoho. Not just limited to project management, teams related to development, marketing, and other professions are also using it to strengthen their business.
Special features:
Workflows and kanban boards simplify task and project management
Brings clarity in the feedback-sharing process with online proofing
Get clear project insights with dynamic reports
Plan projects, manage resources efficiently with Gantt charts
The interface is available in more than half a dozen languages including English, French, German, Portuguese,
Spanish, and Polish
Pricing: Essential plan starts from $45/month billed annually
Looking for a reliable Zoho alternative?
2. Scoro


Scoro is a great Zoho alternative as it provides a comprehensive list of features one needs to run a business efficiently. From projects to team collaboration, invoicing to reporting, time tracking to budgeting, it's a single place for everything you need to know.
Special features:
Plan and track work with unlimited projects
Manage your project portfolio by configurable statuses (e.g. in progress, completed) and tags (e.g. type,
department, market, etc).
Manage quotes, contacts, and invoices seamlessly
Real-time overview and automated reports
Schedule meetings in a shared team calendar, and link all events to projects for a complete overview
Get a visual overview of your sales funnel and define closing probability rates for each stage in your pipeline.
Pricing: From $22 user/month
3. LeadSquared
LeadSquared CRM is the best Zoho alternative designed for high-velocity sales. It is a comprehensive sales execution platform that supports digital onboarding and marketing + call center + operations + field force automation.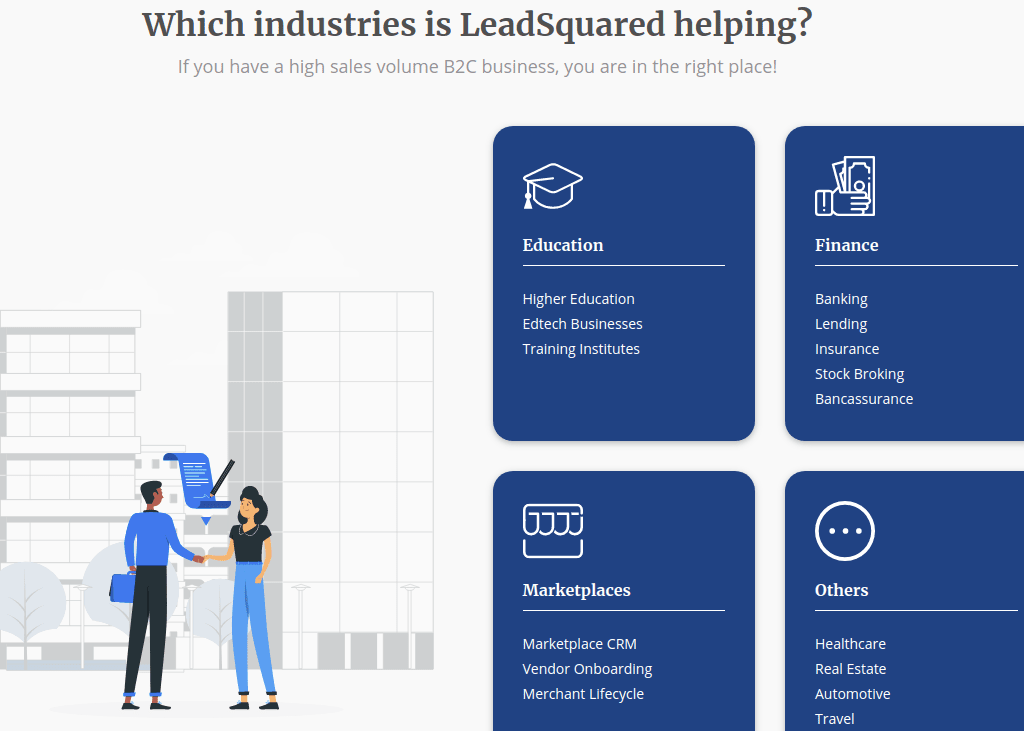 Special features:
Mobile CRM that allows salespeople to manage their tasks, appointments, document upload, lead transfer, and more on the go. Managers can track their team members' every move.
Efficient lead management and sales automation.
No-code sales process builder. Users can sketch the best-possible sales workflows for different products and teams.
Out-of-box integration with lead capture channels, like Google Ad, Facebook, 100s of lead capture sites, cloud calling, ads, Zapier, and many more third-party tools. Also has open APIs and supports a developer platform for custom integrations.
100+ ready-to-use reports and customizable dashboard.
Pricing: Starts from $25/month
4. ActiveCollab

ActiveCollab is a powerful yet simple Zoho alternative that acts as a one-stop solution for all your business needs. The most interesting thing about this Zoho substitute is that it runs in the cloud like most browser apps today, but you can also install it on your own server. It makes task management and team collaboration a breeze for users.
Special features:
Each project has task lists and everything else that goes with it – from files and discussions to time records and expenses
Organize tasks into lists and filter them by people, labels, or due dates
Start discussions and mention people to get instant answers
Set hourly rates for job types and add time records as you work on a project
Pricing: Starts from $25/month
5. Basecamp


Basecamp is one of the first project management solutions allowing you to collaborate from anywhere in the world. Its recent version i.e Basecamp 3 has introduced features that simplify modern work providing an edge over other Zoho alternatives in the market. Moreover, it works well with remote or geographically dispersed teams as well.
Special features:
Manage tasks, discussions, schedules, files, and more in one place
Chat about projects in Campfire public chat and Pings for private chat
Separate dashboard for clients
Turn off notifications with Work Can Wait feature
Pricing: From $99/month
If Basecamp doesn't come out to be your cup of the team, you can pick any best Basecaamp alternative.
Looking for a wholesome tool to manage your projects?
6. Bitrix 24


Bitrix24 provides a complete suite of social collaboration, management and communication tools to its users. It offers tools for task management, document sharing, and time tracking integrated into a social interface for maximum efficiency of communications and work. You can schedule events, attach files, receive immediate feedback from your colleagues – all done inside your personalized Activity Stream.
Special features:
It also provides real-time updates, smart following, notification settings, and company-wide announcements.
Employee workload management and customer relationship management
Also offers a self-hosted option
Gantt charts and workflows
Pricing: Starts from $39/month
7. Insightly

Insightly comes across as the perfect alternative to Zoho if you're looking for a CRM to grow your business faster than ever. Its wide range of features has helped businesses and teams to build strong customer relationships over time and exceeding expectations every time. As its user, you get the flexibility to implement and change the tool as per your needs. Probably, which is why over 25,000 companies from various industries are using it.
Special features:
Create a templated set of tasks and events for repeatable processes
Create and track milestones in projects or assign tasks and events to milestones.
Automate your project processes and keep things moving
Files from Dropbox, Box, Google Drive, Microsoft OneDrive are saved automatically
Pricing: Starts from $29 per user/month, billed annually
8. Clarizen


As a Zoho replacement, Clarizen lets you manage work, automate processes and collaborate across the enterprise—all from a single, intuitive solution. Build with the sole purpose of helping your business move forward, it is definitely worth a try.
Special features:
Centralize and share resources, develop strategies and align communications
Create automated and repeatable processes, alerts and workflows
Share immediate project data, tracking progress
Empower users with a flexible, intuitive interface that fits their way of working.
Pricing: From $60 user/month
9. Easy Projects


Replace the mess of spreadsheets, emails, and whiteboards with a simple workspace for everyone to collaborate together. Easy Project is an effective collaborative platform to plan and manage projects, resources, timelines, and budgets. It can easily be used by small and large enterprises of project management, IT support, product development, marketing, creative professionals and more.
Special features:
Real-time information on performance, progress, resources,, timeline, and budgets
Leverage project templates and automatic notifications, utilize various integrations, automate project requests
Track personal assignments, deadlines, and work progress with easy to use status reports
Pricing: $24 per user per month
10. Celoxis


Celoxis is one of the top-ranked tools of 2018 designed for teams to plan, track, and collaborate online. It is a complete project management solution that takes care of project requests to profits and everything in between. Tesla, KPMG, Adobe, Whirlpool are some popular clients of Celoxis.
Special features:
Build project plans that adapt to real-world conditions
Easily reallocate resources to maintain optimal workloads
Track budgets, costs and profits in real-time.
Share files, exchange comments and discuss online with your team and your clients
Pricing: Starts from $25 per user per month
11. Composity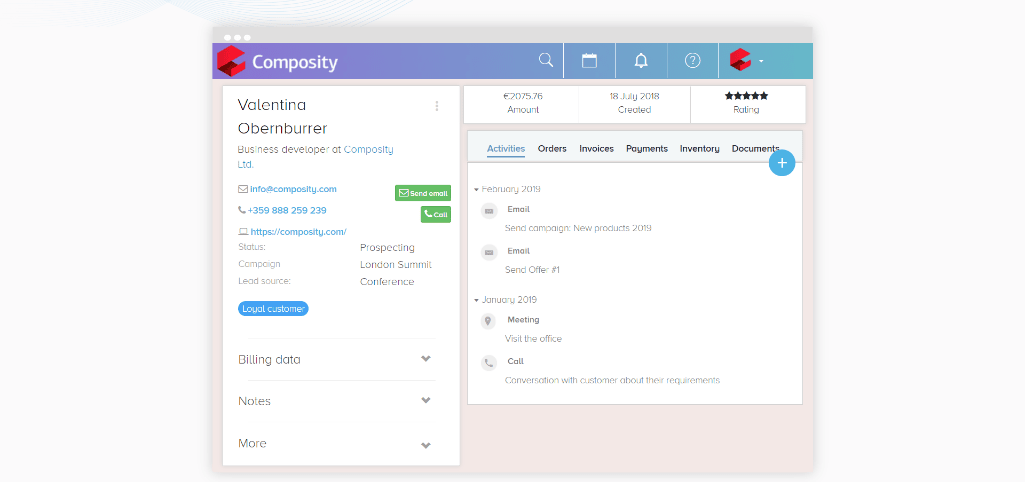 Manage your entire business with Composity's solutions – online ERP, CRM, eCommerce and Point of Sale (POS) software. This business management software, designed for SMEs is definitely going to take your business management to another level.
Special features:
Simple, intuitive interface and powerful features
Smooth and trouble-free implementation methodology
Work in a language of your choice.
Pricing: Starts from 50€ ($58.4) per month
12. Pipedrive


Pipeline is an effective Zoho alternative as it is one of the top-rated sales CRM and pipeline software system. Your emails, calls, and progress are tracked automatically. It clears the way, so you can focus on doing what you do best.
Special features:
Single, streamlined view of your sales process
See what needs to be done next
Email tracking and templates
Pricing: Starts from $12.5 per user per month
13. Copper

Formerly known as ProsperWorks, Copper is a new kind of productivity CRM designed to do all your work so you can focus on building long-lasting business relationships.
Special features:
No manual data entry needed
Brings all your relationship makers together around leads, accounts, deals in one place
Effortlessly work deals and relationships with the full picture and context
Pricing: Starts from $19 per user per month
14. EngageBay

EngageBay is an all-in-one CRM and project management software that comes with a free-forever plan for up to 15 users.
EngageBay is a relatively new software product but it has found a high uptake among small businesses, startups, and agencies.
The platform can be used for email marketing, sales and deals management with visual pipelines, contact management, customer relationship management with advanced automation and tracking tools, and even live chat and SMS support.
Special features:
Automation tools make workflows simple and easy to design and execute

Streamline your marketing, sales, and customer service tasks, data, and revenue modules.

Real-time data analysis and visual reports for deep insights on each project, client, and task.

Improve your planning and execution of project tasks with automated task assignment, automated client value scoring, and email reminders.

The user interface is easy and intuitive for beginners to understand.
Pricing: Basic plan starts from $11.99/month per user, billed annually
15. LiquidPlanner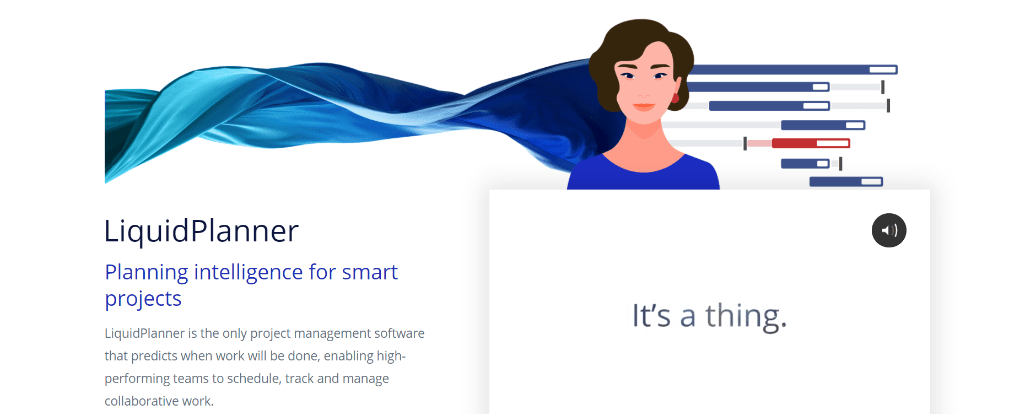 What makes LiquidPlanner a perfect alternative to Zoho is its priority-based scheduling. In this project management software, projects are considered as living constructs that evolve with time. When things change, smart project schedules automatically predict reliable finish dates. Popular names like that of CISCO, Daimler, Thermo Fisher Scientific use this Zoho alternative to plan and execute work.
Special features:
Instantly see the impact of resource availability and shifting priorities to your bottom line
Built-In collaboration along with Drag-and-Drop Prioritization
Dynamic Project Analytics & Reporting and Time Tracking
Document storage and access controls
iOS & Android Apps
Pricing: Professional plan starts from $45/month per user
Over To You
We hope that you find the above list of Zoho alternatives helpful. If you think that we've missed out on an important Zoho alternative, leave your comments below to let us know about it.
Still confused which tool to pick? Try ProofHub's 14-day free trial.