Looking for the right tool to manage your workload effectively? We've got you covered. Our review of the best workload management tools will help you select the one that meets your needs.
Workload is a major issue affecting employees' mental health and well-being, as highlighted in a report by McKinsey. The report reveals that employees often feel overburdened by an unreasonable workload, a lack of autonomy, social support, and fair treatment.
As a seasoned writer and marketer with more than a decade of experience as a team member, team lead, and manager, I know firsthand the impact of improper workload management on teams.
To manage your workload efficiently, you need the right tool – Workload Management Tool.
With my team, I've carefully analyzed the most popular workload management tools on the market, evaluating them based on key features like capacity planning, task prioritization, team collaboration, time management, and resource allocation.
Join me on this journey to discover the perfect workload planning tool for your organization. By the end of this article, you'll not only have an understanding of what workload management is, but also a rundown of the top 11 powerful tools and tips for effective workload management in the workplace.
So, let's dive in and empower your team to achieve their (ultimately your) goals.
Best 11 workload management tools in 2023
Our review of the best 11 workload management tools.
ProofHub – The best project management and team collaboration tool
Trello – Amazing visual interface with Digital boards
Asana – Best suited for small teams
Monday.com – Automate workflow for repetitive tasks
Jira – Suitable for teams of any size
Wrike – Inuitive charts for custom workflow
ClickUp – An all-in-one platform with customizable views
nTask – Organize projects in separate workspaces
Slack – Tons of Integration available
Togglplan – Simple and interactive User Interface
Bitrix24 – Automated task and time tracking
Before getting into the details of individual tools, let's first quickly refresh our memory of what workload management is and why we need tools for sorting this issue.
What is workload management?
Workload management refers to the process of managing and distributing tasks and responsibilities among individuals or teams to ensure that work is completed efficiently and effectively within the available time and resources. The goal of workload management is to balance the workload of each individual or team member, so they are not overloaded with tasks that are beyond their capacity or underutilized with too few responsibilities.
Effective workload management involves proper planning, delegation, monitoring, and prioritization of tasks to achieve the desired results. It is essential in ensuring that employees can work effectively without experiencing burnout, stress, or other negative consequences that may arise from an overwhelming workload. Investing a reliable workload management tool can be a real life-saver to make sure the even distribution and planning of resources.
What are workload management tools?
Workload management tools assist managers and other people in leadership roles to effectively distribute and manage tasks among their teams. I personally feel that such tools help simplify the task allocation and progress tracking process.
Workload planning tools offer multiple task views as well as built-in collaboration features that help in the quick and effective balancing of workloads in teams.
With workload management tools,
You can keep all of your tasks, deadlines, and projects in one place. This means you can easily prioritize your work and stay on track.
You get all the communication and collaboration tools in one place, you can save time and focus on what really matters – getting your work done.
You can break down your tasks into smaller, more manageable chunks. This can help reduce stress and help to complete tasks quickly.
You can set reminders for deadlines using workload management tools. This will help you stay on top of your workload.
11 Workload planning tools that are real game changers
It's time to address the elephant in the room – workload management tools. Like I mentioned in the beginning, our team has conducted an in-depth review of every tool out there, and we're excited to share our top picks with you.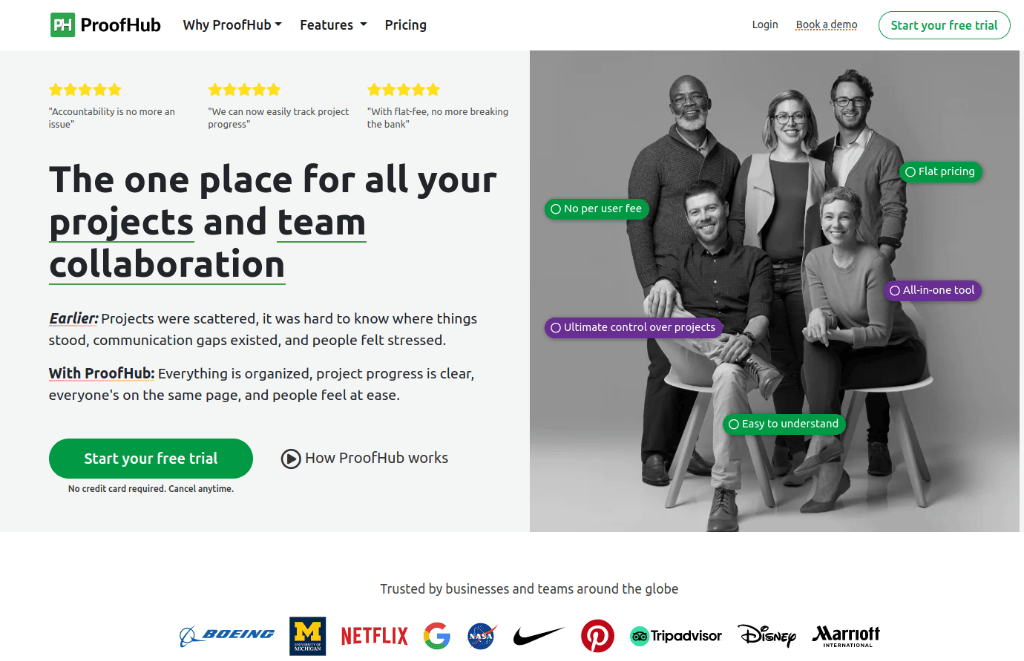 ProofHub is the ultimate all-in-one project management and team collaboration software that simplifies workload management for teams of any size. It centralizes work in one place, streamlines work processes, improves team communication, and eliminates context switching.
ProofHub helps teams avoid common pitfalls of poor workload management such as missed deadlines, poor communication, and project scope creep. It keeps teams aligned, and focused on the right priorities, resulting in higher-quality work and better outcomes. ProofHub is an ideal tool for businesses looking to streamline workflows, reduce stress and errors, and increase productivity.
Key Features
Assign, track & set task deadlines- all in one place
With ProofHub, managing your tasks and projects has been easier!
You can assign, track and set task deadlines, all in one place! ProofHub offers different task views such as the board view, Gantt view, and calendar view to help you get a complete picture of your tasks and projects. Plus, recurring tasks can be easily automated with workflows to save you time and ensure projects are completed efficiently. You can even assign tasks to multiple team members at once, which reduces the risk of delays or miscommunications.
Communicate and collaborate effectively
Say goodbye to communication gaps and hello to seamless team collaboration with ProofHub.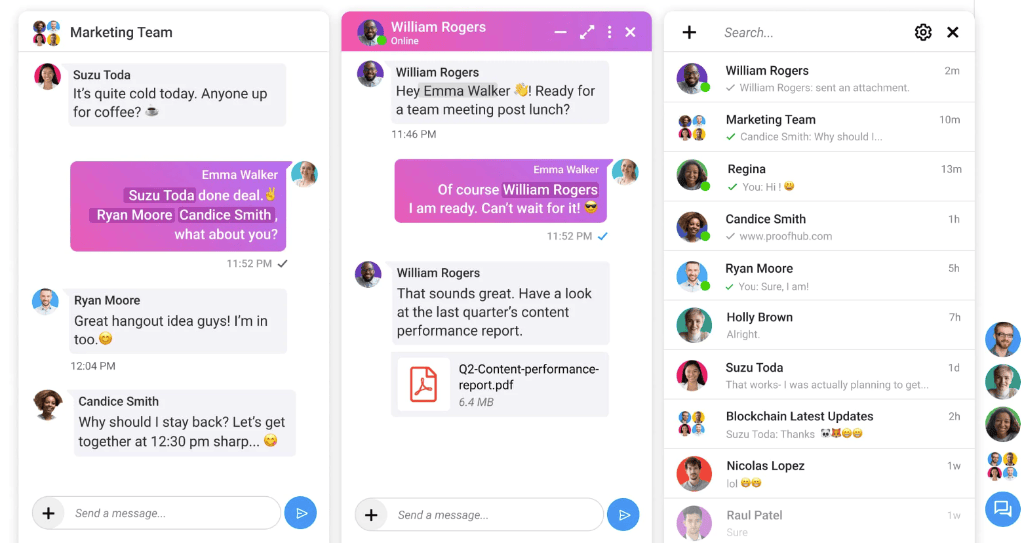 Are you struggling to keep your team on track and connected? By streamlining communication, assigning tasks clearly, enabling efficient collaboration, and boosting productivity, ProofHub can help you achieve your goals faster and with less stress.
With Chat, you can have real-time conversations with team members and use group chat to share important updates and information quickly. Facilitate collaboration between team members with Discussions, where you can invite them to join projects and assign specific roles and responsibilities. Create discussion threads around specific topics, and team members can easily comment and reply to these threads. With these robust collaboration and communication tools, you can ensure that your team is working efficiently and effectively.
NOTE: Use the Announcements feature to make a public announcement of achievements and accomplishments by team members. This will act as immediate recognition for any small achievement. From my personal experience, how small recognitions and verbal appreciation made publicly has a deep impact on the performance of the team. Motivation boosts the morale of your team and they will perform even better.
Eliminate time-consuming activities
Forget the fear of missing deadlines and start planning effectively. Delegate tasks among your team with confidence, and monitor progress with ease.
ProofHub provides you with powerful workload management tools that will help you in completing tasks based on priority. You can delegate or distribute tasks to different team members anytime during the task. You can also, prioritize tasks on the basis of urgency and importance.
Now, have control over the time your team members are spending on various tasks with in-built time tracking feature. Identify tasks that are causing delays, and make necessary changes in task flow for getting the project back on track.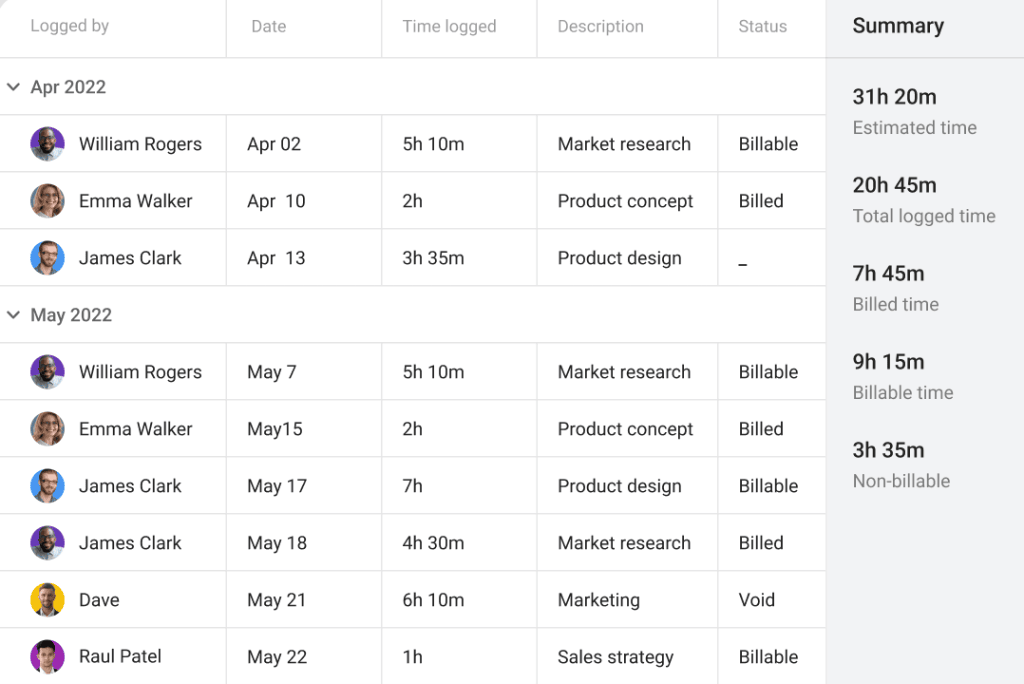 This can help you identify areas where the team is struggling, allowing you to proactively address any issues and adjust the project plan as needed.
You can track time spent by your team members using the timer, there is also an option to add manual hours. ProofHub helps in compiling all these data and exporting the timesheets for quick analysis and further actions. Infact, the list just continues endlessly with features like time entries, private timesheets, logged hours, filters for quick search and analysis, and setting estimates.
Avoid delays and missing deadlines
ProofHub provides you with multiple task views. You get a complete bird's eye view so you can easily identify tasks that may get delayed. Once you identify the loophole, you can quickly rectify it. Resource allocation eases you in this process of assigning tasks and modifying responsibilities to team members on their availability, skills, and workload.
For a better understanding of Resource Management, and its features refer to the next section.
Allocate resources efficiently & avoid burnout
Finding it hard to cope with assigning and allocating tasks, use the custom workflows available in ProofHub. Protect your team members from burnout by utilizing the available resources effectively.
ProofHub provides a resource management feature that allows teams to see who is available and when. This helps in avoiding delays by ensuring that tasks are assigned to team members who have the time and resources to complete them.
Ensure timely completion of tasks
The custom workflow feature allows you to effectively delegate, track, and manage tasks as per the individual requirement of your team. Also, maintaining clear communication with team members helps to ensure that projects are completed on time and to the highest possible standard.
Identify potential roadblocks
You get complete control over the workflow that enables efficient monitoring of the progress of ongoing tasks thereby helping to identify potential roadblocks and resulting adjustments in the allocation of resources.

By effectively managing resource allocation, a manager can ensure that tasks are completed on time and within budget while maintaining a productive and motivated team.
Unorganized and poor workload management may have an adverse impact on the performance of your team. ProofHub helps you to maintain an effective balance between the work and personal life of your team members and prevent them from getting burnout. Through the advanced remainder and notification features, you will never miss any deadline. Infact, you will see your team members complete all tasks before the due date.
Centralized document management
Gone are the days when you need to search multiple locations for a single file. You no longer need to switch between multiple applications or save multiple files numerous times. Thanks to the centralized document management, you get numerous wonderful features.
Do away with searching multiple locations
ProofHub helps you organize and quickly access all your files on the centralized platform. This makes it quick and easy for your team to quickly look up necessary files, without the need for switching between multiple applications. The search option is enhanced and powerful enough to help you find the necessary files instantly.
Do away with switching applications for send/receive files
Send files as attachments in chats, upload them to discussion channels, and start a conversation, online proofing. Whatever your need be, do it right here on the tool. Forget the need to save multiple versions of the same file.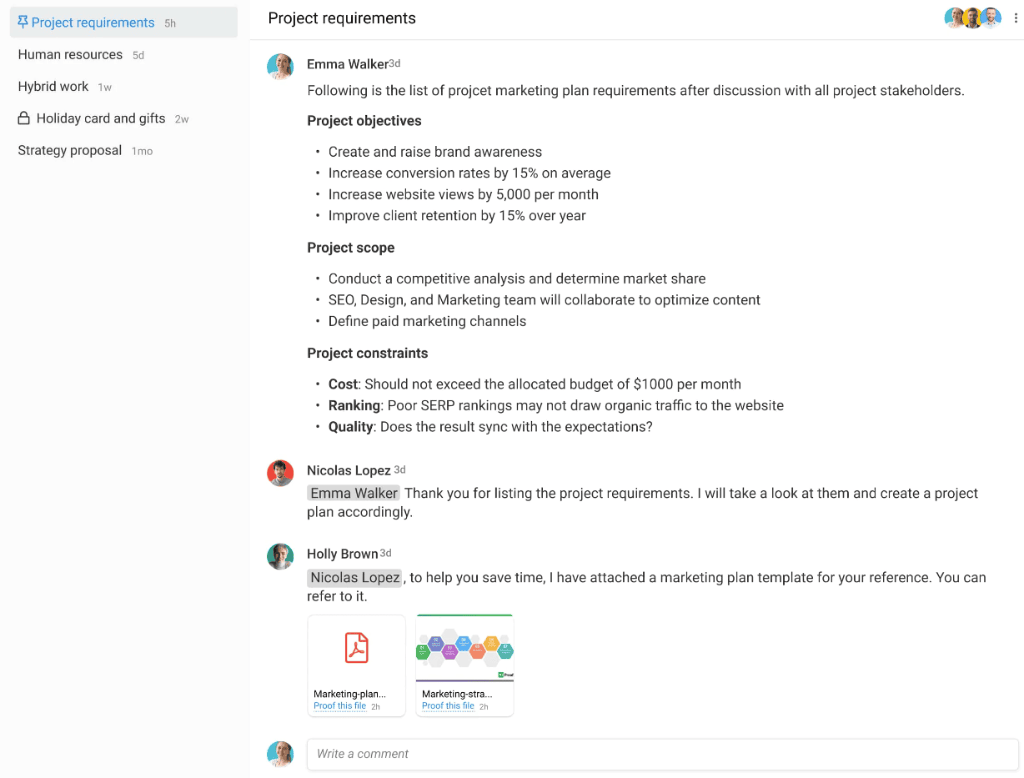 Pros
Simple user-friendly interface with an easy onboarding process.
Excellent customer support that solves all your issues immediately.
You get ultimate control – they can assign roles, and determine who can access various features of the tool.
Flat pricing allows you to add as many users as you want without burning a hole in your pocket.
Quickly share files, collaborate and communicate with your team without the need to switch multiple applications.
Cons
Optimizing notifications for a better-streamlined flow of information to the users.
Invoicing options for billing and logged time require external integrations.
Pricing
ProofHub offers you a flat pricing feature! This means you can add as many users as you want. Sign up for the 14-day free trial that offers you all the features. You can choose from two options – Essential and Ultimate control
Smaller teams or teams with a tight budget can choose the essential plan that will cost $45 per month (billed annually) with unlimited users.
Ultimate control is for large teams that costs $89 per month (billed annually) with unlimited users..
The standout feature of ProofHub's pricing model is that it allows you to add as many team members as you want without incurring extra costs.
Review
G2: 4.5 of 5
Capterra: 4.6 of 5
Do you know that ProofHub has been named a top-rated project management software solution in the recently released Software Advice's FrontRunners Report for Top Project Management Tools – Get a demo now!

We are placing Trello in second place because of its intuitive task management capabilities and visual boards. With Trello, you can easily create task cards, add checklists, deadlines, and attachments, and track the progress of each task in real-time.
Trello is known for its simplicity and ease of use, making it an ideal choice for smaller teams or projects. However, for more complex projects that require more advanced features, Trello may not be the most suitable option.
Key Features
Availability of powerful powerup options for personalization – (however these power-ups require additional charges)
Workflow customization for fulfilling the individual needs of the team.
Offers a wide range of collaboration tools, including comments, document sharing, @mentions
Pros
Has an intuitive visual interface, that is simple and easy to use.
The customization option helps in organizing and prioritizing tasks as per the individual requirements of the team.
Flexible and customizable Kanban boards
Cons
Large teams with complex projects will find it difficult to use Trello, because of the lack of detailed or advanced features.
Doesn't offer Gantt chart
Over-reliance on kanban boards may not suit all project managers
Pricing
Trello offers 4 different plans. You can very well benefit from the free plan if you are an individual who wants to sort out your own tasks.
The standard plan costs $5 per user per month. This is suitable for small teams.
Large teams can choose the premium plan that cost $10 per user per month.
The enterprise plan starts from $17.50 per user per month for a team of about 500 members. Contact their sales team for specific pricing.
Review
G2: 4.4 of 5
Capterra: 4.5 of 5

At third comes Asana, the tool that is best suited for small teams and individuals. The free version provides users with a basic dashboard that helps in organizing individual tasks. Asana has the ability to adapt itself to meet the exact requirement of your team. Asana's advanced task management features make it a top choice for keeping your workload under control.
However, it may take some time and effort to master all the features and optimize your workflows before you can unlock the full potential of Asana.
Key Features
Quickly visualize project deadlines and dependencies with a simple and understandable way.
Set up automated workflows for repetitive tasks.
Get feedback and track live progress on tasks.
Pros
Customized dashboard helps find features easily
Offer agile and scrum support
Facilitate multi-departmental collaboration
Cons
Highly expensive especially for large teams, because of the per-user charge.
Not suitable for teams with complex and customized project management needs.
Can't assign tasks to multiple team members
Pricing
Costs are per user. However, Asana offers a free-forever plan for a team of 15 members or less.
The Premium plan starts at $10.99 per user per month and the Business plan starts at $24.99 per user per month. Because of the per-user fee, large teams will incur huge expenditures.
Review
G2: 4.3 of 5
Capterra: 4.5 of 5

Monday.com offers you powerful features for task automation. It's particularly adept at helping you stay on top of leads, enabling you to set up your own help desk and facilitating cross-team collaborations. Plus, all communications related to a project or lead can be tracked directly within the software, so everyone stays in the loop.
However, it's worth noting that Monday.com is not a plug-and-play solution, investing time into mastering its capabilities can pay off in the form of streamlined workflows.
Key Features
Pros
Built-in reporting tool for analytics
Attractive visual interface
Effective accountability and transparency
Cons
The time tracking feature is not highly effective
Not suitable for large teams
No 14 day trial plan
Pricing
The basic plan starts from $8 per user per month, the pro plan starts from $ 16 per user per month. There is also a standard plan that costs $10 per user per month.
The prices are slightly on the higher side for a tool that focuses mostly on repetitive workflow management.
Review
G2: 4.7 of 5
Capterra: 4.6 of 5

If you are looking for software with unmatched competition in time-tracking and advanced task management, you should select Jira. It provides a comprehensive platform for organizing leads and collaborating across teams. Additionally, Jira enables you to track all communications related to a project within the software, ensuring that everyone stays informed.
However, Jira can be quite complex and may require some time and effort to learn how to use it effectively. It's not a simple one-word solution, so be prepared to invest some effort to master the software and get the most out of it.
Key Features
Keeps all your communication inside the platform
Custom workflows for ease in tracking multiple projects
Has powerful features for Agile teams
Pros
Integrates with a large number of tools and other software
Generates automated project reports, and team performance
Create and assign tasks as per the project lifecycle
Users get full visibility of tasks through the JIRA Kanban board
Cons
Customer support is slow to respond
The steep learning curve, with some users taking a long time to get used to the tool
Timeline views and Gantt chart not available
Pricing
The standard plan starts from $7.75 per user per month, while the premium plan starts from $15.25 per user per month.
Review
G2: 4.3 of 5
Capterra: 4.4 of 5

We've found Wrike to be an invaluable tool for managing both personal and professional projects. With its intuitive charts and customizable workflows, Wrike makes it easy to manage even the most complex projects with ease. In addition, its custom templates can save you hours, and its collaboration features make working with colleagues and clients a breeze.
But you have to keep in mind that some users have reported that the learning curve for Wrike's more advanced features can be steep, which may pose a challenge for less experienced project managers.
Key features
Visual timelines in the form of Gantt charts
Convert your strategies into actionable plans
Keep your clients up-to-date with automatic regular updates.
Pros
Cons
There is a scope for improvement in the user interface
The calendar view is quite complicated to use
Time tracker is available only for business plans and above. Gantt chart view is also only available in paid plans.
Pricing
There is a free version for individual users and the business plans start at $24.80 per user per month.
Review
G2: 4.2 of 5
Capterra: 4.3 of 5

Did you expect to see ClickUp at the lower half of the ranking table? Although there is so much hype around the tool, we found that the learning curve is too steep. You can manage your projects and keep track of your leads in a single platform but those features are restricted only to the premium plan.
This software allows you to collaborate with other teams, and all conversations and communication can be easily tracked within the app. However, your team will require some time and effort to learn how to use ClickUp effectively leading to a loss in man-hours.
Key Features
Customize workflow as per stages
Time estimates for task scheduling
Ultimate control for managers to define user roles
Pros
The design of the platform is rich and user friendly
Customer support is quick to respond
Integrations are available with a number of other tools and software – however, additional charges may be incurred
Cons
Mobile app does not support all views
Learning curve for new users is steep
Project message board is not availabe
Pricing
ClickUp is famous for its Free Forever plan that is suitable for individuals or very small teams. The basic plan starts from $5 per user per month. The business plan starts from $19 per user per month.
Review
G2: 4.7 of 5
Capterra: 4.7 of 5
8. nTask

nTask allows you to efficiently manage your tasks, prioritize them, and keep track of your time spent on each activity. All communications are tracked within the software, providing transparency and clarity to everyone involved in a project or task.
It may take some time and effort to learn the ins and outs of the software, but once you do, you will be able to use it effectively to manage your workload and achieve your goals.
Key Features
Issue tracking and risk management
Timesheets and time tracking
Meeting management
Pros
Quick onboarding
Gantt charts are easy to use
User interface is highly appealing
Cons
Work reporting is not available
There is no Kanaban board view
Very limited customization options
Pricing
Plan starts from $3 per user per month.
Review
G2: 4.4 of 5
Capterra: 4.2 of 5

Slack is a one-stop solution for collaboration with your team, and keeping track of all your project communications in one place. Using this tool offers the most powerful communication features for your team.
However, one of the challenges of using Slack is that you will need to have multiple integrations. This may result in an increase in the overall subscription charges.
Key Features
Eliminates the need for multiple inboxes, and multiple communication channels
Integrates with a wide range of collaboration and office tools
It enables real-time sharing of documents and files with others
Pros
The robust feature allows you to search for old messages quickly.
Integration options are available for more than 100 tools.
Highly customizable platform
Cons
The prices are quite expensive
Audio and video calls take a long time before actually connecting.
Not an exclusive solution of project management
Pricing
Free option for limited users with limited functionalities. This is suitable for basic communications. Other plans start from $7.85 per user per month.
Review
G2: 4.5 of 5
Capterra: 4.7 of 5

With Toggl Plan, you get the ability to set up your own customized workflow and manage cross-team collaborations seamlessly. With all communications tracked directly in the software, everyone can stay updated on project progress and lead status in real-time.
TogglPlan, however, is not suitable for large teams with complex project workflow. With an interactive and simple user interface, there are needs for several improvements in order to make it really convenient for teams.
Key Features
Real-time collaboration with live notifications for keeping everyone on the same page. 
Suitable for teams that require unique workflows.
Enables teams to create collaborative reports including progress tracking, profitability projections, ROI, and milestone tracking
Pros
Integration with multiple applications for a quick and easy workflow process
Has a very simple user interface, for easy and quick onboarding
Built-in time tracking for quickly monitoring time spent on various tasks.
Cons
Has limited functionalities, thereby not suitable for larger teams.
Mobile application is not robust, therefore, not suitable for teams and members working on the go.
You cannot see which member is working on which task
Pricing
The basic plan starts at $9 per user per month, while the business plan starts at $15 per user per month.
The business plan is slightly on the higher side considering the limited functionalities you get.
Review
G2: 4.3 of 5
Capterra: 4.6 of 5
11. Bitrix24

Bitrix24 excels at managing leads and keeping you on top of your workload. All communications can be tracked directly in the software, so everyone knows exactly what's happening on a project or lead at any given time.
On the downside, Bitrix24 can be challenging to use due to its complexities and it's not as easy as plug-and-play. You may need to invest some time and effort into learning how to use it effectively to get the most out of the software.
Key Features
Manage clients as well as sales right on the platform
Track working hours and manage employee engagement
The integrated platform which includes sales, marketing, and HR that eliminates the need for separate integrations
Pros
Improves productivity through time tracking and centralized document management.
Customize workflows and automated process that saves time.
Simple onboarding process with non-technical persons getting a fast grasp.
Cons
Limited integrations may pose an issue if your organization is used to a specific tool
The pricing is subscription-based, and charges are separate for different features.
Very basic and limited communications.
Pricing
The pricing is a little tricky here.
The basic plan costs $49 per month for up to 5 users. The standard plan costs $99 per month for up to 50 users. The professional plan costs $199 per month for unlimited users.
For a tool that specializes in billing and custom workflows, the costs are a little pricey.
Review
G2: 4.1 of 5
Capterra: 4.2 of 5
Workload management tools – top features to look for
Let's come to the next question – What defines the qualities/ features of workload management tools?
Not all workload management tools can fit perfectly for your team. You need to understand which tool will work best for your team.
Your team does not require all features available in the market. Extra features are also a form of burden. My experience here would suggest you keep the learning curve of your team as simple as possible.
How we picked up these workload management tools?
To provide a better value to this review, we have put the factors that will further simplify and help you in selecting a tool for your team. This would help you in coming to a better conclusion because choosing the right tool is equivalent to winning half the battle.
Task and project management capabilities
Ability to create, assign, prioritize, and monitor tasks effectively, as well as manage workflows, milestones, and timelines of projects. You need to select a tool that offers you complete control over the workflow.
Time tracking
Accurate tracking of time spent by individual members on various tasks and projects. This is especially useful in the case of client billing and logging activities. You need to select a tool that provides you with the ability to authentically collect and analyze the workload on your team.
Collaboration and communication tools
Powerful, effective, and quick communication for keeping the team members on the same page. Discussions, sharing files, and notes for the effective working of the team. You need to select a tool that offers real-time communication and quick collaboration if you want your team members to be on the same page.
Reporting and analytics capabilities
Measure the quantity of work done and generate work reports for time spent on various tasks and the man hours put in by the team members. You need to select a tool that helps you in preparing work and load management reports for your team.
Customization options
Customizing the tool as per user requirements, and preferences in terms of both projects as well as workspaces. You need to select a tool that will offer you options to customize workspaces, and workflow as per the requirement of your team. The tool should be easily customizable to avoid time spent manually editing and organizing.
User-friendliness
Must be easy to use, with a very low learning curve. The onboarding process and customer support should be simple. You need to select a tool that is easy for your team. You do not want to add the burden of learning how to use the tool to the already existing load of your team members.
Pricing and value for money
Last but not least do not forget how deep a hole this tool will burn to your pocket. Again, make a comparative analysis of the features your need and the cost. Remember to choose the tool that offers you the features your team wants at the most effective price.
Take the first step towards better workload management – Get your FREE trial now!
Tips for efficient workload management
Although workload management tools simplify the process of workload management, there are certain handy tips for quick workload management. They are
Break down tasks into small chunks
Breaking down tasks into smaller parts helps your team members to effectively handle smaller tasks. This has an impact when you are working on a tight deadline.
Smaller chunks of tasks ensure smooth progression without leading to confusion.
Prioritize tasks
Prioritization helps in the effective completion of tasks. By focusing on the critical tasks, your team will be able to complete projects on time. This will help in both workloads as well as deadline management.
Your team will be able to work stress-free.
Avoid distractions
Ensure that your team is able to work in a distraction-free environment. Focus on one task at a time. Multitasking gives the illusion of saving time, but it causes stress on the team members.
Focussing on one task at a time also helps in effectively finishing each task on time as well as without mistakes.
Short breaks
Working long hours without breaks causes stress and anxiety. Let your team members take short breaks. This will help in rejuvenation and bring fresh energy to the workflow.
ProofHub – A comprehensive Workload Planning Solution
Selecting the appropriate workload management tool can prove to be a game-changer for both you and your team. Out of all the available options, ProofHub stands out as a top-notch project management software that sets a high standard for efficient workload planning. Its user-friendly features simplify task management and help you accomplish your objectives with ease.
Whether you're a small business or a large enterprise, ProofHub has something to offer. Its intuitive design and powerful project management tools make it easy to manage tasks, track progress, and collaborate with team members in real-time. Plus, by centralizing all of your work in one place, ProofHub helps you stay organized and focused on what matters most, reducing stress and errors and increasing productivity.
Streamline your workload with ProofHub – Sign up today, no credit card required!
Workload management tools FAQs:
What is the best way to manage the workload?
The best way to manage workload is to prioritize tasks, set realistic deadlines, delegate responsibilities, and maintain a healthy work-life balance.
What are the 5 steps of proper workload management?
Define tasks and prioritize
Set achievable goals and deadlines
Allocate resources
Monitor progress
Adjust workload as needed.
Is managing workload a skill?
Yes, managing workload is a skill that involves prioritizing tasks, planning, and organizing resources to achieve goals efficiently and effectively.