Whether you are a small business owner or heading multiple businesses, there would always be a number of activities going on every time. It could be a challenge to handle too many things at once and not let work become chaotic. This is why it makes sense for businesses to start using business management software to stay on top of things.
These days more and more organizations or companies are investing in business management software to get things done, predict risks, and improve overall efficiency. Thus, it won't be wrong to say that business management tools have come a long way and are constantly making things better for anyone involved in some sort of business.
Before we move further, let's take a moment to define a business software and discuss its types briefly.
List of top 21 business management software
Let's take a look at the 21 best business management software that you should start using as early as possible: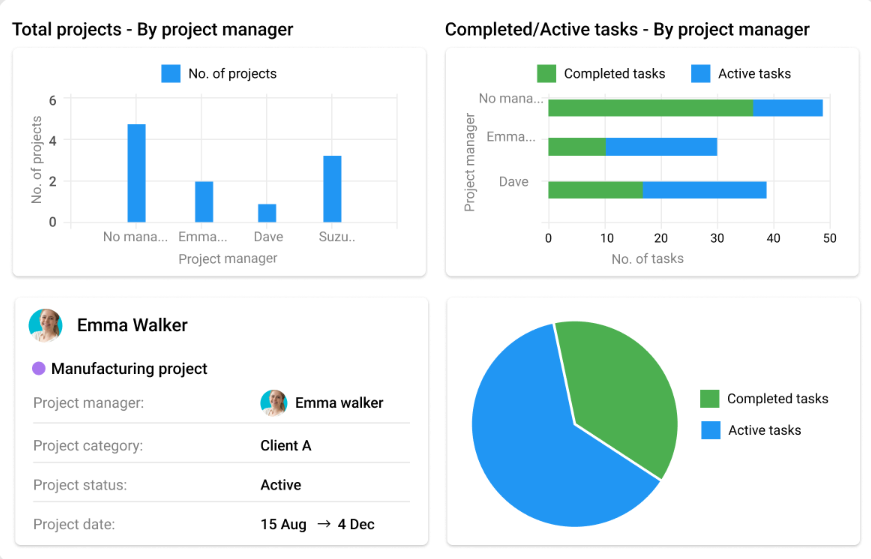 ProofHub is an all-in-one business management software that helps businesses manage work in a way that everything can be kept organized in one place. It is a central platform that allows teams to sort through the clutter and visualize their everyday tasks seamlessly.
The software is based on the concept of centralizing all of your project requirements for simple access. ProofHub eliminates the need for several apps to share updates, collaborate, or manage assignments; all can be done in one spot.
You can assign tasks to your team members, track their progress as they do them, and ping them for updates whenever you need them. You can easily plan out the rest of the week and make meeting notes. It allows you to send out wishes to everyone by letting you make company-wide announcements. Team members can even connect with each other instantly using personal or group chat.
After approving the final adjustments to the deliverables, managers and their subordinates can easily mark activities from "doing" to "done." ProofHub also allows you to manage and share files. You can even ping the customer with a progress report, ensuring that all of your work is completed on time and in one place.
ProofHub offers a variety of productivity features to help businesses of all sizes improve project outcomes.
Here are all of the notable ProofHub features you'd like to see in your business management app.
Focus on what matters most
The task management section of ProofHub is responsible for the creation, management, and tracking of tasks in a project. Tasks for the entire team can be planned and readily laid down in a visual-friendly Kanban format and Gantt charts.
The Table view in ProofHub organises all of your tasks like a dynamic Excel spreadsheet. It's quite useful for someone who has spent their entire working life working with tables, because it's jam-packed with column functions.
You can also customize the task view as per your unique needs using custom fields. The calendar view allows you to see all of the tasks you've been allocated throughout the week, so you're always aware of when you need to follow up on important chores.
ProofHub has a variety of other useful task management tools too, like a task deadline, instant task notifications (in-app and by email), and task workflows, which make job management easier.
Everything is in one place
Whether on-premise or remote, ProofHub brings your team together with active collaboration features. The discussions section in ProofHub helps you have real-time discussions with your team members and segregate them on the basis of specific topics.
You can also connect with your team members quickly using ProofHub's inbuilt chat feature (both personal and group).
The notes section in ProofHub allows you to quickly jot down important information in one place, divide your notes into different sections called 'notebooks' and share them with your teammates.
With the use of markup tools and annotated in-file comments, the proofing tool allows you to provide detailed feedback. Your collaborators can see each other's comments, make changes as needed, and submit new versions for approval.
Stay on top of your deadlines
ProofHub keeps track of your team's time-spending patterns, which helps you remain on top of your schedule. By using time logging, monitoring, and reporting technologies, you may establish time accountability.
ProofHub's timer is an automated time-logging tool that keeps track of how much time you spend on each activity. You can easily start the Timer when you start the task and stop it when you're done.
Timesheets in ProofHub are like spreadsheets for displaying the time logged by your team. You can view clean reports on how your team is spending time, what tasks are spending the most time, and how many billable hours they have consumed.
No more endless searching for important files
ProofHub is an excellent file storage solution that smartly manages file copies, versioning, and sorting in one convenient location. It has a nicely structured file system and 100 GB (expandable) of file storage space for all of your project files.
ProofHub allows you to upload all of your project files and categorize them into specific folders. You can also attach files to communication modules like team Chat, Discussions, and Tasks, and all of your attachments will be conveniently accessible in the Files section.
You can also make numerous versions of the same file under the files section, each with its own version history. Upload new versions, revert to an older version, and share the final work with your team with ease.
Everyone in your team is working in sync
Every business owner wants to know what his or her team is up to on a daily basis without micromanaging or interrupting. ProofHub allows you to keep track of your team's everyday activities and progress seamlessly.
Project reports in ProofHub help you get a detailed view of how your project is progressing. You'll know if a team member needs a little push or if a project is falling behind before things get out of hand.
ProofHub's activity tracker allows you to see all of the modifications and updates that have been made to your projects. It informs you of each and every action taken by a team member. So, if one of your team members completes a task, leaves a comment, hits a milestone, makes a note, and so on, you'll be notified automatically.
The 'Me view' in ProofHub is an excellent way to keep track of your own progress and productivity. Individuals can easily see all the tasks assigned to them, what needs to be done on priority, what is pending, and what has been accomplished.
2. Flodesk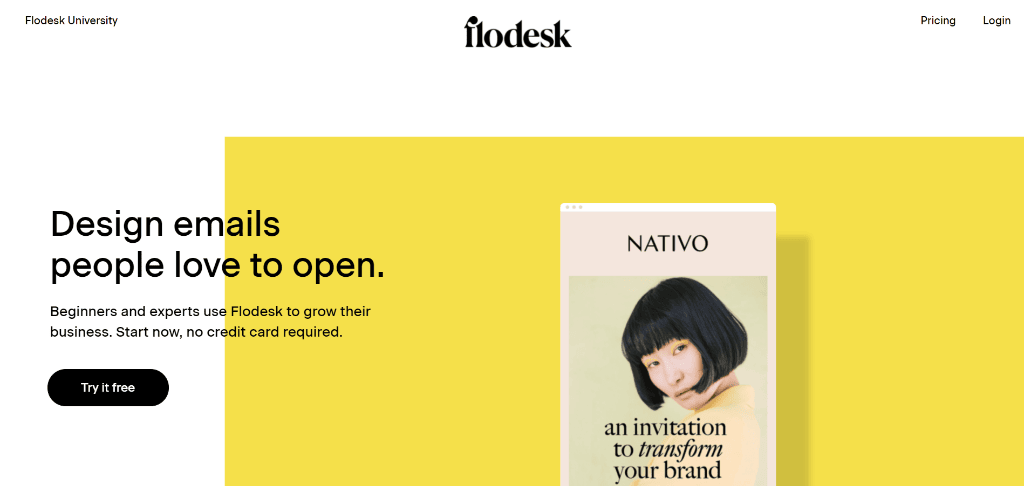 Flodesk is a fast-growing email marketing service for small businesses. Their focus is on design, enabling small business owners to create beautiful emails and showcase their brand. Flodesk offers workflows that allow users to automate lead magnet delivery, welcome sequences, and more with an easy-to-use visual builder.
Key features:
Fixed price of $38 per month, regardless of list size

Unlimited subscribers & unlimited email sends

Drag-and-drop email builder with layout blocks

Create email signup forms, even without a website

Create automated email sequences
3. Bit.ai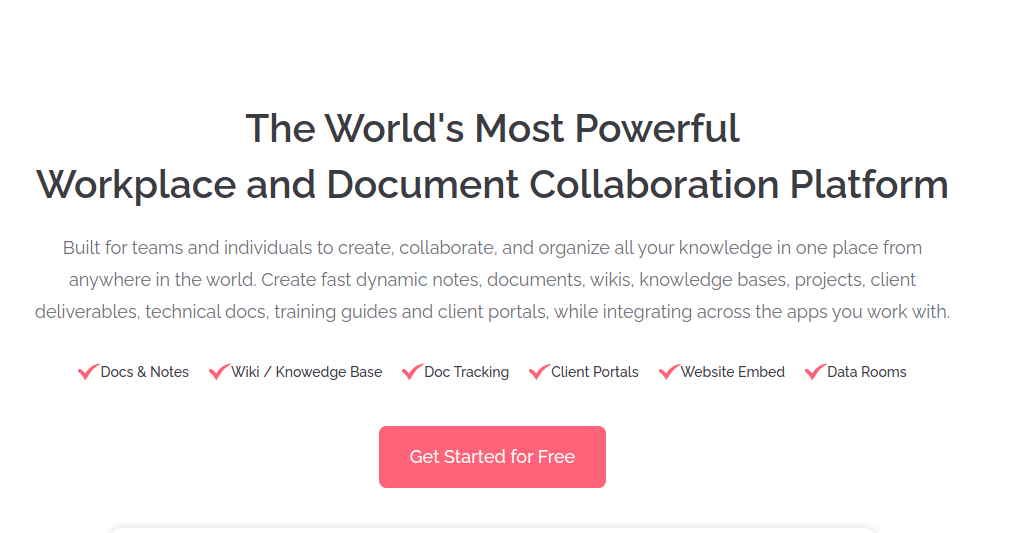 Bit.ai is an awesome business management software for teams of all sizes. On Bit, you can create interactive documents, organize content in different workspaces and folders, collaborate, and chat with your team in real-time.
It even has a smart search feature so you can quickly find what you are looking for. Moreover, Bit seamlessly integrates with 100+ platforms which can improve your productivity multifold. Take it for a spin (as it has a free version) and see Bit's awesomeness for yourself!
Top Features:
Real-time collaboration
Over 100 integrations
Smart workspaces
Fully responsive templates
Document tracking
4. Timely

Knowing how your business spends time is elementary, whether you bill for it or not. Timely streamlines the whole time tracking process by recording everything your team works on automatically. It dramatically reduces time management overhead, while improving reporting and invoicing accuracy.
Top features:
Automatic time tracking
Real-time project dashboards
Sophisticated, client-friendly reporting
Hourly rates, capacity and overtime
5. Zoho One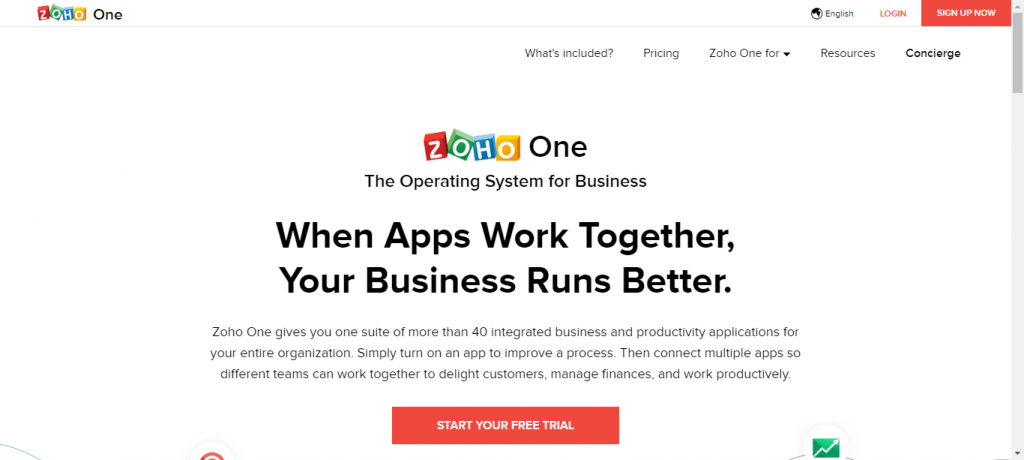 Zoho One is a wholesome business management software and company management system that has everything you need to run your business on the operating system for your business with impressive 40 business apps. You just need to connect multiple apps so that different teams can work together productively.
Top features:
Manage almost every aspect of your business in one system

Fosters collaboration with online document storage and sharing

Automate personalized business workflows
Read on: Zoho Alternatives – 13 Tools Your Team Will Love
6. HubSpot CRM

HubSpot is an all-in-one CRM solution for individuals, small businesses, and enterprises. While they specialize in email marketing software, HubSpot also provides a collection of marketing, sales, customer service, and operation tools from email workflows to a custom website builder to manage your entire business in one place. Since it provides an all-in-one solution, all of your teams can work from HubSpot's database and collaborate on projects, campaigns, and tasks together.
Top features:
Data sync between all of your teams

Custom page and website builder

Email marketing workflows and forms

Customer service ticketing systems

Sales reports and analytics

Customer relationship management software
7. Scoro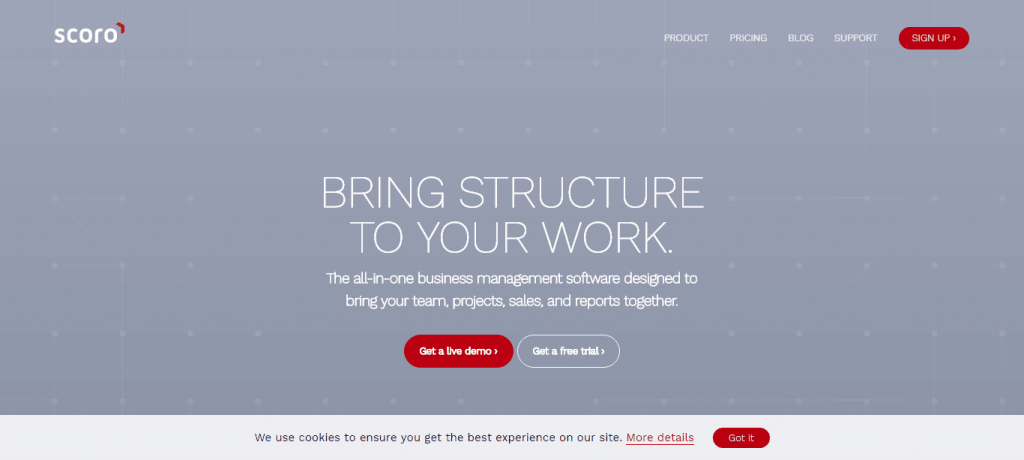 Scoro is an all-in-one business management software designed to bring your teams, projects, sales, and reports together at a centralized place. With Scoro you can manage work more efficiently and be organized in every aspect of your business.
Top features:
Plan and track work with unlimited projects

Manage quotes, contacts, and invoices seamlessly

Track time and bill for completed work accurately

Manage your entire business within a single solution
8. iBE.net

As a business management software/ company management system, iBE.net is an appropriate choice for mid-sized companies as it offers expense tracking, invoice reports, CRM support along with an easy integration of project details. It is extensively used in consulting, marketing, management, and other technical industries. It is like your entire business within your palm of hands.
Top features:
Customize your own dashboards

Use pre-delivered reports

Generate invoices in seconds

Visualize, analyze, and organize your data with valuable insights
9. Odoo

Odoo is an all-in-one business management software that offers a range of business applications which forms a complete suite of enterprise management applications. It covers CRM, eCommerce, accounting, inventory, sales, and project management. Odoo apps are perfectly integrated with each other, allowing you to fully automate your business processes.
Top features:
Unique framework with strong technical foundations

Take a quick look at your business with dashboards

Real-time communication makes way for better collaboration
10. Netsuite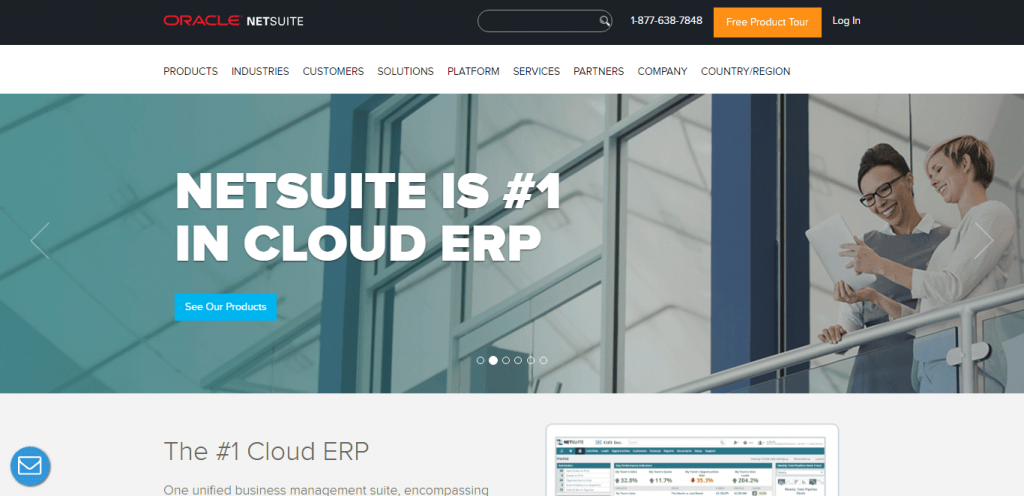 Netsuite is a unified business management suite being used by more than 40,000 large, mid-sized, and small fast-growing businesses. It provides various tools for ERP, Financials, CRM, HR, eCommerce. It offers comprehensive functionality with industry-specific support for a broad range of industries means NetSuite works the way your business works.
Top features:
Cloud-based, mobile-enabled, and social

Easily accessible reports and key performance indicators

Highly flexible and customizable

Effective resource management, project accounting, timesheet and expense management
11. Bitrix24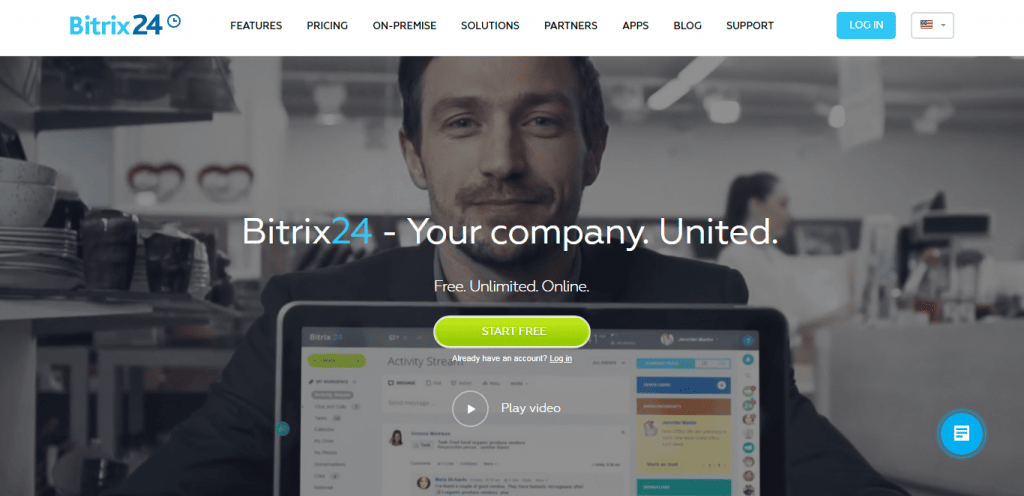 If you are looking for a software that offers a complete suite of management, collaboration, and communication tools, then Bitrix24 could be the ideal choice for your business. It is a complete business management software that takes care of your tasks and projects to document management along with real-time communication tools from video conferencing to group chat.
Top features:
An internal social network lets you collaborate easier, faster and more efficiently

Get instant feedback, share ideas, create workgroups and engage your employees

online multi-user editing and custom document approval workflows

Sell more with Bitrix24's CRM and sales team management

It works on your iPhone, iPad or Android too
12. Apptivo
Apptivo delivers a wide array of functionalities in customer relationship management (CRM). It also helps your business to grow with project management, invoicing, and timesheet capabilities. If your business process has some specific needs, it can be easily customized.
Top features:
Track the complete sales process from anywhere with the online CRM software

Collaborate on tasks, manage timesheets, and log expense reports

Powerful ticketing system to deliver stellar customer support

Billing system to send and receive online payments from anywhere

Supply chain management with vendor tracking, purchasing, and inventory
13. HoneyBook

HoneyBook is an all-in-one business management platform and company management system. From first contact to booking your ideal client, HoneyBook makes it easy for you to capture leads, manage projects, automate workflows, send contracts and invoices, and get paid.
Top features:
Mobile app so you can manage your business on the go
Proposals and invoices optimized to get you booked
Contracts your clients can sign in seconds
Easy and intuitive workflows
Design forward client experience
Manage your team, tasks, and projects easily with ProofHub. (No card required, No per-user fee).
14. Atlassian JIRA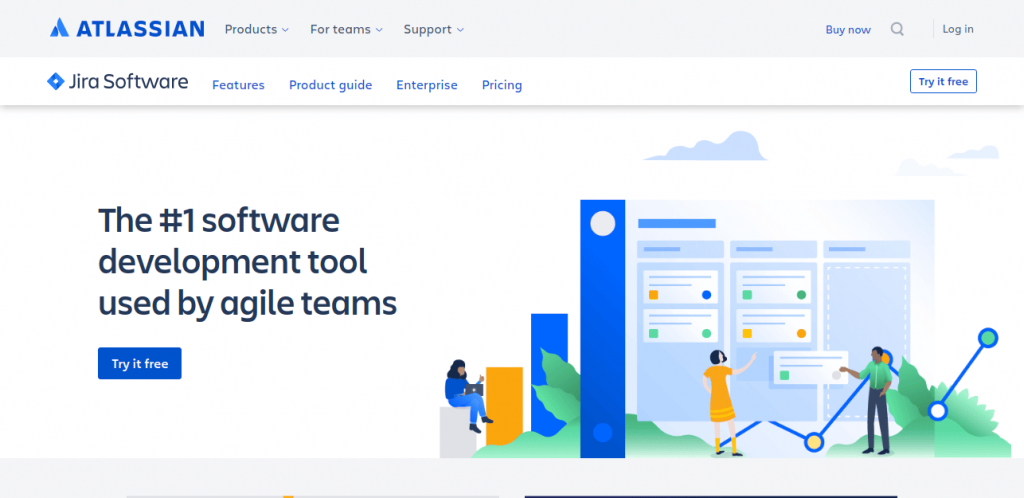 JIRA is a workflow mapping and project planning software that is designed to help software development teams of all sizes and industries. JIRA's Kanban boards, burnout charts, project reporting tools, etc are some of the popular capabilities of this tool that support teams at various stages of the development lifecycle. Also, it integrates with various developer tools and is available as a cloud-based or on-premise solution.
Top features:
Roadmaps that are connected to real work
Visualizing work in progress
Bugs and defect management
Polished user experience
Customizable dashboards and wallboards
Also Read: 23 Best Jira- Alternatives for Agile Project Management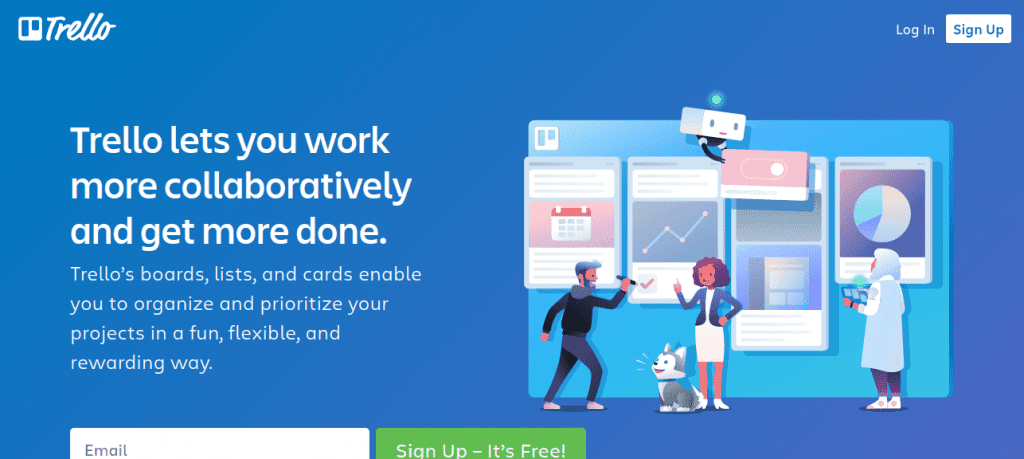 Trello is a web-based project management application that is designed to fit every unique need and work styles. From sales and marketing to HR and software development, Trello helps teams to customize its functionality to meet their specific project management needs. And with more than 100+ integrations (including tools like Google Drive, Slack, Jira and more), Trello makes it easier for teams to get their ideas to action in seconds.
Top features:
Easy organization with tags, labels, and categories
Drag and drop functionality
Mobile functionality to access boards on the go
Quick overview on front and back of cards
Texts and visuals fit any screen size
Also Read:Top 17 Trello Alternatives: List of Project Management & Kanban Software
16. Favro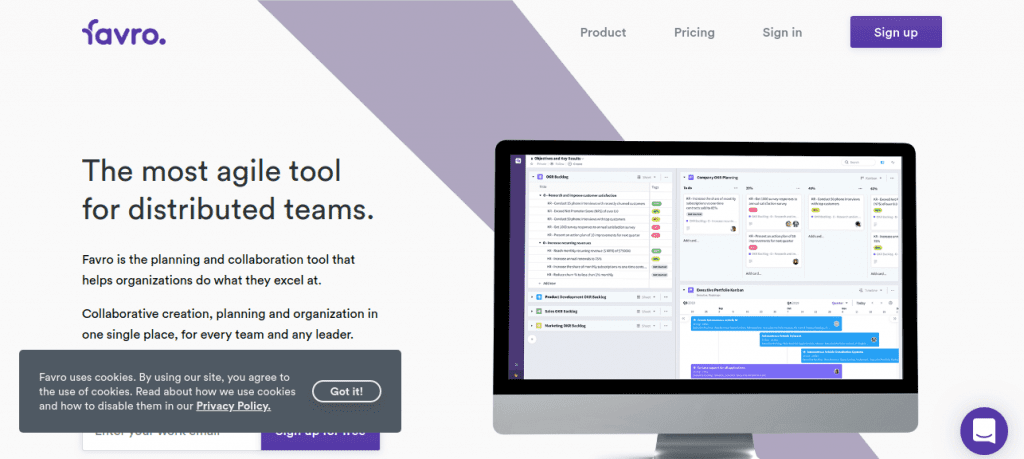 Favro is an all-in-one project planning and collaboration software that is designed to help teams stay on the same page. The features and functionalities of this software solution scale across any business or team. So, whether you're a team of developers, marketers, or executives, Favro works for all. It improves flexibility and visibility across projects by bringing teams in one place.
Top features:
Multiple view boards
Department collections
Time reporting
Time sheets
Estimation fields
17. Connecteam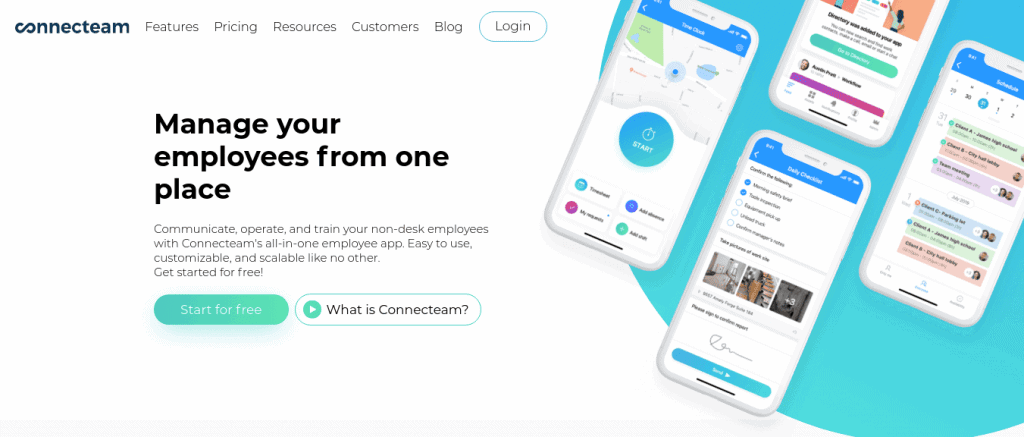 Connecteam is a leading business management software solution, designed for deskless teams and Enterprise companies. Taking care of your business operations has never been easier with robust features that can be managed while on the go and at any time. From time tracking to job scheduling, automated checklists and forms, one-on-one or group chat, surveys, digital training and onboarding, efficient task management, and so much more is available on a sleek and easy to use interface.
Top features:
GPS empowered time tracking
Efficient timesheet management and payroll processing
Real-time and detailed reports
Streamlined communication and better engagement
Simple and intuitive job scheduling – from planning to distribution
Better transparency and accountability with on the go task management
18. Todo.vu

Whether you are a consultant, freelancer, or small agency needing to track work across multiple projects, Todo.vu could be the right fit for your needs. It is a simple company management software that focuses on getting things done. It brings all your customer management and project management in one place with a beautiful and neat interface.
Top features:
Intuitive user interface

Focused communication and real-time updates

Built-in time tracking and billing

Sync tasks with any calendar
19. StudioCloud

StudioCloud has made a name for itself as a reliable business management platform and company management system in much less time. It is a one-stop solution for your business needs that contains all the features you need to manage your business anytime, anywhere. Go check this business tool to organize and simplify your life.
Top features:
Manage clients, partners, and vendors at one place

Create and send professional invoices

Send automated, personalized, text and email reminders

Have clients review and sign contracts online

Easily customize the look and feel of your software
20. nTask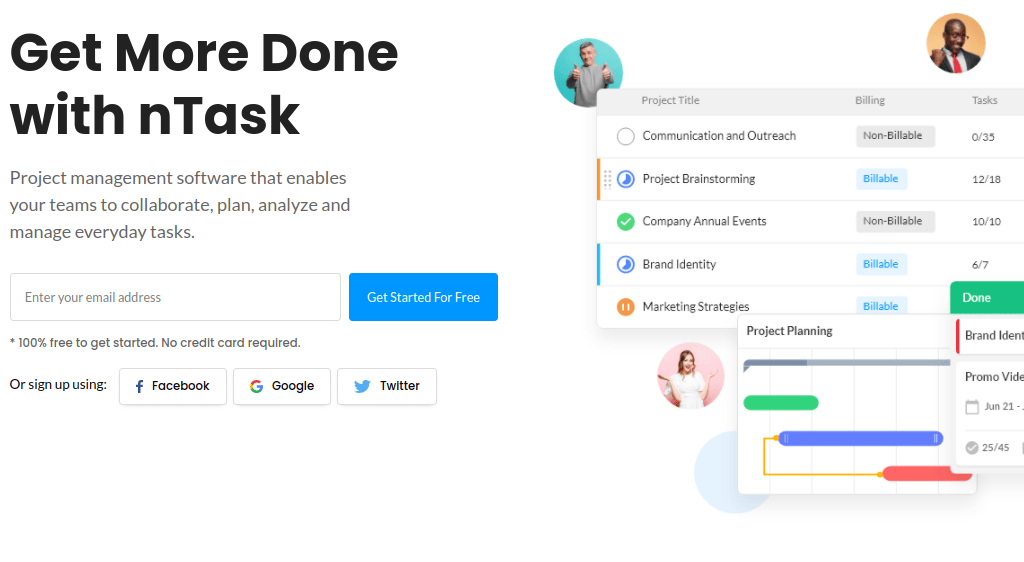 nTask is a comprehensive business management software that helps the team to manage everyday tasks and enables business owners to see a full picture of the progress on work. It brings all the departments and project teams in one place and helps in better team collaboration. The platform gives the ability to track time, manage projects, track issues, share files, and workflow management without any hassle.
Top Features:
Gantt charts for workflow management

Timesheets and automatic task timer

Risk assessment matrix

Custom fields and contact management

Budget setting and financial summary
21. Timecamp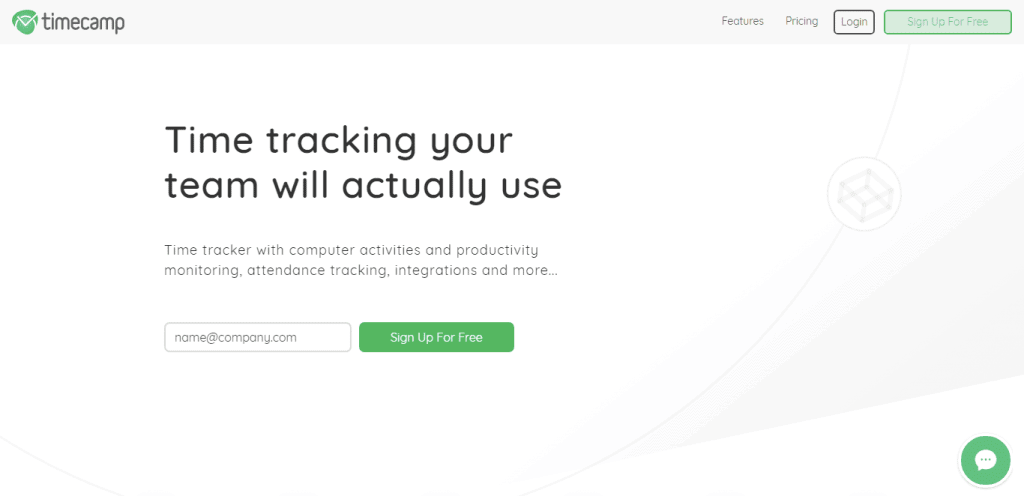 Timecamp is a one-solution-fits-all business management solution that comes with a time tracker with computer activities, productivity monitoring, attendance tracking, integrations and more. The software tracks time automatically so you don't have to worry about spending hours on figuring out how to do it. TimeCamp offers you an intuitive interface to get your team on board effortlessly.
Top features:
Create and send invoices based on time tracked per project and customer

Seamless integrations with project management, accounting, help desk software and more

Simple and intuitive interface

assign the time entries to the right project, monitor employees' internet usage and generate detailed reports

Desktop and mobile app available for many platforms and devices
Start managing your teams and projects easily with ProofHub. (No card required, No per-user fee).
What is business management software?
A business management software, by definition, is an application or set of programs that help businesses support, improve, and automate their processes. Such software assists in eliminating errors, completing business tasks, and reporting activities, and increases overall efficiency and effectiveness.
All in all, a business management tool or company management system is designed in such a way that it meets the requirements of business processes in the most effective manner.
Types of commonly used business management software/ company management system
Deciding on a project management software for your business or company isn't always an easy task as there are different types of business software used for different purposes. Below are some commonly used software in businesses:
Business invoicing programs

Asset management software

Customer relationship management (CRM) software

Database software

Word processing programs
How to choose the right company or business management software and platform
There are so many factors that go into consideration while choosing management software for your business. It depends on factors such as the size, needs, tasks, and processes that need to be automated in a business. Besides, make sure your business management software and company management system has the following features:
Project and task management

Time tracking capabilities

File storage and document sharing

Invoice and budget management

Resource management
Conclusion
Using business management approaches to streamline your daily tasks is the need of the hour. A useful business management software not only assists you in improving your skills, but it also brings balance to many of your business procedures. When it comes to dealing with project uncertainty, modern project tools are a manager's best friend. At the end of the day, everyone wants a more successful business and happier employees, which can only be achieved through proper management.
We hope that this list will help you choose the best business management software for your team and start achieving your goals with more efficiency.