Are you looking for a project management software that can help you manage your projects and team members in a better manner?
If the answer to the above question is yes, then you've come to the right place. It won't be wrong to say that adopting new methodologies, implementing new technologies and tools has become the need of the hour to boost your standing in the current scenario
We have compiled best project management tools list to up your game. Let's take a look at them.

ProofHub is a versatile project management system used by leading organizations like NASA, Disney, Taco Bell and many more. This all-in-one tool comes packed with powerful features to eliminate the need of having too many different tools to run your business.
Features:
Online proofing software saves a lot of time during the feedback-sharing process

Makes task-management less stressful for teams

Get a visual picture of projects using Gantt charts in ProofHub

Also available as a mobile app for Android and iOS users.
Pricing: Essential plan for $45/month when billed annually.
2. Scoro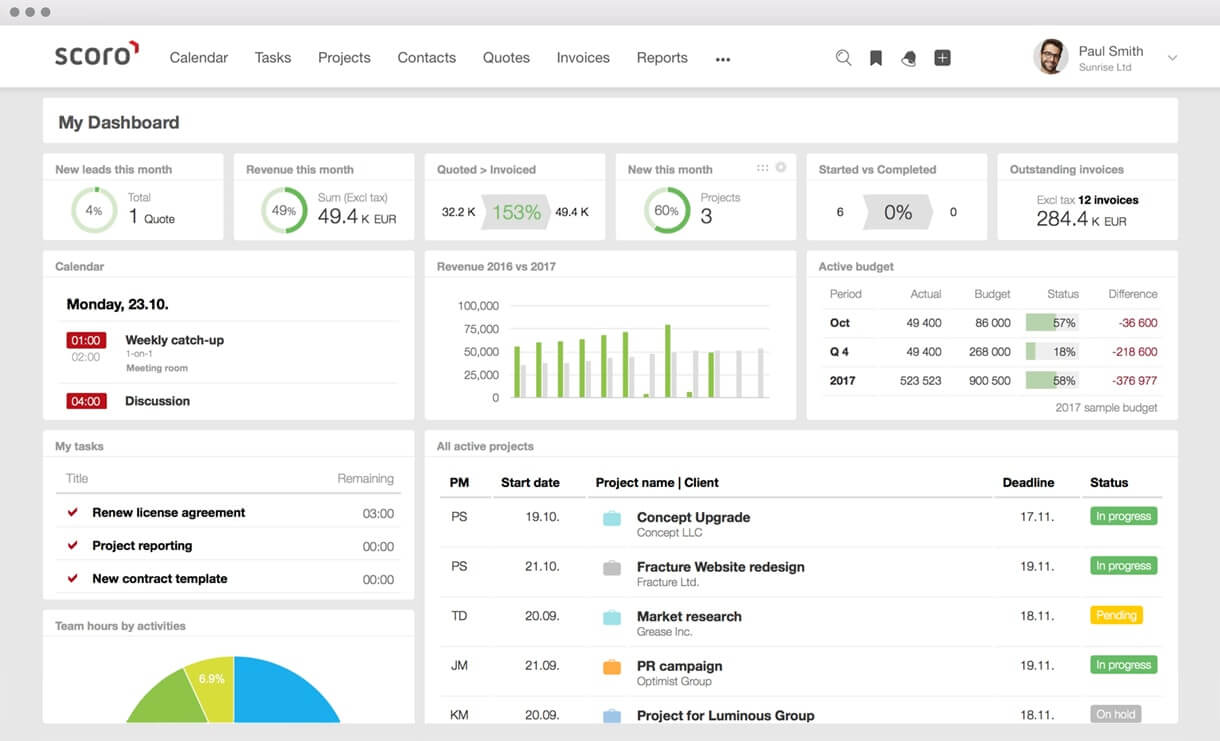 Scoro is known as one of the most comprehensive business management software for professional and creative services. For those who wish to bring structure to your work, Scoro is the right tool for you.
Features:
A single place for projects, clients, and teams

Be organized in every aspect of your business with seamless workflow

Get a real-time overview and automated reports

Can be integrated with tools like DropBox, Mailchimp, Outlook, and more
Pricing: Premium plan starts at $33/user/month
3. Workzone

Workzone is built by a highly dedicated team to help individuals and organizations gain better control and visibility in work management. It gives them a central place to manage and share work, so everyone stays on the same page.
Features:
Get top-level reports so everyone knows what's next on the list

Makes way for faster communication

Features like creating tasks, to-do lists, sharing files easily improves collaboration

Set permission for different users including clients
Pricing: Starts from $200 per month

4. Zoho Projects

Without a doubt, Zoho Projects stands out as one of the best simple project management software that can help you streamline your upcoming work and tasks with a click.
Features:
Effective file management

Gantt charts to oversee project progress

One tool for teams to create, collaborate, and communicate

Can be integrated with ZOHO CRM and other tools to manage every aspect of a growing agency
Pricing: $25/month for upto 20 projects
5. Functionfox

Functionfox is a timesheet and project management software trusted by creative professionals all around the world. It is both powerful and easy-to-use. You can track your projects accurately from conceptualization to completion, reduce admin time, and increase productivity and profits.
Features:
Simple project creation and management

Interactive real-time reporting

Compare budget estimates with actual figures
Pricing: From $5 user/month ($35/month for the 1st user)
6. Workbook

Workbook is a grown-up software suite for project and resource management, CRM, collaboration, file-sharing, forecasting, and accounting. You can choose exactly as per your requirements and only pay for it.
Features:
Create projects and tasks easily

Easily customizable

Supports a client portal
Pricing: $19 user/month, minimum 30 users

7. Redbooth

Redbooth is an easy-to-use online task and project management software for busy teams. Moreover, you can keep your entire team organized, in alignment, and always on schedule with Redbooth.
Features:
Intuitive task and project management

Easily delegate and assign tasks

Mobile apps for iOS and Android
Pricing: From $5 user/month
8. 10,000FT Plans

10,000ft is a simple yet powerful software that helps you make confident operational decisions about your teams and projects. Apart from this, it has resource management and time-tracking capabilities as well.
Features:
An effective visual resource planning software

Detailed project tracking

Flexible planning interface
Pricing: Basic plan starts from $10/month
9. TeamGantt

TeamGantt is a refreshing solution that brings project scheduling software online. You can manage projects with this super-easy Gantt software. Inviting your co-workers, teammates, and friends to view and edit your Gantt chart is simple and fun!
Features:
Fast drag and drop scheduling

Intuitive and easy-to-use

Real-time progress updates
Pricing: Standard plan starts from $7.90 /user per month (when billed annually)
10. Proworkflow

Proworkflow is one of those project management software your teams would love. It's beautiful, versatile and extremely easy to use. Also, it integrates with all the tools you need – saving you time and streamlining your processes.
Features:
Makes it a breeze to assign staff, track time or reschedule projects

Quoting and invoicing have never been simpler.

Reliable support and consultation
Pricing: From $22 month/user for team
11. Mavenlink

Mavenlink is a modern software designed for services organizations to connect with people, projects, and make profits. In a world where connectedness, transparency, and performance matter more than ever, Mavenlink helps you deliver projects successfully.
Features:
Manage multiple projects with ease

Handle project schedules in an intuitive interface

Gain visibility of all your projects in your portfolio
Pricing: Professional plan starts at $39/month/user
12. Insightly

Insightly is a powerful CRM with a project and business management set. It allows you to grow your business faster than ever by building strong customer relationships over time.
Features:
Effortless tracking of project activity

Accelerate sales and manage leads

Helps you build meaningful relationships
Pricing: From $15 month/user for teams
13. Clarizen

If you are looking for a cloud-based project management software to help your business grow, Clarizen can come to your rescue. It is a single collaborative work management solution that could manage projects and help you connect with team members effortlessly.
Features:
Automated processes and workflows

Budget tracking and expense management

Flexible UI
Pricing: From $60 user/month
14. Comindware Project

Comindware is a popular workflow and business process management software. The workflow management software provides key capabilities for task, data and document management.
Features:
Focuses on process optimization

Customer order management and CRM capabilities

Full process automation, activity monitoring, business analytics as well as enterprise system integration.
Pricing: Starts at $29.99 per user
15. Easy Project

Easy Project is a professional project management software for you, your team, and the whole company. Trusted by top-notch companies like Toyota, Lenovo, Bosch, it is a perfect fit for numerous industries be it IT or educational.
Features:
Visual project maps and plans

Compatible with modules for Resources, Finances, Help Desk and CRM

Integrated with Outlook, Project, Excel, Redmine
Pricing: $21/month per user Pro plan (60 portfolios, and 100 custom fields)
16. Crocagile

Crocagile is a simple agile project workspace designed to streamline communication and is focussed towards software development teams. It's powerful tools and simple design is uniquely engineered for agile developers. It has all good stuff including collaboration and gamification feature giving a much-needed boost to agile practices with cutting-edge technology.
Features:
Activity Streams, Smart Alerts, and Group Chat to eliminate email

Team member updates are visible in one place, automatically

File Sharing – Store and Share files with commenting
Pricing: Starting from $2.50 per user, per month with the 30-day free trial.
17. Producteev

Producteev has been a task management solution for small and medium-sized teams. Project managers can easily access all their projects, tasks and other collaborators. You can easily plan any projects, map your route, organize files, delegate tasks, and various elements. Users can easily track the progress of each task.
Features:
Organize on your fingertips

Powerful collaboration

Seamless tracking

Interface customization

Personalized support
Pricing: The Premium plan is available at $99 per month
18. Teamdeck

Teamdeck offers a complete solution for companies to deliver projects faster. It is an essential tool for managing resources and monitoring time spent on tasks and projects. With Teamdeck you can book your employees on different projects and create accurate timesheets with one-click time tracking.
Features:
Resource scheduling

Timesheets and time tracking

Leave management

Measure billable time
Pricing: Free startup plan limited to 6 team members. Business plan starts from $3.99 / team member / month, $1 / basic resource / month
Conclusion
With the changing times, the needs of businesses are changing as well. Spend a good amount of time to figure out if you need an invoicing tool, robust reporting software, or a holistic view of projects and processes at one place.
We hope that the above list would serve the purpose and provides you a list of top project management tools to be used in 2018. If you think, we have missed a tool that could make a difference in your life, don't forget to drop your comment below.
Subscribe to ProofHub
Get the latest posts delivered right to your inbox.