Working as a manager means that you have to be ready to tackle new challenges almost every day at work. Above that the wide range of responsibilities makes this job role highly demanding and strenuous.
When you have to handle multiple projects, teams, tasks, and clients, you need to make sure that things don't go south and move as planned. It becomes your responsibility to prevent any chaotic situation from setting foot into your office space.
But how to do that (without getting stressed)?
Well, hard work is definitely something that will help you and your team to achieve your shared goals and objectives, but that's not the only thing that matters. You need to add a layer of smart work onto your efforts to manage things easily and get more done in less time.
As Jayson Zabate puts it – "I don't believe in luck or in hard work without the so-called "work smart". It's not all about how you work hard but it's about how you manage your time, resources, mind to work together for a better output."
Now, you might be wondering how do I work smartly and stay on top of all my managerial duties? This is where technology can help. I've been working in the management field for quite some time now and I know quite a number of tools that can make a difference in your life while working as a manager.
In this article, I am going to list down the best tools that will help you shine as a manager and establish full control over everything at your workplace.
Best tools for managers you can turn to anytime
The tools that I will mention here belong to different categories of productivity tools. It is completely up to you whether you want to use one or multiple tools together. I advise you to consider your requirements carefully before opting for any of the tools.
Let's have a look at them:
1. ProofHub – Project Management Software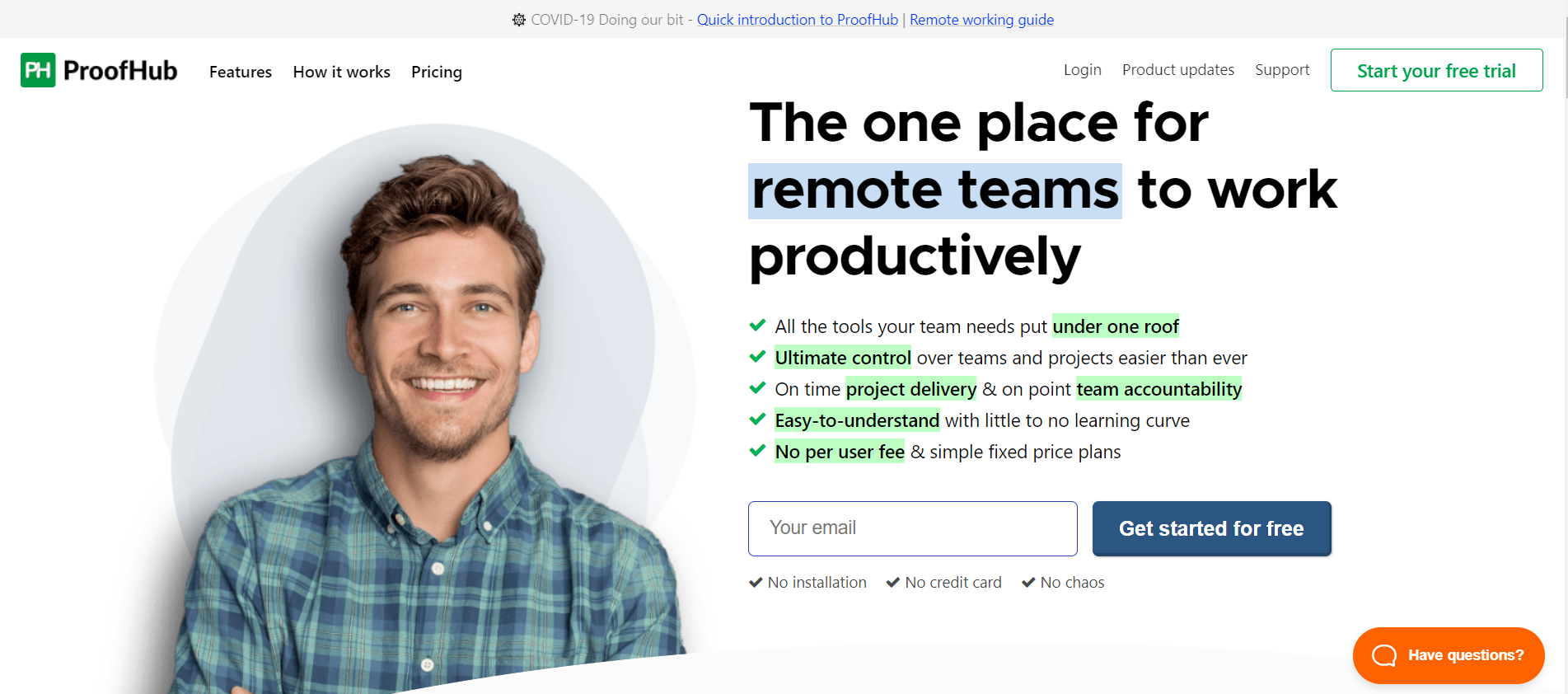 The first name on this list is ProofHub – an all-in-one project management and team collaboration software that brings together all the essential tools you need to plan, collaborate, organize, and deliver projects successfully. It has got some incredibly powerful features to help managers take care of several projects and teams simultaneously.
With ProofHub, you can have a bird's eye view of all your projects and teams. Its easy-to-use interface ensures that onboarding is easy so you can become familiar with its functionalities in no time. One of the best things about ProofHub is that teams of any size, any industry, any department can use it. As a complete project management software, ProofHub brings you and your team to a single place where everyone stays up-to-date regarding project progress.
Notable features
Every organization works in a hierarchy and when using a centralized project management system, it's important to control who can access what. ProofHub allows you to create custom roles and define the access level for each role. It also has three three default roles, namely Owner, Admin, and Normal, just in case you don't want to create custom roles
Task management is a key responsibility of managers. With ProofHub, creating and assigning tasks to team members is a breeze. The software allows you to create tasks with deadlines, break them into smaller subtasks, add comments, attach files, and mark progress percentages for each task. Additionally, you can create custom workflows using the Kanban board and streamline your task management endeavors.
With the help of Gantt charts, you can visualize your projects in the timeline view. On top of that, you can set dependencies between tasks, identify critical paths, and change schedules by simple drag and drop tasks on the Gantt chart. The project timeline view comes extremely handy when you need to finish complex projects on time.
Reviewing files and adding comments as feedback is essential for your team to deliver quality work. The online proofing tool in ProofHub allows you to proof files in real-time and share feedback in an effortless manner. You can even use markup tools to ensure clear feedback and leave no room for confusion. It is also possible to upload new versions of files, which makes it easy to compare files and review the changes.
From time to time, it is essential to keep the progress of a project in check, and this is where project reports come into the picture. ProofHub helps managers stay on top of their projects and resources with its detailed project reports. You can even customize the parameters in reports according to your preferences, and plan your projects and resources more efficiently. Additionally, the burn-up charts will let you compare the work done against the total amount of work, which can prove to be of great help.
Time tracking plays a vital role when you want to see how members of a team are devoting their time to different tasks and projects. ProofHub comes integrated with an automatic timer that allows you to record time for each task within a project. You can also add work hours manually. Furthermore, the timesheets store all the time data, which you can access easily at your convenience.
Managing files associated with projects becomes challenging when your files are scattered across different devices and platforms. ProofHub eliminates this problem by offering a cloud-storage space to upload, organize, and share files. You can easily access the files from different devices by logging into your ProofHub account. Also, the advanced search option saves a lot of time when you need to find certain files and documents among your uploads. In fact, with its third party integration with apps like Google Drive, OneDrive, Box and Dropbox, you can eventually bring all your data to one centralized location.
Switching to ProofHub means that you no longer need a notebook and pen to jot down important information. The notes available within the project management software are practical and easy to use. Subscribe team members to notes and collaborate with them without even leaving your table. Set different colors to notes and organize them smartly in notebooks for better organization.
When working in a group to achieve common objectives, staying in touch with one another becomes vital. To help teams stay connected, ProofHub has a built-in chat app that allows you and your team to instantly communicate with one another. Chat one-on-one with a team member or start a group chat by adding multiple participants. The chat interface also supports emojis and you can even share files in it.
Managing work requests, tickets, etc. is quite difficult using emails. The request forms feature incorporated into ProofHub allows you to manage any kind of requests with relative ease. Add request forms for different projects and add labels to differentiate them easily. Also, you can customize a request form by adding fields of your choice and get information that you need to process a request.
Pricing
A free trial is available for new users. For information on our pricing plans, kindly visit our pricing page.
Supported platforms
Web, Android, iOS
2. Todoist – Task Management App

Todoist is a dedicated task management tool or app that you can use to manage your tasks conveniently. It is flexible enough to handle a diverse set of tasks related to all kinds of projects. As a manager, you will find this app to be extremely helpful in organizing tasks and delegating them to team members.
With Todoist you get a secure and easily accessible space for all your work related tasks. You also get a clear overview of all the tasks of a project so that you stay aware of what is done and what is pending.
Notable Features
Create new tasks in an instant with Quick add option

Leave comments on projects and tasks

Visualize productivity using color-coded graphs

Get real-time notifications whenever someone completes a task, post comments, etc.

Add tasks via email
Pricing
The business plan costs $5/user per month.
Supported platforms
Web, Windows, Mac, Linux, Android, iOS
3. Nifty

Nifty is an all-in-one project management solution that manages the entirety of a project or collaboration lifecycle. Fantastically powerful while shockingly easy to use, Nifty is accessible to everyone and can be used on projects of all types.
Nifty also offers scaled-up reporting to help you stay on top of all of the project timelines and individual Tasks across your team to ensure that nothing slips through the cracks.
Notable features
Project Lists can be shared to a Roadmap as Milestones which automate their progress reporting as the Tasks within them are completed.

Milestones can be tracked across projects at scale in Overviews to determine a project's percentage of completion.

Workloads and All Tasks help managers balance their resources across projects and make sure assignments are completed on time.

My Work is the introductory screen of Nifty and compiles all of the Tasks assigned to you in a single place for an actionable start to every day.
Pricing
Nifty offers a Free Forever plan, and its pricing starts as low as $5/user/month annually.
Supported platforms
Web, Windows, Mac, Android, iOS
4. Bit.ai – Document Collaboration Platform

Imagine sharing, collaborating, and working together in one central location with your team. That's exactly what Bit helps you do! A workplace collaboration tool, Bit helps you and your team manage all your documents and company knowledge in one place, removing barriers to work and in turn, making everyone more productive.
Bit provides a platform for you and your subordinates to simultaneously collaborate on a smart document in real-time. Simply create different workspaces, add your team members, and start collaborating! This powerful tool helps you manage projects, assign tasks, chat with co-workers, store media assets, create client-facing material, brainstorm, share meeting agendas, and most importantly, share knowledge.
Notable features
Interactive documents with rich media integrations
Collaborate with co-workers in real-time
Robust search
Real-Time Notifications
Built-in document tracking
Smart workspaces
Pricing
Free for up to 5 members.
The Standard plan costs $8/member/month
The Business plan costs $15/member/month
Supported platform
Web
5. Chanty – Team Chat App

Chanty is a simple AI-powered team chat app that will help your team to stay connected. It is a great tool for any team to collaborate and use communication to their advantage. The interface of this app is intuitive and makes team onboarding a seamless experience.
Whether you want to communicate with your teammates effectively over text, voice calls, or video calls, Chanty is there to help you out. Also, the chat app allows you to send files and links to people in your team.
Notable features
Pin messages to access them quickly

Send voice messages

Developer friendly formatting allows you to share lines of code

Organize conversations, pinned messages and shared files using Teambook

Set roles to choose who can post and see other participants of a conversation
Pricing
The Business plan costs $3/user per month.
Supported platforms
Web, Windows, Mac, Android, iOS
6. Time Doctor – Time Tracking & Employee Monitoring App

Time Doctor simplifies the responsibility of monitoring large teams and teams that are working remotely. It is one of the best apps to stay fully aware of the activities of individual team members. No matter the location and the number of people in your team, you will always have a clear idea of how they spend their work time.
Time Doctor allows you to track the productive time spent working on tasks as well as the time wasted by team members. With Time Doctor, you can get screenshots of employees' monitors at regular intervals to see what they are doing throughout the work hours.
Notable features
Track an employee's real-time location using GPS

Supports attendance tracking

Display pop-up alerts when employees sit idle for too long or visit non-work websites

Track breaks and time wasted

Generate detailed time reports to identify the areas that act as productivity weaknesses
Pricing
The Standard plan costs $9.99/user per month.
Supported platforms
Web, Windows, Mac, Linux, Android, iOS
7. TryShift – Email Management

Tired of switching between accounts, and logging in and out? Think of Shift as an aggregator. Shift offers a clean, one stop app for all your work related needs. With all your emails, apps, and workspaces all integrated into one space. It is a logical & beautiful solution for managing everything better. Customize Shift with all of your email accounts, apps (1500+), and tools to jumpstart your productivity
Notable features
Unified search:

T

he quickest way to find what you're looking for, across any of your Mail, Calendar or Drive accounts.

Google Apps:

Add all your Google accounts, from Gmail, Calendar & Drive to Slides, Sheets, Adwords, and all the rest.

Workspaces:

Create and share focused Workspaces with mission-critical tabs, bookmarks, and apps for you, or your team.
"Manage all your apps, tools, and email in one beautiful desktop app…. 1000's of apps. Multi-account access. Streamline workflows."
You can take the full tour directly at the Shift App website!
8. Google Drive – Cloud Storage Service

Cloud storage service is a must to manage and access all your project files and documents from a single space. Google Drive has become the preferred choice for managers to store and share files.
Being a cloud storage service, you can access files that you have uploaded from literally anywhere using any device. Upload photos, documents, videos, audio files, PDFs, etc. and open them to view on Google Drive itself.
Notable features
Create folders to organize the uploaded files

Quick access to recent files

Share folders and files directly with your team

Give access to view, edit or comment on the shared items
Pricing
G Suite Basic plan costs $6/user per month with 30 GB of Google Drive storage
Supported platforms
Web, Windows, Mac, Android, iOS
9. Boomerang for Gmail – Email Management App

Managing all your emails on Gmail becomes convenient and effective with the Boomerang for Gmail app. With this app, you can control and decide when you send and receive email messages.
Boomerang for Gmail allows you to declutter your inbox by archiving all the email messages that you do not need for the time being. You can restore the same email messages in your Gmail inbox with a single click whenever you need them.
Notable features
Get reminders for your emails that haven't gotten a response within a specific time frame

Write perfect emails with the help of AI-powered assistant

Communicate easily with people in different time zones
Pricing
The Pro plan costs $14.99/user per month.
Supported platform
Web
10. Salesmate – Sales CRM Software

Salesmate is an advanced CRM (customer relationship management) software that will help you streamline your sales process. It employs modern sales techniques to help your business attract more prospects, win more deals, and enhance customer satisfaction.
This CRM software has an intuitive and insightful sales pipeline view. You can easily track, filter, and see the progress of all your deals. The drag and drop interface makes it really simple to move deals from one stage to another.
Notable features
Sales activity tracker allows you to track your team's activities

Notification alerts whenever a prospect opens your email

The integrated virtual phone system allows you to call and send text messages to contacts
Pricing
The Growth plan costs $24/user per month.
Supported platforms
Web, Android, iOS
11. Zoom – Audio and Video Conferencing

Zoom is perhaps the most popular video conferencing platform in the world right now. When you want to connect with your team seamlessly over voice and video conference calls all you have to do is switch to Zoom. And, you can collaborate with your team easily and coordinate effectively to achieve your team goals.
Besides video conferencing, Zoom also offers a chat interface that allows you to send messages and even share files with your teammates. Also, you need not be a tech-savvy to start video meetings with your colleagues using this app.
Notable features
Supports screen sharing allows your team to deliver presentations

Make HD voice and HD video calls

Admin dashboard provides important information such as live in-meeting data
Pricing
The Business plan costs $19.99/user per month
Supported platforms
Web, Android
12. Evernote – Note Taking app

If you want to take notes of everything important to a project and focus on things that matter the most, Evernote is a great choice. You can use this note-taking app to capture ideas and inspiration in the form of text and voice recordings.
You and your team members can use Evernote to upload, access, edit, and share notes from any device. Also, it is easy to organize all the notes by adding tags to them and group them into notebooks.
Notable features
Organize everything easily in a common space

Easy-to-install note templates that you can also customize according to your requirements

Web clipper allows you to save web pages, articles, and PDFs

Annotate screenshots of web pages
Pricing
Evernote Business plan costs $14.99/user per month (minimum 2 users)
Supported platforms
Web, Windows, Android, iOS
Further Reading: Evernote Alternatives: 12 Note-Taking Apps You Should Be Using Today
13. Teamdeck

Teamdeck is cloud-based project resource management software developed in Poland. Main features are resource scheduling, capacity and leave management and time tracking.
This SaaS solution is selected by companies from the creative and IT industries. Hill-Knowlton, Wunderman Thompson, NTT Data, Stormind Games – they've chosen polish software to manage international projects.
Notable features
Functionalities in 1 tool: time tracking and timesheets, work schedule, leave management, resource scheduling.
Custom organization working time and availability.
Ability to assign custom fields to people and projects, i.e tags job title with skills, technologies, etc
Excel-like custom reporting.
Leave management acceptance process takes into account employee holidays.
Automatic bank holidays for multiple localisations
Pricing
Team Member: $3.60 / per month
Supported platforms
Web + Mobile
14. Avoma

Avoma is an AI-powered meeting lifecycle assistant that records, transcribes, and analyzes your calls and meetings to offer actionable insights, thus making your remote meetings actionable and collaborative. Avoma is quite popular for its capabilities across the stages of the meeting lifecycle, namely before, during, and after the meeting.
There are many integration options available with other apps too, which include all major CRMs, conferencing tools, and dialers. To emphasize Avoma's organization, the name is an acronym for 'A Very Organized Meeting Assistant', short and sweet, making work life a whole lot more efficient.
Notable features
Avoma helps you accelerate your meeting preparation by offering scalable agenda templates.

Avoma allows you to make playlists of key conversations, and helps capture information and share it among teams in the form of snippets.

Automatically takes notes during your meetings and syncs them to the CRM.
Pricing
Avoma offers a free plan and a 14-day free trial

The starter plan costs $20 per user per month.
Supported platforms
All browsers, iOS, Android
15. TeuxDeux – Task lists

TeuxDeux is a to-do list app that you can use to create checklists for your daily tasks. It has a simple interface that makes creating to-do lists a child's play. You can easily strike through tasks on a to-do list to mark them as completed.
One of the things about TeuxDeux that you will find interesting is that it automatically rolls over any tasks that remain unfinished at the end of the day.
Notable features
Add links links to text and make words bold for better visibility

Create and add recurring tasks to a to-do list

Organize tasks for the week or the months using the built-in calendar
Pricing
The Skeptic plan costs $3/user per month
Supported platforms
Web, iOS
Conclusion
As a manager, you have this big responsibility on your shoulders to ensure that things don't slip through the cracks and teams always deliver projects on time and within budget. Without having the right tools and technology by your side, it is virtually impossible to achieve this. The list of tools, which I've put together contains some amazing options that can help you remain in ultimate control of your teams, tasks and communications. All you have to do now is to figure out which ones fit the best within your requirement and start using them.
So, are you up for it?