Have you ever assigned a task to your team, only to find out that they're confused about their responsibilities and the task details?
It can be frustrating, especially when deadlines are approaching and you're counting on your team to deliver.
Being the leader of a business, one of the most important things that I discovered was essential to getting productivity out of my daily work was "communication."
Many tasks in a work management, including decision making, ideation, checking dependencies, getting approvals, and getting feedback, are not possible if there is not effective internal communication in project management.
In one of the reports by The Economist Intelligence Unit, "44% of respondents said that miscommunication has caused a failure or delay in project completion."
Undeniably, good communication is an essential component of project management, allowing projects to move forward smoothly and on time. It not only helps to complete work on time, but also builds trust with employees that "you are there for them".
I'd like to write this article to share my knowledge and what I believe is important for internal communication in project management, whether it's strategies or the best technology, to keep in front of you to encourage a better work environment. So, without further ado, let's get started:
Tired of miscommunication causing project delays and rework in your projects? Streamline your communication in 5 effective ways with ProofHub.
What is internal communication & why it is important?
Internal communication refers to the exchange of information and messages between people within an organization. It's how employees communicate with each other, whether it's through face-to-face conversations, email, instant messaging, or other forms of communication. The purpose of internal communication is to ensure that everyone within the organization is informed, connected, and working towards a common goal.
In other words, the communication where your employees can understand your thoughts clearly, comprehend each other, and work collaboratively to harbor a positive workplace can be termed as "internal communication,".
In my opinion, internal communication is like a secret weapon for organizations. It's a powerful tool that enables you to connect and engage with your employees quickly and easily.
With effective internal communication, you can keep everyone in the loop, provide regular updates, and create a strong sense of teamwork and collaboration. By fostering a culture of open communication, you can build trust and improve employee morale motivating them to achieve deadlines, which in turn can lead to higher productivity and better business outcomes.
Internal communication & project management
A project manager who can visualize a project and communicate that vision to their employees will be able to differentiate their initiatives from the crowd. The major responsibility of communication in project management is to ensure that everyone involved shares the project's vision and goals.
According to the McKinsey report on the social economy, "Improved communication and collaboration through social technologies could raise the productivity of interaction workers by 20 to 25 percent."
But when you are unable to do so, things get disturbed.
A lack of communication leads to stress and misunderstanding among employees, as well as a lack of teamwork.
A little workplace stress is common, especially when most of us have deadlines to meet and projects to complete.
However, when you are unable to track progress and what your team is doing, or unable to communicate with your team, and this continues the same for an extended period of time, that little work stress can be "severe" and cause "burnout".
This is the reason the importance of internal communication can't be neglected, no matter if you are handling a small team or a large one, or if you are handling one project or many. To cultivate proper communication within the organization, you must know what types of internal communication you need to build.
It is a vast topic; you can't just plan today and start implementing tomorrow. Proper knowledge about the subject is a must.
Types of effective internal communication in project management
What is the first thing that comes to mind when you hear the phrase "internal communication in project management?"
Regular team meetings?
Use of technology to share ideas or transfer files?
or
Town-hall meetings to explain the goals & mission?
"Not everyone prefers to communicate in the same way."
Taking into account the fact that everyone is unique and prefers a particular mode of communication not only improves the distribution of information, but it also allows us to recognize people as individuals rather than numbers.
Whenever I think of project communication, my main efforts are always to comply with all four of the following types of internal communication:
One-on-one communication between the project manager and team members
Regular team meetings
C. Use of communication technologies
Open-door policy
Let's talk in a little detail about these:
1. One-on-one communication between the project manager and team members
The goal of one-on-one sessions is to encourage healthy communication between managers and team members. One-to-one communication improves employee satisfaction and employee morale as it helps to
Provide specific feedback on employee performance; know where they are lacking & what they can improve.
Learn better about the company goals; get to know why and on what they are working.
Strengthen the bond between you and your employees; they are better able to understand you.
Improving productivity as one-on-one conversations help you understand better the problems you are facing.
You can structure the basis of your one-on-one conversation as well. Some questions will help you understand your employees better.
How are things going today?
What happened last week?
What are your plans and priorities for the upcoming week?
Do you have any questions concerning the latest change?
What has been the most difficult for you over time?
What has kept you going in your role over time?
How are things going with your coworkers or team members?
What are two or three new skills you'd like to pick up on the job?
What can I do to assist you between now and the next time we meet?
Is there anything we missed that you'd like to talk about next time?
2. Regular team meetings
Organize team meetings on a regular basis. This allows everyone to be present when project activities and modifications are addressed, and it establishes a fair playing field by allowing all team members to voice ideas, concerns, and status updates.
To save time, strive to keep meetings to 50 minutes or less. This gives everyone a few minutes for administrative work or rest — or simply a chance to hurry to the next meeting.
To keep meetings on track, use the following steps:
Use a timekeeper.
Create an agenda and distribute it to all team members before the meeting.
Request that team members be prepared to discuss the agenda items.
Non-agenda matters should be tabled unless they are urgent, with the understanding that they will be discussed later.
Plan the next meeting ahead of time, and keep a note of discussion points that will be carried on.
3. Use of communication technologies
Collaboration tools aid in the streamlining of project management and the facilitation of collaboration among team members and other stakeholders.
Consider cloud-based project management systems like ProofHub if you want a simple way to interact and collaborate with team members in the same office or around the world.
Such communication technologies can help you to resolve many issues like
Improper flow of information
Unaware of project workflow
Unable to coordinate with teams
Delay project deadlines
Improper time management
4. Open-door policy
As per my experience to date, the one thing that employees feel is a must is that they can openly express their views in front of their leads or managers.
Where you restrict them with their ideas, they are unable to give their best. Moreover, they will not work with their full energy.
So, make sure your organization has an open-door policy to
Listen to employee questions, suggestions, challenges, and complaints.
Improve communication at all levels of the organization.
Encourage healthy and constructive debate.
Examining multiple points of view on job satisfaction.
Developing and maintaining employee trust.
Bonus tip: If you feel that building such policies can affect your productivity, then you can implement them with a full plan.
Before implementing this policy, define one time from your productive day that is set aside for this purpose only.
Set a time limit for every meeting as well.
Also, let your employees know that these sessions will be only for official purposes; no gossip will be allowed.
All these activities help you build a positive work environment where there is effective strategic communication among employees and the overall work structure is organized.
Do you know how your project management gets better and benefits from this synchronization of internal communication? Let's read the following:
Importance of internal communication in project management
Thinking about project teams, who are from different backgrounds and experiences. To better align all of them at the same pace, it is essential to keep them connected and informed. Only then, your tasks can be on-top. Proper internal communication in project management is important, as it is essential to doing work effectively and enthusiastically. Let's take a look at how it works:
Internal communication facilitates feedback and discussions
Giving constructive feedback and discussing it thoroughly with employees helps them better understand what the task is about and how they are doing it.
Internal communication fosters employee interest in the company
Effective internal communication fosters employee unity by allowing them to share their ideas, opinions, and experiences. This fosters employee-employer trust, which leads to enhanced productivity, improved decision-making, and higher willpower to address challenges collaboratively.
Internal communication brings out the company's main goal
Internal communication's major purpose and most significant role is to help employees comprehend the organization's vision as well as its business decisions. This way, they will know exactly in what direction their work and efforts are going.
Internal communication aligns work progress
Well-structured communication helps to align the coherence and integration between vision, brand, messages, and culture. This will help employees better understand and sync everything from the brand message to the company's culture, so they can work accordingly.
Internal communication brings clarity and transparency
Although presenting employees with the numerous and often overwhelming factors to consider when making a decision frequently leads to more uncertainty.
Furthermore, if critical information is not presented clearly and truthfully, it may be misconstrued, and employees may pick up on unintended signals and generate the incorrect impression. So, proper internal communication brings better clarity and results in no conflicts or misunderstandings of any information.
Internal communication helps the company's growth
Internal communication improves company agility by creating an atmosphere in which opportunities can be easily identified, allowing your firm to move rapidly when needed. You may get input from employees about how your firm is doing by using tools like team member surveys.
Such importance of internal communication can't be neglected. However, there are times when people are unable to comprehend proper communication after so many efforts and policies. That is because they are facing some hidden challenges in internal communication. Let's take a look at those:
Challenges of internal communication in project management
The hidden challenges, or the things we don't think can affect our communication, actually affect it the most.
Have you ever thought that your way of communicating is aligned?
What is the one language in which you communicate in the office?
And such more things!
These are also important to consider.
1. Communication barriers
Too many devices to communicate
Technology has advanced. The days of merely utilizing a desktop computer are long gone. Employees now use laptop computers, cell phones, tablets, and other devices.
As a result, providing information to your staff on the correct device can be difficult.
Did you know that most businesses still use email as their primary mode of communication?
According to a McKinsey study, the average professional spends 28% of his or her workday reading and responding to email. That equates to 2.6 hours spent and 120 messages received per day for the average full-time employee.
2. Language barriers
A German study called "Language Barriers in Different Forms of International Assignments" linked language barriers to a number of organizational behavior characteristics.
The findings revealed that language barriers can have a great effect on employees' emotions, social identity construction, trust formation, and power interactions.
According to the findings of a study on the impact of language barriers on English as a Second Language customers, language barriers produce negative emotional and cognitive responses and prevent customers from taking specific actions like seeking the required data or complaining about a service failure.
So, whatever language you are deciding to implement for communication, make sure to give proper training related to the language if the person is not familiar.
3. Time zone differences
When people have to interact across different time zones in different nations, time becomes a physical barrier.
The message delivery delays are brought by physical distance, differing time zones between the sender and the recipient, and other factors.
It is very important to work on a central platform like ProofHub, where you can communicate in real time without being affected by time zone barriers.
4. Cultural differences
Gestures, body language, manners, mindsets, communication, and conventions are all affected by cultural variations, which can lead to misinterpretation. Eye contact, for example, is highly valued in some cultures but considered unfriendly and insulting in others.
These are some of the barriers due to which people can misinterpret even the right and positive information. Effective internal communication can't be delivered properly until these challenges are solved.
So, what to do?
Strategies to overcome internal communication challenges in project management
The way to tackle these challenges is to use some strategies like constructive feedback, active listening, open communication, and a positive culture where everyone is learning from others, helping each other, and bringing out the best not only in work but also in personal growth.
1. Active listening
Active listening is an important part of efficient internal communication.
Let's understand with an example. If an employee raises concerns about a project deadline, active listening may entail asking clarifying questions, summarizing their arguments to guarantee comprehension, and offering support or potential solutions.
As a result, active listening assists in understanding employees' verbal and nonverbal clues and responding in a way that demonstrates you have comprehended their message.
2. Providing feedback
Giving feedback can assist people in understanding how their messages are being received and identifying areas for improvement.
If a team member delivers a presentation, for example, providing constructive criticism on their delivery or topic might help them improve their communication skills for future presentations.
3. Encouraging open communication
Open communication is essential for building a collaborative and productive work atmosphere.
This entails fostering a secure and supportive environment in which employees can communicate their thoughts, ideas, and concerns without fear of being judged or retaliated against.
A manager, for example, may conduct frequent team meetings at which everyone is invited to express their thoughts and views on ongoing projects or company initiatives.
4. Creating a positive communication culture
Developing a great communication culture is critical for fostering strong relationships and attaining common goals.
Setting clear communication expectations, supporting transparency and honesty, and embracing varied opinions are all part of this.
A corporation, for example, could promote an open-door communication culture in which employees are encouraged to contact their managers with any questions or concerns they may have, and management would answer in a prompt and polite manner.
So, with the help of these 4 strategies, you can actually overcome major challenges related to internal communication. But after fostering proper internal communication, how will it be helpful in project management?
It depends on how well you know that your employees need to communicate or need information. Let's take a look at how you will get to know that.
How often your team needs to communicate
Communication is critical to the success of any project.
Within a project team, regular check-ins and status updates can help ensure that everyone is on the same page and working toward the same goals. To determine whether your employees need to be in contact with you or require your support, consider only the following three factors:
Daily Check-Ins:
For small projects or when the project is in a crucial phase, daily check-ins are encouraged. These check-ins should be brief and focused, with team members presenting their progress, identifying any bottlenecks, and addressing next steps. Daily check-ins keep everyone up to date on the project's progress and detect potential difficulties before they become big issues.
Weekly Status Updates:
Weekly progress updates are recommended for larger projects.
Team members can discuss their progress and share any challenges or concerns they have encountered during these meetings. The agenda for this meeting should include each team member giving their progress and status updates.
Monthly Reviews:
For longer-term projects or projects with many moving pieces, monthly assessments are recommended.
This meeting should go through the project's overall progress as well as any potential concerns or hazards in greater detail than the weekly status updates. A revised project plan and timeframe should be presented at this meeting.
However, you can't keep a proper follow-up on these 3 points unless you have a good internal communication tool. Tool is a must to implement the above mentioned 3 factors and better foster two-way communication.
Engage and improve productivity by choosing the best employee communication tool for your organization out of 7 Top Employee Communication Software to Improve Engagement & Productivity.
Use internal communication tools for better project management
Using internal communication tools in project management offers several benefits, such as improving team collaboration, enhancing communication flow, increasing transparency, and boosting productivity.
Such tools facilitate real-time messaging, file sharing, task tracking, and video conferencing, which help teams stay connected and informed and address issues promptly.
1. ProofHub – project management and team collaboration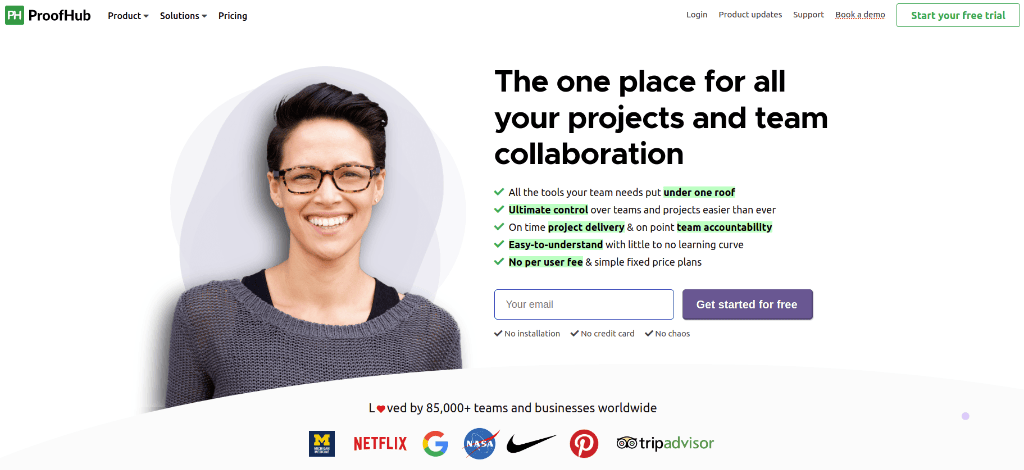 ProofHub is a platform where you can plan, manage multiple projects, and seamlessly collaborate with a team in real-time. Your problem of using multiple platforms to be in contact with a team, share ideas or notes, and give feedback is solved by using this platform.
Using ProofHub, you can effectively connect with your team in real-time and have discussions on projects and tasks.
Easily share ideas, notes, and even files during those discussions.
Instantly provide constructive feedback on work that has been done.
Share, edit, and collaborate on documents to refine them before final approval.
Do one-on-one conversations privately to discuss a topic or project.
A whole team can work easily on a project by checking their dependencies and tracking a customized workflow in real-time.
The flow of information from the leader and managers to the team becomes seamless and easy as you can give any important updates in one place.
ProofHub single handedly can give you complete control over all your projects and tasks, and you can also communicate well with your employees in real time. Together, you can effectively communicate with the team to improve your performance and work quality.
2. Zoom or Google Meet – video conferencing

This app is perfect when you need to connect with a team that is doing hybrid or remote work.
There are times, when you are stuck in a project or else just need to conduct a daily meeting, that virtual meetings have proven to be more connective and engaging.
Employees immediately connect with other employees and their managers, understand their points better, and feel as if they are working from the office. So, working from home doesn't feel isolated and disconnected with such apps.
3. Slack – team messaging app


This is a team messaging app, through which you can easily connect with your colleagues, share ideas and files, and thus keep a better connection while working.
Slack allows you to message or call any member of your team. Additionally, sharing or editing the documents, communicating with the team, and searching the team's previous conversations or data are all easily done using Slack.
Slack is not a project management tool, but if you want to connect your team seamlessly, you can do it by using Slack.
Connect and collaborate seamlessly for better project management, select best out of 18 amazing team communication tools for business.
Conclusion
Now you clearly understand that project management is not only about creating workflows, assigning tasks, and giving details; it is also about how well you give information, how well you explain your employees roles, and how well they understand you and the company's goals.
All things only flourish if there is proper organization communication.
A platform like ProofHub can effectively help to stay organized, structured and well-connected with your team to prevent information silos and delay project deadlines.
FAQs:
What is internal and external communication in project management?
Internal communication is where there is an exchange of information among employees, and external communication is where information flows between teams and clients.
How do you manage communications with your internal team on projects?
Using a good communication tool and by fostering strategies like constructive feedback, team building activities, active listing, and an open door policy, better project communication within teams is possible.
What are the 5 Cs of communication in project management?
Create, comprehend, communicate, collaborate, and confront are the 5 Cs of communication in project management for better information flow and meeting deadlines.
What is the best communication style in project management?
Use interactive communication when immediate action is necessary, and always try to build two-way communication with the organization for better and more effective project management.