As a leader, did you ever struggle to keep your team in sync?
Do you often repeat instructions & expectations to your employees?
Do you constantly miss deadlines due to communication breakdowns?
These are just some of the internal communication challenges that leaders often face.
Effective internal communication is a foundation to make your business successful and effective team collaboration. However, many leaders struggle to maintain proper information flow and team alignment.
I, too, have faced these difficulties while managing teams and collaborating with colleagues. In order to get a better sense of the scope of the problem, I decided to conduct a poll and gather data from my network. The results were eye-opening, and they inspired me to write this article about the four most common internal communication challenges and how to overcome them.
Looking for a common place to communicate! Find out how ProofHub helps build effective internal communication.
4 Survey-based internal communication challenges & their solutions
Talent wins games, but teamwork and intelligence win championships. – Michael Jordan
Not just in sports teams, but in every sector, teamwork and team collaboration are important aspects. When people in an organization work together toward a common organizational goal, they can use each other's experience, work in sync, and better contribute to its success.
However, when you are not aligned and your internal communication strategy is totally broken, the team's productivity and quality suffer to the utmost.
Let's take a look at what challenges can affect your team's collaboration and how these can be resolved:
1. Inconsistent communication with team
When we asked what they will miss amidst poor internal communication, 45% of respondents said they won't be able to be in sync with their team in such scenario.
Being in sync with team means,
You are aware of what your team is working on.
You know where they are having problems doing their work.
Your employees communicate with you without hesitating.
Whether you are the leader of a team or the boss of an organization, staying in sync with your team and employees is the only way to better understand them, their work, and their needs. Only then are you able to better assign their resources and tasks. This not only helps you to better organize but also encourages your team to work on and participate actively in each task.
However, when you are unable to connect properly with your team, you are not able to align your work with that of your team, and this ultimately affects overall productivity.
When you are not in sync with your team
It may appear that you are well connected with your team and that things are well organized, but if you discover the following issues in your team, you may need to work on your internal communication:
Lack of clarity: Employees won't be able to work properly on time when the goals are unclear. They might feel unorganized and dissatisfied with their work too.
Not on the same page: Being out of sync with the team will cause your colleagues to work in different directions. They won't know what to focus on or what to prioritize.
Poor knowledge sharing: Expert advice and the sharing of opinions or ideas are important for effective team performance, but when you are not in sync with your team, knowledge sharing suffers drastically.
So, what can you do to improve your communication with your team?
Solution
As per my experience, the following three strategies are very helpful if you want to connect with your team.
1. Productive stand-up meetings
A stand up meeting every morning before starting work might be considered an unwanted event, but actually it is helpful to connect with your team, know what they are doing, and resolve their issues, if any.
The things is to keep in mind while conducting such meetings are:
Keep your meeting short and crisp.
Plan earlier what tasks you are going to discuss.
Denote the last 5 minutes of a problem-solving session.
If you want to learn more ways to make your meetings more effective. Give a quick read to 5 Tips to Running the Most Effective Team Meetings.
2. Help & build trust
Being transparent is not the only solution, you also need to build trust and help your team whenever they need it.
To build trust-based work environment:
Always keep your team updated on its positives & negatives.
Organize discussions on projects and tasks to provide immediate ideas to solve their work related problems.
Find a platform like ProofHub Discussions, where you can not only create discussion topics on different projects but also keep all team members in the loop and also mention them during the conversation for important information transfer.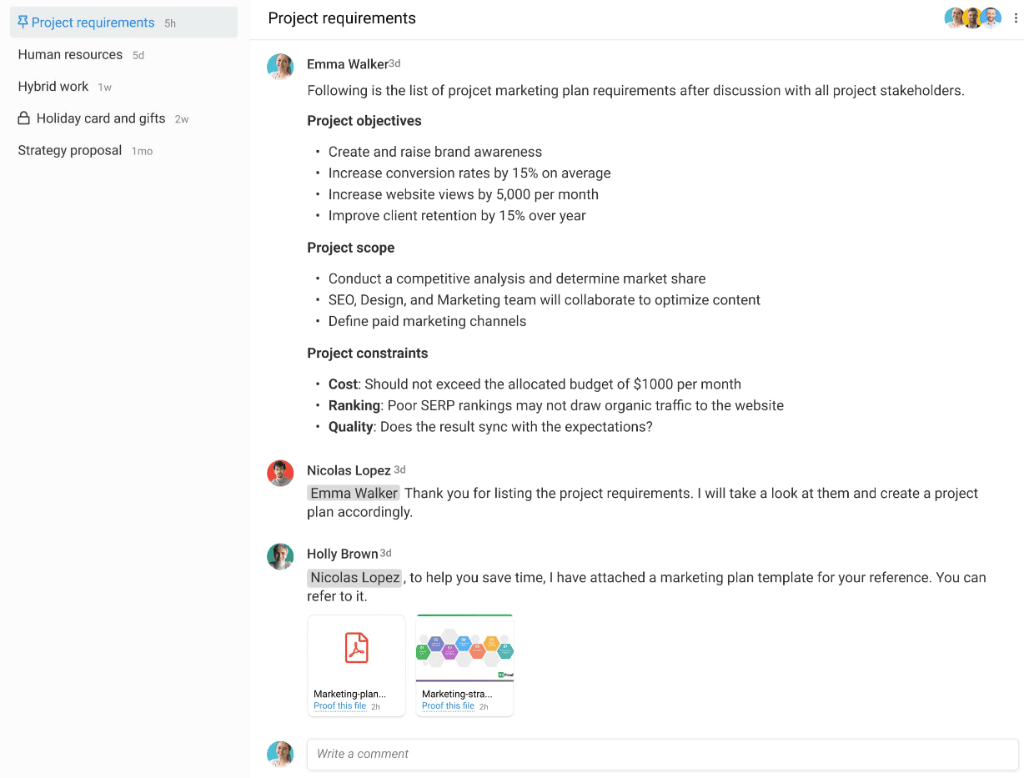 3. Transparency in work
A transparent work culture fosters & open communication, which encourages your team to better understand your point of view and goals.
For such an environment,
Keep an "ask me anything" session once a week.
Find a good all-in-one project management tool like ProofHub where you can visualize all projects in real-time and always keep your team updated at the right time.
Selecting a project management tool is one thing; staying consistent with that tool is something only you can do. From task assignment, team collaboration to asking project related queries, do it all in one place to keep everyone up to date and reduce information silos.
2. Hindered communication between employees
Another statistic found during the poll was that 27% of respondents will not be able to connect with their peers if internal communication is not well organized.
How well do you know your employees?
Are you always aware of their major roles and responsibilities?
Are you able to connect with your team and cross-department colleagues easily?
All these questions matter when it comes to peer-to-peer communication. A good collaboration with peers is essential to boosting employees' engagement, morale, satisfaction, and productivity. Everyone is more clear about their roles and can work together for better outcomes.
If the communication between employees is not clear and direct, many problems can occur:
When you are not able to communicate with your peers, you will encounter following problems:
Conflicts on work responsibilities: Employees will not be able to get a clear idea of their accountability.
Disengaged employees: Without proper communication within employees, they will not be aware of their surroundings, especially about their team members and their work, which creates job dissatisfaction.
Poor interdepartmental coordination: With miscommunication, employees not able to effectively collaborate with other teams, results in delayed tasks & missed deadlines on projects which are interconnected.
These problems need better internal communication tips, through which employees can know each other & work better together.
Solutions
When talking about solutions that can improve peer-to-peer communication, the very first thing that comes to mind is building real-time peer communication.
1. Real-time peer communication
Real-time, seamless peer communication will help the team members get to know each other, foster better relationships, and build trust, which ultimately helps to improve their engagement and makes them work together more enthusiastically.
To build this type of communication,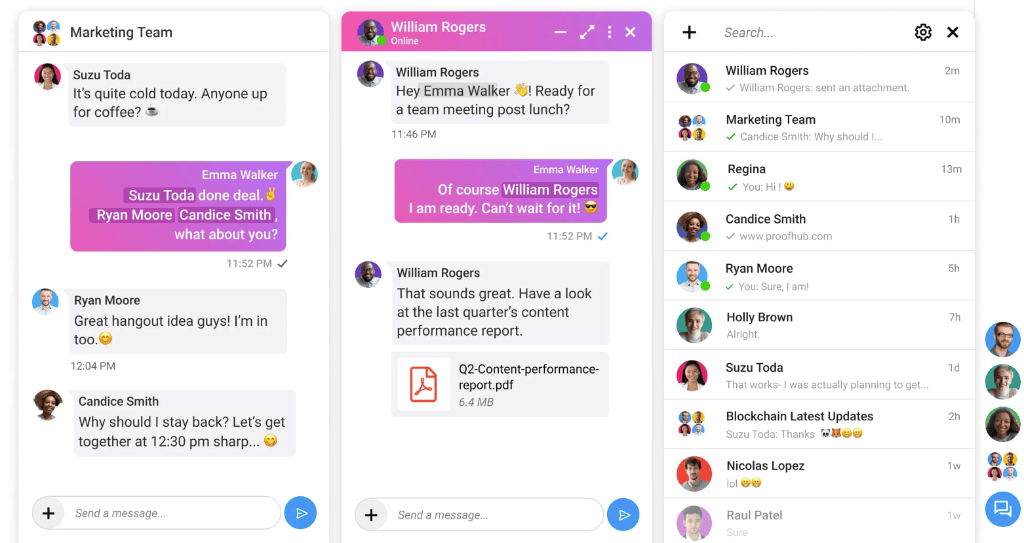 2. Team-build activities
Team building activities are one of the best solutions to foster peer-to-peer communication. Such activities improve the team's connection with each other; they better know each other's work style and nature. This, in turn, improves employee motivation.
3. Unclear company goals & objectives
Further according to the survey, 20% of survey respondents
won't be able to understand where the company is heading
clearly if there isn't effective internal communication.
The reasons behind this are clear. Let's answer these questions:
Are you focused while doing work?
Do you know what initiatives to take and what resources to use?
Are you satisfied with your work?
Do you get positive feedback?
All these questions can only be answered "yes" if there is organized and structured top-down communication in your organization.
Many people don't give top-down communication much importance, but it is necessary to keep employees aligned with the business goals. Without this, you can easily get disorganized.
When you are unable to see where an organization is headed, you get
Uncertain direction of the company's mission: Employees will never get the correct idea of what they are working for, & this can affect their work quality.
Unrealistic goals: Another problem is that you are unable to set real guidelines or deadline goals.
These two problems are the foundation of any work, and if they are not clear, you will never be able to deliver the right company's vision via your work.
Solutions
"It is important that you deliver the right information to the team" This is essential to improve their focus and performance. With following given solutions you can do this in an effective way:
1. A shared platform for company updates
The very first solution that can really help keep employees informed about the company is a shared platform to share company news.
For this,
You can have quarterly meetings, town halls, and even monthly newsletters, through which you can communicate companies' new goals and updates to all the employees.
Second, you can share company updates using a shared communication tool. For example, with ProofHub, all updates, new policies, celebrations, and other related information can be easily shared in a single section called announcements. There is no need to schedule a special meeting or send a one-on-one message to each department.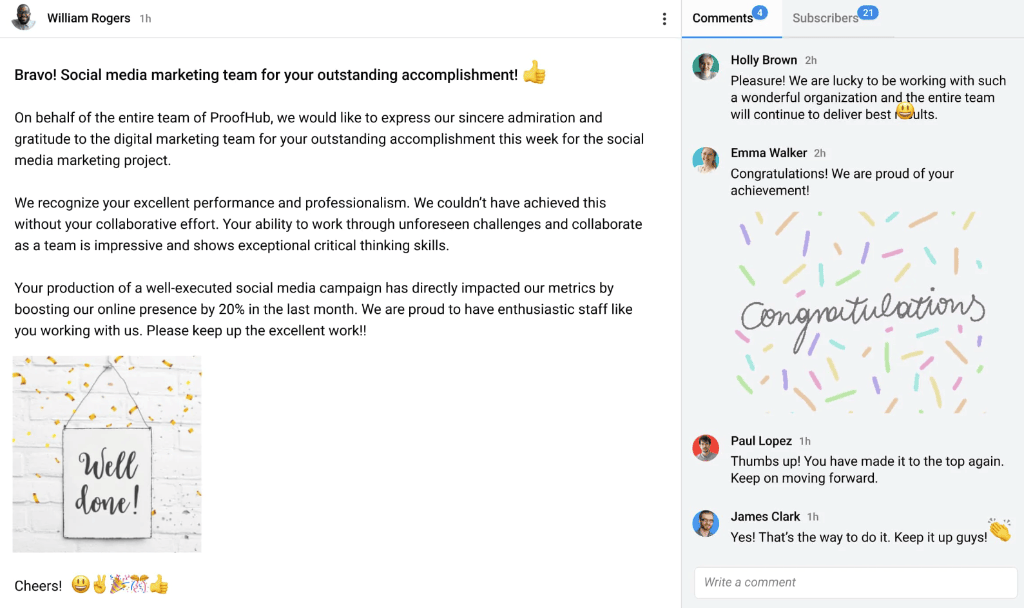 2. Policy Changes
Company policies set expectations from the start. When you hire more employees, adopt a remote work culture, or improve a company's regulations, you must revise your policies and inform all the employees to reduce workplace chaos.
3. Brand Voice
Your employees can learn more about and understand your brand when you set clear goals and use a consistent brand voice and tone. For this,
Create an office environment in which your internal communications, including slogans, internal brand voice, and brand graphics, must showcase your brand identity.
You can also set a brand voice on your collaboration and project management tools if you work remotely, which helps remind your employees to stick to a specific tone and goal.
4. Fail to report work progress
In our survey, only 8% of respondents felt that they will not be able to report the work progress to higher management if communication is not better.
However, it doesn't mean that this type of communication has no role in employee satisfaction, productivity, or teamwork. This approach encourages teams to convey their ideas and invaluable insights and work progressively toward a better organizational structure.
You can have a better idea of what you exactly need to work on.
There will be no information silos.
There will be less need to do rework, so you can save your time.
But if you do not give importance to this particular type of communication, it can actually create a lot of confusion.
Problems occur when you are unable to report the work progress
Unconstructive feedback: Employees are unable to get valuable feedback and insights as they are not able to communicate their leads properly.
Not knowing what teams are doing: The whole organizational structure can be mismanaged as there is no proper reporting of who's doing what.
Reduced self productivity: It also affects the productivity of leaders who are unable to get proper progress reports from their employees as they are unable to plan well.
These flaws need to be corrected if we want employees to work with more clarity and structure.
Solution
1. Reporting
The best way through which we can estimate where employees' efforts are going and how the whole work progress can be improved is to get project status and resource utilization reports.
These types of reports help teams know how they are doing so they can plan and prioritize their work better, and their leads can better allocate resources and tasks to meet deadlines and improve productivity.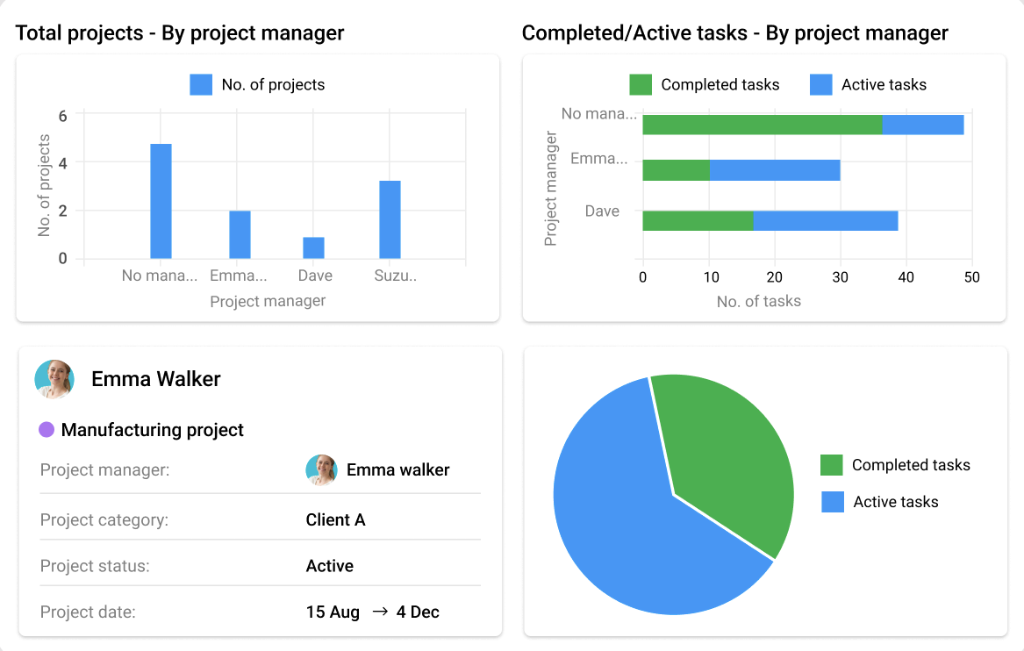 2. Open-door policy
Higher authorities should also use an open-door policy to better connect with their team.
It helps you to know what they are doing, and get an idea of where their employees are stuck and what suggestions they have to improve the work.
For this, start with one-on-one conversations with your team members, discuss goals, provide them with accountability, and provide instant feedback.
Impact of lack of internal communication
In crux, poor internal communication can have a significant impact on your business. It may not appear to be at the forefront, but its effects can be seen among employees.
Poor communication, for example, leads to conflicts, employee disengagement, and low productivity. Out of these, information silos are one of the major hidden outcomes of ineffective internal communication.
Information Silos
It is a situation in which information or knowledge is not properly shared among employees or across departments. The true intent is missing, and information is lost somewhere in the middle when it passes through multiple people or channels.
So, what is its solution?
The only solution is to use a suitable project management and team collaboration tool, such as ProofHub, where you can
Employees can have conversations directly with the person they need to.
Employees can create group discussions to share information or files on a particular task.
Keep a bird's eye view on all the tasks in real-time.
Directly comment within the tasks for instant communication.
Other than this problem, lack of proper communication also leads to
Reduced employee engagement
Low employees' enthusiasm to work
High burnout and work stress
Affected employee well-being
Disbalanced work-life balance
Decreased workplace productivity
To overcome all of these issues, develop an effective internal communication strategy in which all of the previously discussed solutions can be implemented. This not only improves internal communication but also your overall work efficiency.
Confused about which communication tool to select? Take a look at the 18 best team communication tools to select one for you.
Conclusion
To foster proper teamwork and team coordination and overcome internal communication challenges, you need to understand that every mode of internal communication is important. Whether you are on a team, a team leader, or oversee an organization, try to improve your communication with your team members and colleagues. Encourage two-way communication and find a common place, a tool that can help you keep all the employees in the loop and connected.
FAQs
What is the biggest challenge in internal communications?
There are many internal communication challenges, but the major 3 are –
1. Lack of transparency within employees
2. Information silos
3. Unclear company goals
What are 5 internal barriers to effective communication?
Multiple channels of communication, not having the right tasks management tool, unawareness about goals, poor on-boarding & negative work culture are the major 5 internal communication barriers.
What are the types of internal communication?
There are 6 types of internal communication:
1. Top-down communication
2. Button-up communication
3. Culture communication
4. Change communication
5. Crisis communication
6. Peer-to-peer communication
What is good internal communication?
Good internal communication is when all your employees work in a sync. The information flow is smooth, deadlines are meeting, and employees know what they are working for.
What are the good ways to improve internal communication in a company?
There are many ways to foster effective internal communication, but shared team collaboration platforms, all-in-one project management tools & stand-up meetings significantly help to improve internal communication.