With an unpredictable number of job resignations in the last few years, many companies are struggling to retrain their employees. This means that the organization is losing valuable and talented employees who are making a positive impact.
As a leader, manager, or CEO, you may find yourself involved in this discussion from time to time.
Have you ever thought about what can be the major reasons behind such behavior?
Definitely, "high salaries" and "aspiration to work from home" are two major reasons why the pandemic guidelines have stopped. But there is one more major reason, which many of us might have overlooked: "internal communication."
Based on my experience working for years, I've noticed that employees can only give their best if they feel heard, appreciated, and have a clear structure for their work. It's crucial to have great internal communication in your organization if you want to keep your employees happy and committed. That way, you'll be able to retain them for a long time!
I have carefully noticed that motivating employees, how you share your vision, and interact with them depends on your ability to communicate. If you don't get this right, you are at risk losing some of your top performers to a competitor down the street.
As a manager, it's crucial to keep your team engaged and motivated. So, I'd like to share some of the internal communication strategies that I use to achieve this goal. But before I do, let's get on the same page about what "internal communication" means.
Are your employees not giving their all at work? They might not feel connected & engaged! Check out the 5 of the best employee engagement apps.
Importance of internal communication in employee retention
According to a report, "effective team communication increases employee retention by 4.5 times, compared to businesses that lack effective communication in the workplace."
Also, as per one another analysis done by achievers, "nearly two-thirds (63%) of employees would be more engaged at work if their employer improved its company culture."
When employees feel valued, heard, and supported, they are more likely to stay committed to the company and their work.
Effective communication is key to creating a positive company culture. It helps build trust, fosters teamwork, and ensures that employees feel valued and supported. Regular communication with your team, such as weekly check-ins, team meetings, and open-door policies, can help build a culture of transparency and collaboration.
Furthermore, effective communication can help identify any issues or concerns within the team early on, before they become major problems that can impact employee morale and retention. It's important to encourage your team to speak up and share their thoughts and ideas openly. This can lead to innovative solutions and can help create a positive work environment that encourages employee engagement and retention.
When it comes to retaining your employees, internal communication is key. It's an essential part of creating a positive work environment and encouraging your team to work more effectively. In fact, office communication has many benefits that can boost employee morale and keep them engaged. Let's explore how effective communication helps to build trust and morale among employees:
Internal communications help to:
Prevent the information silos, especially in top-to-bottom communication.
Bring clarity to the company's goals and employees' roles, resulting in better focus on work.
Boost within the teams and cross-functional teams communication, hence better work environment.
Better recognition and value for employees' talent translates into better employee engagement and productivity.
Let's understand this with some of the best company examples that foster effective internal communication strategies and retain their employees.
1. 3M
3M is a multinational conglomerate based in the United States that operates in the fields of industry, worker safety, healthcare, and consumer goods. 3M works on the philosophy of "listen to anyone with an idea," the 15% rule. This rule allows employees to spend 15% of their work time doodling or working on experimental projects that may lead to new products.
2. Hersheys
Hershey prioritizes working with integrity and transparency in everything they do. The company has developed robust policies and procedures to act responsibly across our operations and supply chain. Hershey understands the value of tools that directly engage workers and farmers in their work.
Like these, many other companies including Amazon, Google and much more, make efforts to keep their teams and even their clients organized, connected, and recognized. People with effective communication have more time to step back from the daily grind and innovate something productive. This actually encourages them to become more involved, stay with the company, and help it grow. This is the only way to keep your best employees for years.
3 Best practices for employee retention using effective internal communication
Lack of internal communication practices is a major reason that your employees are not connected to you and also with each other.
How do you know whether they get the correct information or not?
How do you know if their work is going well?
Are you aware of whether they love to work in a team or not?
To get a proper understanding of all these questions, you need to foster some regular internal communication practices with your team.
1."Ask me anything," Sessions
It's easy to lose information that some employees might find useful in large organizations with thousands of employees. Opening up communication so that everyone can ask questions and address any concerns can help prevent problems from becoming larger.
Welcome to the wonderful world of "ask-me-anything." Running a senior leadership AMA in your organization is an effective way to learn what employees want to know, rather than what you think they should know.
2. Upward feedback sessions
To improve employee satisfaction and their morale, upward feedback can be proven to be a cornerstone. The quiz and survey asked in such sessions benefit from an interactive element to foster effective internal communication.
You can add multiple questions, direct questions, and open-ended options to such surveys from time to time. These help employees understand that their voice matters and that their feedback is essential for the company's expansion. These can also help to fill knowledge gaps as employees work with more commitment.
3. Encourage teamwork
When a team is working well, members will have each other's back during critical times, increasing productivity and service. Employees who work within such highly functional teams often have higher morale. Those who work in a team will constantly learn from their coworkers.
Together, organize playful team-building activities. By sharing experiences and finding a common ground, employees are more likely to know each other, which encourages them to build good working relationships.
Team building activities like blind drawing, office makeover, sneak peek, the perfect square, and more can be really engaging and helpful in building a good team.
Altogether, teamwork can foster valuable relationships, making the workplace more enjoyable. These ties will act as a deterrent to quitting, keeping the team together for years to come.
Internal communication and employee engagement for retention
Workers who feel valued are more likely to stay with their company, lowering overall turnover and its associated costs. They have a stronger connection to the mission and purpose of their organization, making them more effective brand ambassadors.
Companies can better their retention rate if they are able to develop better engagement strategies based on the company's culture, training, recognition and modern technology.
Therefore, along with the practices, you should try the following strategies that can better connect you with your employees.
Strategies for using internal communication to improve employee retention
From improving self-communication skills to recognize employees and encouraging wellbeing programs, all strategies are really proven to be effective to improve employee retention.
With above practices, you build a base, where employees feel comfortable to talk with you and work in a team and the following strategies, you can provide them the environment where they can freely work with a balanced life. So, let's start:
1. Improve your communication skills
Everyone desires open and communicative coworkers, but how would you rate your own communication abilities?
As a leader, you can only establish a culture of open internal communication in the workplace and hold employees accountable if you continue to improve yourself over time. Remember that improving internal communications begins with you, so assessing your communication skills will assist your colleagues in following your lead.
So, how can you hone your abilities? Consider the following:
Body language used in active listening – Nonverbal cues such as gestures, eye contact, tone of communication, and facial expressions all have an impact on how employees receive and interpret your message. So, make sure to avoid taking a wide stance, crossing your arms, or jutting your chin out, as these all indicate rudeness & adopt gestures of understanding and respect.
Building empathy – Empathetic leadership entails understanding others' needs and being aware of their feelings and thoughts. If you take care of such things as a leader, you'll be fine. Otherwise, remember to always speak with empathy because employees only want respect and understanding.
Giving constructive feedback – Providing constructive feedback is one of the many skills a CEO or business owner should have. Acknowledge the difficulties of the conversation and assist the employee in obtaining what they require. Also, make it a dialogue rather than a monologue. Invite the employee to share their thoughts or reactions, as well as to raise any operational issues that may be contributing to poor performance.
Brush up on your hard skills – Technical skills are becoming increasingly important. As a result, leaders must be well-versed in the skills required by their industry. Don't put off learning something new or improving a skill you lack.
All of these things will help you become a better leader.
2. Encourage more regular conversations
Some managers and CEOs believe that having regular conversations with their employees is a sign of laziness. However, as a communicator, you are already aware of the importance of developing effective work relationships. That, however, is impossible if all you ever talk about is work.
I strongly advise you to keep in touch with your employees on a regular basis. Planning in-person or online meetings every few weeks to discuss projects, personal issues, or the organization is a great place to start.
"Normal conversation" is an essential component of any relationship. The most important reason to have "informal communication" is that it often produces the most lively, engaging content.
Understand your employees.
You'll also learn more about your team's "strengths and weaknesses", which you can use to improve. This allows you to better plan and organize your work, resources, and training sessions in order to improve your team's skills.
3. Recognize and reward the employees
There is no doubt that every employee works not only for financial security but also for their passion. And if they don't get the recognition and appreciation they actually want, it deeply affects their performance.
Employees who feel valued and thrive in their roles are more likely to stay than those who do not make connections or achieve work fulfillment.
According to recognition expert Dr. Bob Nelson, you don't need to spend a lot of money to reward your employees. You just need to take care of the following rules to feel that they and their work are important for the organization:
As soon as possible. Appreciation only means if you give this just after their success and accomplishments.
Be specific. Be specific about what work or behavior you are rewarding; don't generalize their achievements.
Be sincere. Recognition only works when it comes from the heart. Employees can sense sincerity, so be sincere and reward as you really feel.
Remain positive. When you appreciate and reward, don't follow up with 'but'. When you add criticism along with recognition, all your efforts will go in vain.
Be personalized. When you reward an employee, give it to them personally and specifically mention the person in front of the whole team.
Be proactive. Don't wait for the perfect moment; reward employees when you feel they have done anything amazing, even if it is a small thing.
By implementing these tips, you can better foster a two-way communication, where your employees also can keep their views in front of you openly. Also, you'll be able to know if your practices and the strategies are working in the right direction.
4. Structured onboarding experience
I believe that onboarding new hires is an important step to building better connections with employees. Onboarding carries out two important tasks: first, it introduces employees to their essential duties and rules; second, it helps introduce new hires to the company's culture and values.
Therefore, it is very important that you plan a structured onboarding experience for new hires so that they will think about staying longer with your organization.
Do you know what is more important than describing company values to new employees? That is, they "embody those values" in their and even their older employees' in daily work life.
It is essential to include the "training and development" part in the onboarding process, as training in the first week on the job is helpful for them to start the work with excellence.
Only onboarding the employees doesn't solve the problem. It is important to get feedback "after one month" and also "quarterly" to know if they are doing well and if they have attained the company's culture.
One of the main factors needed to build an effective workplace culture is "open communication". Start fostering open communication with the onboarding process. Initiate their conversation with the team leader or with the employees who can help them understand the culture of the organization.
5. Wellbeing programs
Wellbeing programs provide employees with some good reasons to stay attached to the company for a longer time. When your employees feel cared for, they work with more enthusiasm and commitment.
This factor can differentiate your organization, deliver a good message to your employees, and they will consider you to be more open with them as well. You can start with one or two wellness programs.
Evaluate and find which of the following programs is more needed for your organization:
Time management
Healthy food access
Stress management
Social activities
Gym membership
Access to mental health programs
Mandatory exercises or yoga programs
6. Supports work-life balance
Today, employees are attracted and want to stay in the companies for longer, which is better for their work-life balance. To create such an environment in the workplace, it is essential to give this strategy the proper time. You need to foster strict rules where employees need to follow some guidelines for their work and free time, for instance.
A Proper Time for Breaks and Micro-Breaks
Prioritize their health.
Make a proper plan to manage workloads.
Encourage self-compassion practice.
Say no to work in your after-work hours.
Also, you can make a quiz for your employees to assess whether their work-life balance is on track or not.
Work-life balance quiz:
Ask employees questions based on three categories.
Self-Work Analysis
How productive do you find your work to be? Rate on a scale of 1 to 5.
In terms of your work-life balance, how pleased are you?
How do you feel about your overall well-being? Positive or negative?
Organization-related analysis
How do you understand your leaders in your work?
Do you often work overtime?
How organization can be helpful for you in balancing your work-life harmony.
How would you rate your quality of life?
How much stress related to work do you bring home? Rate out of 1 to 5.
Are you happy with your sleep cycle?
Generally, on work nights, how long do you get sound sleep?
When does your work offset your personal or family time?
These questions help you understand what your employees are facing. This way, you can better manage work-related stress, their workload, and ultimately prevent the burnout they might face due to work-life imbalance.
Pro-tip:
Find out if the communication tools or methods you are using are right and do they resolve the purpose.
To determine whether the tools or communication methods being used are effective, it is necessary to assess whether they are serving their intended purpose.
It's also critical to think about the preferences and needs of the people involved in the communication or task at hand.
It is one of the most essential things that I take care of. Let's take a look at how technology can help you not only foster effective internal communication but also with employee retention.
Technology for effective internal communication and employee retention
Technology, particularly communication tools, can significantly improve internal communication and employee retention.
Employees can easily communicate and collaborate with one another regardless of location by offering numerous channels of communication like instant messaging, video conferencing, and direct conversation.
This nurtures a feeling of connection and encourages open communication, both of which can lead to higher employee satisfaction and retention. Furthermore, technology can assist in automating and streamlining certain tasks, freeing up time for employees to concentrate on more meaningful work, which can add value to employee satisfaction and retention.
Overall, technology allows employees to communicate and perform better at work, resulting in a more positive workplace and higher retention rates.
Organizations can use a variety of internal communication tools to improve employee retention. As an example,
"Instant messaging tools" like Slack are used to instantly communicate with employees.
"Project management tools" like ProofHub track work progress in real time and keep all employees on the same page.
"Regular email newsletters" or "stand-up team meetings" to inform employees about company news and new initiatives.
Let's take a look at some of the internal communication tools that can actually help you foster a better internal communication strategy and retain employees.
Check out our list of 13 Best Internal Communication Tools for Remote Teams and find the perfect solution for your needs!
Internal communication tools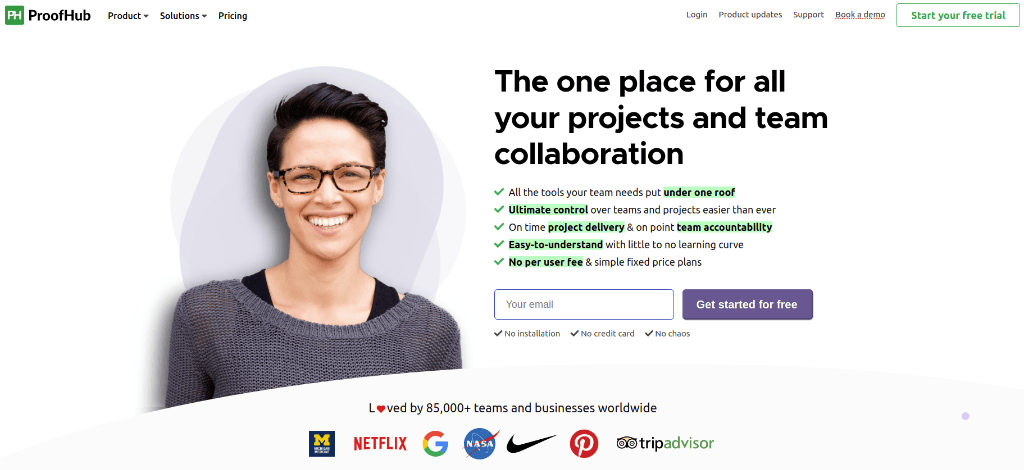 It can be a real headache trying to keep everyone on the same page, especially when you're working remotely. But don't worry, there's a solution – ProofHub.
ProofHub is one of the best internal communication tools out there, and for good reason. Here are a few ways it can help mitigate common communication problems and retain your employees:
Centralized Communication: With ProofHub, all your communication is centralized in one place, so you don't have to worry about important messages getting lost in the shuffle.
Real-Time Collaboration: ProofHub offers real-time collaboration, so you can chat with team members and get instant feedback on projects, tasks, and ideas. Plus, you can tag team members, set reminders, and share files, ensuring everyone is on the same page and deadlines are met.
Customizable Workflows: ProofHub lets you customize your workflows, so you can create a communication plan that works for your team's unique needs.
Keep your team in the loop: Keep everyone informed and motivated with our Announcements feature. Post important news and updates, celebrate achievements, and make sure your team is on the same page.
Stay organized : With Calendar, schedule and manage events and meetings, set reminders, and track attendance – all in one place. Keep your team informed and ensure everyone is aware of upcoming deadlines.
Project Management Features: Along with communication tools, ProofHub also offers robust project management features, including task assignments, time tracking, and file sharing.
Don't wait – start building a stronger, more effective team today with ProofHub. Sign up for our free trial today!
2. Slack


Slack is a team communication application that allows for messaging, file sharing, and video conferencing. It can help retain employees by strengthening communication and collaboration among many team members, cultivating a sense of belonging and community, and enabling remote work.
Benefits of slack for employee retention:
Reduces misunderstandings and conflicts by improving communication and collaboration among team members.
Allows employees to work from anywhere and at any time by facilitating remote work and flexible schedules.
3. Google meet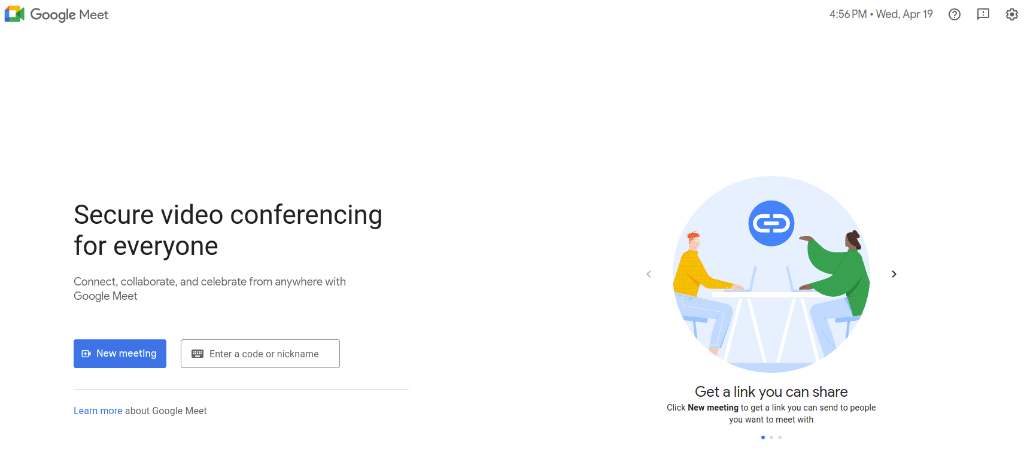 Google Meet is a video conferencing tool that allows remote teams to communicate and collaborate in real time, which can help with employee retention.
Benefits of Google Meet for employee retention:
Creates a virtual space for face-to-face interactions, encouraging remote teams to connect and engage.
Supports a wide range of devices and platforms, allowing employees to join meetings and collaborate from a variety of locations.
4. Microsoft Outlook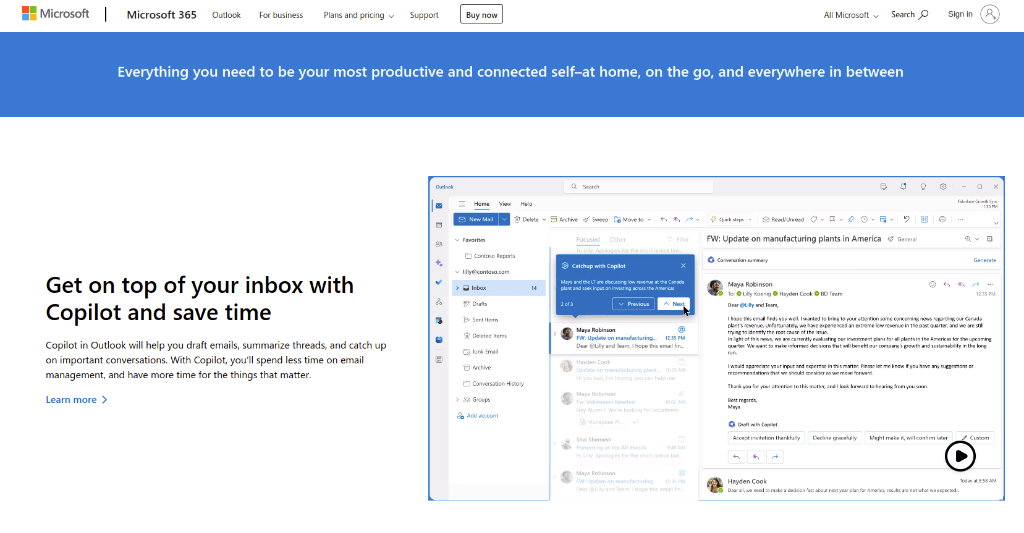 Microsoft Outlook is an email and calendar management software that is widely used in businesses. It can aid in employee retention in a variety of ways:
Benefits of Microsoft outlook for employee retention:
Outlook can send reminders for upcoming meetings or deadlines, assisting employees in staying organized and on track.
Outlook, as cloud-based software, can be accessed from any location with an internet connection, enabling remote work and flexible scheduling.
5. LinkedIn

LinkedIn is a professional networking and job-searching social media platform. It can also be used for social media and employee advocacy to enhance employee retention in a variety of ways.
Benefits of LinkedIn for employee retention:
Employees can use LinkedIn to communicate with colleagues, industry experts, and potential clients, broadening their professional network and developing new possibilities.
Employees can encourage their employer and strengthen the company's brand by sharing company updates and content on their personal profiles.
Improve your employee engagement and productivity with the best fit communication tool for your team. Take a glance at 7 Top Employee Communication Software.
Conclusion
Role of internal communication in employee retention can't be overstated. Employees feel valued and informed when they receive clear and timely communication, which leads to increased job satisfaction and loyalty to the organization.
Organizations can improve employee retention and create a more engaged and motivated workforce by prioritizing internal communication.
Select an all-in-one project management and team communication tool like ProofHub to foster your communication strategies in a better way. More than focus on just work, learn how to gain your employees interest and generate their interest in working. Communicate, Collaborate & Connect to retain employees.
FAQs:
What are the internal factors affecting employee retention?
Workplace environment, working culture, recognition, work-life balance, ongoing training and values are some of the major internal factors that can affect employee retention.
What are the internal factors influencing employee behavior?
Internal factors that can influence employee behavior are interpersonal skills, work-life balance, leadership and employee cultural background.
What are the 3 Rs of employee retention?
The three main Rs of employee retention are recognition, respect and rewards. These three things are very essential to better employee satisfaction and engagement.