"Give me six hours to chop down a tree and I will spend the first four sharpening the axe." – Abraham Lincoln
Imagine you come to work on Monday morning and don't know what to work on first.
You go through a long list of to-dos that you created and randomly choose any task to start working on.
You spent the entire day on this task only to know that this task was a low-priority task of little value!
And then your boss tells you (sternly) that you should have worked on an urgent/high-priority task first.
Not a pleasant feeling by any stretch of the imagination.
What if you have to deal with this awkward situation often at work?
Guess what? If you don't use one of the best daily planner apps then you better get one before it's too late!
Organize and Collaborate on all your work plans in one central place with the best planner app – ProofHub.
What is the best planner app?
The best planner apps give you a visual view of all your daily, weekly, or monthly plans, so you can prioritize them and work on them as required.
A planner application lets you store loads of information including, but not limited to notes, events, milestones, schedules, files, documents, images, and more.
You can log on to a planner app from anywhere, on any device (PC, mobile, tab, laptop) connected to the internet, and easily access all your to-do's as well as in-progress tasks.
Already curious to know more?
Then, let's explore 8 best daily planner apps making waves in 2023!
8 Best Planner Apps For Individuals And Teams In 2023
It's no secret that good planning and organizational skills can make you more productive and efficient quicker than you expected. You need to have all your tasks, events, milestones, and project deadlines in one place, so you can know what you have to do and when.
We have listed 8 of the best planner apps that both individuals and organizations can use to accomplish their targets in 2023.
So, let's get started.


One of the best planner apps, ProofHub is a powerful, simple-to-use, and highly functional team collaboration and project management tool with a suite of powerful features in one place.
Using ProofHub, you can organize and track all your work so you never miss out on anything important.
Whether you work from the office or home, this project planning tool helps you seamlessly collaborate with others to get more done in less time.
What makes this tool stand out from other planner apps is its high functionality at affordable pricing.
Fixed, flat-rate pricing plans make it an ideal planning solution for small businesses and teams with a limited budget.
ProofHub offers many useful planning features which we have highlighted below.
Let's take a closer look at the advanced planning features of ProofHub.

Discussions among team members can be termed as the doorway to planning.
ProofHub gives you a documented doorway in the form of discussions. You can create topics focusing on a particular matter and share ideas, files, and documents with team members and clients at one place without having to go back and forth in lengthy email threads. You can archive discussion topics and use them later whenever required.

There are times when you need to discuss tasks with your team members, but it frustrates you no end when your emails and texts go unchecked, or worse, unreplied.
ProofHub understands such communication loopholes well. Its instant chat allows you to easily communicate in real-time with others from anywhere, which saves time as you get quick answers.
Make your team/client conversations more expressive and descriptive by adding emojis, GIFs, images, files, documents, and @mentioning people.

Many teams are unable to meet deadlines due to poor planning and prioritization of tasks. ProofHub's task management feature enables project managers to create tasks, assign them to groups or individuals, set deadlines, and monitor their progress.
Clear distribution of job roles and responsibilities ensure that there's no misunderstanding or confusion among team members.

Good time management is quintessential for efficient planning. Poor time management habits can probably ruin even the best of plans.
ProofHub's time tracking feature allows you to track how much time you are spending time on what activities, and keep all your time data in one place. You can set time estimates, track time manually or using timers, add timesheets, and create time reports of individuals and projects.
Precise time tracking helps you plan your daily work as you can allocate specific time slots to each of your tasks for the day.
ProofHub's time tracking software offers more features than standard timers offered by other best planner apps.


Good planning and scheduling go hand in hand.
Why refer to multiple calendars when you can manage everything in one location?
ProofHub's project scheduling calendar helps you schedule your tasks, events, milestones, recurring tasks, and automatic reminders make sure you don't miss out on anything important.
The best part is that you can merge your ProofHub calendar with the ones you already use.
ProofHub has been a one-stop-shop for all of our efficiency goals; honestly, there are no limits to what you and your team can accomplish with the ProofHub toolset once your team is accustomed to the level of control and diligence that ProofHub provides. I love how there is a format for everything you might need to do; I use it for tracking client projects, managing tasks, sharing files, proofing designs, taking notes, tracking time, checking progress – reports, and much more. Also, ProofHub's flat pricing is a cherry on top. –
G2 Review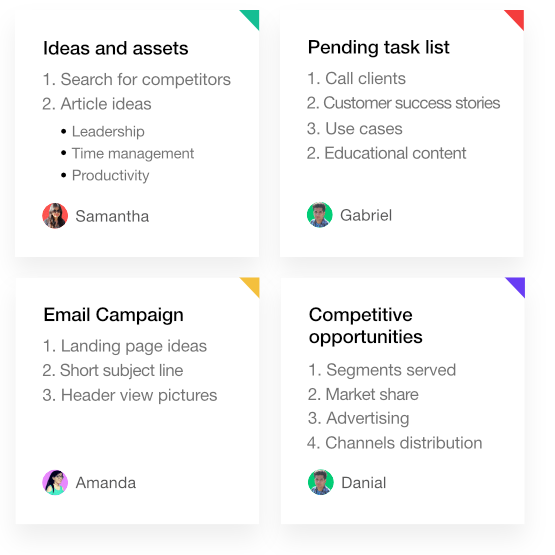 What's planning without taking notes? Wait, don't take out your diary or notepad yet.
ProofHub's note-taking feature helps you create notes, organize them, and collaborate on them from any device, any location. Store all your notes digitally in one place and work smarter.
Stickies and Bookmarks in ProofHub allow you to create and store personal notes and access frequently used stuff faster.

How easy it is to access all your files and documents stored and organized in one place! One of the best planner apps, ProofHub's inbuilt file management software enables you to upload, store, and organize files in one place.
This feature helps you with better planning as you can timely access and collaborate on all your work with others by simply sharing a file link.
ProofHub's file management software is a secure and powerful tool to make sure all stakeholders have the information they need.
Pricing: ProofHub offers two flat-rate pricing plans to users. Each plan allows you to add an unlimited number of users. Now, that's some deal!
Essential plan.

Offers all CORE features, and is priced at $45 per month, billed annually. Unlimited number of users are allowed.

Ultimate control plan.

Offers all CORE plus PREMIUM features, and is priced at $89 per month, billed annually. Unlimited number of users are allowed.
2. Any.do

Any.do is an efficient to-do list app with Calendar, Planner, and Reminders to help you stay organized in your life and get more done. Any.do syncs across all your devices, which means your planning schedule is at your fingertips no matter where you are. An easy-to-use interface enables you to create your daily plan on the go. Smart reminders make sure you never miss out on any of your to-do activities, and beautiful themes and color-coding priorities make planning an enjoyable experience.
With all the good things that one of the best planner apps has to offer, the app doesn't integrate seamlessly with other apps. Its free version offers only basic planning features, which means you would need to purchase its paid plan to get access to a comprehensive suite of features.
Main features include:
Location-based, recurring reminders

Customized badges for quick reference (iOS only)

Search tasks on the web app

Syncs data across all your devices

Email tasks directly to your Any.do list

Calendar
Pricing: The Paid plan starts from $5.99 per month.
3. Todoist

Todoist features among the best planner apps that are used widely across companies of every size. The planning tool is also used by solopreneurs and team managers to keep all things organized and never lose track of an important task. Todoist surfaces the right tasks at the right times so you can know what to work on next. The planning app also supports integration with other tools, which promotes improved workflows and efficient task management.
Todoist is a cloud-based service that syncs all your notes and tasks to any device you use the app on. Todoist makes apps for all major devices and platforms and is quite easy to use for any user. You can keep track of solo tasks, highlight deadlines for specific projects, and tick-off tasks as you finish them off.
Main features include:
Add descriptions to tasks

Create new projects

Task management

Progress management

Daily planning

Add filters

Easy to use
Pricing: The Paid plan starts from $3/user/month, billed annually.
4. Trello

Trello is a popular collaboration tool that lets you organize your tasks and projects into boards. This planner app can be used by individuals as well as project teams for planning and managing your personal as well as professional commitments. In one glance, you can visualize what you're working on and who's working on what. You can use Trello to collaborate with others and manage shared tasks.
Picture your planning board on this planning app as a whiteboard that has a lot of colored sticky notes, with each note denoting a task for you or your team. These notes can have images, files, documents, and comments. You can access this whiteboard from your mobile device, PC, tablet, or laptop. Though the tool is easy to use, if you have multiple lists then it can be time-consuming to search for a particular task.
Click here to check out some powerful Trello alternatives in 2023.
Main features include:
Effective to-do list

Instant messaging

Collaboration

Set due dates and deadlines for to-dos

App integrations

Create custom buttons

Group and assign tasks under boards, cards, and lists
Pricing: The Paid plan starts from $5/user/month, billed annually.
5. Google Calendar

Google Calendar is afree and efficient calendar applicationthat is used by both individuals and teams to organize schedules and coordinate events with others. With Google Calendar, you can schedule meetings, events, and get reminders for important milestones and upcoming activities. You can sync personal events from Gmail and switch between different to-do list views. You can create multiple calendars that you and your team can use together.
One of the best planner apps, Google Calendar, offers daily, weekly, and monthly views. Gmail users are likely to get the most out of this app as events mentioned in your email automatically move to your calendar. If you have multiple events in your day then it can be difficult to understand your daily schedule. There's no quick overview of your events and you have no other option but to scroll through.
Main features include:
Task search

Toggle between daily, weekly, and monthly views

Simplified appointment slots tool

See more with a year-view

Track time with a world clock

Connect and sync all your devices

Calendar sharing
Pricing: Free for normal users. The business version of Google Calendar comes at a price of $5 per month per user or $50 per year per user.
6. Friday

Friday is another highly flexible and adaptable planner app that roadmaps your day to make sure you're working on the right things. You can see all your meetings and tasks in one place, so you can plan what you need to do when. A quick glance of your workday allows you to better allocate and focus on things that matter.
Friday allows you to block distracting websites and mute Slack when it's time to concentrate on doing urgent work. What makes Friday one of the best planner apps is that you can join aZoomor Google Hangouts video meeting with a single click. Now, Friday is good but doesn't offer you a dedicated mobile app. You would not want to use a PC or laptop every time you need to access your to-do lists on Friday.
Main features include:
Block distractions

Instant links to join video calls

Widget

Directory

Add-ons

Daily task overview

App integrations
Pricing: The Paid plan starts from $4/month, billed annually.
7. Habitica

Habitica is also rated among the best planner apps that treat your real life like a game. Do all the planning while having great fun with this habit-building and productivity app. The tool gamifies your list and you can create funny avatars that grow stronger as your task progresses! That's some way to motivate you to complete your tasks and to-dos!
Habitica helps you stay accountable by tracking andorganizing your daily goals, habits, and To-do list via easy-to-use mobile apps and web interface. A fully customizable task list means you can use this planner app to fit your personal goals. However, if you've got a multitude of tasks and projects to keep track of then this may not be the best planner app for you.
Main features include:
Earn rewards for achieving your goals

Fully customizable task list

Access to a social media community

Avatar upgrades with habit improvements

Easy to keep track of your progress

Adds a fun element to your planning activities
Pricing: Free to use

Evernote is another top planner app that can help executives and entrepreneurs jot down their ideas quickly on the go. You can use varied formatting options to organize your to-do list the way you want. Remember everything by bringing all your notes, tasks, and schedule in one place to get things done more easily.
Evernote has powerful and flexible search capabilities so you can find things fast. Make your notes more useful by adding texts, images, audio, scans, PDFs, and documents. Thisnote-taking toollets you scan important documents and keep them handy on all your devices.
However, Evernote is the most pocket-friendly app out there. There are better options that are affordably priced.
Main features include:
Sync and organize

Web clipper

You can use the app offline

Document scanning

Templates

Connect schedules and notes

Easy search
Pricing: The Paid plan starts from $7.99/user/month.
Factors to consider when choosing the best planner apps
Now that you're searching for the best planner apps for better management of your professional and personal plans, you should know that not all planning tools are the same.
So, the question that stands in front of you now is – how to choose the right planning tool?
There are some critical factors that can help you determine whether you're choosing the right tool or not. Check them out.
Ease of usage.

There are several

best planner apps

that

offer a free trial, so you can have a good idea of whether

it's easy for your team to use or not.

A good planner application has a simple learning curve and new users can familiarize and start using it within a few hours.
Which planner layout fits your lifestyle?

Do you need to keep track of your plans daily, weekly, or monthly?

A monthly planner gives you a single place toschedule and organize all your monthly events, milestones, and tasks.
What features are you looking for?

You should only choose a planning software that meets your usage needs.

If you need a tool with basic features then choose a simple planning solution and vice-versa.
What is your budget?

Generally,

best planner apps

that offer

affordable, fixed pricing plans

are more pocket-friendly as compared to tools with expensive

per-user

fee charges.

So, choose a tool that helps you get better at planning without pinching your budget.
Centralization.

The

best planner apps

offer you a range of planning features in a centralized location to save you valuable time.

You can monitor and control various aspects of your planning effortlessly.
The Bottom Line
Planning is crucial to your success at work, but it's more than creating a long list of to-do's in your daily planner diary.
It's easy to lose track of your plans when you are juggling tasks and projects daily.
However, 8 of the best planner apps listed in this article can help you create and manage all your plans in one place.
When you compare ProofHub with other listed planner apps, you can easily figure out that you get the maximum value at a reasonable price.
ProofHub enables you to plan and prioritize your daily tasks, so you can work on the right things at the right time. So, what are you waiting for?
FAQs
What is a daily planner app?
A daily planner app is your digital calendar in which you can create and manage your personal or work-related checklists, meetings, deadlines, etc.
What is the best planner app?
ProofHub, with a wide range of planning features in a single place, is the best planner app for individuals and teams.
What features should you look for in a daily planner app?
Some vital features to look out for are notes, stickies & bookmarks, time tracking, scheduling calendar, etc.