Project managers are like warship captains that safely steer the team through the tides of Project Management Conflicts.  
Conflicts that are inevitable, but not invincible.  
In fact, conflicts will occur if not in one aspect, then in another. 
And from what I have seen, a challenging project management conflict may arise even when the manager is highly experienced, let alone newbies. 
As the CEO of ProofHub, I can vouch for my team when I say we haven't been perfect in executing our strategies, sometimes something would pop up and other times we'd have full-blown conflicts. 
The thing to remember is that what you do at the time of conflict defines the type of leader that you are.
This whole article serves the purpose of making project managers familiar with the conflicts they may face in the future and how exactly they can avoid and deal with them if they were to happen. 
Types of Conflict in Project Management
Conflict management is one golden skill to possess. It not only keeps the team productive but also saves on resources. 
According to HBR, every 1 in 6 projects ends up consuming 200% of the initially estimated amount of resources. 
One good thing about project management conflicts is that they can help you get better. The new perspective on management is that although conflicts are inevitable, they can sometimes enable the project to grow in unprecedented ways.
The key question is – how do you resolve them?  
Cutting to the chase, let's discuss 7 of the most common project management conflicts and some smart conflict management techniques by which you can overcome them.
What could be major sources of conflict during a project?
Briefly summarized, here are the top 7 conflicts that take place during a project. 
The General Conflict of Chaos

Conflicts due to improper project and task scheduling

When resources are not allocated optimally

When the employees are not assigned definite roles and responsibilities

Conflicts due to the sudden introduction of new project tools

When managerial hierarchies are not properly defined

When the manager or the Officer in charge lacks leadership skills 
Let's understand them one by one, in detail.
#1 The General Conflict of Uncertainty 
Managing a project means you will be juggling a lot of variables together — from resource allocation to task management, everything needs to be managed on a minute level to ensure the perfect execution of the project. 
In case you don't already know what project management generally entails, I must tell you that it is a mix of:
Resource allocation, 

Task allotment,

Budget allocation, 

Determination of funding, and

People management. 
All these factors form a big part of what a project manager has to do to promote collaboration and seamless execution of the projects. 
Chaos and conflicts are bound to surface when there are so many factors, not to mention the people involved. There will be things that you will be uncertain about or at least not cent percent sure. So, what can you do to manage these conflicts?
Here's how you can mend this situation:
What I always say is that if you have done something wrong, you have something to look back at and learn from. 
Failure may seem like a major loss but it is a win for you in the learning curve. And God knows, the learning curve in something as intricate as project management, is quite frankly, endless.
So here is what you can do to manage the chaos that you have on your hands:
Get the whole team together and give them a clear picture of their shared goals.

Help them resolve personal conflicts by assigning them tasks on a platform where they can keep a track of all of them. 

Give your team the

tools to untangle conversations

by having elaborate documented discussions.
Going further, there are ways to avoid confusion and stress in the first place — by uprooting the causes of misinformation. 
Setting an agenda. 

Establishing clear roles and responsibilities.

Having meetings

that have concrete outcomes. 
What kind of automation tools can help you?
Reducing chaos and organizing team activities in an easy-to-understand layout is what project management tools excel at. Now with automation, project managers can further simplify how they plan things at macro and micro levels.  

The above example shows how managers can reduce chaos, and project complexity, with automated task assignments. In addition to this, our project management software has everything you need to:
Keep your team on the same page

, 

Keep your projects running smoothly. 

Assign tasks clearly, 

Have conversations, 

Make notes,

Create a knowledge base, and 

Track the depletion of your resources. 
ProofHub lets you do all of that on a single platform with ease. It helps you assign tasks, manage projects, and have group discussions all at the same time. With this tool you have your work cut out for you.
#2 The Inescapable Scheduling Conflicts
Another conflict that can result in a big halt in the path of project management is scheduling conflicts. Now here I don't mean scheduling of events or meetings, but rather the deadlines of various tasks. 
I think all of you can agree when I say, the tasks present in a sequence will all suffer if there is a delay in the first one. Not only does this result in the delay of the delivery and submission of the team's work, but it also results in a collectively stressful situation for the team. 
This can potentially jeopardize your whole project timeline, not to mention the project outcome as a whole.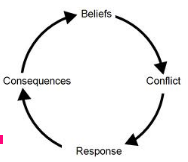 Here's how you can mend this situation:
Okay, now what do we do in a situation where you have actually fallen into the vicious scheduling conflict cycle?
It's not easy but it is doable, here's how. 
Try to

talk to the clients and stakeholders

as soon as you can about the change in the timeline. 

Sit together and discuss what all went wrong and

create a new schedule for future tasks

keeping all those factors in mind.

Take the help of

Gantt chart tools

to edit your task deadlines hassle-free.
Also remember that deadlines being unattainable is a big issue, as we established above. However, precautionary measures can be taken, so you never have to fall into this trap. Here are some things that I always try to do:
I follow different

project management techniques

to determine the arc of time beforehand. 

Running diagnostics and test runs on your project cycle only tends to help your pace and management. 

Determine what you have and what you need in terms of resources before you initiate progress. 

Leave a margin of time before the submission date so everyone has time to attempt their tasks better while also having a moment to breathe. 

Have some risk management plans in store for situations where things are bound to get a little troublesome.
What kind of automation tools can help you?
Gantt tools, as I mentioned earlier, can be a lot of help when you want to define deadlines, view deadlines, and make any sort of modifications to them.
ProofHub is one such tool that can help you sort out your work, your time data, your agenda, and your deadlines in one consolidated space. 

Never used a Gantt chart before? See how easy it can get with ProofHub. Sign up now to try Gantt charts for free. 
#3 Conflicts Due to Scarcity Of Resources 
The scarcity of resources is something that could cause irrevocable damage to a team. It could take down your reputation, your project, and your organization as a whole. Why does this factor matter so much?
I'll tell you why — it's because mismanagement of resources can result in disagreements, differences, and loss of trust. Not only that but, this can also cause the team to be in a lot more stressful situations where they have to deal with old records and scrape to find new resources as soon as they possibly can.
The best way to deal with such project management conflicts is to be prepared. That's it. 
If we make a thorough inventory of all our resources, we can save ourselves and the team the trouble of every falling prey to a case of scarce resources. 
Here's how you can mend this situation:
In case you have fallen prey to this conflict, don't worry, for there might still be a way out. You can still salvage a lot out of this situation, and even if you don't make it out, you won't come out empty-handed. 
Here's what you can do:
Identify the problems in your gameplay. 

Determine the problems with the resources and

resource management

. 

Make a task force that is dedicated solely to find your organization the quickest way out of this sticky situation.

Judge the availability of the resources you might need. 

Keep a list of resources on stand-by. 

Determine all the resources you have and do proper documentation for the same. 

Invest in a technology that will help you keep track of all your resources. 
What kind of automation tools can help you?
All you need is a tool that will help you determine how many resources you have and how much you are going to need until the completion of the project. A project planning tool can help you with conflict resolution in project management. 
#4 Mysterious Roles That Spur Conflict
By that, I mean the general ambiguity in the roles and responsibilities of the employees and how these roles and responsibilities are linked to the other people in the team. These are things that have to be defined in a project pretty early on. 
This type of conflict can lead to a lack of trust, lack of cooperation, and a lack of the general feeling of harmony between the team. And we don't want that, do we? 
I have seen that effective project management includes; 
Determination of resources.

Planning to see what is needed and what we own. 

Deciding a direction for the project. 

Dividing the project into tasks. 

Assigning and allocating different tasks to various team members. 
Some would argue that this is actually the best way to do it, but every project manager will have a different approach to solving different management issues. 
Here's how you can mend this situation:
When faced with conflict as dire as confusion with the roles and responsibilities, you must clear up the following:
Go over your employees' track records and look into what and how they have been performing for the past few days. 

Jot down what needs to be done against who can do it best. 

Divide tasks between your teammates responsibly. 

Explain to every employee in detail about their roles in the project.

Communicate shared and individual goals effectively to your team.

Conduct

one-on-one meetings

with your employees to discuss how they fit into the plan. 

Use a tool that helps people keep their agendas on the front and center. 
What kind of automation tools can help you?
There are a lot of tools that can help your team with allotting tasks and distributing responsibilities. But what you need is a tool that can help your employees keep track of their targets, goals, and milestones so you can track their progress effectively. 
Therefore, I feel ProofHub can help you out with this issue. It can help you set a hierarchy, establish channels for communication, and also keep a track of your progress.

You can assign roles at the team, project, and even at a single task level. This is how!! 
#5 Inviting New Tools Into The Mix
I have seen several project management conflicts arise simply due to the introduction of new tech tools. As you start to implement a new methodology or play by the rules of a different project management technique, you will find your team getting uneasy.
And, that, is just the start. When you throw new tools into the mix, you need to get ready for a heated reaction. People find that letting a new software into the work process is like introducing a new manager of the team, you would be wise to expect a shake-up.
Here's how you can mend this situation:
There are many ways to get your team accustomed to a new software program. Over the years I have dealt with the same problem the same way but I modify it every time. Here is what that process's latest version has come to:
I tend to introduce 2-3 members of the team to the tool. This helps me make this select group of people familiar with the tool and its functionality. And, hence, these people can help others get accustomed to the tool as well. 

The other thing I try to do is make people use the software platform in small doses. It is also a good practice to give your employees a chance to explore a different section of the tool every day. 
By the way, here's a great post on Business Collaboration Tools from Jeff Bullas. 
#6 The Conflict Of Undefined Hierarchy
Now, this is a conflict I am sure every project manager is familiar with. "Who do I report to?" is what this issue is all about. But how does it occur? I have a fairly good guess. 
When hierarchies are not well defined, there are just too many people from management that an employee needs to report to, which leads to conflict. This is a complicated process to put an employee through. 
The lack of a defined hierarchy means that there is no system through which the exchange of information takes place. Giving feedback, and receiving feedback in such a scenario can be an absolute nightmare.
Here's how you can mend this situation:
If you have an undefined hierarchy problem on your hands, your workplace must be going haywire. There is a reason the chain of command is so respectable — it's because it actually works.
If the hierarchical structure of your project team has been fractured, there are still ways to mend it, for instance:
Conduct a meeting to restore order and ensure your team that matters will soon be sorted out. 

Obtain a clear view of what everyone has been up to and who they have been answering to lately. 

Conduct

thorough feedback sessions

to determine the best positions for everybody.
In addition, I'll also suggest the following best practices for fixing broken hierarchies. 
Define a role, with a clear label

and a written code of responsibilities.

Be clear about the shared vision and collective goals. 

Stay informed as a boss about all that is going on. 

Select people who are fit for the job and find it easy to gel in. 

Make sure everyone is cooperative with the chain of command. 

Be in constant communication with the team to tap into their views and opinions. 
What kind of automation tools can help you?
A hierarchy can best be established using a project management tool that helps you assign custom roles. And these tools also have Kanban boards that can help you stay on top of your team all the time. 
You will get to manage the progress, distribute work, and streamline your process well with the help of a project manager who believes in using a management tool. 
ProofHub might be the best example of an all-in-one project management solution. It helps you with keeping your team on track and also managing files, tasks, projects, and resources in one space.
#7 When the leadership is Ineffective 
This is one of the project management conflicts that are so serious, and might I add so dire, that it can ruin any project plan. Ineffective leadership can be seen in abundance out there. If one is a micromanager, the other will be a completely nonchalant one. 
Ineffective leadership has a big impact on a project. And it could be anything ranging from problems created by a leader who doesn't know how to execute an agile project to someone who has trouble understanding and implementing proper project scheduling. 
Here's how you can mend this situation:
There are some very easy ways in which you can mend this situation. For instance, you can:
Keep track of everything you do as a leader. 

Be goal-oriented so everyone can see you and follow in your footsteps.

Be the kind of leader that persuades effective communication and gets conflicts resolved. 

Try to find solutions for problems in a systematic way (as mentioned above).

Be patient with your employees and delegate responsibilities in an efficient way. 
What kind of automation tools can help you?
The kind of tools that can help you become a better leader and a better project manager are ones that can help you with:
Time tracking. 

Progress mapping. 

Tracking resources. 

Conducting communication

. 

Task allocation. 
And, there are multiple amalgams of automation tools that can help you with all of these at the same time. 

ProofHub stands out as the best task management software since it helps in providing descriptions and notes for tasks. In addition to that, it has an interface that can easily help you with assigning tasks and sharing files. 
With these automation tools, you can make sure that you never need a conflict management plan.
Software can't fix leaders but it can make them accountable. See how ProofHub's advanced reporting does just that.!
That's A Wrap!
Managing projects is like playing whac-a-mole. You get rid of one problem and another will arise to take up its place. But these conflicts arise for a reason. We must welcome these project management conflicts because they teach us valuable management lessons.
But there are always ways to avoid these conflicts from forming their roots deep into our well-defined systems. And, I hope I have cleared most of them all up with this article. 
In the end, I would just like to say that keep working through the problems, keep finding and implementing new solutions, and if you do hit a wall, start over as quickly as you can