Organizations are fast realizing; It's great to have people back at the office, but it's equally cool if they wish to stay back at home or visit once a week.
This is the general feeling that all of us are going through at the moment – working from home makes you wish you were socializing at the office while working from the office makes you wish that you were working on your laptop from the comfort of your home.
The shift is easy to observe – company structures are fast adopting hybrid team management.
Working from home has fared us quite well over time, however, there is still an impending attachment to it in the form of remote work burnout, which, I must tell you, is very real. 
With the current trends out in the world, we can declare with full confidence that going to the office is a choice that we can now afford to take up. So if you chose to go, you'd get live gossip and pantry snacks. If you didn't, you could lay back on your plush mattress with your laptop. It's a definite upgrade from the woes of remote work and helps teams maintain a productive balance.
Here at ProofHub, we have been practicing hybrid work for quite a while now. Virtual meetings are all-in, and so are in-person team-building activities. So far, this newly found way of working is more of an eventual outcome than a planned exercise. But one thing is clear; hybrid work is here to stay.        
A Gartner survey revealed that as much as 82% of organizations are looking forward to adopting hybrid work.
According to the responses received, offices will be letting employees either fully stay at home (47% of respondents agreed) or visit the office on some days (43% respondents agreed) or stay in the office for some hours (43% respondents agreed). 
I know that it sounds great in theory but not so much when it comes to planning. There's no one-click solution to becoming a hybrid workplace, and neither is managing hybrid remote teams that simple. (I can vouch for that.)
Having said that, here are some definite answers to questions surrounding hybrid team management.
What is a hybrid team?
For now, a hybrid team could mean a mixed proportion of employees working from the office and remotely in order to achieve maximum safety and productivity for everyone.
The following table tries to capture the various scenarios in which an employee could be working in a hybrid team.
| | | |
| --- | --- | --- |
| Work from: | For: | Frequency: |
| Office | Part-time | Daily |
| Office | Part-time | Few Days of the Week |
| Office | Full-time | Daily |
| Office | Full-time | Few Days of the Week |
| Home | Full-time | Daily |
| Home | Full-time | As in when needed |
It's a cross-culture scenario.
You could be working from the office full-time on Mondays and Thursdays, while your colleague could be doing a 9 am to 1 pm split shift. The management might only ask half the employees to follow such a schedule while others stick to remote work.
There are so many ways this can be planned.
The only thing that must be constant is team productivity; rest can change as per need.
ProofHub makes productivity management a breeze for managers in hybrid Teams. Try now to see how!
The logical question to ask here (from a resource planning perspective) is – who would come to the office, and who will continue working from home? Here are a few assertions on people who should join the work-from-office crew.
Their role demands physical presence at the office
Members who have frequent in-office meetings or management positions that require physical participation are usually the ones who are called to the office, the first.
They live at a comfortable commute distance
Members who live within a 10-minute radius from the office might want to offer their frequent in-office presence purely because it's less of a hassle for them. This factor can be considered while filling seats on the paper.
They find the office more productive
Work-from-home burnout is a real thing, and many employees have reported an urge to resume working from the office (at least in my experience). Hence, they can voluntarily sign-up for the same.
They have no fitness issues
This is a broad factor that covers everyone who is physically fit to be in the office. This includes the less vulnerable age groups and members with no pre-existing health conditions.
Everyone else can continue working remotely and drop by to say "hi", whenever it's convenient.
It's natural to understand that members will have reasons to skip working at the office besides safety and physical well-being. These could be anything from personal responsibilities to changing lifestyles post the pandemic. 
Therefore, the hybrid team can be structured in the following ways:
Employees who

continuously work from the office

Employees who

work on a variable work schedule

Employees who

have adopted continuous work-from-home
Next up, let's see how Hybrid teams can be beneficial.

Image source: https://buffer.com/state-of-remote-work-2019
| | | |
| --- | --- | --- |
| Employees who continuously work from the office | Employees who variable work from the office | Employees who have adopted continuous work-from-home |
Benefits of forming a hybrid team
Forming a hybrid team has benefits at the company, team, and individual levels. It's often the middle ground that organizations take to create the "best of both worlds" situation.
Let's explore these benefits one by one.
For the company
The concept of a hybrid workforce seems like a good idea not just for the teams and the people in it, but also the organization as a whole. Here are some examples that will justify the same:
1. Office space savings
Leased office spaces have been shrinking ever since it became evident that remote work is just as productive. In India and many parts of the world, the leased offices fell by 30%, as companies realized that downsizing worked in their favor.
There's growing evidence that companies will continue operating in reduced office spaces, as it offers major cost advantages. Magnus Meyer of WSP estimates that tenant companies would retain 60-75% of their office space and might avoid further expansion to cut on office floor expenditures.
A PGi study states that for each remote employee, a company can save up to $10,000 a year in real estate costs.
2. Reduced operational costs
Smaller offices come with lesser operational costs. The company can significantly cut on the office equipment, workstation, and daily amenities, further saving capital for other expenditures.
A Reuters report highlighted that at least 25 big companies, including Halliburton Co, the oil field services giant, will be letting go of major chunks of their corporate spaces. Office spaces and corporate realty forms the second-largest expense after payroll; the report pointed out.
3. Wider access to talent 
Hybrid teams help bridge the talent gaps that arise due to geographical constraints. All the employees who can't be replaced with an off-shore employee can work from the office, while fresh and diverse talent can be hired from around the globe.
A leading industry example is a team behind Buffer, the social media automation tool that employs a fully remote team spread across 42 cities around the world.
For the team
Now that we have covered how the hybrid motive is going to revolutionize the company culture, let's discover how it is going to turn things around for our team culture:
1. Easier team interaction 
If not the best, team interaction is definitely one step ahead of remote work in a hybrid team. Teams can hold weekly in-person meetings wherein they can revitalize the human touch that often gets lost in virtual working.
Not only this, but this will also ensure to put a time cap on meetings that take hours and are often inconclusive.
It enables the teams to reconnect socially and strengthen team bonding which goes a long way in building healthy work environments.
2. Stronger collaboration and ideation
As hybrid teams follow a more flexible way of work, wherein there are no hard-set timelines, the scope for collaboration widens. Diverse minds can ideate better, with the freedom to quickly reach out to each other using team collaboration software.
This promotes creativity and diversity of thought in the team environment. One thing is clear in a hybrid team, the focus is on "productivity" and not so much on "efficiency".
For the individual
The hybrid culture is promoting self-growth in many ways, shapes, and forms. Here's how:
1. Increased scope and opportunity 
Hybrid teams offer opportunities to professionals who couldn't blend in with the corporate culture due to issues at the personal level.
Working moms, physically challenged employees, college students, and the like, who earlier couldn't readily partake in the traditional office environment, can benefit from the flexible way of working.
As a hybrid workplace offers both from-office and from-home alternatives, employees get to match their restricted schedules to find the optimal path to maximum productivity.
2. Respect for personal preferences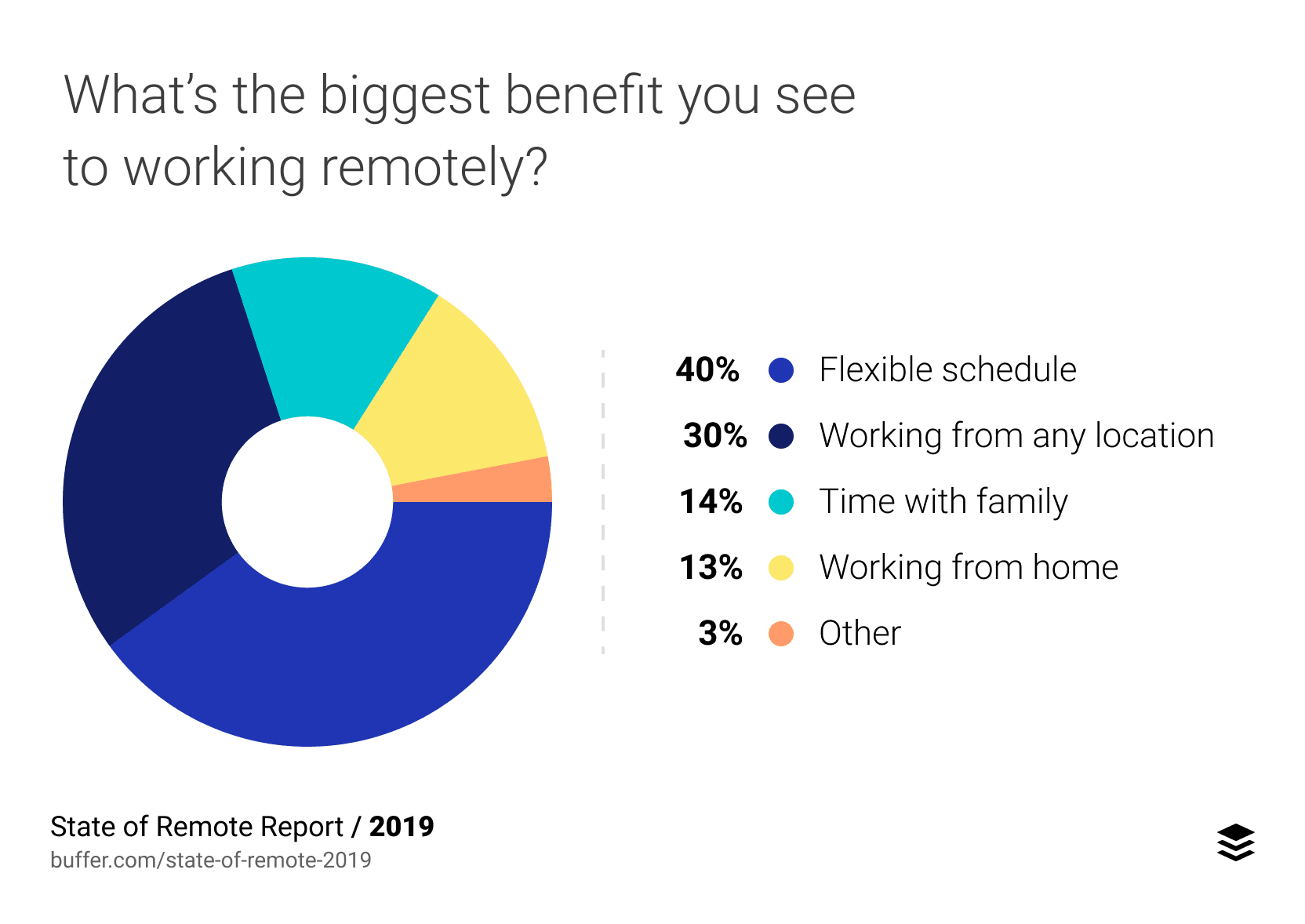 Image source: Buffer
Many employees have found a great respite in working from home as it makes them more productive. While others like staying back because they feel closer to the family and enjoy the freedom of a flexible schedule.
Luckily, hybrid teams cater to similar personal preferences that were not possible to meet in a hardbound office schedule. Obligations have been replaced with choices and fixtures with flexibility.
3. Lesser miscellaneous expenditure
As office commutes become optional, employees are finding themselves in better control of their miscellaneous expenditure that would simply slip out of the pocket. Everything from fuel costs, vehicle ownership to public transport fares can now be actively managed.
Many, if not all, companies further cover work-from-home expenses such as the internet bill, meals, and rent allowances that add up to the employee savings. 
While the actual figure is subject to variation, an employee survey found that a remote professional can save up to $4600 in a year.
4. Balanced social exposure
Too much socialization causes fatigue (even for extroverts) and confining to home can be awfully lonely. Where working from home can feel like living life in a vacuum, going to the office every day can cause excessive social exhaustion, working in the hybrid regime will help people strike that perfect balance.
This, in turn, will help your team not only maintain a viable social life but also help them maintain a commendable work-life balance.
Instances where a hybrid team might fail
You saw this coming. Hybrid team management isn't an easy task, and it's most definitely not a universal solution. It needs to be tailored smartly to fit your company's core beliefs and culture.
I am not saying that hybrid team challenges can't be overcome, but I assert that in the following instances, the model might fall flat.
Hybrid team management is lacking
Managing hybrid teams will require a bit of re-skilling for the managers. The key is expectation management.
A company that is transitioning to this novel approach may repeatedly find dead-ends in terms of, let's say, Leave Policies, Workforce Scheduling, and Personal Connect.
A remote employee may grow distant due to a lack of the in-person touch, and in-office employees may start becoming the "favorites".
A manager who isn't geared for dealing with these new challenges, and complex employee issues caused by hybrid work, may not want to structure the team in a hybrid way at all.
Team communication isn't consistent
Team communication is an evergreen challenge in team environments, but hybrid work has a new flavor to it.
The issue lies in on-and-off interactions. You might want to reach out to someone who comes to the office on Mondays only, but you're scheduled for Tuesdays. You settle for a Zoom call but wonder what's the point of coming to the office if Zoom is the answer.
Alternatively, you might want to sit with your manager for a task in the office but find them always-on video conferencing with the remote team. This would again cause a quandary.
Similar experiences might throw off effective team communication, leading to project delays and loss of productivity.
ProofHub keeps remote teams and in-office employees always on the same page; see how.
The culture isn't just ready yet
Adapting to a hybrid workplace may become a challenge for workplaces that are rigid in their approach.
Sometimes, despite the best managerial efforts and policies, the culture gets in the way of establishing a hybrid work environment.
Enforcing hybrid culture in an environment that needs time for transitioning is sure to backfire. The company's management needs to take employee opinion strongly before making radical changes.
Such workplaces are best suited to traditional policies or a more settled team structure where everyone is working from the office or remotely.
How to develop a hybrid work environment
As mentioned earlier, a hybrid work environment will be unique to every workplace. But to get some idea on how to transform into a hybrid workplace, we can scout inspiration from the market leaders.
Hubspot, a leading inbound marketing company, declared that they would be letting employees choose their preferred mode of work, post-pandemic. This includes in-office work, flex work, and work-from-home.
At Flipkart, employees who were finding work-from-home challenging have started visiting the office on an "as needed" basis. They have to book the workstation before visiting, and desks are labeled to prevent cross-usage. Deloitte India is also following the same model of hybrid work, letting employees be in the office as per need.  
The prominent coworking provider WeWork has also resumed operations, with strict distancing and sanitation measures in place.
Google has settled for letting its 200,000 employees continue working from home until mid of 2021.
After observing various hybrid and remote work models, it's still hard to tell what kind of solution will benefit everyone. Therefore, I came up with a set of steps that most people can take to plan for the hybrid Work environment. Follow along.
Steps to transform the workplace into a hybrid office
Here is a short list of steps that can be your make-shift guide towards transforming your workforce into a hybrid team.
Review government guidelines
The first obvious step is to check whether your local government authorities have given from-office work a green flag yet.
While most of the office spaces are re-opening, lockdowns and restricted movement may still continue well into 2021, as experts suggest. Therefore, it'll be wise to check the stand your regional authorities have on the lockdown situation.
Create a core group – The indispensables
In order to keep the office operations streamlined and expectations smooth, it'll be helpful to create a core group that'll constantly be visiting the office.
This core group will be functional both in business activities as well as office administration. Certain micro responsibilities such as ensuring hygiene practices and helping frequently visiting employees find their way can be assigned to this core group.
It doesn't need to be the same people who'll form the core group. Employees can be allocated the core group roles as per convenience and resource availability.
Open the floor for nomination 
Once the core group is in place for managing operations, employees can nominate themselves in any of the three aforementioned modes of work.
Completely from Home

Visiting Office on a Schedule

Completely from Office
This will help you get a clear idea of how many employees want to work in what category. This data will give a clear direction in which you need to plan the office space, get equipment for WFH employees and make arrangements wherever necessary.
Self-nomination is better than directly deciding who will work from where. It will preserve the interest of individual employees, leading to more satisfaction during the transition.
In HubSpot's case, more than 60% of employees wanted to work from home, which led to their decision to ramp up WFH jobs for better productivity.
Make a dependency matrix
You will soon find the business demands clashing with employee preferences. There will be employees who may not get to enjoy complete freedom of choice. Mostly due to their unavoidable need at the office, such as an important client meeting or a long due boardroom discussion.
Therefore, it'll be smart to create a matrix in which employees are sorted as per their dependencies. You can talk to the employees who have cross-cutting dependencies to figure out the best way forward.
Asking someone to stay at home forcefully or abolish WFH is not the idea. Finding the middle ground is.
Configure the office space for in-house workforce
By now, you have more than a fair idea of the percentage of employees falling in each of the work mode categories.
It's time to configure the office space to best meet your hybrid workplace goals. Most organizations have cut short on office space to make financial savings. Apart from that, in-house employee safety and a system for managing workstation occupation should be on your list.
With that, you might also need new workplace policies. Check out this resourceful guide by CDC for Businesses and Employers.
Configure work from home amenities and policies
The in-office team is sorted, now let's look at the hybrid remote team.
With the adoption of hybrid work, some WFH policies earlier set are bound to change. These would revolve around employees who want to transition to in-office work and new employees who'd join the organization remotely.
The idea is to figure out the potential challenges the remote team would face and address them smartly. This could be anything from handing out company-owned laptops to revising rent allowances for distributed teams.
Connect everyone with a team management tool
Something that repeatedly comes up in hybrid Team Management is – Team Communication.
It refers to both active communications done via Zoom meetings, audio calls, and in-person discussions and passive communication such as chat, emails, and status reports.
While active communication is easy to maintain, problems arise when passive updates are not effectively communicated. For this, company-wide collaboration software that makes passive communication easy and organizable is recommendable.
Therefore, adopt a tool cloud team management tool that helps you;
Share tasks and updates with everyone on the team no matter where they are

Organize the team's files, reports, and calendars in a single space

reach out to remote employees easily

Track productivity and time spent on tasks by individual employees
Teams are rediscovering their productivity in hybrid environments with ProofHub's collaboration features.
Test and adapt 
The key to successful hybrid team management is fluidity in approach. Even after doing the right things, the team will have challenges to overcome.
Being the driver of the process, you have to be ready to adapt to changing team landscapes. Policies, rules, and guidelines should never be set in stone, and employee satisfaction should be kept in mind before enforcing anything.
Practical tips for managing a hybrid team
So far, we have discussed hybrid team management extensively in theory, but we all know that the actual implementation is highly nuanced.
Hence, here are some practical tips that are completely borne out of my experience of living in a hybrid environment.
Be responsible but flexible –

It can get difficult to manage employees when they're not in sight and minute-by-minute updates are not available. In this new way of management, try to be flexible while ensuring the process is followed.

Personal challenges will always be there –

It's safe to work with the expectation that there will be personal challenges as the transition takes place. Give employees the space they need to adapt.

Focus on keeping everyone on the same page as often as possible –

Invest in practices and

tools that promote collaboration and strong communication

. It's the only thing that will keep employees cared for and motivated.

A central coordinator will be needed –

Place POCs and coordinators for each team working in the organization who is easily accessible (especially for remote teams) and actively vigilant about issues that may come.

The power of daily briefings –

Daily morning meets and evening debriefs go a long way in establishing effective communication and ground for everyone to feel connected to each other.
Also Read: Hybrid Team Management: Best Advice From The Experts
Use ProofHub to manage your hybrid teams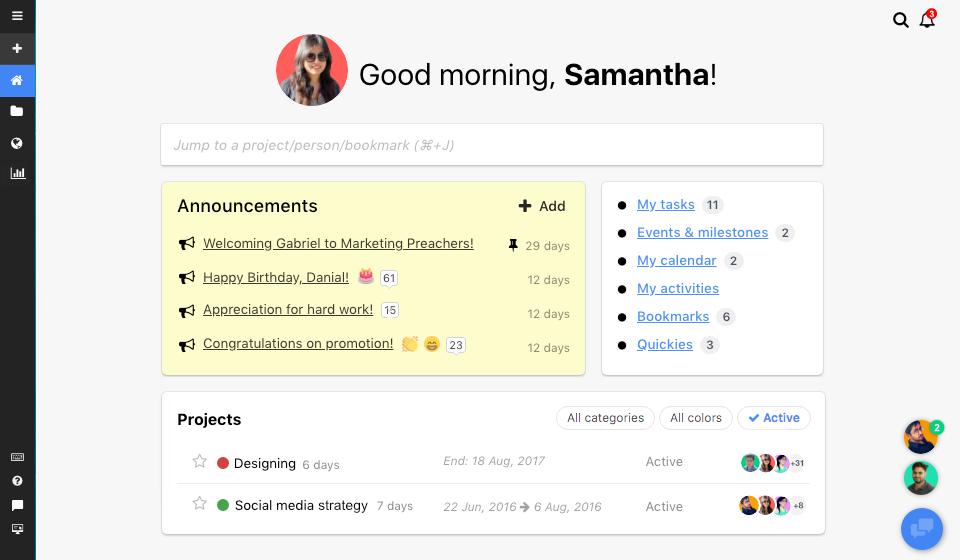 It's no surprise that we have managed to stay productive during the 100% remote phase and are now in the hybrid environment due to ProofHub.
The tool solves several challenges remote and in-house teams face, whether it be diminishing productivity, improper collaboration, or weak communication.
ProofHub is fervently built for teams.
Here are a few features that you and your hybrid Team will instantly love.
Everyone has a personal dashboard – Your tasks, calendar, events, and office banter are neatly organized with your favorite wallpaper in the background. It does make you feel at the office, when not in the office.
It's openly accessible – Use ProofHub on the Web in any Operating System or on your Android or iPhone – it's everywhere. Remote teams can use it on the device of their choice, with security baked in.
It keeps everything together – Working with hybrid teams will make you feel like your team has been especially distributed. This is the case
It promotes communication – When going hybrid, talking is the key. From tasks you complete to the files you share and the events you create – everything supports comments. 1-on-1 chat is obvious.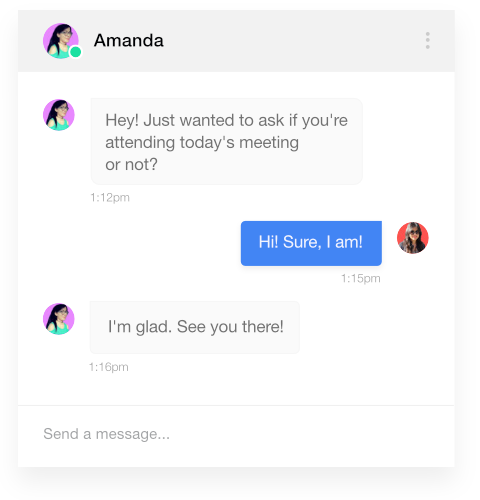 It lets you have fun – ProofHub is a proud supporter of GIF comments because sometimes you need to have conversations with a pinch of laughter. Group chat just makes it easier.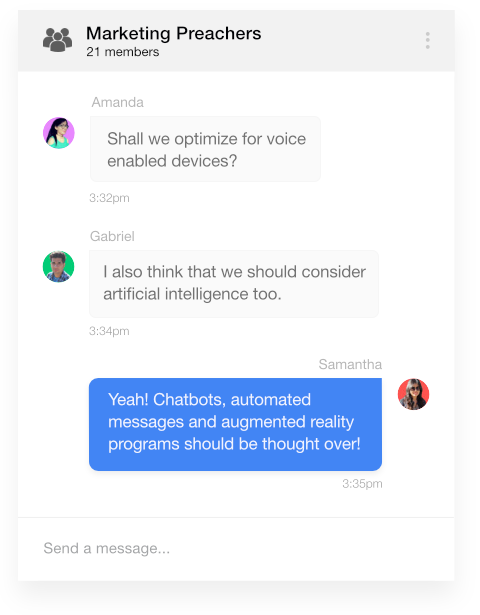 Conclusion
In 2021, we will see several hybrid work trends rise and fall as organizations try their hand at hybrid Team Management.
As you make baby steps towards adopting the hybrid work culture, make sure you do it with an open mind. Unless the work is getting done on time, it doesn't matter if you work from the home, office, or even a beach.
Remember that shifting to a hybrid workspace is not only a step towards curbing the effects of the pandemic but also to build the future of modern workplaces.
It's safe to say that we are still experimenting in this field, and many new revelations await us, both professionally and personally.