Slack describe themselves as "Team communication for the 21st century". You would have definitely heard about Slack if not used it. It is one of the most popular online communication platforms designed to improve communication among teams in all ways. It's a platform that brings together the key benefits of all the other tools, with a reactive speed of instant messaging and the ability to check in from anywhere. This messaging and collaborative software brings your professional communication in one place.
The best thing about this office chat tool is how effortlessly it has replaced long and messy email threads with its instant messaging features. Quite evidently, the nature of the business is changing rapidly, thus more and more companies and teams are looking for a single tool with multiple functionalities than the other way round.
If you are also one of them and looking for a different office chat software other than Slack, we have made a list of Slack alternatives that are much more versatile and easier to use than Slack.
The top 28 Slack alternatives in 2023:

ProofHub is a bit different from Slack, while Slack focuses mostly on messaging, ProofHub comes with some impressive project management functionalities along with making direct messaging and quick conversations with teams and clients.
ProofHub chat serves as the perfect place for every conversation and brings sanity in the way you and your teams communicate within the office or with clients. Slack is often recommended for having multiple integrations and friendly UX but some consider it cumbersome, slow and overcomplicated.
At ProofHub, we try to keep a good balance between usability and features. Let's briefly review all other features of ProofHub that make it a good alternative to Slack.
How ProofHub is the Best alternative to Slack?
Manage Tasks Smartly at One Place
ProofHub can make task management a breeze. With this, you can create tasks and subtasks, assign them to multiple people, set their due dates and time estimates, create recurring tasks, attach files, add comments on tasks — all at one place.
Get Quick Replies on Chat
If you want your project to succeed, you'll want to make direct messaging and quick conversations with teams easier and simpler. Have one-on-one chats, use emojis, attach files, and have quick conversations with team and clients on the go using ProofHub's team communication tool. @Mention people in a chat to specifically refer to someone. By any chance, you'll not miss any chat as you receive chat notifications on desktop or mobile and reply to them on the go.
Visualize Task Stages on Kanban Boards
Often there's a lot of confusion: "Who'll be working on this (task) next?" but it doesn't have to be so. To stop this, ProofHub lets its users have a clear view of work in progress. See work moving through multiple stages on the Kanban board in a particular workflow.
Plan Projects on Gantt Charts
You can smartly make changes in your plan as deadlines shift with task dependencies in Gantt chart. With ProofHub Gantt charts, plan projects, set dependencies between tasks, and visualize tasks in a timeline view.
Get Ultimate Control With Custom Roles
ProofHub allows defining custom roles to stay in ultimate control of who gets to access what according to the workflow. Create and assign custom roles, grant access levels, revoke access, and also assign a default role to the team members. In a matter of seconds, you can assign all the roles you need to your team members.
You can get all the answers to where your team is spending their maximum time. If you are using ProofHub, you don't need to invest in an external time management software for time tracking. Add timesheets, set time estimates, track time manually or using timers, and create custom time reports at one place.
Take Work Requests Through a Request Form
Creating request forms to escape from messing inbox and get work requests, support queries or even tickets through a form and get them added directly to ProofHub.
Collaborate on Discussions
With ProofHub real-time collaboration you can keep a track of what your team members are up to, have discussions with your teams and clients at one place. @Mention people to grab their attention and loop them in discussions.
Manage Schedules Using Calendars at One Place
You no longer have to refer to multiple calendars to stay on schedule because with ProofHub you can organize your events, tasks, and milestones all at one place. Add recurring tasks, get automatic reminders, and select from multiple views to schedule work suitably.
Bring All Your Files at One Central Place
File sharing with clients is now smarter as you can share file links with guests to ask for a review, feedback without having to log in to ProofHub. Keep multiple versions of the same file and use any of them as and when you want.
Make Announcements with ProofHub
ProofHub has got a quick and easy way to motivate teams, recognize good work, or share any information that may not be project-specific. Add announcements to recognize the team's achievements, share office event details or any other important information, subscribe people to announcements, attach files, and set time duration for how long the announcement will last.
Create Reports the Way You Want
ProofHub has got a reporting feature to help analyze project progress. In a single click, get detailed resource and project reports. Create custom reports and visualize overall project progress to plan, manage projects ahead, and make the most of ProofHub's online reporting tool.
ProofHub vs Slack. How is it different?
Our goal is to create an intuitive and seamless experience for our users. This is why our user interface is simple and clean. With hundreds of capabilities, Slack is getting more complicated. But at ProofHub, we have kept the balance between features and usability.
ProofHub is a faster and more affordable solution offering twice as much storage space compared to Slack. When a workspace passes the 5GB file storage limit, Slack will archive older files as new files are uploaded. Members won't be able to view archived files in channels, direct messages, or search results.
When it comes to task handling, ProofHub is at the top. If Slack's basic feature is Сhannels, ProofHub wouldn't exist without To-do lists.

Chanty is a free AI-powered Slack alternative. It's on the mission to humanize business processes through artificial intelligence. It promises seamless team communication, twice more room for files making it convenient to store and share multiple files.
Chanty is designed to boost collaboration with super easy crystal clear user interface. As it supports AI trend, it saves time and increases team productivity.
3. Troop Messenger

Troop Messenger, the Slack alternative team communication and collaboration application stand unique from the other applications of the same genre. The one straight reason for this is its incomparable feature stack. The features like Forkout, shared spaces, read receipt, advanced filter group, voice-video calling, screen sharing, and more improves the work efficiency of the teams.
A quick and instant team chat application has its presence across the cross-platforms of mobile, desktop, and modern browsers anywhere, anytime to keep track of work routines and their deadlines. The best Slack alternative is surely affordable than any other application with a commendable range of high-performance features. The impressive UI and immersive UX presents beautiful file previews across the interface.
4. Zoho Cliq

Zoho Cliq from Zoho software suite allows users to have direct chat and messaging with another. It is loaded with features like voice and video calls, drag-and-drop sharing, deep integration, direct private chat and many more.
Mobile apps are also available for Android and iOS.
5. Google Hangouts

Google Hangouts is a communication platform developed by Google which includes messaging, video chat, SMS, and VOIP features. You can have a one-on-one conversation or include all your friends in group chats for up to 100 people.
This Slack alternative allows you to live stream video meetings on YouTube and Google+ and even gives you an option to record them. It is especially handy if you are using other Google products such as Google Drive and Docs as it can be easily integrated with them.
6. Brosix

Brosix is a secure instant messaging software for organizations looking to improve their internal communication and collaboration. With Brosix teams get their own secure private messaging network with features such as full administrative control, voice, video and audio chat, secure peer-to-peer file transfer, and screen sharing, to name just a few.
What sets Brosix apart is the end-to-end encryption of all communication over its networks, which makes it a solid choice for the more security minded.
7. Fuze

It is a cloud-based video conferencing solution that connects people and organizations across various devices. Fuze powers business conversations through a secure and reliable global platform that unifies voice, video, and messaging into a single application.
It combines a simple user experience, intelligent platform, and third-party enterprise integrations to enrich every conversation and drive workforce productivity. As Fuze checks every box, it was easy for this tool to find a spot in our list of Slack alternatives.
8. Yammer

If you want to work smarter and together, Yammer could be the right tool for you and your team. You can join meaningful discussions to move your work along faster. Get quick answers to your questions and have productive, spontaneous conversations with experts and creatives across your organization.
You can create Yammer groups and keep docs, photos, and videos in context by adding them to conversations. The collaborative software also has a mobile app for Android and iOS users.
9. Cisco WebEx Teams

Formerly known as Cisco Spark, Webex Teams is an app for continuous teamwork with video meetings, group messaging, file sharing and white boarding. It is so easy to use that anyone using Webex Teams can start a meeting with a touch of a button.
WebEx Teams is an advanced alternative to Slack as you can effortlessly join from anywhere and still be able to switch devices seamlessly and keep the conversation going after the meeting.
10. Jabber

Jabber is an instant messaging service based on Extensible Messaging and Presence Protocol (XMPP). A product of Cisco, Jabber makes way for clear communication with it softphone features, including HD voice and video, plus desktop sharing.
In Jabber, you can use real-time presence information to reduce delays and view the availability of contacts within and outside of your organization. Jabber lets you access all of its features while mobile, including video conferencing, with the same ease of use found on the desktop.
11. Fleep

Fleep is quite simple and straightforward. It is a flexible messenger that integrates with email and offers an ideal way to communicate. Unlike competitors, you can communicate with any other Fleep user, across organizations and regardless of teams set up.
It's an open network and users can be part of multiple teams. Everything is in one place and easy to keep track of. Your files and messages are stored securely in the cloud, accessible from any device you log in from.
12. Jostle

Jostle is a cloud-based tool for office communication for news, events, and publications. This has a complete intuitive intranet to help you improve employee engagement and make communication happen. Users can conduct live polls as well. The social networking solution for businesses allows users to share news, align teams, invite participants, and recognize contributions. The discussion feature helps teams initiate private conversations, create party invites, and share them with employees.
Jostle's iOS and Android apps deliver a full mobile intranet for users to have a seamless experience.
13. Flock

Another smart alternative to Slack, Flock has some powerful messaging features. The easy-to-use apps in Flock are available at 1/3rd the price of Slack. It provides slash commands and GUI interface for power users. It lets you connect with your team, get on video calls, manage projects with to-dos, polls and reminders.
Flock is definitely more affordable than Slack, with nearly all the features. You can also share your ideas easily with Flock app integration that let you share files into chats or a list of files to share into your chat.
14. Glip

A team messaging and collaboration tool that works the way you want to. It allows users to connect with individuals, chat in real-time, group video chat, manage files, and communication from multiple sources through integrations with programs such as Asana, GitHub, Salesforce, MailChimp, Jira, Box, and more.
Glip can be used as a central platform for project management, team communication, and task management for better team communication.
15. Rocket Chat

Rocket Chat is an open source platform similar to Slack but less intimidating. It replaces tools like email, HipChat, and Slack. You can communicate and collaborate with your team, chat in real time, screen sharing, file sharing or access audio/video conferencing.
Accessible from any device with internet access including Windows, Mac, and mobile or tablet devices using the iOS and Android native mobile apps.
Pricing: The community plan is available for free. Pro plan for businesses starts at $3 per user monthly or $30 per user annually.
16. Ryver

Ryver is a more effective and faster means for teams and departments to communicate. This web-based solution offers unlimited users, teams, guests, search, storage, and integrations. Ryver also boasts an open, rich API with support for integration services with systems like Gmail, Google Drive, Zapier, Box and Dropbox.
Users are able to see images, videos, and URL previews right inside chat messages and posts and send a chat message, or comments on the team's post.
17. Samepage

Samepage is a single platform for team collaboration through scheduling, discussion topics, meeting agendas, files, instant messages, conversations, and task lists.
It provides a suite of project management tools and built-in integration with commonly used apps such as Facebook, YouTube, Microsoft Excel, Google Maps, and many others.
18. Mattermost

With Mattermost, you can keep all your team's important chat data securely hosted on your server. There are public channels and private direct messages. You can customize the features in Mattermost to fit the way your team works. With Mattermost's mobile apps, share files and keep up with chats on the go.
Choose your team's language, set the email server you want to use, pick whether team members can edit their messages or not, add announcements, and have your team sign in the way you want.
19. Wire

Wire is a secure collaboration platform perfect for work communications. "Secure" being it's unique selling point. It provides end-to-end encrypted group chats, voice calls, video conferencing, file sharing, screen sharing, and more. Wire combines maximum security with a set of features and simplicity.
Screens can be shared with up to 10 people, including from desktop to mobile devices. You can use this tool across web browsers, iOS, Android, macOS, Windows, and Linux.
20. Workplace by Facebook

Workplace by Facebook is a social network solution that allows companies to collaborate and communicate instantly. Its notable features are team communication and messaging tool. You can create groups for in-house communication, voice and video calls (desktop and mobile), live video streaming, and workplace and work chat apps.
Workplace by Facebook is also available as a mobile app for Android and iOS users.
21. Missive

A single app for all your internal and external communication. The missive is a collaboration email app that lets you manage Facebook, SMS, and Twitter accounts from a single place.
You can manage team inboxes, collaborate on social media inbox, assign conversations and tasks, and organize conversations with shared team labels.
22. Hive

Hive is a project management solution that cater to big and small teams, offering features that include file sharing, task management automation and chat. The centralized platform enables organizations to plan, execute, and track projects in real time.
The software can easily connect with cloud storage for easy file access, sharing, and collaboration with team members. Users can track project progress and change deadlines and workloads with the Kanban-style status view.
23. Moxtra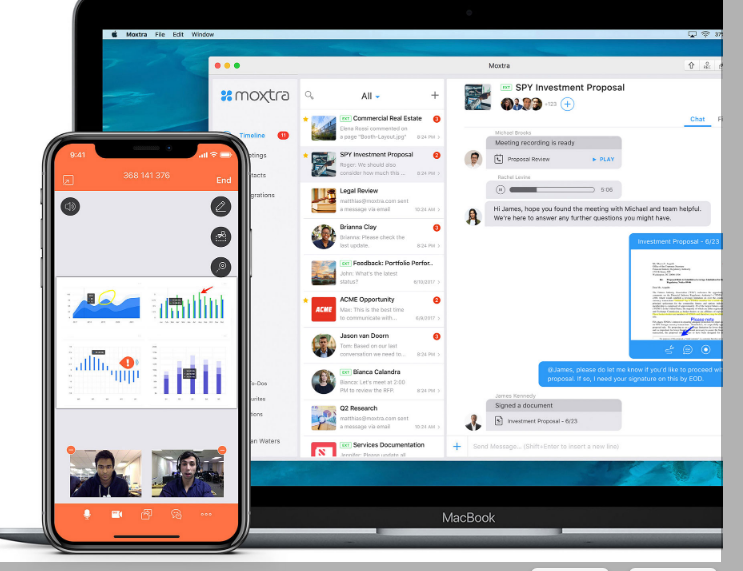 Moxtra is a mobile-first team collaboration and communication solution that simplifies collaboration by keeping everything together. With Moxtra, teamwork becomes more efficient, painless, and productive.
It integrates with external services such as Box, Dropbox, Salesforce, Stripe, PayPal, HubSpot, and JIRA to be in control with team's collaborative environment.
24. CA Flowdock

CA Flowdock is a real-time chat software that brings all of your conversations, work items, and tools into one place. It helps you prioritize work, solve problems, search, and organize across teams, locations, and time zones.
What sets it apart from Slack is the way it offers teams a platform to converse and collaborate. You can invite project stakeholders to join your flow to participate in discussions, see updates from your tools, and receive catered notifications. Easily locate work items, requests, or attachments by utilizing the search and filtering capabilities in your Integration Inbox.
25. Twist

Twist is a communication tool by Doist. The Slack alternative is designed
for teams who believe that there's more to work than keeping up with group chat apps. It offers a calmer and more organized way to work together where conversations are organized in threads.
In Twist, threads keep all your conversations clearly separated by topic so replies won't get buried in an endless stream of group chat. It's a great tool to instantly connect your team to the information they need – along with all the context of the original conversation.
26. HighSide

HighSide (previously ClearChat) is an incredible tool created for organizations handling regulated and sensitive data. It massively reduces your business risks associated with cybercrime, data breaches, customer attrition, shadow IT, reputational damages, financial loss and more by securing your team's internal communications and file sharing layers.
With great compliance, it can find a spot for itself in finance, legal, healthcare, and government sectors. Some of its main features include direct messaging, file sharing, team communication, end-to-end encryption, and custom data retention policies.
27. Wimi

Wimi is all you need to organize work and teams, communicate efficiently, and make sure everything you need is in one place. It beats Slack when it comes to fostering teamwork and collaboration among team members.
In Wimi, there is a unified workspace for each project or activity where you can invite participants and get more things done. As an alternative to Slack, Wimi goes beyond team communication as it also offers files management, tasks, calendars and video conferencing. You can also organize your team conversations in projects channels to keep everyone in sync.
28. Bitrix 24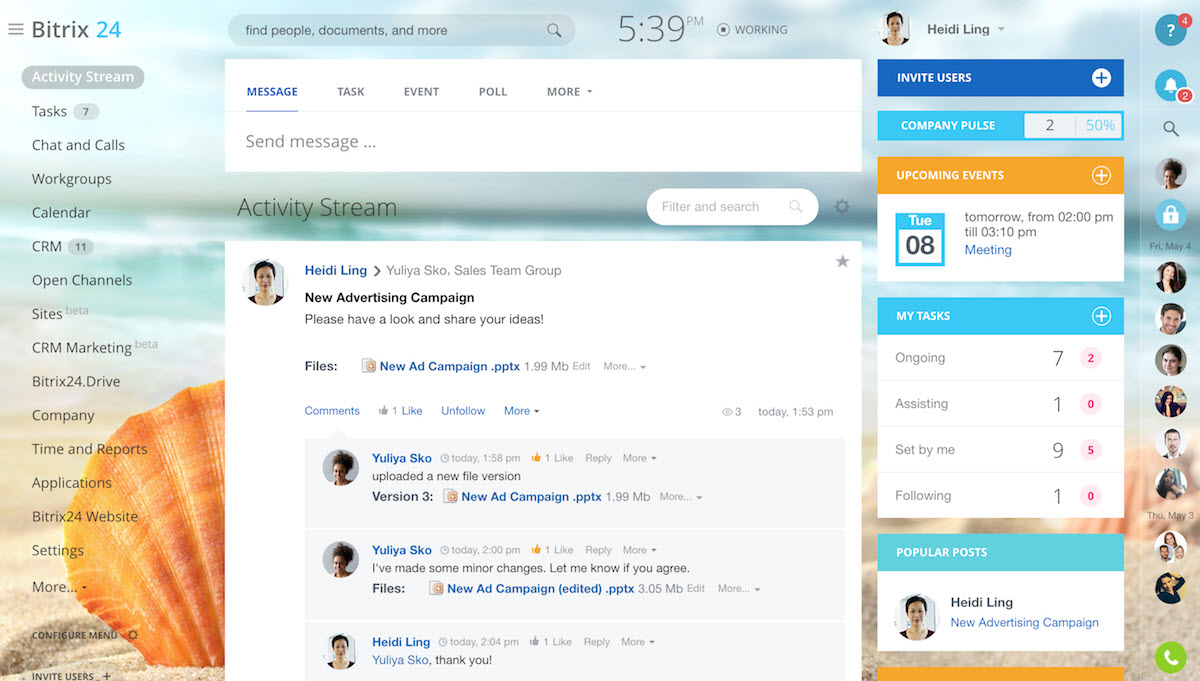 Bitrix 24 is one place for tasks and projects, communications, CRM, time tracking making it way more advanced and reliable than Slack. You can use the self-hosted version of Bitrix24 to run on your server. You get full control over data, source code access, and additional tools, such as helpdesk and e-learning, as well as integration and customization options. All in all, it's
a comprehensive suite of social collaboration, communication, and management tools.
Why People Choose Slack?
People are using Slack for team collaboration because it is a great place to coordinate and collaborate, as well it gives consolidated notifications. Slack has all the collaboration features anyone might need in place. It is like a chat room for the whole team. Slack is a wildly popular app that serves teams as a modern alternative to email in the workplace.
It's a modern way to communicate: Slack is popular and is used by millions of teams. it is a single place where communication can mean anything from sending a text or sending files.

It works with multiple tools: It connects to about 1,500 apps in its App Directory. You can integrate an app either through the Slack App Directory or by clicking on an individual app's "Add to Slack" button.

Powerful search: The next-level search of Slack can help you find exactly what you are looking for. More advanced modifies gives accurate search results (but search options in Slack are limited unless you pay).

Keeps archive message repository: With everything kept in perpetuity and searchable, you have a great place of information.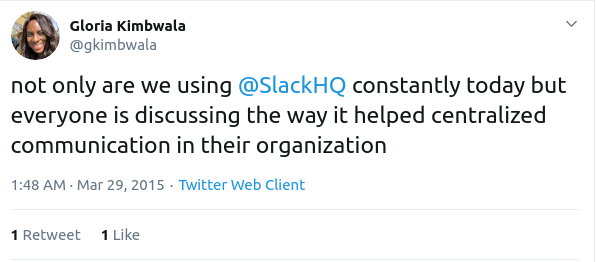 Slack is free if you don't need loads of storage and just want to chat with your team. The free version comes with 5 GB total storage—not huge, lets you search up to 10,000 of your previous messages. The free version also lets you use up to 10 third-party apps. Use the free version for an unlimited amount of time, and with as many users as you want.
Well, if it's so great—you'll be wondering—why look for Slack alternatives or apps like Slack?
Why You Should Look for an Alternative to Slack?
If Slack does the job, then why look for an alternative to Slack? Well, because there is always room for improvement. Of course, Slack is a good solution for team collaboration but it might not be a worthy choice for every company. It may not be the right team collaboration and project management software for you. However, Slack's cumbersomeness and expensive price are pushing its users to look for another tool. And lately, there are many alternatives to Slack in the market offering highly competitive features and great packages.
There are many other reasons why you may be or may want to look for Slack alternatives. The users miss having native task management where discussions happen and decisions are made. As Slack is team-centric, teams often end up having 10 Slack teams as new "inboxes" to check, with message history limit getting out of order, and users dislike the lack of 'Read' indicators to see who's read your messages. But there's a piece of good news: there are a lot of Slack competitors. Some of them may fit your workflow perfectly even better than Slack.
What to Look for in a Slack Alternative?
Maybe you had a bad experience with Slack (or just don't like it). You might want to explore Slack alternatives. People criticize Slack for being too busy, too expensive, or too distracting. As per the member pricing in Slack, the price of a large team is quite expensive.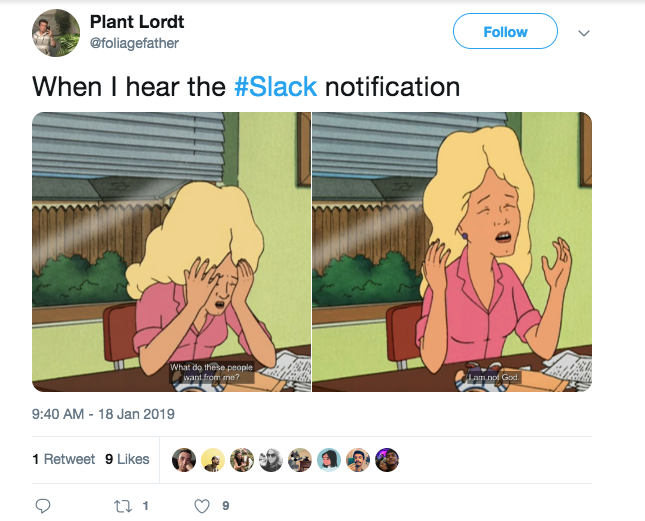 As the chat community adds up, the fees also add up. Also if you want to bring important information and alerts into relevant channels on Slack you do it by connecting services such as Zendesk and more, but there are a few apps like Slack-like ProofHub where request forms can be used to work requests through a form.
Some offer free group collaboration for large numbers while others have request forms to take work requests and many more. Whatever your reason, there are plenty of other great tools out there to meet your needs. So, let's take a look at your other options.
Pricing: Using Slack for free sets a limit on files, messages, and integrations. And the Slack plans are a bit pricey. Its freemium plan is limited with 10K recent messages searchable and 10 third-party or custom integration. While the standard and plus plans are priced per active user and that makes it a lot when you use it for large teams.
Bonus tip: ProofHub is priced for unlimited users—you can add unlimited users to your account.
Messaging: Unlike a tool like ProofHub, where you can add comments on tasks and discussions directly, Slack asks you to add only contextual information.

Storage limit: Free Slack gives your team 5GB of free storage and the size limit for uploading a file is 1GB. If you ever need more than that Slack makes you pay a lot for it.
We have done the research and picked 26 of the best solutions for Slack alternatives. Check out their top features and find the best one for you and your team.
What's your alternative to Slack?
It could be hard to get over a tool that you've been using for quite some time but if your competitors are using more advanced and better alternatives, then even you should give them a try.
This was our list of 21 Slack alternatives that you should definitely give a try. If you think we have missed out on a worthy office chat software, let us know in the comments section.