I often hear people asking why is project management important?
Whether we realize it or not, project management has become a part of our lives. It is no longer restricted to managing complex tasks at work but also takes the shape of planning a birthday party at home or buying groceries from your task list.  
However, managing projects tend to be a daunting task and a multi-faceted affair. It requires a deep level of understanding of project planning, scheduling, reporting, tracking, and importance of project management.
"Operations keeps the lights on, strategy provides a light at the end of the tunnel, but project management is the train engine that moves the organization forward." ~ Joy Gumz
To become an effective project manager, you need to develop the right understanding of project management, your roles and job description, and the importance of project management. In this article, you will learn about all these essential things about project management but let's start with the basics first.
"Start managing your teams and projects efficiently with ProofHub. Try it now!"
What is project management?

Wikipedia describes project management as "the discipline of initiating, planning, executing, controlling, and closing the work of a team to achieve specific goals and meet specific success criteria."
According to the Project Management Institute (PMI), Project management knowledge draws on ten areas:
Integration

Scope

Time

Cost

Quality

Procurement

Human resources

Communications

Risk management

Stakeholder management
Reiss had an interesting take on project management. He said, "Project management is like juggling three balls – time, cost and quality. Program management is like a troupe of circus performers standing in a circle, each juggling three balls and swapping balls from time to time."

Why is project management important?

The project management landscape is changing every day. We need to know the importance of project management in the real sense before aping these trends happening in the world of project management.
It's interesting that project management apps were prevalent much longer to our knowledge. However, they were mostly used by government and military sectors. Soon after private businesses began to understand the benefits of online project management and tools that it was being put to use around the late 1950s by Henry Gantt, who later played a pivotal role in developing and evolving project management.
Coming back to the 21st century, a PWC study concluded that a staggering 97% of organizations believe project management is critical to business performance and organizational success. That's why more and more companies are implementing project management to their workflow and checking out new tools for project management to contribute to their overall success.
Why do we use project management
To put things into perspective, project management is essentially about delivering an output(s) that will affect some change for the benefit of the organization. And, to know more why is project management important, below down is a list of some reasons that will give you a convincing explanation on its importance and relevance.
Let's check them out:
1. Clear focus and objectives

Without effective project management, teams might start working on a project without even clearly defining the project plan. When team members understand the focus and objectives, a project progresses without any confusion or chaos. The half of the battle is already won if you begin a project the right way.
2. Realistic project planning

It is perhaps the most crucial aspect of project management that decide the fate of a project. You will be able to deliver projects successfully when the right expectations are set around what can be delivered by when and for how much. On the contrary, a project is doomed already if there are vague budget estimates and unrealistic deadlines and delivery expectations.
3. Maximum resource utilization

Whether you are working on an easy-peasy task or complex project, inappropriate resource utilization can wreak a havoc. Using the right project management methodology can help you realize how to utilize resources to the best advantage of a project. For example, small and medium scale projects work best with an agile approach whereas large-scale projects work best with the traditional project management approach.
4. Risk management

Oftentimes, we begin a project with the best strategy but fail to recognize potential risks that could hamper the overall progress of a project. With effective project management and the right project manager, one can always stay a step ahead from unwanted risks and threats.
5. Quality control

There is enormous pressure on project members to adhere to the project guidelines, deadlines, budgets, compliance standards and quality control. Project management is important to identify, manage, and control the quality of whatever is being delivered.
Effective project management benefits include:
Understanding various objectives and project deliverables

Satisfying needs of the project's stakeholders

Effective use of project resources

Greater likelihood of achieving the desired result
"Bring a positive change into your life and make it less stressful, get your free trial immediately."
Project management skills to ace project management
The effective project management needs the right project management skills for successful completion of projects. Let's explore the main project management skills in brief:

Leadership is an essential skill to be a good project manager. There has to be someone with the right vision who can take the entire team in the right direction. At the end of the day, leaders are meant to lead and manage teams with guiding, motivating, and inspiring other team members.

Oftentimes, miscommunication results in delayed deadlines and failed projects. Thus, effective communication plays an important part in project management. As a project manager, make sure every team member and stakeholder is well-aware of their tasks and progress happening on the project front. Remember that over-communication is better than under-communication.

As a project manager, it is essential to plan and organize tasks in the right order, most importantly, to the right people. Good planning skills can take your project management to another level. He should be someone who foresees the potential risks and has also prepared a strategy to deal with them.

Time management means making sure you put aside enough time for every project task. Effective project managers time slot important tasks to create a healthy sense of urgency and prioritize stuff. They understand the difference between important and urgent tasks as Eisenhower pointed out, "What is important is seldom urgent and what is urgent is seldom important."
A list of amazing project management apps
Now is the right time to talk about tools that are constantly making project management easier, faster, and better. Below down is a list of online project management applications you should know about:
Let's check them out:

ProofHub comes packed with powerful features eliminating the need to invest in multiple tools for your business. As a project management software, it makes project management easier, faster, and smarter. ProofHub acts as one place for all your projects, teams, and internal communications.
Top features in ProofHub:
Online proofing tool

makes feedback sharing and approval process clear and faster

Simplify the way you manage tasks with workflows and Kanban boards

Get a visual timeline for tasks to better plan projects and manage resources efficiently

Ask quick questions, have conversations adding fun to your office communication

Keep files and documents centralized and organized to collaborate with remote teams
2. MeisterTask
Talking about intuitiveness and task management, there's no tool like MeisterTask on the web. It is smart, agile, and visual project management software that brings everyone together to help you work and collaborate effortlessly. Create a project, add as many team members as you want, assign tasks and follow each other's progress – things are this simple in MeisterTask.
Top features in MeisterTask:
Customizable dashboards let you see your whole day in a glance

Discuss details, upload files, set due dates, and add checklist items

Update workflows and save time with unique add-ons and features

Integrates with your favorite tools such as Slack, GitHub, Zendesk, and Bitbucket
3. Podio
Podio is one of those project management software that leaders trust end employees love working on. With content and process structured and together on one tool, Podio creates the focus and clarity your people need to get their best work done. It is known to offer tighter collaboration for greater durability.
Top features in Podio:
Granular admin capabilities give you the power to see who can access your Podio workspace

Tailor processes to accommodate every step and stage

Stay coordinated with teams with its mobile app (iPhone and Android)
4. Avaza

Avaza is a leading project management software with all-in-one task tracking, timesheets, expense reporting, quoting and invoicing available on any device. It makes collaboration a breeze to run your client-focused business. You can manage team time utilization and make more intelligent work assignments and scheduling decisions.
Top features in Avaza:
Invite anyone to enter time, set flexible per project, per user rates and enjoy easy billing and reporting

Digitize receipts and expense approvals to manage your staff expenses

Create professional invoices as seamless on-billing of timesheets and expenses

Understand staff utilization and where time is spent for better management of human resources
5. Onepoint projects
If you're looking for a modern and dynamic project management solution, look no further as it is the right tool for you and your business. It not only works well with agile projects but also takes care of real-time project controlling, resource management, and status reporting. The popular web-based project and portfolio management solution easily adapt as per your needs and requirements.
Top features in Onepoint projects:
Project pipeline provides an overview of all ongoing projects

Unique project symbols visualize up to 12 project dimensions concurrently

See conflicts, overloads, and absences immediately to forecast future resource availability
6. Mavenlink

Bring project management, time-tracking, and resource planning at one place with Mavenlink. The project management software is designed mainly to connect projects, people, and profits. In a world where performance and transparency take the front-seat, Mavenlink helps you understand projects better and deliver them in the most efficient manner.
Top features in Mavenlink:
Monitor how you're racing against time, margins, and budgets

Advanced analytics and business intelligence engine

Gain visibility into projects

Provide clients with the best collaboration and world-class experience
7. Scoro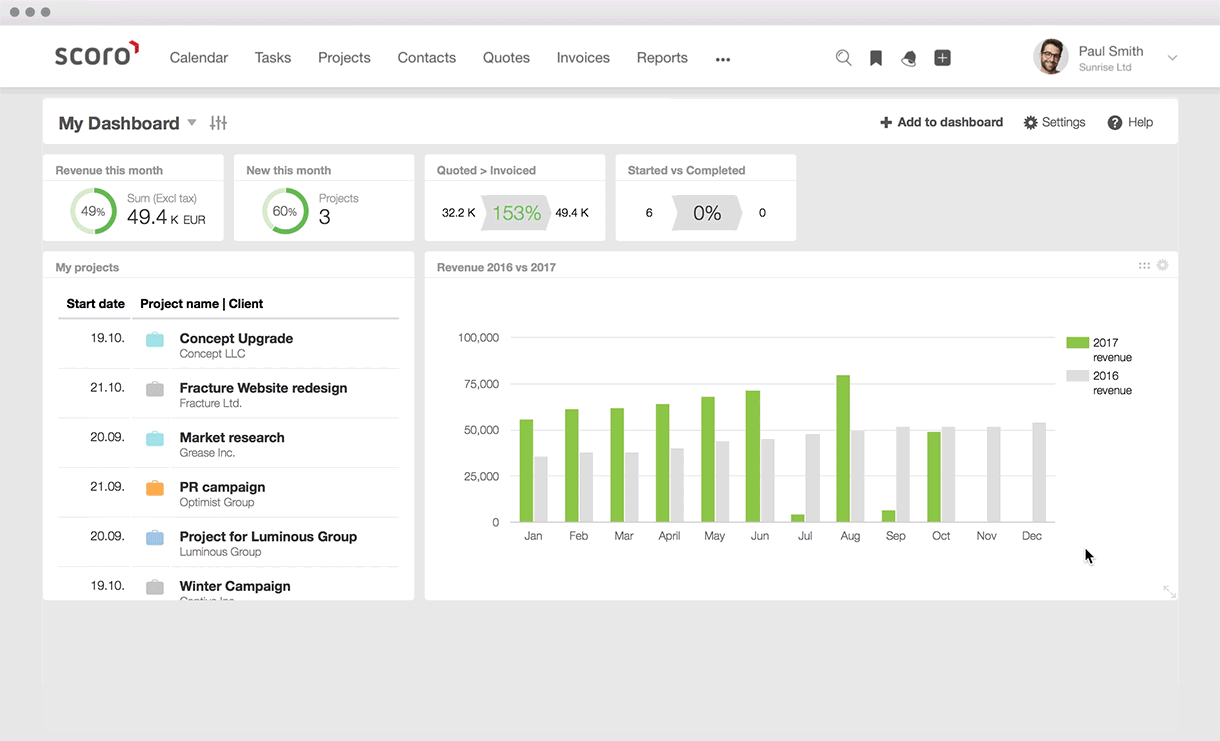 Scoro is an end-to-end business management software solution for professional and creative services that help to streamline work and eliminate routine tasks. The project management software is quite effective in bringing structure to work and the best thing about Scoro is that it seamlessly unifies teams, projects, sales, reports with business management.
Top features in Scoro:
Plan and track work with unlimited projects

Manage quotes, contacts, and invoices seamlessly

Track time for completed work and billable hours

See the bigger picture on dashboards by tracking the metrics, charts, and conversions
8. TeamGantt

TeamGantt is an intuitive Gantt chart maker that makes project scheduling and project management simpler and effective. Just drag and drop tasks to plan a project and create your Gantt chart online. It is super easy to use and needs no special training. TeamGantt is indeed one of that software that actually makes life easier. More than 5000 companies around the world such as Sony, Expedia, and more are using TeamGantt to work smarter  
Top features in TeamGantt:
Tasks, documents, conversations, resources  available in one place

See who's busy and who's not with a quick glance at your project plan gantt chart

Track hours on projects and add various tasks with smarter tracking and reporting

Easily export presentation ready project charts and timelines into PDF's or Excel CSV format
9. Redbooth

It is easy-to-use online project management software for high performing teams to help them manage tasks and communication so projects get completed faster and easier. The software is very flexible in approach as you can manage multiple tasks and create new ones instantly with pre-built and custom templates.  
Top features in Redbooth:
Sort, tag, and organize tasks for clear communication and task management

Know exactly who's working on what and when it's due in a single glance

Add tasks, drag and drop to change dates, create task dependencies, and set filters to see what matters and manage any potential bottlenecks
10. Freedcamp
If your priority is to collaborate more efficiently with groups of people, Freedcamp might interest you. Whether you have wedding plans, organizing a camping trip or leading a work project, the core features of this project management software lets you create a productive day at work, no matter what you do. It is the center point of everything you do – either you're working from home or at the office.
Top features in Freedcamp:
Stay on top of your tasks and see what's happening with task lists

Create events, tasks, milestones, and more

Gantt charts provide the ultimate bird's eye view of tasks to quickly adjust your plans

Discuss ideas with teams from one centralized place

Create custom widgets for any type of information you need at one place
"Streamline your workflow and get better task visibility. Try ProofHub!"
What do you think?
Do you agree with our take on why project management is important? We hope that the article answered all of your answers and cleared every doubt. Must try the tools mentioned above and bring a positive change in your project management.
Subscribe to ProofHub
Get the latest posts delivered right to your inbox.