Marketing project management tools will have you wondering why you hadn't been using automation technology since forever.
A marketing team is the pivot of any organization. This is the one department that wields the power to make or mar the public image of a brand. When managed right, marketing can help you build credibility and expand your target audience. On the other hand, if you mess things up, you could cause some impactful damage to the whole organization.
3 things form the foundation of a productive marketing team – the people, the customers, and the hand that deals with both. This means that everything that can make or break your organization's reputation hinges on how you choose to manage your team, and consequently, your projects.
Now, this may come to you as a surprise, but the Hubspot Marketing Agency Growth Report pointed out the fact that the lack of a proper project management system and the absence of a well-organized administration are two major reasons for teams not being able to meet desired targets.
It further reported that close to 20% of organizations around the world have never worked with a project management tool hence, they have no idea of what they're missing out on. As a result, various marketing agencies and organizations have trouble juggling their resources between administrative tasks, client onboarding, new investments, maintaining cash flows, and everything that follows.
What is marketing project management software?
Marketing Project management software is the kind of tool that helps you sort out your work processes, collaborate with your team, and manage your projects, all in one space. A marketing team could use a tool that can help them in such a comprehensive way by being on the same page and keeping a detailed account of dynamic information and client contacts.
This software could be a marketing management app, it could be cloud-based software or a web-based tool and the sole purpose of this tool will be to provide your team with absolute cohesion and coordination in a very well-organized space.
Bring all your marketing teams, your contact lists, your agendas under one roof with ProofHub. Try now for FREE.
What does marketing PM software do?
Project management software simplifies the life of marketing teams by solving the major challenges they face in performing their daily activities. The best project management tools come with a plethora of features to help you sort, organize, schedule, track, plan, and collaborate effortlessly. All in all, marketing project management tools help you do the following:
Assign and monitor tasks

Keep tabs on team performance

Communicate with team members and clients in different time zones

Track project progress corresponding to time data

Automate recurring tasks
What are the benefits of using software for marketing teams?
There are many benefits of using an automation software platform for managing marketing projects. To some, it may feel that managing a project is all about organizing files and getting your team on the same page, however, getting a project management platform for your teams does a lot more for you than just that. For example, this will help you:
These digital marketing project management tools work with an all-in-one approach such that one tool can provide you with assignment clarity, collaboration features, reporting outlets, feedback intake, and much more.

They help you organize a lot more than files – These help you set up a viable work process that is easy for your team to follow by helping you sort out your teams, tasks, and deadlines.

These can help you actively track progress and manage time in a better, more efficient way.
Who is marketing PM software for?
There are a lot of departments in the marketing community that could equally, not to mention judicially make use of a good marketing project management software platform. Some of the most common examples for these teams would be:
Web marketing agencies

Digital marketing teams

Marketing departments in software companies

Software design organizations

Advertising as well as sales teams

Brand building agencies

Teams that practice email-marketing
All these teams are likely to use project management tools differently. Some might need these tools for documentation, some might use them for collaboration, some might use them for planning ahead, while some might use them to keep tabs on progress.
Why use marketing project management software?
A project management tool can simplify your work processes by a lot. If you haven't had much experience with such a software platform, it is highly likely that you are soon to be very pleasantly surprised by everything these can help you with. These can help you:
Save time on planning

Stay organized

Be on the same page with the team

Stay ahead of deadlines

Share and document ideas and files

Build a functional workflow
Marketing is all about using resources., ProofHub helps manage resources, teams, AND time. Sign up and see for yourself.
What features do you need in a project management tool?
In my opinion, a good marketing project management tool must have the following features:
File sharing

Workflow management

Reviewing files and providing feedback

Documenting information and creating a knowledge base

One-on-one communication features

Automate recurring tasks

Time tracking

Automated reporting
What are the best marketing project management tools?
It would be an understatement to say that there are several project management tools out there that can fill virtually all your needs. However, only one can be the right fit for you. Below, I have garnered a list of tools that come jam-packed with amazing features that can help you build a simple approach to your work processes. These have been broken down into different categories that will, hopefully, help you make an educated decision about what kind of software will be best for your needs. So here we go:
All-in-one marketing project management tools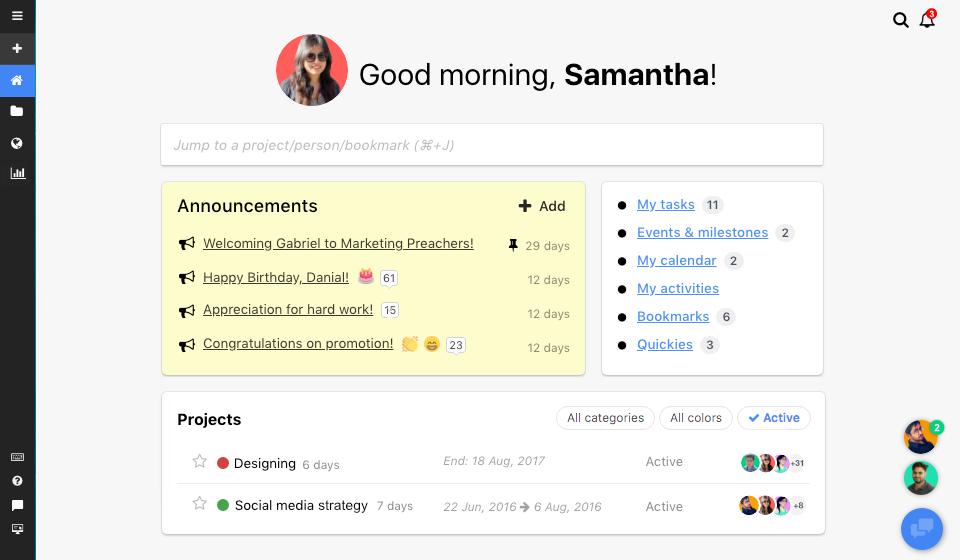 ProofHub tops this list for several reasons. You might think it is because of its easy-to-use interface or its reasonable and economical pricing, but in truth, it is a lot more than that. It offers users a plethora of features that make it the most fitting tool to the definition of "one tool solves many purposes".
Let us first discuss all the ways in which it will help you manage your marketing projects effectively:
Kanban boards

: These

boards

come with a drag and drop function that helps you readily manage and move tasks across your workflow.

Workflow Templates

: It comes with an array of pre-made templates to select the most appropriate board to view your tasks along with the task stages.

Gantt Charts

: ProofHub also comes with

Gantt charts

that can help you define a project timeline as well as help you review progress and analyze task dependencies.
Calendar View

: It also comes with a

calendar view

that will make it a lot easier for you to view your agenda and keep up with your deadlines. Additionally, it will also allow you to keep track of upcoming events and milestones.

Table View

:

With

this view

, it is easy to manipulate your workflow and view and analyze your tasks in a condensed manner. This feature allows you to get a bird's eye view of all your tasks — upcoming, ongoing, and done along with the percentage of their progress.
Now, let's move on to all the features of ProofHub that make it possible for a marketing team to collaborate in the best ways possible.
Discussions

: "

Discussions

" come as a savior for marketing teams because it provides them with a dedicated platform to share ideas and document brainstorming sessions without having to gather around for extensive meetings.

Notes

:

This feature

too, provides the marketing team a platform to store ideas, but it can do a lot more than that. It can help you build up a complete wiki of what your team and its ideals stand for.
Announcements

: This is one feature that makes ProofHub a pioneer in providing a platform for communication as well as employee engagement.

Announcements

help you broadcast and celebrate achievements, pass on important notifications, and share urgent information.

Chats

: If you are looking for a

tool

that provides you a seamless platform for uninterrupted back and forth communication. It will help you share files, links, media, and much more instantaneously and make being on the same page an actuality.
Furthermore, I would like to highlight some more features that make this tool the most obvious project management partner for marketing teams.
Proofing

: You can upload different versions of the same file, document changes, and

provide your team with actionable feedback

. It comes with annotation and markup features that can help teams comprehend and implement the required changes.

Quickies

: "Quickies" can help you record "notes to self", and important links to which you can come back to for future reference. This will help you keep up with your tasks and never lose track of small yet important details.

Events & Milestones

:

It helps you mark events and milestones and set reminders for the same.
Me View

:

ProofHub does not only facilitate the marketing manager, in fact, but it also helps every individual in the team keep up with their goals,

milestones

, upcoming tasks, and more with a Me-view, which is, you guessed it, all about "me".

Completely your own

: The final upside of using ProofHub that I feel should be mentioned here is how you can make this tool completely your own. With it, you can define

custom roles

, add individual work titles, and work with a whole nuanced custom domain that is unique to your agency/organization.
Ease your marketing work processes with an excellent and robust project management tool; ProofHub. Sign up for FREE today!
#2 JIRA

JIRA is a high-end project management software for all kinds of teams, be it remote teams, office-bound teams, or hybrid ones. It simplifies how marketing teams can effectively collaborate, manage tasks, and deliver the desired results. Marketing teams all across the globe have known to greatly profit from using JIRA for everyday activities and interacting with clients. Jira helps high-performing teams plan future marketing strategies, identify loopholes, create schedules, and give weightage to high-priority projects.
Furthermore, JIRA comes with highly customizable Kanban-Scrum boards that fit into all kinds of workflows and help teams improve their cumulative performance.
Here is a list of the top features of JIRA that are popular among marketing teams:
Highly customizable

Scrum and Kanban boards

Communicating with clients through

Jira software cloud

Building

automation

across products and integrations

Portfolio management
Developer tools integrations
Automate everyday processes

with Jira's API

Customizable workflows

for various tasks

Milestone tracking

Extend the capacity of Jira with

3000+ apps
Also read: Best Jira- Alternatives for Agile Project Management
#3 Instagantt

Instagantt is an online Gantt chart software that helps teams manage, execute, and organize projects. It is an especially amazing platform for marketing teams since it also helps them map out progress and analyze individual as well as team performance.
As the name suggests, it is a robust Gantt chart tool that simplifies workload management like a pro. Instagantt helps project managers stay updated with the team's progress and be aware of the task dependencies at all times. Needless to say, its features help them optimize resources judiciously, helping them generate the best results.
Here is a list of the main features that make Instagantt a hit:
Drag and drop Gantt Charts
Dependencies

and

workload management
Task details

and

analyzing subtasks
Scheduling

and

progress tracking
Third-party integrations
Dependencies

and

automation

Add

milestones

to mark special events

Collaboration with

Asana
#4 Asana

Ranked among the most popular project management tools, Asana is a top-notch cloud-based project management and collaboration tool that is suitable for teams of all sizes. It is an ideal tool for marketing teams looking to practice teamwork by being able to correspond with teams regularly. From executing tasks and assignments to devising new strategies, Asana proves to be a pretty helpful tool in every way.
The only downside of Asana in my opinion is that it does not come with an inbuilt time-tracker, however, it is flexible and easily adapts to the needs of a team. The biggest upside to using Asana is the wide range of features for users which have made it one of the most popular management tools.
Here are the major features Asana has to offer:
Project

&

task management
Activity monitoring

and

individual task lists
Robust remote support

and

access
Task prioritization

and

automation

Custom built-in

templates
Resource management

and

scheduling
Timeline view

and

multiple workspaces
Project map

and

planning

Drag & Drop

dependencies

Setting

priorities

and

due dates

Also read: Powerful Asana Alternatives for Project Management
#5 Forecast

Another top-tier project management software, Forecast is an amazing tool for teams of all kinds. It enables countless teams to streamline their resources, identify the pain and power points of employees, and make the most of what the employees have to offer. Forecast has become a hot favorite among professionals due to its super-intuitive interface and small learning curve.
Forecast offers users a custom auto-schedule feature to kickstart everyday activity and provide a direction to the overall administrative project management. Forecast offers users a plethora of features that make it an indispensable tool for teams.
The main features offered by Forecast are:
Helps

minimize manual error-prone tasks
Powerful automation

Native AI

helps minimize human errors

Integration

with external software

Resource optimization

and

scheduling
Balance workloads

across resource pools

Generates

precise forecasts

for

time, profit

and

budget
Planning and analysis

with powerful insights and reporting
Track time spent on projects, figure out payroll with timesheets and manage your resources with ProofHub. Sign up today to find out for yourself!
#6 Meisterplan

Meisterplan is a project management tool that is excellent for marketing teams since it helps with effective resource management. It helps countless organizations achieve their goals and deliver the highest quality results ahead of schedule. It is designed exclusively to suit the needs of organizations and teams of all sizes.
It offers resource planning, task management, budget tracking, as well as a robust Gantt chart feature.
The top features offered by Meisterplan are:
Portfolio project management
Scenario simulation

to react to changing circumstances

On-premise

and

cloud-based deployment

options

Real-time progress analysis

and

reporting
Gantt chart functionalities
Drag and drop scheduling
Utilization reporting

and

capacity management
#7 LiquidPlanner

LiquidPlanner is a web-based project management and resource planning tool that is popular for its intuitive scheduling technology. It helps you make the most of existing resources and plan projects effectively. LiquidPlanner grants complete control to managers and helps generate priority-based schedules.
It enables teams to plan and prioritize multiple tasks while constantly tracking progress, analyzing resources, and assessing risks if any. This tool offers a vast variety of features which make it a blessing for teams looking to collaborate and manage projects effectively.
The chief features of Liquid Planner are:
Automated resource leveling

and

management
Project portfolio management
Document

and

file management
Budgeting

and

time tracking

Generating

priority-based schedules
Dynamic

and

intuitive features
Advanced analytics report
Resource utilization

and

client portfolios
Team management tools
#8 WooBoard

If the lack of motivation is what is bringing your whole marketing team down in terms of productivity, a tool like WooBoard is more than likely to help you out. This tool comes with some unique features that will help you give your team a pick-me-up and appreciate their efforts every step of the way. It is one of the best online collaboration tools out there that is going to show you definitive, not to mention, instant results.
Some of its features that I would like to share with you are:
Allows

white-labelling

Provide recognition to the team with a

fool-proof points system

.

Celebrate achievements by

giving out badges

.

Maintain a scoreboard

in the form of a "leaderboard"

Define your teams and easily

set up the hierarchy

Work on your work culture by

creating special announcements
Manage teams using data

of their departments, locations, and interests
#9 15Five

15Five is a tool that will not only help you manage your team but also help you track employee performance and analyze their progress based on numerous metrics. It is a tool that focuses on employee growth and empowerment.
Here's everything you need to know about 15Five's top features:
It helps with

goal management
Management of negative feedback

Provides an extensive

questions library

Helps conduct

pulse surveys

Provides insight into

process tracking

Comes with a highly

informative dashboard

Helps with reporting and

objective tracking
Define Custom roles, assign tasks, and post announcements, all under one roof with ProofHub! Try now for FREE!
#10 Fond

Fond, as the name suggests, will help your marketing team realize just how much you are fond of their work and are thankful for their contributions to the organization. This software will help you manage teams and provide employee recognition like no other. With its long list of features, it is an absolute fan favorite.
Here is a list of Fond's most popular features:
Give out access to

corporate perks, discounts

,

and much more

Collect data

on various achievements and important occasions in employees' lives

Publicly acknowledge employees

for their achievements

Redeem corporate perks

and rewards

Create unique events

and occasions tailored to your marketing team

Get reports and analyze engagement information

on the go

Fond comes with

no hidden fees
#11 Reflektive

Here's how Reflektive is not like other team management and team engagement software platforms– it helps marketing teams instill the value of accountability. This is a tool that will help you foster teamwork, and lead you towards effective as well as constructive collaboration.
It provides an easy platform for the management of marketing teams, and here are all the features that make all of the above possible:
It works in

sync with all your emails, chats

, and mobile usage

Helps measure engagement with

surveys and benchmark analysis

It facilitates accessible as well as feel-good

public recognition features

On a personal level, it helps

analyze natural language

Understands your sentiments to give you a

better user experience

It comes with highly intuitive

pre-built dashboards

It proves timely as well as

informative performance insights
#12 SurveySparrow

God knows how hard it can be for marketing teams to always be in direct contact with clients and cater to all their requirements. SurveySparrow helps marketing teams learn about not only the team's but also the clients' interest, their hopes, and most importantly their feedback.
This tool comes with some highly intuitive features like:
Employee 360 Assessment

for keeping tabs on employee progress

Employee onboarding

and recruitment features

Employee check-in

and tracking features

Survey

feedback for users

Survey

feedback for employees

Employee

feedback on exit

Timely and

scheduled feedback surveys

for events
#13 Jive

Jive is a successful team management software that helps extensively with marketing project management since it has something to offer to every person on your team. It comes with a state-of-the-art dashboard that is unique for every individual. It helps employees stay motivated and stay on the same page. Needless to say, it comes with a lot of features to make engagement, collaboration, and overall team management a smoothly functioning reality.
Here are some examples of those aforementioned features:
Track employee engagement

using various unique parameters

Provide

peer recognition badges
Acknowledge and appreciate accomplishments

Gives you an insight into the

organization's collaboration analytics
Track intranet usage

and normal team activity

Track the

growth of your office community

Monitor and

maximize employee engagement
Monitor personal contributions

through curated dashboards
#14 Typeform

The tool; Typeform is a highly intuitive software platform that helps you step up your employee engagement game by indulging in everything that your team wants. This is a tool that will give you some very airtight outlets to analyze information so it gets easier for you to work on the management of your marketing team.
Here are all the features that will ensure that your team collaborates and is engaged at the same time:
Integrations with

Slack, Mailchimp, Zapier, Google Sheets, and Google Analytics

.

Ask questions through a

user-friendly interface

Keep the audience engaged with

conversation-like survey forms

A platform to

ask follow-up questions

A chance for your team to come up with

thoughtful responses

Welcome motivation as well as

higher completion rates

A

plethora of templates and questionnaires

to choose from
Communication tools
#15 Chanty

Chanty is a fairly popular team that gives way to uninterrupted, not to mention, elaborate communication that can help you sort out your collaboration channels. It is a tool that will help you simplify your communication and feedback processes leading the team towards seamless productivity.
Here are some of Chanty's features that are evidence enough as to why it is on the top of our list:
Share screens

and make remote work easier for marketing teams

Instantly

send files, links, and task details

on the go

Set tasks and add information

to clarify as well streamline

Take control

of the information you send and receive with smart notifications

Add media to your discussions

to add more context

Comes with

invite-only team access

to ensure security

Choose a

structure for your conversations and assign a decision-maker
#16 zipBoard

zipBoard is the one tool that will make you realize exactly what you had been missing in your collaboration tactics. Zipboard helps with simplifying your work processes by giving you an easy-to-navigate platform for reviewing work and sharing feedback. If you are looking to make marketing project management an easy task, adopt zipBoard as your personal helper.
Here are some of its most amazing features:
Collaborate and collectively stay on top of your web pages

, videos, images, and more

Bring

issue tracking and client feedback

under one roof

Work on

feedback collaboratively

Collect feedback in the form of

screenshots and screen recordings

Use a

virtual whiteboard to document

various files in the pipeline

Document and

organize reviews received from various stakeholders
Keep tabs on task assignments

and get timely notifications
#17 Troop messenger

Troop Messenger brings a lot to the table in terms of quality communication, and, consequently, collaboration. It helps out marketing teams in being on the same page about raw materials, the availability of resources, important campaign information, client details, as well as individual tasks. It is a tool that will help you not just with instant messaging, but also with calling and video calling.
Here are all the features that Troop Messenger can offer:
It offers

group calling

as well as

group messaging

Make your

group calls audio or video-based
Any individual can add other people

to the call

Use the

"join now" feature

to be included in an ongoing group call

Comes with

remote screen sharing
Present weekly reports

in a matter of seconds

Message back instantly with the

recall feature

Offers the

creation of unlimited groups
Time tracking tools
#18 Timedoctor

If a marketing project management tool is what you are looking for, look no further than Timedoctor. Not only will this tool help you stay on schedule with all your tasks and responsibilities, but will also help the managers out there track and judge the performance of the whole team as per accurate time data. Needless to say, this tool comes with many features that can make the job easier for all involved parties.
Here are all the awesome features that make Timedoctor a highly reliable tool:
Keep

tabs on all the tasks you've been spending on various tasks

It provides the team with

pop-up alerts to remind you to get back to work

It

generates daily reports stating time metrics for the day

Track time easily using elaborate and

accessible dashboards

The tool can help

track keyboard and mouse activities

for employees

You can review your

team's screenshots

to review what they have been working on

Use Timedoctor's

detailed insights

to improve productivity and time management
#19 Hubstaff

Hubstaff is a time management and monitoring tool that is going to bring in a flush of productivity to your marketing team. This tool is going to help you track down all the time data and make it easier for you to provide detailed and articulate feedback for your team. Additionally, it helps review the work of every individual on an easy-to-use platform which makes the job easier for the manager.
Here are some reasons to use Hubstaff:
Track every second of the work hours

corresponding to the projects and/or tasks

It helps the team

track productive time through easy-to-use timers

Get

detailed timesheets for all employees

Hubstaff makes the

invoicing and payroll aspects easier
Approve, edit, and reject timesheets

on the go

Get daily

updates through emails and auto-alerts

Highly customizable and has many

filters for accessibility
Track time, set reminders, schedule tasks and time your progress using ProofHub's amazing time management features. Sign up today!
#20 DeskTime

DeskTime might be another time tracking tool, but time and again (pun intended), it has proven to be much more than just that. It also helps teams keep up with workflows and goals. It helps teams make use of automatic timers and other project tracking outlets to maintain productivity. As a tool for marketing management, it will help you lead your team effectively by allowing you to make informed decisions with condensed data.
Here are all the features that will make you wonder why didn't get DeskTime before:
Offers

automatic time tracking
Analyze delays

and work on various constraints

Provide and gather

accurate insights into the resources

A better, more reliable way to

invoice your clients

Offers a

seamless platform for scheduling tasks and projects
Track and calculate cost

spent on various campaigns

Offers

offline time tracking

Comes with abundant

third-party integrations
#21 ActivTrak

Another tool that can help your marketing team achieve some appreciable, heightened levels of productivity is ActivTrak. It can help you understand exactly where your time is going, what your team is up to and give you a good assessment of employee performance. It can help understand your team's behaviors pertaining to time usage and help them become more productive individuals.
Here are all the features that make ActivTrak a commendable weapon for marketing teams:
Keep a track of

productivity metrics and keep tabs on benchmarks
Review the engagement levels

of both remote as well as office-bound teams

Identify the bottlenecks within your workflow

and work on delays

Leverage productivity reports

and analyze how employees utilize their time

Keep tabs on the activities of the team by

monitoring context switching

Analyze and keep an eye out for

top-performing behaviors
Generate and use valuable time data

to drive productivity

Share productivity analytics

with the team to ensure consistency
#22 RescueTime

RescueTime comes as a savior for marketing teams who are unable to function due to faulty deadlines and overflowing client requirements. This is a tool that will bring everything back on track. As a marketing team manager, you have to deal with a team that has various different distractions to deal with, both on a personal level as well as collectively.
Its wide range of features makes RescueTime a highly reputable tool and for good reason. Some of its features include:
Automatic time tracking

Project and

document time tracking

Numerous

custom work hours filters

to choose from

State-of-the-art

distraction blocker

Get

daily performance highlights

in your notifications

Generate

weekly, monthly, and annual reports

to analyze productivity.

It offers the storage of

unlimited historical data

Get

real-time alerts and timely notifications.
#23 Harvest

Tracking time is easier with applications and software platforms such as Harvest. This tool helps you make sure that you *harvest* all of your time only on tasks that are productive. Harvest will make sure that every member of the team utilizes their time responsibly and efficiently. It helps managers be a better judge of employees' performance by keeping them informed with timely reports and notifications.
It offers the following features:
Track time and manage tasks by

integrating with tools you use every day

Select from a wide array of

visual reports with numerous templates

to choose from

Sends

automated reminders

to encourage teams

Keep a track of

budgetary data and various distributed costs

Use timers to

record accurate working hours

Track through your

desktop as well as mobile apps

Generate

extensive timesheets to track performance
Review, update, approve, and edit timesheets
Marketing tools
#24 SocialPilot

SocialPilot, as the name suggests, is the one tool that can help you keep up your marketing practices on the social media front. It acts as a hub to help you update your marketing processes on various social media platforms all at once. It helps the teams respond to various messages, comments, and posts directly from under one roof. Needless to say, SocialPilot can be the best project management tool for digital marketing when used judiciously.
Here is everything that SocialPilot will help you achieve:
Delegate and manage all social media tasks

under one roof

Review, approve, and edit posts

all in one space

Improve

social media posting efficiency

Use

automated posting schedule

features

Connect with platforms like

Facebook, Twitter, Google My Business, Instagram, Tumblr

, and more

Connect as well as manage more than

50 social profiles

at once

Export data regularly in the form of

PDF reports
#25 SalesHandy

Automate and track email outreach in a more extensive, not to mention, organized way with SalesHandy. This tool will help you in automating a number of marketing practices that are performed at your organization regularly. Not only does it help you automate your recurring tasks with ease, but it will also make it possible for you to schedule everything, be up to date about the email marketing statistics, and document changes.
Here is everything that makes SalesHandy a formidable tool for marketing teams:
Schedule emails

that need to be sent out at a later time

Set

specific time zones

for different audiences

Save frequently sent emails

Set

automated follow-up emails

Get

unlimited email tracking
Automate email campaigns and increase reply rate
Share frequently sent-out emails

with the whole team with one click
Build a fool-proof marketing to-do list with ProofHub in a matter of seconds. Sign up for your FREE trial now!
#26 Salesmate

Salesmate, as the name suggests will not only make marketing management projects easier, but it will also make the job much easier for all the sales teams out there. It helps you interact with the customers in a way that you can beat the competition with ease and make a reputation for your brand in an effective way. This tool is going to help you build a customer base and also help you retain it with much ease. Needless to say, if you are looking for the Best project management software platform for easy customer management, Salesmate might be the *mate* you are looking for.
Here are some of the most awesome features that this tool possesses:
Helps you

automate and manage bulk texts as well emails

Comes with a

calling and power dialer

to make better contact with customers

Helps

track emails with the utmost ease

Supports marketing teams in

running email campaigns successfully

Offers

numerous email and text templates

to choose from

Gives you the option to

drop recorded voicemails

Provides a

team inbox

to help your team be up to date with the customer statistics

Has a

built-in caller for better accessibility

for customer outreach
#27 ReferralCandy

The idea of marketing project management automation can be a foreign one, it can be a scary one, and it can definitely be an undeniable one. Automation is necessary, yet scary, however, I can promise you that tools like ReferralCandy will make you feel like you are cruising through the calmest waters when it comes to automating your marketing processes.
Here are all of its wonderful features:
It helps you

automatically pay out rewards
Automate post-purchase pop-ups

Get articulate

insights to track traffic and sources of traffic

effectively

It has seamless integrations with

WooCommerce, BigCommerce, and Klaviyo

Has integrations with

Google Analytics to provide accurate metrics

about your traffic

Offer cash rewards, store discounts, and custom gifts
Define rewards for customers

who refer friends
#28 Freshchat

Freshchat is one of the more modern marketing management apps out there that can help you achieve a lot more with a lot less effort. This tool is going to help out digital marketing teams in more ways than one. It is going to make collaboration within the team as well as with your customer a very smooth ride. And that is because it has some unique features like:
It helps teams

gain, engage, support, and interact with the customers
Send files, links, and sheets

on the go

Connect the

web, the mobile, and the social messengers to one dedicated platform

It helps you

live chat with potential customers

It helps you provide a sales outlet through platforms like

WhatsApp, iMessage, Line, and Facebook
Reduces spending by 60%

Freshchat works with

android, iOS on both web and mobile
#29 Acquire

Project management for marketing agencies may also mean that you would have to use tools that can help you out a lot with customer management. Acquire is a top project management tool when it comes to the right management of resources, teams, clients, and customers. It helps track all customer communications occurring across platforms from one dedicated platform.
Here is every feature I'd like to highlight:
Track all customer interactions in one place

and document them effectively

Use one dashboard to track all

VOIP and SMS messages
Connect with potential customers
Solve customer issues

on the go using Acquire

Help visitors and

potential customers with constant support

Also comes with a

video chat feature

to communicate with customers

Personalize by customizing your communication features
Also Read: Must-Have Digital Marketing Applications For Team Success In 2023
Email tracker tool
#30 MailTracker
In project management, it's very important to know when the email you send gets read. The leading email lookup tool, Hunter, built MailTracker, a simple email tracker which allows users to know when an email is opened, how many times, and from which device.
MailTracker hooks into your Gmail so you don't need to use another application for sending emails. It works via a Chrome extension adding the tracking information automatically when you use Gmail.
Top Features of Hunter's MailTracker:
Find out who opens your emails in real time.
Find out how many times the email was opened.
Find out the type of device (computer, mobile or tablet) used to open the emails.
Wrapping it up
Marketing teams function by the dynamic exchange of ideas, coming up with new strategies, and always staying on top of the newest trends in the digital world. To successfully execute all of these teams need a powerful project management tool that makes everyday work accessible, helps track progress, and consequently allows teams to stay on top of deadlines.
Here's hoping that this blog enlighted you about the importance of marketing project management tools and made it easier for you to make an educated decision about your investment in one.
Most if not all of these tools come with free trials, so starting with ProofHub, you should try out all of them, you never know which software platform is going to fit your team's needs like a glove.
Keep growing, keep hustling, and keep automating!