Are disorganized work processes dent your business image?
Are you managing hybrid teams impaired by poor collaboration and poor productivity?
If your reply to both questions is "yes" then you need not lose sleep over it.
Being a manager, I can relate to your problem and understand how you're under immense pressure to meet deadlines as your team shuffles between working from the office and working remotely.
However, the good news amid this tricky situation is that you can end all your hybrid team management woes, once and for all, by using a top-rated Hybrid work software.
I have experienced first-hand the challenges of managing hybrid teams, and I want you to get out of the rut as soon as possible.
I don't want you to make things more complicated for yourself. Instead, I just want you to choose a good Hybrid work software that meets your requirements and facilitates better work coordination between you and your team irrespective of where you work from.
In this article, we will dig deep into the best hybrid work tools available today to help you improve your team productivity and efficiency.
5 Best hybrid work management software for project teams
ProofHub (for project management and team collaboration)
Zoom (for video conferencing and whiteboard)
Bamboo HR (for human recruitment)
OnlyOffice (for efficient team management and online collaboration)
Bonusly (employee recognition and rewards)
1. ProofHub (All-in-one software for managing projects and teams from one place)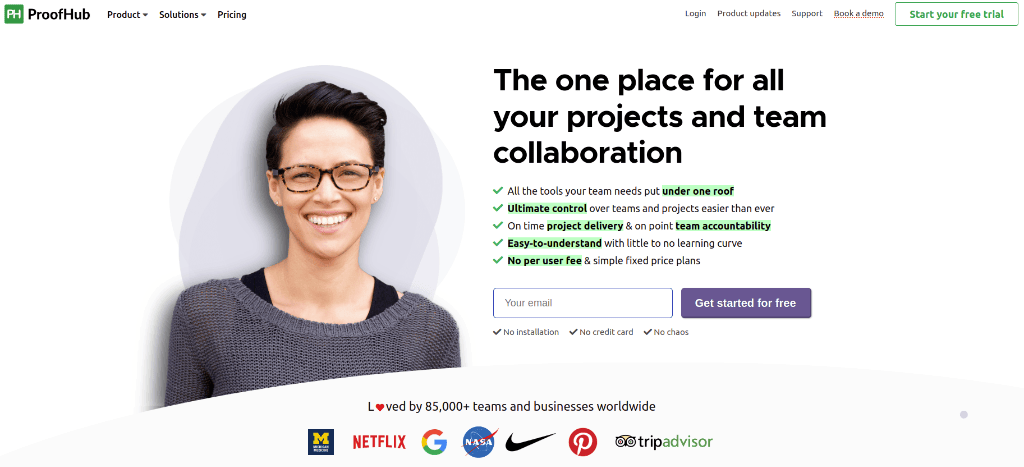 Managing a hybrid team is not easy for project managers as your team members shuffle between in-office work and remote work. It can be difficult to monitor all team members and tasks they're working on, but ProofHub gives you the ultimate control over both projects and your team members irrespective of where your team members are working from.
One of the most widely used hybrid work software today, ProofHub helps you bring all your team members on a shared collaborative platform where you can keep everyone in loop. From a single tool, you can manage various aspects of your work such as project planning, task allocation, team collaboration, tracking project status and more.
What is it for?
ProofHub is designed to help users cut down on resource wastage through a streamlined and well-organized project management system. As your team is able to plan and execute projects, prioritize work, and have a centralized repository to access all the information they need, it helps to improve productivity and efficiency in less time and effort.
Best suited for: Teams of all sizes across various industries
Main features/benefits of ProofHub include: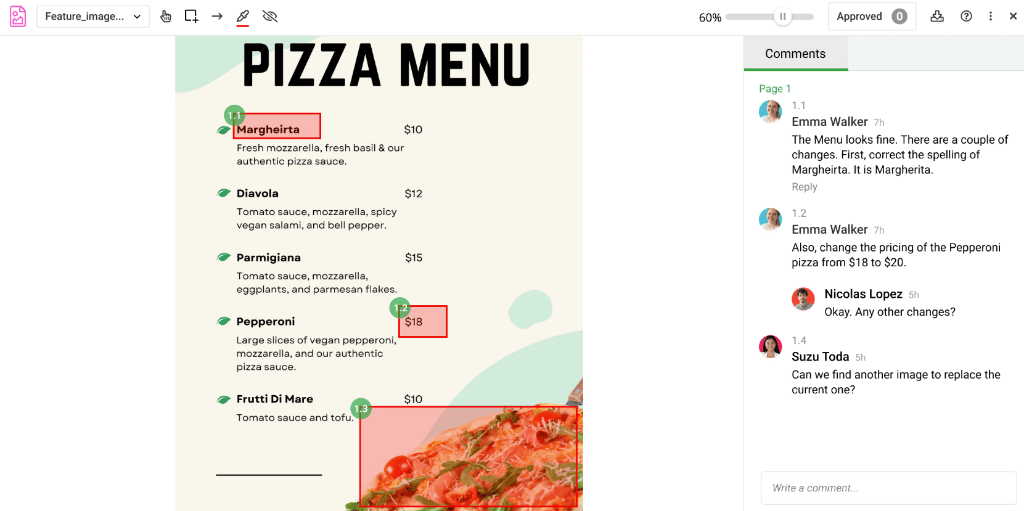 Benefit: Collaborating on your digital files and documents through back and forth emails can be painstakingly long. Something you cannot afford when you've an impending deadline. Online Proofing speeds up the review and approval process as collaborators can use markup tools to annotate designs and other forms of content, add feedback for specific regions, and approve them with a single click.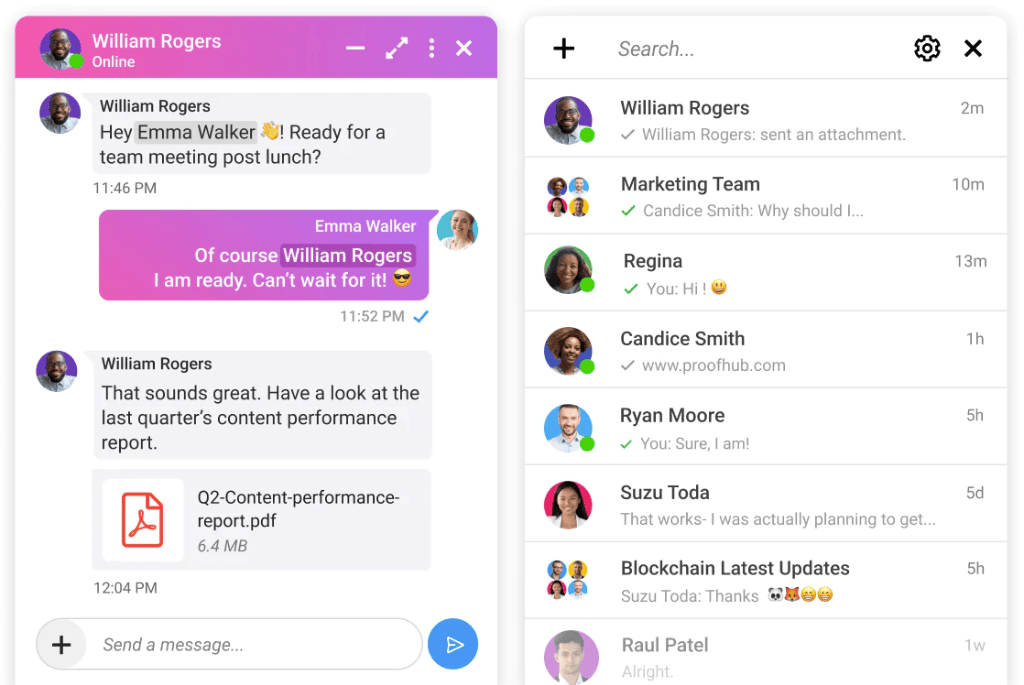 Benefit: Scheduling video calls for exchanging quick information wastes a lot of valuable time when you're expecting quick response from your hybrid teams. With Instant Chat, all project stakeholders can send direct messages to each other within seconds and get quick replies.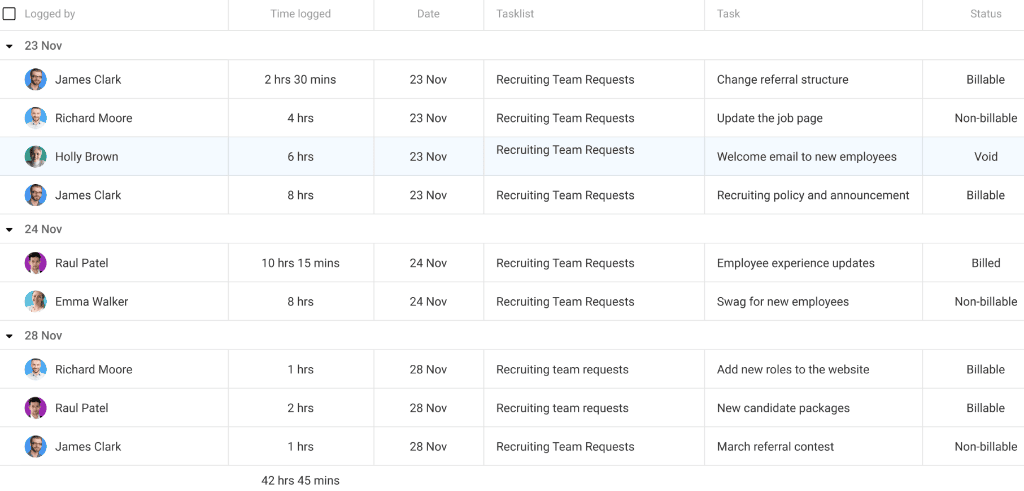 Benefit: No idea about where your hybrid team is spending its time at? Worried about some tasks taking longer than expected? Time Tracking helps users avoid time wastage by recording how much time is spent on completing tasks manually or using automatic timers. Project managers can use this feature to set deadlines, start and due dates, and time estimates for different tasks.

Benefit: Many projects miss deadlines because managers cannot track their progress at every stage. Gantt charts offer a visual timeline of your tasks and helps project managers set task dependencies, track progress, and adjust schedules as deadlines shift.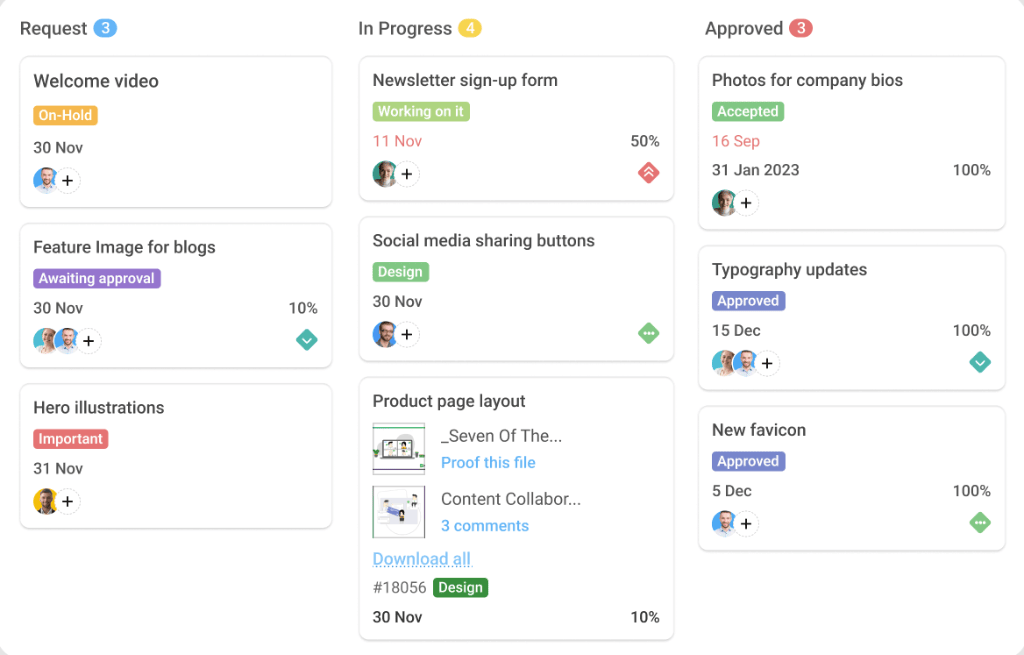 Benefit: Represents different stages of tasks and enables users to see the current status of all their tasks in one place. You can change the stage of tasks easily with drag-and-drop functionality and other assignees to the task receive instant notifications.
Read: How Kanban board project management helps to keep your project workflow on track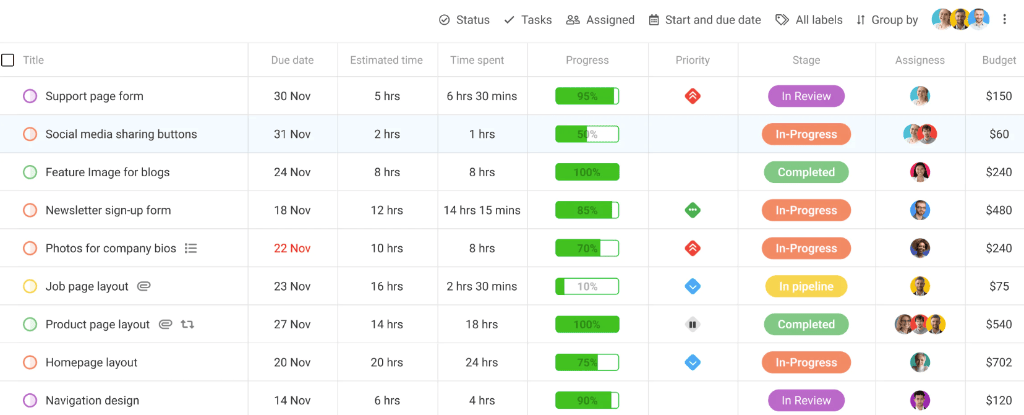 Benefit: Managers can miss high-priority tasks due to an unorganized, chaotic work structure. The Table view offers a neat, listicle view of all your to-dos in a well-organized manager. You can assign tasks, share essential details, and capture every step of the project in one place. You can sort and prioritize tasks by their attributes to focus on the ones that matter most.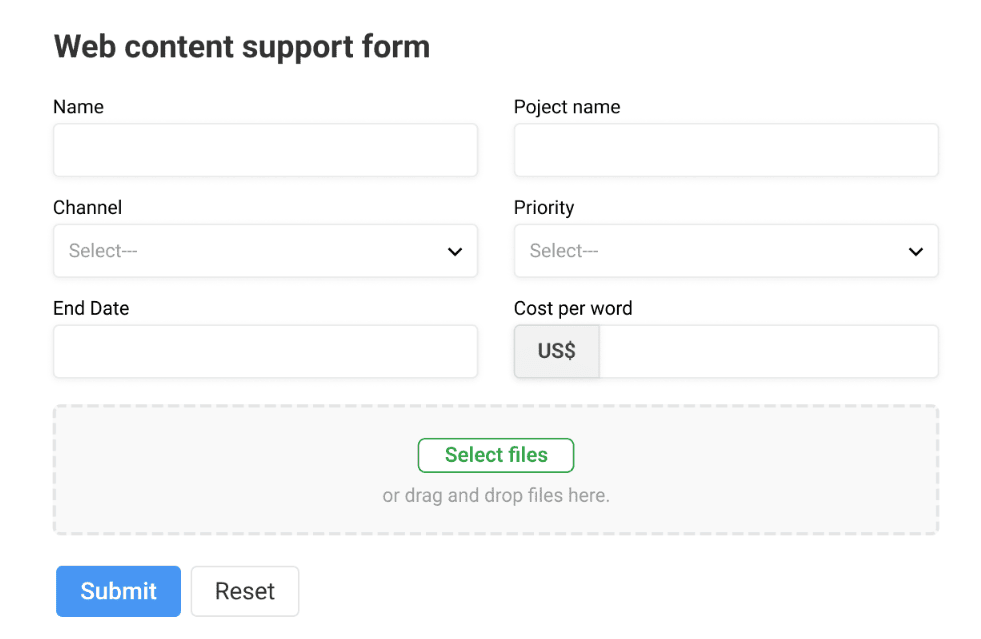 Benefit: Avoid missing out on work requests and messy emails. Use Forms to directly access your tickets, support queries or any work requests directly added to ProofHub.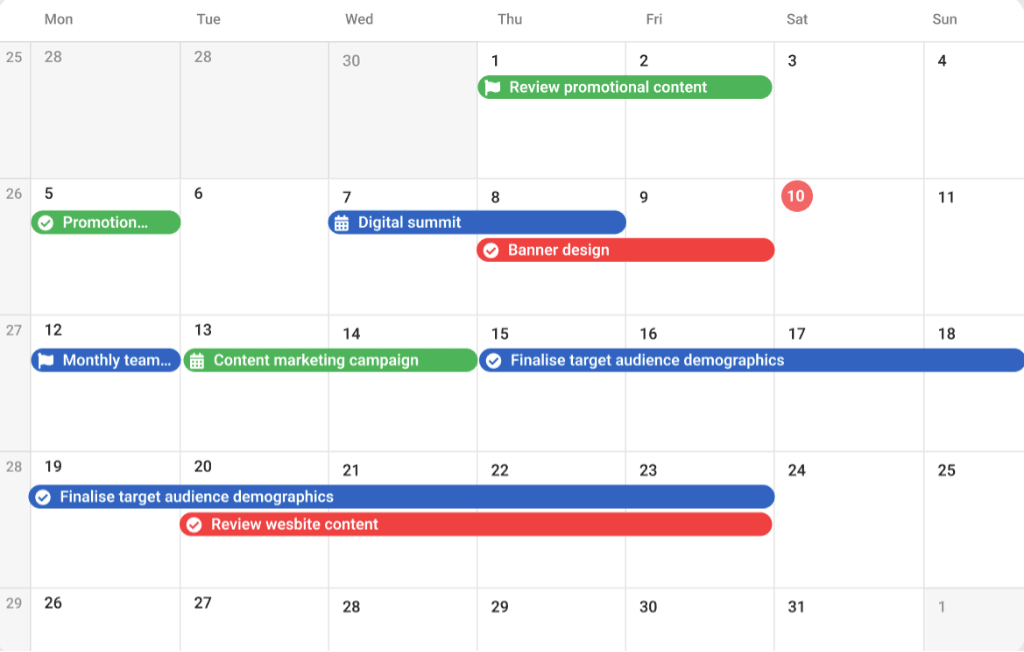 Benefit: When managing various projects, it's easy to miss out on important tasks, events, milestones, and lose track of your schedule. Scheduling Calendar saves your time by helping you bring all your tasks, events, and milestones in one place. You can set automatic reminders for tasks, which means you are least likely to miss out on anything important.
Pricing: ProofHub offers a free 14-day trial. The Essential plan is priced at $45 per month when billed annually and allows unlimited number of users. This plan is ideal for project teams managing fewer projects and do not need a long list of tools for project management. You can manage 40 projects, get 15GB storage, and CORE features with this pricing plan.
The Ultimate Control plan is a premium-tier plan that is priced at $89 per month when billed annually and allows unlimited number of users. This plan is more suitable for project teams managing multiple projects simultaneously and need a suite of tools to efficiently manage their tasks and projects. You can manage unlimited projects, get 100GB storage, and CORE+PREMIUM features with this pricing. 
Keep your hybrid team connected and organize all your projects in a centralized platform with ProofHub. Get started at no cost!
2. Zoom (A communication tool helping users to connect with audio, video, phone, and chat)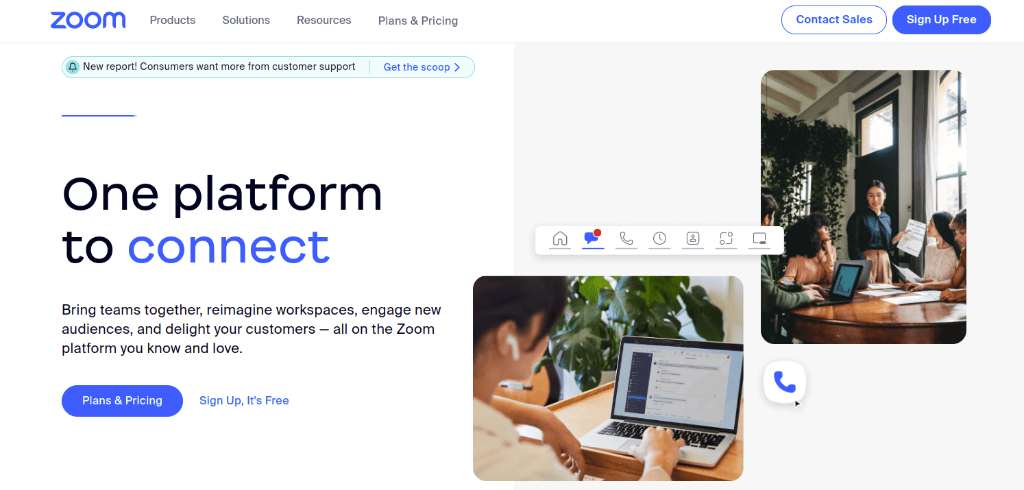 With more than 300 million users meeting daily, Zoom is probably the most popular and widely used communication platform today. Though Zoom's video conferencing capabilities became the main reason for its widespread usage, the tool also offers other highly useful communication features to help widely distributed teams smoothly collaborate in team meetings, group discussions, seminars, conferences, etc.
You can use Zoom's other useful communication features, like audio conferencing, screen sharing, messaging, video webinars, virtual workspaces and more. Also, any Zoom user can also customize virtual backgrounds to create a meeting-ready setting. What makes Zoom a popular choice is that it allows users to easily participate in video/audio conferencing via clicking on the meeting link and even free users can organize their meetings for up to 40 minutes.
Main features include:
Virtual meetings help users connect virtually, face-to-face, from anywhere without needing to register with the app.
Team chat connects teams and streamlines communication through instant messaging.
Online whiteboard enhances team collaboration as users can brainstorm, plan, learn, and collaborate with anyone they want.
Conversation intelligence provides actionable insights directly from your Zoom Meetings and Zoom Phone customer interactions to improve productivity, reduce deal cycles, and boost revenue predictability.
Email and Calendar helps you bring all important communications and schedules in one place.
Pricing: Zoom offers a free Basic plan and three other pricing plans. The Pro plan is priced at $149.90 per year per user, the Business plan is priced at $199.90 per year per user, and the Enterprise plan's pricing is available on quote.
3. BambooHR (HR software platform that centralizes all employees data in one place)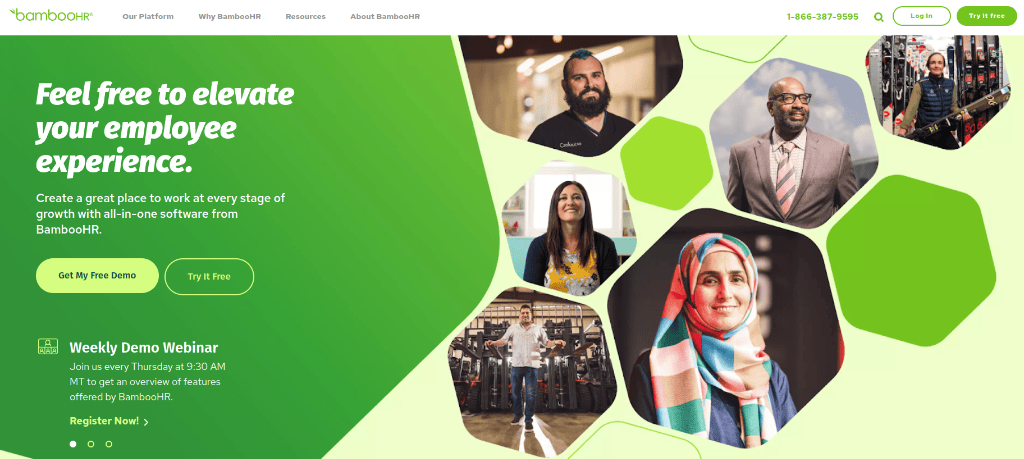 BambooHR offers a centralized platform for HR professionals to help them avoid individual sources of employee data, siloed systems, and disconnected workflows. The tool brings together all your employees data in one place and offers a one-stop-shop for HR professionals to manage various aspects of their daily work (manage employee data, find and hire the best talent, simplify payroll, etc.) from one place.
BambooHR is intuitive, clear, and easy-to-use. It serves as a hub for data management and insights, and powerful reporting and analytics help you strengthen your company culture. The app is highly customizable and its API (open application programming interface) helps developers to integrate other applications, generate reports, and share data across systems.
Main features include:
HR data and reporting helps you manage all your employee data in a secure and organized HR database, and gather insights to make strategic decisions.
Hiring and Onboarding helps HR recruiters find, assess, hire, and onboard the right talent quickly and seamlessly.
Employee experience and Performance help you accumulate feedback and sentiment to create an honest and transparent work environment.
Payroll, Time, and Benefits helps you avoid double-data entry and manual approval processes by bringing payroll and employee enrollment together.
Pricing: Contact sales team for a pricing quote.
4. ONLYOFFICE (A collaborative productivity suite for businesses of all sizes)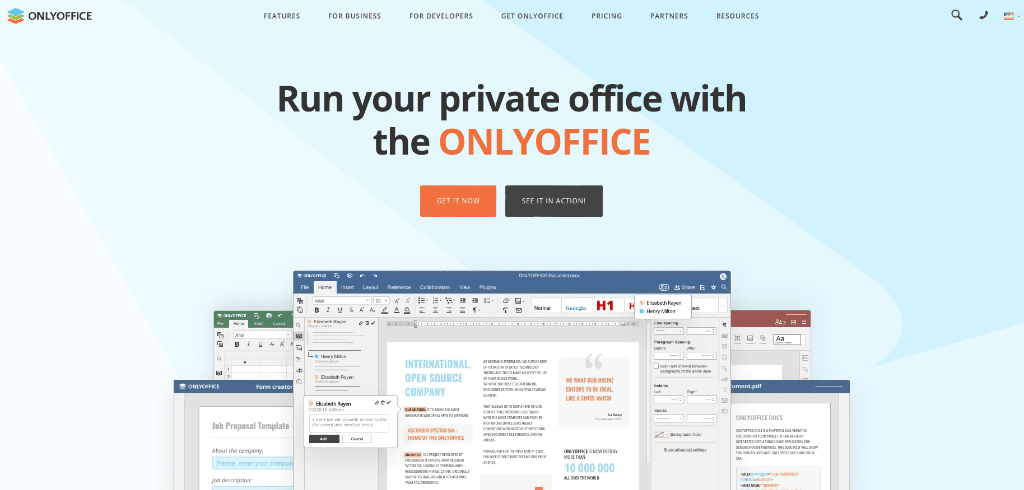 ONLYOFFICE is a collaborative online, on-premise office suite that is designed to suit requirements of small, medium and large-sized companies. The app is best suited for educational institutions, affiliates, individuals, and non-profit industries. The tool allows you to view, edit, and collaborate on docs, sheets, slides, and convert docs to Markdown and HTML.
Users of ONLYOFFICE get document management, calendar, mail, CRM integrations, and is compatible with MS Office and Opendocument formats. To make feedback on docs more clear, you can also add comments, mentions, and communicate via built-in chat or Telegram.
Main features include:
Docs overview lets you create, edit, and collaborate on documents anytime, anywhere.
Document Editor helps users open, edit, and collaborate on Word documents online.
Spreadsheet Editor helps you collaborate on business reports and stock recording collaboratively with your team.
Presentation Editor lets you open, create, and edit visually appealing PowerPoint presentations online.
Fillable online form creator lets you create, edit, share, and fill out forms online.
Pricing: ONLYOFFICE Docs Enterprise for businesses starts from $1500 per year for up to 50 connections. ONLYOFFICE Workspace Cloud for businesses is priced at $5 per user per month.
5. Bonusly (An engaging recognition and rewards platform that enriches company culture)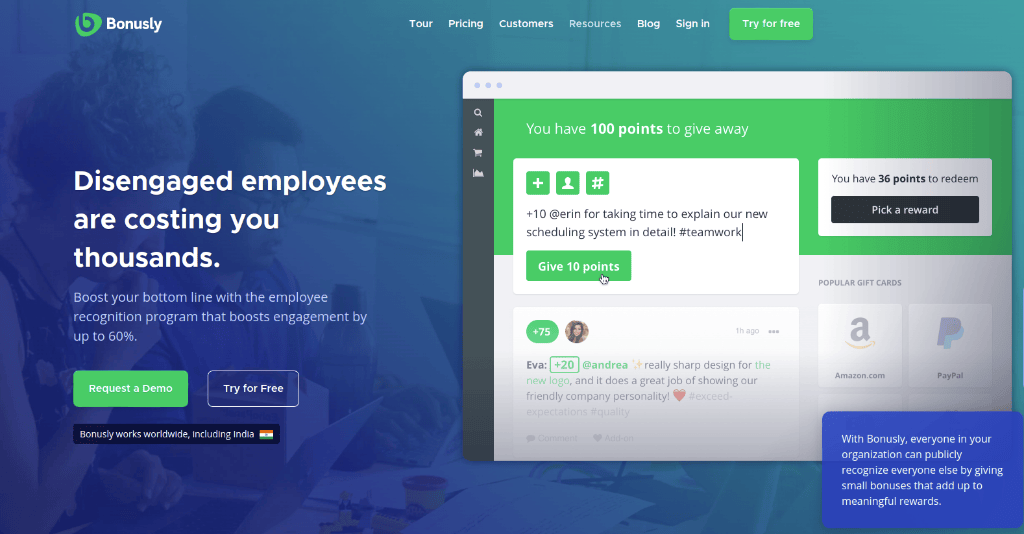 Bonusly is an employee recognition and rewards platform that helps HR professionals, team leads, project managers, and small business owners create thriving work environments by recognizing those who are closest to work. The app helps to boost employee engagement, morale, and productivity.
Bonusly makes employee recognition more impactful by connecting to your company's values and giving a comprehensive visibility to everyone's contributions. By facilitating timely and fair peer-to-peer recognition, this fun and easy-to-use platform becomes an essential hybrid work software for teams and businesses across various industries to improve employee engagement, create a connected culture, and improve retention and productivity across all levels of your organization.
Main features include:
Analytics give you a snapshot of who's being rewarded and recognized in your team and what company values they're recognized for.
Awards help you easily offer playful incentives to your employees.
Manager digest gives you a quick and personal overview of your team's engagement.
Employee profiles give you access to what your employees are working on.
Recognition helps you announce accomplishments and promotions with the help of accurate data.
Pricing: The Core plan is priced at $2.70 per user per month when billed annually. The Pro plan is priced at $4.50 per user per month when billed annually. The Custom plan's pricing is available on quote.
How to choose the best hybrid work tool for you
Here are some critical factors that we consider when choosing an ideal hybrid work software for you.
Ease of usldp-barage
Would you want to use a complex hybrid work software that requires weeks or even months to get used to? No, of course. When you are shortlisting your ideal tool for hybrid work management, make sure it has a simple learning curve and an intuitive user interface. An easy-to-use hybrid work software like ProofHub would just be the right choice for your team members who can familiarize themselves with the tool in a few hours.
Stay away from overwhelming tools. Choose ProofHub for ease of usage. Book Demo Now!
File sharing
Why use emails all the time for sharing important files and documents? It's time consuming and tedious. An online file sharing feature helps you and your team to organize files in a centralized location and collaborate on them in real-time from anywhere. You can give permission to selected people to view and edit files while restricting access to others. You can attach files and documents to tasks, discussions, chats, and notes whenever needed.
Number of features offered
Have you made a list of features that you want in your hybrid workplace management software? If not then do it before you finalize any particular tool of your choice. While each team's requirements vary, there are some essential features that are commonly used by teams and businesses across the globe. Online proofing, Instant chat, Gantt chart, Board view, Time tracking, Note-making, and Reporting are some examples. So, choose a tool that offers you a suite of comprehensive tools under one virtual roof so you can have more bang for your buck.
ProofHub, with its array of work management tools in a centralized location, is an ideal solution for teams who are fed up with switching between various tools to manage different aspects of work.
Access to information
Scattered projects and tasks lead to great confusion among distributed team members. An ideal hybrid workplace software solution provides users an easy access to all types of project information in a single place. From checking your project progress and monitoring activities of team members to assigning tasks and communicating with project stakeholders, any top-rated hybrid work solution should serve as a "single source of truth" for everyone involved.
| | | | | | |
| --- | --- | --- | --- | --- | --- |
| Features | ProofHub | Zoom | BambooHR | OnlyOffice | Bonusly |
| Custom fields | Yes | No | No | No | No |
| Instant chat | Yes | Yes | No | Yes | No |
| Online proofing | Yes | No | No | Yes | No |
| Time tracking | Yes | Yes | Yes | Yes | No |
| Detailed activity logs | Yes | No | No | No | No |
| Gantt charts | Yes | No | No | No | No |
Getting started with ProofHub
For project managers, managing hybrid teams comes with its share of problems. Since team members constantly switch between a physical office space and remote work, managers can struggle to keep everyone connected due to poor collaboration and disrupted work processes.
This is when project managers can get rid of such challenges once and for all by using a powerful and intuitive hybrid work software like ProofHub. The tool brings all your projects and stakeholders in one place, which helps you with enhanced collaboration and well-organized, streamlined work processes.
Through a shared platform, your team members have easy access to all project-related information and a clear understanding of what tasks they have to work on and when.
It would be suffice to say out of all the tools listed above, ProofHub offers you the most "complete package" when it comes to managing in-office, remote or hybrid teams.
Just have a look at the compassion table in the article and you will understand why we have given thumps to ProofHub!
Still unsure of making the right decision? Relax. Get started with a free 14-day trial that gives you access to all features.
We are sure you'll love the way ProofHub empowers you and gives you ultimate control over your team and work no matter where you operate from.
FAQs:
What is hybrid work technology?
Hybrid work technology is a software that enables individuals and teams of remote and in-office workers to organize work and seamlessly collaborate from a single platform.
What is an example of a hybrid workplace?
A popular example of a hybrid workplace is a remote-first model. Employees can prioritize working remotely and still work from the office space.
What are the 5 Cs of hybrid work?
5 Cs (challenges) of hybrid work are communication, coordination, connection, creativity, and culture.
Which hybrid work model is best?
56% of companies have implemented an "at-will" hybrid work model that allows employees to choose which days in a week they want to work from the office.