With the rise of a sophisticated system of new technology, computers, and mobile technology, the process of automation to implement the right tools to boost productivity and stay ahead of the competition is widely increasing. Whether small or large business teams, there is a need for solid project collaboration software to get more time on getting real work done. Collaboration tools of better quality are increasingly making businesses to rely on the simplicity of software available in 2023. This collaboration software help in communicating and working on tasks with real-time co-workers.
In this article, we have an updated list of the top 33
collaboration software for small and large businesses. We have divided into categories for faster research:
Project management

Communication & collaboration

Time tracking

File sharing tool

Video conferencing tool

Organizational chart tool
Project management
ProofHub is a simple online project management software that manages teams with small and big projects, freelancers, remote teams and large enterprises to deal with any problem they come up. ProofHub helps in managing post updates in discussion topics, create notes and to-do lists, group chat, share documents, and timesheets with remote teams and clients. Moreover, it serves as a simple business management software with task management features.  
What's unique about ProofHub?
Excellent interface:  ProofHub offers a fresh take on project management with its sleek user interface, reduced number of clicks and an interface with the great user experience. The interface is too easy to understand and the dashboard looks super clean and uncluttered to manage the tasks.

Proofing tool: ProofHub online proofing software helps teams save a lot of time during the review and feedback sharing process.

White-labeling: ProofHub lets you incorporate your branding into the account by adding little more personal touch to your brand by choosing your custom domain name. 

Multilingual interface availability: You can convert the ProofHub interface into the language of your choice by choosing from more than half a dozen of languages.

Task management: Online task management feature offers a transparent way of assigning tasks, adding labels, time estimates, subtasks, files and private task list.
Gantt charts: Gantt charts help to plan projects like a pro by creating project roadmaps for resources, set task dependencies, and plan & iterate projects effortlessly.

Calendar:  ProofHub reminds about deadlines tracks events and schedules in a single space in the app calendar, so you will always stay a step ahead in scheduling.
"Choose the right project management software for your business." Switch to ProofHub!
Communication & collaboration
2. Slack
Slack is the foundation of teamwork and shared understanding across your team. It helps you communicate and collaborate without emails by setting a standard for online team communication. Millions of people are using Slack to bring their teams together and drive their business forward.
What's unique about slack?
Find answers you need: Slack builds a platform to have team conversation, make decisions and putting knowledge in everyone's hands.

Streamlines your workflow: Slack has an open API to keep your team coordinated and working faster within the context of your conversations. Slack apps go where you like to work: in a web browser, synced to your desktop, and portable on a smartphone or tablet.

Search: You can search for all Slack content from one search box including conversations, files, links, and even content that's integrated with Google Drive or tweets.
Image Source: Slack
3. Bit.ai

A must-have tool for documentation, Bit.ai is an all-in-one document collaboration platform designed for the modern-day workplace. Bit provides a commonplace for employees to simultaneously collaborate and manage projects, create client-facing material, brainstorm, share meeting agendas, create proposals, and most importantly, share knowledge. With the ability to tag co-workers, collaborate on a doc in real-time, and chat functionality makes it very easy for teams to stay on the same page and avoid confusion and chaos. It also has a content library where you can save all your images, files and digital content and access them easily, making your workflow smooth as ever!
What's unique about Bit?
Minimalistic design – Bit's minimal editor allows you to focus on writing and the work you're doing, without getting distracted. The interface is easy to understand, making it easy for newcomers to get onboard quickly.
Rich Embeds – Bit allows you to embed rich media into your documents, be it videos, images, GIFs, PDFs, and more. Various types and formats of digital content across 70+ apps and 100+ file types can be woven throughout your documents.
Content Library – Bit also has a content library to store all your images, files and digital content in one place, making your workflow smooth as ever!
Real-time Collaboration – Multiple people can simultaneously collaborate on a Bit smart document in real-time. Suggest edits, ask questions, and work collectively with real-time mentions, and comments.
Smart Search – Bit has a powerful search that allows you to quickly find the content you are looking for. You can search for workspaces, document titles, and even document bodies.
Track Documents – Bit documents can be tracked so you get real-time insights on who is viewing your document, how long did they spend on it how much of it did they read.
4. Nuclino
Inspired by the idea of a collective brain, Nuclino is a unified online collaboration tool where teams can bring all their knowledge, docs, and projects together in one place. It's a modern, simple, and blazingly fast way to collaborate, without the chaos of files and folders, context switching, or silos. You can create collaborative documents for every topic or project and organize them visually into a nested list, a Kanban board, or a mindmap-style graph. Versatile yet intuitive, Nuclino offers a clean and user-friendly interface that has everything you need and nothing you don't.
What is unique about Nuclino?
Unified space for all your work – you can use Nuclino to build your internal knowledge base, collaborate on documents in real time, manage your projects and tasks, onboard new employees, and more, replacing multiple other collaboration tools.
Lightweight and intuitive design – Nuclino focuses on the essentials, doing away with clunky menus and rarely-used options, and minimizing the learning curve for new users.
Speed – every interaction in Nuclino is optimized for speed, no spinners or loading screens.
Views – the list, board, and graph views help you organize your docs and projects in a way that best fits your workflow.
Integrations – Nuclino seamlessly integrates with Slack, Google Drive, Figma, Lucidchart, and a wide range of other tools, helping you keep all your work in sync.
5. Hiver

Hiver
is an email collaboration platform that helps teams manage group inboxes like info@, sales@, and support@ right from Gmail. An extremely easy-to-use and intuitive solution, teams use Hiver to streamline their daily email workload, gain visibility into what everyone is doing, collaborate without hassle, and
monitor performance
.
What is unique about Hiver?
Simplify email assignment: With Hiver, team leads and managers can assign emails as tasks in just a click, without having to forward these emails around.
Track email status in real-time: Hiver enables team leads to stay on top of every email query, till the point of resolution. You can find out in real-time if an email is yet to be picked up, work in progress, or has been resolved.
Collaborate internally via Email Notes: Team members get to collaborate, sync up, and run discussions via Email Notes that are attached to an email thread. You can, therefore, completely do away with sending internal emails that only add to inbox clutter.
Automate repetitive tasks: By using Hiver's automations, teams can create specific workflows that save them a ton of time and effort. For instance, any email with 'invoice' in the subject line can be automatically assigned to someone from the finance team.
Image Source: Hiver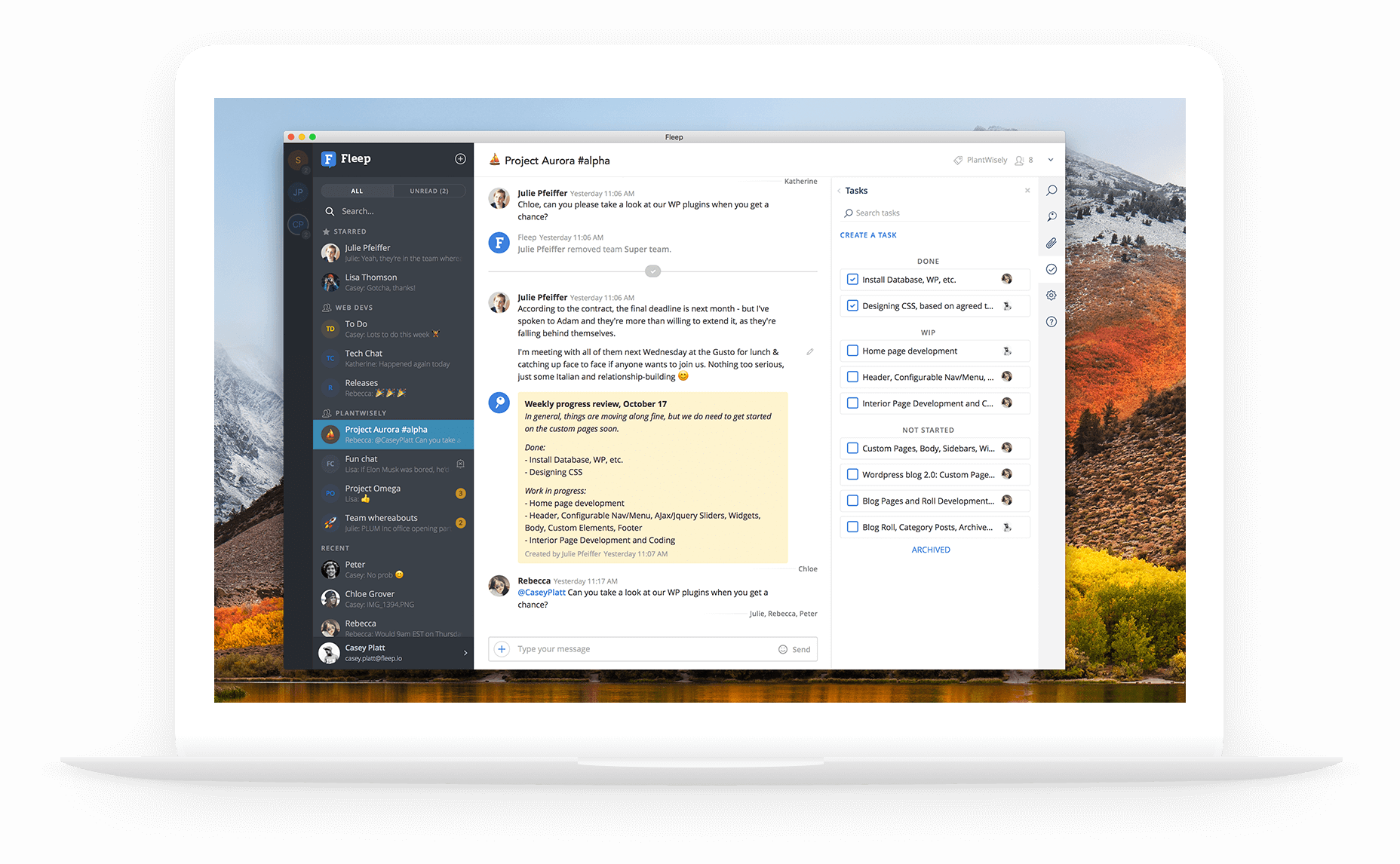 Fleep is messenger built for ultimate project collaboration. It keeps away the countless threads of email and makes chatting with team members easy. You should give Fleep a try as it supports dynamic communication with your colleagues from other companies, or within your company, share files and make audio and video calls.
What is unique about Fleep?
Task management — Fleep has lightweight task management built into the software for ultimate project collaboration.

Pinboard – Pin important messages to the side of each conversation

Sharing files and integration with Google Hangouts

Audio video calling and screen sharing – you can discuss things on a call.

Set yourself a reminder – You can do this with the IFTTT integration
Image Source: Fleep
7. Stride
Stride brings all forms of team communication together — from group chat to video conferencing to task management.  It helps in communicating clearly and expressing yourself in the right way.
What is unique about stride?
File sharing – Stay in context by sharing your work in Stride.

Message editor – Format and edit the messages you send.

Powerful search – Search and find anything in Stride, anytime.
Image Source: Stride
8. Chanty

Chanty is a simple business messenger that enables you to stay up to date with what's important. It has powerful features to boost your productivity with no more limited searchable history, no more lost data. It has an intuitive inter
What is unique about Chanty?
Chanty integrations transform a simple team messenger into a powerful business tool

The artificial intelligence powering Chanty team messenger uses machine learning to predict responses.

Super fast desktop and mobile apps with a clean and intuitive interface.

Chanty lets you communicate with your team via high-quality audio and video calls that will be available in the public beta.
Image Source: Chanty
9. Loop email messenger

Loop email messenger is very effective to bring your teams together. It helps your team work better by adding messaging to your email inbox.
In this messenger, you can create teams on your email network so you can share emails, files and exchange quick messages. Your work stays in one place, away from the noise of social media.
What's unique about Loop email messenger
Reach out to people anywhere in the world

Faster responses and light-weight conversations

Sign in with existing accounts and upgrade inboxes to Loop within seconds.

Available on all devices, except Android (coming soon)
Image Source: Loop email messenger
Time tracking
10. Toggl
Toggl is one of the best time management tools with a no-hassle time tracking software. You can better take control of your time, boost productivity and increase revenue with Toggl. It integrates with tens of different project management tools and makes the project manager's life a lot easier.
What's unique about Toggl?
Log time anywhere on the web – Connect your timer more than 100 web tools via browser extension and track time anywhere.

Instant overview of your billable time and team progress

Real-time time entries and collaboration

Automatically notify your team when they've forgotten to log hours, schedule their reports straight to your inbox

Offline time tracking & mobile functionalities

Integration with your favorite productivity tools
Image Source: Toggl
11. Clockodo
Clockodo is an online time tracking software for small and medium enterprises that records user's work and provides reports. Your employees can track working hours online, quickly, simply and reliably.
What's unique about Clockodo?
Oversee resources – You can evaluate your scheduled and actual working hours.

The faster issue of invoices – Use automatically generated time sheets to bill your projects faster and more accurately.

clockodo does not divulge any data to third parties and complies with German data protection regulations.

SSL encryption is used in all communications.
Image Source: Clockodo
12. TimeCamp
TimeCamp is equipped with quite a considerable amount of features. It has timesheet integration to track and bill time spent on projects.   Teams all over the world can easily track without the headache of timesheets.
What's unique about TimeCamp?
Easily billable hours tracking

TimeCamp is equipped with quite a considerable amount of features

TimeCamp is integrable with PayPal, enabling users to track their payments for issued invoices on an ongoing basis.
Image Source: TimeCamp
13. Timely
Timely is an automation time tracking tool that is of great value for individuals in project development. With Timely, your schedule is your timer.Timely is beautifully designed to lay out your scheduled activity next to your actual activity.
What's unique about Timely?
Timely different combines scheduling and time tracking in one place

Timely allows you to set budgets for your projects and automatically deducts employee hours from that budget.

Memory aims to ensure you know exactly how you spend your time, with the goal of maximizing efficiency.
Image Source: Timely
14. Harvest

Harvest is a web-based time-tracking tool that harnesses the power of time-tracking in the most effective manner. It is a robust and easy-to-use time tracking application that easily integrates with iOS, Android, and even Apple Watch. It also supports a resource planning tool that helps you schedule future projects and assign team members based on capacity.
What's unique about Harvest
Harvest makes it easy to track time and expenses

Submit timesheets, track billable, non-billable hours and send invoices

Intuitive visual reports to keep projects on track
Image Source: Harvest
15. ClickTime

ClickTime is one of those time tracking tools that will be particularly helpful for programmers, engineers, and professionals working in IT department. With timesheets in ClickTime, you can increase project visibility, reduce costs, and stay on projects. They also help you reveal new insights, and understand patterns, and employee performance – all from a simple timesheet!
What's unique about ClickTime
On-demand reports surface key metrics and progress against organizational goals

Instantly know which projects are over or under budget

Approve timesheets, time off, and billable hours with ease

Easily uncover what's working, what's not, and where things can be improved

Track time on your phone and laptop to manage budgets and plan employee time
Also checkout – Best Timesheet software to boost productivity
16. RescueTime
With so many distractions around, RescueTime helps you to prioritize your work so you can focus and be more productive. It is a personal analytics service that shows you how you spend your time and provides tools to help you be more productive.
What's unique about RescueTime
Gives you detailed reports and data based on your activity

Lets you block distracting websites for a certain period of time

Log highlights about what you accomplished during the day

Runs securely in the background on your computer and mobile devices
Image Source: RescueTime
File sharing tool
17. DropBox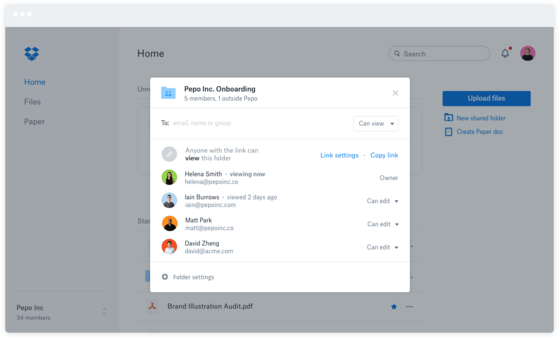 Dropbox is an online storage service with over 500 million worldwide users. It boosts productivity with secure file sharing that IT admins and employees trust.
What's unique about DropBox?
Share files and folders with others in order to collaborate.

Send links via email or chat messages and access your documents easily from anywhere on any device.

Safely sync them across all your devices.

Dedicated live support.
Image Source: Dropbox
18. Google Drive

Google Drive is the most popular cloud storage service to access all your stuff in the drive app. It keeps all your files in one secure location and has all your files within reach from your smartphone or tablet.
What is unique about Google Drive?
It gives you space for collaboration with people.

Google Drive works with Gmail and Google Photos.

Share files and work with others with Docs, Sheets, and Slides apps.

Google Drive offers apps with offline capabilities for Windows and mac OS computers
Image Source: GoogleDrive
19. ShareFile

Sharefile is a good solution for storing and sharing files that are built for businesses. There is no file-size restrictions and allows to share files with clients and colleagues professionally.
What is unique about ShareFile?
ShareFile has an interface that is simple and very intuitive.

Roles & Permissions for organized access.

ShareFile organizes files and tracks changes.

Bulletproof security and the compulsory SSL/TLS connection and 256-bit encryption.

Applicability in various industries for both SMBs and enterprises.
Image Source: ShareFile
20. OneDrive

OneDrive is one place for everything in your life. You can share and work together with anyone with OneDrive.
What is unique about OneDrive?
OneDrive has a program that organizes your information and puts you in control of Versioning, Content Approval, Workflows and other.

OneDrive supplies users with up to 1TB of storage space for a very affordable rate.

With OneDrive you can use it as a cloud storage system

OneDrive offers Android and iOS apps to ensure agents can use it even when not in the office.
Image Source: OneDrive
21. Wimi
Wimi is a online collaboration software that enables powerful team collaboration in full-featured dedicated workspaces.
What's unique about Wimi?
Centralize documents, calendars, discussions, and tasks. Keep all your business processes in sync.

Enhance productivity, improve internal communication, and collaborate in real time.

Have your own personal space in the cloud and configure it with your colors and brand.

keep control over each team member accesses with Wimi advanced access rights management.
Image Source: Wimi
22. SugarSync
SugarSync is a cloud file sharing, file sync and online backup service that is simple, powerful and easy to use. It makes it easy to access all your folders across any of your devices, making it easy to get things done while giving you the peace of mind that your important files are always protected.
What's unique about SugarSync
enables you to backup your existing folder structure

Access folders instantly from other PCs or mobile devices

Secure and quick file sharing
23. Box

Box is a file-sharing service that helps you create, edit, review, and share documents from anywhere in real-time. As files are stored in the cloud so you can access, edit, and share them from any device. In Box, you get 10 GB of storage and 250 MB file-upload limit. It is trusted by more than 50,000 organizations across the world.
What's unique about Box
Secure file-upload, viewing, and sharing

Uses protection measures like customer-managed encryption, granular permissions, and mobile security

Complies with data retention and regulatory policies

Easily integrable with third-party apps such as Slack, IBM, G Suite and more
24. Hightail

Hightail is a great collaboration tool that supports seamless file-sharing, project management, and team creative collaboration. It lets you send large files, preview visual assets, collect precise feedback and keep creative projects moving in one easy and secure solution.
What's unique about Hightail
Recipients get notified whenever a file is shared with them

Send and track delivery of files up to 100GB

Collect precise feedback in one place

Sync files from Google Drive, OneDrive, and Dropbox
Video conferencing tool
25. Skype

Skype is the best-known collaboration tool that facilitates online video calls and is fairly inexpensive compared to other communication tools.
What's unique about Skype?
Stay in touch with people all over the world for free with voice and video calls, text messages and screen sharing.

Group calls. Get a group of people together on one call – you can add up to 25 people.

Notifications based on mentions

With voicemail, you record a personal greeting in your own voice
Image Source: Skype
26. Hangout
Google Hangouts makes all types of group collaboration super easy. It lets you connect with up to 10 people from all over the world. You can hold video conferences and live-stream meetings and events.
What's unique about Hangout?
Register your call or conference on YouTube

Manage your Circles to launch calls quickly

Collaborative working via Hangouts and Google Doc
Image Source: Flickr
27. GotoMeeting

GoToMeeting also comes with dozens of useful tools, easy-to-use Web-conferencing solution, to get you started immediately.
What's unique about GotoMeeting?
Screen sharing, Web audio, a dial-in conference line, drawing tools and the ability to record meetings.

With GTM your remote team has no need to go anywhere for meetings.

HD-quality video is perfect for conducting webinars and hosting conferences.
Image Source: GoToMeeting
28. WebEx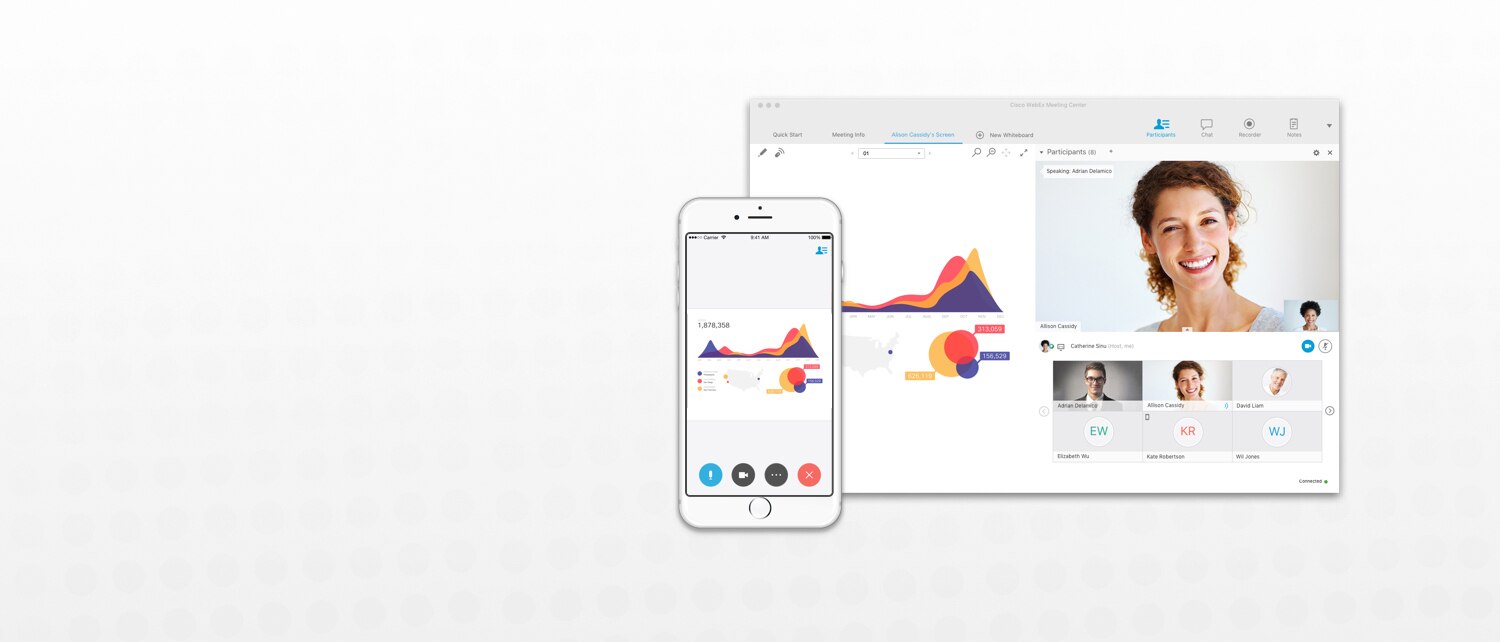 WebEx is for businesses that rely heavily on meetings that need a full-featured communications software solution. It offers much secure team workspaces in the cloud.  With WebEx, businesses can streamline their businesses and help solve real human problems.
What's unique about WebEx?
HD video conferences with collaboration and file-sharing capabilities.

WebEx mobile app for iPhone, iPad, Android, and Blackberry.

Get your own personalized meeting room
Image Source: WebEx
29. Join.me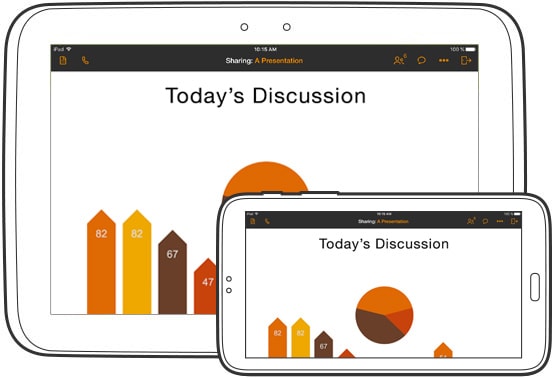 Stay connected anywhere with Join.me by hosting a free meeting or joining a meeting. Join.me has a modern interface that's very easy to use and plenty of features to enhance your online meetings.You will completely get value for the money you are investing.
What's unique about join.me?
Share your screen with participants on audio and video at the same time.

Customize your meeting link to whatever you want.

Meeting scheduler with Outlook plugin and Google Calendar Plugin
Image Source: Join.me
30. Zoom
Zoom is a leading modern enterprise video communication software with a reliable cloud platform for video and audio conferencing. This video conferencing tool enables you to attend a meeting from your desktop, mobile device, or conference room.
What's unique about Zoom
Loaded with features like high definition sound and visual quality, voice detection, seamless screen sharing, group collaboration and much more

applicable across various platforms such as Windows, Mac, Linux, iOS, Android, Blackberry, Zoom Rooms, and H.323/SIP room systems

Up to 100 interactive video participants can engage with an unlimited audience in live virtual events
Image Source: Zoom
31. ClickMeeting
ClickMeeting is a browser-based web conferencing tool that comes along with dynamic features. It is mainly used to make webinars more effective and online meetings more collaborative. You can connect seamlessly with others regardless of location and operating system. Overall, ClickMeeting is a perfect tool that fosters effective communication and collaboration.
What's unique about ClickMeeting
Easily engage your audience and allow more room for interaction.

Offers high-quality and live seminars

View and export detailed info and derive useful predictions and trends

Share screen and videos with other attendees

Getting started is hassle-free and only takes a moment
Organizational Chart Software
32. Organimi

Feeling disorganized? Organimi is the perfect organizational chart tool to help organize your workplace structure. Their focus is to help ease the creation of organizational charts by helping customers map out teams or project-based structures. You can choose from existing templates or start from scratch. It integrates with Active Directory, GSuite, and any other system that provides a excel file or CSV to allow for a seamless import for extensive contact lists. Features such as custom fields, colour-coding, and their legendary SmartChartTM legend allows you to jazz up your org chart so it fits in with your branding strategy.
What's unique about Organimi
Format & brand your chart with extensive colour & customization options
Print and share your organizational charts without a hitch
Keeps everyone across the organization readily updated
Drag & drop functionality
33. Flock

Flock is a communication and collaboration platform for modern teams to drive efficiency and boosts the speed of execution. It has a beautiful interface that helps make faster decisions and lets you bring your team together.
What's unique about Flock?
You can add a to-do right to your account. To-do lists can be personal or collaborative.

Flock gives you read-only channels which allow for certain kinds of organizational information, such as HR rules or updates from a legal department to have a dedicated place in a team messaging app.

You can migrate a Slack account to Flock without losing a history of conversations just because you want to use a different tool.

Flock helps you connect to apps those are not supported by turn to IFTTT or Zapier.
Image Source: Flock
Choose the best collaboration software
You are probably reading this because you might be looking for a collaboration software for your business. So, the above-mentioned tools are mentioned to provide you a guide to make an easy choice for the best tool. Thanks to collaboration software for helping employees be more productive. When your team uses solid collaboration software in 2018, you will have more time to get real work done.