File-sharing apps – are they really effective? Why do I even need one when I can simply use an email to share whatever I want to? If you have found yourself asking these questions, this article is for you.
We all know that an organization is a network of people in which everyone shares and collaborates on the information to get things done. However, the sharing and collaborating part of the process is awfully time-consuming and often risky, especially when you use an inappropriate medium.
According to a survey, 54% of employees use a personal email to transfer business documents and data. Are they putting the company's sensitive data at risk? Of course. Not just that… but they're also unnecessarily indulging themselves (and the ones working with them) into a messy email trail, thereby wasting the organization's most valuable asset—time.
Now, there is only one solution to this problem. The most logical solution to our everyday file-sharing and collaboration issues is to use cloud solutions like ProofHub, Box and Dropbox. So, on that note, let's explore the concept of file-sharing apps and answer some important questions. Starting from the most basic one.
What is a file-sharing app?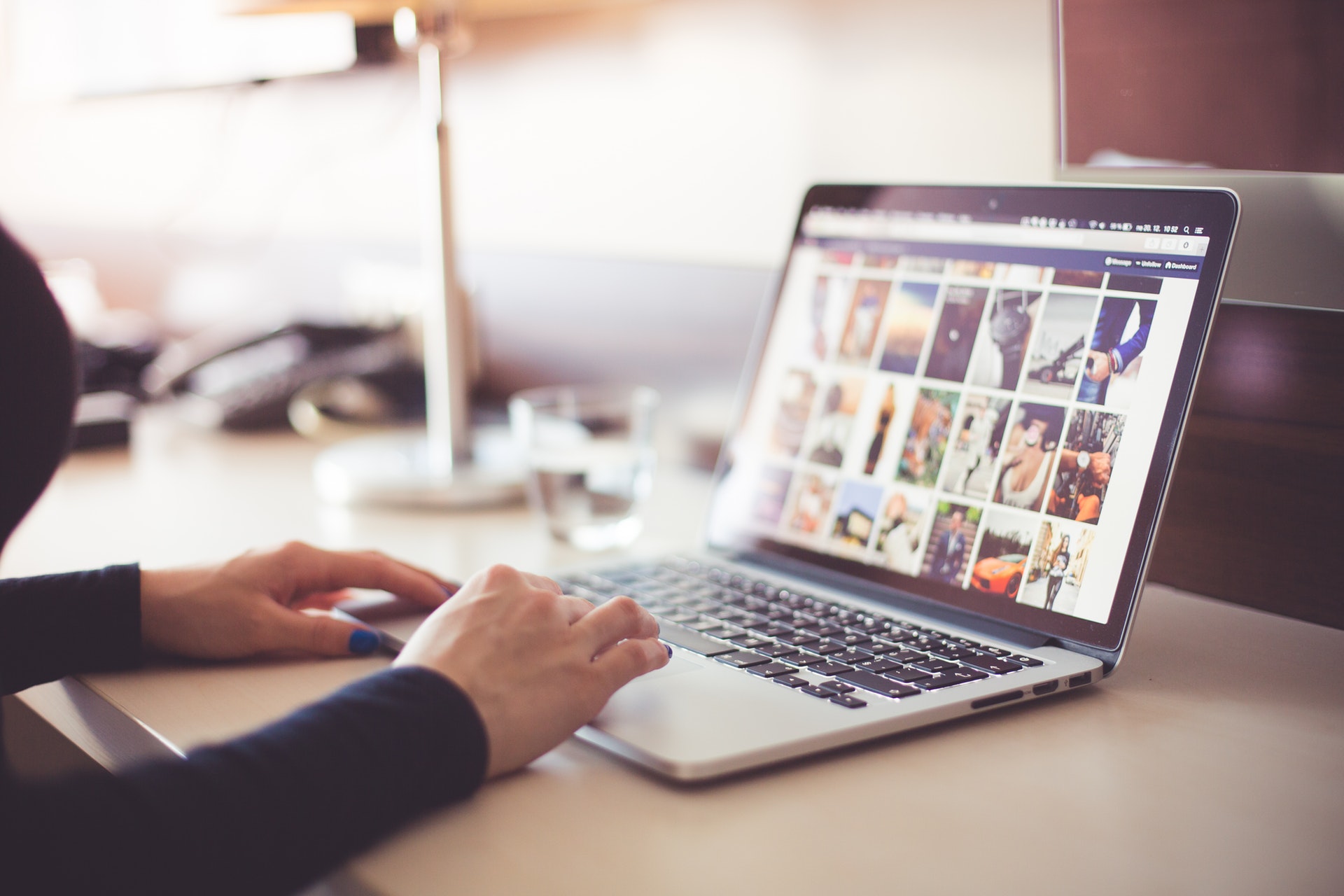 A file-sharing app is the kind of application program that enables and equips effective collaborationand file sharing within the organization. With file-sharing applications, you get to save, share, manage, and collaborate on business-critical files and documents in one place.
What is the best file-sharing app?
Mentioned-below are some popular file-sharing apps andfile management software systems that you can choose from. Let's take a look: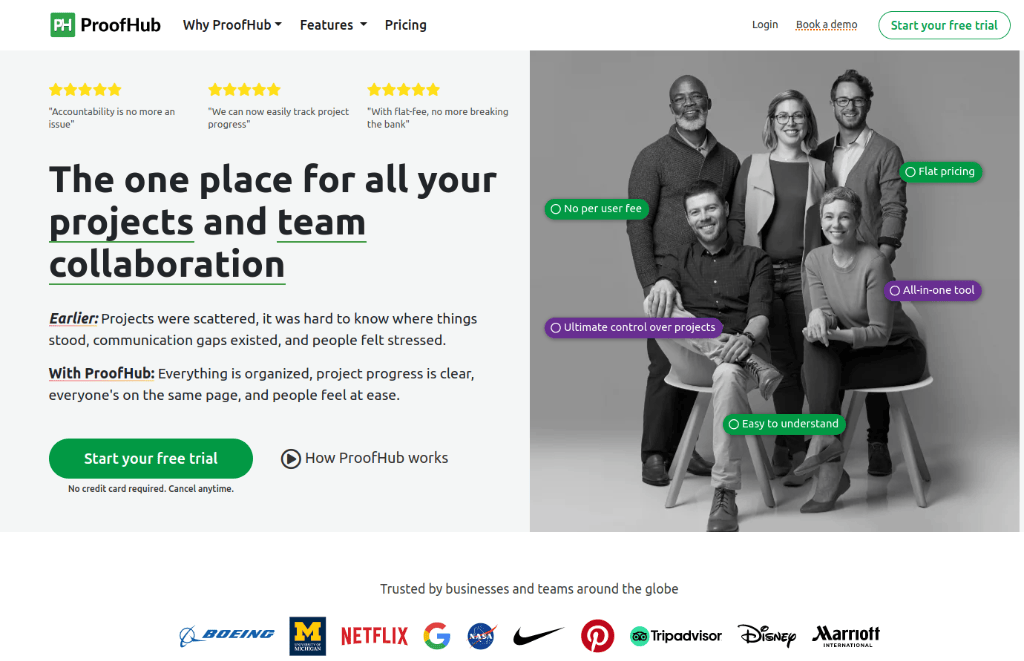 Overview:ProofHubis a single platform that brings together everything you need within one software suite, including a centralized file management system.
With ProofHub, teams can share files and collaborate directly on them using one tool. In addition to that, ProofHub allows you to integrate seamlessly with popular third-party file management apps like Google Drive, Box, and Dropbox.
If you're looking for an all-round solution (something much more than an ordinary file storage and file-sharing app), go with ProofHub. You will love it. 
Feature list: Project management, Centralized file management, Notebooks, Notes, File versioning,File proofing, Online markup tools, In-line comments, Chats, Discussions, Announcements, @Mention,To-do lists, Task management, Reports, Workflows and boards, Events and milestones tracking,Gantt charts, Custom roles, Time tracking, Notes, Chat, Security options, Customization, Multiple languages, Advanced search, Custom domain SSL, API, and Mobile and tablet compatibility.
Pricing:
2. Synology Drive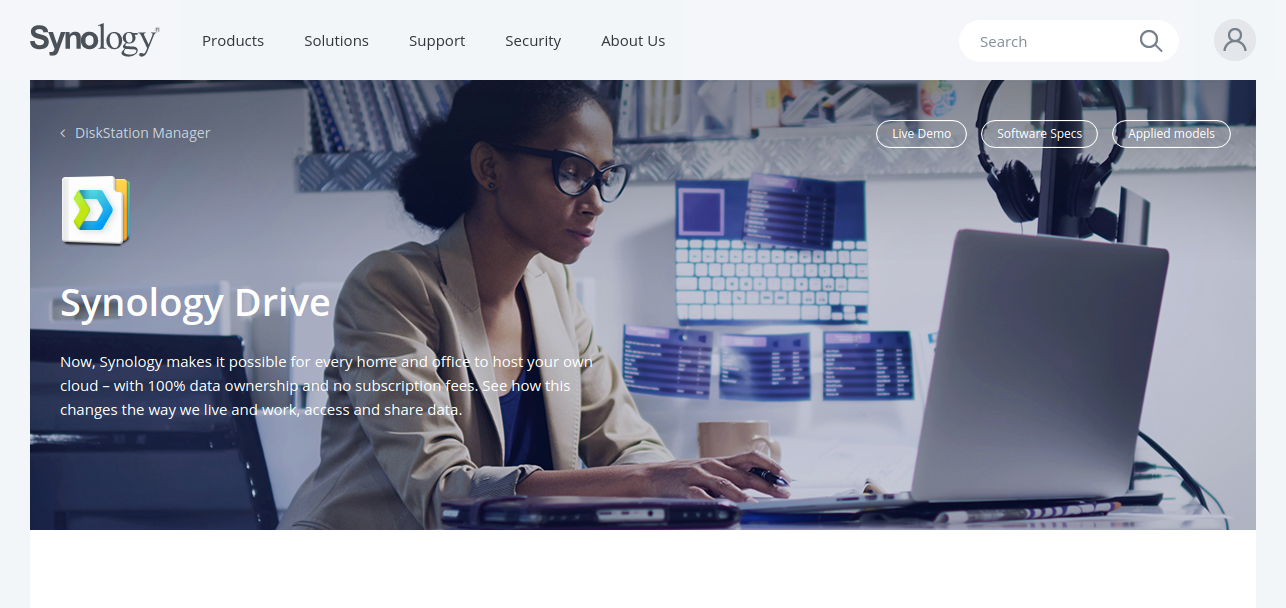 Overview: Synology Drive is a tool designed to sync files between your computers and Synology NAS via the internet. With Synology Drive, your important files and information are always available whenever needed.
This is an ideal file sharing solution for remote offices, SMBs, and enterprises with multiple branches. Synology Drive also offers automatic syncing capabilities that let you streamline files throughout the different offices. 
Feature list: Seamless Sync, Sync-on Demand, Intelliversioning, Scheduled/Active Backup, Mobile App, Online Access, Sharing, Universal Search,Real-time Collaboration, Collaboration Chat, and Cross-office File Sharing.
Pricing:
3. Dropbox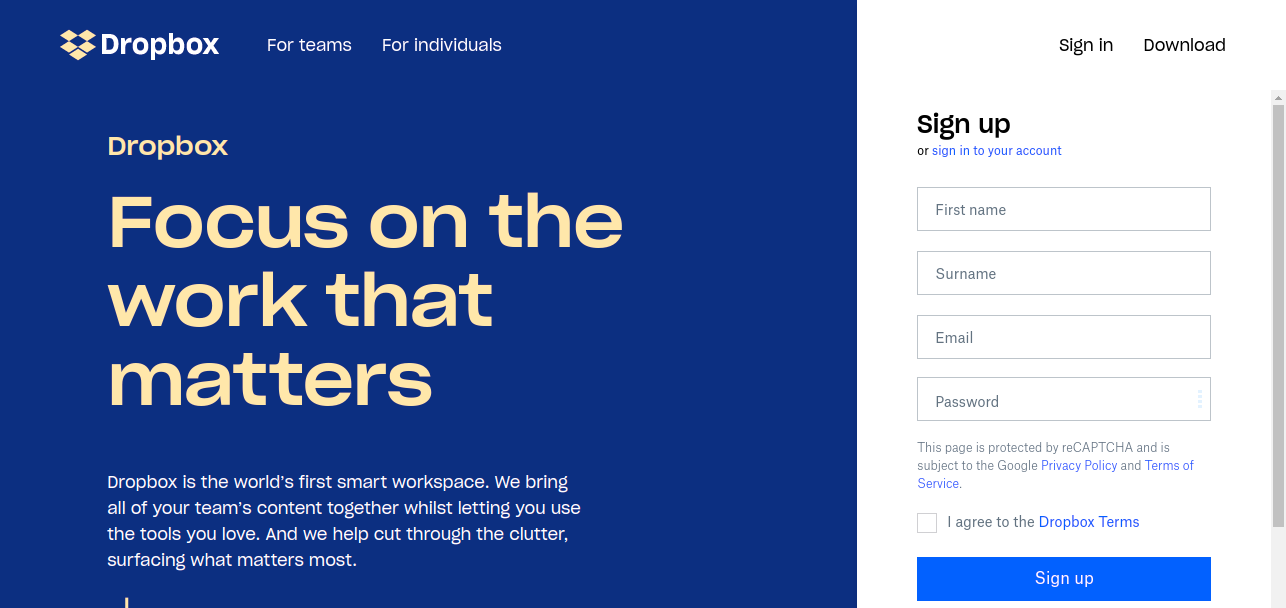 Overview: Dropbox is a cloud-based tool designed to help professionals cut out distractions and focus on being productive at their jobs. The platform is a leading file sharing and file storage system. Dropbox allows individuals and teams to access files on secure servers from their choice of devices. 
Feature list: File storage, File sharing, Offline access, Online back-up, File recovery, Preview, Simple link-sharing via email, Chat, Automatic organization, Automatic backup, Efficient syncing, 256-bit AES encryption, and Any device access.
Pricing:
Plus – $11.12 /month

Professional – $27.81 /month
Read more: 17 Best Alternatives To Dropbox You Need To About In 2023!
4. PandaDoc

Overview: PandaDoc is a document automation solution for creating, transferring, and sharing files online. A fully web-based tool allows businesses to create, modify, and sign documents as well as agreements of any scale.
Pandadoc provides customizable forms, secure payment, and sharing options in order to make sure your company's records are always protected. Advanced features and analytics help you boost your sales and productivity by providing actual analysis on the performance of your campaigns.
Feature list: Configure, Price, Quote (CPQ), Contract Lifecycle Management, Payments, Approvals, Document Analytics, Content & Image Libraries, Document Access Code, Audit Trail, Template Embedding, Document Sender Selection, Multiple Workspaces, Electronic Signatures, Document Builder & Forwarding.
Pricing
Free eSign – $0/ month per user

Essentials – $19/ month per user

Business – $49/ month per user

Enterprise – Contact vendor
5. Box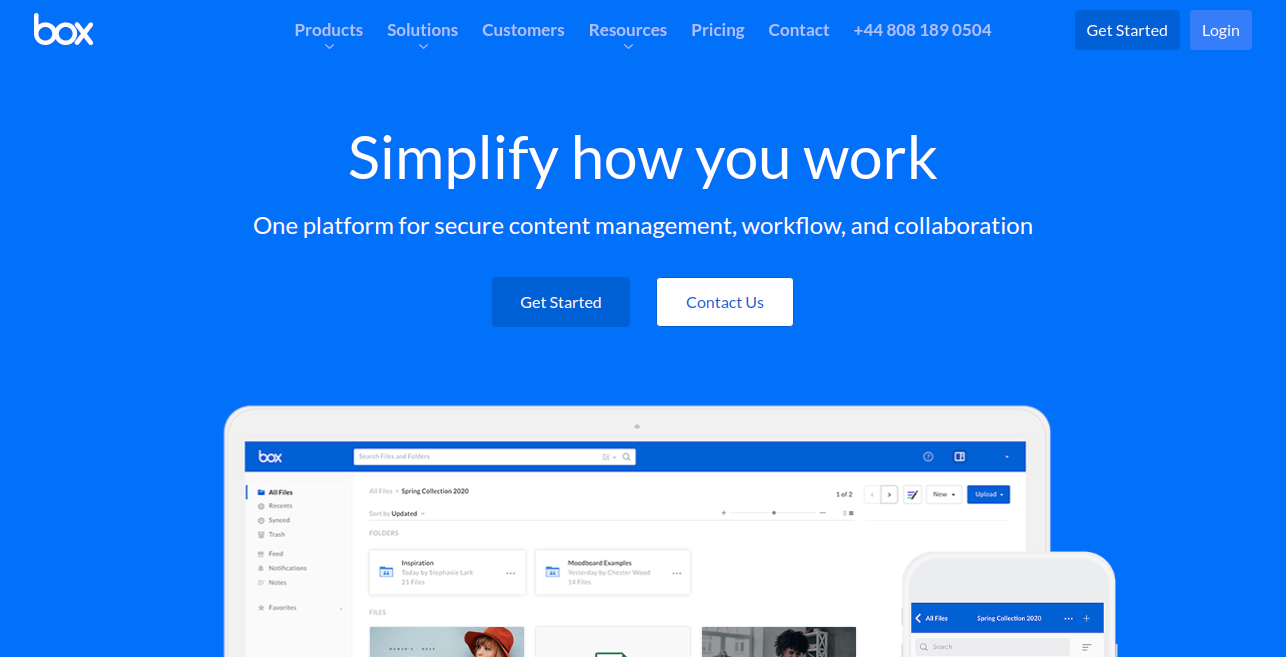 Overview: Box is a cloud-based file sharing service that allows you to easily manage and share files across your business, on any device. With Box, users can work on documents, collaborate with others anytime, anywhere.
Feature list: File management, Access Stats, Auto-Expiration, Box Content API, File Sync, File Locking, Full-Text Search, Granular Permissions, Mobile Access, File Preview, Secure File Sharing, SSL Encryption, and File Version History.
Pricing:
Individual – Free

Personal Pro – $11.50/month

Business Starter – $5.80 per user/month

Business – $17.30/user/month

Enterprise – By quote

Platform Developer – Free

Platform Starter – $500/month

Platform Pro – $4,250/month

Custom – By quote
6. Internxt

Internxt is a cloud storage service that is 100% safe, private, and secure. Internxt can be accessed on all operating systems via an app or web browser. The service conveniently encrypts, syncs, and backs up data between computers, mobile devices, and tablets.
Included with its flagship cloud storage service Internxt Drive, the company also offers Internxt Photos for storing pictures and videos along with Internxt Send, a free service for encrypting and sharing large files up to 5GB in size.
Features and services: Internxt Drive, Internxt Photos, Internxt Send, Virus Scanner, Password Checker, Byte Converter, large file upload, military-grade encryption, and zero-knowledge technology.
Pricing:
Free – €0/month

20GB – €0.89/month

200GB – €3.49/month

2TB – €8.99/month
7. FileCloud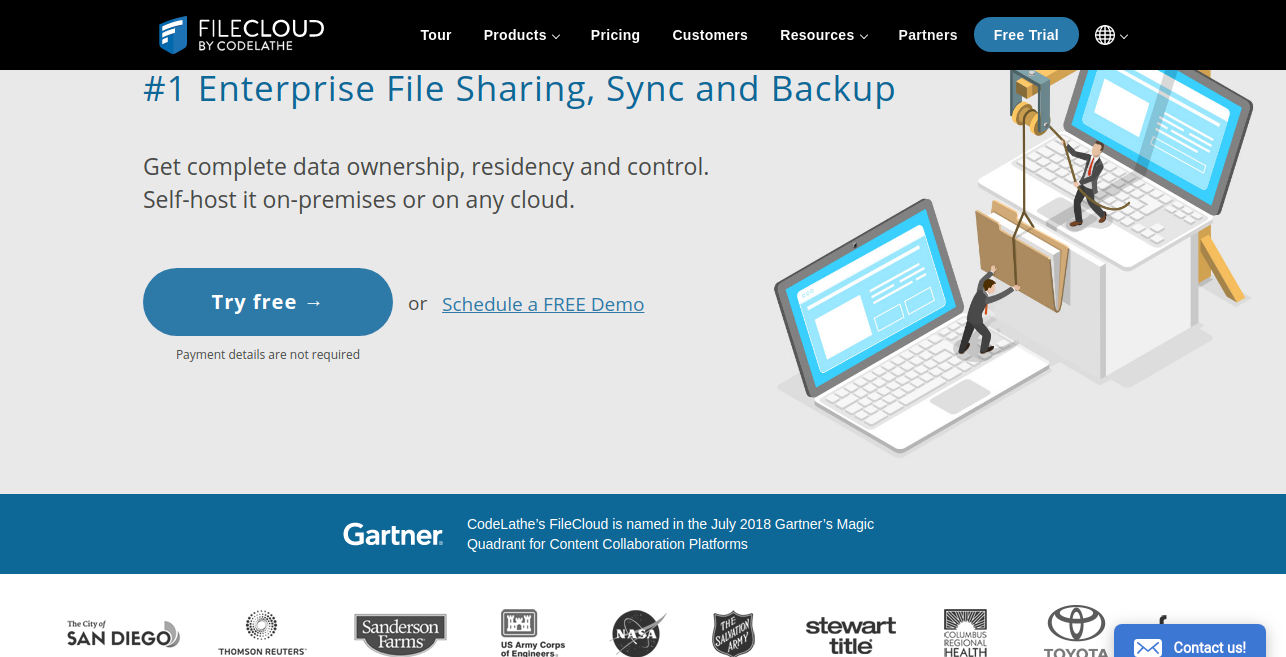 Overview: FileCloud is a web-based software solution for robust and secure file sharing within organizations of all sizes and industries. FileCloud allows you to save and share files on a self-hosted server or web-based platform.
Both automatically sync files from computers to the version of the FileCloud server that you have. It backs up all your data safely so that you can collaborate with others by giving them access to space specifically created for this purpose. 
Feature list: Document Management, Self-Hosted File-Sharing, Enterprise File-Sharing, Storage Limits per User, Desktop Sync, Selective Sync, Admin Controls, Customization, Branding, Data Loss Prevention, and In-browse Media Players.
Pricing:
Standard — $4.20/user per month

Enterprise (Self-Hosted) — By quote

Standard — $10/user per month

Enterprise — $15/user per month
8. OneDrive for Business

Overview: OneDrive for Business is one of the best performing and most popular file-sharing apps available on the market today. OneDrive for Business offers businesses and teams with a secure cloud-based hub where they can store, share, and sync their files, documents, business materials, and other work-related information.
OneDrive for Business provides the needed mobility and flexibility that enables you to work and collaborate, even when you're away from the office.
Feature list: Cloud storage, Cross-platform syncing, Mobile application, Data loss protection, Business collaboration, and Windows and Mac compatibility.
Pricing:
OneDrive Basic — 5 GB Free

OneDrive 50 GB — $1.99/month

Office 365 Personal with Premium OneDrive Features — $6.99/month

Office 365 Home with Premium OneDrive Features — $9.99/month

OneDrive for Business Plan 1 — $60/user per year

OneDrive for Business Plan 2 — $120/user per year

Office 365 Business Premium — $150.00/user per year
9. Egnyte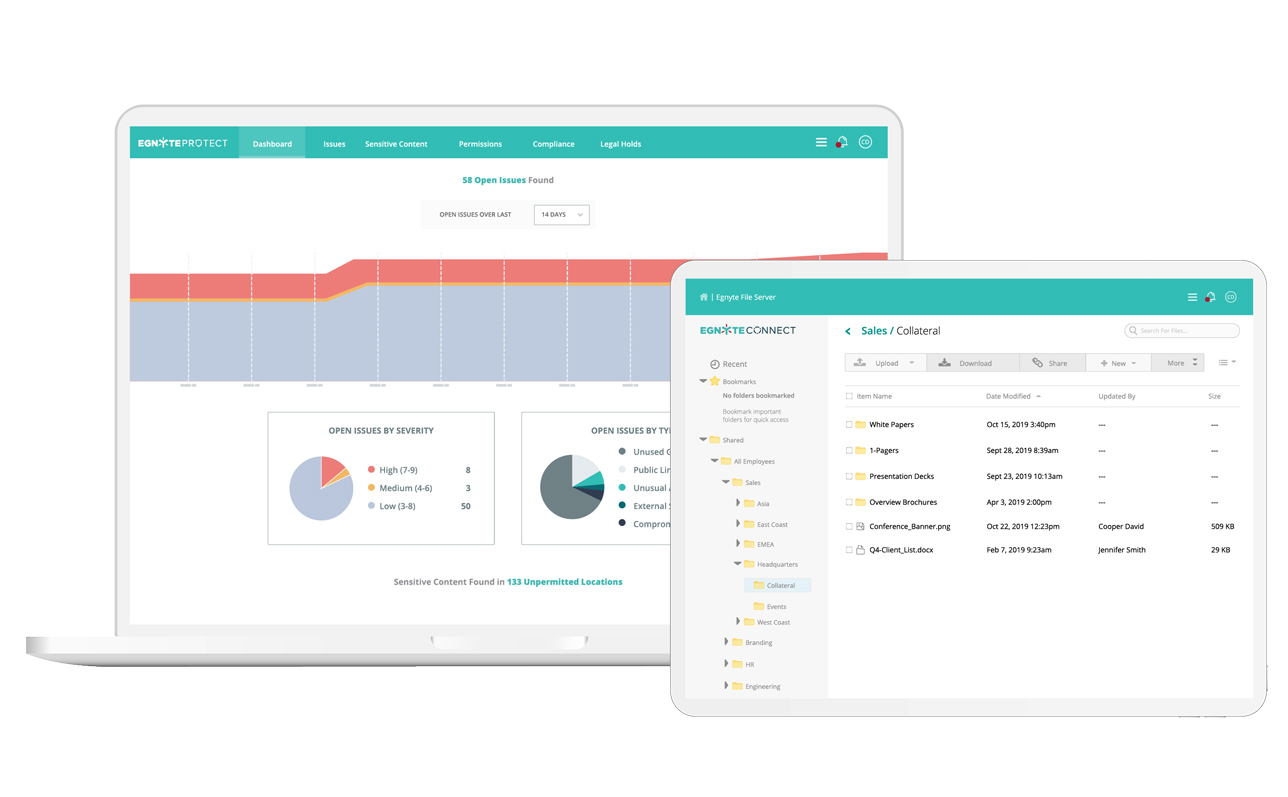 Image credit: Egnyte
Overview: Egnyte is a platform for secure, fast, and reliable file sharing. The platform meets the needs of businesses and teams around the world. The platform is flexibly priced and comes packed with a variety of features to take collaboration and file management to a different level
Feature list: User Dashboards, Cross-Site Synchronization, Security Backups, Hybrid File Server, Cloud Tiering, Cloud Archiving, File Syncing, File Sharing, Auto Synchronization, Global Namespace, Custom Branding, Mobile Access, FTP Access, and Unlimited Integrations.
Pricing:
Office – $8/employee/month

Business – $15/employee/month

Enterprise – By quote

Overview: ShareFile is an all-in-one streamlined and secure file transfer software suite. The software is designed to cover the needs of businesses from all scales and industries. It is designed to suit the needs of both individual and professional. ShareFile offers an array of advanced sharing features combined with a simple and user-friendly interface.
Feature list: File Storage, Granular Folder Permissions, SSAE 16 Accredited Servers, Custom Visibility, Audit Trails, Searchable Database, User Management, Dynamic Watermarking, Versioning, Activity Logs, Templates, Multi-Factor Authentication, SSL/TLS 256-bit Encryption, Automated File Syncing, E-Signature Software Integration, Custom Branding, Custom Reporting, and Multi-Device Access.
Pricing:
Personal – $16/month

Team – $60/month

Business – $100/month

Virtual Data Room – $295/month
11. Hightail

Overview: Hightail is a file management tool that eliminates all worries about sharing large files. It serves as a professional way to send large files and access those files wherever via Hightail mobile app (even when you're offline). Hightail also allows you to edit your file on the go and quickly update it when you're back at your desk.
Feature list: Unlimited storage, Unlimited e-signatures, Secure delivery, Data encryption, Custom branding, Microsoft SharePoint integration, Faster uploads and downloads, Security Controls, Reporting dashboards, Role-based access controls, and Content lifecycle management.
Pricing:
Lite Plan – Free

Pro Plan – $12/month

Teams Plan – Custom pricing
12. Livedrive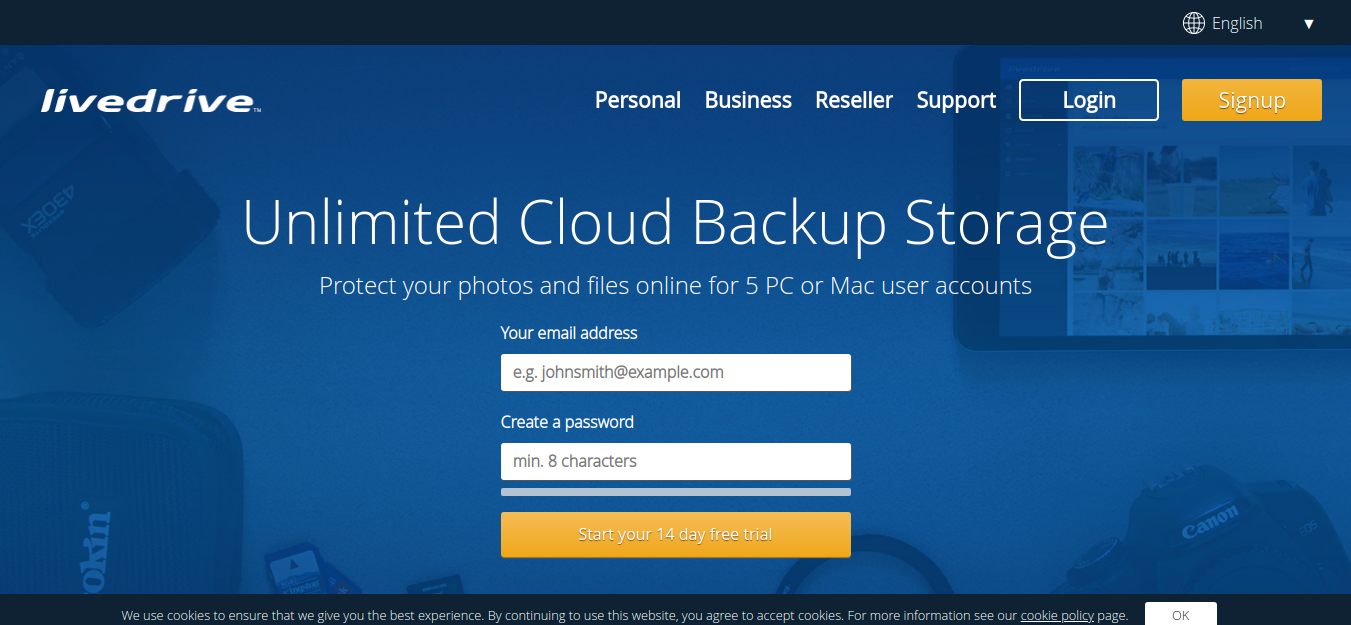 Overview: Livedrive is a cloud storage service, which you can use to back up, share, and collaborate on files. Just like other leading file sharing apps, you can access Livedrive from computer, mobile device, or tablet.
It offers dedicated storage solutions to automatically backup all your important files and folders from your office computers. You can save all your valuable documents in LiveDrive's Briefcase folder and edit them from any device.    
Feature list: Upload large files, Bank-level security, Mobile photo & video backup, Supports FTP, Mobile & desktop apps, File version control, Restore deleted files, File access control.
Pricing:
Business Express (2TB) – £30 (~ $38.80) /month (3 users)

Business Standard (10 TB) – £100 (~$129.00) /month (10 users)
13. MediaFire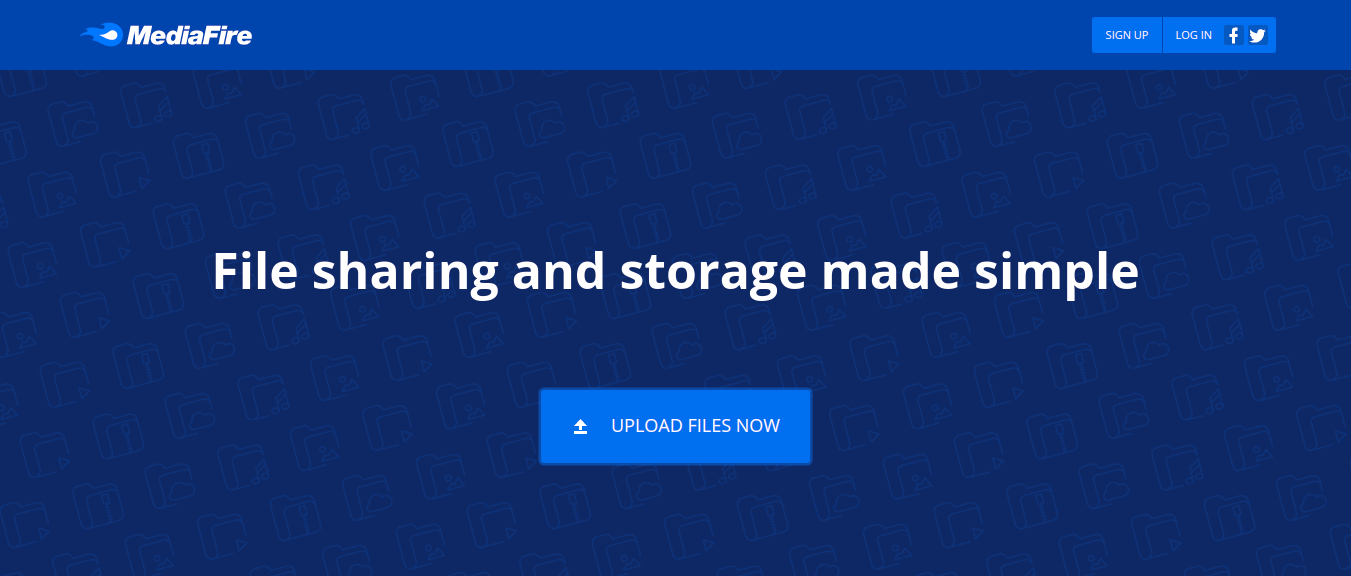 Overview: MediaFire is another robust file-sharing app that allows you tocentralize all your files and documents. Its powerful set of features makes file management both easy and effective for you.
MediaFire lets you store, access, share, and collaborate on files with your colleagues. To ensure the safety of shared files containing confidential information, you can use one-time links that restrict recipients to share your file link with anyone else.
Feature list: Unlimited bandwidth and downloads, Folder sharing, Multiple file uploads at the same time, Direct file uploads from websites, File download links, File recovery, Automatic sync, Password protected files, customizable branding, detailed security log.
Pricing:
Basic – 10 GB (Free)

Pro – 1 TB for $3.75 per user /month

Business – 100TB for $40 /month (100 users)
14. Google Drive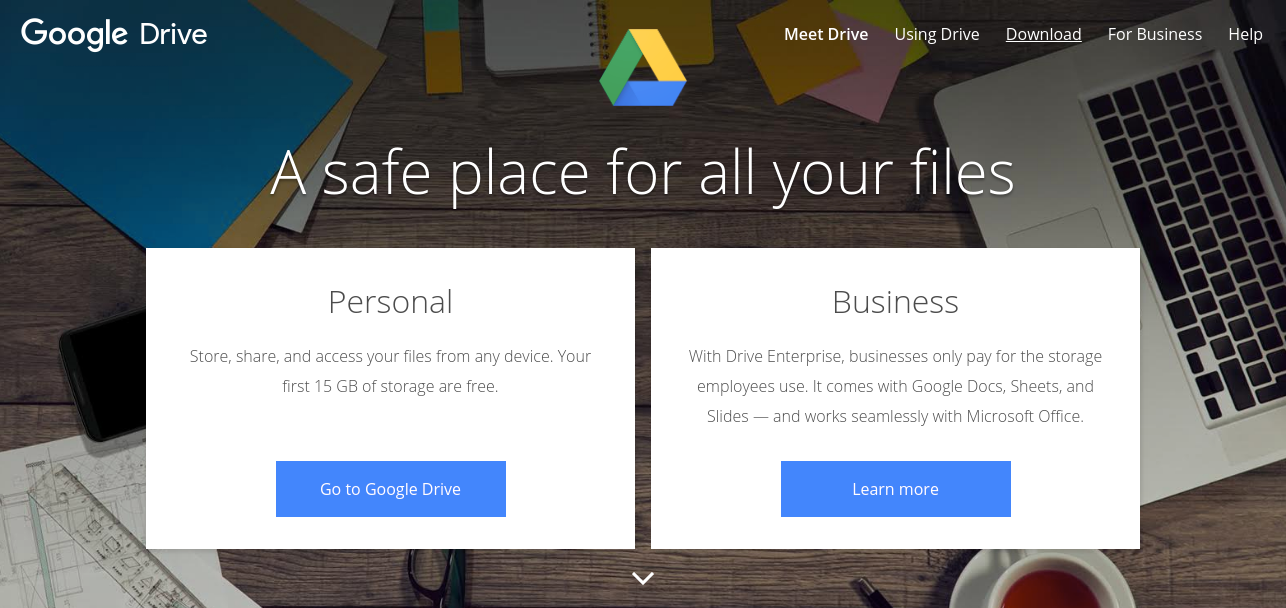 Overview: Google Drive is a well-known cloud storage service designed to enable teams to store files, videos, music, photos, and more in one location. Google Drive automatically syncs data with all the devices linked to one account so that you can immediately retrieve and access the data you need.
Feature list: File Storage Space, File Sharing, File security, Gmail Attachments, File Search, Google Photos, Chromebook Compatibility, Integrations, Offline work, and Document scanning.
Pricing:
15 GB cloud storage – Free

100 GB cloud storage – $89/month

1 TB cloud storage – $479/month

10 TB cloud storage – $4,799/month
What are the advantages of file sharing?
Here are some key advantages that you, your team, and your organization can expect when you choose to organize, share and collaborate on data using a dedicated file-sharing app.
Convenience:

Using a file-sharing app makes accessing the desired piece of information easy, convenient, and instantaneous while working on a given task/project. It reduces the amount of effort, time, and energy you usually invest in the above-mentioned process and lets you focus more on the performance and productivity part of the

project management process

.
Reduced Costs:

In addition to the organization's operational expense, an organization is required to invest in its own infrastructure for storing, organizing, sharing, and maintaining the files. However, using the right file management system or file sharing tool, an organization can save the amount of money that would have otherwise been spent to put up the mentioned infrastructure.
Saves on Time:

Having a dedicated space for organizing, sharing, and collaborating on files not only saves an organization a huge amount of money. But more importantly, it allows the professionals and teams within the organization to save a lot of time that would have been spent on searching and retrieving required files/data manually.
Improved Data Integrity:

Keeping business data safe is a real challenge. But with the right file management and sharing solution, access and sharing files while ensuring the necessary security precautions and integrity of the data is easy to obtain.
So above mentioned 14 tools/apps will give you a clear understanding of what you should and shouldn't expect from a file management or file-sharing app. Evaluate all the available options carefully and make a wise choice.