SaaS applications have become the new normal in the contemporary business environment. Organizations, be it small-scale or larger ones, have either successfully implemented these applications or are in the process of implementing them.
But, why? What makes SaaS applications so special?
Well, there are some strong reasons why SaaS applications are taking over.
The first thing that we know for sure is that these business applications take out painful, time-consuming installations from the picture. Moreover, they also eliminate manual working, which minimizes the room for error.
Besides these two, SaaS applications offer lower upfront costs than traditional software download and installation, which makes them more affordable (and flexible) to a wider range of businesses.
That's just the tip of the iceberg, if you ask me about the benefits of SaaS applications.
If you are still not using these apps for your business, this article is a must-read for you. By the end of this article, you'll realize why not using the SaaS application might as well be one of the most ill-informed decisions you've ever made.
Let us get to know more about it.
What are the characteristics of a SaaS application?
You can compare a SaaS application with a bank. Just like your bank keeps your personal information private and secure while providing you with a reliable service, the SaaS model offers its users the same functions.
The customer of SaaS software can use it without worrying about anyone accessing their data. This software is installed at a central server; not on the clients' machines.
The vendor is responsible for providing customers with key services like technical support, maintenance, and upgrades to the software.
Some of the key characteristics of SaaS applications are the following:
Multi-tenant Model
A multi-tenant model is a kind of architecture in which multiple customers share a common code base and infrastructure of a software application that is maintained centrally. Each customer of a SaaS application is called a tenant who can customize some parts of the application.
Automated Provisioning
The clients (users) should be able to access the SaaS applications on the go. Hence, the process of provisioning them with the services needs to be automated. Most SaaS applications offer this feature to their customers. Cloud Services Broker can automate this process to provide access to SaaS applications on demand basis.
Easy Customization
Easy customization enables users to modify applications to fit their business processes without having to affect the common infrastructure. Such customizations are exclusive to each company or user and are preserved through upgrades.
Subscription-Based Billing
Generally, the pricing of SaaS applications is subscription-based. This feature enables users to buy the SaaS application whenever they want and cancel the subscription once they do not want to continue using it. SaaS apps' pricing can vary from provider to provider, based on the number of features they offer to users, and whether they charge a per-user fee or fixed pricing plans to their customers.
Data Security
SaaS applications are shared by multiple tenants, which means the users' data security cannot be compromised. Certain types of data for every user must be encrypted so that it cannot be accessed by another tenant. An efficient Key Management Framework is an essential part of SaaS applications.
Application Security
SaaS applications should be protected against vulnerabilities like OWASP/SAN identified vulnerabilities. Robust access management and identity controls should be enabled for SaaS applications. Other aspects that make the SaaS app secure are strong session management, multi-factor authentication, protection against DoS/DDoS, etc. 
Advantages of SaaS
As mentioned above, SaaS applications eliminate the need for businesses to manually install and run applications on their computers or in their own data centers. This means you no longer need to bear the expenses of hardware purchase, provisioning and maintenance, and also software licensing, installation and support.
Besides this, the top advantages of the SaaS model include:
1. Round the clock accessibility
One of the biggest advantages of SaaS applications is that they can run on an internet browser irrespective of which operating system is used to access it. It means users don't need to worry about if their OS will be compatible with the SaaS app or not. Also, SaaS software can be used on mobile devices, which means you can use them on the go.
2. Eliminates initial costs
Before SaaS applications arrived on the market, the cost of software installation had to be borne by the customers. However, with SaaS, the vendor is responsible for maintaining the software. Customers don't need to purchase, install, and maintain software.
3. Provides automatic upgrades
Another main advantage of SaaS applications is that the vendor can update their software centrally without adversely affecting the users' business operations.
4. Scalability and flexibility
SaaS is ideal for businesses because of its ability to scale and grow as the business grows. Also, with SaaS applications, you only pay for features you want to use. You can easily choose a SaaS plan that fits your budget and operational requirements.
5. Access to enterprise software
Access to enterprise software is probably the biggest advantage of SaaS applications. By eliminating the need to install and operate the software on computers, SaaS applications enable businesses to subscribe to enterprise-level software, like marketing platforms and sales CRMs.
6. Market reach
SaaS providers can offer this product to the majority of the market rather than limiting themselves to a specific market segment. This also means that the SaaS tool can be affordable and accessible to businesses of all sizes. Users can access services that are otherwise not easily available, thus improving general opportunities, productivity, and business services.
7. Data and analytics
SaaS applications make it possible to capture data and use it for analytics. Businesses using SaaS software usually have access to visualization, intelligence tools, and reporting that can provide useful insights into business processes and workflows.
Five clear signs your business needs SaaS
E-commerce businesses today happen in the cloud, and they are investing in SaaS solutions, moving on from traditional software. As you focus on your sales and software needs, consider the following questions:
Are you looking forward to increasing your company's sales figures?

How do sales and marketing function within your business?

What is one part of your business you would like to change?

How do you currently train your sales representatives?
With answers to these questions on hand, how can you figure out if your business is ready to switch from traditional to cloud-based software?
Here are five areas where you can implement SaaS tools for your business
1. Team collaboration
Team collaboration is of great importance for any business, especially in the days of remote work. SaaS tools give you a better overview and understanding of what your team members are doing. It is also a crucial tool for boosting productivity by enabling teams to work more efficiently. Also, a SaaS tool can uncover the strengths and weaknesses of your business which can enable you to progress and make improvements.
2. Creating websites and online forms
Building a website is not a straightforward task. If you want to avoid the complexity of manual coding then there are some powerful SaaS tools for website building that enable you to easily create websites & form building. Cloud-based website-building SaaS tools allow you to edit websites from any location with ease.
3. Automated billing systems
Handling the money is a sensitive area. Billing and invoicing should be seamless and accurate to provide a safe and secure purchasing experience to your customers. Manual solutions can spell trouble for your business as your business scales and grow. Automated billing systems can help you avoid spending time on your business' finances and dedicate this time to other areas.
4. Customer support
Customers are the lifeline of your business. Keeping them more than satisfied with quality products and after-sales services is crucial to your business' fortunes. A CRM (customer relationship management) software can simplify this cumbersome and complex process. CRM software can organize your contact information and manage relations with potential and current clients, customers, and other contacts.
5. IT security
Businesses have multiple security concerns in the form of phishing, online fraud, and other emerging online threats. IT security software can combat these threats and keep your business' crucial data, finance, and other areas of your company safe. In the lack of dedicated SaaS security software, a potential security breach can cost your organization dear.
Fundamental questions to ask when choosing SaaS applications for business
Is it a SaaS platform?
Many hybrid solutions are labeled as "complete SaaS products" today. You need to beware of fakes. Genuine SaaS solutions only need a browser to run, and everything is saved in the cloud.
If the product asks you to install special client software or moves you from your current hosting provider to a new hosting provider, then you need to think twice before committing to it. True SaaS business models will not support hosted or on-premise software solutions as those conflict with their business goals.
Is it reliable?
When choosing a SaaS application, you cannot afford to underestimate the importance of two main aspects- security and uptime. Even though SaaS CMSs are designed for scalability and reliability, not all SaaS CMS vendors can meet the hype created by themselves.
When checking out a provider's availability figures, you should ask how it is measured and take into account all aspects of downtime that could impact your business. A SaaS tool should easily handle a sharp increase in web traffic and multi-site traffic without having to downgrade user experiences.
Does the tool suit your current and future user environments?
Even though a SaaS product is designed to run in a web browser, there are incompatibilities with older browsers, especially Microsoft's Internet Explorer. Keep in mind that there can be subtle differences in functionality and visuals from browser to browser.
Additionally, consider mobility. Make your SaaS provider offers iOS and Android apps so you and your employees can access the tool while on the move. Check the functionality of such apps thoroughly as the interface could be different than that of the web version. The SaaS tool should have a responsive design.
Is it scalable?
You would not want your business growth to be limited by technical needs. A traditional or on-premise CMS requires you to draft in additional bandwidth or invest in bigger servers to expand the size of your online project. It can get tricky to build a new site and manage multiple sites at once.
SaaS CMS vendors usually boast about their product's scalability. However, you should ask for examples and demonstrations. Also, check if the platform can handle multi-site management from the same dashboard.
What is the service level agreement (SLA) offered by the SaaS provider?
The Service Level Agreement (SLA) states what services the client will receive. It lays down the computable aspects of the promised service in terms of things like quality and availability. The Service Level Agreement determines the consequences of failing to deliver on the promised standards.
You should remember that even small outage times can lead to severe consequences for a business. Make sure you have covered every possible misunderstanding in the SLA.
For example, your business may be located in a part of the world that renders the SaaS provider's availability guarantee useless (within business hours).
Top 19 SaaS applications
1. ProofHub (Project Management)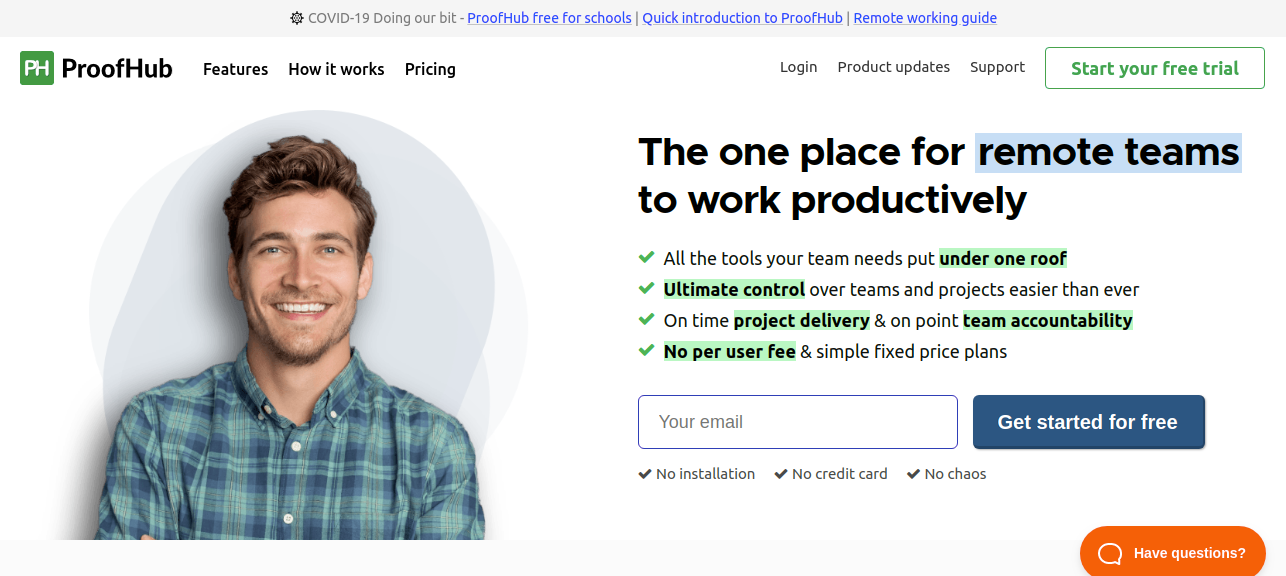 ProofHub is one of the most reliable, efficient project management software that is designed to simplify project management and improve team collaboration. This SaaS-based project management application is packed with all the tools your team needs in one centralized location.
From creating tasks to assigning them to team members, tracking time to scheduling tasks, custom reports, and visualizing workflows and much more, ProofHub helps you do all this with ease. It won't be wrong to say that it is a tool every project manager needs to achieve maximum productivity while saving on time, money, and other valuable resources.
With ProofHub, you'll get:
A versatile

project management software

with powerful "inbuilt" features

A single platform for all your projects, tasks, teams, and communication

simple pricing for all team sizes

Ultimate control over teams and projects

A simple, easy-to-understand user interface with little to no learning curve

On time project delivery and on point team accountability
Let's take a closer look at some key ProofHub Features:
A) Online Proofing

Not being able to proof files and documents is one of the biggest challenges faced by project managers and team members. However, with ProofHub, users can review, proof, collaborate, and approve on files from any location, using this online proofing software.
Collaborate on Design & Documents –

Users can collaborate real-time on design and documents. Share feedback with other team members or clients by adding reviews and comments at one common place.
Markup Tools –

Markup tools help users annotate files and documents to add clear and actionable feedback for specific regions.
Threaded Comments –

Make the most of ProofHub's online proofing tool by replying to comments within a thread that is focused on a particular suggestion or feedback.
Mark Suggestions or Feedback As Resolved –

Once the required changes are made, users can mark suggestions or feedback as resolved. Reopen them in case the changes are not made yet.
Review File Versions –

Upload new versions of file and compare them with the previous versions to review changes.
One-click Approval –

Approve files with a single click once all suggested changes and feedback are resolved.
B) Custom Roles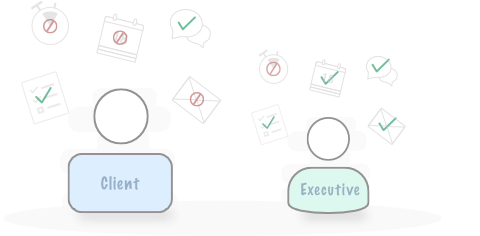 Plan and create custom roles to choose who gets what level of authority and responsibilities according to your organization workflow. You can assign custom roles as an administrator to team members or clients, thus allowing them to work as per project's guidelines.
Create Custom Roles –

Create custom roles, add them, and decide the access level for each stage just the way it suits your organizational flow.
Assign Custom Roles –

Assign custom roles as an administrator to team members or clients. Allow them to do things as per their work and responsibilities.
Grant Access Levels –

Choose what you want each user to view, add, and manage in ProofHub. Team managers can stay in ultimate control of granting access level to chosen individuals.
Revoke Access –

Users can revoke access to the sections they don't want to grant access to certain individuals.
Default Roles –

Assign default roles such as normal user or admin to the team members.
C) White Labeling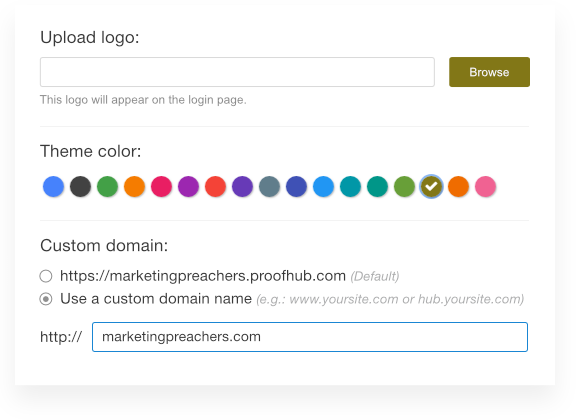 For users who want their ProofHub account to give the look and feel of their company or organization, white-labeling allows them to add a custom domain, brand logo, and a theme color of your choice. This will make their PH account reflect their brand's overall personality and make it look like an essential part of their business.
D) Multilingual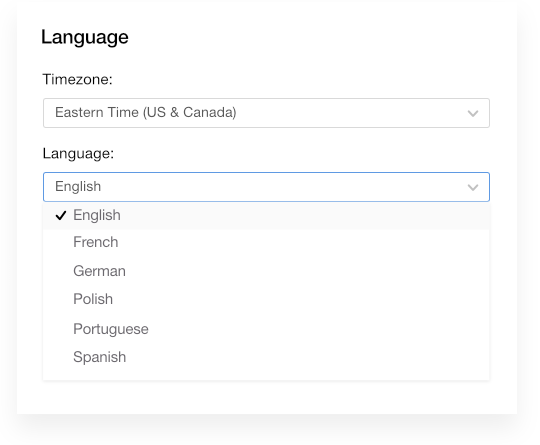 Since ProofHub is used by both well-established organizations and start-ups across the globe, it offers a choice of six languages for users with varied language preferences. Users can choose from English, Russian, Italian, French, Polish, Portuguese, Spanish, and German languages to set as a language of their interface to communicate with teams and clients without any problem.
More language options are expected very soon, considering the widespread use of ProofHub.
E) Tasks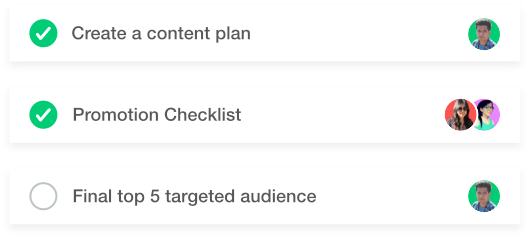 Task management software of ProofHub is every team manager's delight. No more confusion regarding assigning and responsibilities of tasks. Manage tasks smartly and easily and achieve project goals in time, everytime.
Assign Tasks –

Create and assign tasks to individual or multiple people at one place. This helps to ensure every team member has a clear understanding of his responsibilities and there's no confusion among them regarding who gets to do what.

Create Subtasks

– Make tasks manageable by breaking them down into subtasks and delegate these to assignees to define who works on what part.

Add Labels –

Use custom labels to add a distinct context to categorize, prioritize, and organize tasks. Users can filter a list of all tasks under one label.

Create Recurring Tasks –

Set a task to recur if it needs to be performed regularly. This removes the need to add them manually all over again, which saves time and eliminates any possibility of missing out on adding it.

Attach Files – Attach files and documents from your computer, Dropbox, Google Drive, OneDrive, and Box to the tasks.
Proof Files

– Review files, annotate them, collaborate and approve them whether you're working remotely or from regular office space.

Create Private Task Lists-

Keep visibility of tasks limited only to people whom you have granted access with private task lists. This way, you can keep information to specific people whenever you want.

IP Restriction –

You can restrict your account access to only selected IP addresses to ensure your data remains safe from unauthorized access.



F) Kanban Boards

Kanban boards give you a bird's eye view of tasks in progress in a particular workflow. Users can see work moving through multiple stages and manage dependencies between tasks using Gantt charts.
You can also choose the number of stages the task is supposed to move through right till the final stage. Teams can be empowered to self manage with better understanding of workflows as they get notified of tasks moving from one stage.
G) Gantt Charts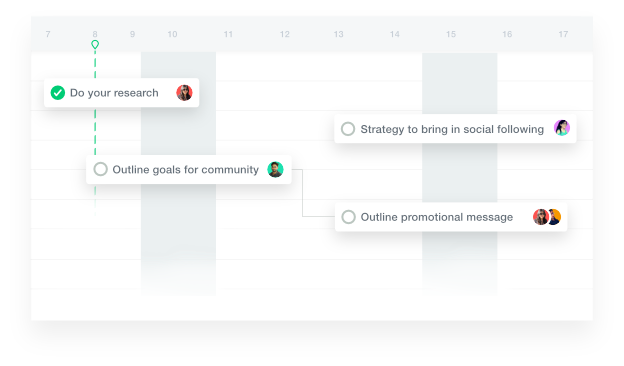 A Gantt chart software of ProofHub has all the right features to help teams to plan projects, modify schedules, and visualize tasks in a timeline view.

Visualize Tasks –

Users can add task lists and tasks to Gantt chart. Plan and arrange them in order in which you want to complete tasks and visualize them in timeline view.

Assign Tasks –

Assign tasks individually or to an entire group, thus ensuring a clear distribution of responsibilities at one place.

Set Task Dependencies –

Set dependencies between tasks and adjust schedules according to the work changes and shift in deadlines.

Associate Milestones –

Add milestones with tasks and mark key dates such as desired completion dates and project review meetings.

Track Progress –

Track progress of tasks to get a clear picture of how much work is pending and how much is done.

Private Lists –

Private lists allow users to limit the visibility of tasks only to the assigned people.

Drag and Drop Tasks –

Users can drag and drop tasks in the chart to quickly change their start or due dates or even duration. Schedule tasks as work changes and deadlines shift.

Highlight Critical Path –

Users can highlight critical paths to have a quick look at the status of tasks that have a direct impact on the start and end date of the project.

Export Gantt Charts –

You can export Gantt charts and keep a documented record that can be used for resource management, planning, and scheduling.

Print Gantt Charts –

Use printed Gantt charts for meetings, planning, and scheduling projects accordingly.

E-mail in Tasks –

Use e-mail in feature of ProofHub to add tasks in Gantt chart via email without having to log in your PH account.

Import Tasks –

Import tasks and task lists from CSV files in Gantt charts without the need to start from scratch

.
H) Custom reports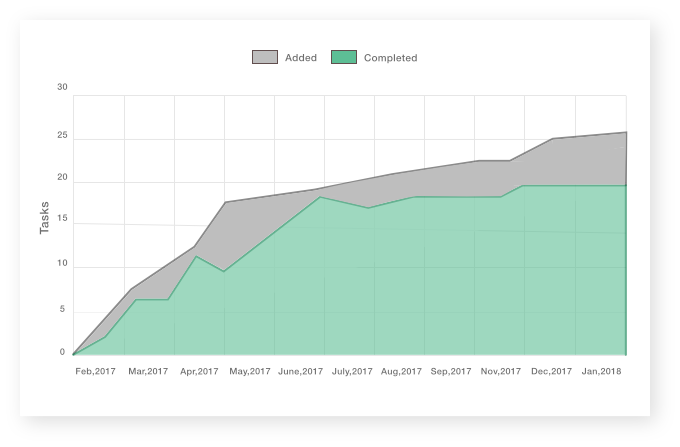 ProfHub's online reporting tool can be used to create detailed individual, custom, and project reports that help you analyze project progress and adjust plans accordingly.
Track Tasks Progress With Burnup Charts –

Burn up charts give you a clear picture of how much work has been done against the total amount of allocated work.

Keep Track of Open and Overdue Tasks –

Get a detailed list of open and overdue tasks in a project. See who is running behind deadlines by how many days and on what tasks.

Visualize Task Reports Based On Different Parameters

– Get a clear idea of the project progress with task reports based on labels and assignees.

See Workflow Task Reports –

See detailed workflow task reports of tasks for each workflow in a project. This allows users to have a clear idea of the number of tasks in each stage and how work is progressing.

Keep Track of Time Logged In a Project –

Have a clear time report for the time logged for billable, billed, and non-billable tasks based on timesheets and individuals who logged time.

Download Project Reports –

Download project reports of the projects of your choice and use for planning and scheduling projects.
I) In-built Chat App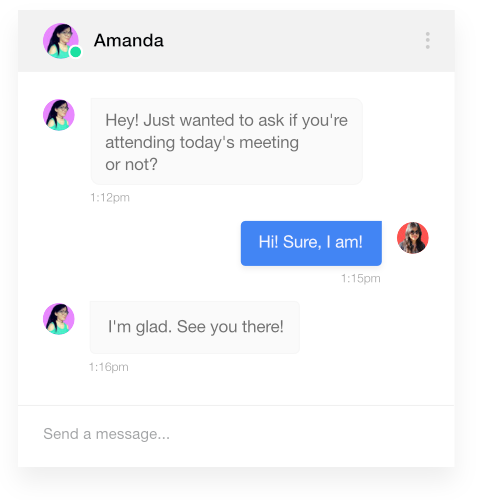 To streamline your communication efforts, ProofHub also has an in-built group chat app. You can use it to communicate with anyone in your team one-on-one or create a group and carry out group conversations.
Pricing: For information on our pricing plans, kindly visit our pricing page.
2. HootSuite (Social media marketing and management dashboard)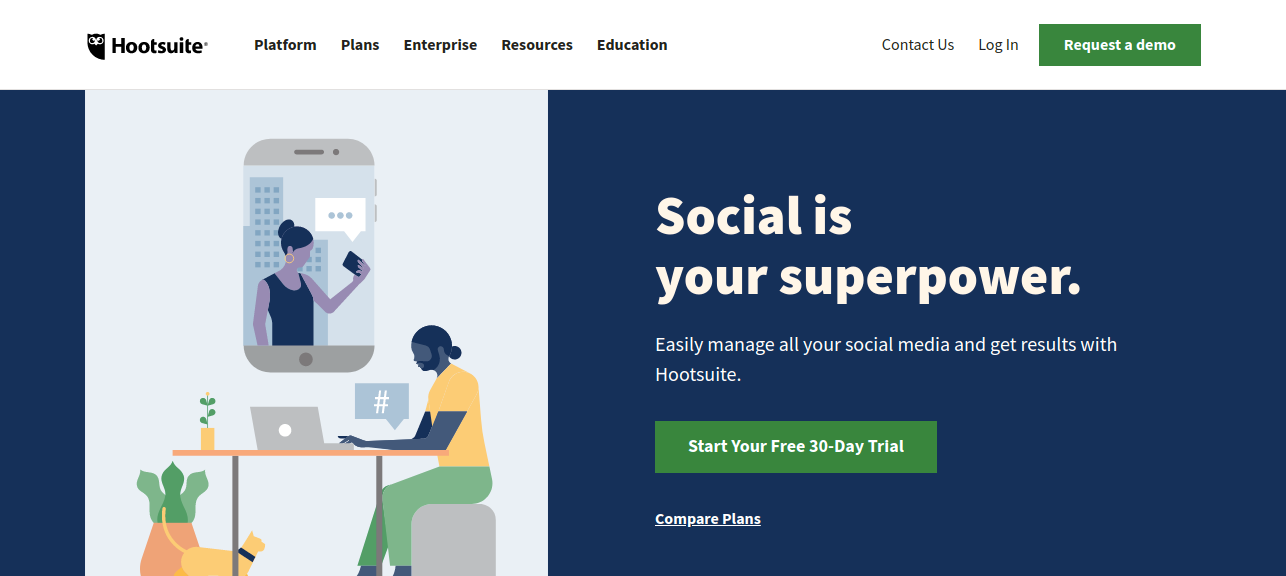 The internet has over 3.17 billion users and this number is only heading upwards with each passing day, as more and more people are getting easy (and fast) access to internet services.
Nearly 2.3 billion users (out of 3.17 billion) are active on social media, which goes on to show why most businesses need to have an effective social media strategy to reach out to potential consumer segments and create brand awareness.
This is where a "Social Media Management" tool like Hootsuite can help you create a strong, engaging social media presence, and maintain it over time in an easy and fast way.
You can track and manage your many social network channels to monitor people's feedback about your product or service, and you can also respond instantly to their comments.
Hootsuite enables you to view streams from multiple networks such as Facebook, LinkedIn, Twitter, YouTube, Google+, and Instagram accounts. You can post updates or reply directly, and engage with your followers right from the SaaS itself.
Main Features Include:
Create and schedule posts to multiple accounts at the same time

Social media analytics and metrics

Basic task management

Performance reporting

Content library

Assignments

App Directory

Creation and Management of Ad campaigns
Pricing: Limited Free Plan, Professional Plan is priced at $29 per month, Team Plan is priced at $129 per month, Business Plan is priced at $599 per month.
3. Salesforce (Customer relationship management)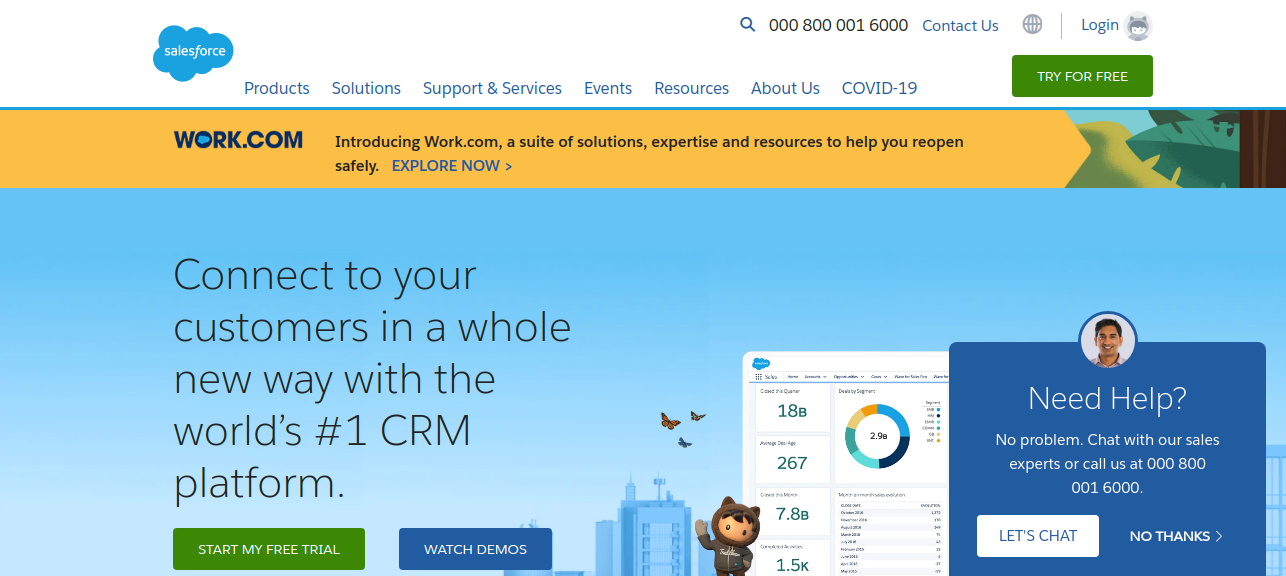 The sales teams of the most profitable companies use the best tools for closing sales. Even though there are many options available, Salesforce remains the industry standard as a leading software for customer relationship management (CRM).
Salesforce allows businesses to utilize cloud technology to connect with existing customers, stakeholders, and potential customers. Salesforce's services allow you to:
Gather leads and monitor them

Track Insights for improved sales opportunities

Make your sales team more productive

Engage directly with leads

Create email campaigns and collaborate with sales representatives
Using Salesforce can help you track every step of the sale -from emails and phone calls to working with coworkers. The SaaS allows your sales teams to engage more effectively with prospective clients. It also integrates with HubSpot to create a seamless connection between marketing and sales teams.
Main Features Include:
Contact management

Opportunity management

Sales collaboration

Sales performance management

Lead management

Marketing automation

Sales data

Partner management

Email integration
Pricing: Plans start from $25 per user/month and go up to $300 per user/month.
4. Bit.ai (Document and file management software)

Bit.ai is a new-age document collaboration tool that helps teams of all sizes and individuals to create, organize, and collaborate all internal and client-facing documents in one place, from any location in the world.
One of the USPs of the Bit.ai tool is that it scales across your whole organization, irrespective of whether every member of the team is working from one location or dispersed across the globe. Bit.ai helps teams organize and centralize their work, manage digital content, collaborate on projects in real-time, and track engagement across the shared content.
Bit.ai has a simple, user-friendly interface with a hint of modern touch to it. Its workflow configuration tool enables users to customize the solutions' work process to suit your team.
Bit's collaborative documents can move seamlessly from texts to videos, to inserted spreadsheets, and more. Users can communicate more intelligently with rich media integrations like GIFs, videos, and presentations.
Main Features Include:
Customizable workflow solutions

Digital content management

Smart bit document editor

End-to-end bit document sharing

Custom document branding

Branding

Security
Pricing: Pro Plan starts at $12 per user/ per month, Business Plan starts at $20 per user/ per month, and Enterprise Plan is available on quote.
5. HubSpot (Customer relationship management)

HubSpot is an all-in-one, cloud-based marketing automation software that helps you design and create powerful, engaging, and responsive websites that work well on any device to bring organic traffic, convert more leads, and close customers.
HubSpot is a leader in the digital marketing industry. Its blogs, videos, and certification courses are already quite popular among people. It is a huge platform that is designed to integrate with all your marketing tools to help your company grow, or you can also create your entire company's website on HubSpot.
HubSpot provides tools for content management, social media marketing, and search engine optimization, and web analytics. It is ranked as one of the best inbound marketing platforms in the world that puts all your current software, services, etc., on one platform.
Main features include:
Email templates

Email tracking

Call tracking and recording

Reporting Dashboards

Company Insights

Deal tracking

Pipeline management
Pricing: HubSpot CRM is free. Marketing Hub, Sales Hub, and Service Hub are available in four plans, with different features and add-ons: Free, Starter ($50/month), Professional ($400–$800) and Enterprise ($1200– $3200).
6. Time Doctor (Time tracking and employee monitoring)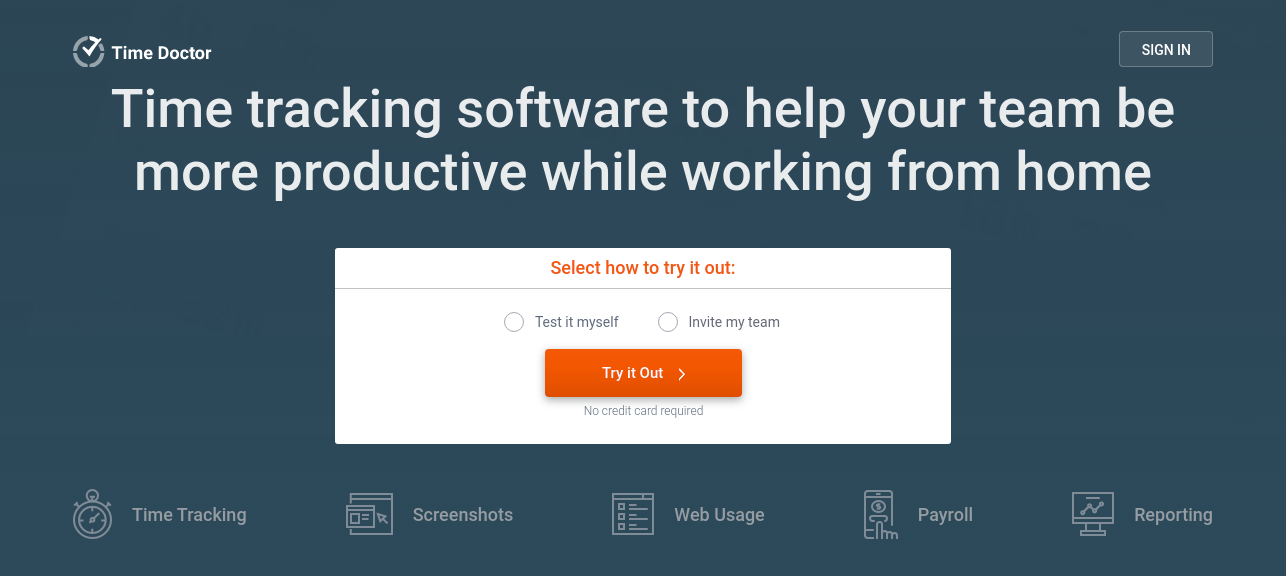 If you want to improve your employees' focus and productivity by accurately tracking how much time your workforce is spending on tasks then Time Doctor is the tool for you.
This time tracking and productivity app can be used by remote teams, in-office teams, individuals as well as freelancers. Using this tool, you can track exactly how much time was spent on which activities each day.
Time Doctor creates a synopsis of the time spent on each task, client, and project. This tool helps business owners and team managers to figure out how much time their team spends working at the computer vs. away from it. Daily and weekly reports help you to detect and eliminate time-wasting activities to evaluate and boost employee productivity.
Pricing: Basic plan starts at $7 per user/per month, Standard Plan starts at $10 per user/per month, Premium Plan starts at $20 per user/per month.
Mainfeatures include:
Time tracking and employee monitoring

Online timesheets and payroll

Project Management and budgeting

Productivity measuring and summary reports

Distraction alerts

Website and app monitoring

Offline time tracking

Client Login access

Integrations and API
"Bring all your time data at one centralized location with ProofHub. Register now!"
7. Weekdone (Goal management with OKRs)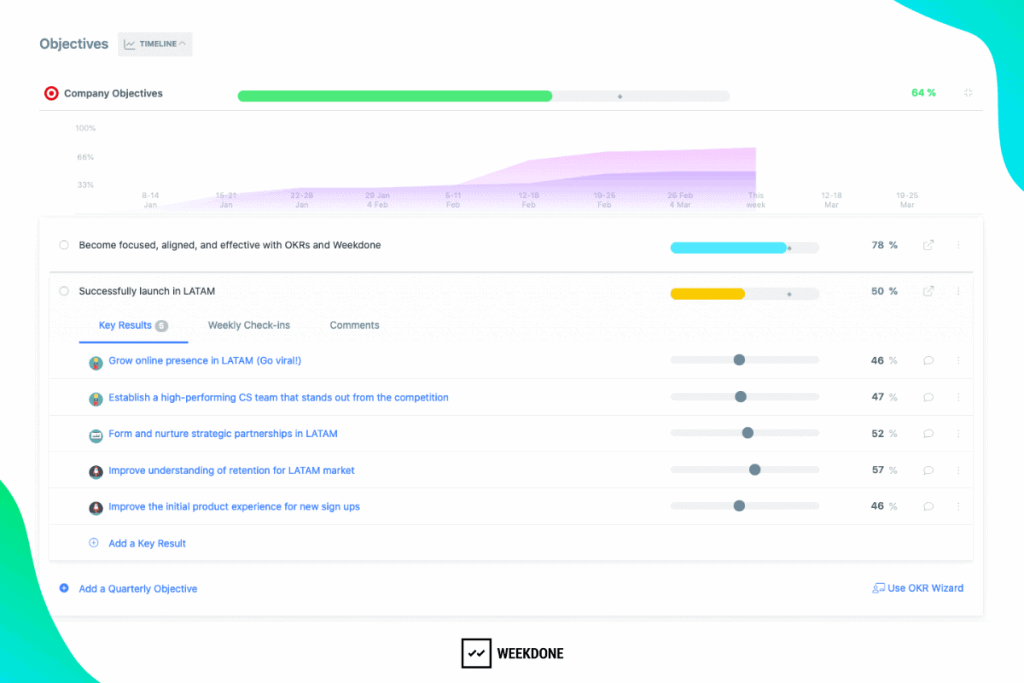 Innovative businesses require structure, focus, and a confident management team – bold enough to set audacious goals. With 10 years of experience as a leader in the OKR software industry, Weekdone knows that the popular goal-setting methodology, Objectives and Key Results, can help businesses radiate that confidence and exceed those goals!
Weekdone helps leaders create an organizational culture committed to transparency, communication, and growth. Lead results-driven, efficient, and cooperative teams who are motivated to exceed company goals! With this SaaS app, you'll gather real-time data on progress being made toward the big picture company objective, thanks to simple status reporting and tracking features. One intuitive workspace to connect everyone to the tasks that matter most!
Main features include:
Goal-setting and tracking using OKRs

Company, team, department, and personal level OKRs

OKR progress visualization for easy overviews

Interactive real-time status dashboards

OKR alignment and linking

TV Dashboard for presentations

Weekly planning & status reporting

Weekly progress report emails

Likes, comments & reactions

Public feedback and recognition

Access to OKR coaches

Integrations with tools you already use: Slack, MS Teams, and more
Pricing
Weekdone offers packages at a price per user cost with a 14-day free trial for 4 + users. Review Weekdone pricing.
8. Userpilot (User onboarding SaaS tool)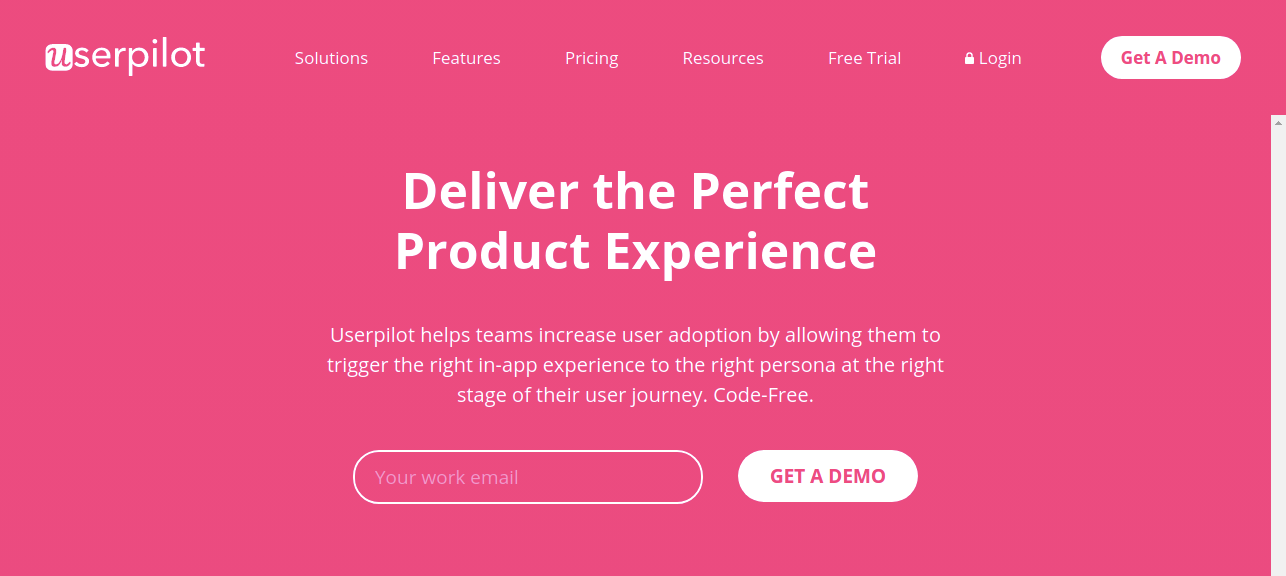 In my opinion, an effective onboarding campaign is key to kick off high customer retention rates. Getting it right at the onset is crucial because if you falter at this stage, nothing can change it later. People choose to stay with products they understand well, so your job is to answer their queries as clearly as possible.
Userpilot is a cloud-based product experience platform designed for product and customer success teams to onboard users and increase product adoption through behavior-driven product experiences.
Userpilot's user interface is intuitive, easy to use, and has a variety of powerful features that allow users to build a unique personalized experience. Userpilot helps to increase user retention and boost feature discovery as the product evolves.
Main features include:
Analytics

Custom-defined events

Customizable UI

Goal setting and tracking

Interactive experiences

Adjustable flows
Pricing: Standard Plan is priced at $199 per month billed annually or $249 billed every month. Enterprise Plan is available on quote.
9. Zendesk (Live chat)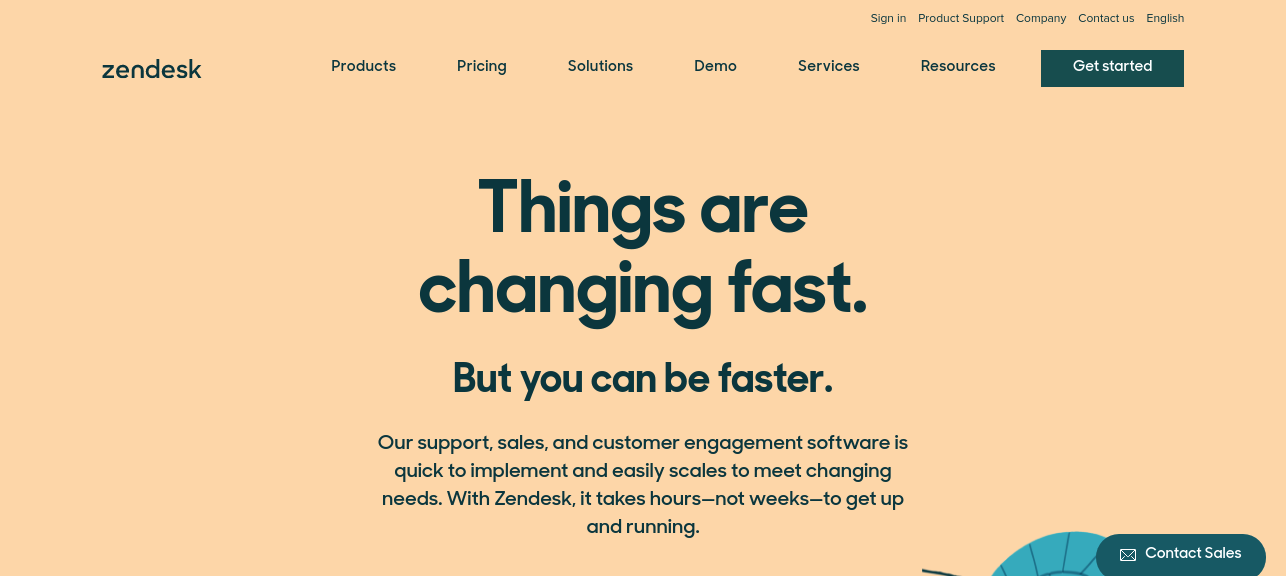 Zendesk is a cloud-based powerful live chat platform that works best for all kinds of mid-size businesses and large enterprises. Small businesses can quickly offer live, real-time chat support to their customers and it also allows you to reply to chats offline as well, from any browser.
Zendesk has one of the most versatile plan structures, which include the basic chat versions, call center, and knowledge base, so you can have all aspects covered right from the onset.
While this live chat tool is free, it can be easily scaled to meet the growing needs of businesses. They can easily upgrade to advanced IM tools like widget unbranding, conversation tracking, web SDK, CSAT surveys, answer bot, and IVR phone trees as their business requirements get complex.
Finally, Zendesk allows business users to collect crucial customer information, eliminate unnecessary expenses, and drive sales.
Main features include:
Ticketing system

Messaging and live chat

Reporting and analytics

Customer service software

Answer bot

Community forum
Pricing: There are a number of different pricing plans offered by Zendesk to suit the needs of every business, which you can check here.
10. Bamboo HR (HR management software)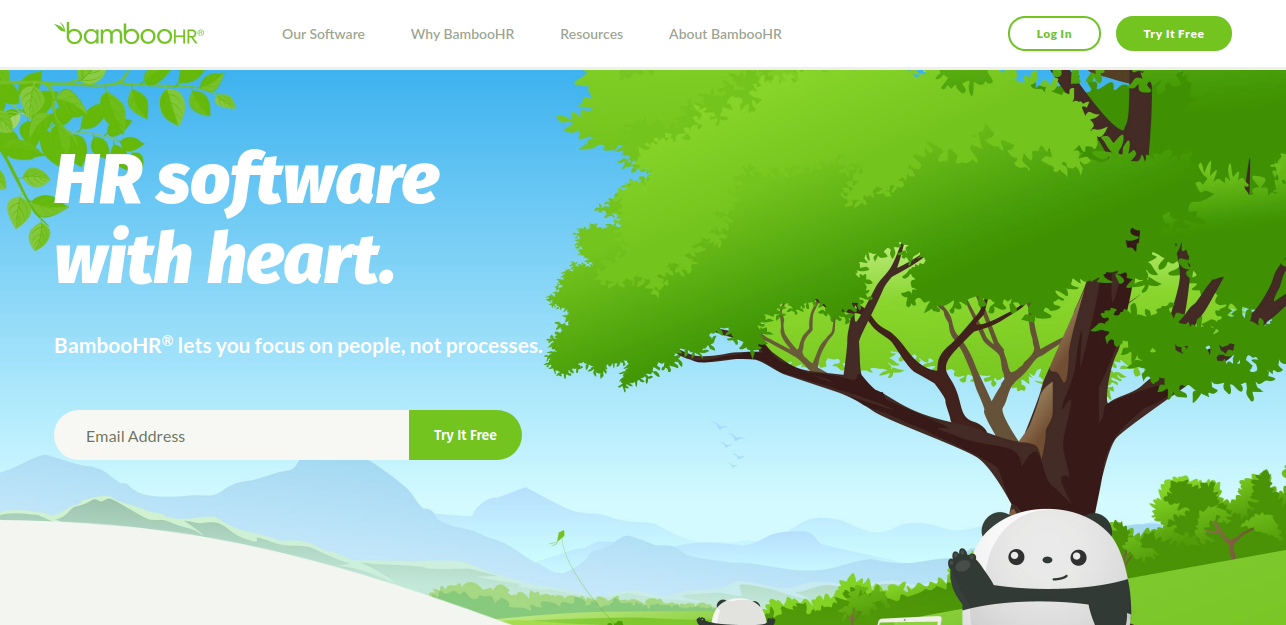 BambooHR is a cloud-based HR management software solution for small and midsize businesses. This HR software as a service provides personnel data modules, advanced reporting capabilities, and tracking to help HR professionals focus their time and efforts on high-priority tasks.
It has a sleek and modern interface and uses a stripped-down mechanism to monitor the performance, which makes it an ideal choice for growing companies. It is also recommended for decentralized and remote teams as it offers faultless performing apps for all operating systems.
BambooHR displays job openings in a separate tab for applicants tracking, where HR professionals can see all applications, applicant leads, and shortlist or reject applications as they arrive.
Similarly, you can add new job openings with related details like title, salary, location, duration, contract type, etc. And you can perform this via a filtered drop-down menu or the system's special text editor to add a detailed description.
Main features include:
People data and Analytics

Workflows and approvals

Employee records

Mobile app

Applicant tracking system

Onboarding

E signatures

Performance management
Pricing: Both Free Trial and Quote-based Plan are available
11. ClicData (Business intelligence and reporting)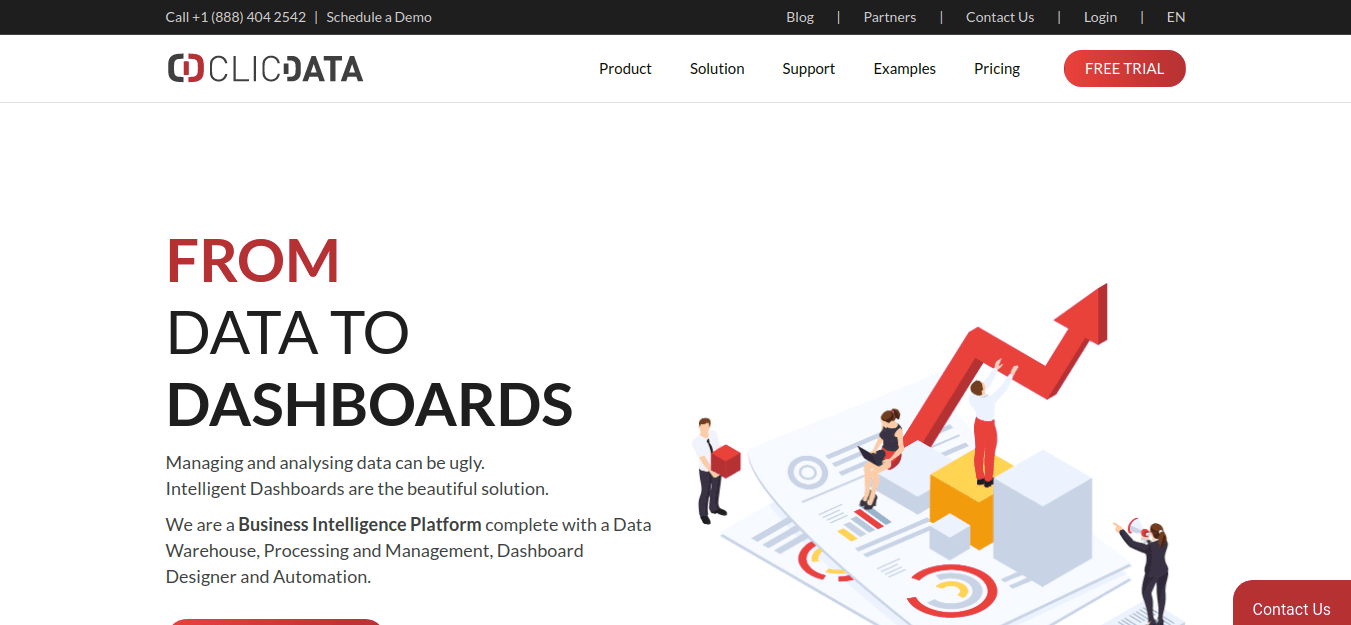 ClicData is a 100% cloud-based business intelligence platform that allows you to build custom and dynamic KPI reports based on data from hundreds of sources. You can track your project, marketing, sales, financial KPIs in a single place.
Let me ask you this: how would your workdays look like if you knew exactly how your marketing campaigns are feeding the sales pipeline, which channels and are bringing the most revenue, how your customers are using your product or services, every day, automatically? A lot different, and this is why you need a business intelligence to build that single source of the truth and steer your company in the right direction.
ClicData is a SaaS reporting platform that can help you achieve that. Connect your data from hundreds of sources (emailing tools, Google Analytics, social media, ads, CRM systems, project management such as ProofHub, financial applications like QuickBooks, and many more) and store that data in a built-in data warehouse. You can also cleanse, enhance and combine that data with a comprehensive set of data management tools to build actionable metrics.
Your data is only good if it's fresh, so ClicData allows you to automate the data refreshes but also alerts to warn you when a critical event occurs.
Build custom data visualization with an easy-to-use dashboard designer and easily share those dashboards with your team and managers. ClicData's dashboards are accessible from any browser and any device.
Main features include:
Easy data connection

Automated data processing

create interactive dashboards

Collaboration

Schedules and alerts

Advanced security

User management
Pricing: You can try the platform for free. The subscription starts at $71/month and includes unlimited dashboards and 10 users regardless of their access rights. The Team starts at $225 and includes advanced connectors and 25 users. The Enterprise plan starts at $425 and comes with 200+ connectors and 50 users. The Enterprise Dedicated plan includes all connectors, 100 users and up, up to 8TB of data storage on a dedicated server.
12. Box (Cloud content management)


Box is a cloud computing software that allows teams to collaborate securely with anyone, anywhere, on any device. With Box, users can safely collaborate on and share large files via a traditional link or custom URL, and safeguard crucial data and documents with necessary permissions and password protection.
Box offers three account types: Enterprise, Business, and Personal. This software supports more than 120 file types, and users may preview content before downloading. Content sharing, editing, discussion, and approval is limited to one centralized file, and users are notified when edits are made.
Box protects your sensitive files in the cloud through advanced security controls, intelligent threat-detection, and comprehensive information governance. Get everyone on the same page in a single location to work together with complete peace of mind.
Main features include:
Security and Compliance

Collaboration and Workflow

App Integrations

Enterprise Suites
Pricing: Individual pricing plan is priced at $10.71. Business pricing plan starts from $5.59 per user/month.
13. Paperform (A swiss army knife for data collection & lead generation)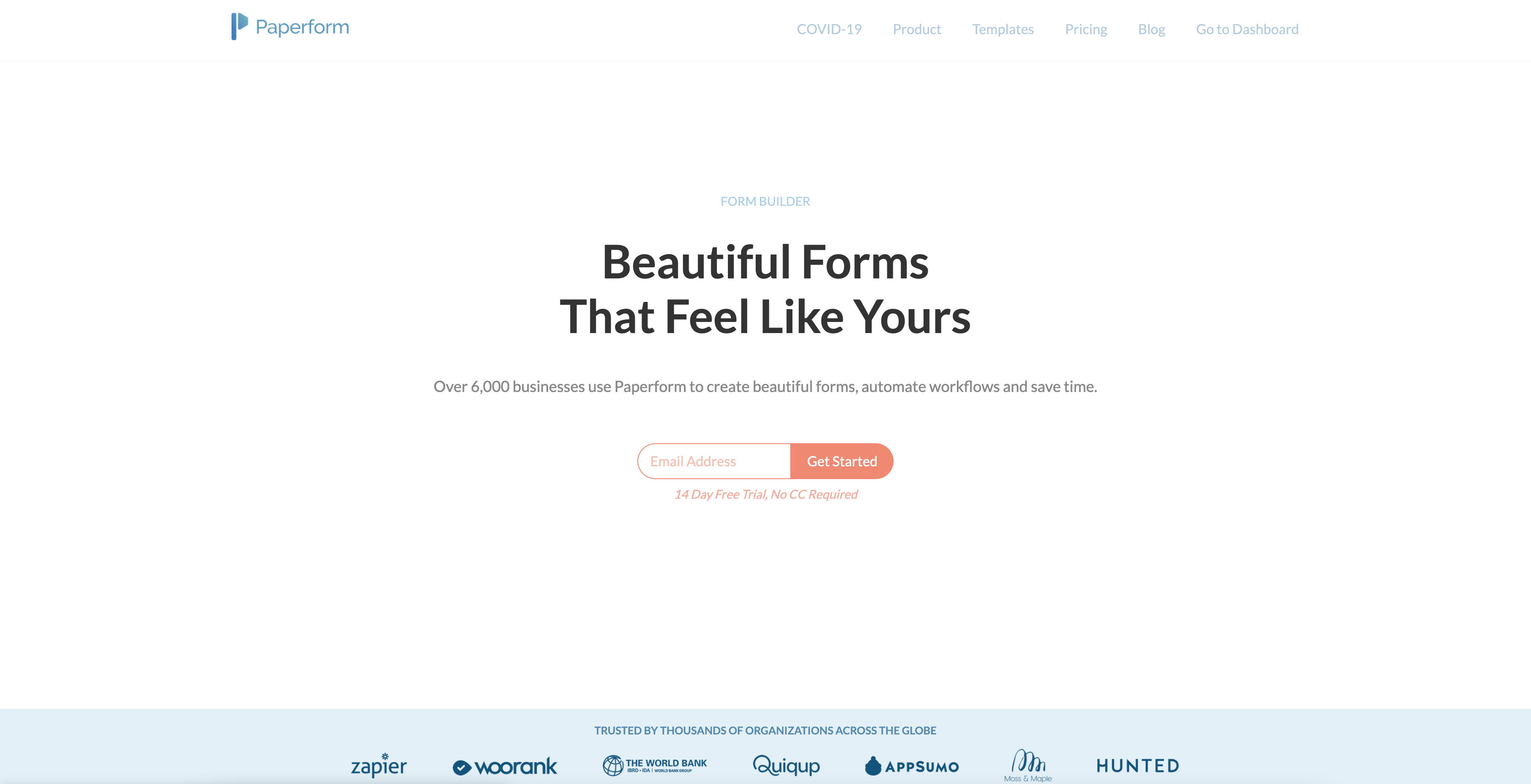 If your business doesn't have an online presence yet — you better catch up quickly. Even if you're in a traditional offline-first industry, the changing times and dynamics of the modern world will sooner or later force you to start interacting with your customers on the Internet.
Paperform is here to democratize digital creation. It's an all-in-one platform for building bespoke landing pages and online forms that truly represent your brand. Unlike other form builders like Google Forms, Paperform allows you to customize every tiny detail of your pages. The best thing? You don't need to know anything at all about coding or web development. In fact, many Paperform users say that creating forms and pages feels as simple as writing a Google doc.
Paperform is also an excellent fit for e-commerce businesses and online entrepreneurs. It allows you to easily manage products inventory, collect payments via Stripe/Square/PayPal/Braintree, and even automate emails.
Main features include:
Building bespoke landing forms

Managing product inventory

Collecting payments and subscriptions

Scheduling appointments

Automating emails

500+ designer-made templates available
Pricing: 14-day free trial, paid plans start at $15 USD per month ($12.50 if paid annually).
14. Notion (All-in-one productivity solution)

Notion is one of the fastest-growing productivity applications right now. Notion is an all-in-one workplace for your entire team. You can write, plan, and get organized. This web-based tool is used to streamline the function of various online tools that are typically used for collaboration.
With Notion, users can take notes in meetings, share them with colleagues, assign tasks, create spreadsheets, and collaborate in real-time. Notion provides the foundation for you to create your blocks and toolkit to do the work. This workspace allows you to write in a well-organized, neat space, plan using a kanban view, a simple list view, or a calendar.
Main features include:
Team Wiki

Projects and Tasks

Notes and Docs

Invite and Share
Pricing: Personal plan starts at $4 per user/month. Team plan starts from $8 per user/month.
15. Intercom (Conversation relationship platform)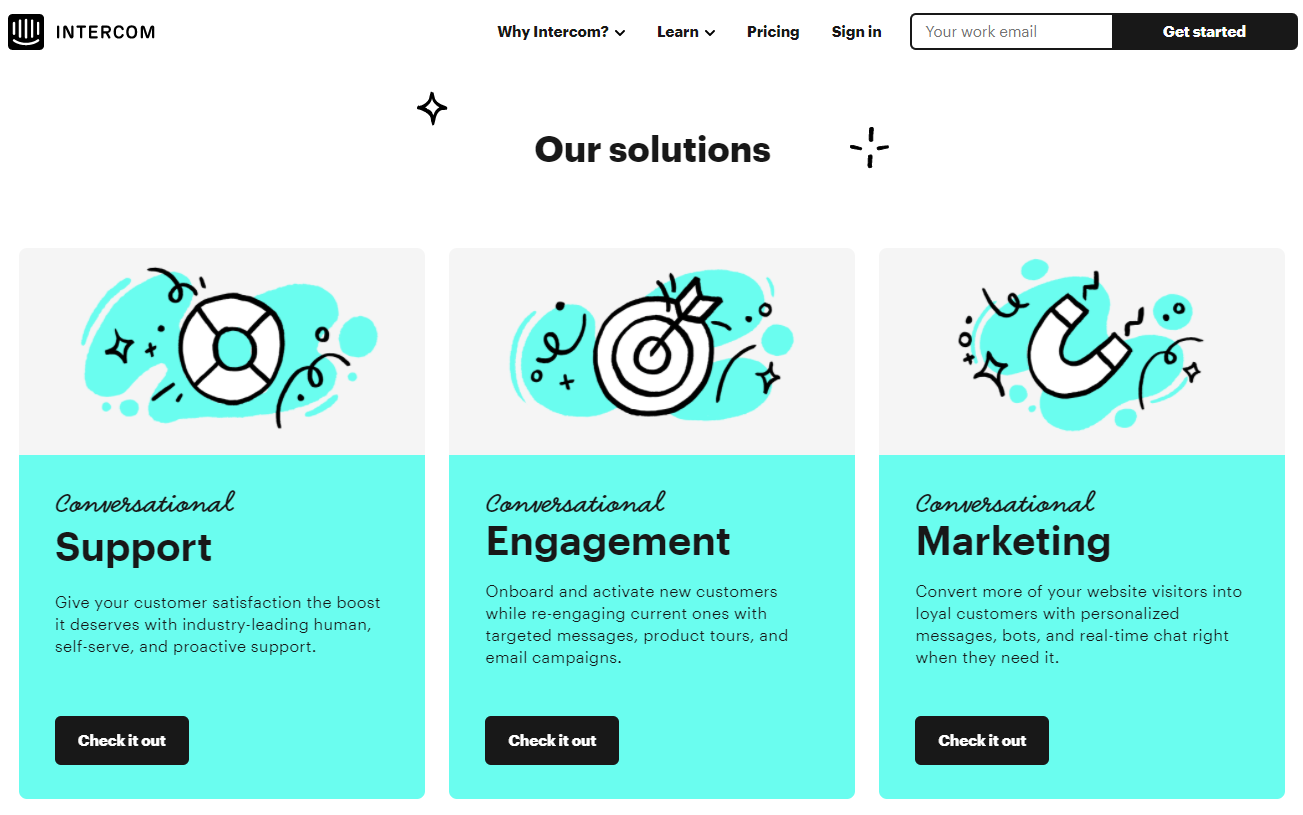 Intercom is a business messenger and customer support platform that utilizes behavioral targeting and user intelligence to help businesses build communication and engagement with their customers. Intercom gives you useful insights into who's using your products and services.
The software provides you with tools to send personal communicators and send targeted, behavior-driven emails and in-app messages. The solution offers an improved way to acquire, engage, and retain customers. Your sales, marketing, and support teams can connect and communicate with customers efficiently, and help your business grow manifold, faster.
Main features include:
Business Messenger

Customizable bots

Automated answers

Product Tours

Outbound Messages

Help Center Articles

Account-Based Marketing

Apps + Integrations
Pricing: The paid plan starts from $39 per user/ month.
16. SalesHandy (Data analytics and communication tool)


SalesHandy is a suite of powerful tools that more than 100,000 businesses use to automate and track their email outreach. SalesHandy is a Sales Enablement tool that is designed to enhance the performance and email productivity of your team. SalesHandy increases the effectiveness of your emails and business collaterals giving it an exceptional reach.
This communication and analytics tool to make sales and marketing teams more productive. You can monitor emails, unify document management, collaborate and share on files, and initiate leads through centralization. Sales professionals can analyze detailed engagement information pertaining to each prospect.
Main features include:
Auto Follow-up

Email Scheduling

Email Templates

Email Tracking

Email Campaign
Pricing: The paid plan starts from $9 per user/month.
17. Zoom (Cloud-based video conferencing app)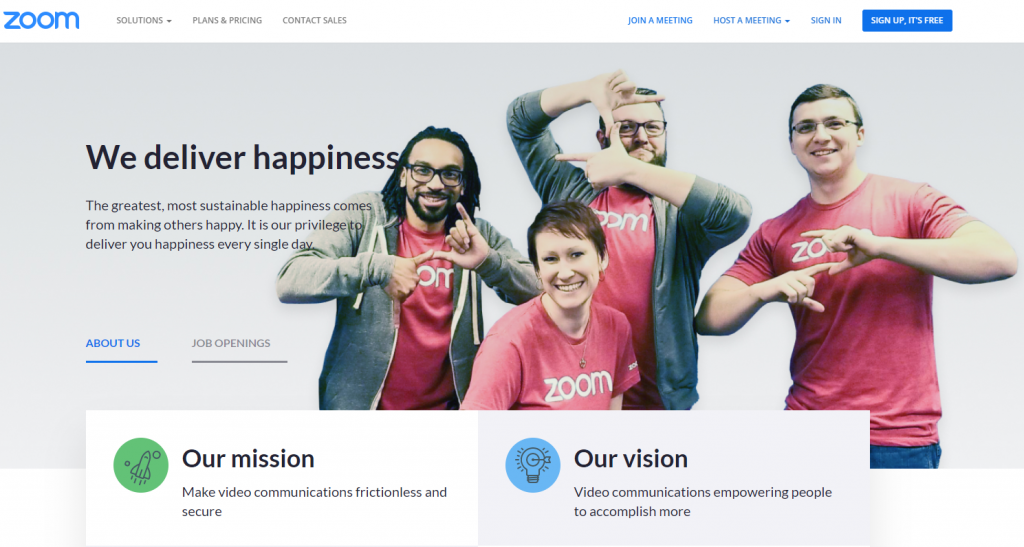 Zoom is an easy, reliable, cloud platform for video and audio conferencing, chat, and webinars. Zoom's popularity shot up in 2020, largely due to the pandemic and the rise of remote working. It is primarily used by freelancers, teams, and businesses of all sizes for virtual communication for both personal and professional reasons.
Zoom video conferencing is probably the most used feature of this tool. Its ease of usage, high-quality audio and video, and collaboration facilities. Also, the basic version is completely free of cost. You can host up to 1,000 video participants, and 10,000 viewers. Engineered and optimized to work reliably, Zoom brings widely dispersed teams closer together in the easiest and pocket-friendly way possible.
Main features include:
Meetings and Chat

Rooms and Workspaces

Phone Systems

Video Webinars

Marketplace

Developer Platform
Pricing: Basic version is free. The paid plan starts from $180.89
18. Acquire.io (Unified customer service platform)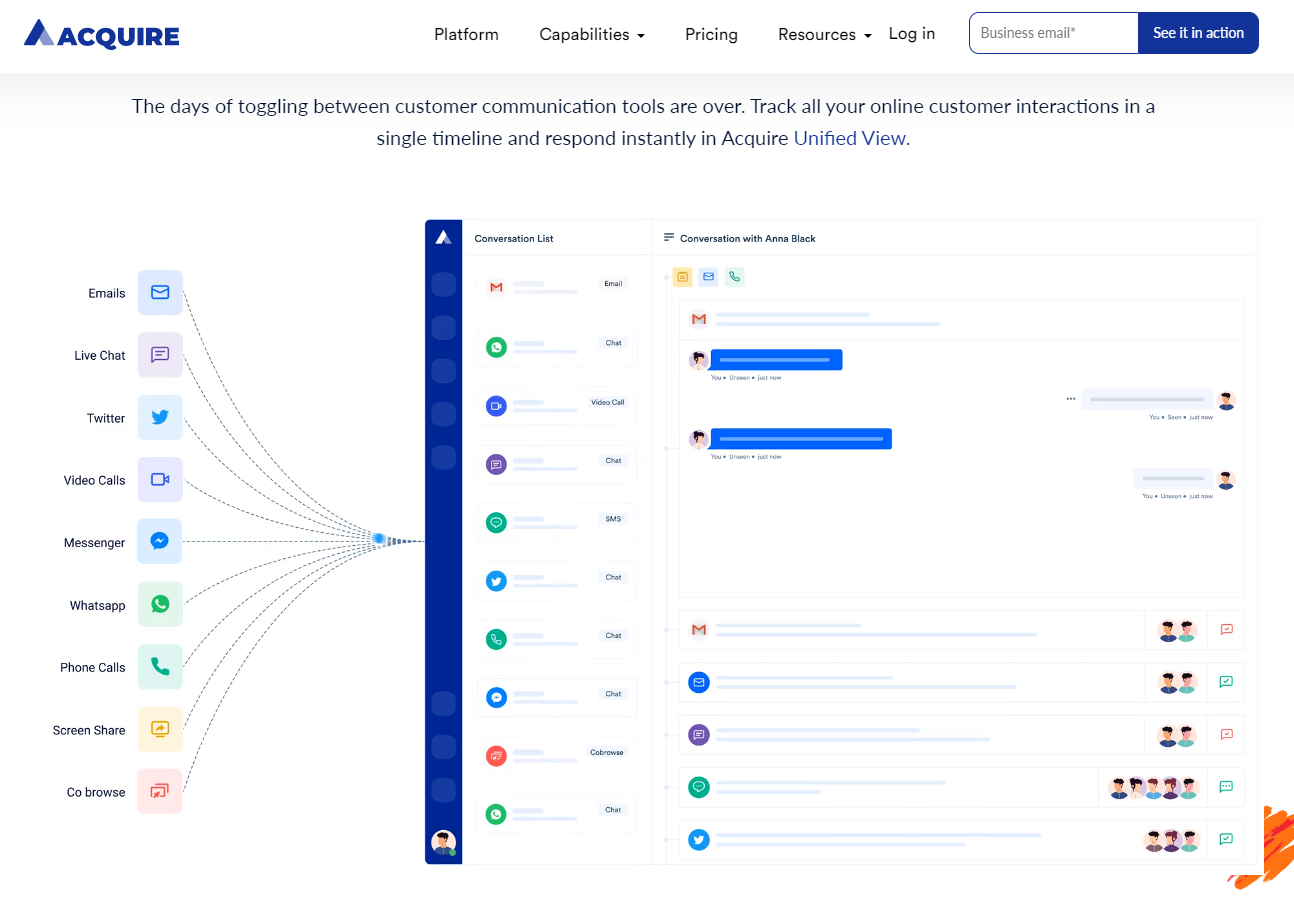 Acquire.io is a multi-channel live software that helps you connect with customers in real-time. Acquire.io provides immediate access to your website visitors for improved customer service and sales conversions. This customer communication platform enables you to engage and resolve the customers' issues in real-time.
You can connect your Acquire account to the most popular sales, support, and customer service tools. Acquire's live chat software is equipped with a range of features such as real-time conversation, profile management, chat history, two-way communications, and intelligent message routing.
Main features include:
Cobrowse

Unified Agent View

Chatbot

Live Chat

VoIP Calls

Analytics

Integrations

Shared Inbox

Video Chat
Pricing: Available on the quote
19. Troop Messenger (Best team collaboration tool)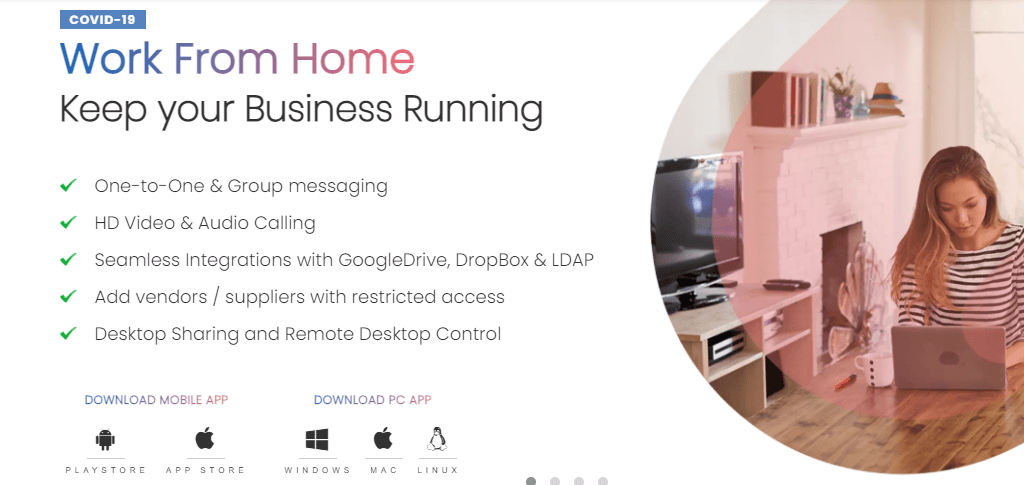 Unlike other tools that claim to be a Team Collaboration Tool but don't provide important features or even make it easier for teams to work, for example, some of the tools don't provide on-premise applications that can protect the data, some don't provide video conference, and some don't provide Live Location Tracking, which is used to track remote employees, sales executives, and so on.
Troop Messenger includes several features that make team communication easier like Respond Later, Unread Messages, and ForkOut, which doesn't let you miss any message and allows you to send one message to numerous teammates and groups at once.
Troop Messenger works with policy to render capabilities to it's users or clients that simplify rather than complicate their work. Troop Messenger's Research & Development team conducts extensive research on the market and its trends, and as a result, with each random release, the tool is upgraded with some unique cum proactive features that not only meet today's requirements but are also capable of meeting future market needs and dealing with any unprecedented situations such as a pandemic.
Main features include
HD Audio/ Video Calling in Groups and one-on-one

Texting in Groups and one-on-one

Simplified Groups Creation

Admin privileges

Remote Access & Screen Share

Cattle Call (For video conference, webinars)

Live Location Tracking

Jointly Code
Pricing
Premium Plan starts at $2.5 per user/ per month, Enterprise Plan starts at $5 per user/ per month, and Superior Plan starts at $9 per user/ per month.
To sum it up
As you can see, there is a long list of Saas applications available for businesses to try according to their needs. Now, the key term here is needs. You cannot simply subscribe to just any tool. The first thing you need to do is to analyze your requirements, look at the structure of your team, understand their workflows, and then invest in any of the Saas applications that I've mentioned above.
All the best!