Summary
Are Startup costs spiralling out of your control? About time you pulled the costs down by investing in software tools that actually save money. 

Learn about 9 tools that cover everything from marketing to IT costs, and project management.

Start saving up to 60% in server costs, and stop paying for costly accounting software. Explore how much you can save with each tool in this detailed comparison.
The total cost of starting a startup considering legal, software tools, hardware, contracts and loans comes out to be around $124,650, as per Bplans estimation.
If you're counting on your savings and help from close family members to fund your startup, you'll want to spend each dollar as frugally as possible.
You'll be making several compromises in terms of Starbucks coffee breaks, Netflix premium plans and impulsive shopping decisions. A lot will go in assembling the team and buying resources for sustained growth.
While you're out in the market gathering tools for marketing prowess and internal team management, you would want to act stingy on purpose. There will be a time when you'd be able to purchase high-profile tools, but right now it is all about economizing your expenses.

But don't be lured into free software too easily. You know that when Whatsapp was sold for $17 billion to Facebook, it wasn't because it's a free tool. The same goes for your purchases.
In this pursuit to make the most out of each penny, here are 9 tools that help you save more money than you spend.
One thing that most founders and startup employees fear is running out of cash to sustain the company. That happens when the startup isn't being managed well from inside and loose ends start to break open.
Harvard has pointed out that 1 in 6 IT projects end up spending 200% more than the estimated budget. At the same time, 77% companies that do deliver projects successfully use project management software tools.
Therefore, the challenge is to keep costs from not over-shooting and strengthen the team's ability to do quality work side by side.
ProofHub is one of those team management software tools that help you cultivate productivity in your team, and keep costs consistent. By easing out project communication, making team members accountable, and making frugal use of time with ProofHub, you gear up for success.
It is designed for startups of all kinds of business or fulfillment models, to maximize their project efficiency.
Save money with ProofHub
As stated earlier, the two factors that drown startups are uncontrolled costs and diminished team performance. ProofHub deals with both sides of the challenge.
How ProofHub boosts team performance?
ProofHub allows you to boost team productivity in three ways;
Streamlined project communication –

(29% percent contribution to project success)
With the help of easy real-time and asynchronous communication tools, you can ensure that miscommunication doesn't get in the way. It comes with 1-on-1 chat and Slack-like passive Discussion areas that help teams feel connected always.
Easier cost and effort estimation –

(28% percent contribution to project success)
Your team managers can stay on the top of project cost and effort estimation with the help of productivity reports. With the help of intricate task progress tracking, they can objectively calculate if the project is headed in the right direction. It ensures that the morale boost comes at the right time and any impeding conflicts can be solved with a smile.
Accurate task time management –

(25% percent contribution to project success)
ProofHub features a detailed task management system. Team members can attach their deliverables into the task, report the time it took to complete the task, and get back to the manager with task comments. Till the task gets marked as done, the manager is always in the loop.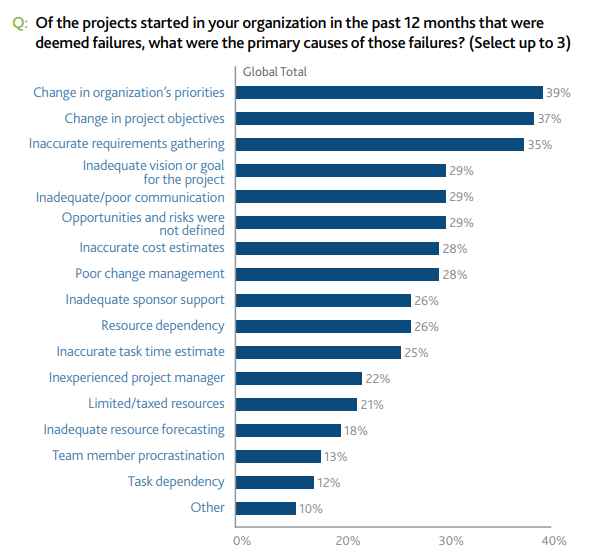 How ProofHub saves costs?
ProofHub saves costs in three simple ways;
Consolidates the prices for 7 apps into one
ProofHub offers Discussions, Tasks, Gantt Charts, Calendar, Notes, Files, Time tracking and Chat. See all here.
If you purchase these many applications individually, you'll end up paying a much higher figure for a small team of 30 users per month. Let's see how.
Discussions + Chat

– Slack – $80.1

Tasks –

Todoist – $150

Gantt Charts –

Team Gantt – $313

Calendar –

Google Calendar – 0$

Notes –

Google Keep – 0$

Files –

Google Drive – $2.9 for 150 GB per month

Time Tracking –

Time Doctor – $7
Total – $553
ProofHub's price – $90 per month (billed annually). (1/6th the price)
For information on our pricing plans, kindly visit our pricing page.
No hurries to pay up just yet, first take a free trial and feel good about it. Start now.
Repurpose ProofHub for Clients
It's a common practice to onboard clients on your project management software tools to improve the project reporting experience.
ProofHub lets you improve client communication and let your clients participate freely in the project without any charge. You can repurpose ProofHub as your client reporting tool, allowing them to exchange files, project updates and streamline Knowledge Transfer.
You don't have to do it with ProofHub's logo, as you can have your own company logo, colors and name when your client logs in. Impressive, right?
2. Moosend
Email marketing is indispensable. From promotions to customer retention, you'll need to send out a ton of emails. And you obviously want them to cost really, really low.
At the same time, successful email campaigns can generate $42 for every $1 spent.
Therefore, in order to really boost profitability with your email marketing efforts, it's better to go with software tools that offer unlimited emails as your subscriber list grows.
Moosend offers unlimited emails for the first 1000 subscribers, and after that, it levies charges based on the growth of your subscriber list.

$16 for 2500 subscribers, $24 for 5000 subscribers, and $44 for 10,000 subscribers. As the pricing doesn't compromise on most of the features, you'll get everything your email marketing strategy needs.
The necessary things such as an email builder, transactional emails, sign-up forms, etc are all-in. You also get more advanced features such as email automation and A/B testing.
Save money with Moosend
Gaining the first 1000 subscribers can take up to 1-2 months, which means you'll use the tool for free for that long. And as you grow gradually, the pricing also increases proportionately.
After that, let's say, on average you gain 800 subscribers each month and you hit the 5,000 subscribers mark after 6 months. You'll only be paying $96 in total, and remember that emails are unlimited.
This pay-as-you-go model saves you from large upfront costs. Suppose you were paying for the volume of 5,000 subscribers ($44) the entire year, you'll pay $528. But with Moonsend, you'll pay 64% less.
3. AWS Lightsail + AWS EC2
It's hard to imagine that your business will not come with a web-property. It could be something as simple as a company website or a full-blown SaaS application.
For digital-savvy businesses (that most startups are these days), one of the key priorities is to serve their customers with smart facilitation methods. They want to offer mobile apps for getting appointments, book orders online and provide one-click customer support.
For all of which, you will need cloud server resources.
AWS Lightsail and AWS EC2 are two great resources for keeping your server costs under check as you make no compromises on user satisfaction.
AWS Lightsail is Amazon's latest offering that lets you launch VPS Virtual Machines in just a few clicks. While EC2 is a more refined and advanced cousin of Lightsail, offering highly configurable cloud servers.
Save money with AWS Lightsail + AWS EC2
AWS Lightsail has plans starting from as low as $3.5 per month. You can start deploying your SaaS application or website initially on a small Lightsail server and then keep on scaling up as your user base grows, without making any heavy migrations.
See how to upgrade your server in Lightsail here.
While the $3.5 plan is great for testing things out, the $10 plan offers 2GB RAM and 60 GB of storage which is enough to handle more than 2000 daily users. (This is for a website with a 200kb page size, your implementation may differ.)

You get to choose from several popular one-click deployments such as WordPress, Node.js, and LAMP stack. Pick a plan and get started.

Lightsail gives you CPU utilization metrics that help you estimate if your server size is up to the mark. If your server goes into the burstable zone way too often, it's time to scale up.

You can also configure customized alarms in Lightsail to be notified via email whenever your server crosses the threshold values.
Up till the $20 plan, which offers 4 GB RAM and 80 GB of storage, you can continue using Lightsail. With website optimization and server fine-tuning, you can manage up to 4000 users using this server configuration.
Once you feel you need to go beyond the $20 plan, it's time for you to shift to EC2. You can move your server to EC2, which is designed to run complex web architectures.

You can then delve into advanced software tools such as Auto Scaling and Load Balancer, that offer unparalleled performance at lower costs.
And guess what – EC2 spot instances offer up to 90% discount on yearly bills.
Don't want the server hassle? Let us manage them while you get working. Try ProofHub
4. Wave
The real buzzwords for a startup always relate to financial terms such as $50 million Series B funding, Equity, etc and etc. This is because having your accounting and cash management straightened out is extremely important.
But before you bring in expert CPAs with an 80k annual salary, a lot of number crunching will befall your shoulders. For which, you need simplified accounting software tools that may cost you nothing.
Wave unabashedly claims that their small business accounting software is absolutely free. It lets you take care of Accounting, Invoicing and Receipts. While the features are limited, it's still pretty nifty.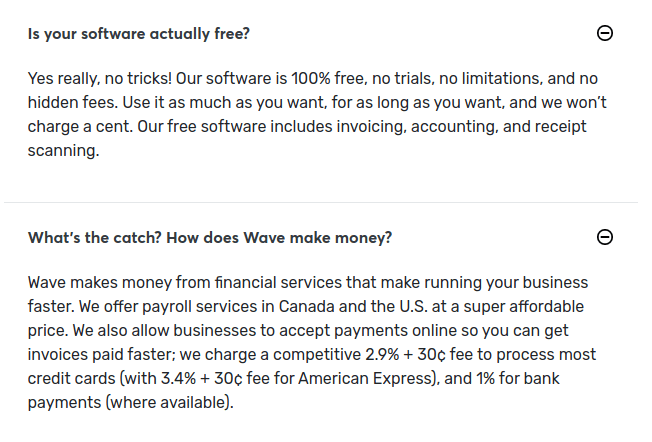 You can manage the influx of revenue, your purchases and sit with your team for discussing the sales report, using Wave. For a growing startup, this much will keep them going for a good 1-2 years before accounting gets complex.
Save money with Wave
As evident, you can curb your accounting costs using Wave. The next best thing to Wave that comes for almost free would be Google Sheets. But you know that it's not a long-term solution. Hence, you can rely on Wave until you saturate your needs with the software and pay $0 monthly while you're at it.
5. SEMRush
Startups such as Allbirds and Skip the Dishes that saw exponential growth in their initial years owe it to their full-spectrum marketing efforts.
May it be Social Media or Website Blogs, they went all-out. While it may sound like unsolicited advice, your growing business, at some point, should want to adopt multi-channel marketing.
SEMRush is an industry leader when it comes to all-in-one marketing tools. It offers 40+ software tools that help you with SEO, Content, Market Research, Paid Ads and Social Media.

It's not hard to guess that some of your early marketers will wear multiple hats. It may get too costly to hire separate people for SEO and SMM and Paid Ads. You need all-rounders.
SEMRush is a pro tool for people with diverse skills. They can manage the entire length and breadth of marketing campaigns using one tool.
Save money with SEMRush
SEMRush offers access to 5 projects and 50 social profiles to monitor. You can work with 500 keywords and ensure that your project is comprehensively crawled with support for 20,000 pages.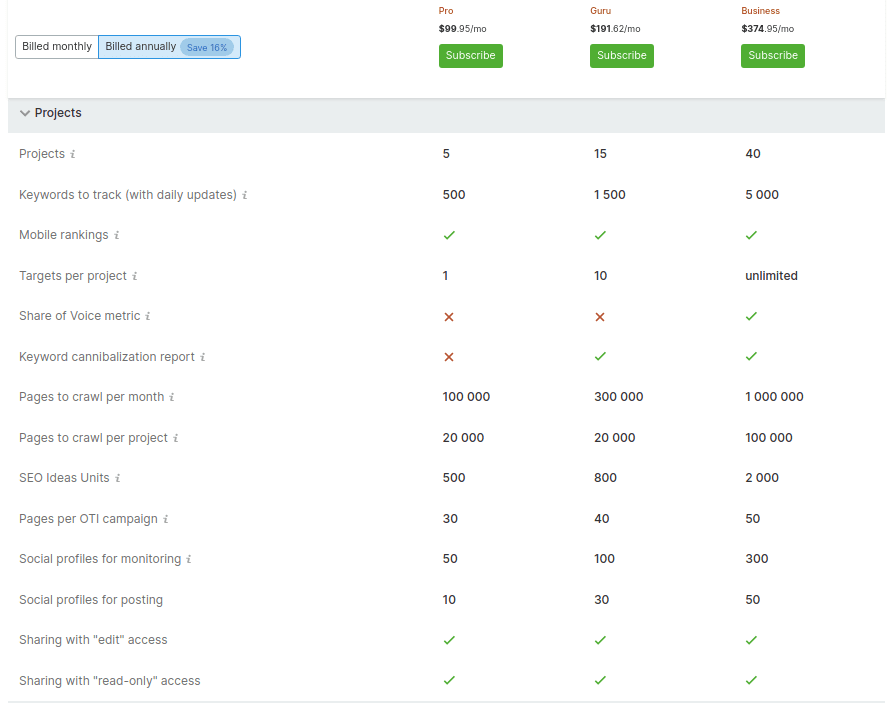 It's a bummer that Content Marketing is not included in the $99.9 plan but even then, you're getting a ton load of features.
Overall, if you go scouting for a separate tool for managing each different marketing channel, you'll end up paying much more than $99.9.

Just for a quick comparison, here's what using individual software tools looks like;
Keywordtool.io –

$159/per month (For SEO)

BuzzSumo –

$79/per month (For Content and Backlinks)

HootSuite –

$19/per month (For Social Media)

AdRoll –

$9/per month (For Paid Advertising)
That's a cumulative of $266 per month and the added burden of managing 4 login credentials. SEMRush's more expensive $199 plan is way cheaper than this.
6. Shopify
Have you noticed the ads selling Multi-Canvas Wall Art or the Vegan Leather Desk Organizers in your Instagram feeds? Those are all from e-commerce startups trying their luck with innovative ideas.
While e-commerce is booming, 90% of startups that sell online go down within the first 120 days. One of the top reasons (reported by 35% of startups) is lack of online visibility.
Even when you've nailed marketing, a staggering sales volume can only be achieved only when the website has plenty of trust signals. Something which is a laborious task if you start building it from scratch.
Enter Shopify, your out-of-the-box e-commerce store solution. Shopify takes away several of the hassles that an e-commerce startup may not be geared to solve. Such as server management, front-end development, payment gateway integration and consistent technical support.
Shopify has grown into a fully-functional e-commerce app that goes beyond uploading and selling products. You get access to the competitive software tools that help you outrun your niche rivals. Then you have the whole Shopify Apps universe that lets you add custom functionalities in one-click.


Save money with Shopify
Shopify subsumes several tiny and large costs related to an e-commerce store in itself. The pricing plans start from $29 per month + 2% transaction fees.
In terms of savings, you get lower capital and effort investment. If you start building your own ecommerce website with a team of developers, the costs can go upto $5000 easily. This includes constant project management from your end for 3-6 months.
Further, as more advanced marketing and ecommerce technology rolls out, you'll need to pump in more cash to keep up. Shopify gives you all of that for as low as $29 per month.
If you use Shopify for one year and generate a total sale of $10,000 each month, your total ownership cost will be around;
($29 + taxes) + $10,000 x 0.02 = $548
$548 is nearly 10 times less than the $5000 that you'll otherwise spend in building a custom ecommerce store.
7. Microsoft Clarity
Have you wondered how your users actually use your website? If they're actually clicking on the "Shop Now" button or just navigating away after previewing the product.
Quite simply, if your website, which is the face of your startup, is not optimized for conversions, you'll lose money rapidly. Whenever the monthly sales targets will not be met, you will try to go after brute-force marketing and end up burning more cash.
Microsoft Clarity helps you get deep insights into how your audience interacts with your website. You can get to know about parameters such as "Dead Clicks", "Rage Clicks" and "Javascript Errors" that help you fix problems before they become monetary drains.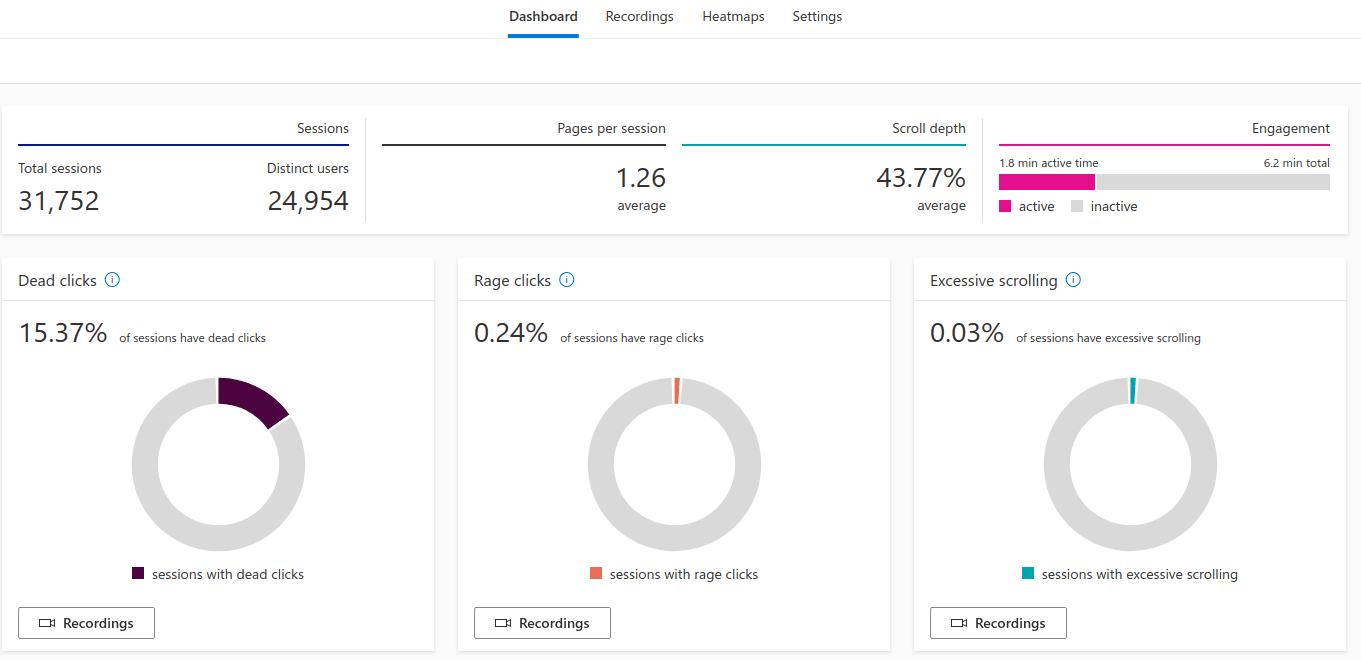 Save money with MS Clarity
Clarity, just like Wave, is absolutely free, no questions asked.

You can access two main features namely, Heatmaps and Recordings. You can view a video playback of how a certain user navigates on your website. Then there's heatmap reports that unfurl most clicked areas on any web page.
The caveat is that Microsoft will have access to all the data you're collecting about your users. But they're strategically generous about that too. You can have some amount of data masked before it goes to Microsoft, by enabling the Masking feature available in MS Clarity.

8. Dialogflow + Kommunicate
Website chatbots that greet you with a "Hi, I am here to help!" message or try to sell you a free-trial have become increasingly common.
Apparently 58% of B2B companies now have a chatbot on their website, while 42% of B2C companies also have them. Statistics also show that millennials have grown comfortable talking to bots and 87% of people rate their chatbot conversation experience between neutral to positive.
No reason why your startup should miss out one and here we have two tools that will let you develop Machine Learning powered AI chatbots.
Dialogflow is a chatbot builder tool that lets you design a chatbot that understands and reflects your business. You can train it to interpret your pricing, customer support and anything that your customers may ask.
It offers an extensive user interface for building conversations. Using a no-code platform, you can train it to answer highly specific questions. Once trained, DialogFlow can be deployed as a website chatbot or integrated with Messenger, Slack, Telegram, and even your telephone.
The only issue with Dialogflow is that it doesn't come with a client-side interface. Kommunicate works as the perfect front-end layer and conversation handler for Dialogflow. It allows you to extend Dialogflow's ML capabilities with human chat support and analytics.
So, by using both the tools, you get AI Chatbot + Human Chatbot support that is ready to take your customer experience to the next level.
Save money with Dialogflow and Kommunicate
The Dialogflow ES version comes with a $600 credit and is free for 1 year. After that, you'll be charged $0.002 per request.
Kommunicate, on the other hand, costs $12 per month.
The combo saves you money in three ways.
Reduce customer handling efforts with AI-powered replies round the clock even when your customer support is not available. (Save on hiring extra customer service reps – $2500 per month)

Build a fully-functional chatbot experience without hiring high-salaried developers. ( $1400 up-front for 1 week of development work at $25 per hour)

Kommunicate offers lead-collection features that enable you to boost sales, with automated replies. (Higher sales opportunities)
In total, you're saving at least $3900 by integrating a smart chatbot experience. As setting up Dialogflow and Kommunicate is pretty much non-technical, you'll not be investing a lot of your own time too.
Put together a successful customer support team with ProofHub. Explore how!
9. Exponentially App
Here's a rhetorical question for you – "What makes you think your startup will be a success?"
The question may come across as insulting but if you don't have a believable answer, you may want to find one. After all, you wouldn't want to invest in an idea that will not earn tomorrow. But we can't tell what happens in the future. Or can we?
Exponentially is one such App that lets you validate your idea with provable data. It's designed on the concept of Pretotyping given by Google engineers and Stanford researchers.
Using a few pretotyping techniques, the app lets you gather user feedback for your idea. You will not be building anything more than a web page for your startup and see if your users would want to pay for it.
Save money with Exponentially
Well, with Exponentially, you'll be saving yourself a fortune. It's a grim reality that 90% of startups are destined to fail, and most of them will undergo significant monetary loss.
While we can't comment on why a startup fails, we can make validations about its success. Exponentially does that for you. As the founder says, "Pretotyping helps you take the guesswork out of innovation." Therefore, it helps you place your bets on ideas that have some proof that they will work, avoiding you from investing only in sheer belief.
Conclusion
While you're gathering the $100k figure for your startup and chalking out an undefeatable revenue model, having an arsenal of money-saving tools will be a definite plus.
Most startups that run out of cash to cover expenses ride on a "let's go for the best tool" mindset. Because best gets best. But that's not the case here. Initially, you need to cultivate a "let's go for the best return" mindset and analyze each purchase decision to the last nuance.
Set cost smart examples in your team by opting for software tools that save you money and picking one from the 9 mentioned in this article. Start with ProofHub?