Introduction
The past year and a half have changed the dynamics of corporate work across the globe. Remote work has seen an unprecedented rise with organizations both big and small switching to working from home. Companies have employed agile strategies, restructured teams, and have made everyday work more flexible without restricting individuals to a geographical working location.
As organizations are measuring employee productivity and performance, the question is how are we as employees evolving the way we work? What are we doing on the individual level to heighten our productivity?
With remote work becoming the new norm, it is quintessential for professionals to reflect on their own productivity and analyze their performance. Even though organizations today are equipped with the best technological tools and communication platforms, it is of paramount importance for an individual to track and scrutinize their everyday throughput.
According to a recent survey, over 82% of remote employee managers are concerned about the reduced productivity of employees while working remotely. This concern is understandable and therefore, as working professionals, we must realize the importance of holding ourselves accountable and thereby delivering to the best of our capabilities.
How is personal productivity affected?
Employee productivity is a big upside for organizations as it reduces the overall costs and resources spent on a particular project. But productivity depends on multiple factors and when assessing one's own performance, there are plenty of challenges in the way.
The formula for assessing productivity is simple, the value you deliver to an organization divided by the total number of hours you work. The problem here is when assessing one's personal productivity, it is difficult to develop a clear understanding of what value you create for it is impossible to assess oneself objectively. If your work does not involve the creation of a tangible physical product, judging one's productivity can be a task.
It is therefore important for teams to create a system that allows members to self-analyze and reflect on their performance in a critical and factual manner.
Rather than relying on introspection and assessing one's quality of work, organizations need to come up with newer methods to self-evaluate that are more reliable and scientific. Calculating productive hours or spurts especially when working remotely is one such objective method.
Another amazing method to assess personal productivity is ProofHub's Me View.
Looking for a solution to maximize productivity and track individual progress? Try ProofHub today!
What is Me View?
ProofHub offers users "Me View" in the very first screen you get to see when you log in to your ProofHub account. The Me section offers information about overdue tasks, tasks that you need to work on at present, the very next day, the following week, and so on.
By default, the Me View displays details that are highly important for everyday work, especially task and activity-related. You can access other features like wallpaper, stickies, bookmarks, your assigned projects, tasks, events, milestones, overall logged time, and tracking your activities from a central space.
This is a great way to enhance and calculate personal productivity without having to look at data or reports, or for that matter check in with your manager.
Elements of Me View
Me View is what a user perceives of ProofHub the moment they first log in to their ProofHub account. Even though it may seem like just a greeting screen, it has several key shortcuts that help users in daily tasks.
Dashboard
It is safe to say that Me View is a sort of Dashboard for you to quickly access everything you need during a day's work. It facilitates easy navigation and allows you to directly check your tasks, activities, log details, etc.
Widgets
ProofHub's Widgets have been exclusively designed to give users complete control of their accounts. These widgets allow users to edit and control the "Me view" elements, allowing them to focus solely on the most important things.
Click the "manage widgets" option and drag the widget onto the screen to add it to the Me View. Further, these widgets can also be resized and rearranged as per your convenience.
Agenda
Your Agenda gives you quick access to all of your work items, including those that are due today, looming, and past due. These are the tasks, events, and milestones assigned or subscribed to you across your projects. In a nutshell, agenda saves you time by eliminating the need to trawl through each project and task list to find the items you wish to prioritize.
To access your agenda, go to the shortcuts panel/bar and click the agenda icon. You may also make the agenda widget appear first in your "Me view" when you log into ProofHub to get right to work.
Announcements
It also enables you to access announcements you have been subscribed to and lets you access them with a single click. Whether your information is project-specific or personalized like a birthday or anniversary greeting, you can access it all through the Me View.
You can easily customize your view as per convenience and easily track your personal activities and hence performance. Furthermore, you can also access the navigation bar at the bottom where you can find the Me View, projects, people, activities, and everything section.
Stickies and bookmarks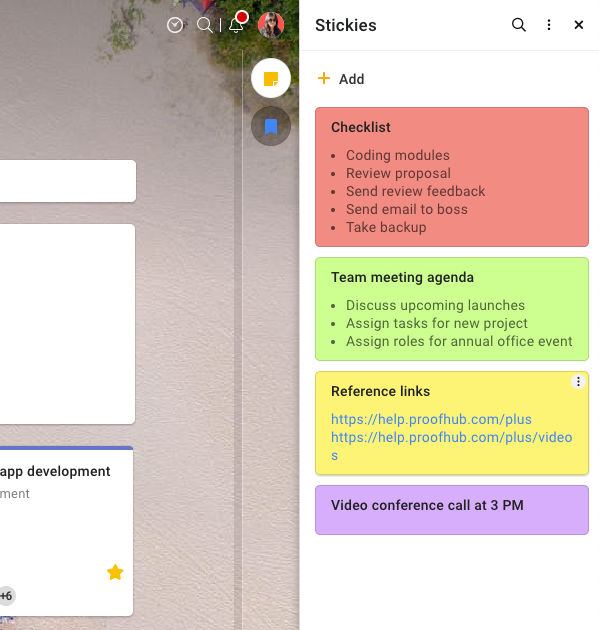 You can also access Stickies and Bookmarks from ProofHub's Me View. Stickies and bookmarks are a rather recent introduction to ProofHub's reserve of features. Stickies are virtual post-it notes where you can jot down key information, links, ideas, minutes of meetings, and much more. Likewise, bookmarks can be used to mark important discussions, task lists, notes, timesheets, files, and more.
Custom wallpapers
Along with direct access to tasks and activities, Me View lets you customize your screen with custom wallpapers available in ProofHub. This might seem like a trivial feature but once you begin using ProofHub for good, you will realize how these small features help in breaking the monotony of your everyday work routine. ProofHub offers you a variety of vibrant, high-quality backgrounds that can be changed as per your wish.
Jump-to shortcut
The Jump to project feature is also a super important shortcut that allows you to directly jump to a recent project, bookmark, or even a person on your account without having to manually open each tab.
How to go about it you ask?
Click on the

Jump to

bar in the

Me View

if not use the ctrl or command + J shortcut to access the Jump to section.

Choose from the following options:
Search an item

List of recent projects as well as all assigned projects, users to chat with, and bookmarks
Clicking on a particular item will redirect you to that very section.
Going further, Me View also includes the notification icon by clicking on which you can access activities as well as mentions across ProofHub. Whether someone mentioned you on a task or commented on a task you are a part of, you can track all of it by clicking on the little bell icon on the Me View screen.
The Me View also enables you to access the timer, wherein you can start, save or discard a timer from a single click. There are several other tiny but important features such as starring a project, selecting multiple projects, and managing personal profile shortcuts.
Here is a list of Quick links that will help you use and understand ProofHub's Me View better:
My tasks:

Click on 'My Tasks' option to access all your assigned tasks across all projects.

My events and milestones:

Click on 'my events and milestones' to view your events and milestones in a calendar view across all assigned projects.

My logged time:

Easily view your logged time entries across all projects.

My activities:

Click on 'My Activities' option to view all your activities across all assigned projects.
Benefits of Me View
Consolidated information:

The biggest upside to ProofHub's Me View is that it provides consolidated information in a single place. It prevents the user from having to navigate through the tool for every task and detail. Since all important shortcuts are available on a single screen it is highly comfortable and wholesome for the user.

Easy access:

As mentioned above, Me View presents major information consolidated across the screen which can be accessed at any given time. This saves time and reduces the scope for errors whatsoever.

Time-saving:

Since Me View makes tasks and other information easily available and consolidated, it saves a lot of time that would otherwise be spent on looking for projects, task lists, announcements, and more. The Jump to feature is a great way for individuals to save time with just a click, you can access key information pertaining to tasks, people, announcements, and more. In a nutshell, Me View is a great way to save time and produce results on time.

Key details front and center:

The

Me View includes various shortcuts such as announcements, Jump to, stickies and bookmarks, my tasks, timer, and much more. With all key details needed for everyday tasks front and center, Me View is not only time-saving and readily accessible but also allows you to keep track of your personal productivity.

Intuitive interface:

Like all of ProofHub, Me View has an easy-to-use, intuitive interface that helps users to understand the tool better and make the most of its features. This is true especially in the case of Me View where there are numerous shortcuts and the very aim is to make work easy for the users.

Assessing personal productivity:

The most important benefit of using Me View has to be its contribution in assessing one's personal productivity and making sure everything is on track with anyone's surveillance. This way accountability and transparency are promoted in a team and thus, there is no need for constant supervision.
Get a complete picture of your daily tasks from a single space. Sign up to ProofHub today!
Conclusion
ProofHub ranks among the best project management tools used by remote as well as in-house teams across the globe. With a vast range of built-in features, ProofHub enables managers to manage their teams effectively and also helps individuals track their own productivity.
When we talk about productivity in project management, we always refer to a team. But how about your own efficiency? Me View helps you track your personal productivity, whether you're a project manager or a team member.